This is one of my favorite recipes with ricotta and berries. Very easy to make, it is a moist, dense cake (kind of) studded with berries, which can be used fresh or frozen. It keeps well and is perfect for afternoon tea, picnics, potlucks, or just because.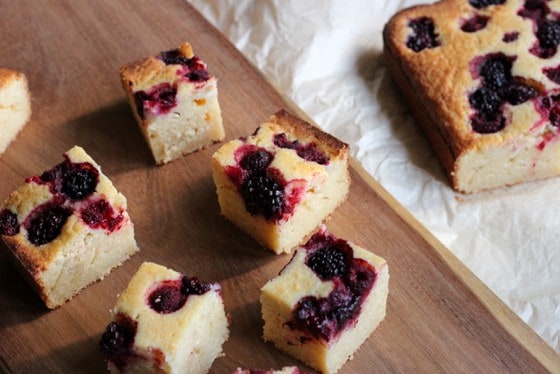 A few loose ends came together that resulted in these soft summer berry ricotta squares.
I had half a kilo of languishing ricotta cheese in my fridge, which I had bought to make these savory zucchini corn and bacon crepes, or some stuffed jumbo seashell pasta. Or maybe this lemon polenta cake. Who knows. It's the third time I find myself buying ricotta and not using it in the last few months, so it's accurate to say I don't know either.
Then there is the issue of the freezer. The black hole that sucks anything and everything I make. To use later of course. I don't throw away good food, I freeze it. Then I throw half of it away on a later date. But since it's not freshly made and have lost any perkiness it once had, it doesn't bother me much.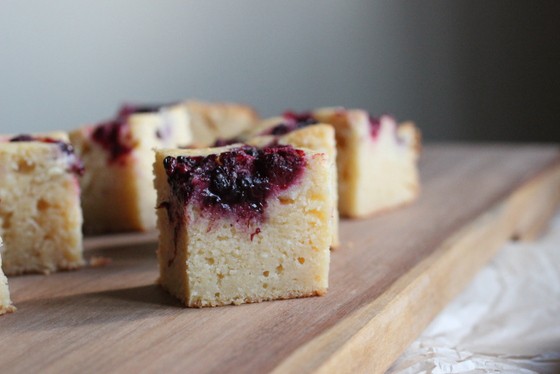 But summer berries are a different story. I took the time last summer to individually freeze and then bag sweet fresh raspberries, blackberries, and pitted cherries. For now, a cold, windy, and crisp day like today, a day before the official start of winter, and my birthday.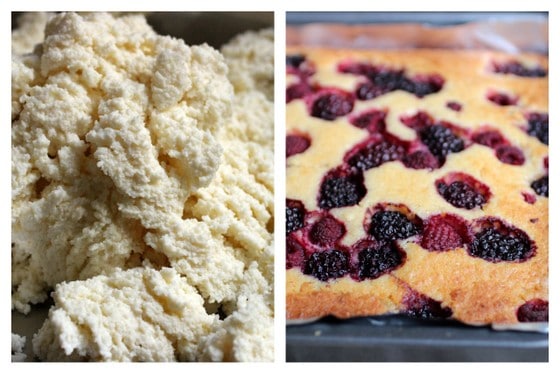 Yep, today is my birthday. A pile of years has managed to creep surreptitiously and take the count to 45.
And since celebrating my birthday is something I enjoy a lot, today I'm spending it at a friend's house, the one I mentioned in the chocolate chip cookie ice cream post. I went back and forth with what to do, how many friends to invite, a dinner, a brunch, a pijama party... too old huh?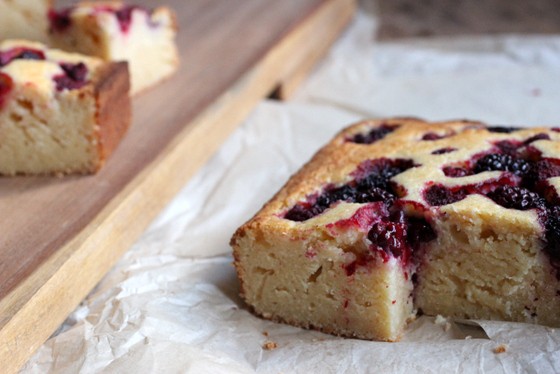 In the end, my friend and her sister both offered their houses, since I'm still feeling a bit like I'm living in a battlefield after the flood two and a half months ago. I am not, but I don't feel my house is all nice and shiny to have a celebration the way I like to do it. So me and my girlfriends, a small close group, are heading over to Maria's house and having brunch there. Isn't she a great
friend? Aren't good friends one of the main pillars in life?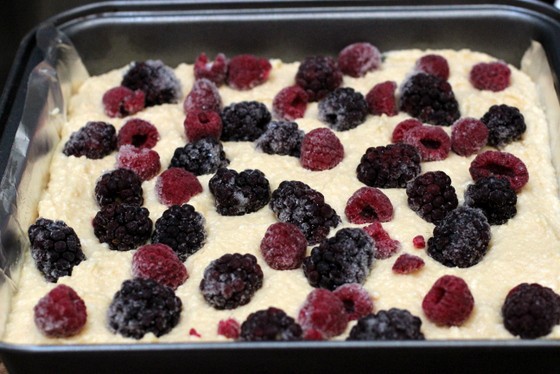 These creamy and dense squares are a must if you're the least bit into sweet ricotta.
They have no crust but are similar to a ricotta pie, something very common in these latitudes. The berries are a tangy surprise, perfect to cut through all that soft and monochromatic batter.
But I had to spend the day with all of you too, readers and friends of this little blog.
Life without it would not be the same, and without you, it wouldn't make sense.
So cheers to all of you and a big thank you from the bottom of my soul for taking even a second to drop by whenever you can.