Sweet and syrupy, this is a basic homemade sauce or topping that doubles as pie filling. It's a recipe you will love because it only has 4 ingredients, takes 15 minutes to make, and is a perfect blueberry topping for cheesecake, yogurt, ice cream, waffles, pancakes. It keeps well and can be made with other berries too.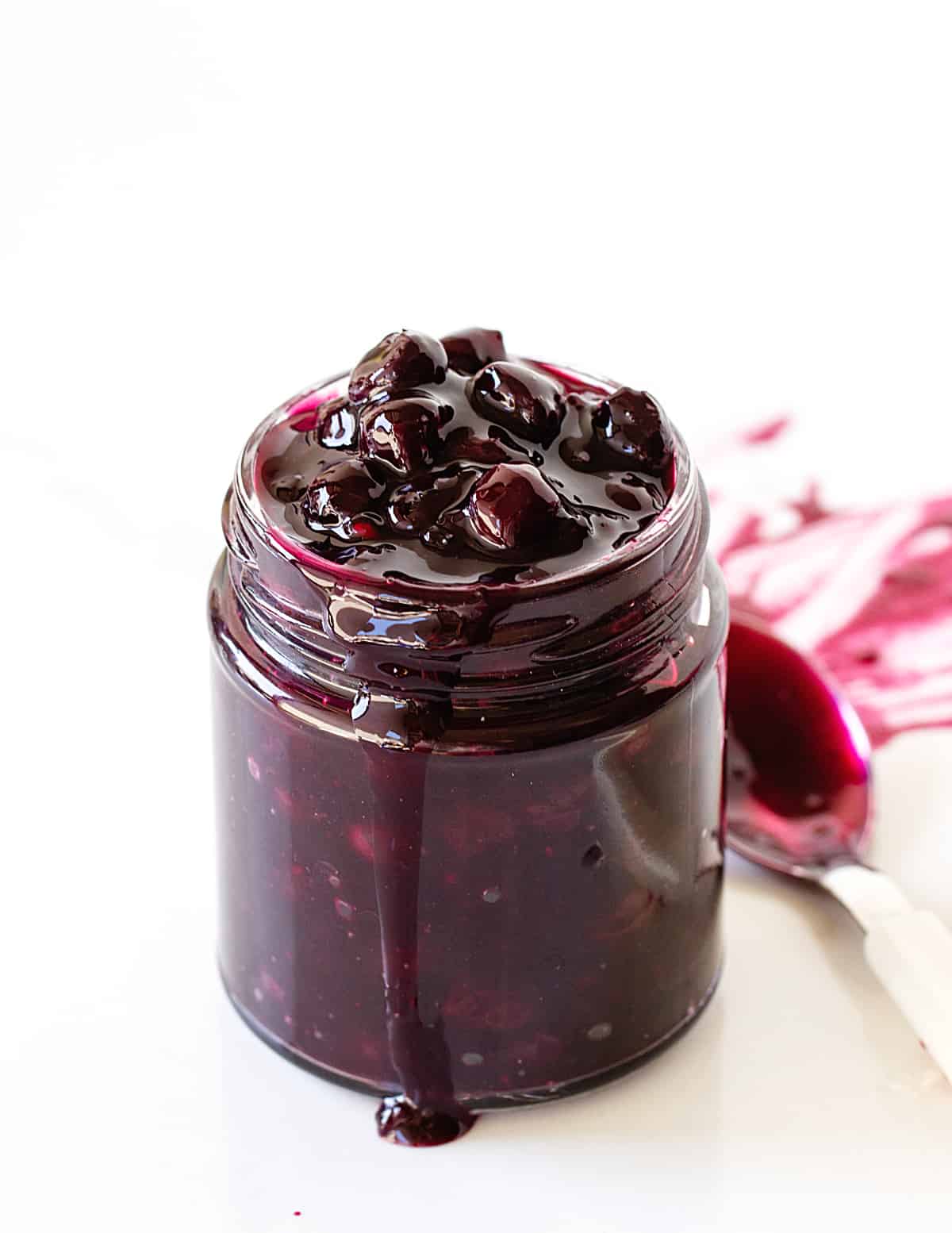 A simple berry sauce is always a good idea to have at hands reach, don't you think? And when the same recipe doubles as a delicious topping or pie filling, it's even better.
My favorite, or the one I use the most, is hands down this easy homemade blueberry sauce recipe. It's a wonderful recipe to eat with yogurt, on top of cheesecake recipes, with a slice of pound cake and vanilla ice cream, as a side sauce with angel food cake, with my favorite weekend buttermilk pancakes and several other breakfast foods, it's always there.
You only need 4 ingredients (or three if using it as a more runny sauce than a topping) and can have it ready in 15 minutes!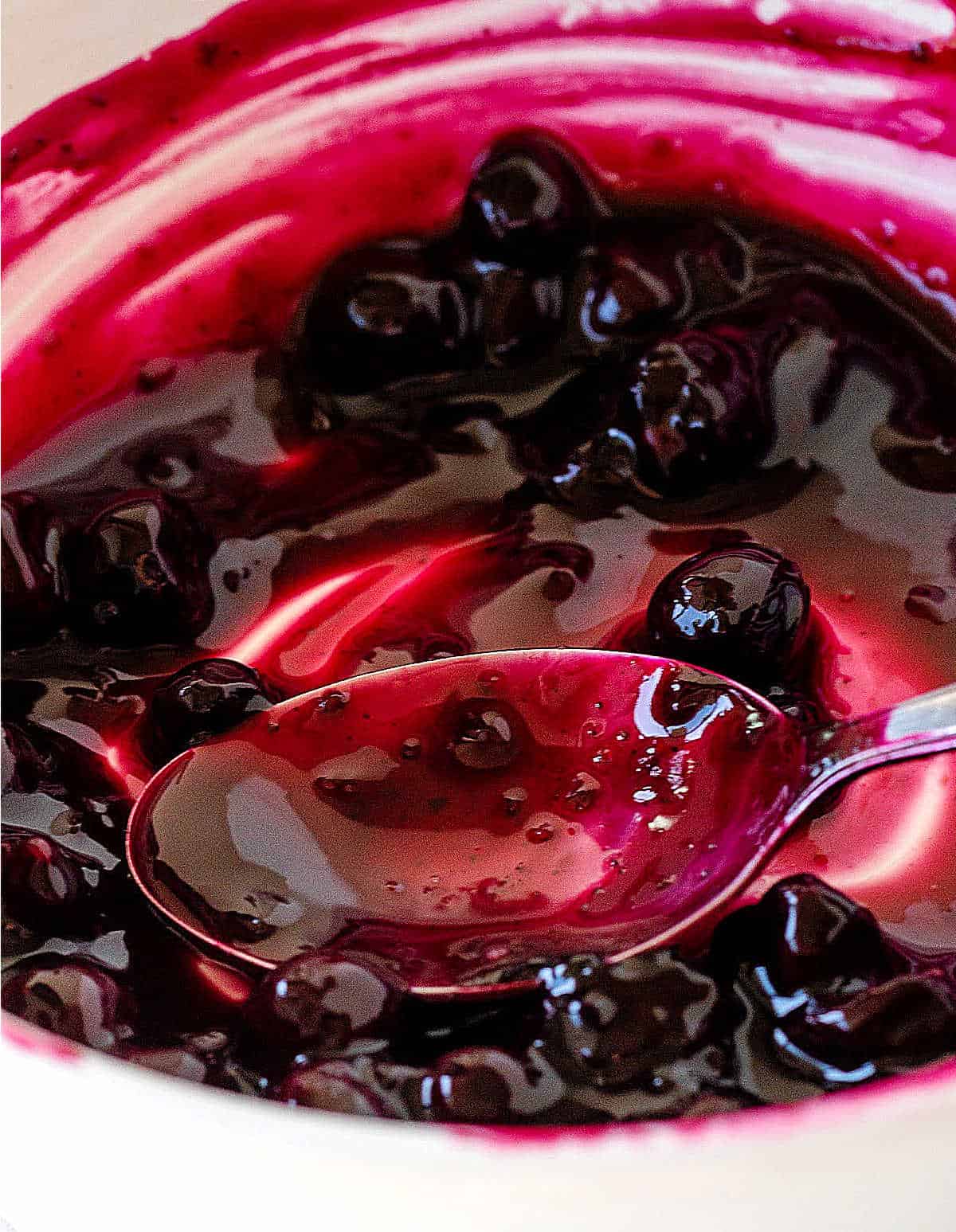 Ingredients
Fresh berries - fresh blueberries are my first choice when available, but frozen ones also work very well.
Sugar - brown sugar or the white, granulated one sweeten more, but you can use any type, muscovado, coconut, light, powdered.
Liquid - cold water and/or fresh lemon juice make the rest of this recipe. Citrus balances the juicy blueberries really well and gives the sauce a fresh tone.
Cornstarch - it acts as a thickener and binding agent, and is necessary when using it as a blueberry pie filling recipe. Not is you're using it as a sauce because we want it to flow more and not be too thick.
Lemon zest (optional) - you can add it if you want an extra punch of lemon.
How to make it
Put all ingredients in a saucepan on the stove top. Image 1
Cook over medium heat until it comes to a low boil and the blueberries start to release their juices. If necessary reduce to a low heat so that the sauce doesn't stick to the bottom. Image 2
It will thicken as the liquid evaporates. But keep in mind that it becomes even thicker as it cools down. Images 3 and 4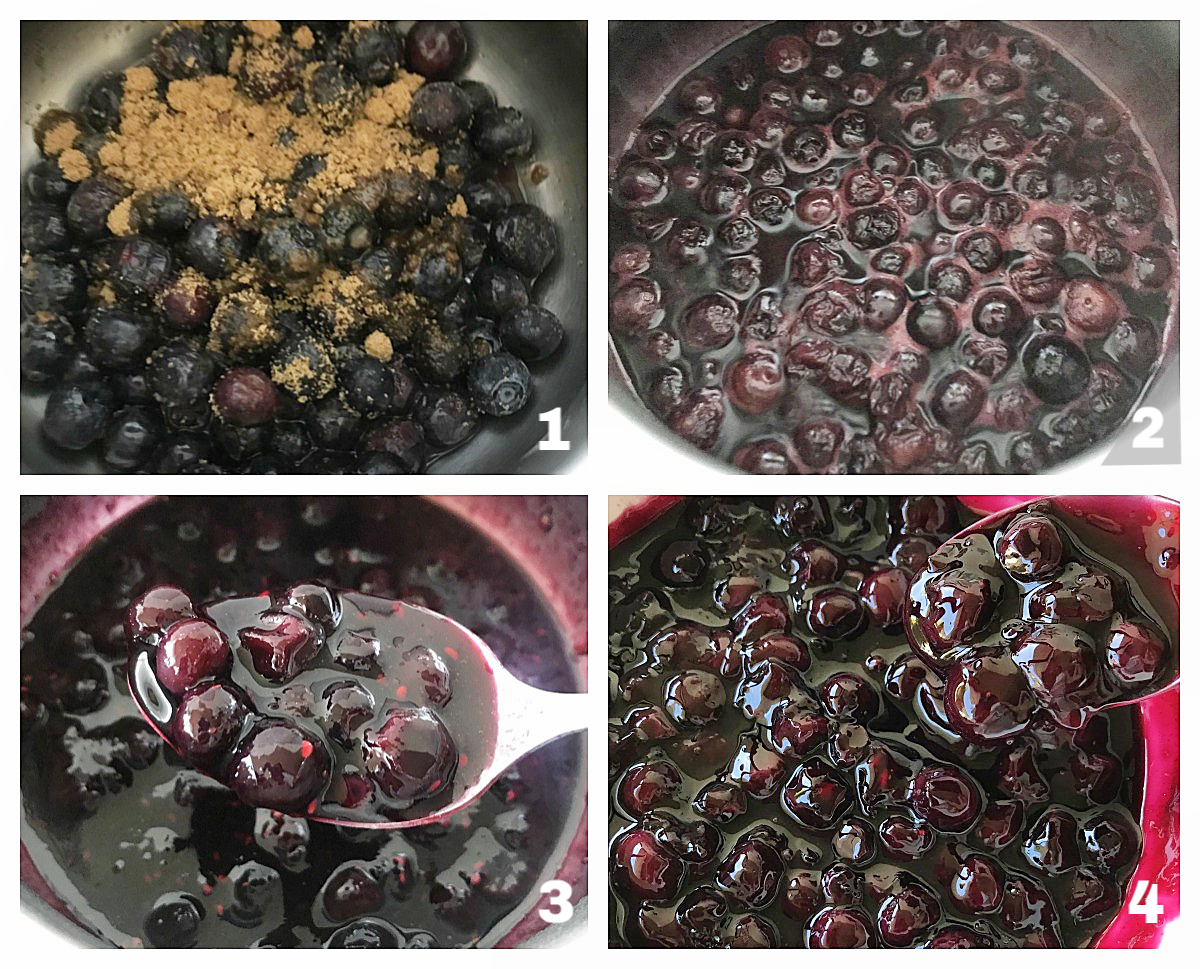 ---
Watch our video tutorials 👇🏻
---
How to thicken it
This sauce will naturally thicken as it cooks as the sugar and water create a syrup and some of the liquid evaporates. But, you might like your pie filling with a thicker consistency and that's were a cornstarch mixture comes into play.
Cornstarch: is my favorite thickener as it does a good job without altering the fresh fruity flavor. I don't usually add it if using this sauce as a pie filling or topping, because maybe you need to top a cheesecake or a fruit tart with a more gelatin-like sauce. This is your answer.
Always add cornstarch that has been first diluted in a small bowl with liquid (water or juice) until smooth. It's the way to avoid lumps in the sauce.

Vintage Kitchen Tip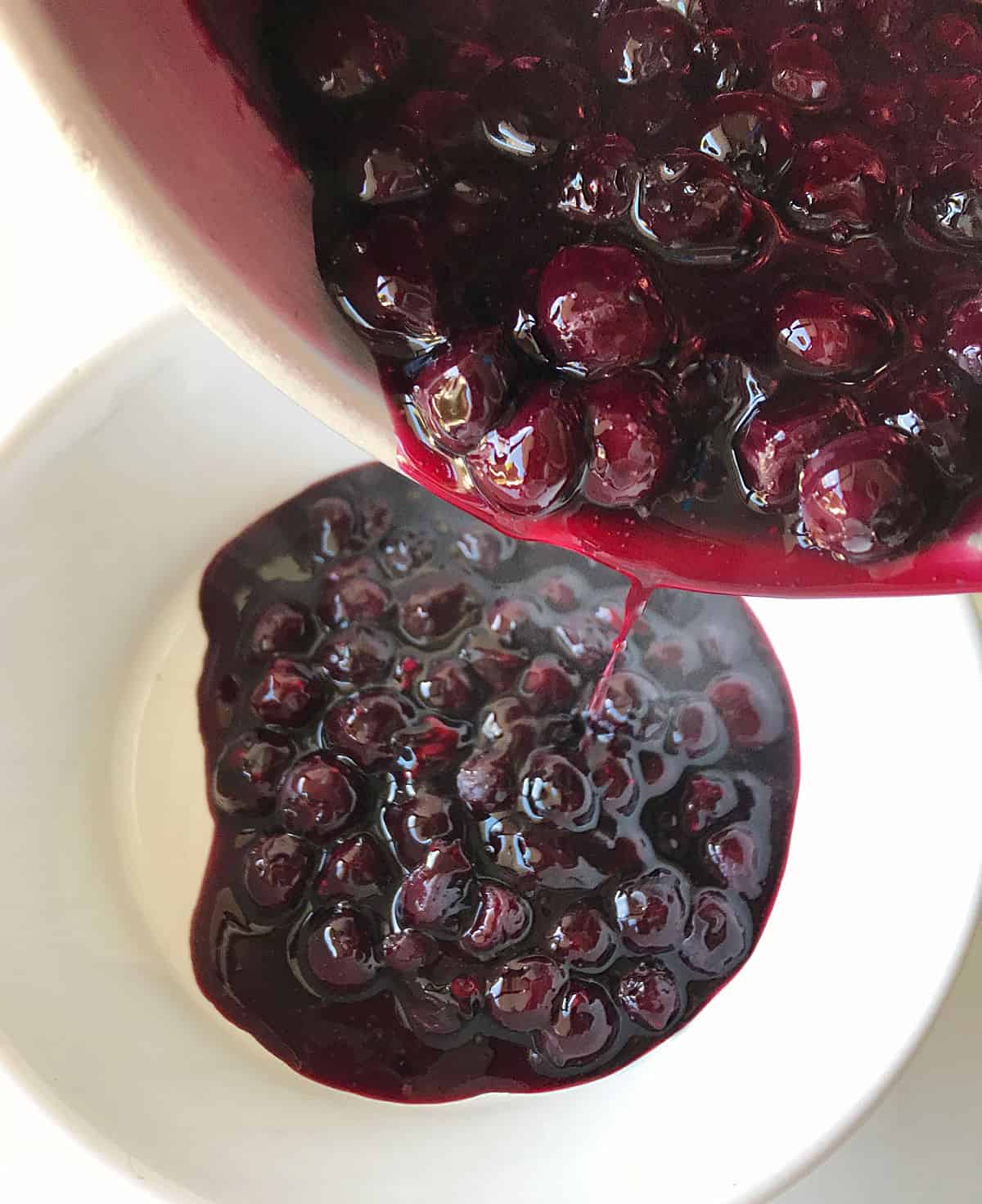 Variations
As you can imagine, this basic recipe can be adapted to any berry, even cherries, like the one we use in the Chocolate Velvet Ice Cream.
Some great pairings - blackberries with orange juice; strawberries with orange or lime, raspberries with lemon.
Extracts - you can also use pure almond extract or vanilla, which pair very well with berries. I recommend just a few drops, we don't want to take away from the fresh blueberry flavor.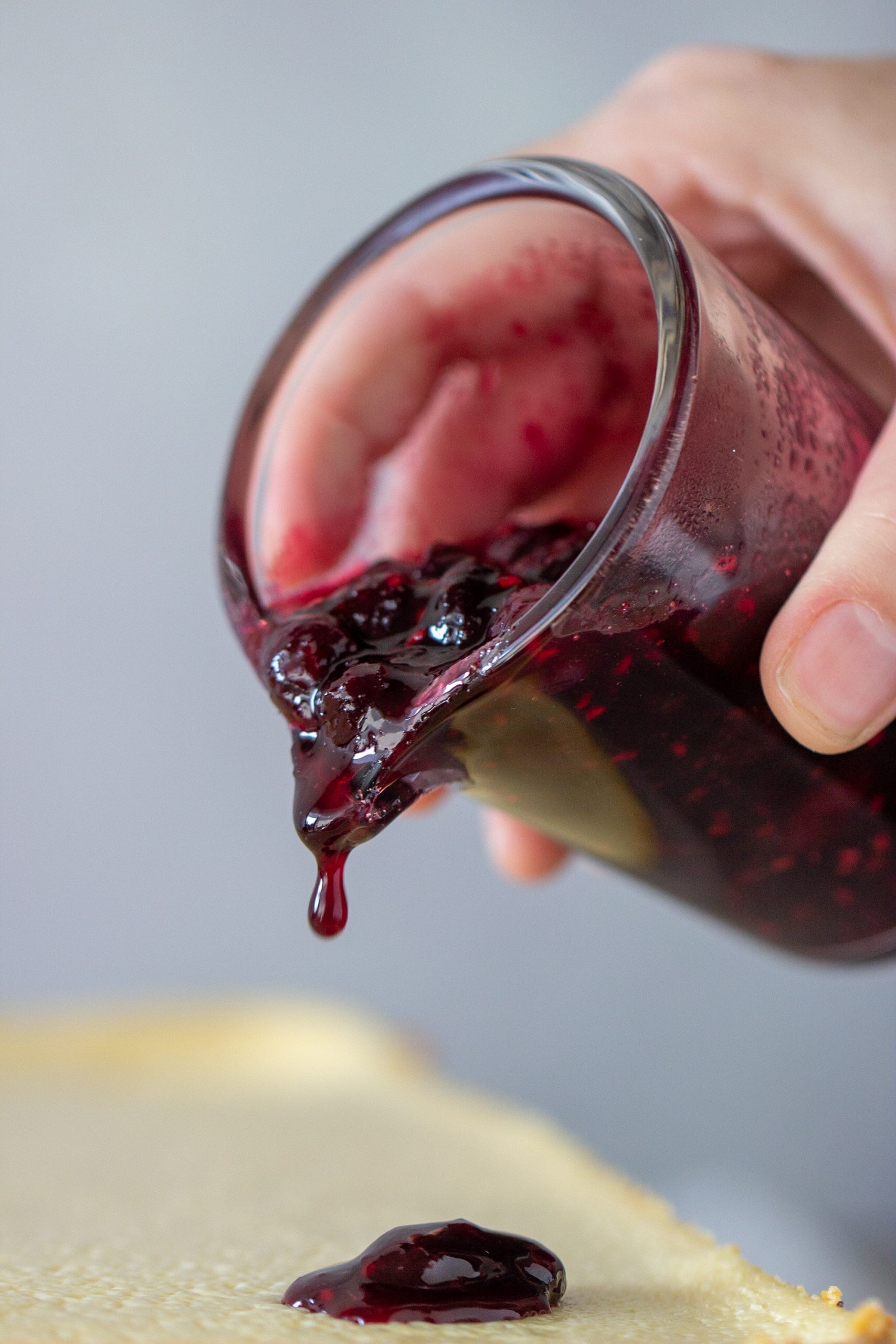 Top tips
Organization: always read the recipe first and make sure you have all the ingredients, at the right temperatures, and also the rest of the equipment and space to make it. This will make the process so much easier!
Water: I like to use lemon juice and add just a little water at first and check how much liquid the blueberries release, especially if using frozen berries. Then adjust for more liquid if necessary.
Storing: there are several ways you can do this.
Refrigerator: this sauce keeps well refrigerated in an airtight container (glass jars preferably) for a few weeks.
Canning: if you want to keep it long term sterilize the jars and proceed as you would when making jam. Here is a good post on options for how to sterilize glass jars.
Freezing: it can be frozen, especially if you don't add the cornstarch. I do that all the time and have a last-minute dessert for a dinner party if I need to.
Serving it: there are many ways you can do this, besides the ones already mentioned before like pound cakes and breakfast foods. Transform a simple store-bought cheesecake into a fabulous blueberry cheesecake. Make the best brownie dessert by having a frozen brownie base and serving it with a scoop of ice cream or whipped cream and some of this delicious homemade blueberry sauce. It's one of my favorite things to woo my guests btw. I have a post about freezer baking and desserts that might interest you.
Large batch: if doubling or tripling this recipe, use a larger saucepan and start at medium-high heat until it's about to boil. Then lower the heat and continue cooking it. This is a great way to make it ahead and use it for different dishes.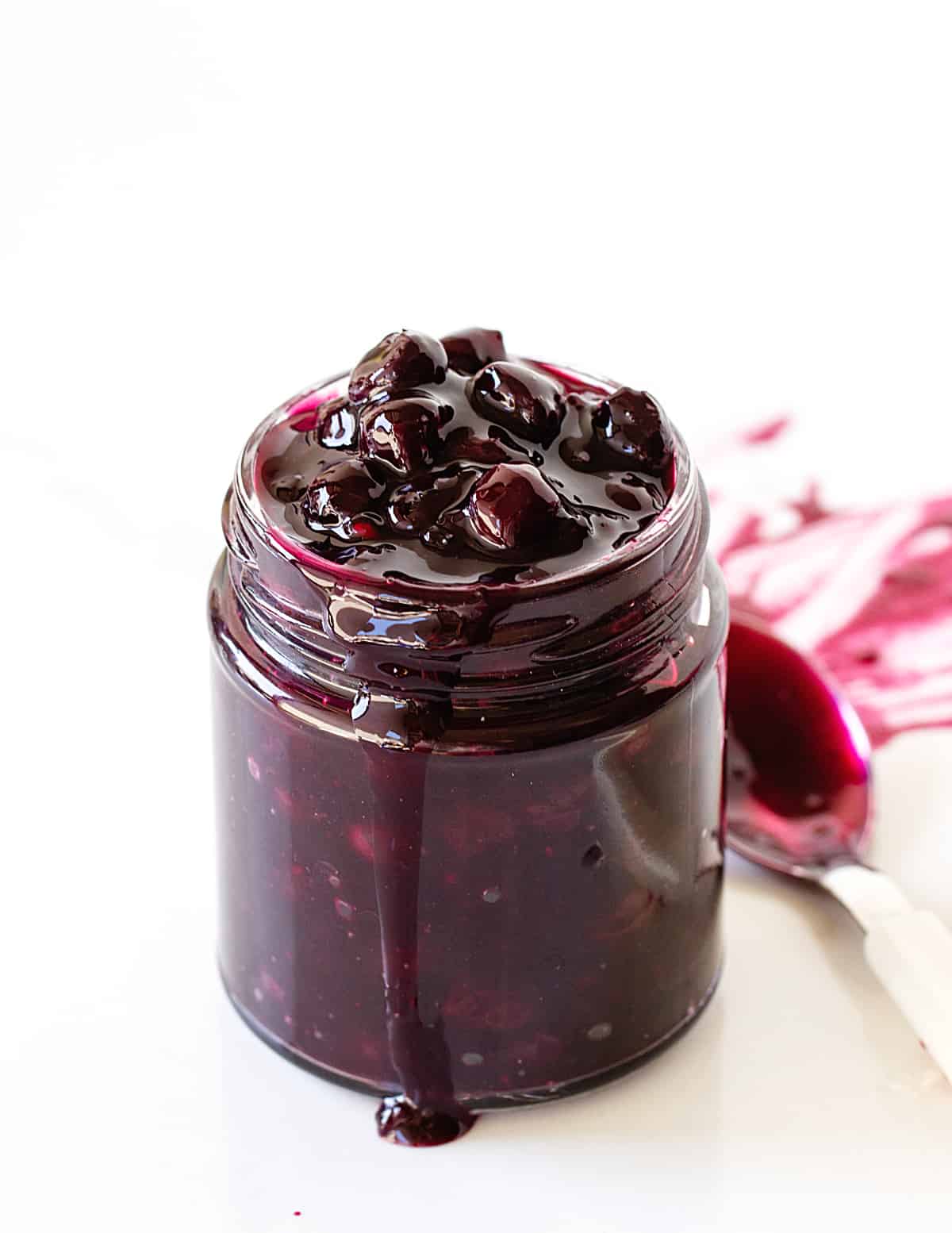 ---
Related recipes you might like:
---
Let me know in the comments below if you made this recipe and loved it and if you had issues so we can troubleshoot together. I love to hear what you think, always. Thanks for being here. It's much appreciated.
You might also consider subscribing to our FREE email series to Boost your Home Baking Skills! And our regular newsletter.
And let's connect via Facebook, Instagram, and Pinterest.
Print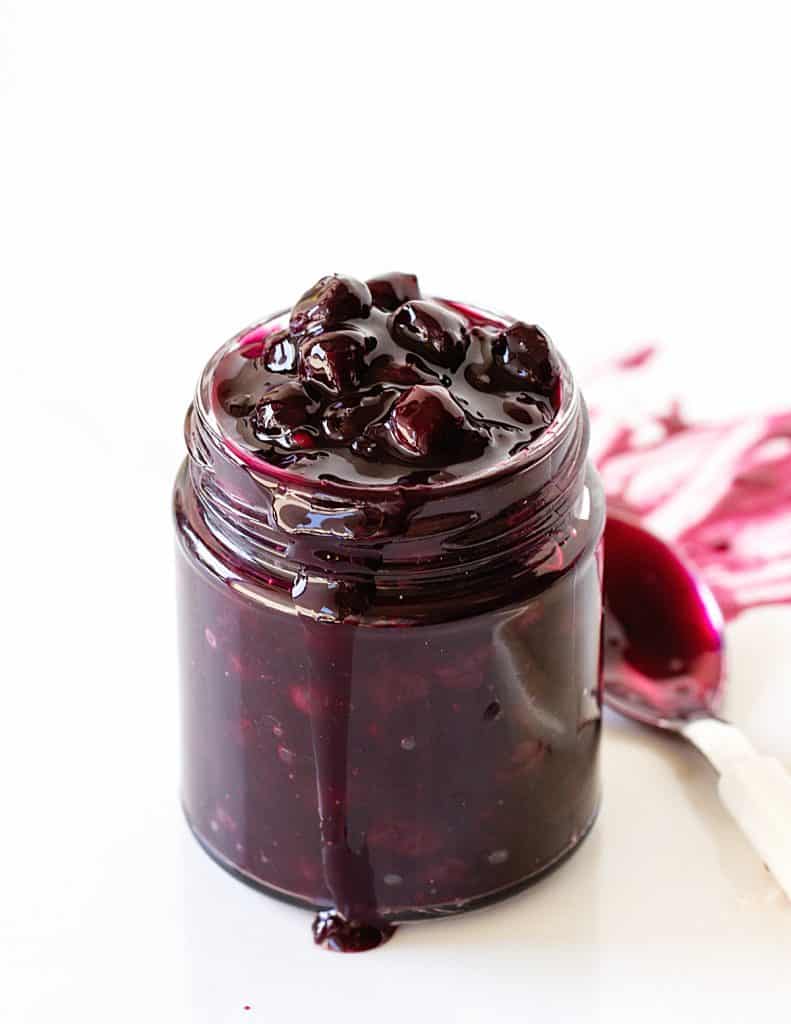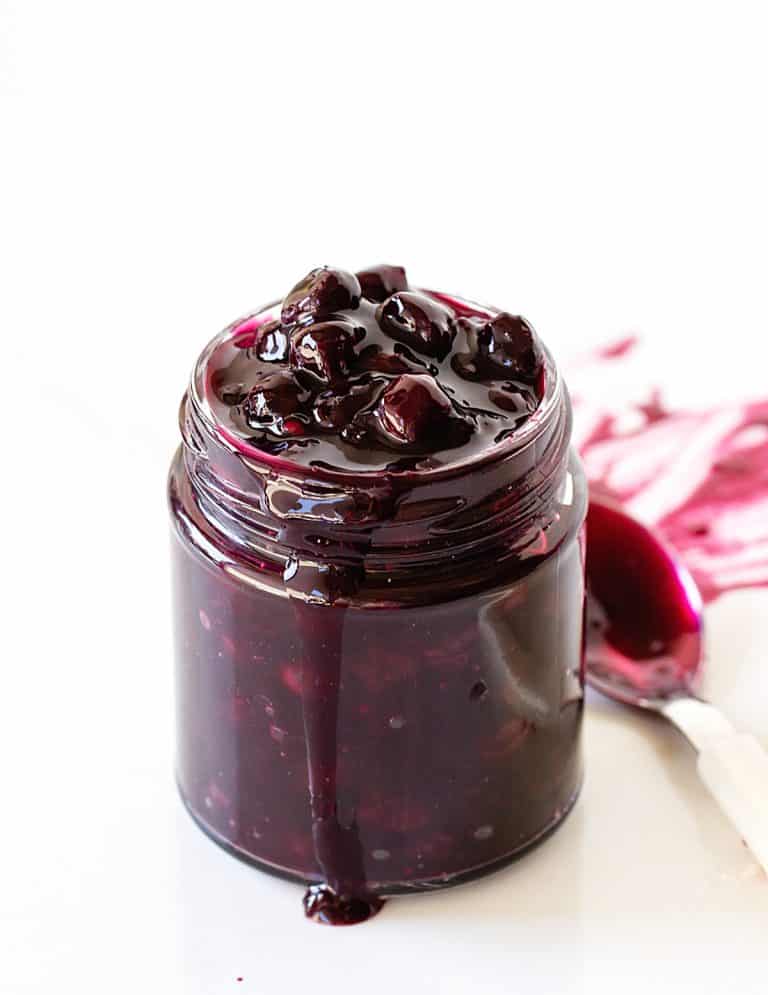 Basic Blueberry Sauce - only 4 ingredients!
Sweet and syrupy, this is a basic recipe you will love because it's easy, takes 15 minutes to make, keeps well and can be added to cheesecakes, yogurt, ice cream, waffles.
*This is a very adaptable recipe that you can easily make sweeter or thicker.
Total Time:

15 minutes

Yield:

2 cups
For regular sauce:
2

cups

blueberries (fresh or frozen)

2

-

4

tablespoons lemon juice

3

-

5

tablespoons sugar
For a thicker sauce:
1

-

2

teaspoons cornstarch OR

1

-

2

tablespoon good blueberry jam
Instructions
For regular sauce:
In a medium saucepan put blueberries with lemon juice and sugar.
Mix and cook over medium heat.
Frozen berries: they already have extra water from the freezer so I don't recommend adding any from the beginning.
Fresh berries: I like to add a tablespoon of water from the start. But you can see how it goes and add some later.
Cook, mixing every now and then to avoid blueberries from sticking but try not to smash them.
In about 5 minutes, depending on your stove, the juice and sugar will start to become syrupy.
At this point, you can taste and add more sugar or liquid.
You can let the sauce thicken a few more minutes.
Take into account that it will thicken as it cools.
For a thicker sauce:
If you know you want a thick, gelatin-like sauce, add 1-2 teaspoons cornstarch, dissolved in a tablespoon of water, from the beginning.
When it boils you will have a feeling of how much the sauce is thickening.
Let it boil a minute or two if it's too watery.
Take into account that it will thicken as it cools.
Alternatively, you can add some store-bought blueberry sauce to it when you remove it from the stove.
Notes
Customize - take into account that you can add more or less sugar, more or less citrus juice and adapt the sauce to your liking. Or even add a ground spice like cinnamon when you remove from heat.
Storing - this sauce keeps well for a week, well covered, in the fridge. Or up to a month frozen. If you want to keep it long term proceed as you would when making jam. Here is a good post on options for how to sterilize glass jars.
Other berries - use any other berry and change citrus juice if you want to. Blackberries with orange, strawberries with lime or orange, raspberries with lemon.
Author:

Paula Montenegro

Prep Time:

5

Cook Time:

10

Category:

Sauces - Fruit

Method:

Stovetop

Cuisine:

International
Nutrition
Serving Size:

⅙

Calories:

53

Sugar:

11.3 g

Sodium:

0.6 mg

Fat:

0.2 g

Carbohydrates:

13.6 g

Protein:

0.4 g

Cholesterol:

0 mg
Keywords: blueberry sauce