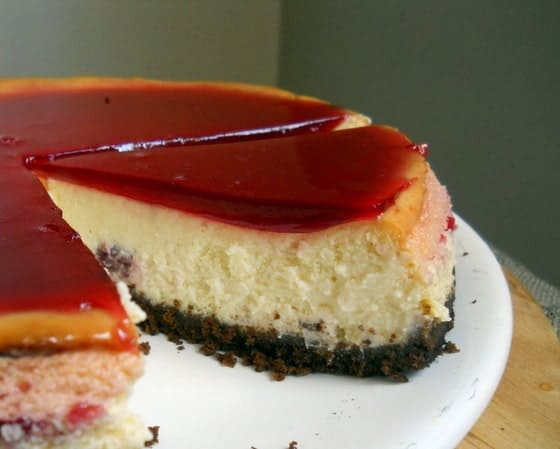 Finally the sun came up after two days of one of the worst storms that I remember. I think there was a
Sandy
copycat roaming the southern hemisphere. I hope everyone is safe after such an ordeal.
Just as I said I'm not a cupcake baker or lover, I am a cheesecake baker and absolute lover. It really is one of my favorite things
to make. Can't have enough recipes or need-to-try new flavor combinations. So when Julie of Willow Bird Baking announced the last challenge was to innovate on cheesecake, well, it was the perfect way to say goodbye.
This is my favorite cheesecake recipe, the one I always go to. The one that has people asking that I make it for their birthdays, like my mom today, or leaving unexpected comments, like a cousin who turns out has been following my blog almost from the beginning without my knowledge, and left a comment a few months ago requesting I share this recipe with you.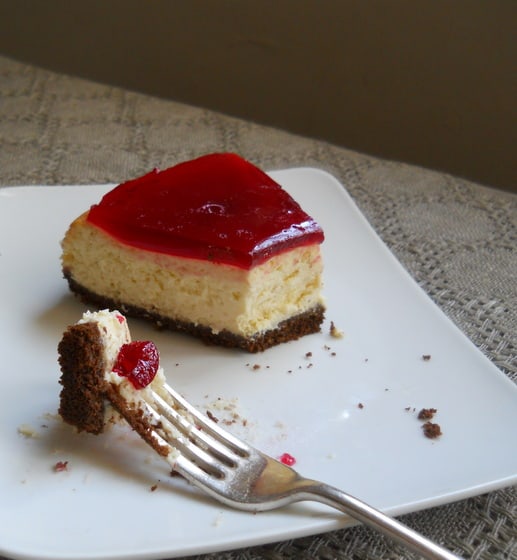 I added raspberries today, because I think they are festive and flavorful.
I used canned ones in syrup. It's the way to be able to make this year round. If you have fresh berries follow the directions for the topping of this
strawberry tart.
By macerating fresh berries in sugar you get that wonderful natural juice that can be mixed with some gelatin to make a shiny, full of flavor, colorful layer of goodness to top this cake. So as you see, any berry will work.
The chocolate base is simple, made of wafers, but it is a nice touch, not only visually but also flavor-wise. Chocolate, cheese and berries together is a fantastic idea. It always will be.
And this cheesecake is creamy, cheesy, not too sweet, tall enough and keeps for days.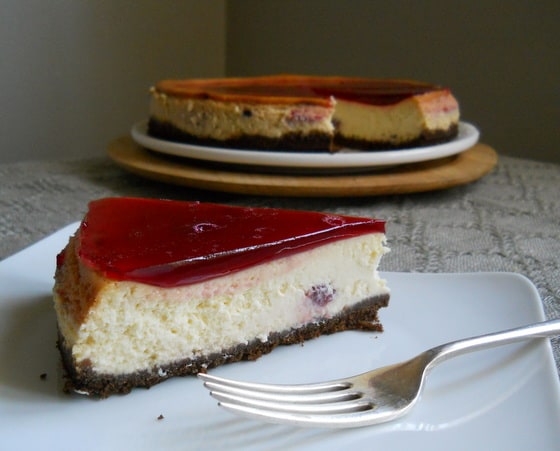 Print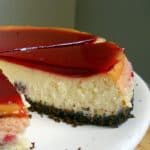 Raspberry Cheesecake with Chocolate Crumb Crust
---
Scale
Ingredients
For cookie base:
1 ½ cup

s ground chocolate wafers

5

Tbs 75g unsalted butter, melted
For cream cheese filling:
2

pounds + 2 oz. (1kg cream cheese, at room tº (or use 2 pounds cream cheese and

¼ cup

sour cream))

1 ¼ cup

s 250g sugar

4

large eggs (room tº)

1 teaspoon

vanilla extract

¼ cup

cream

1 cup

raspberries in syrup (drained)
For the topping:
¾ cup

raspberry syrup

1 teaspoon

unflavored gelatin

1

Tbs cold water
---
Instructions
For the cookie base:
Line bottom of 9-inch springform pan with foil, tuck foil underneath pan bottom, assemble pan, then pull foil around side of pan. This makes it a snap to unmold.
Melt butter. Add crushed cookies and mix with spoon.
Put mixture in prepared pan and press firmly onto bottom. Refrigerate while making filling.
For the cheese filling:
Preheat oven to 350º.
Beat cream cheese in bowl of electric mixer until smooth.
Gradually add sugar and beat on medium speed until sugar dissolves.
Add eggs, one at a time, beating until just incorporated and scraping down sides of bowl after each addition. Remove bowl from mixer, add vanilla and cream, stirring to incorporate.
Put half of batter into prepared pan. Sprinkle raspberries over it.
Carefully pour rest of batter trying to cover berries.
Bake for 30 minutes, turn the oven down to 150º and bake for another 50 to 60 minutes. (This can vary depending on your oven. At this point the cheesecake should jiggle only in the center).
Turn the oven off and, without opening the door, let the cheesecake inside at least 1 hour. Cool to room tº.
For the topping:
When you're ready to assemble the tart, pour the raspberry syrup in a small saucepan.
Cook over low heat until reduced to half a cup, about 5 minutes. In a small cup put cold water and sprinkle gelatin over. Let hydrate a few minutes.
Add to the hot, reduced syrup that has been removed from the heat, and mix until the gelatin is completely dissolved. Let this mixture cool in the fridge until it begins to thicken. Don't let it set.
When the cheesecake is completely cold, carefully pour the thick raspberry gelatin mixture over the top, covering evenly. Refrigerate for at least 4 hours or overnight before unmolding.
To do that, open springform pan, lift foil to remove from bottom and, holding the cake in one hand, push foil down and lift the cake with your other hand. Transfer to serving plate.
---