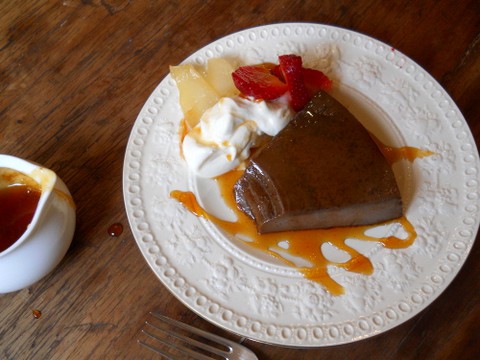 Hola Méjico! Happy Independence Day! We have a celebration and there's no stopping today's Sunday Supper table. Our theme is, of course, Mexican food and you won't be able to stop eating and drinking with your eyes. I can guarantee that. Our host today is the wonderful Heather from Girlichef.
Flan is such a traditional dessert here, it was a no brainer when I had to choose a recipe. And chocolate flan made with condensed milk was on my bucket list,  so it was time. A little cinnamon stick to infuse the chocolate milk and I was on my way to end the celebration with a great, custardy, tasty dessert.
Just in case you think making flan is tricky, it's really not. It's probably on a lot of people's bucket list with the likes of macarons and yeast bread. But every trick or fear disappears once you make it for the first time.
This recipe has been on the back of the can of condensed milk for as long as I can remember. Let's just say I can remember way back. When I started baking in my early teens, this unctuous milk held a lot of fascination. I still think it's well deserved since the texture and taste it adds is unparalleled in some recipes.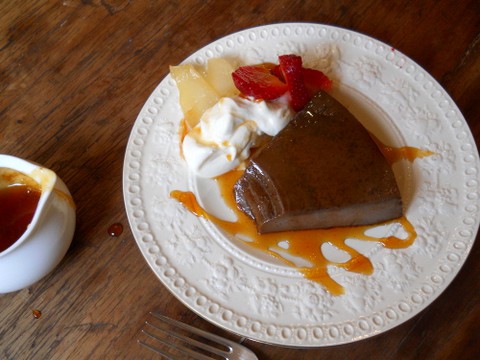 I wanted to make this chocolate cinnamon flan with both bittersweet chocolate and cocoa powder. I think there's no better combination to get a deep chocolate flavor. First I infused the milk with a cinnamon stick and then added good chocolate both in chips and powder form. The amount of cinnamon can be more if you want a stronger taste or omit the chocolate and you have cinnamon flan…
The caramel lined tube pan sounds complicated to some but it's a simple idea. The only thing to watch is that you're working with caramel. Caramel. Unbelievably hot caramel, the way only caramel can be. Otherwise, you just melt sugar directly on the tube pan you're using, wait until it's a fairly deep amber color, swirl it to coat the whole pan and that's it. Be sure to wear oven mitts or thick towels, otherwise you'll burn your hands when swirling the pan. But then, that's common sense. I sound like a kindergarten teacher, I know.
I tried it with whipped unsweetened cream, poached pears and then added strawberries. All bathed in some of the flan's own caramel. It is fa-bu-lous.
Print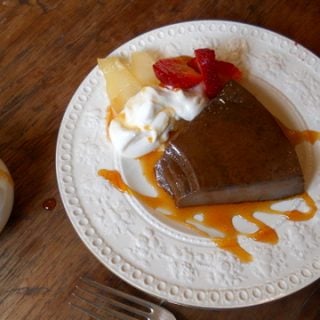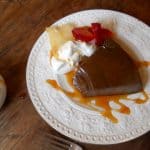 CHOCOLATE CINNAMON FLAN
Yield:

8

servings

1

x
---
Scale
Ingredients
1

can condensed milk

1

can whole milk

1

can water

1

small cinnamon stick

1/3 cup

65g semisweet chocolate chunks

1 ½

Tbs cocoa powder

4

eggs

1 cup

sugar (for caramelizing the mold)
Whipped cream (to serve)
Fresh or poached fruit (to serve)
---
Instructions
Open a can of condensed milk and pour the contents in a medium bowl. Reserve.
Using the same can as measure, put water, milk and cinnamon stick in a saucepan.
Bring to a boil and immediately turned heat off.
Add chocolate and cocoa powder, mix well until no flecks of chocolate remain and let everything cool down until it is warm, about half hour.
Meanwhile, put the sugar in the bottom of a 8-inch tube pan and place directly on the burner.
Melt the sugar, moving the pan so it doesn't burn in one place. You can also move the sugar with a spoon. When the sugar is all melted and amber colored, wearing oven mitts or thick towels (careful with how hot the pan is), swirl the pan so the caramel coats the bottom and sides of the pan. To coat the center tube use a spoon to aid you. Reserve. Caramel will harden.
Preheat oven to 300º F /150º C
Strain warm chocolate mixture into the condensed milk and mix until well incorporated.
On a large bowl, whisk eggs to blend.
Gradually add chocolate mixture and mix thoroughly until smooth. Pour into prepared pan.
Bake for about 1 hour on a water bath. It will still be barely jiggly.
Let cool down in the oven and then transfer to a wire rack. Refrigerate until cold, 3 to 4 hours. I do it the day before.
When you're ready to serve, put the pan directly on the flame again for about 1 minute, to loosen the caramel. Move the pan clockwise and counter-clockwise a bit to make sure the bottom is loose.
Invert onto a plate. If you have caramel stuck in the bottom of the pan, loosen it over the burner flame and pour it on top of the flan. Serve with whipped cream and fresh fruit. 
---
adapted from the can of Nestle's condensed milk
Sopas (Soups), Ensaladas (Salads), and Entremeses (Starters)
La Comida (the food)
Postres (desserts)
Bebidas (beverages)
---