It took many tries to get to the chocolate pudding (or custard) I was looking for: super creamy, sweet but with a deep chocolate flavor, easy to make (microwave you guys!), eggless and delicious! Great for kids, it is a crowd-pleaser.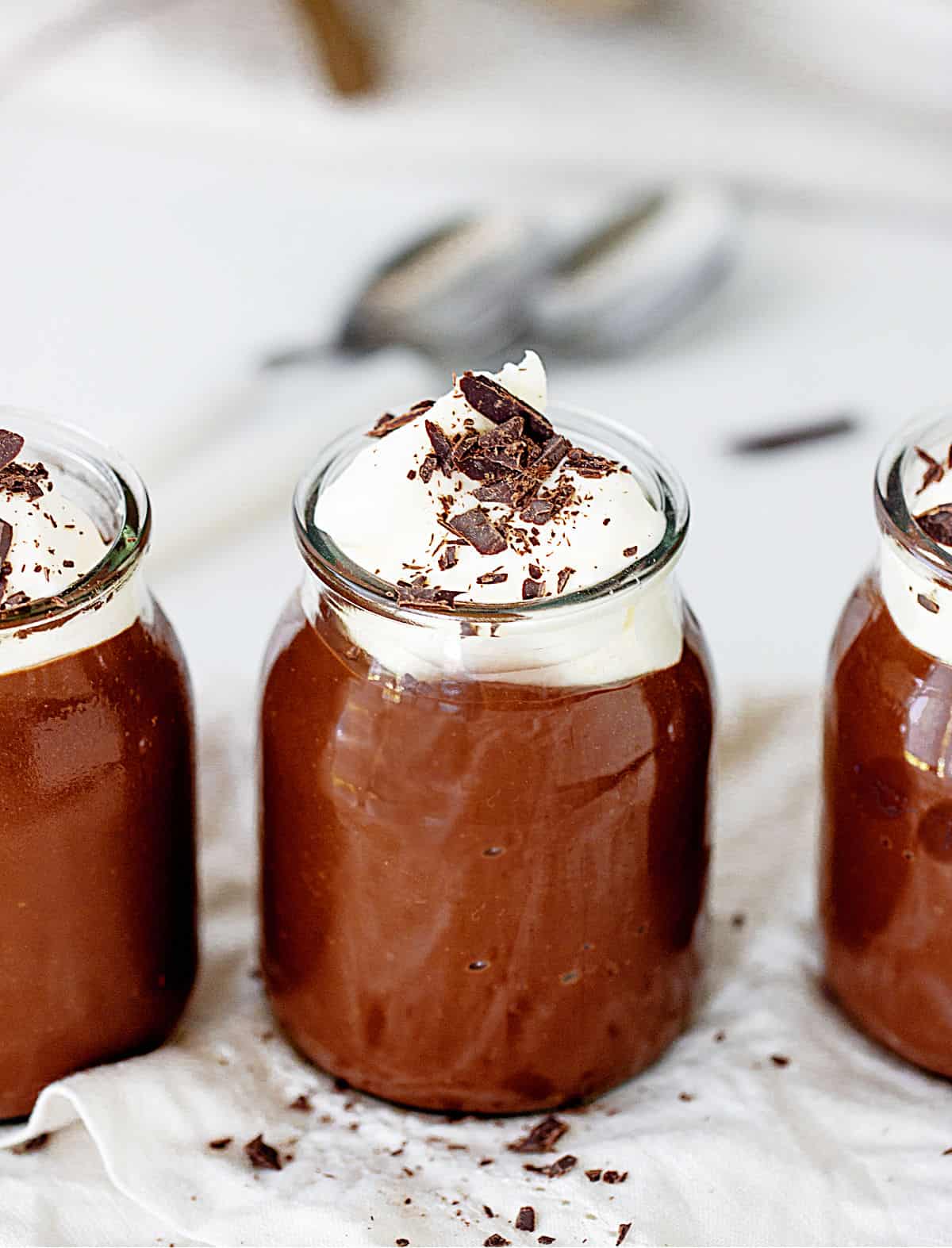 I have loved chocolate pudding forever. Or custard as is called sometimes.
It's a flavor and texture from my childhood and you know how those can become pure nostalgia. Something similar happens to me with rice pudding.
So a recipe for an easy chocolate pudding dessert was a must for this blog. But it had to be a better version from the one I remembered, with more of a homemade feel to it and a great flavor.
Otherwise, why bother, right?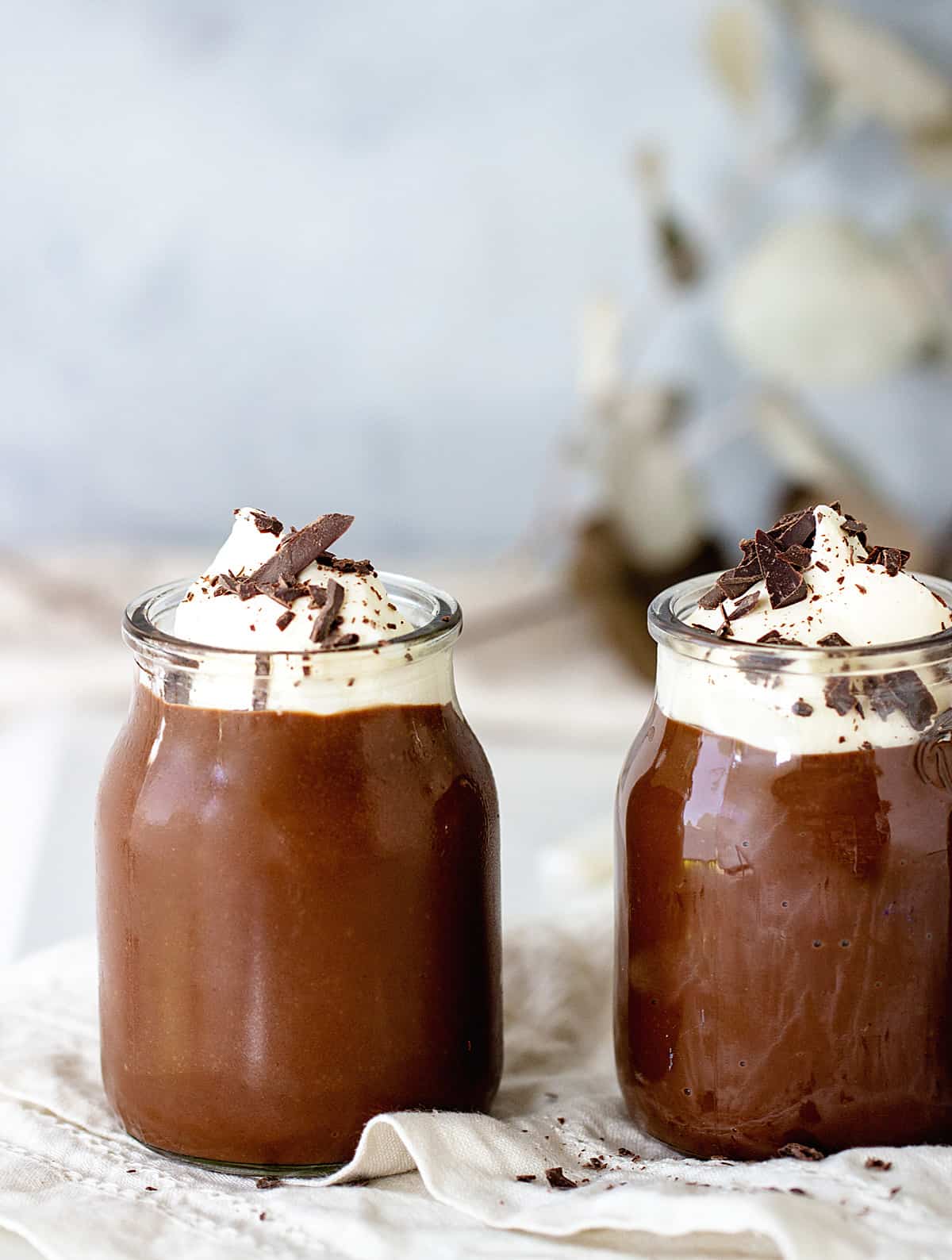 What this dessert is:
Easy to make - did I mention that it's made in the microwave? So convenient since you don't have to stir on the stove, especially during hot months! A bowl, a whisk, and the microwave is all you need.
Intense chocolate flavor - the mix of cocoa powder with chocolate is essential for getting the best chocolate flavor, much deeper than using only one or the other.
Sweet - it is a chocolate pudding so it needs to be sweet. But not overly sweet, don't you agree? This recipe is spot on.
Versatile - you can make it more or less sweet and chocolaty, and also add other flavorings (maybe orange or cinnamon) if that's your thing. This is an adaptable base recipe for chocolate pudding.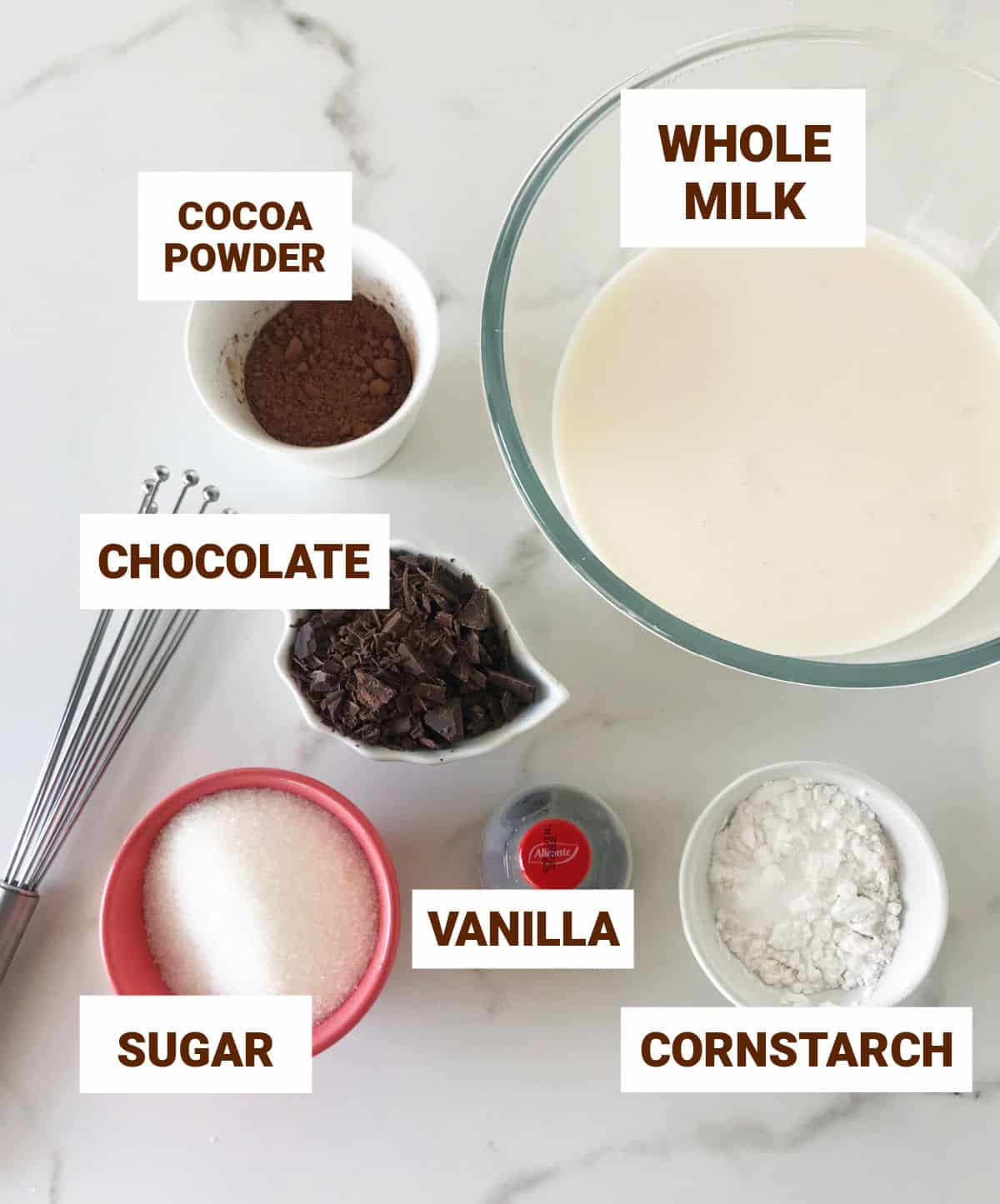 Simple ingredients
As you can see in the image above, the ingredients for this recipe are everyday staples and few.
Only 6 ingredients! Can you believe how easy and simple this chocolate dessert is?
Milk: I use whole but it can be made with low-fat. It will be less rich. I never tried it with almond or coconut milk but if you use it regularly I say give it a try.
Sugar: white granulated sugar is the one that sweetens the most. And since there's cocoa powder, it is needed. But you can definitely use brown sugar with great results. It will have a caramel undertone that is wonderful.
Chocolate: what you use for brownies is good for this recipe.
Cream: it's not in the recipe but if you want an even richer dessert you can substitute a ¼ cup of the milk for double or heavy cream.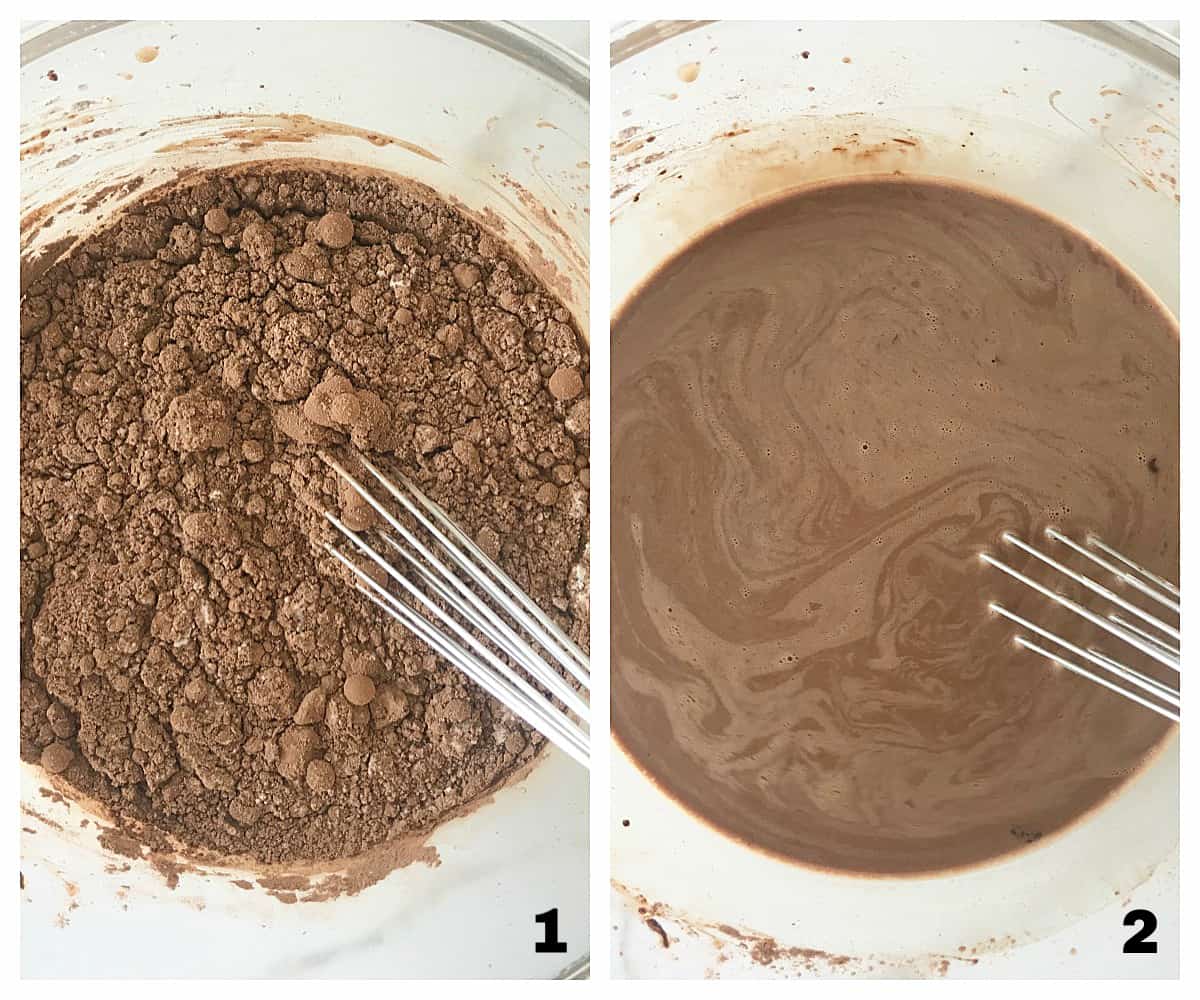 Microwave steps
The great thing about this is that cooking this pudding involves putting in and taking out the bowl from the microwave several times and whisking it. That's it.
Most ingredients are mixed in the bowl that will go to the microwave oven. The cocoa powder usually doesn't completely mix before the first run (image 1). But pop it in the oven for 1 minute and you'll be able to whisk it (image 2).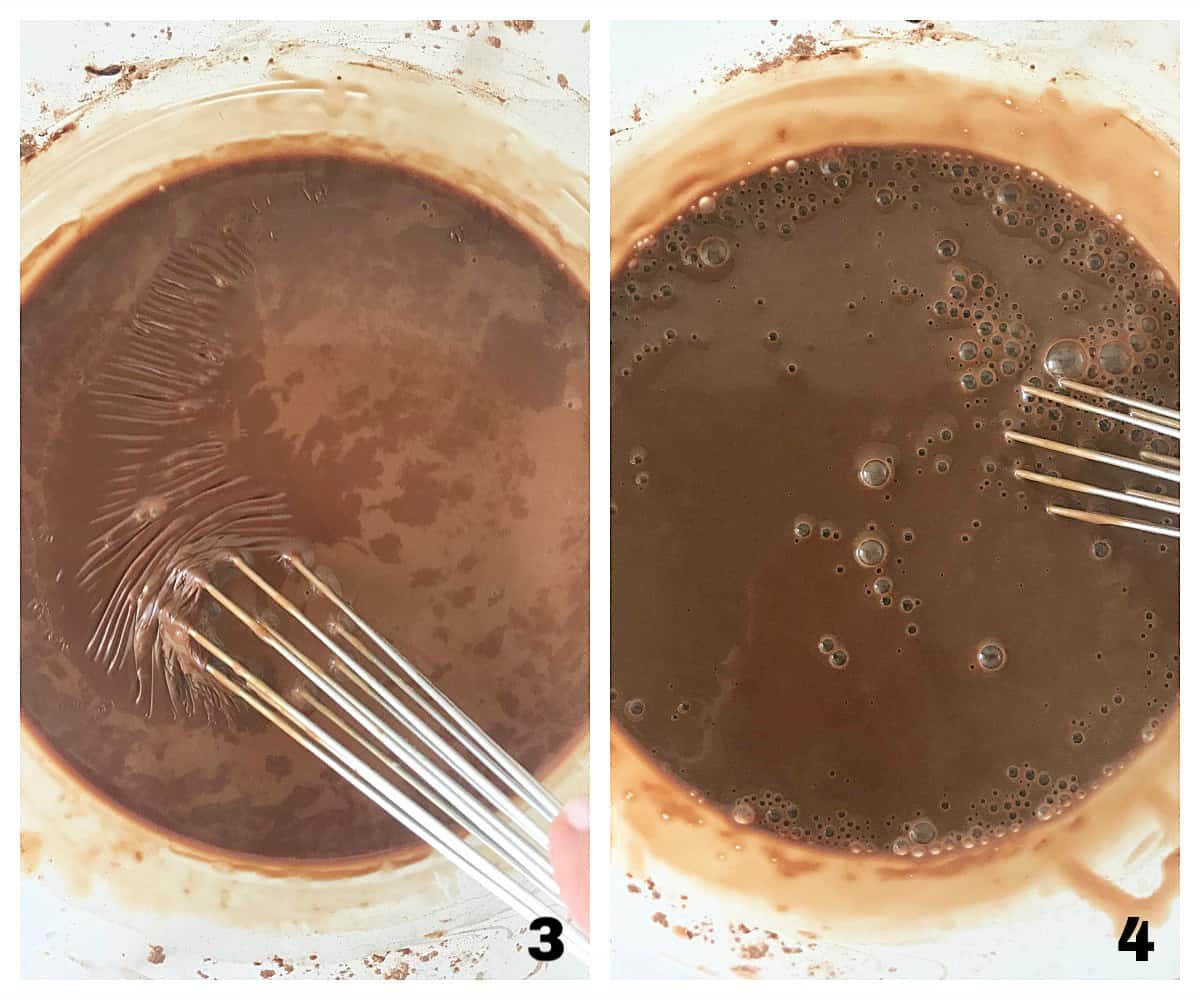 When the mixture starts to heat it will be wrinkled (image 3). Don't worry, it's fine, whisk it and the top layer will dissolve instantly and all will be smooth (image 4).
As you keep on cooking it that layer will be thicker (image 5), but it will dissolve quickly. This is because the cornstarch is doing its thickening thing, so it's what we want.
When the chocolate pudding thickens enough that's your cue to add the chocolate and vanilla (image 6). The dessert will not be cooked any further at this point.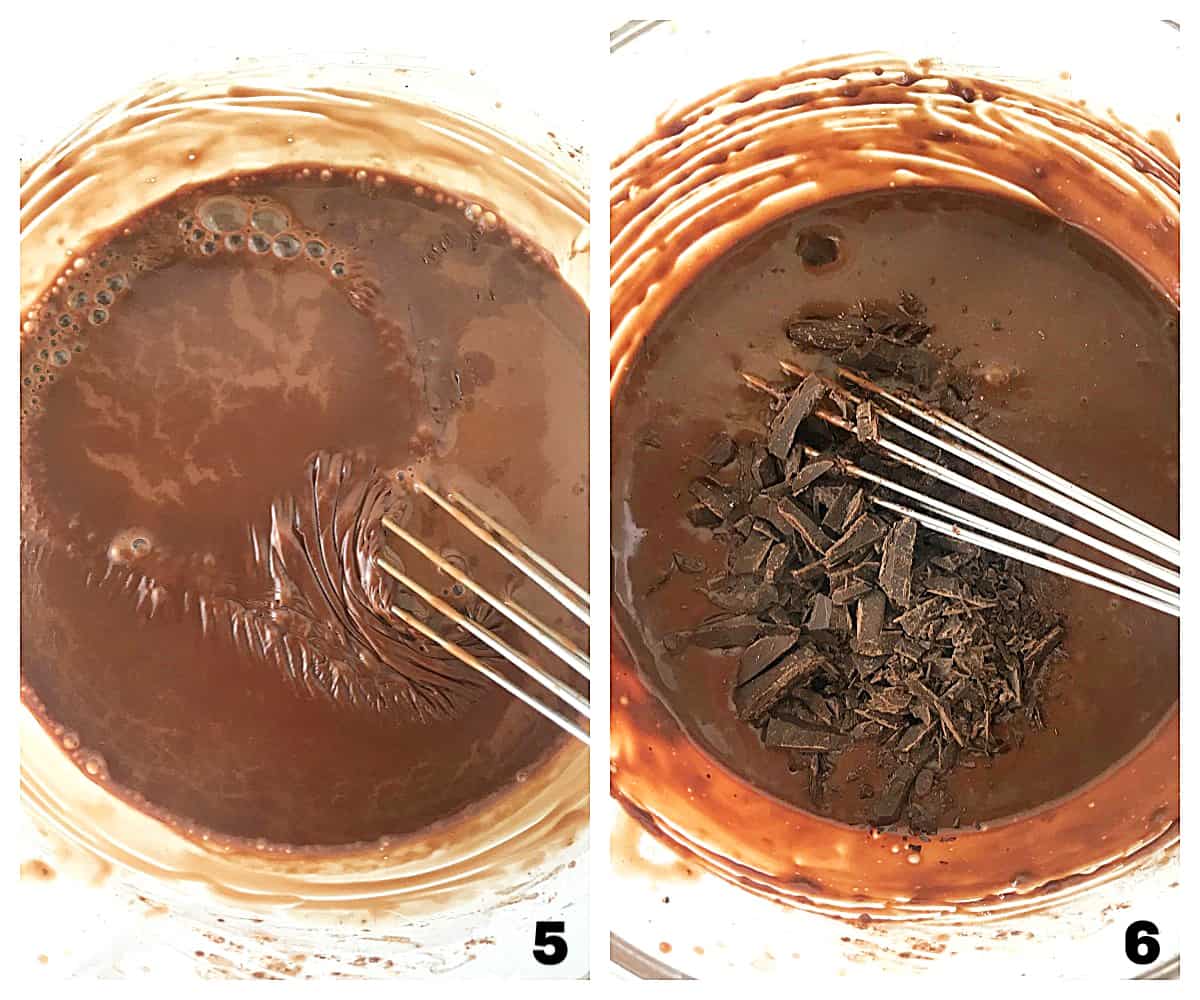 It will be fluid, smooth and shiny (image 7) but very hot.
Immediately cover the surface with plastic to prevent a dry layer from forming on top while it cools down. I use freezer sheets (image 8) but you can also use plastic wrap though it is more annoying because it sticks to the side of the bowl if it's glass.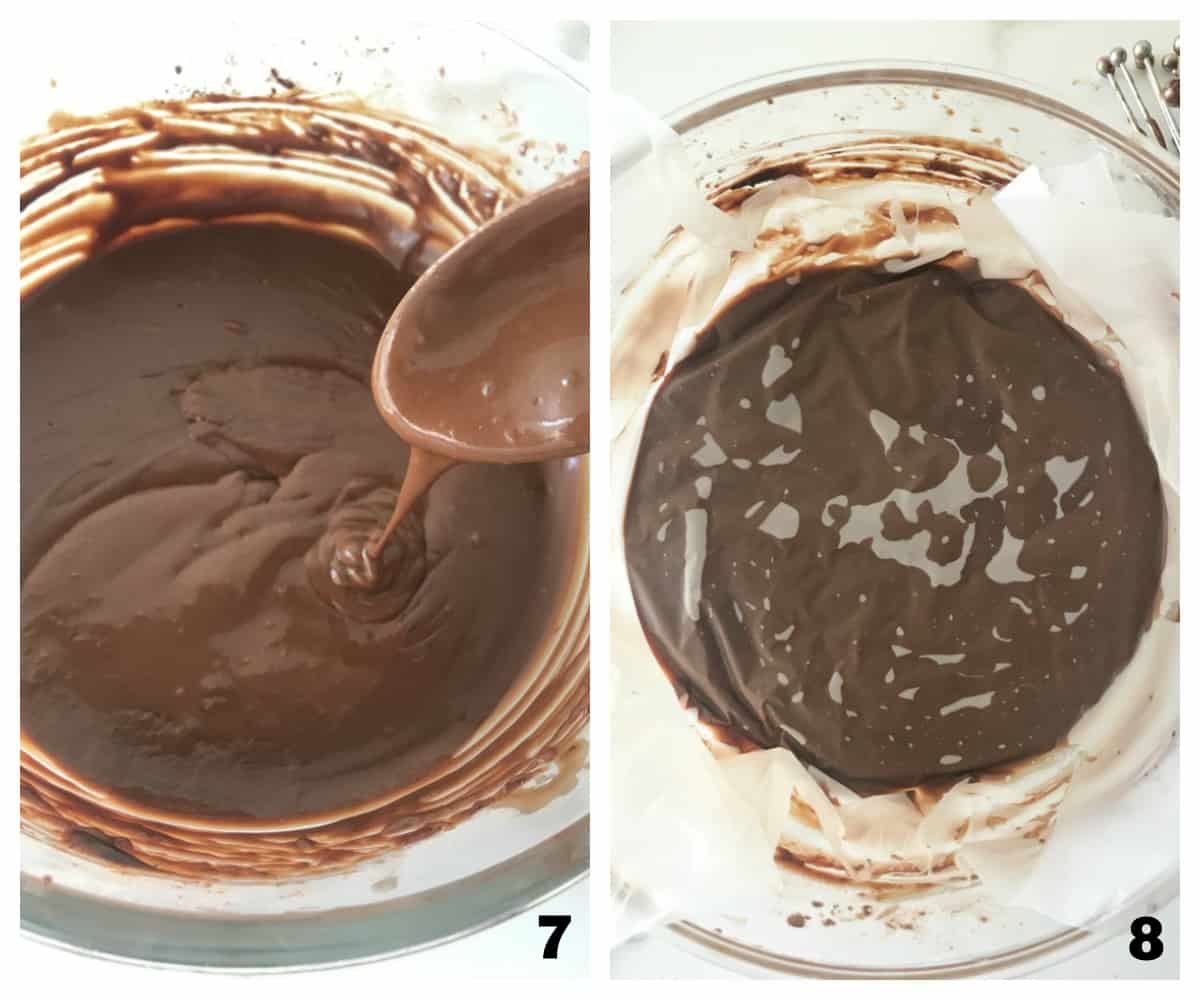 Refrigerate for several hours, I like to do it overnight. It will thicken and the flavor will mellow and deepen.
Top tips
Chocolate: good quality chocolate always helps not only in flavor but also in texture.
Sweetness: if you like sweeter desserts use milk chocolate instead of semi-sweet, such as Lindt milk chocolate bar.
Flavorings: together with the vanilla you can also add a few drops of almond (or coffee or mint) extract, a tablespoon of your favorite liquor, or some orange zest.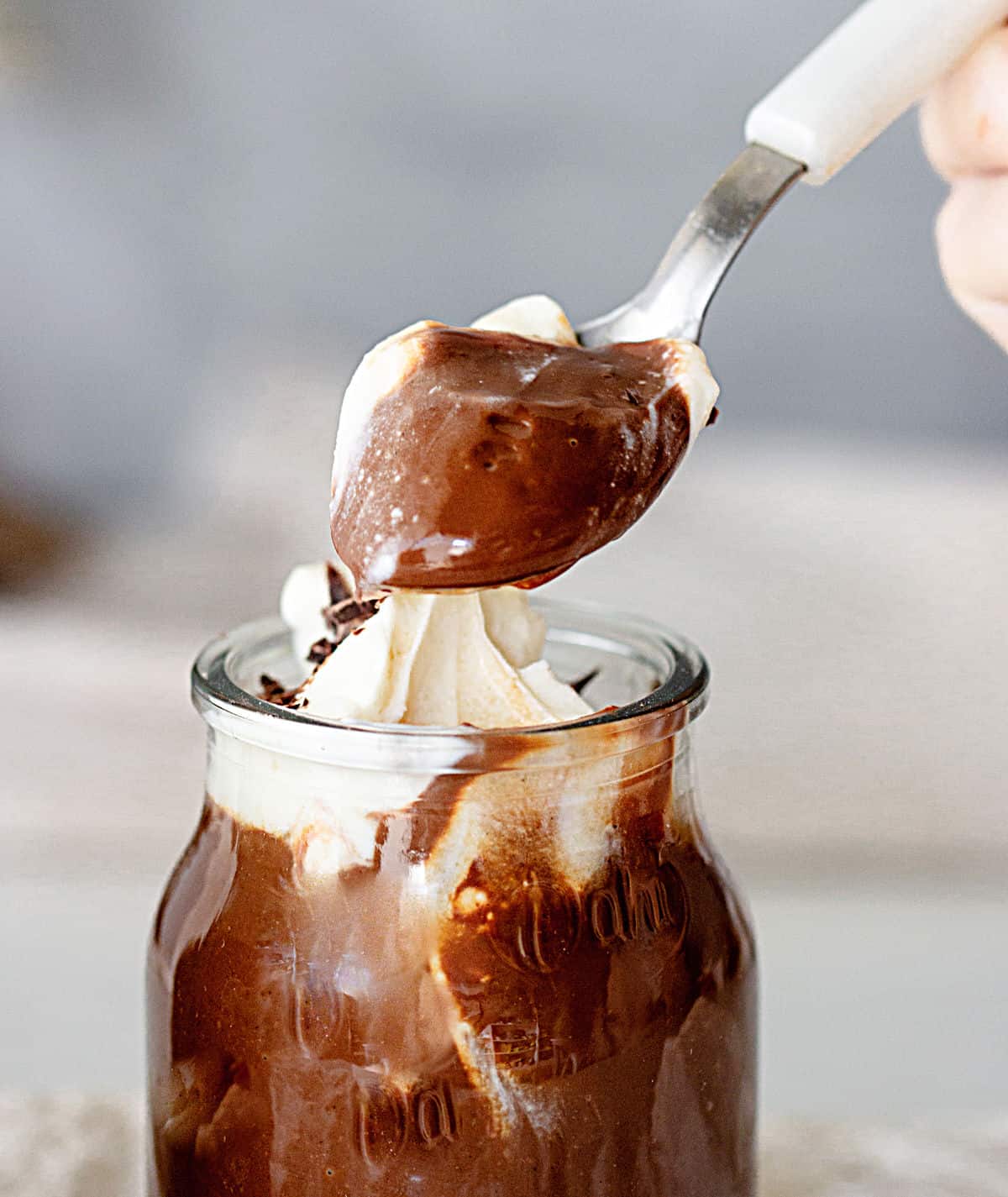 Serving it
Servings: I like to distribute it among jars or bowls while still warm, right before I refrigerate it.
Containers: my favorites are glass jars (mason jars are available online, or yogurt jars like the ones in the photos)
Toppings: I like it plain, but whipped cream and chocolate shavings are my second option when I want it to look pretty or serve it to guests. You can also add some fresh berries on top of the cream.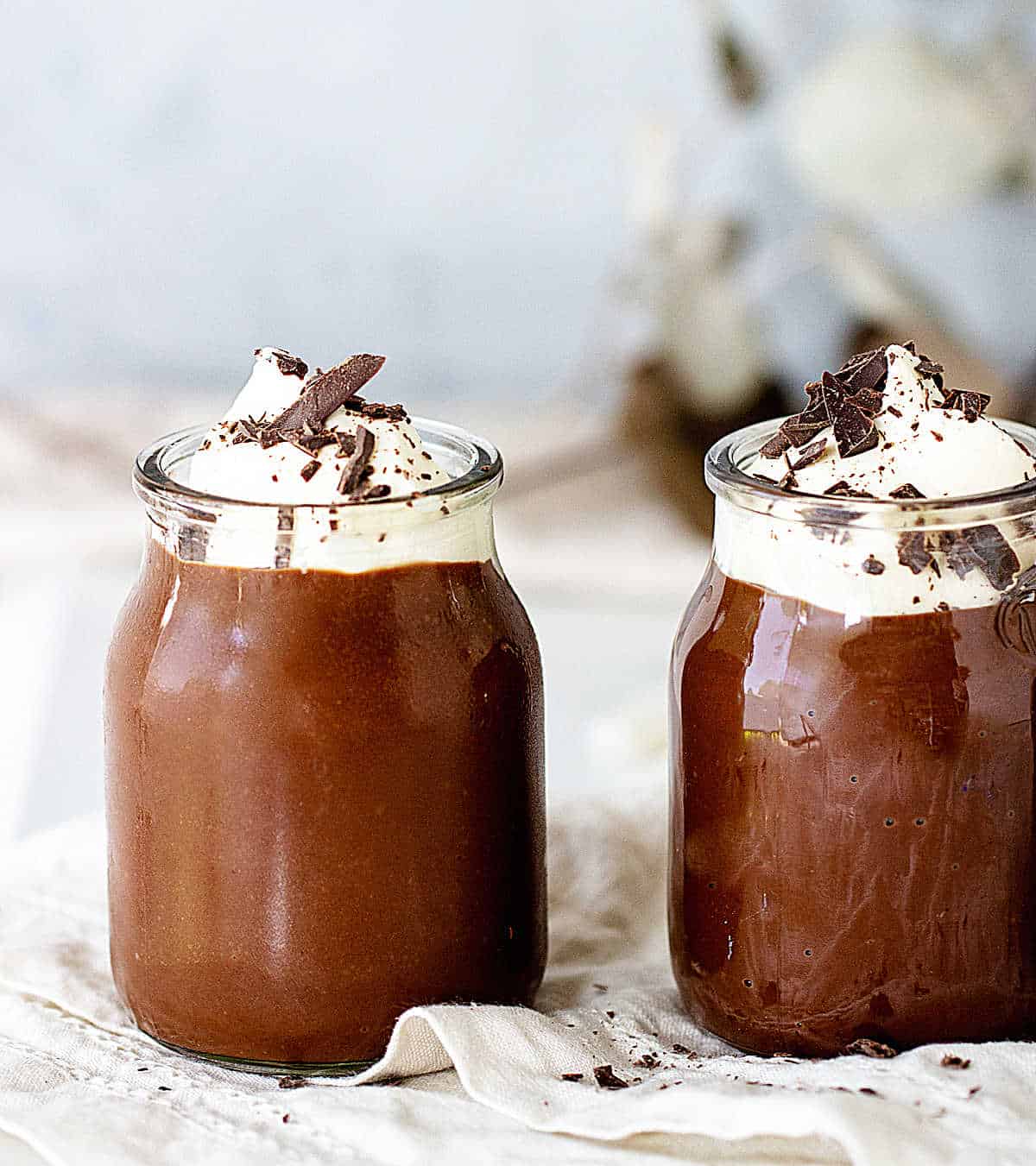 ---
Related recipes you might like:
---
Let me know in the comments below if you made this recipe and loved it and if you had issues so we can troubleshoot together. I love to hear what you think, always. Thanks for being here. It's much appreciated.
You might also consider subscribing to our FREE email series to Boost your Home Baking Skills! And our regular newsletter.
And let's connect via Facebook, Instagram, and Pinterest.
Print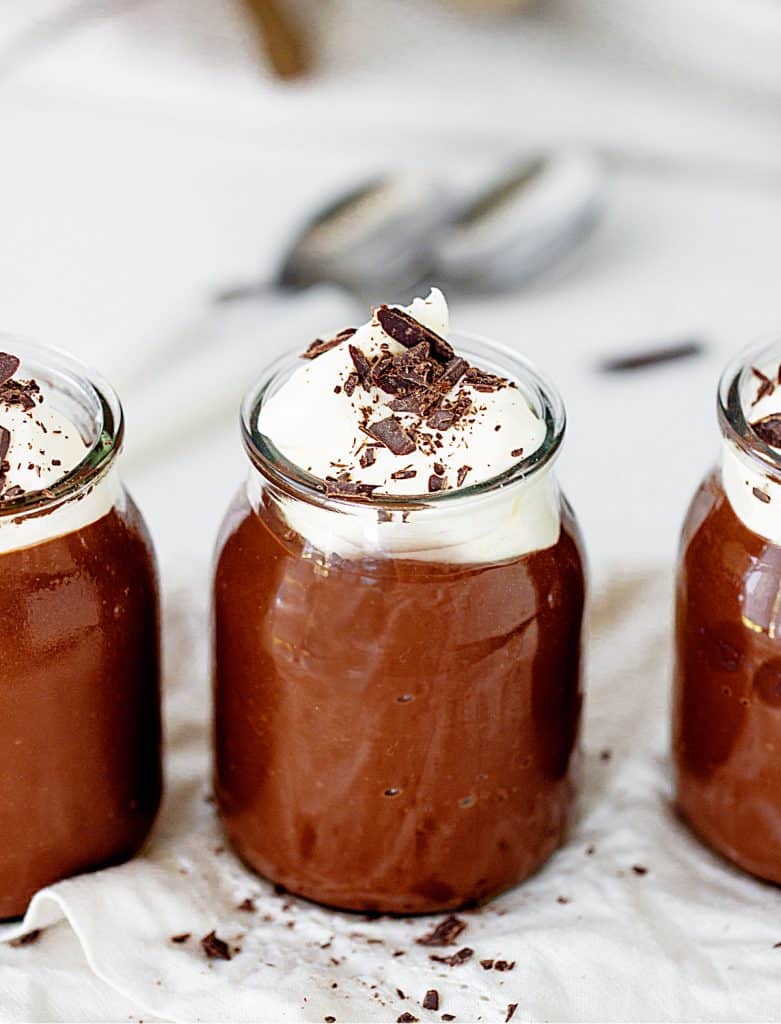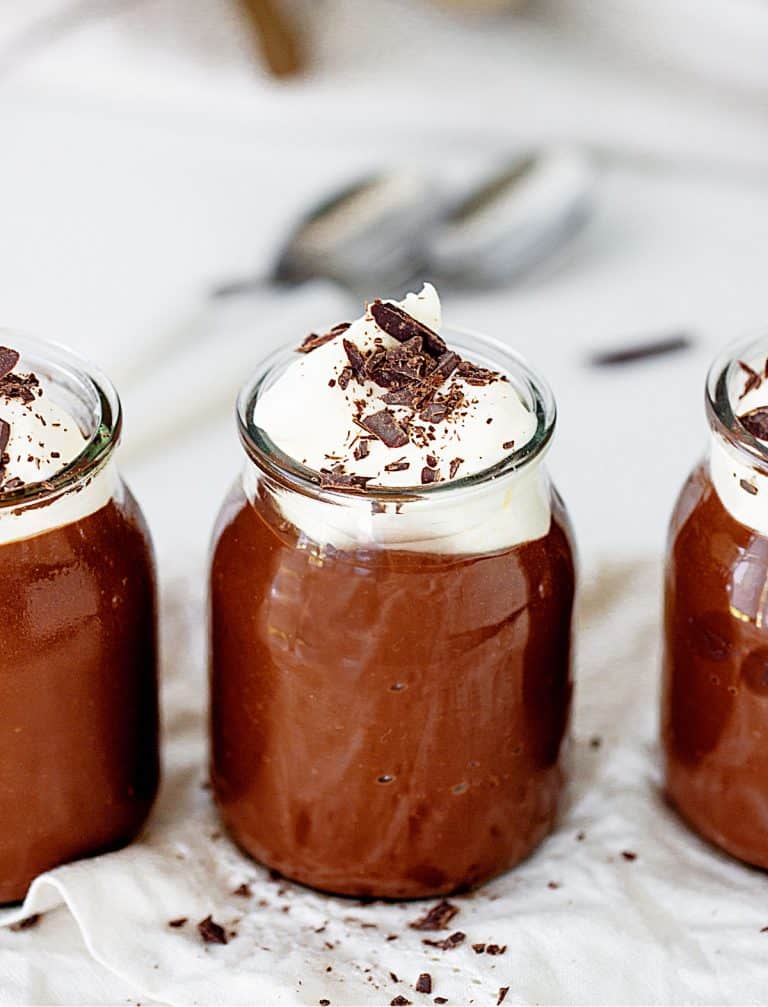 Microwave Chocolate Pudding (eggless)
Super easy to make in the microwave, eggless, smooth and with a deep chocolate flavor, this pudding or custard is amazing!
Total Time:

4 hours 15 minutes

Yield:

2 cups
2

cups

whole milk

4 tablespoons

unsweetened cocoa powder

2 tablespoons

cornstarch

½

cup

granulated sugar
Pinch of salt

1

oz

semi-sweet chocolate, chopped (or chips that melt)

1 teaspoon

vanilla extract
Instructions
In a glass or microwave resistant medium bowl mix milk, cocoa powder, cornstarch, sugar, and salt. It will not completely integrate and that is fine.
Microwave it on high for 1 minute.
Take out the bowl and whisk the mixture until smooth. Nothing will have happened in terms of thickness, but the mixture will be properly incorporated.
Cook it for 1-minute spurts, whisking well in between, until a layer is formed on top that will wrinkle if you touch it. It may take about 3 rounds.
Whisk it until it's all smooth. You will notice that it's getting thicker.
Change to 30-second spurts. You will see that the layer becomes thicker every time you take the bowl out of the microwave and it might start to thicken more on the edges.
Simply whisk vigorously until it's all creamy and smooth.
After this happens it takes about 2 more rounds of the microwave.
It takes me 5-6 minutes to achieve the consistency I like, which is similar to thick-ish honey. The mixture will thicken a lot after it's refrigerated (See Notes, below)
Take the bowl out, immediately add the chopped chocolate and vanilla and whisk until smooth.
Cover the surface of the pudding quickly with a piece of plastic (freezer sheets or plastic wrap) making sure it is touching the whole surface. This is important because it will prevent a thick layer of dried pudding to form on top.
Let cool down until lukewarm and refrigerate for several hours. I leave it overnight.
Take it out, whisk it again and distribute between jars or bowls.
You can also do this before refrigerating but you need to cover all containers with plastic. It's more laborious, so I divide between bowls right before serving.
Decorate with whipped cream and chocolate shavings if you want and serve.
Notes
Time: It takes several minutes to fully thicken in the microwave. But this will vary according to how cold the milk was, how shallow or not the bowl is and how your microwave cooks.
Halving the recipe: you can make half of this recipe. Be careful because the cooking times are much shorter.
Chocolate: good quality chocolate always helps not only in flavor but also in texture.
Sweetness: if you like sweeter desserts use milk chocolate instead of semi-sweet, such as Green & Black's milk chocolate bar.
Flavorings: together with the vanilla you can also add a few drops of almond (or coffee or mint) extracts, a tablespoon of your favorite liquor or some orange zest.
Author:

Paula Montenegro

Prep Time:

10 minutes

Refrigeration time:

4 hours

Cook Time:

5 minutes

Category:

Desserts

Method:

Microwave

Cuisine:

International
Nutrition
Serving Size:

¼

Calories:

237

Sugar:

35.4 g

Sodium:

635.6 mg

Fat:

6.7 g

Carbohydrates:

42.3 g

Protein:

5.3 g

Cholesterol:

12.2 mg
Keywords: chocolate pudding