A creamy, flavorful seasonal soup that is finished in the blender to make a smooth mixture. It has few ingredients and keeps well for a few days in the refrigerator.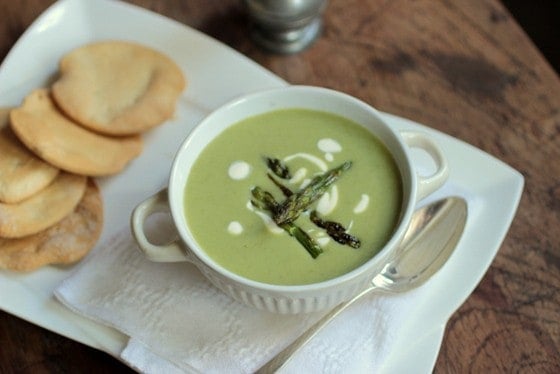 As an Amazon Associate, I earn from qualifying purchases. Please read my disclosure policy.
In my kitchen, asparagus fall under seasonal, finger food, which means I lightly roast them and eat them straight up.
Fresh and shaved in a salad is another fantastic way to eat it, something I learned from one of Alice Waters books.
But the keyword is seasonal.
And it means I can eat the whole stalk, there's no bending to see where it breaks and discarding most of it.
Or you can make this soup.
That is a simple and good soup, even without seasonal vegetables. I know since my asparagus wasn't super in season, not fit for a raw shaved salad let me tell you.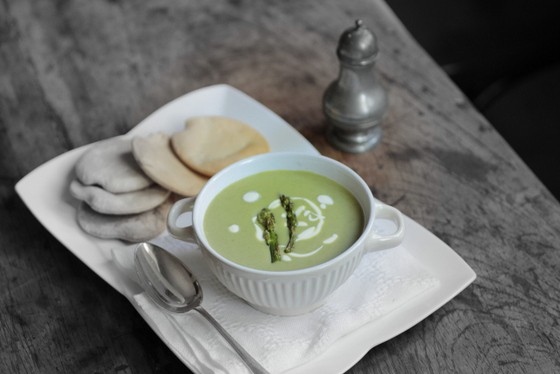 We're making asparagus soup, a recipe adapted from cookbook author and baker extraordinaire Dorie Greenspan.
Whole or peeled asparagus?
That depends on how in season and good the skin is on yours.
Peeling asparagus: it's laborious for the results. The asparagus is peeled, blanched, put in ice water not to lose color, which depends a lot on the bright green (or not) the vegetables have by themselves, and then cooked with the usual suspects, onion, leek, garlic, shallot, a broth made with the discards until all is very soft, especially the leek.
Unpeeled asparagus: you simply follow the steps without the peeling and broth parts. In the end, you can strain the soup after it's blended to discard any hard parts that might've remained.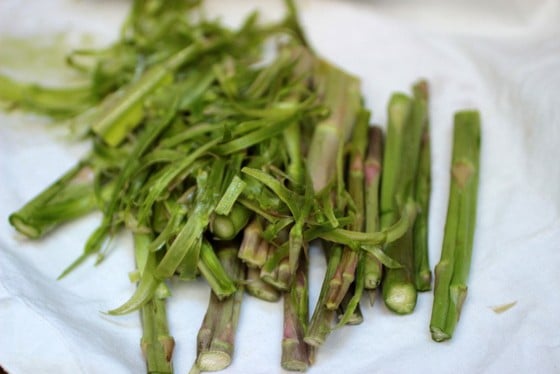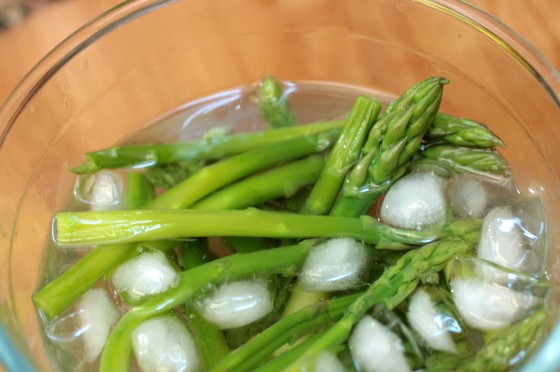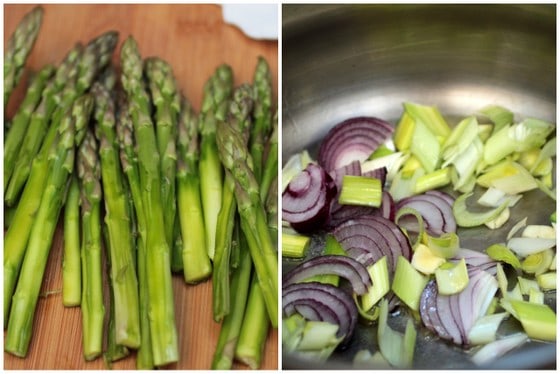 Blending the soup
The last stop is the blender, where the asparagus mixture becomes creamy and smooth.
This is a necessary step that I don't recommend you skip.
I recommend you use an immersion blender and mix it in the pot you cooked it.
Serving asparagus soup
A dollop of whipped cream (no sugar), sour cream, or creme fraiche is the way to go together with a few roasted asparagus tips as I did, which should be added at the last moment as they tend to sink pretty quickly.
The bonus is that it can be served either hot or at room temperature.
And the extra bonus is that if this was good with average, out-of-season asparagus, it must be very good with very good ones.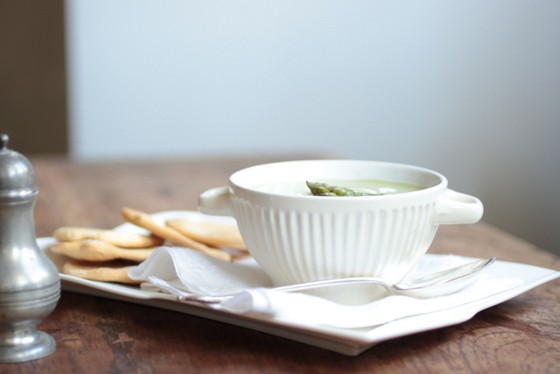 Because as Alain Ducasse said, How do you make the best peach tart? with the best peaches.
Print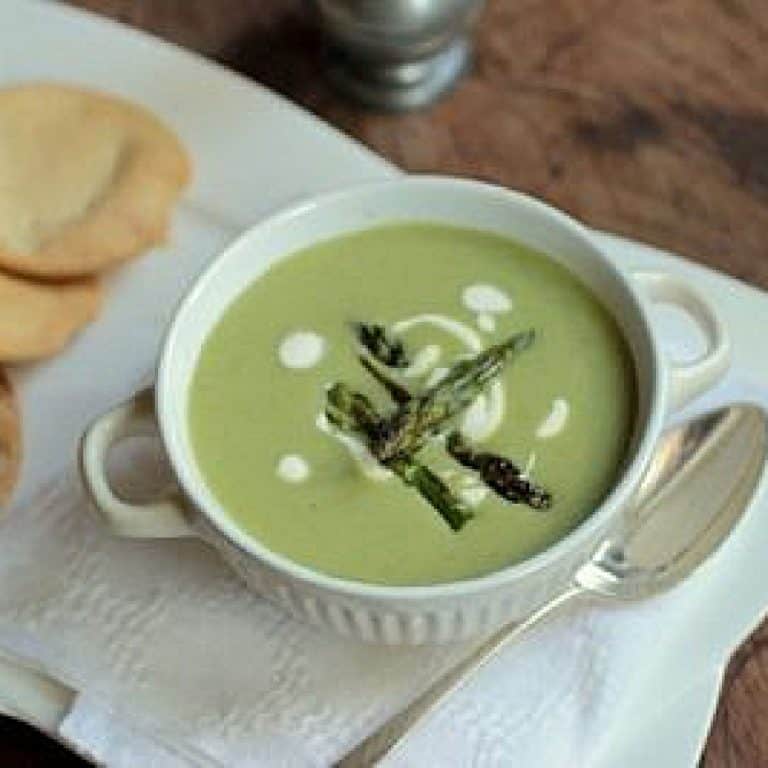 Asparagus Soup
A creamy, flavorful seasonal soup that is finished in the blender to make a smooth mixture. It has few ingredients and keeps well for a few days in the refrigerator.
Total Time:

30 minutes

Yield:

6 servings
2 ½

pounds

green asparagus (the more in season the better the flavor)

1 tablespoon

olive oil

1 tablespoon

butter

½

cup

chopped leeks (white and light green parts)

⅓

cup

onion, thinly sliced

1

shallot, sliced

1

garlic clove, sliced
Salt and freshly ground pepper to taste

5

-

6

cups

vegetable broth, homemade or store-bought
Instructions
Bend the asparagus stalks until they snap. Keep the parts with the tips. Discard the rest.
Have the broth simmer slowly in a medium pot.
In a large pot over medium-low heat, add the butter and oil until they meld, and add the leeks, onion, shallot, and garlic.
Season with salt and pepper to taste and cook until they soften but not letting them brown, about 5-7 minutes.
Add the asparagus, stir, and add 4 cups of the broth.
Let it simmer and cook, covered, for about 10 minutes.
Uncover the pot and let it cook for 5 more minutes, or until the asparagus are soft.
Check for seasonings and adjust.
Remove from the heat and blend in the pot using the immersion blender. If using a regular blender work in batches. Be careful as some blender jars do not admit very hot mixtures. If that is the case for you, you'll have to wait until the mixture has cooled down.
Check again for seasonings and adjust and add more broth until you have the consistency you like.
Serve with some unsweetened whipped cream or a dollop of sour cream or creme fraiche.
Notes
Seasonings: make it spicier by adding some paprika at the end.
Creamier: add some cream when you blend it to make it richer.
Author:

Paula Montenegro

Prep Time:

10 minutes

Cook Time:

20 minutes

Category:

Soups

Method:

Cooking

Cuisine:

French