My third guest post is very dear to me, because Alice from Hip Foodie Mom is a special blogging friend.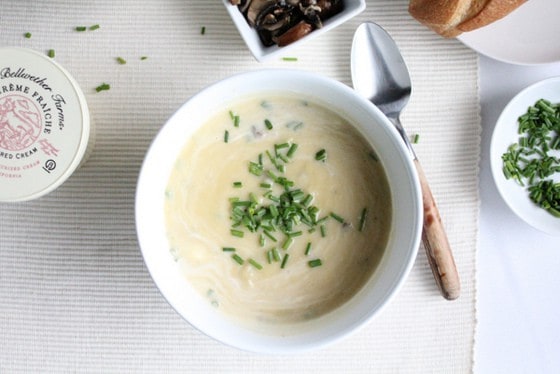 Besides the obvious, extremely talented blogger, cook, photographer and life juggler in general, she is as sweet and reliable as they come. A true friend. The kind that makes my top 10 food blogger's list of people I want to meet as soon as I have the chance. Which I hope will happen in the near future.The fact that she made a leek and potato soup is another happy coincidence. It's in my top three soup favorites of all times, together with gazpacho and roasted beet soup, but she didn't know that. I like to think it's because we were meant to meet through food and become friends, and be comfortable with each other to ask for help when we need it, even though we've never met face to face.
Yeah, I'll go with that and enjoy this fantastic soup. Or do I need to tempt you with her cheddar chive bread and stunning korean recipes?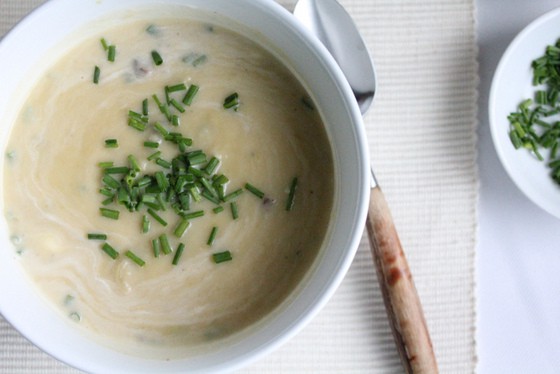 Hello Vintage Kitchen readers!
I am so thrilled to be guest posting over here today. Not thrilled because of the reason why Paula is hosting so many guest bloggers this week but because I love Paula, her recipes and this blog.
I usually think of soup when people are sick, sad, or mourning . . but that is not why I made this soup today. With the recent events in Boston and how we are all feeling lately, I wanted something warm and comforting. Something that brought back happy memories. Something my family would enjoy. Something that got me doing something other than reading the news and going to CNN.com every 15 minutes.
This soup reminds me of our visit to
Bainbridge Island
here in Washington. If you've never been, you must go.
The ferry ride is awesome and so beautiful and the town itself is so charming and quaint. I just loved it. You don't need to rent a car. You just walk everywhere. We pretty much just went because we had friends in town but we will definitely go back. To walk around and eat.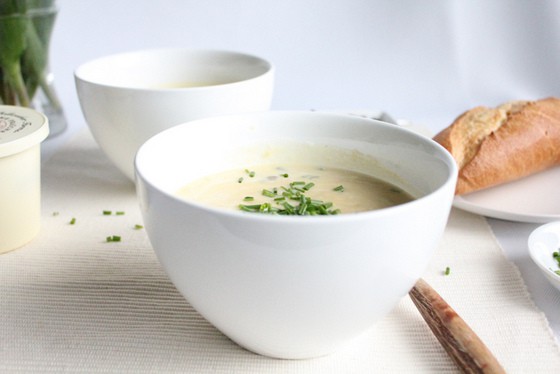 While we were there, we had lunch and a potato and leek soup at Hitchcock. The soup and everything there was absolutely divine.
It's actually a Potato and Tani Creek Leek soup with leek green oil. After having this, my 5-year-old daughter wanted a second bowl. And now she always asks me to make this soup for her at home. Poor thing had to wait a few months but I've finally made it. Obviously it's not the Hitchcock recipe but it's just as good and maybe even better. I like a little chunkiness in my soups so I didn't blend everything completely and I added sautéed cremini mushrooms because we love them. And again, I like having a little something to chew while having soup.
If you've never cooked with leeks before,
this
will help show you how to clean and cut them. You basically only want the tender white and light green parts of the stem.
.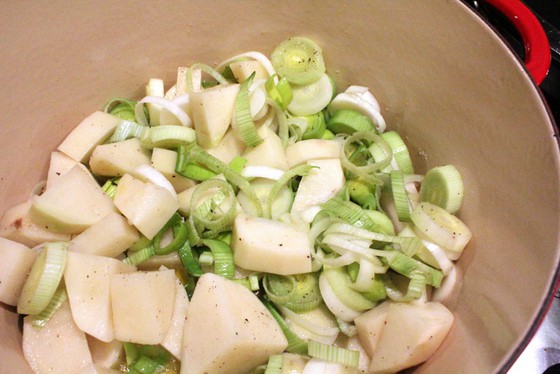 The smell and aroma in your kitchen will be absolutely amazing.
You can thank me later. It was so wonderful and soothing for me. I love it when delicious smells fill the kitchen when I am cooking. And now Phoebe, my 5 year-old, will say, "Wow, what smells so amazing?" "What are you cooking?" Warms my heart.
So, if you are in need of a good soup. Give this one a try. You'll love it.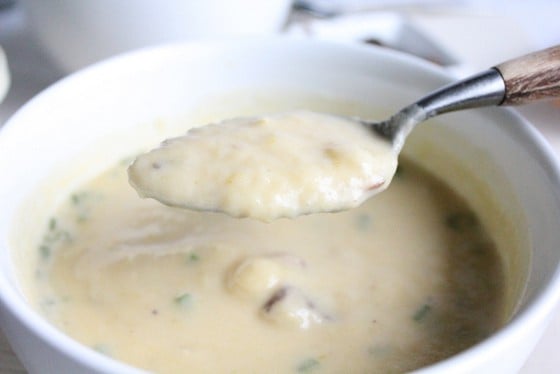 And for those of us feeling unsettled by the recent events in Boston and anything else that might be troubling you, I want to leave you all with this (and please I am totally not trying to be preachy here): We can't live our lives in fear but we should try to live each day with purpose.
I'm not completely sure what that means for you. But for me, that means doing the best I can to live each day doing something that makes me happy and fulfilled and spending time with those I love. We should pray for those around us who need it and for ourselves and for this world. I don't know about you but I want to live with hope and a thankful heart. That's all we can do, right?
.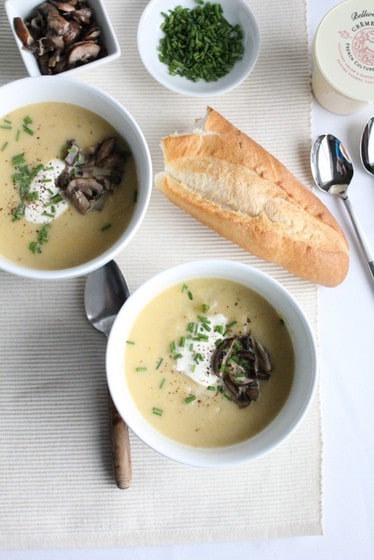 You can jazz it up with sauteed mushroom and creme fraiche too!
Print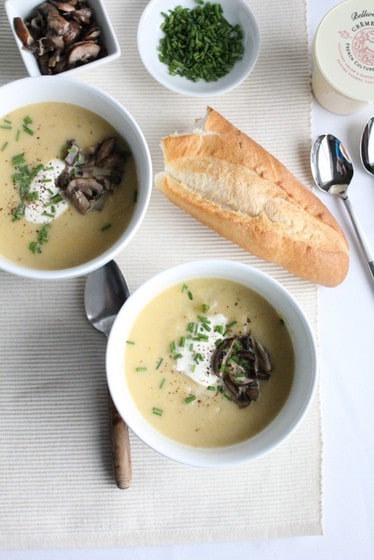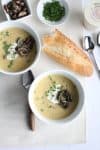 ---
2 tablespoons

olive oil

1

lb potatoes; peeled and roughly chopped

3

large leeks (washed and thinly sliced; you only need the tender white and light green parts of the stem)

6 cups

chicken or vegetable stock (or a mixture of both; use whatever you have)

½ cup

heavy cream

1

-

2

tablespoons freshly-squeezed lemon juice
kosher salt and pepper; to taste

½ cup

Creme Fraiche for garnish
about 1-2 cups sautéed (cooked mushrooms; chopped for garnish (I highly suggest Cremini or Portobello mushrooms for this))

⅓ cup

fresh chives; minced
Special equipment suggested: an immersion or hand blender
---
Instructions
In a large stockpot or dutch oven, heat the olive oil over medium heat.
Add the sliced leeks and chopped potatoes and cook until the vegetables have begun to soften and brown slightly, about 5-10 minutes.
Add the chicken or vegetable stock and bring to a boil.Reduce the heat to low and simmer for about 30 -35 minutes or until the vegetables are tender and soft.
Blend until somewhat smooth using an immersion or hand blender; I like a little chunkiness in my soup so I didn't blend it all I left a few potatoes chunks.
Add the heavy cream and season with salt, pepper and the lemon juice.
Serve and garnish with the mushrooms (if using), crème fraiche and minced chives. Mix and enjoy!
---
from Foodista.com
·