I completely lost it with this charred corn asparagus pasta with brown butter breadcrumbs. It's so good, I can eat it every week.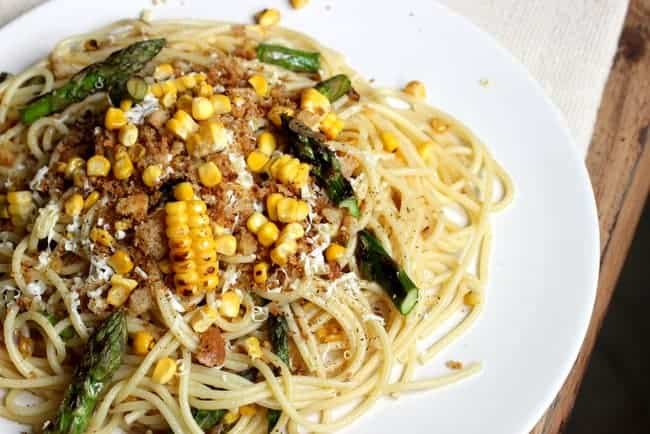 If I was a fan of emoticons and exclamation marks, they would overtake the rest of the paragraph. The half-eaten plate you see at the end happened in the next five minutes I finished with my pictures – I just put down the camera, picked up the fork to taste, and never stopped. Those brown butter crumbs.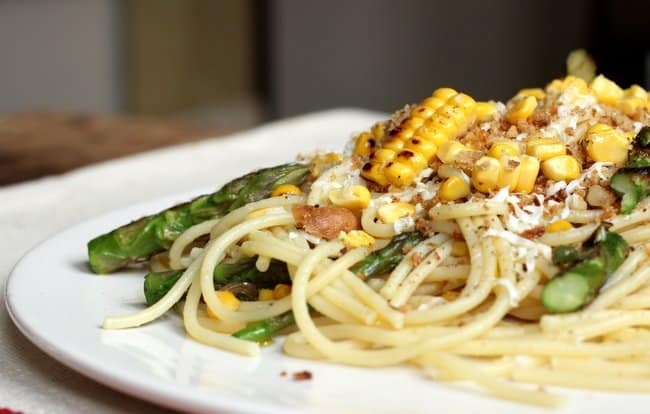 I have been obsessed with brown butter croutons ever since Jessica posted them. That and the fact that she brings back the Caesar salad, which has gotten such a bad rep these last years, and is still a freaking awesome thing to eat.
But it's all about the brown butter + old bread. By now, we all know brown butter, or beurre noisette if you want to be international, rules.
I want to rename my blog brown butter kitchen, and I would be pondering about it seriously if I were to start a food blog in the next weeks. I'm happy with my blog's name.
I'm also beyond happy with how this pasta recipe turned out; after the bacon, miso, and carrot pasta fiasco - if you remember I made enough for two meals and a friend ate all of it in minutes, leaving me with nothing – this time I made enough for four people, hungry four. By the third day, I was still opening the refrigerator with a smile knowing I would have a plate of this for dinner.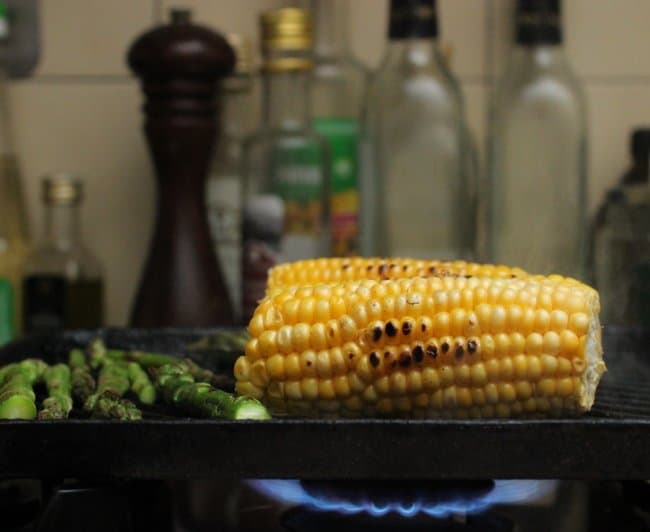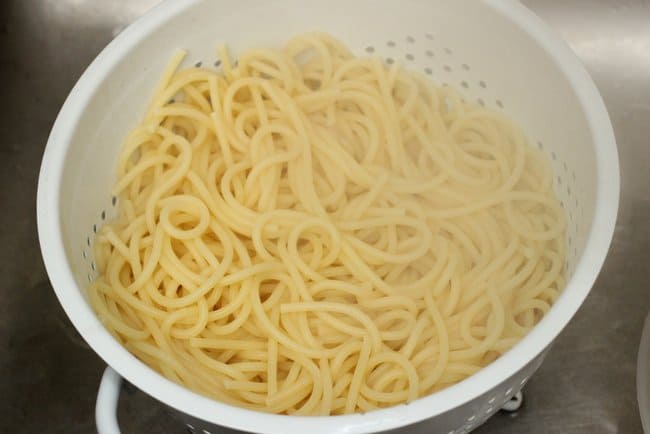 Reheating pasta is my thing. I'm serious. Love it to death.
Somewhere along the way, I made a leftover pasta frittata, a recipe that gets made often here.
Having good food lying around every single day is a constant challenge not to gain a million pounds, feel like I have no discipline, or that my life should have other areas of interest that don't include food.
Before I know it I'm constantly talking to myself about possible posts when I go for a walk, am puzzled that I have a full Asian pantry ready at any time when I don't cook much oriental stuff, go nuts over a striped kitchen towel I see on a shop, talk only about food when someone innocently asks what I've been up to lately. It's exhausting at times but I love it, always.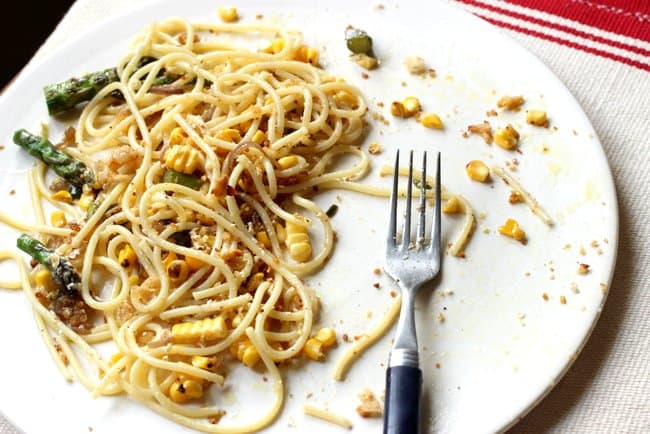 Other recipes you might like:
Asparagus Soup
Roasted Corn and Tomato Pasta bowl
Spicy Broccoli Corn Pasta
Let me know in the comments below if you made this recipe and loved it and if you had issues so we can troubleshoot together. I love to hear what you think, always. Thanks for being here. It's much appreciated.
You might also consider subscribing to our FREE email series to Boost your Home Baking Skills! And our regular newsletter.
And let's connect via Facebook, Instagram, and Pinterest.
Print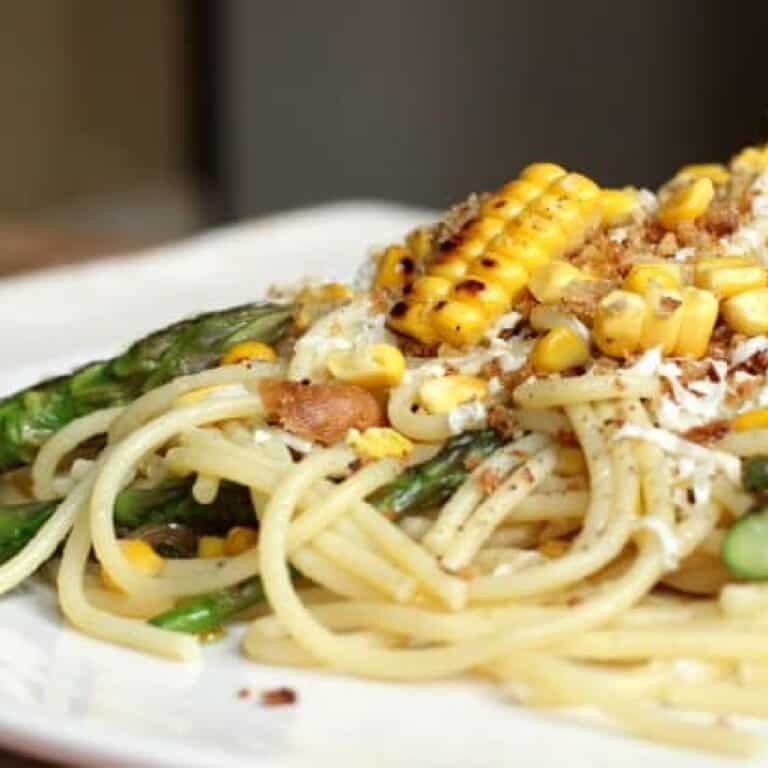 Charred Corn Asparagus Pasta
Delicious pasta with charred vegetables and brown butter crumbs.
Total Time:

40 minutes

Yield:

4 servings
For the brown butter crumbs:
1

cup

fresh bread crumbs

5 tablespoons

butter
For the pasta:
14

oz

(400g) vermicelli or spaghetti, cooked al dente

3

ears of fresh corn

3 tablespoons

olive oil

1

green jalapeño (seeded and minced)

½

large red onion (thinly sliced)

1

bunch fresh asparagus (trimmed of tough ends)

2

oz

. grated cheese (such as feta or queso fresco)
Olive oil ( for drizzling)
Salt and freshly ground black pepper
Fresh parsley (chopped, for garnishing)
Instructions
For the brown butter crumbs:
Melt butter in a saucepan. Let bubble and squeak until it starts to turn golden and the residue in the bottom begins to brown.
Remove from pan before it starts to burn.
Add breadcrumbs, stir to mix, and return to the stove over low/medium heat.
Stirring frequently to prevent burning, cook until the crumbs crisp and turn a deeper color. Remove and let cool.
For the pasta:
Heat a skillet, steak iron or the grill, and cook corn and asparagus until charred and soft.
Transfer to a board, cut asparagus in pieces, and cut the corn from the cob. It will take about 20 minutes for the corn, and you need to turn it so all sides are cooked. The asparagus will take about 10 minutes, so add them after the corn.
You can also roast the corn and asparagus in the oven until charred.
Cook pasta in abundant salted water until al dente (the time the package stipulates is usually very accurate). Drain, add a few tablespoons olive oil, and reserve.
While the pasta is cooking, add red onion and jalapeño to a skillet with a few tablespoons of olive oil and lightly cook over medium heat for a minute. Add salt and pepper and cook for 1 more minute.
Reserve a few asparagus tips for garnishing, and add the rest together with the corn to the skillet. Season with more salt and pepper to taste, increase the heat to medium/high and cook for 3 or 4 minutes, until all is integrated and beginning to brown a little bit more.
Add the cooked pasta to the skillet and carefully mix over low heat. Remove from heat, transfer to a serving platter, add chopped parsley, cheese, sprinkle with brown butter crumbs, and remaining asparagus tips.
Serve immediately, passing more breadcrumbs and grated cheese if you want.
Notes
Pasta: use any type you want.
Vegetables: you can use others like carrots, red peppers and broccoli.
Author:

Paula Montenegro

Prep Time:

20

Cook Time:

20

Category:

Pasta

Method:

Boiling + Charring

Cuisine:

International
Keywords: brown butter pasta