Easy and delicious, this is a different way of using cauliflower. It can become a favorite fast.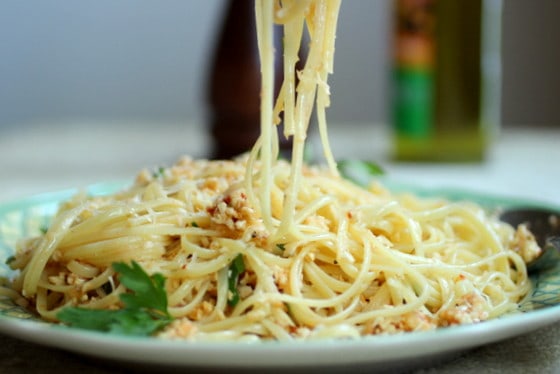 Pestos are easy and wonderful condiments to have on hand. I particularly love the spinach lemon pesto, but this one is fast becoming a staple.
A few months ago, in January to be precise, I was at home working when the doorbell rang. It's rare for that to happen so randomly in the middle of a hot January day.
Since I was expecting no one, I eyed suspiciously through the door hole at the nice guy in a loud red and yellow shirt, with matching pants and cap, a pen and papers in his hand.
Un-asked for packages or letters are not necessarily good news, but then I had to open the door to the poor guy who was standing under the glaring sun; after all, it was the least I could do for someone who has to go around in that clown-like outfit all day.
He was the bearer of a gift. A wonderful book that a friend sent me as a thank-you after a favor I did for her last year. Life sometimes surprises us with sweet details, like my darling friend.
If you're thinking how on earth she knew if I had already purchased the book or not, she had called me asking if I thought amazon was reliable in their shipments to the end of the world, that's where we live of course, and at some point inquired when was the last time I had bought a book from them. So she simply bought me one of the best sellers that were published after that date. Clever girl.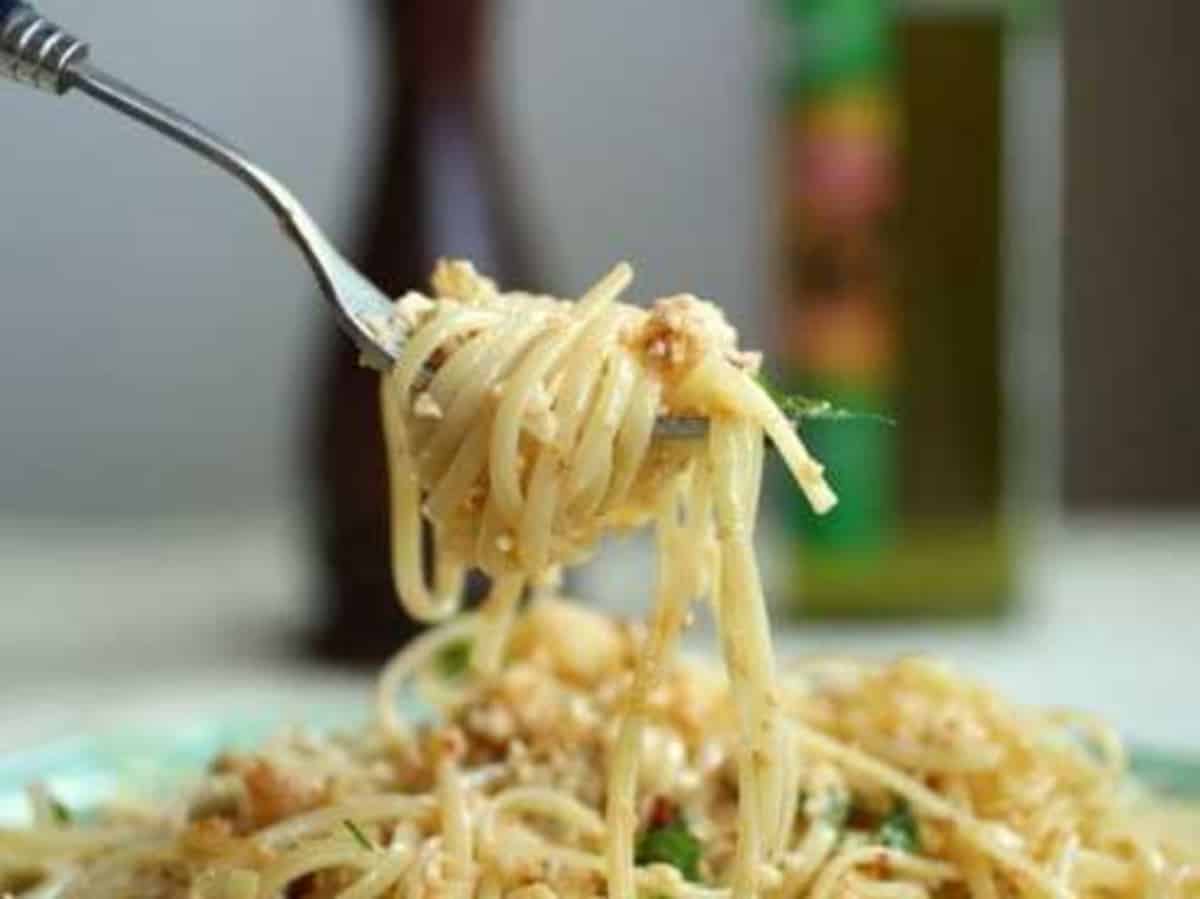 The book needs no introduction, and you can imagine that being this so unexpected, my only interest was to go through it page by page. It did not disappoint, it's full of great-sounding recipes. Oddly enough, the first thing I wanted to make was this pasta with cauliflower. Really? Yes really. Cauliflower was my choice instead of breakfast pancakes with peach, smores cake, or braised short ribs.
Summer has a way of making me eat my vegetables.
And I cannot see a good pesto recipe and not make it. Pesto is another one of my clean-the-fridge recipes, though this one is a bit more sophisticated. But still made in a food processor with simple ingredients and perfect proportions between them.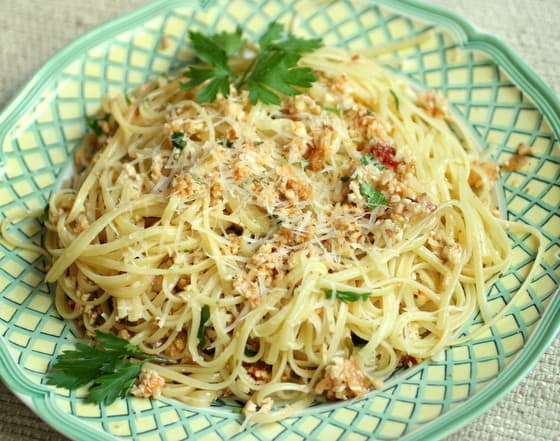 What can I say? I ate it for two days in a row. And made it twice in two weeks. When you live alone most of the time, that means a lot of servings. It's an absolute keeper. And I suggest you do the same. Make it once and keep it in your files forever.
Print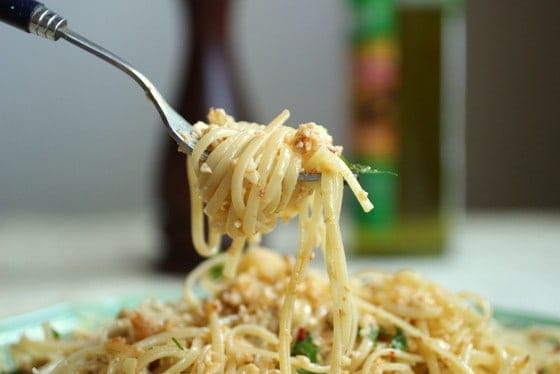 Pasta with Cauliflower Pesto
Total Time:

30 minutes

Yield:

4 servings
1

pound

(450g) fresh cauliflower

1

medium shallot

1

- inch piece red chile (seeded, or pinch of red pepper flakes)

½

cup

toasted almonds

2

0 z. (

60g

) asiago cheese

4

sun-dried tomatoes (dry variety)

1

Tbs drained capers

2

Tbs chopped fresh parsley

⅓

cup

olive oil

1 teaspoon

sherry vinegar
Salt and pepper

1

pound

(450g) linguini
Extra asiago cheese (grated, for serving)
A few parsley leaves (for serving)
Instructions
In a small bowl, put sun dried tomatoes and add boiling water to cover. Let stand 5minutes to soften, then drain and chop coarsely.
Rinse the cauliflower, cut off the leaves and hard stalks. Cut the rest into chunks, and put in the bowl of a food processor fitted with the steel blade.
Process until the size of couscous (as Deb says). The size will be somewhat irregular. Transfer to a bowl.
Put a large pot of water to boil for cooking the pasta. The more water you put, the better the pasta will cook.
Without rinsing the bowl of the processor, add the shallots, chile or pepper flakes, almonds, cheese, drained and chopped sun-dried tomatoes, capers and parsley.
Process until they're as fine as the cauliflower.
Add oil and vinegar and pulse until a paste forms. If you feel it's too dry for your taste, add another Tbs olive oil.
Transfer to the bowl with the cauliflower, check for salt and pepper and add more if necessary.
When the water is about to boil, add a generous amount of salt (coarse salt is best), let it come to a boil and add the linguini. Cook until al dente, following the amount of time it says in the package.
Drain and transfer to a serving bowl or divide among individual plates.
Add half of pesto and mix gently. Add the remaining pesto, sprinkle with grated cheese, a few parsley leaves and serve immediately.
If you don't use all the pesto, keep refrigerated in a covered container.
Author:

Paula Montenegro

Prep Time:

20

Cook Time:

10

Category:

Pasta

Cuisine:

Italian - American
Keywords: cauliflower pesto, cauliflower pesto pasta