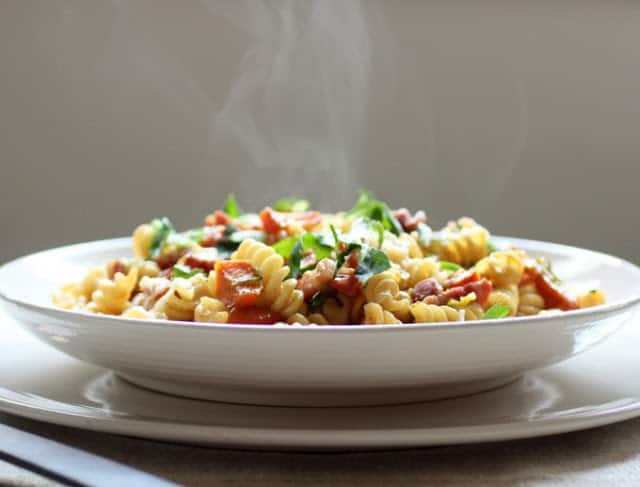 Looking for a way to use miso, I ended up making this ridiculously easy and good tasting bacon miso carrot pasta.
Pasta is my constant companion, my other half for most meals. It's a tradition
here
, sunday's pasta, as common as firing up the grill, or adding dulce de leche to everything.
So please, make some new and interesting pastas woman (that's me) – tired of the same boil-some-noodles-and-add-whatever-leftover-sauce-condiment-vegetables-cheese-is-in-the-fridge.
So enters bacon, thick slices cut into small pieces, cooked slowly to let the fat render…
Pasta and bacon, you can pretty much add any other ingredients, but the roasted carrots, miso and green onions here are pretty cool if I might say so myself.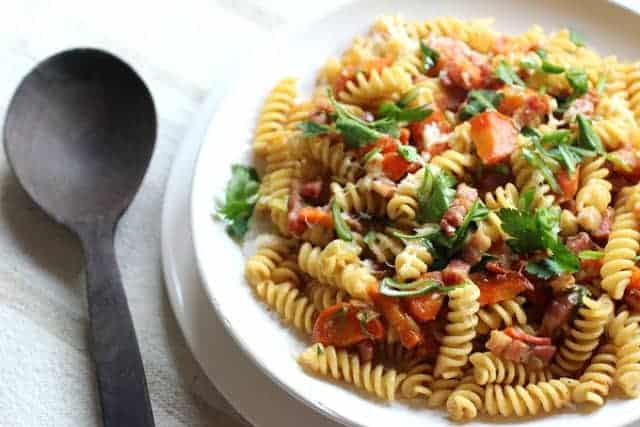 My Asian pantry is so varied you might think I'm this wok maven, chopstick expert coming up with different uses for the hoisin, mirin, et al. I have never pronounced half of them out loud for what it's worth.
A side note here, isn't it interesting how we use new words in unknown languages and have never heard them spoken, so we really don't know if we're pronouncing them right?
I've had my share of 'oops! I had that all wrong for
years
' situations.
How many
in these lists ring a bell?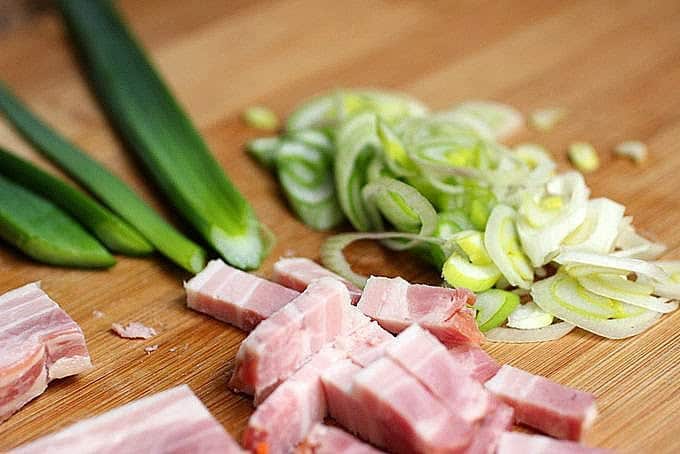 Back to our 
pasta dish, which is getting cold.  
I've gotten so used to anything goes with pasta, that I have to stop and really think about what to throw into the pan when I'm doing a post for you guys. Because I can probably eat anything, yes, really. I like to consider myself a sophisticated foodie, connoisseur of subtle flavors, one to only bring certified combinations and ideas to this space, but hunger and laziness, to go to the store for missing ingredients, get in the way. Not today though. I went out and bought carrots especially for you.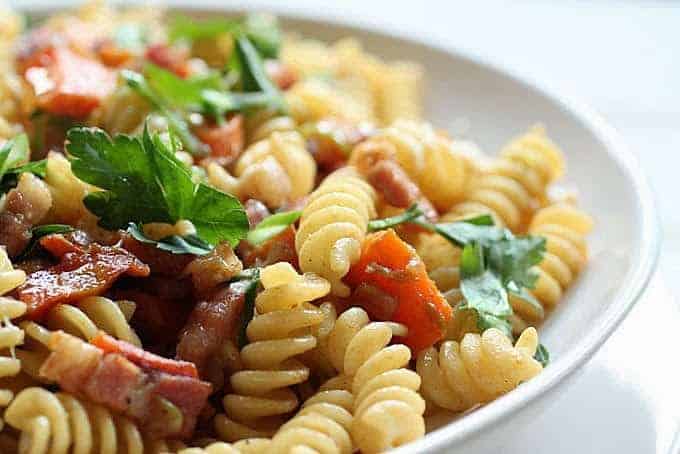 After 
discovering
miso
, it took me awhile to grasp it's flavor and uses. All new 
ingredients pretty much go down the same road in my mind, they take their time 
before I can add them with abandon, certain I know what I'm doing. 
With this recipe I had a little help from Bon Appetit, since I faintly remembered eating a pasta dish with bacon and miso, the former bringing so much salty, unique flavor to the equation, I pretty much consider it a bouillon cube, or concentrated broth.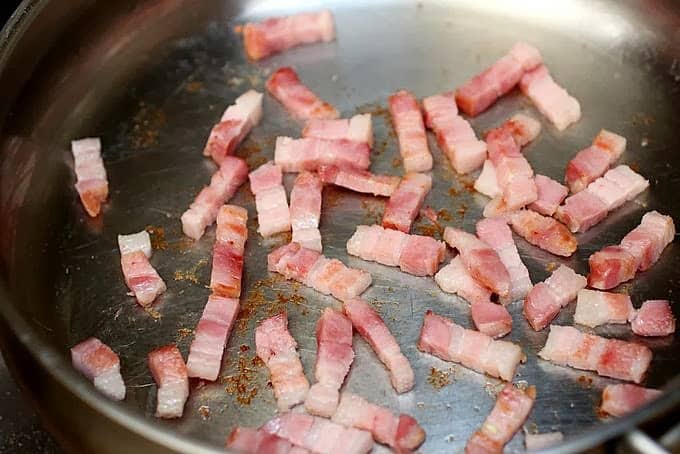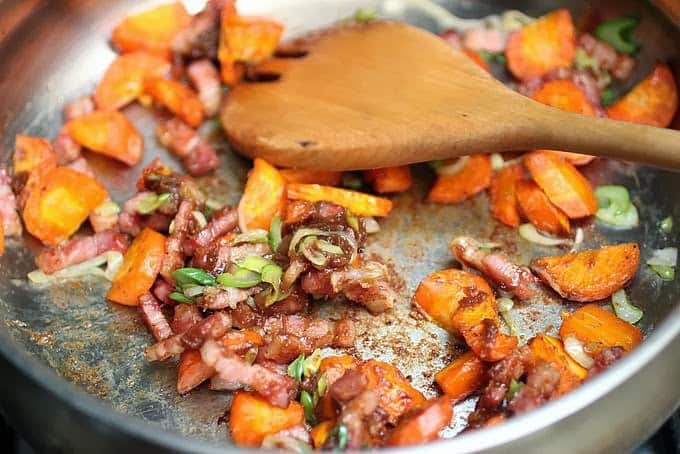 It lacked something at the time, so I added the roasted carrots and some parmesan at the end, a lot of black pepper and green onions. The carrots don't need a long time in the oven, I like them to remain somewhat crunchy but add that deep roasted flavor. Another aside note, I never make vegetable soup without roasted carrots anymore, they just add a perfect something to it, like celery.
Just as I was finishing with the pictures, a friend stopped by, and I casually asked if he'd had lunch yet. It was late, almost 3pm, but I'm very polite and the bacon, miso and carrot pasta was there, in plain view. So he proceeded to sit down and eat what I had planned to be my dinner and lunch the next day, because yes, I absolutely love reheated pasta. Love it. There goes my glamorous foodie face down the drain.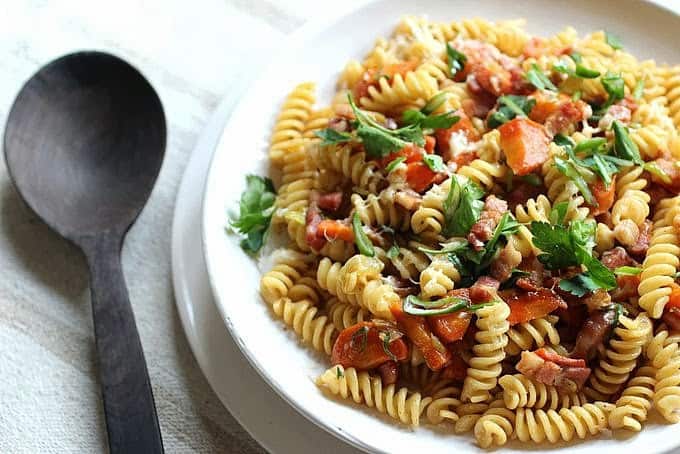 Anyway, not only did he leave with the pasta in his belly, he also took home the rest of the raspberry apple crostata and cheese scones I had finished baking right before the pasta. That recipe coming very soon. 
And I had a frozen pizza for dinner.
Print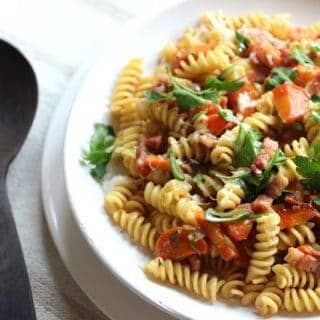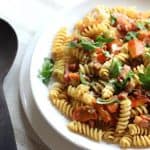 Bacon Miso Carrot Pasta
Yield:

2

servings

1

x
---
Description
This is a great recipe to use leftover cooked pasta. Don't go heavy on the salt at the beginning, since both the miso and bacon are already salty.
---
Scale
Ingredients
For the carrots:
2

medium carrots
Olive oil
Salt and black pepper
For the pasta:
4 oz

115g thick cut bacon

1

large green onion

2

Tbs miso paste (I use dark)

4 cup

s cooked short pasta (such as fusilli, al dente)
Salt and freshly ground black pepper
Handful of chopped parsley

4

Tbs grated parmesan
---
Instructions
For the carrots:Preheat oven to 350ºF /180ºC.
Peel and cut the carrots in small chunks. Scatter them in an oven tray, drizzle some olive oil on top, season with salt and pepper and roast for about 20 minutes, until tender but still crunchy.
For the pasta:
Cut the bacon in small pieces and finely slice the green onion.
Heat a skillet with 2 inch sides over low heat, add the bacon and cook slowly until most of the fat is rendered. If it's still dry, add a few tablespoons olive oil.
Add ¾ of chopped onion to the pan. Cook for a minute stirring once.
Add miso and stir to mix. Add about ¼ cup hot water and mix so that it makes a sauce. Add the carrots and the cooked pasta. If it's too dry add a couple more tablespoons of hot water. Don't cook it too much so the pasta remains al dente. Taste and add salt and black pepper to taste.
Transfer to the serving plate or plates. Sprinkle with chopped parsley, remaining green onion and grated cheese. Drizzle with extra olive oil if you want.
Eat immediately.
---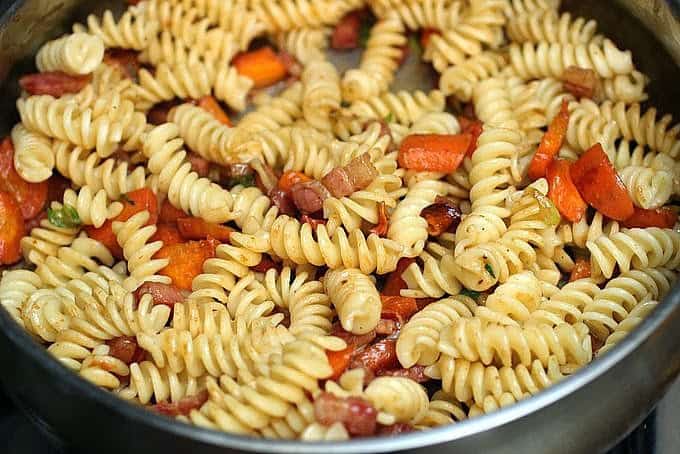 Today's 5 related recipes worth looking at:
Soba, Sesame and Carrot Salad from The Kitchn
---