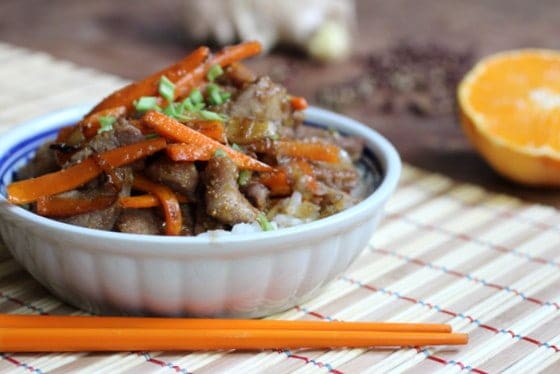 I had to draw the line when the lady from the Chinese restaurant, after hearing my voice and my same-as-always-order, told me my address before I told it to her. That was before she asked for my phone number.
I mean, I cook and bake and post in a food blog. What was going on in my kitchen? When did I stop cooking for myself?
I guess somewhere along a furiously hectic and changing work weeks together with my choice of baked goodies, which let's face it, are what I choose given the chance.
I love to bake for pleasure but I mostly cook to eat. As in bake sweet or yeasty things vs. cook savory dishes to actually feed myself.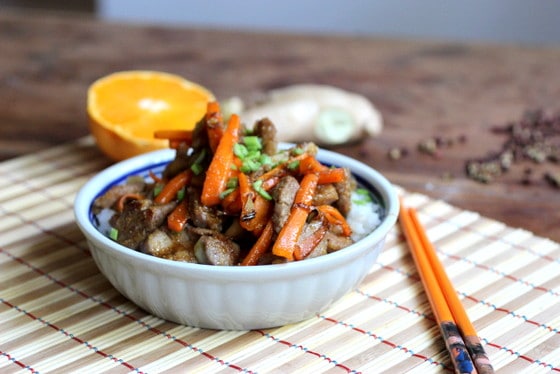 With that clear I made a deal with myself to try to go back to the days when I decided to cook different recipes everyday, so that I would have new things to post while eating and investigating new flavors. Or not so new: Let's just say they are new recipes, those forever in the to-try list.
I had a long night, having gone to a dinner with all of my HS friends. We see each other a lot, some more than others, but have consistently gotten together, all twenty or so of us, something like once a year in the last ten. We graduated a looooong time ago, and this are our moments to be all goofy and ourselves again. It's interesting how old friendships let you relax.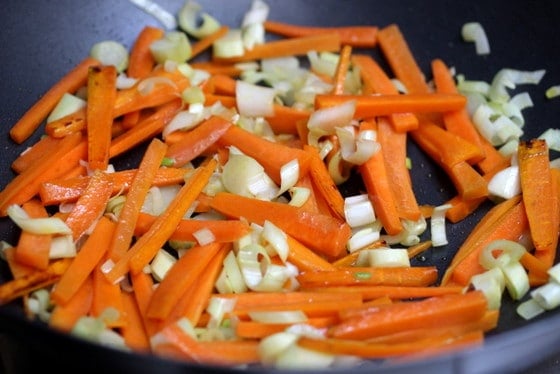 So I woke up later than usual today, having gone to bed at 4am.
With some glasses of wine, caipiroskas (lime, ice, sugar and vodka) and great food still lingering in my system, I spent the morning running some errands and then got home a bit hungry.
This pork recipe had been on my mind for a week now, so it was time to ditch the chinese rice and prepare something as good as the day promised to be. And the night had already been.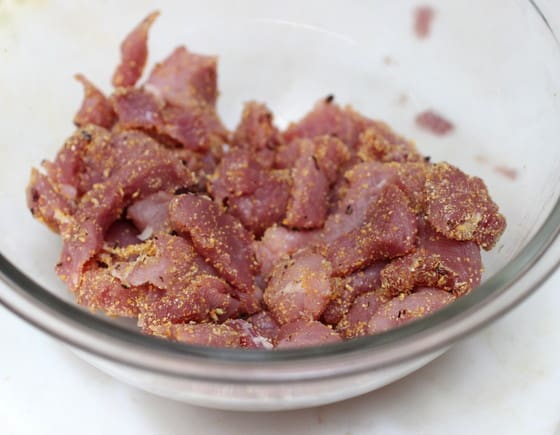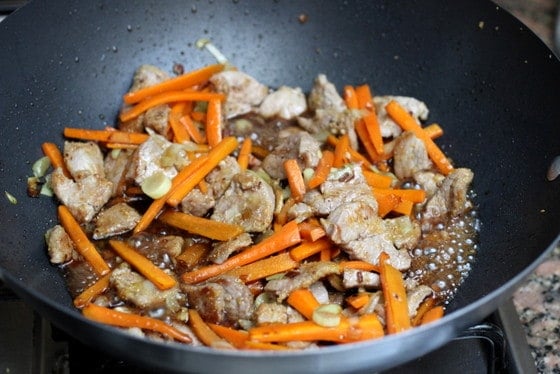 Well, it was good, great really, but most things pale when compared to good friendships.
This is the kind of wok recipe that comes together fairly quickly, even though there is chopping and a reasonable list of ingredients involved. In my case I have all of them usually in my pantry and my fridge.
While the rice was cooking I made the pork.
And since recipes are at least for 2, I now have an effortless dinner at hand. I wonder what the Chinese restaurant will think of my absence. I'll worry about it while enjoying this sweet and spicy szechuan pork and carrots.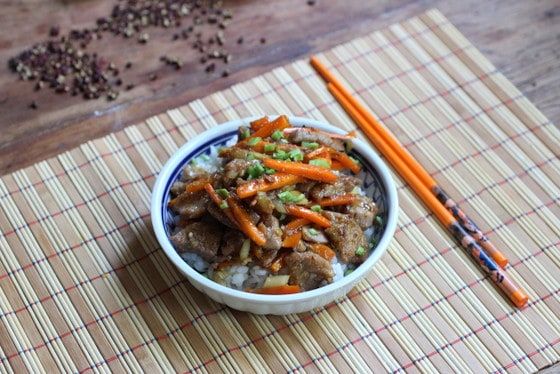 Print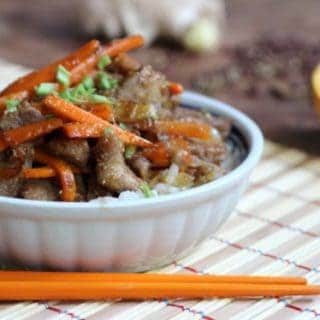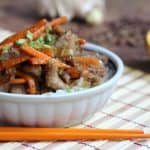 Crunchy Szechuan Pork and Carrots
Yield:

2

servings

1

x
---
Description
When using a wok always add oil or liquids around the edges, so they reach the middle already hot.
---
Scale
Ingredients
Vegetable or light olive oil

2 teaspoon

s szechuan peppercorns
Salt

2

Tbs cornmeal

12 oz

. pork tenderloin (cut into bite size pieces)

2

medium carrots (cut into sticks)

1

small leek (sliced)

2

garlic cloves (minced)

1

Tbs minced fresh ginger

3

Tbs soy sauce

2

Tbs honey

3

Tbs orange juice

3

Tbs mirin (cooking sake)
Chopped green onions or chives (for garnish)

2 cup

s cooked white rice (to serve)
---
Instructions
Heat a wok over low heat, add peppercorns and cook until fragrant, about 1 minutes.
Transfer to a mortar, add salt to taste and mash until peppercorns are mixed with the salt.
Transfer to a medium bowl, add cornmeal and then add the pork pieces.
Coat meat with the peppercorn mixture and reserve.
Heat the wok over high heat.
Add 2 Tbs oil and cook carrots and leek until beginning to brown, 3 or 4 minutes. Transfer to a plate and reserve.
Add a few more Tbs oil to the wok, add pork and cook until brown, about 5 minutes. Transfer to the plate with the carrots.
Add ginger and garlic to the wok, sauté 1 minute and add soy sauce, honey, orange juice and mirin. Cook until sauce is somewhat syrupy.
Add meat and vegetables and cook for 1 or 2 minutes.
Divide rice between two bowls or plates. Add pork mixture on top, dividing evenly.
Garnish with green onions and serve.
---
adapted from 200 Recetas Para Wok, by Marina Filipelli
---