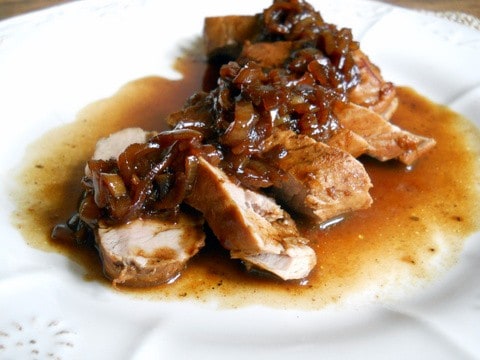 It turns out that I like to be challenged when it comes to recipes and themes. Just a normal dose of inventiveness, let's not get carried away. SundaySupper does that often and today is no exception. Our host is lovely Amber of Mama's Blissful Bites, and we're cooking with 5 ingredients or less, not counting salt and pepper.
A simple theme, but I needed some brainstorming to come up with something worth posting that I would actually make for myself on a regular basis. I decided to do a savory recipe. Pork loin with port shallot sauce to be exact. A welcome change from the mostly sweet posts that invaded this blog in the last two months. I'm a baker at heart, not a cook.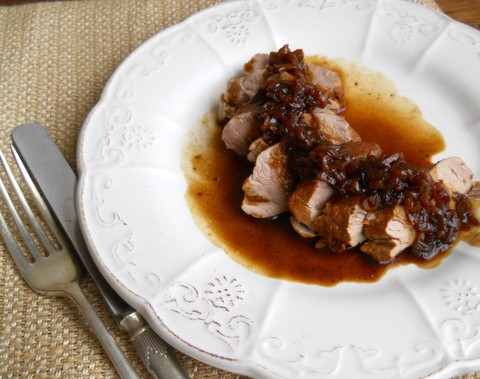 I never really care how many ingredients I use in a recipe. I find it more complicated to use few than to go through a grinding set of detailed spices, vegetables or whatever is needed. But, even though I live alone, there are many times when the fridge is almost empty and it's late, I'm hungry and borderline cranky.
Though pasta is my absolute staple when it comes to easy dinners, I wanted to do something a bit more interesting, and by that I mean not throwing some peas and ham with spaghetti or processing anything with olive oil and parmesan cheese and call it a pesto, because that's what I actually do most of the time, either that or Chinese takeout.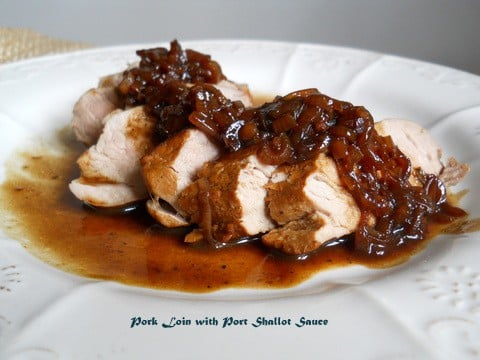 So I adapted a very old staple of mine, a recipe I used to feed many at different occasions along the years. Like they put at the beginning of many movies, 'this recipe is formatted to fit this theme'. Two of the five ingredients were already spoken for, since there's clearly pork tenderloin involved and it had to be seared in some olive oil. So with the remaining three I made a rich, deeply colored, a bit tangy sauce with shallots, broth and port.
Port is the real deal here. It is strong but a bit sweet at the same time. And, when boiled down for a while, it turns into an amazing thick syrup. The second place goes to the shallots. They're a bit mellower than garlic and sweeter than onion. The perfect choice when the list of five is almost completed. And finally broth. I use vegetable to keep it a bit neutral. It's almost imperative to start with a lightly salted (a lot of emphasis on the word lightly), because the broth is reduced before adding it to the sauce. And then it keeps on reducing with the port and shallots. So the salt content has to be very low at the beginning.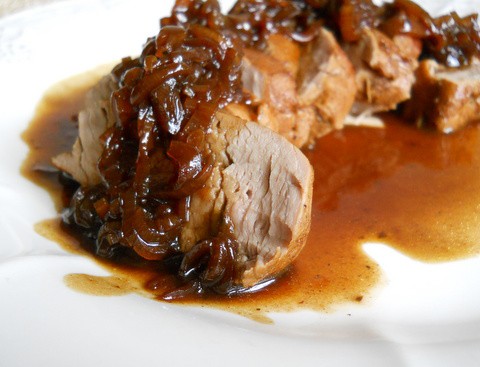 This goes
well with red meats of course. And I've also been known to use it as part of
mini bruschettas. Toasted bread, a bit of this very reduced shallot port
sauce, a piece of brie cheese on top, warm it a bit in the oven and you're in
appetizer heaven. No kidding.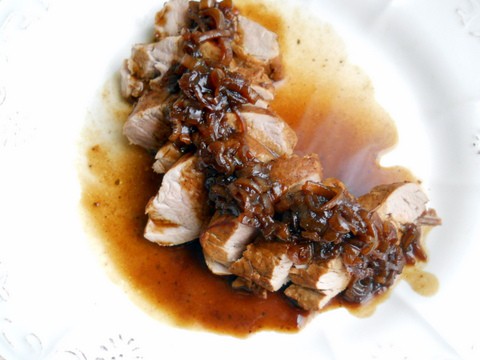 Print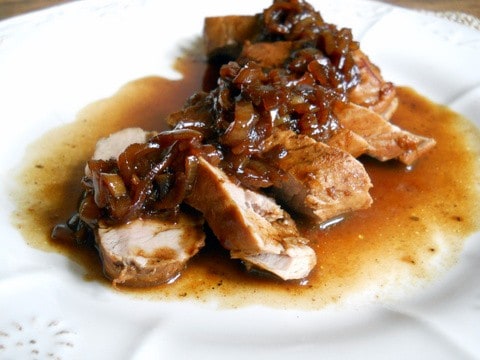 Pork Tenderloin with Port Shallot Sauce
This is a recipe that uses few ingredients, a simple cooking method and yet delivers big flavors!
Total Time:

55 minutes

Yield:

2 servings
1 cup

vegetable broth

2

pork tenderloins (about

½

pound each)

¾ cup

Port wine

½ cup

sliced shallots

4

Tbs Olive oil
Salt (just for the pork and freshly ground black pepper)
Instructions
In a medium saucepan, boil broth until reduced to half a cup, about 15 minutes.
Season pork with salt and pepper.
In a skillet, heat 2 Tbs olive oil.
Add pork and sear well on all sides. Remove and reserve on a plate.
In the same skillet, heat the remaining 2 Tbs olive oil.
Add sliced shallots, some black pepper, and cook over medium heat until just beginning to color, about 3 minutes.
Add ¼ cup port and let reduce until almost evaporated.
Add ¼ cup of reduced stock and let reduce again until almost evaporated.
Repeat with another ¼ cup of port.
When the mixture is thick and liquids are syrup-like add the seared pork back to the skillet and the remaining ¼ cup each of port and reduced broth.
Let cook for about 5 minutes. This depends greatly on the size of your tenderloins.
Remove from heat, transfer pork to a cutting board and let rest for 3 or 4 minutes.
Meanwhile, check the remaining sauce left in the skillet. If it's too liquid reduce it a bit more while the pork is resting.
Cut the meat into inch-thick slices, arrange on the plates, and spoon sauce over
Notes
This recipe serves 2, but it's easily multiplied by two or three. For more than six servings, repeat as many batches as you need. But don't make one huge large pot of sauce. It doesn't work; by the time the liquid reduces to a syrup, the shallots are gone.
Potatoes and sweet potatoes (mashed or roasted) are a great side dish for this recipe.
Author:

Paula Montenegro

Prep Time:

15

Cook Time:

40

Category:

Main dishes

Method:

Cooking

Cuisine:

International
Keywords: pork with shallot sauce