This is so simple it's borderline between a list of ingredients and a recipe , yet ingredients, when they are good, the simpler the better, right? Seasonal is exactly the way I like produce and ideally the only way to eat it, but still they're a far cry from what I remember eating growing up – somewhere between grabbing directly from the fruit trees in my family's farm or even the sidewalk, where trees heavy with tangerines, kumquats and Japanese plums were assaulted on our way back from school by me and my brothers, and developing a palate – a time where you didn't have to look for organic, much less pay so much for it, because it was organic.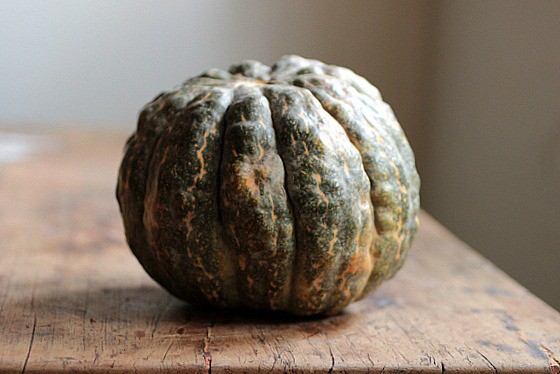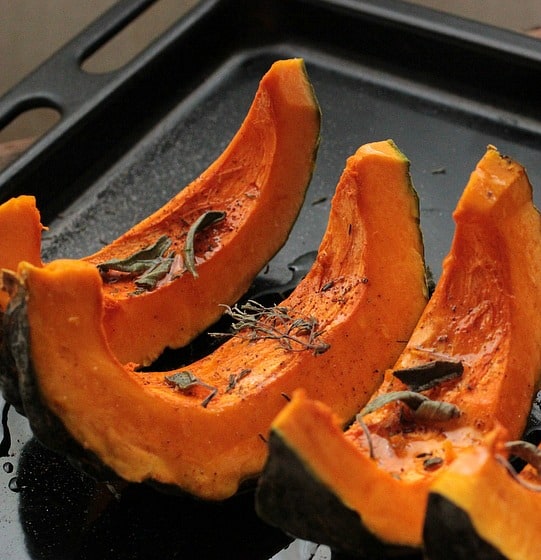 We call this English pumpkin, have no idea why exactly, but it's pretty common after the butternut squash – my absolute favorite and very popular here – both very different in shape and flavor.
A few 
months ago some blogger friends started a
small indie magazine
, with recipes, 
drinks, some crafts, places to eat, all foodie things. It's in spanish of 
course. This was one of the recipes I collaborated with, together with the
beet risotto
, 
pumpkin bread
and
pear almond tart
, since it was the fall/winter issue 
and it was all about pot pies, root vegetables and cold day's food. Just what 
most of you are in need of now.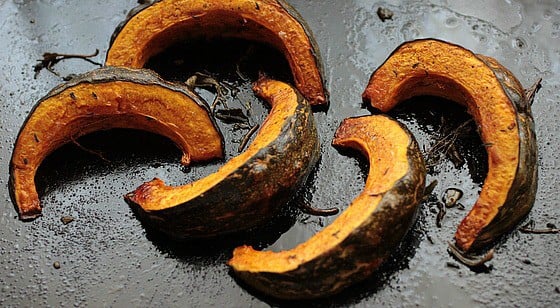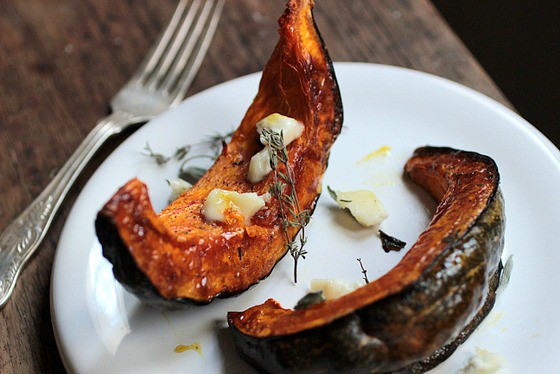 The english pumpkin begs to be cut into wedges; no arguing on my part since the shape makes it easy to. Then it's just a medium oven, some seasoning and you get concentrated golden pieces of pumpkin, the ideal partner for chicken and turkey. And it's the season people to get your menus in order, plan, cook and gather.
I am very 
partial to goat cheese, and it goes so ridiculously well with this orange 
vegetable. A sprinkling of thyme and sage and before you can say I need an easy 
side dish you have it on the table.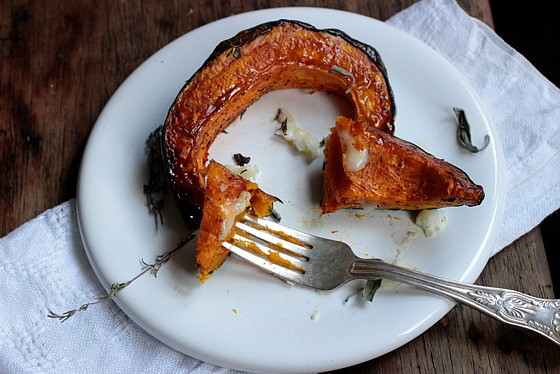 Print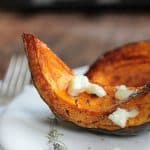 Roasted Pumpkin with Goat Cheese, Thyme and Sage
---
Scale
Ingredients
½

medium english pumpkin (cut into 1-inch wedges)

3

o 4 Tbs olive oil
Salt
Black pepper (freshly ground)
Dash of cayenne (optional)
Sage and Thyme (fresh (1 Tbs each) or dried (1 teaspoon each))

2 oz

60g semi hard goat cheese
---
Instructions
Preheat the oven to 350ºF / 180ºC.
Arrange the pumpkin wedges on a baking tray.
Drizzle with olive oil, and sprinkle with salt, pepper, cayenne if using and herbs.
Bake for 15 minutes, and lay them on their sides. Continue baking for 15 more minutes, turn them on the other side and bake for 15 more minutes, or until golden and soft.
Transfer the pumpkin to the serving platter, scatter goat cheese on top, a drizzle of olive oil, a sprinkle of herbs if you want and serve.
---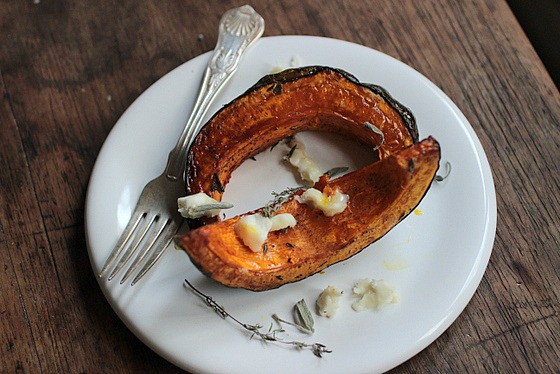 Today's 5 related recipes worth looking at:
Roasted Butternut Squash Soup with Sage from Will Cook for Friends
Pumpkin and Sage Lasagna from Foxes and Lemons
Mushroom and Goat Cheese Galette from Blogging over Thyme
Pumpkin Pickles from My Edible Journey
Pumpkin and Parmesan Scones with Thyme from Drizzle and Drip
---