This is one of my signature desserts, a fluffy baked meringue floats in caramel and dulce de leche. It's a simple recipe but looks sophisticated and is a showstopper at any party or celebration!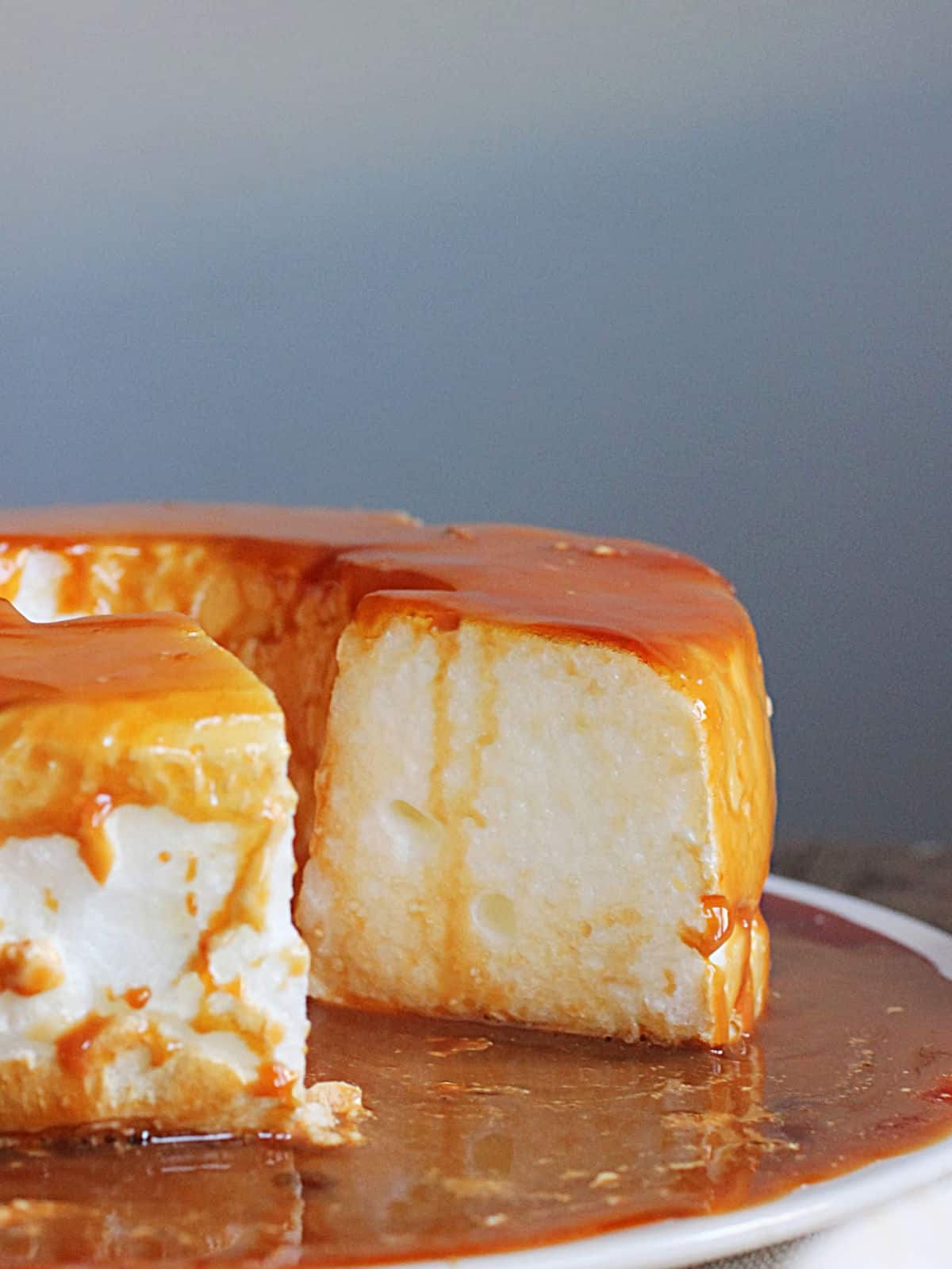 To say this floating island recipe took me back to my first years of active baking is the week's understatement.
I can't begin to count the times I've made this, so much so that people simply asked me to make an island – why don't you make an island for this weekend? – and who can blame them, considering this baked meringue dessert 'floats' in a mix of caramel and dulce de leche.
A lot of wandering spoons will find themselves around the edges of the serving platter, stripping the floating island of its sauce. I know I do it.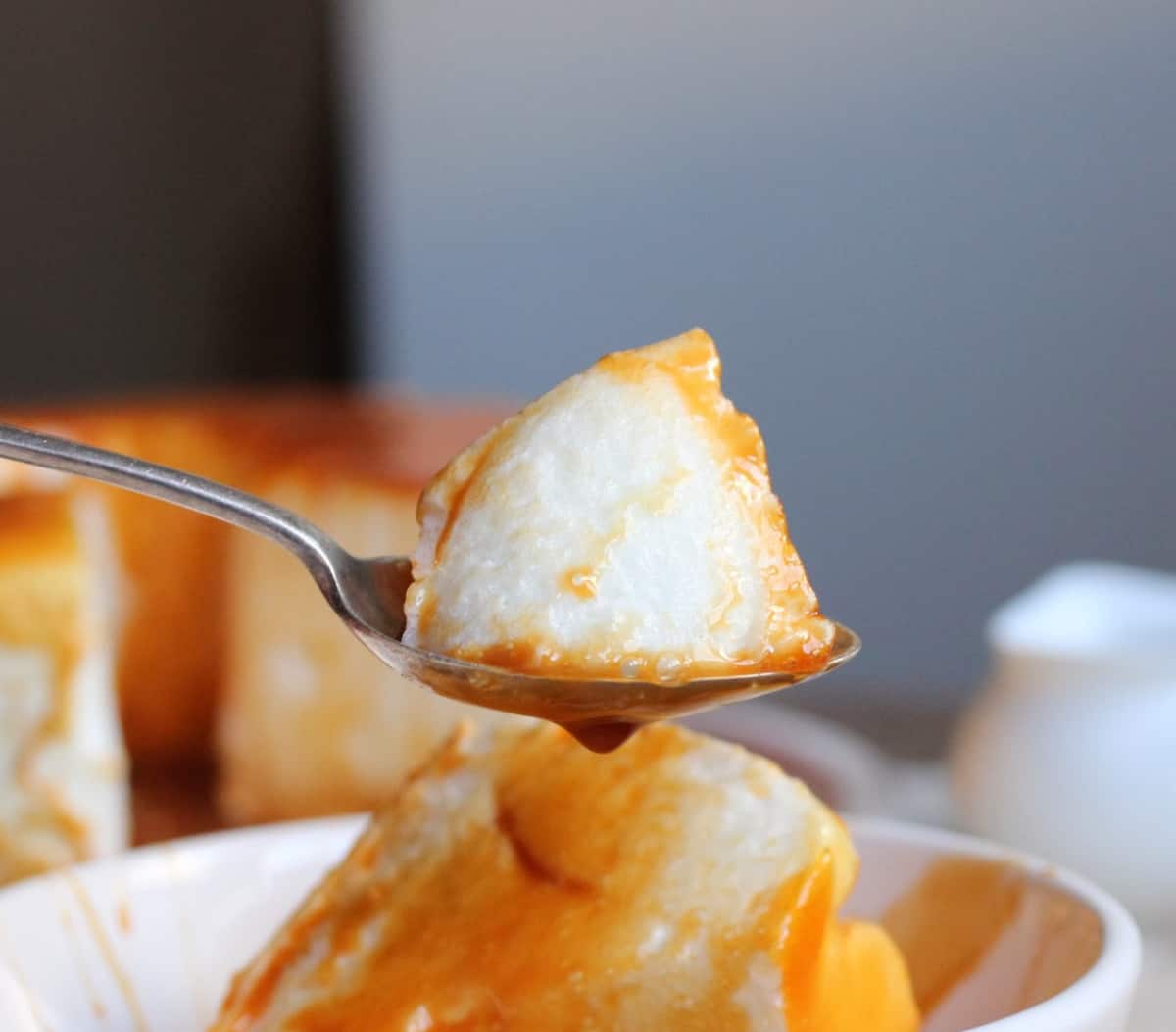 About baked meringue
This dessert is essentially a meringue that is baked. It is as simple to make as any meringue and easy if you have a sound stand mixer or hand-held electric beater.
The proportions are not your usual for Italian meringue or Swiss (my favorite, the one I use for things like the dulce de leche mille-feuille) because the amount of sugar per white is much smaller.
It holds firm peaks, but there's a shiny quality missing, not glossy like an expensive magazine cover but more like door paint, my doors at least; yet the floating island will be ethereal, almost a whisper of a bite dissolving before you know.
If it sounds like it will not hold, I share that feeling. But trust me that it baked beautifully. The proof is in the photos.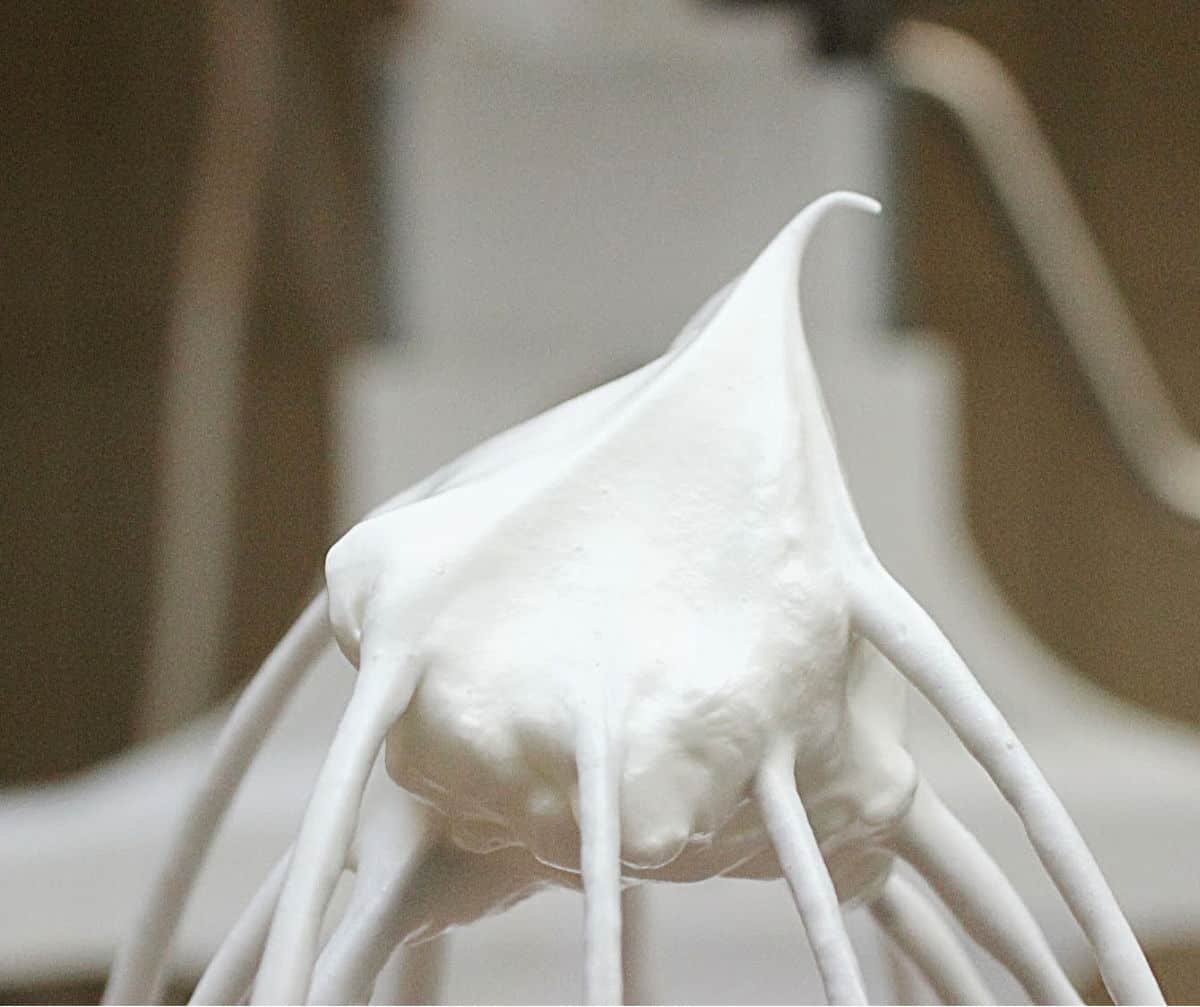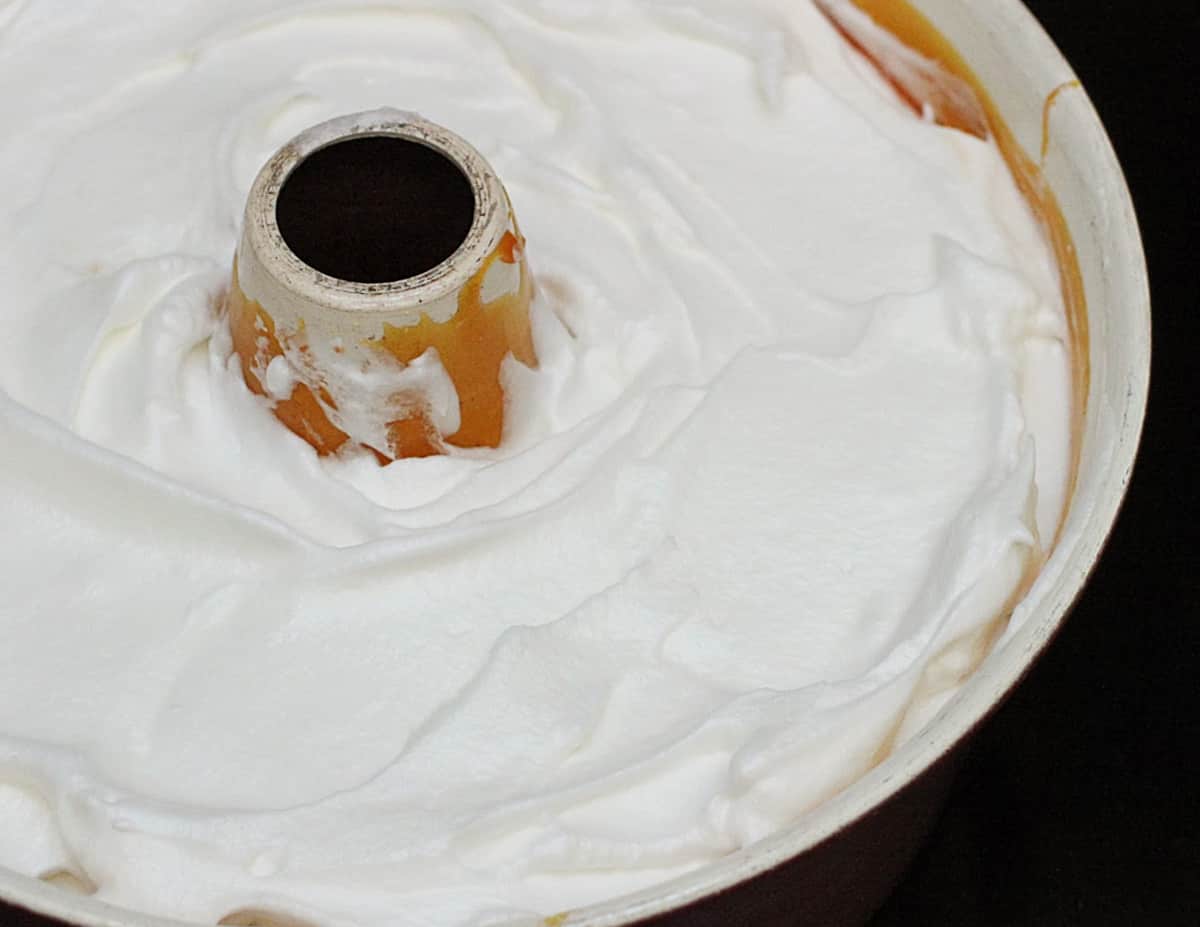 The caramel
Homemade caramel is not difficult, but you need to be very careful. Very.
Making it directly in the pan you'll be using saves time, and you don't waste some of it when transferring from one container to the other. But you can use a saucepan if that's easier for you.
Tips: you'll need to use very heat-resistant mittens or towels because caramel burns a lot. And it might be difficult to maneuver the pan as it gets super hot from being on an open flame.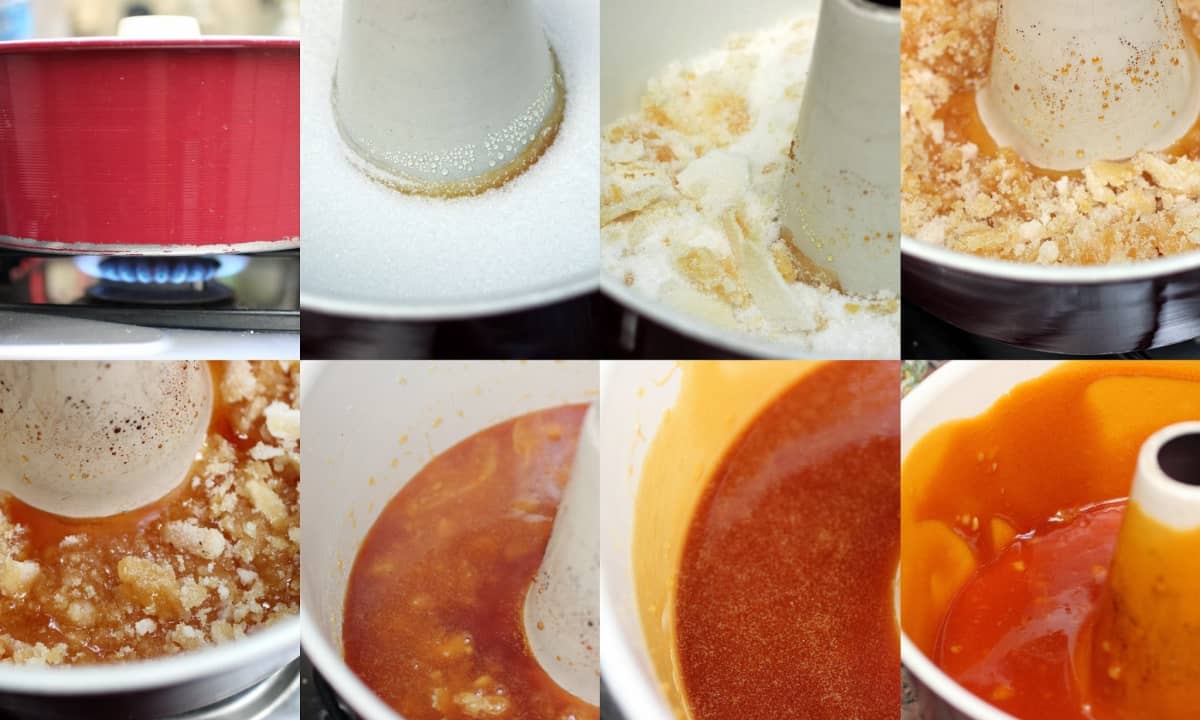 I caramelize a large tube pan (image below), beat the meringue to firm peaks, and bake it in a water bath for the specified time, leaving it in the turned-off oven to cool down, as I do with my cheesecakes.
The floating island shrinks when it starts to cool down. That is normal.
It then goes into the fridge till the next day, where it shrinks even more (image below), like a souffle. But the texture after that is smooth and airy, just perfect; the knife cuts effortlessly into it, it doesn't move, the island just stays tall.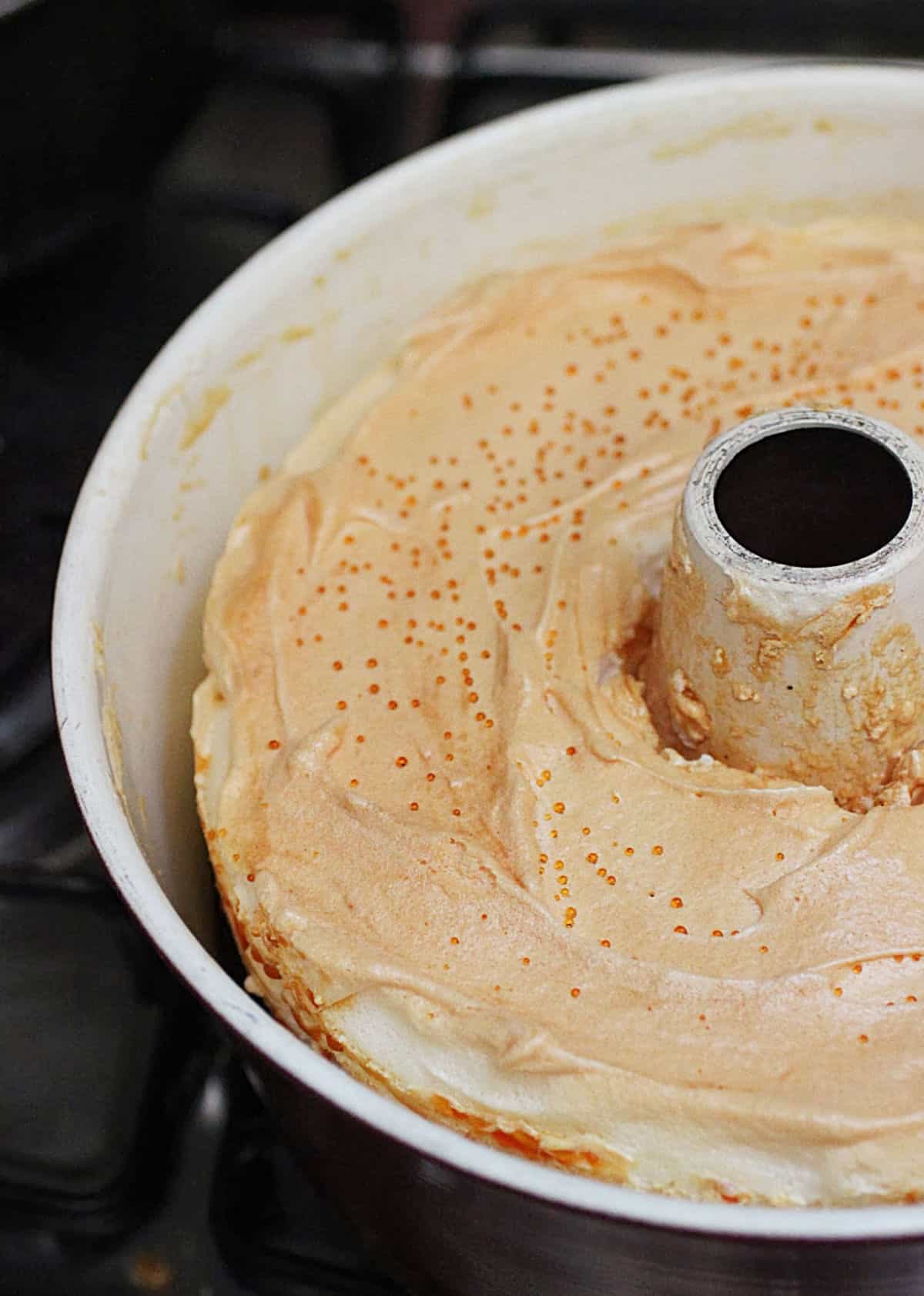 Serving this dessert
The traditional way is Crème anglaise (custard cream) or zabaglione, because of the leftover egg yolks. But a light chocolate sauce with fresh berries goes great too. Or even lemon curd.
I go the Argentinian route and use my homemade dulce de leche recipe on top of the caramel that comes with it (image below). So good!
If not serving it with dulce de leche, you might want to add some vanilla extract to the meringue. But, since I serve it in a pool of dulce de leche and caramel, we have enough vanilla flavor for now.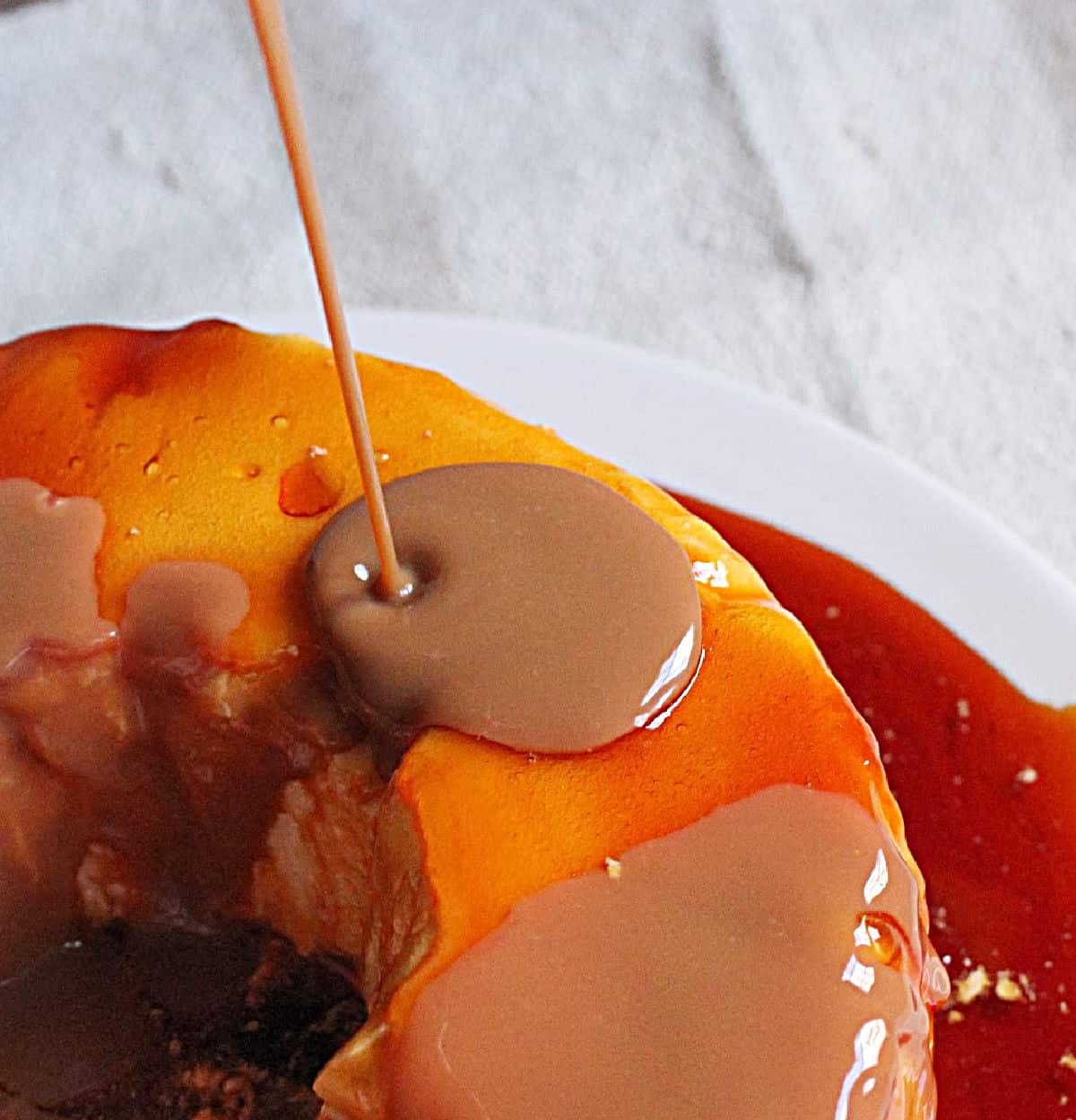 You can make this one or two days before you plan to serve it, or even three, just like a cheesecake or a flan.
---
Related recipes you might like:
---
Let me know in the comments below if you made this recipe and loved it and if you had issues so we can troubleshoot together. I love to hear what you think, always. Thanks for being here. It's much appreciated.
You might also consider subscribing to our FREE email series to Boost your Home Baking Skills! And our regular newsletter.
And let's connect via Facebook, Instagram, and Pinterest.
Print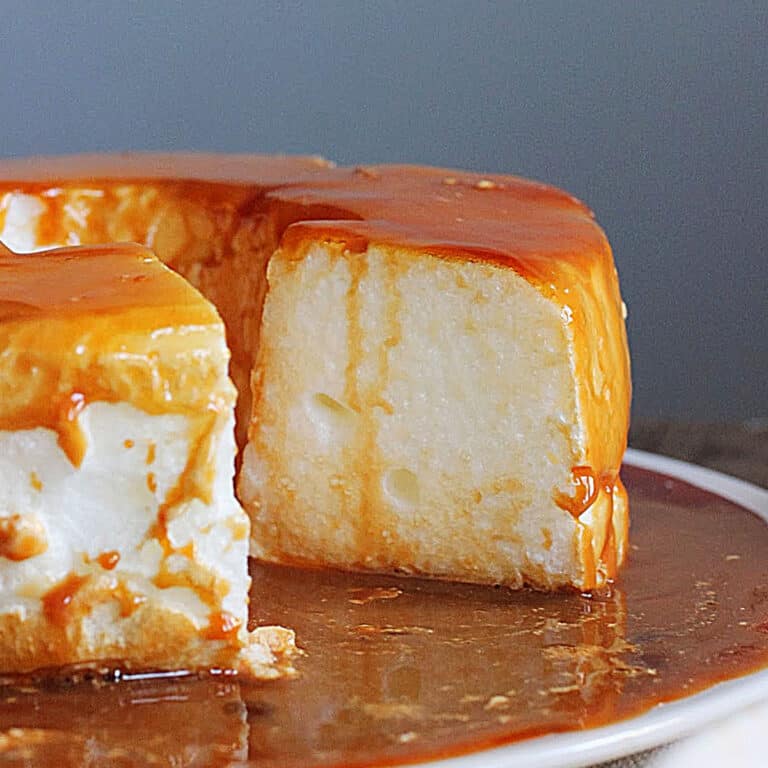 Floating Island
You can serve this dessert in a pool of crème anglaise or sabayon too, and add some fresh berries such as raspberries or strawberries.
Total Time:

1 hour 10 minutes

Yield:

10 servings
9

egg whites, at room temperature

¾

cup

sugar
Large pinch of salt

1 ½

cups

sugar (for making the caramel)

1

cup

dulce de leche
Instructions
Preheat oven to 250ºF / 115ºC.
To caramelize the pan:
Put the 1 ½ cups sugar in the pan and set it over medium heat over a stove burner.
It will slowly start to melt. You will be moving the sugar around with a wooden spoon or heat proof spatula a few times to prevent it from burning in one spot.
Rotate the pan frequently, so the flame hits different parts and melts the sugar as evenly as possible. If it's going too slow increase the flame, but be careful not to burn it.
When you stir the sugar with a spoon, be VERY CAREFUL with putting your hand over the funnel, since the flame below will try to escape through it. Keep on rotating the pan and mixing the sugar when you see it's burning in only one spot. It will eventually start to turn a golden color. If necessary lower the flame so it dissolves the sugar completely. It will look like you have a golden see full of ice floating, but it will eventually all melt.
Again, being very careful, take one or two kitchen cloths, wrap them around the pan, which will be extremely hot, and swirl the caramel so it coats the walls of the tube pan. Spoon caramel so it coats the tube too.
The caramel will start to harden, so do it fairly quickly.
To make the meringue:
Put the room temperature whites in the bowl of an electric mixer, add the salt and start whipping at medium speed for about 1 minute.
Gradually add the ¾ cup sugar, and beat on high until glossy, firm peaks form. The meringue should not droop. This will take a few minutes, maybe 3 or 4.
With a spatula transfer the mix to the caramel lined pan. The caramel will start to crack when you add the meringue, it's ok. Push gently with the spoon if you see there are empty spaces with no mixture. Spread as evenly as you can.
Put in a baking oven pan with at least 1-inch sides. Put in the oven, and then slowly add very hot tap water to the pan.
Bake for 40 minutes and check. It should have risen above the rim of the pan and be quite firm to the touch. Turn off the oven and leave inside with the door closed.
After an hour, transfer to a wire rack. Let it cool for half an hour more, cover with plastic wrap and chill for 8 hours or overnight.
To unmold, uncover the pan, put it directly over a low flame, moving it around so the bottom warms a bit and the caramel barely starts to melt.
Using a large platter, flip it carefully. Warm the caramel again by putting the pan on the flame. Add some of it to the top of the floating island, careful not to add too much.
Heat the dulce de leche with 4 Tbs water. You want a honey-like consistency.
Add some to the top of the dessert and mix the rest with the remaninig caramel. Put in a jar to serve.
Author:

Paula Montenegro

Prep Time:

30 minutes

Cook Time:

40 minutes

Category:

Desserts

Method:

Baking

Cuisine:

International
Keywords: floating island, baked meringue