Sometimes I open my fridge and freezer and am surprised at the amount of food I hoard without even realizing. If you didn't know me better, and most don't really, you'd think I was preparing to give birth to very hungry eighteen year old triplets. Or quadruplets, all boys. Well now you do know that's not happening, at all. For the record, I live alone and eat most of my meals by myself, with the exception of my weekly brunch and dinner with friends or the times when my on/off boyfriend of the last five years happens to be around.  So how on earth do I buy so much stuff in the first place?
This pastel azteca is a result of said moments, when I found 8 or 9 frozen vegetable packets. Do I add a few each time I go to the supermarket without realizing? I'm baffled at my own habits.
And I wonder, does that apply to other aspects of my life? I have a creepy feeling it does.
Let's not find out though. I´m not in the mood for some soul cleaning right now.
A new vintage Monday and some new, and hopefully interesting, finds to share with you.
.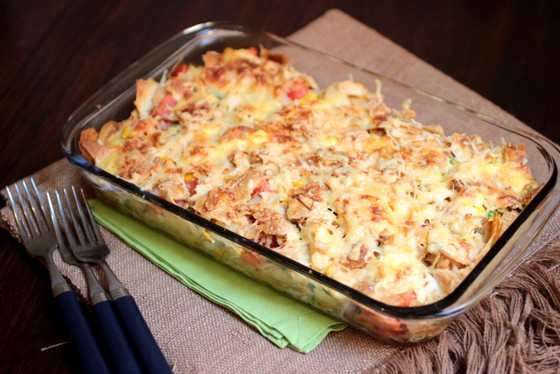 Since food always comes first in this blog, here are some very interesting recipes that I would want to tackle asap:
Peach Doughnuts from The Ginger Bread Lad
Blackberry Farm Griddle Cakes (gluten free) from Bon Appetit
I'm taking part this coming friday in Food Revolution Day, started by Jamie Oliver in an attempt to spread essential cooking skills and the need for good food around the world. I will be posting bread recipes in both my blogs, a quick cheddar bread from
Dorie Greenspan
sponsored by Mardi of Eat.Live.Travel.Write, and a beer bread recipe from Jamie Oliver's first book in 
my spanish blog
, sponsored by Noelia of ArNordica.
About that thing called social media, which probably haunts your days and nights, or at least a few hours of every day. My favorite animated posts usually come from Gina's blog, and this is one of her best.
Continuing with social media, the world is now open for comments, and some are just… 
just read on
.
I'm not a parent (we already covered that in the first paragraph), so commenting on parenting issues is not my area, but 
really guys, really??
.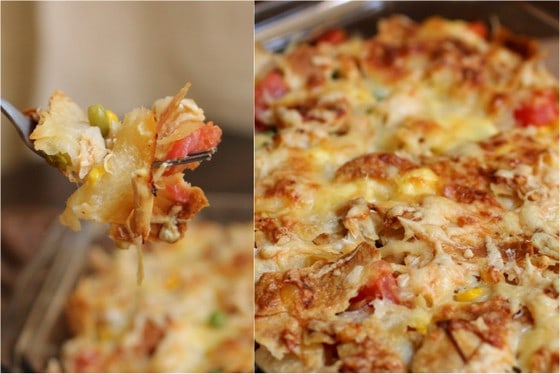 Going through my grandmother's recipe notebooks, I 
found a casserole dish, made by Chelo, her very Mexican good friend, that I ate 
for the first time
years
ago, and 
still remember how much I liked it. It had to do with the flavor, new to me, 
of mexican tortillas, the real thing. Her friend visited once a year, brought 
her tortillas in the suitcase and invited us for a dinner every trip, which she 
cooked at my grandmother's house, the same house I live in today. She was big and warm and liked to hug you tight,
smearing your clothes with her trademark violet and blue eyeshadow I will never forget.
She and my grandmother enjoyed their time together in the kitchen so much it really came through in her dishes. We always ended up having such fun and happy get-togethers that I guess when you cook with love and gratitude it really does show in the resulting food and ambience. Chelo made a mean pastel azteca. I only tasted hers, so I really don't know how traditionally accurate it is, but it was so good. A simple layered tortilla chicken casserole worth sharing with all of you wonderful people who take the time to read this blog. I stayed faithful to the original recipe but added some frozen peas, because I had so many, as I was telling you earlier.
.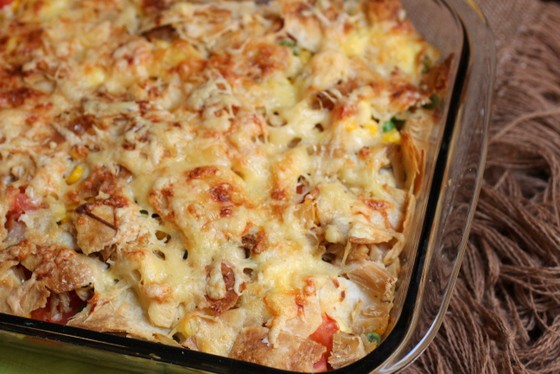 I think one of the best parts of this dish is how the mixture of cream that binds it all together, soaks some of  the tortillas while other stay crisp. It's crunchy creamy. And it reheats so well. You know how it is around here, me living alone, I ate this for three days.
Print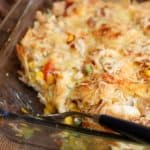 Pastel Azteca
Yield:

8

1

x
Category:

Main dish

Cuisine:

Mexican
---
Description
This recipe is very adaptable. The only addition to the original recipe are the peas, but you can layer other vegetables like cooked carrots, asparagus or pumpkin. Add cheese too between layers, not just on the top.The tortillas were originally fried before assembling the casserole, but I just crisp them in the oven since I don't want the extra oil. I'd rather use more cheese or cream.If you want to add minced jalapeños, mix them with the vegetables.
---
Scale
Ingredients
5

large flour tortillas

1 cup

frozen peas

1 cup

frozen corn

2 cup

s chopped tomatoes (about

2

medium)

2 cup

s shredded cooked chicken 

1/2 cup

cream

1/2 cup

milk

1/2 cup

mayonnaise
Salt and freshly ground pepper
Cayenne pepper to taste or chili powder

3/4 cup

grated Swiss cheese

1/2 cup

grated asiago cheese
---
Instructions
Preheat oven to 350º.
Butter a pyrex dish, about 7×12 inches.
Heat tortillas for 5 or 10 minutes, until they loose their softness and begin to crisp. Torn them in medium, uneven pieces. Roughly divide pieces into 5 parts.
Defrost peas and corn by boiling water, adding them and leaving them until the water breaks into a boil again. Drain and divide into 4 parts.
Put 1 part tortillas on the bottom of the dish. Scatter on top 1 part of vegetables and ½ cup tomato chunks.
Keep layering in the same order and same amounts. You will have a layer of tortilla pieces on top. Scatter both cheeses evenly.
In a bowl mix cream, milk, mayonnaise, and add salt and pepper to taste. Add cayenne or chili powder, from ¼ teaspoon to 1 Tbs, depending on your taste.
Pour this mixture evenly and slowly on top of the casserole. You can lift a few parts of the layers to let it seep in between.
Bake for about 30 to 35 minutes, until the top is golden and bubbly.
Let cool 5 minutes and serve.
---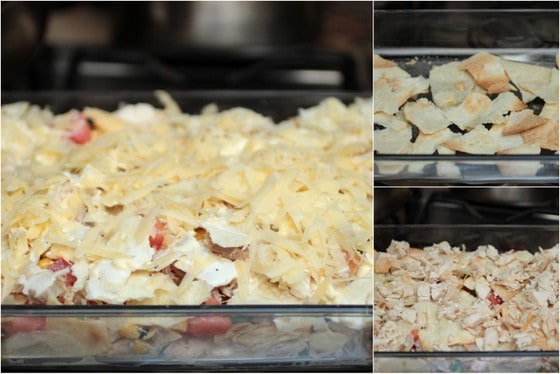 ---