Chicken Maryland, with creamed corn and fried bananas, was pretty popular when I was growing up. This is a more modern rendition, with panko-crusted chicken, corn pudding, and a simple tomato salad.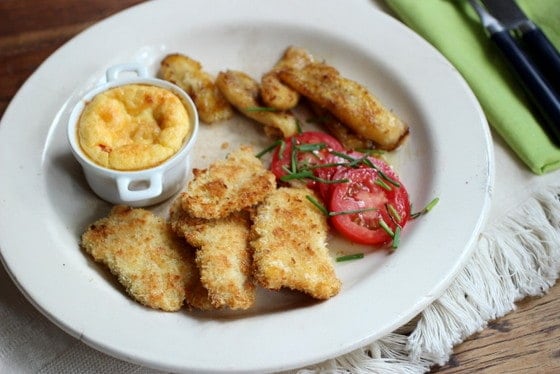 It's no doubt a retro recipe in every way, from the deep frying to the combination of flavors. I liked it and so did my older brother. So for us, it was a treat. I suspect because we never ate it at home.
This was one of the most common dishes in restaurants when I was growing up, when there was not much middle ground, it was either the very fancy, expensive, sophisticated cuisine place or the neighborhood restaurant, full of loud kids and smelling of frying oil, tomato sauce, and barbecue. I rarely went to the former, my parents not fond of eating out nor particularly foodie types.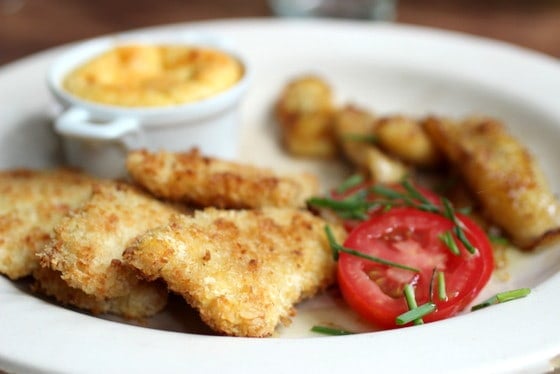 Retro Food is the theme of today's Sunday Supper table. After baking from our bucket lists and then celebrating a birthday, so far the year with this group is turning up to be a feast for me since I am loving the recipes I'm making.
The idea of making chicken Maryland for this blog would never have happened otherwise. Why?
It's a fried chicken milanesa (breaded fried breast) with creamed corn, fried bananas, and a piece of roasted red pepper. Sometimes a thin slice of ham came on top of the chicken and below the 'decorative' red pepper. Not a leaf of any kind in sight. Amazing how people survived in those years. And I bet they were healthier than us in many ways.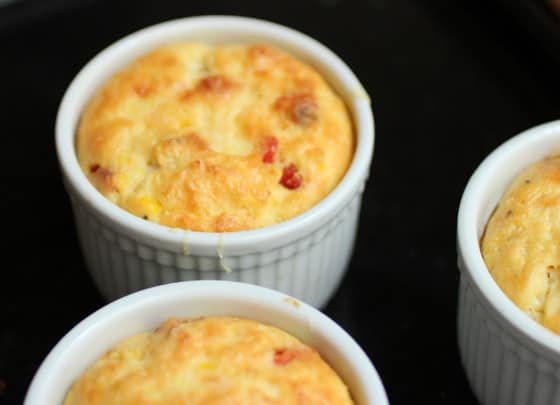 Anyway, I did a couple of modern twists to the whole thing, while retaining its essence.
The addition of a sliced tomato was the inevitable thing to happen after plating all those monochromatic ingredients. I couldn't possibly eat that without something fresh to balance it a bit.
My mother had come to lunch and she even suggested going across the street to the supermarket and buying some parsley so I could liven it up for the picture; finally, I found some chives and sprinkled them on top.
This Chicken Maryland 2013 consists of corn and roasted red pepper pudding, baked chicken breast fingers coated in panko crumbs, and bananas sautéed in a little butter. And a tomato.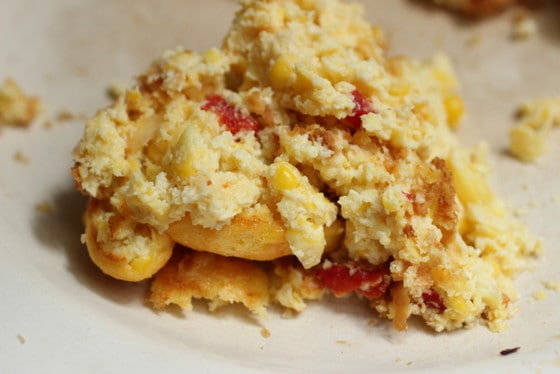 Let me tell you the pudding is great on its own, with some ricotta, parmesan, and roasted peppers that I charred myself. The blackening of red peppers is a fun thing to do, you get to put it directly over the flame and play around with it until it's all charred and soft. You get to play with fire, when was the last time you were allowed to do that?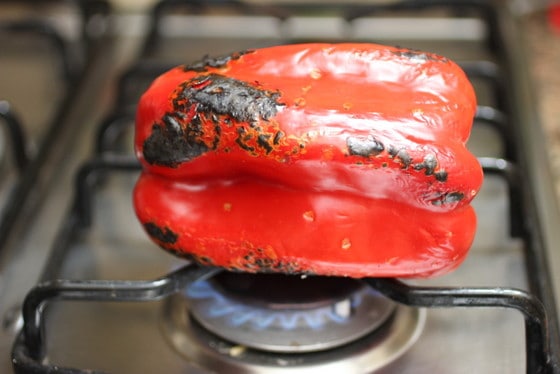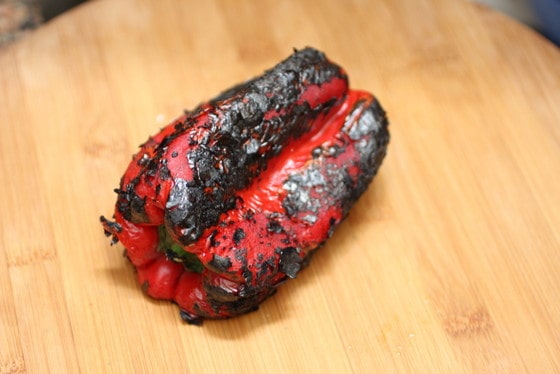 I used medium custard cups and a small one that would go well on the plate. But the best way to make this is as a big pudding and serve it by spoonful family-style. Made in small cups it loses a lot of that creamy consistency.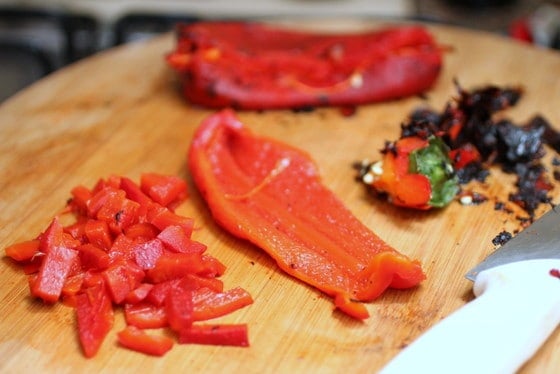 The chicken fingers are easy to make and there's nothing like panko to achieve maximum crunchiness. I dip them in egg and water, then in panko, and do it twice. Then the tiniest drops of olive oil and into the oven they go.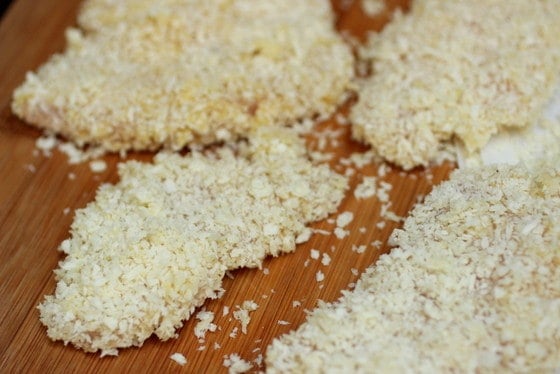 The banana was sliced and sautéed in some butter because there's no healthy way to do that. It must be done at the last possible minute because they soften up quickly. By the time I started taking pictures they were getting uglier by the second.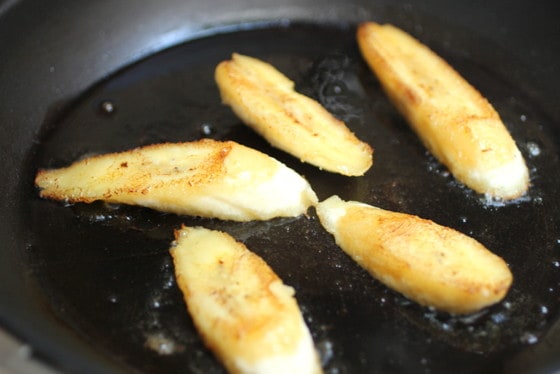 Finally, we sat down to eat, a weird dish for today's way of eating, especially the way I eat. The tomato was a perfect addition and almost necessary. But once I had my fork with some chicken, a piece of banana, tomato, and some corn pudding on top, it was very good. Not greasy at all and a flavor that I had forgotten about.
Especially the banana.
The corn pudding was the best part and qualified as a meal on its own.
Coming out of the oven it looks puffed like a half-risen soufflé. You have to take it out while it still barely jiggles, so the center is soft but cooked and creamy. And you can add anything to it, even ham, cooked chicken, and other veggies.
Print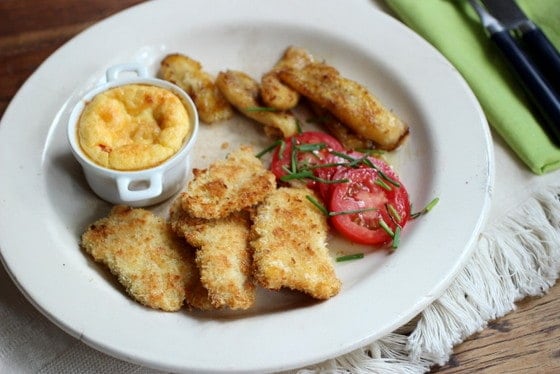 Chicken Maryland
This is a twist on the fantastic retro dish. Chicken, corn pudding, and fried bananas, what can go wrong?
Total Time:

1 hour 20 minutes

Yield:

2 servings
For the corn pudding:
1 ¼ cups

corn kernels (fresh or frozen, defrosted)

1 cup

ricotta

2

eggs

2

Tbs butter (melted)

½ cup

cream

1 ½

Tbs flour

½ teaspoon

salt
Black pepper to taste

½

Tbs sugar

3

Tbs grated parmesan cheese +

1

Tbs for sprinkling

½ cup

chopped roasted red peppers
Prepare red peppers: You can substitute peppers from a jar (such as piquillo in a blink.)
Put the washed pepper directly on the flame. With kitchen thongs (turn it constantly, charring it as much as you can.)
Let cool and peel scraping it with a knife or spoon. Some skin won't come off (that's ok.)
Cut it in half and take out seeds and veins. Wash the pepper and dry carefully with paper towels.
Chop

¼

of it for the pudding.
Cut the rest in large chunks (put in a plastic container, cover with olive oil and cover tightly.)
Refrigerate for another use.
For the chicken:
2

chicken breasts

2 cups

panko breadcrumbs (or more)

3

eggs

4

or

5

Tbs water
Salt and pepper
Olive oil for baking
For the bananas:
2

bananas

4 teaspoons

butter
Instructions
Make corn pudding first.
While it's baking, prepare chicken and cook in the same oven.
Fry bananas and arrange half a chicken breast, half a banana, one serving of corn pudding and ½ tomato on each plate.
Sprinkle with olive oil and chives.
For the corn pudding:
Preheat oven to 350ºF.
Put corn, ricotta, eggs, cream, flour, salt, pepper and sugar in the bowl of a food processor fitted with the steel blade. Process until well mixed, about 30 seconds.
Take the blade out and add peppers and 3 Tbs parmesan. Mix with a spoon or spatula and check seasoning. You can also transfer the mixture to a bowl before adding the peppers, but you'll have an extra bowl to wash.
Transfer corn mixture to four 1-cup ramekins or 4-cup souffle dish. Sprinkle with remaining Tbs parmesan cheese and bake for 30 minutes, or until puffed and golden.
For the chicken:
Preheat oven to 350ºF. Oil a baking tray.
Clean chicken breast and cut into strips. Put panko in a shallow plate and season with salt and pepper. In a shallow bowl, lightly beat eggs. Add water and mix well.
Take chicken strips, dip them in the egg and coat them completely in the panko.
Repeat with the egg dipping and panko coating. Be sure the panko is well adhered. Some of it might remain in the egg after the second dipping.
Arrange in prepared tray, drizzle with drops of more olive oil and bake for 10 minutes. Turn over and bake for 5 or 10 more minutes, until golden.
For the bananas:
Peel bananas and cut into ¾ inch slices.
Melt butter in a skillet over medium heat and add bananas. Cook 1 minute on each side.
Do this a the last minute, preferably after the chicken is done.
Prep Time:

30

Cook Time:

50

Category:

Main dishes

Method:

Cooking + baking

Cuisine:

International
Keywords: chicken maryland
Corn pudding adapted from Country Weekend Entertaining , by Anna Pump