I'm so obsessed with having finally made a Margarita Lime Pie, I almost ate half of it after the pictures were taken!
Smooth, easy-to-make, incredibly creamy, this is the best way to eat dessert for Cinco de Mayo, viva Mexico!
So, how did this lime pie come to be?
It's our old, faithful, crowd-pleasing key lime pie recipe with tequila and orange liqueur, two ingredients in a margarita cocktail. And I sprinkled a tiny bit of salt when serving it because I'm a salty margarita kind of girl. Oh my god! So amazing. It turned out much better than I thought it would.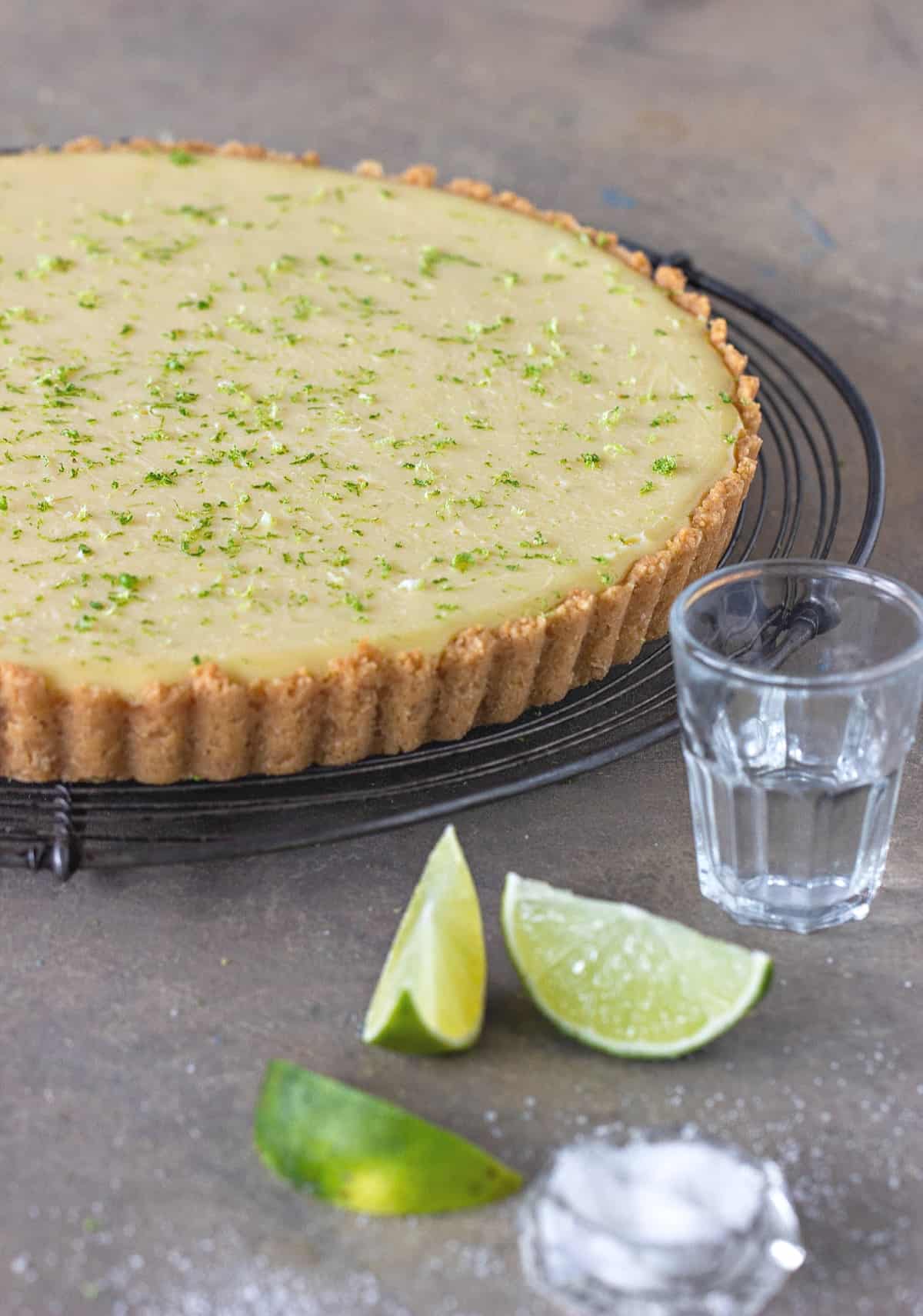 First, let's talk about lime pie.
What is a key lime pie?
It's a lime pie with a cookie crust (usually graham cracker), and a filling made with condensed milk, yolks, and limes, which may be topped with whipped cream for serving. It is amazingly sweet and tangy at the same time.
When the condensed milk comes into contact with the acid of the limes and the yolks, the whole mixture thickens noticeably. Though I have vintage versions of this recipe that call for mixing and simply refrigerating it, mine goes into the oven for a few minutes, and that is good for two reasons: it firms up the filling so that it cuts perfectly (as you can see in the pictures here) and there's no risk if you're not using pasteurized eggs.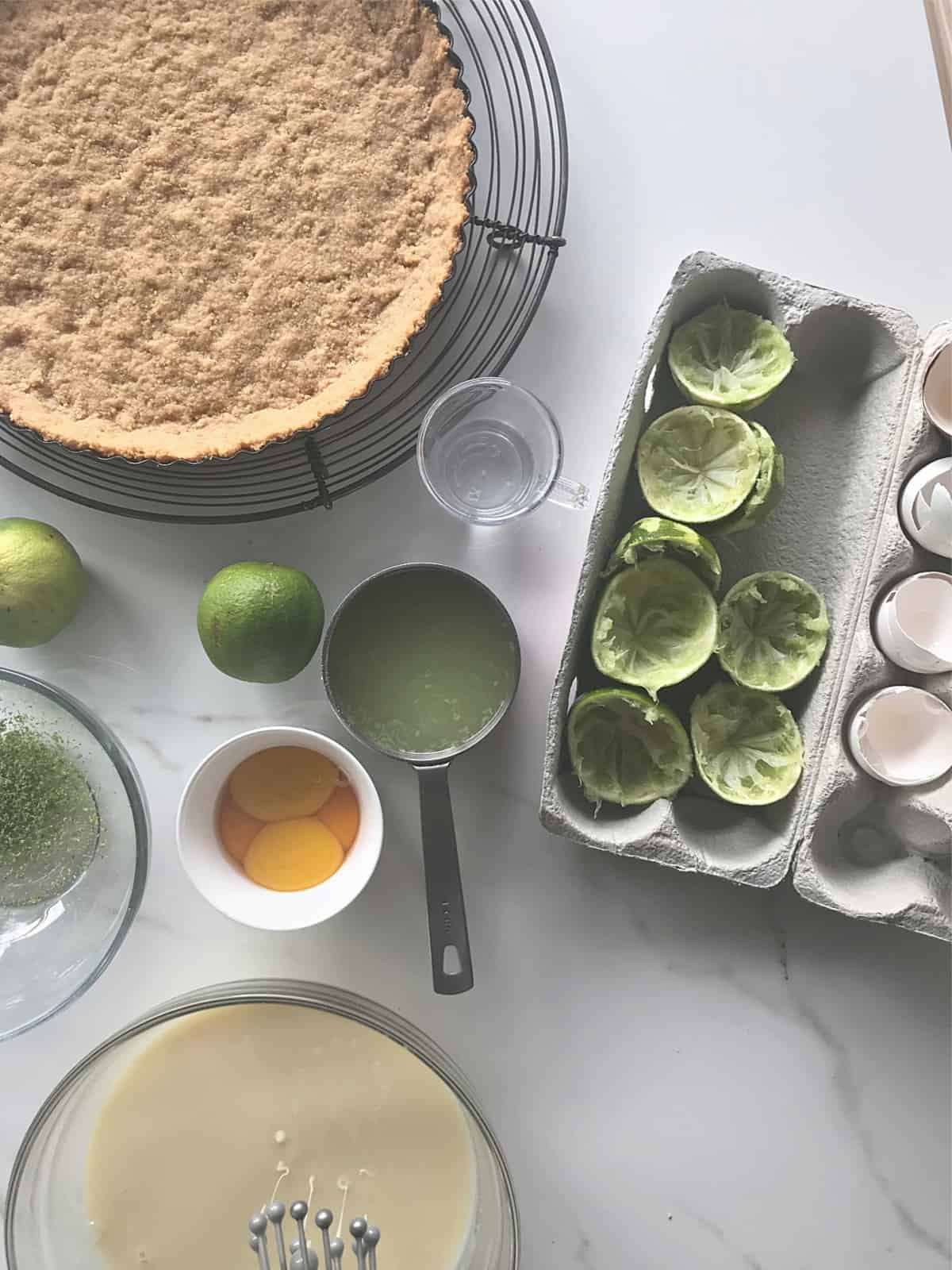 Where did key lime pie originate?
This fabulous pie originated in Florida, in Key West, hence the name because it was made with limes from the keys which are not easy to find and not the regular ones used for Caipirinha for example. The limes we find everywhere are Persian limes usually.
But even without the original limes, it is phenomenal.
There is another version of its origin, that it was invented by the company that makes condensed milk (Borden I think), but the dates don't seem to match. Either way, we're so glad someone did invent it as it is an amazing recipe.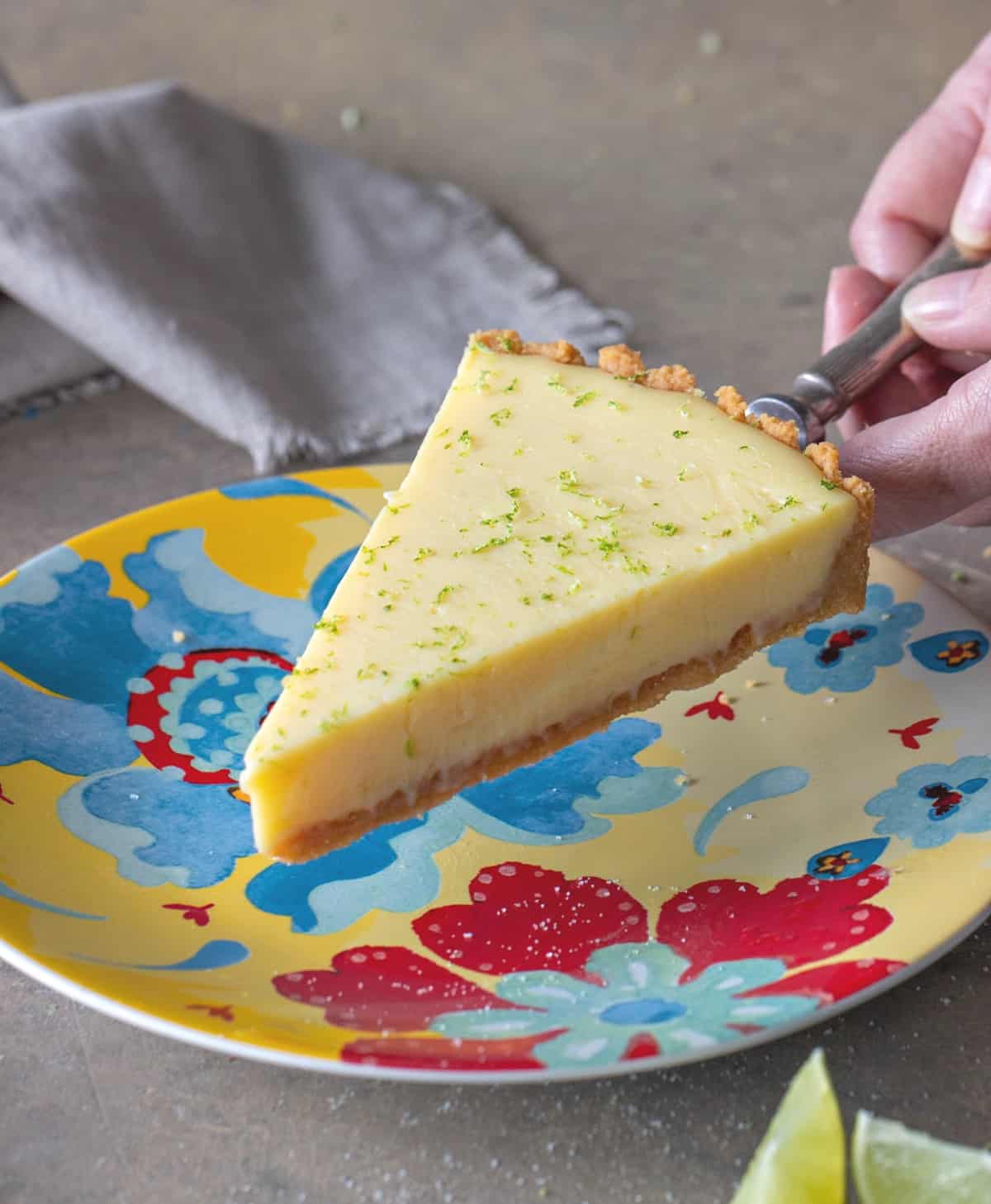 Now, on with this margarita lime pie.
As I mentioned above, the drink known as margarita has tequila, lime juice and orange liquor such as triple sec. So I decided to add both to my fabulous recipe for key lime pie, which I have yet to post here... I know (insert facepalm emoji).
So you'll get both recipes today. Lucky you.
By now we all know that all key lime pies have the same ingredients, otherwise it would not be one.
But, as with shortbread, the proportions can make or break the deal, and I'm very particular about the creaminess and tanginess my pie should have. So you know you'll get the best deal with the recipe below.
Tips for making a fabulous key lime pie
Balance: make sure the amount of lime juice and zest balance the extreme sweetness of the condensed milk. This pie needs to have a strong citrus flavor. Not make you pucker, but if you taste it and it's all sweet condensed milk flavor it's no good. So I use a whole cup of citrus juice. If limes are not in season you might want to add some lemon juice and/or zest. I know it's not exactly lime pie per se, but it will be so good you won't even care.
Oven: bake it for a few minutes, usually takes less than 10. Just as the center is firming up, but still slightly jiggly, take it out. It will cut perfectly (as you can see in the photos here) but still be incredibly creamy!
Ratio: make sure the ratio of cookie crust and filling is good. It depends a lot on what your taste is, but too much crust and not enough filling is never a good idea.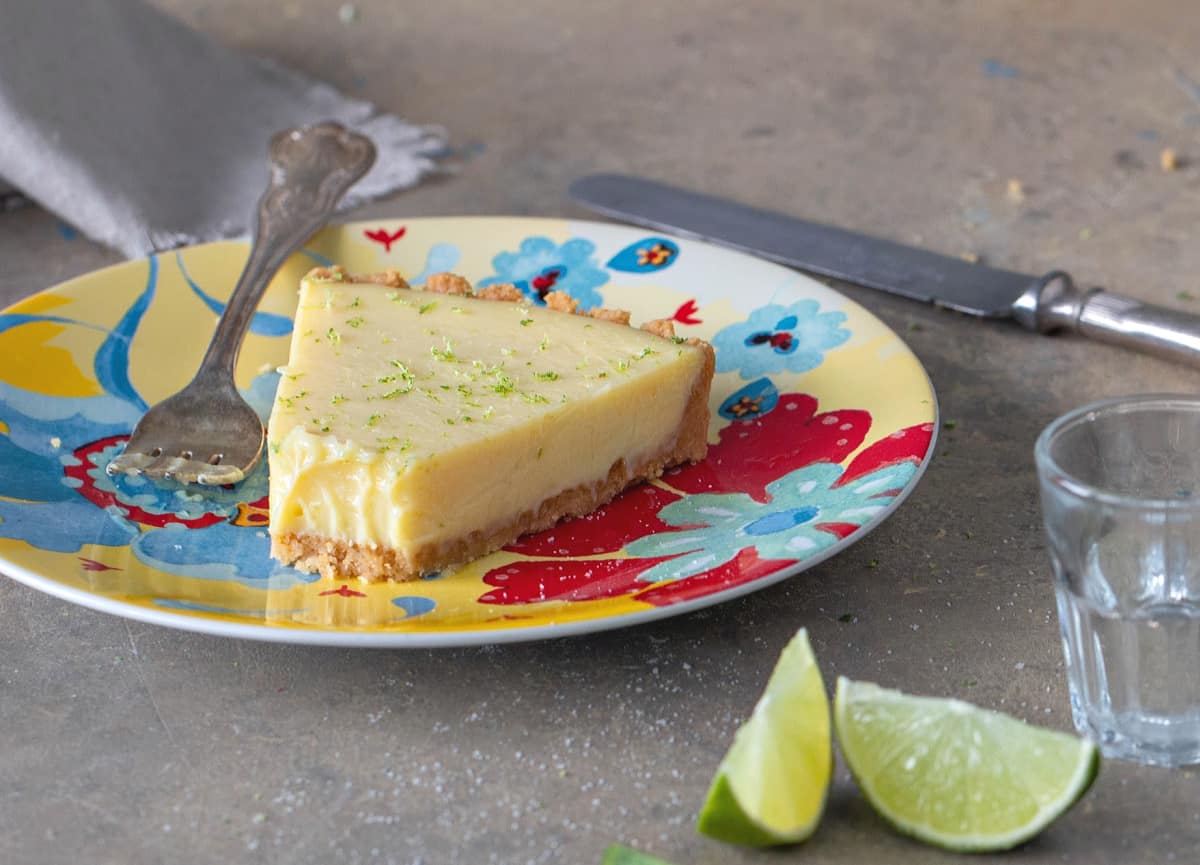 Enough chit chat, let's get this margarita lime pie done and celebrate!
Let me know if you make this recipe! I'd love to hear what you think about it.
Thank you for being here, I appreciate it! Let's connect via Facebook, Instagram, and Pinterest.
Print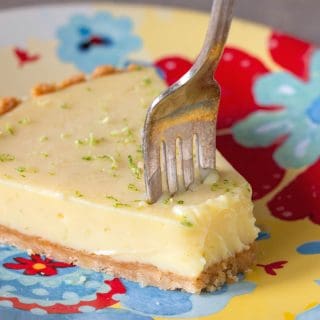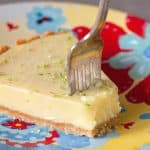 MARGARITA LIME PIE
Author:

Paula Montenegro
Prep Time:

40

Cook Time:

10

Total Time:

50 minutes

Yield:

8

servings

1

x
Category:

Dessert

Cuisine:

American
---
Description
A fabulous key lime pie with tequila and orange liquor resembling a margarita cocktail.
See notes below for adapting and making a regular key lime pie.
---
Scale
Ingredients
For the cookie crust:
2 cup

s (200g) ground graham crackers or vanilla wafers

1/2 cup

(115g) unsalted butter, melted
For the filling:
2

14-oz cans (400g each) sweetened condensed milk

3/4 cup

(180g) lime juice

2 tablespoon

s tequila

3 teaspoon

s orange liquor (I use Cointreau, but Triple Sec or Grand Marnier work too)
Zest of

2

limes + some more for decorating

5

egg yolks, room tº
Sea salt, for serving (optional)
Whipped cream, for serving (optional)
---
Instructions
Have ready a 9-inch (24cm) pie pan with removable bottom.
Preheat oven to 350º F /180ºC.
For the cookie crust:
In a bowl mix ground cookies with melted butter until it has the texture of wet sand. If it's too dry add an extra teaspoon of melted butter or two.
Put this cookie mixture in the pan and press onto the bottom and sides of the pan, making sure you don't miss the angles where the bottom and sides meet.
Start with the wall and work your way up to the center, it's the best way to make sure you don't run out of cookie mixture for the angles and sides.
Make sure it's well pressed and no spots remain without cookie mixture.
Bake for 10 minutes, until it starts to dry and brown. Reserve on a wire rack while you make the filling.
Keep the oven turned on.
For the filling:
In a large bowl put the condensed milk and add the egg yolks and mix with a wire whisk or spatula. Don't beat.
Add the lime juice and mix well. The mixture will thicken almost immediately.
Add the tequila, orange liquor and zest and mix well.
Pour into the cookie crust careful not to overflow it. Put the pie back into the oven and bake for 7-10 minutes, until it firms up but the center still juggles slightly.
Watch it carefully.
Let cool completely on a wire rack, wrap in plastic or put a piece of plastic on top and refrigerate for a few hours or overnight.
When ready to serve, take it out of the fridge 10 minutes before so it's easier to unmold. Carefully unlock the sides of the pan from the crust (it might feel as though it's stuck but it will be fine) and place it on a smooth surface. I usually leave the bottom of the pan and transfer it to the serving plate, but you can very carefully lift the pie with a large spatula and transfer it to the serving plate.
Grate some zest on top and sprinkle with a bit of sea salt if you want to.
Or serve it with slightly sweetened whipped cream.
---
Notes
To make the traditional key lime pie: omit the tequila and orange liquor and use 1 cup of lime juice total.
If your limes are not great, you can use lemons too. I like to use a half cup of lime juice and a half cup of lemon. And zest of 2 limes with the zest of 1 lemon. Serve it with whipped cream, slightly sweetened if you want.
Other similar recipes you might like:
Strawberry lime almond danish braid (includes the recipe for quick danish pastry!)
Lemon lime yogurt cake
Easy lime jalapeño arugula pasta
Coconut lime cake (one of my favorites!)
---