Two layers of intense flavor, well balanced and super creamy! This cheesecake recipe is one to make for special occasions, to have frozen at all times (it's a sensational dessert for a dinner party!) or because you're a baileys fan like me.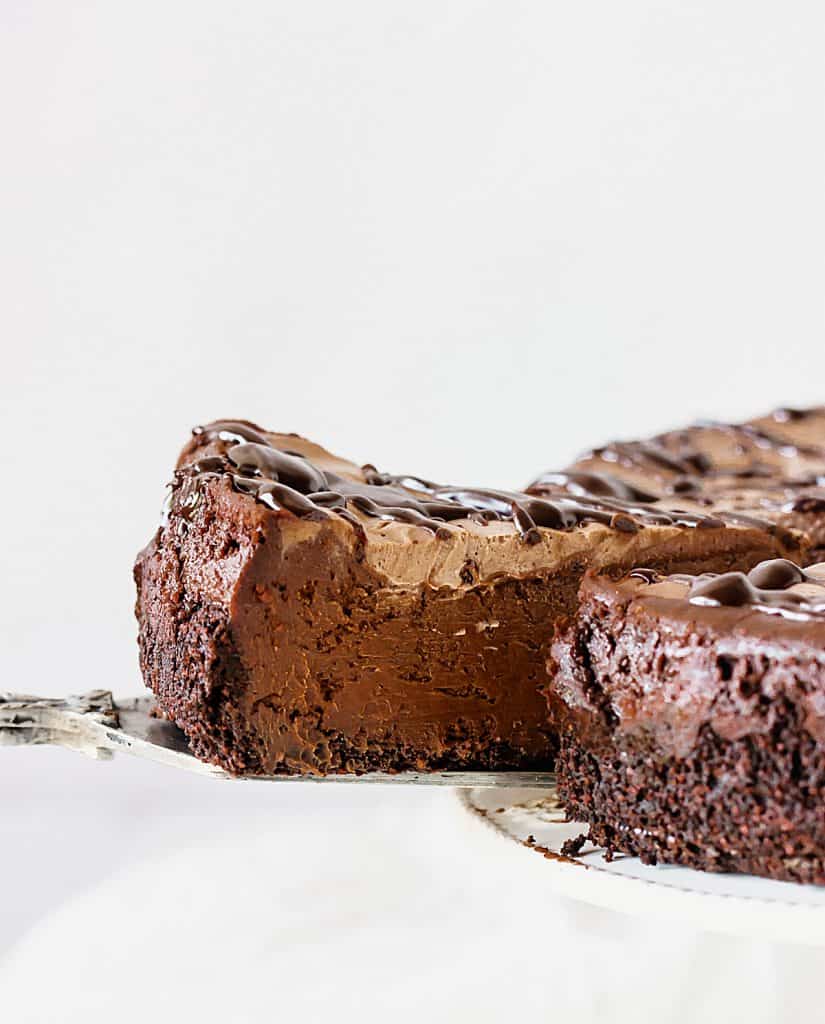 After many failed attempts - too dense, too bland, too sweet, bla bla bla - I finally have the chocolate baileys cheesecake recipe I always wanted.
Super creamy - it is dense but soft with a wonderful creamy texture.
Intensely chocolate - the chocolate flavor is deep but just sweet enough.
Baileys - the flavor of this wonderful Irish cream liquor shines through without overpowering the whole cake. It took me a while to get here, let me tell you.
Cream topping - it is an extra layer that adds a lot of balance to the whole cheesecake. Don't skip it.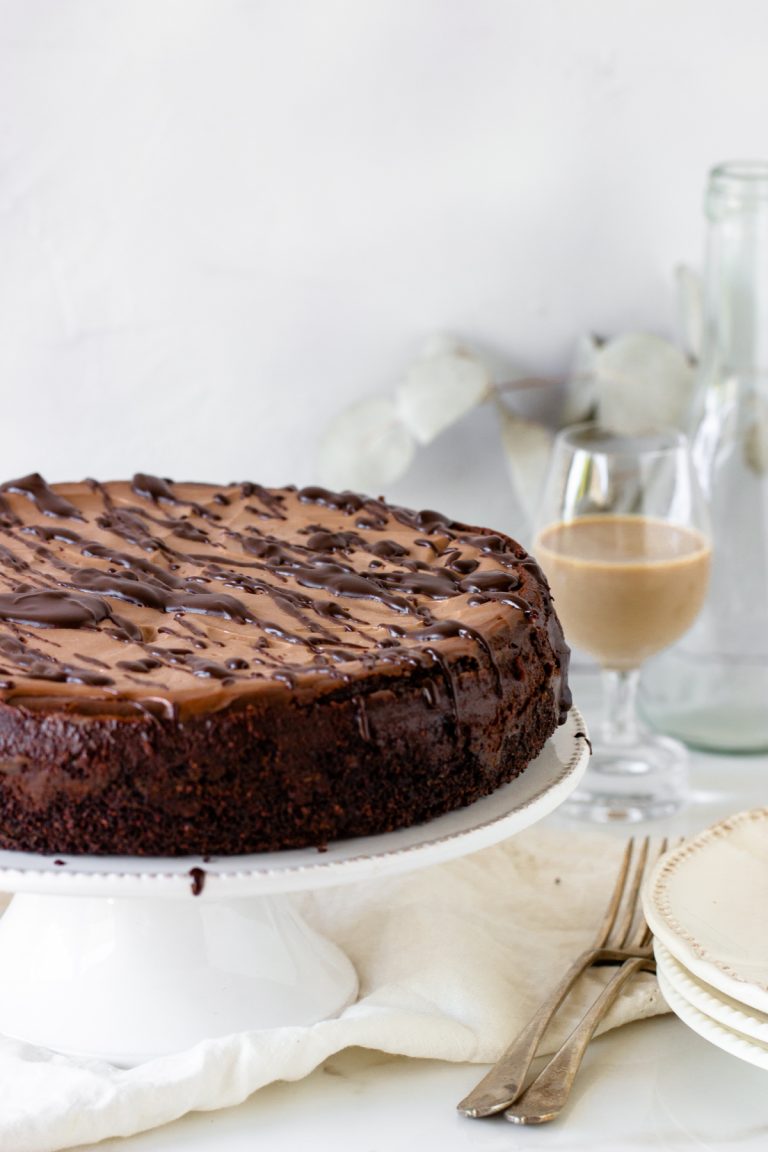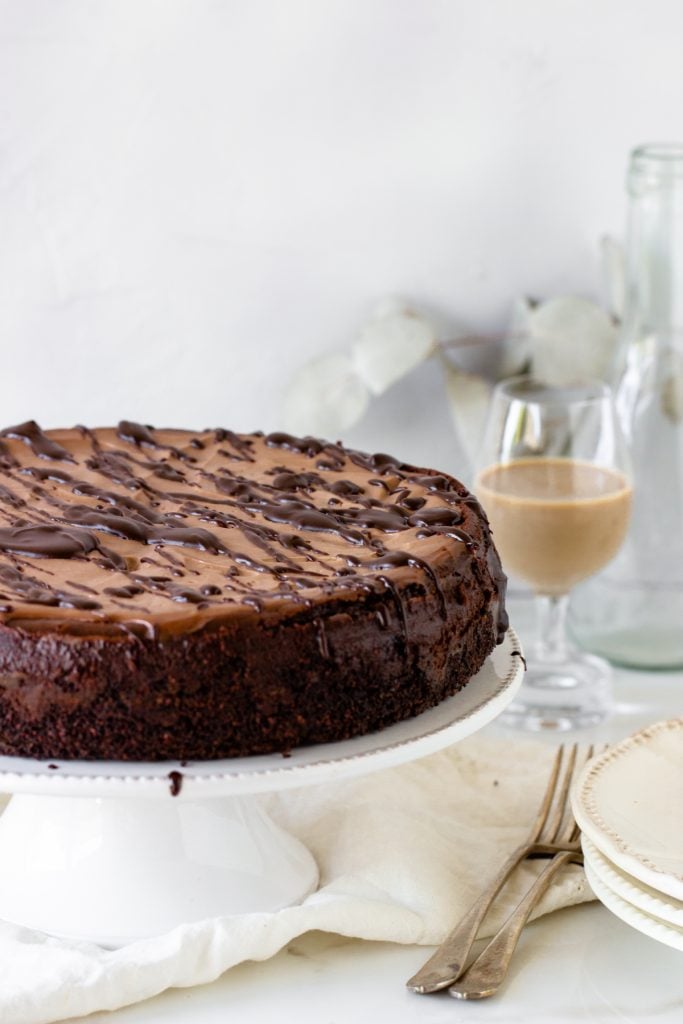 What is Baileys?
If you don't know what it is, you're probably not interested in this baileys cheesecake, but let's talk about it anyway.
It is a cream liquor a.k.a Irish cream. Thick in consistency and with a color similar to tea with milk (image above, in the cup).
Baileys is a trademark name, but, as it happens many times, it's used as a generic. You can buy it or make a similar version at home (if you're interested check out this recipe for Homemade Irish cream or baileys)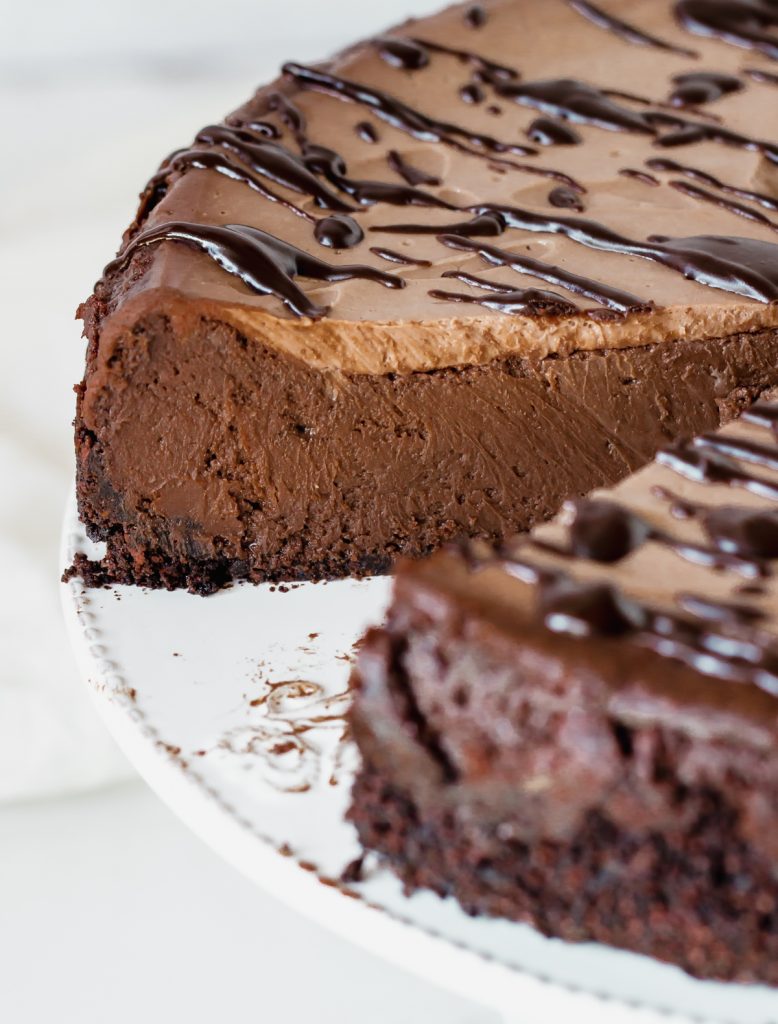 Ingredients
The image below make it clear that the ingredients are simple and mostly kitchen staples.
Cookies: I use dark chocolate wafers. Do not use sandwich cookies, that is my recommendation. I sometimes add a few tablespoons ground cocoa nibs for an even deeper flavor.
Chocolate: semisweet works wonderfully. There are many good brands. My favorites are Ghirardelli and Green & Black's (see Notes after the recipe for links).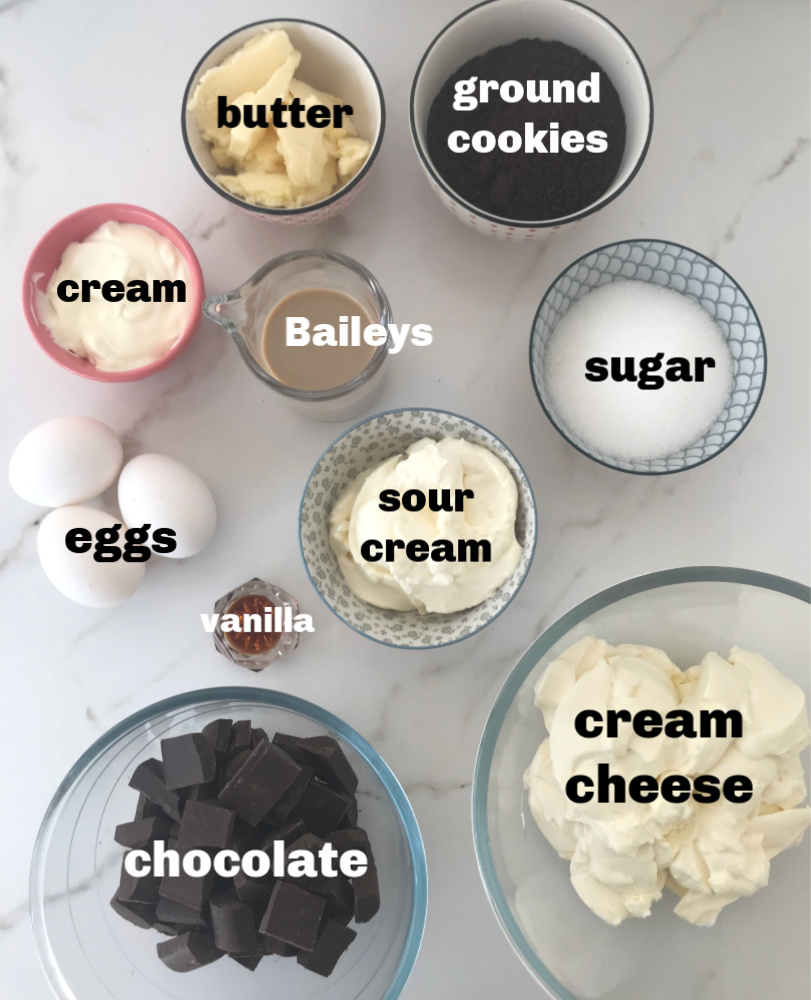 Top tips
Cookie base: it should come up the sides a bit. You won't be able to cover more than ½ to 1 inch (image 1). Bake it a few minutes while making the filling; it will solidify and removing the cheesecake will be easier.
Chocolate filling: it is dark and so unctuous (image 2) you might want to eat it with a spoon. It happens 🙋🏻‍♀️. When you add it to the cake pan it will pass the cookie crust mark, that is fine.
Baking: the top of the cheesecake will crack in the edges and develop a thin layer (image 3).
Topping: while the cheesecake is still hot, add the topping (image 4) and then let it cool completely.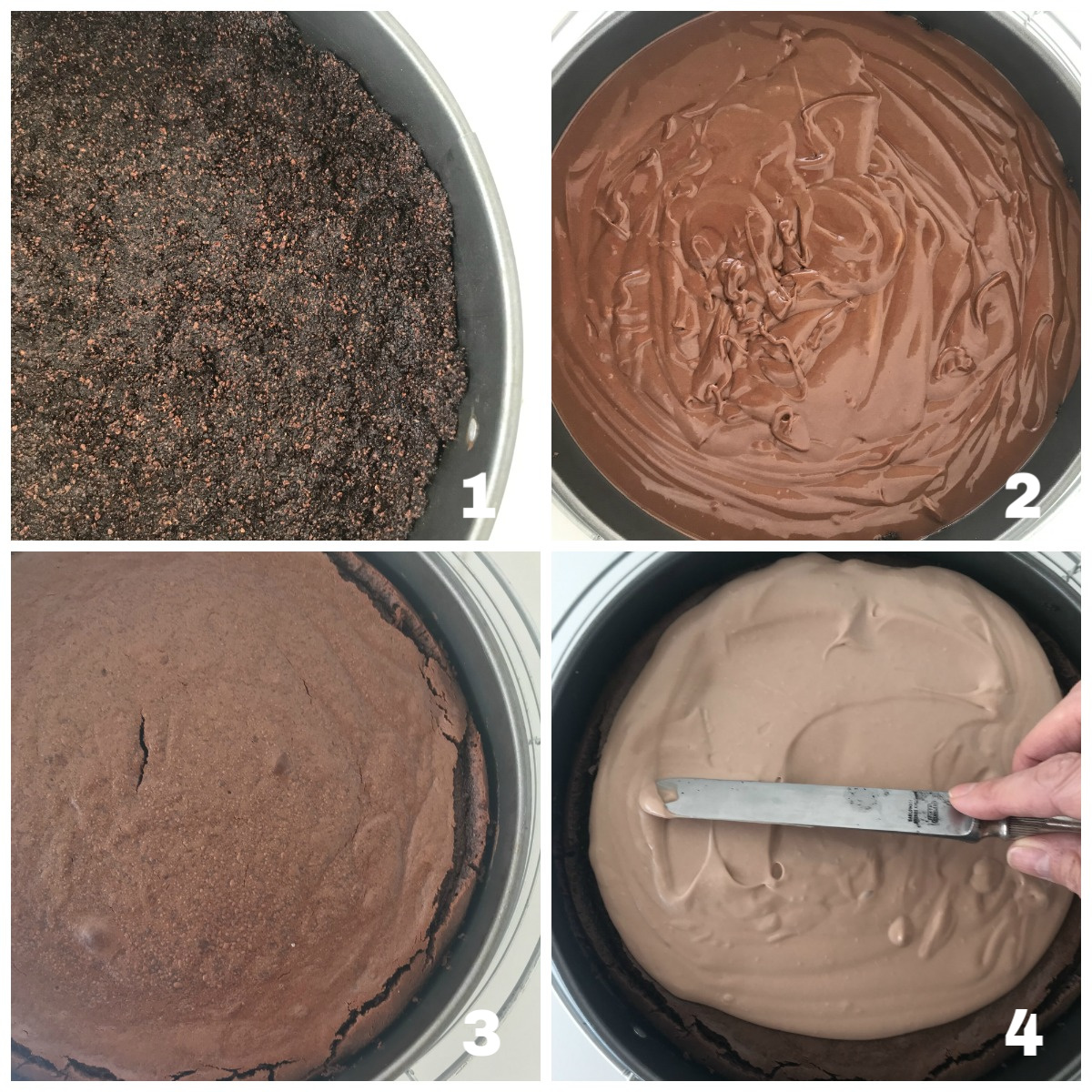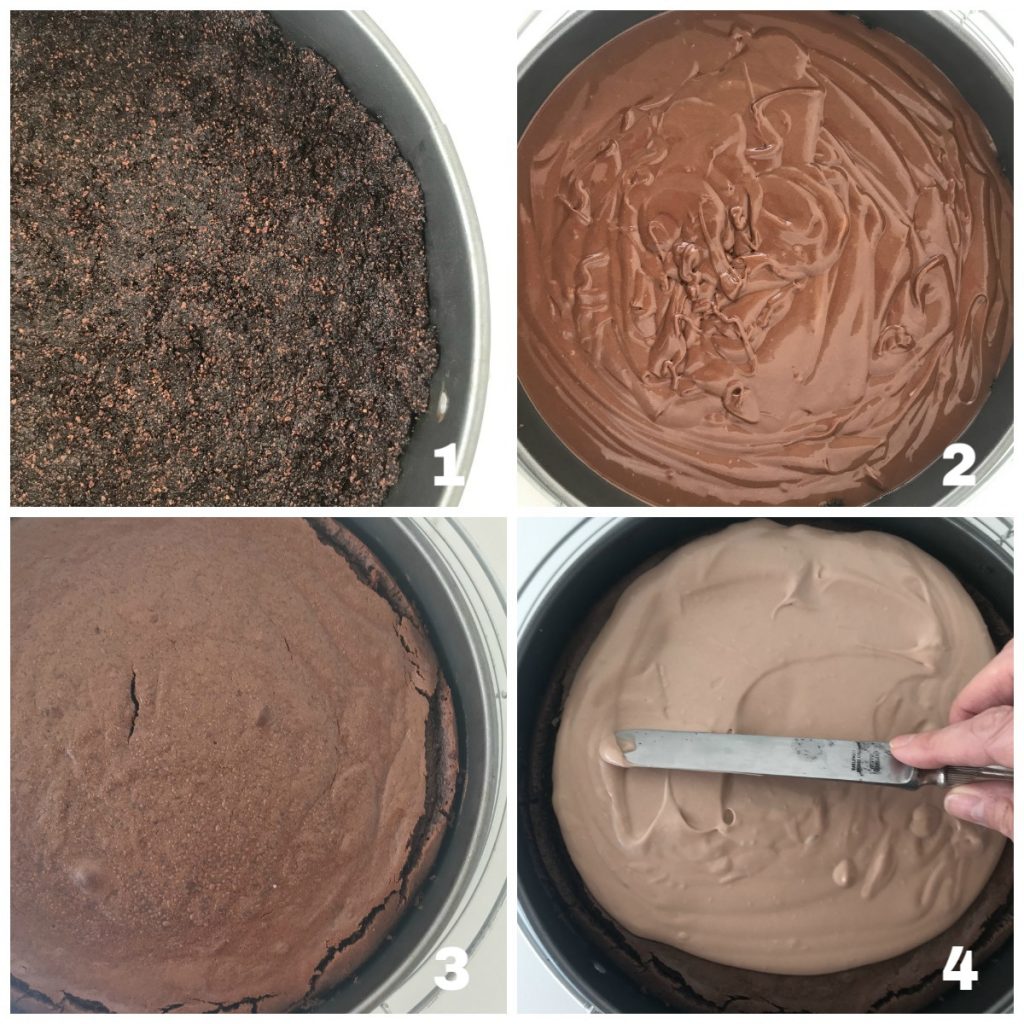 How to achieve a creamy consistency
A creamy cheesecake, isn't that what we all want?
Achieving creaminess is not hard but a few details must not be overlooked.
Baking temperature: I bake it at our usual 350° in the beginning but then turn down the temperature and let it bake slowly.
Cooling down: the oven is turned off and the cheesecake is left inside with the door closed for another hour, at least. Then it needs to cool down completely to room t°. Why? Because it needs to cool gradually. She's not friends with sudden changes in t°.
Refrigeration: once it's cooled down it goes into the refrigerator, well wrapped. At least 12 hours I suggest. But 1 or 2 days is what I recommend. Trust me that it all helps to get that creamy consistency.
Steam bath: another way to get a creamy cheesecake is to put a pan with boiling water in the bottom of the oven right before the pan goes into the oven. The steam will ensure the cheesecake is baked in a moist environment. Also, there are fewer chances of cracks, so that's a bonus.

Vintage Kitchen Tip
I have a recipe for an 8-hour cheesecake. The creaminess is out of this world, unlike anything I ever tasted! That's what slow baking does naturally.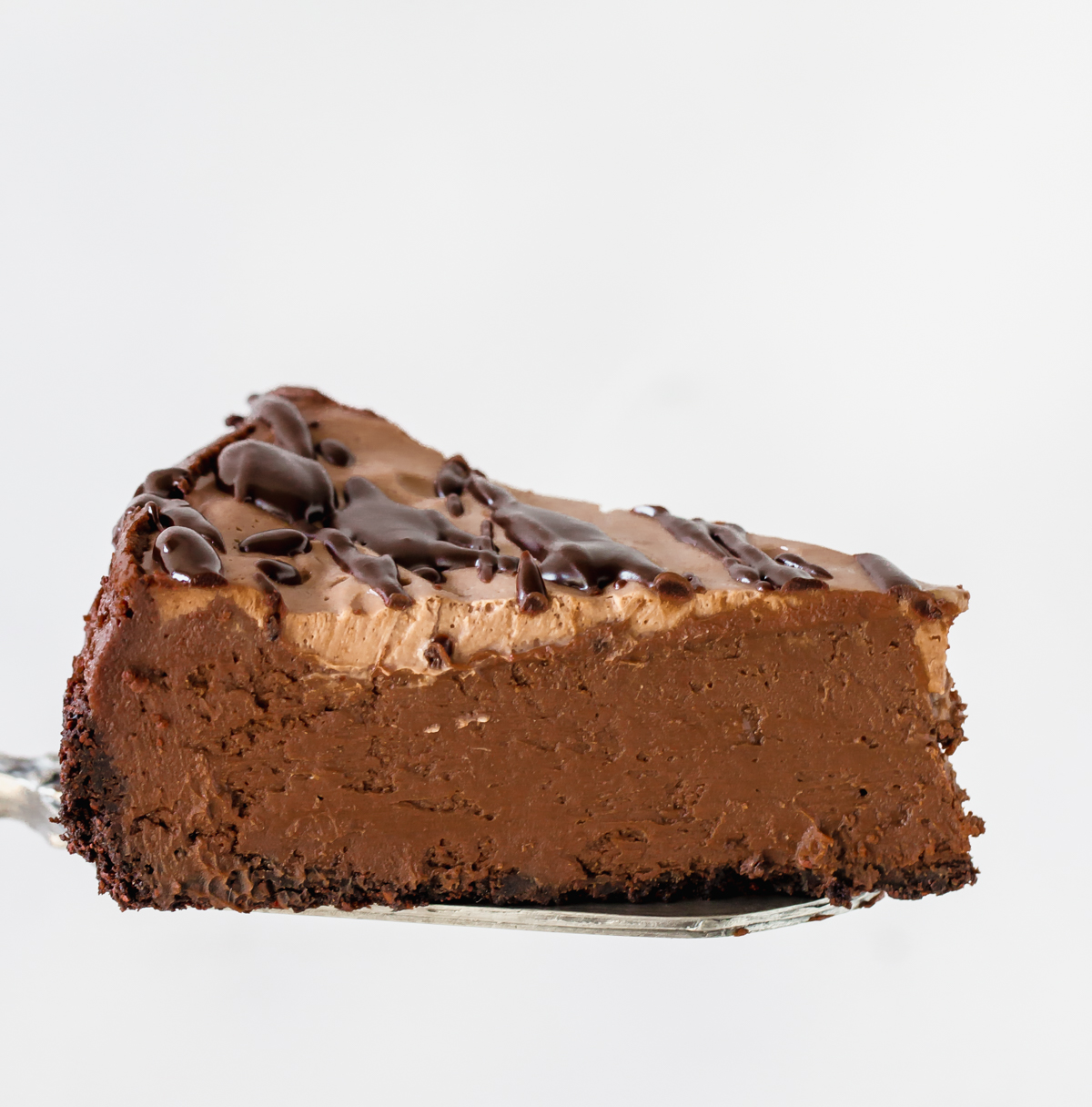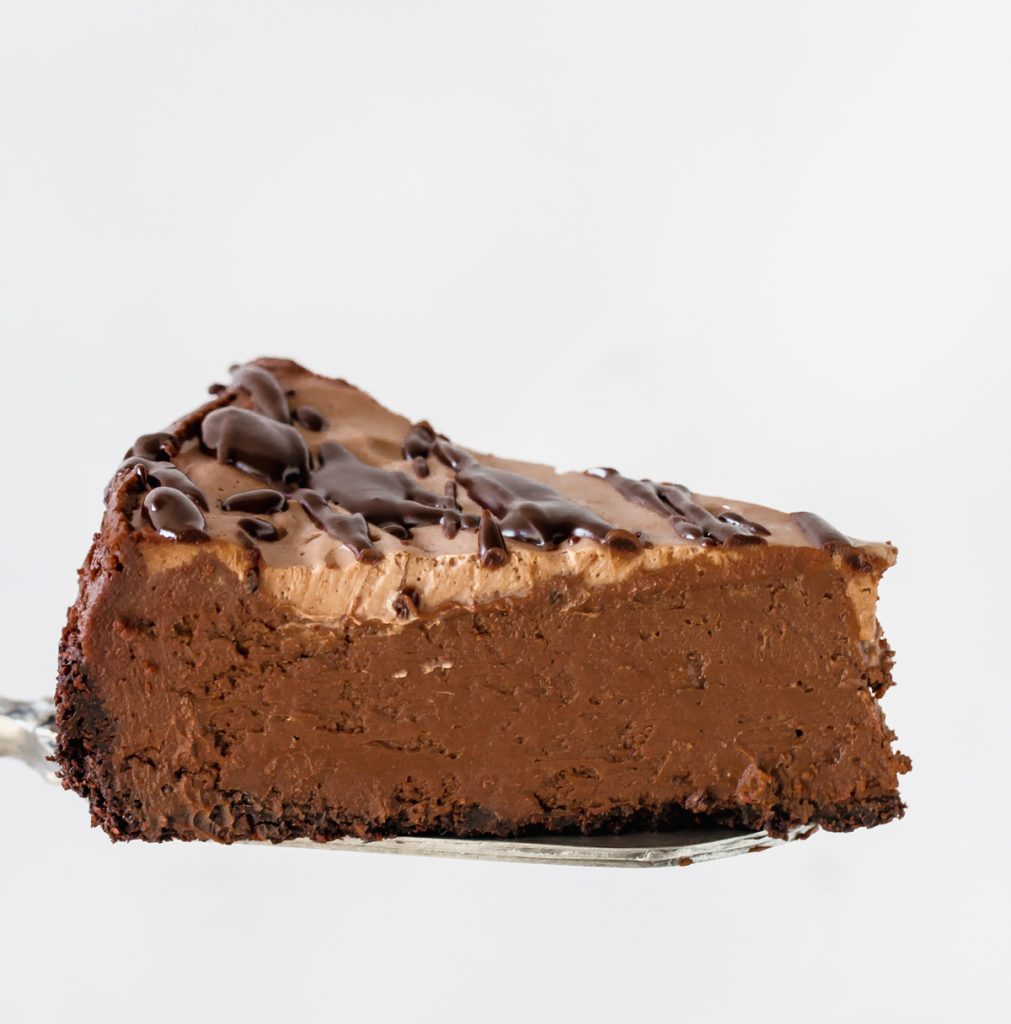 Serving ideas
I like to have cheesecake frozen at all times. It will save you when you need a last-minute dessert or when you need to have the dessert made in advance.
This recipe is ideal because it's chocolate and it has liquor which makes it sophisticated and different.
Serve it in slivers with some whipped cream and berries on top.
Cut it in squares and serve it straight from the refrigerator as finger food. Or from the freezer for a semifreddo like version.
Serve it with after-dinner coffee alongside shots of Baileys.
Make it as a sheet cake - similar to the Best Baked Cheesecake - if you want to cut squares.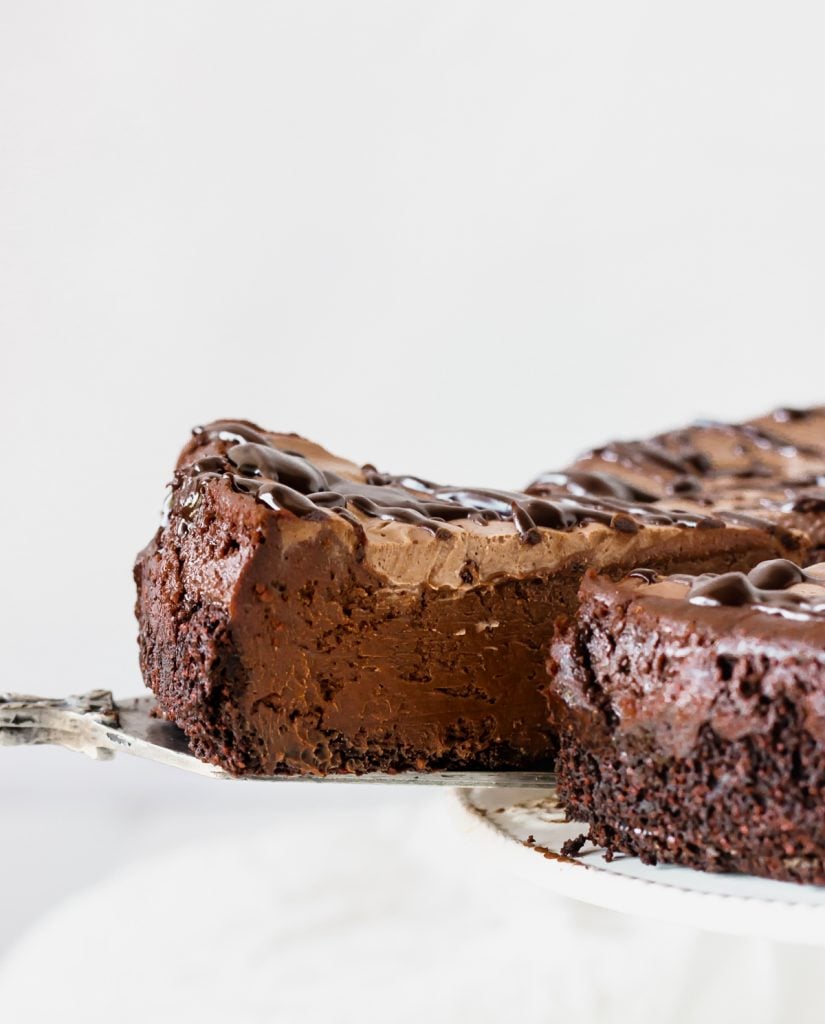 Storing cheesecake
Refrigerator: well wrapped it keeps for 1-2 weeks.
Freezer: this is my favorite way of storing this baileys chocolate cheesecake (or any one for that matter). Wrap it well, first in plastic and then in aluminum foil. It keeps for a month.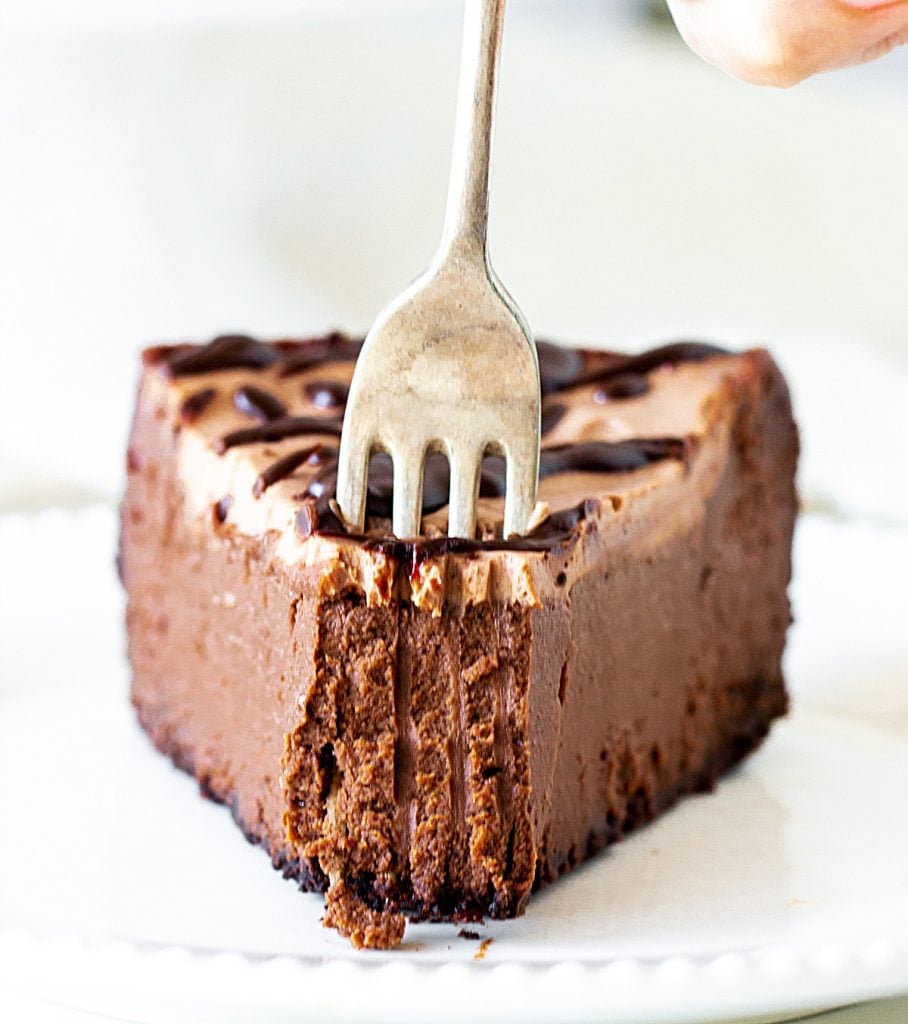 Other recipes you might like:
Orange Ricotta Cheesecake
No-Bake Passion Fruit Lemon Cheesecake
8-hour cheesecake (the creamiest ever!)
Brown Sugar Cheesecake
Cheesecake Brownies
Complete Guide to No-Bake Cheesecake
Easy Baked Cheesecake (my favorite!)
The Best Oreo Cheesecake
Let me know if you make this recipe! I'd love to hear what you think about it.
Thank you for being here, I appreciate it! Let's connect via Facebook, Instagram, and Pinterest.
If you like the recipes in this blog, consider subscribing (find the form below this post) and getting all new posts by email.
Print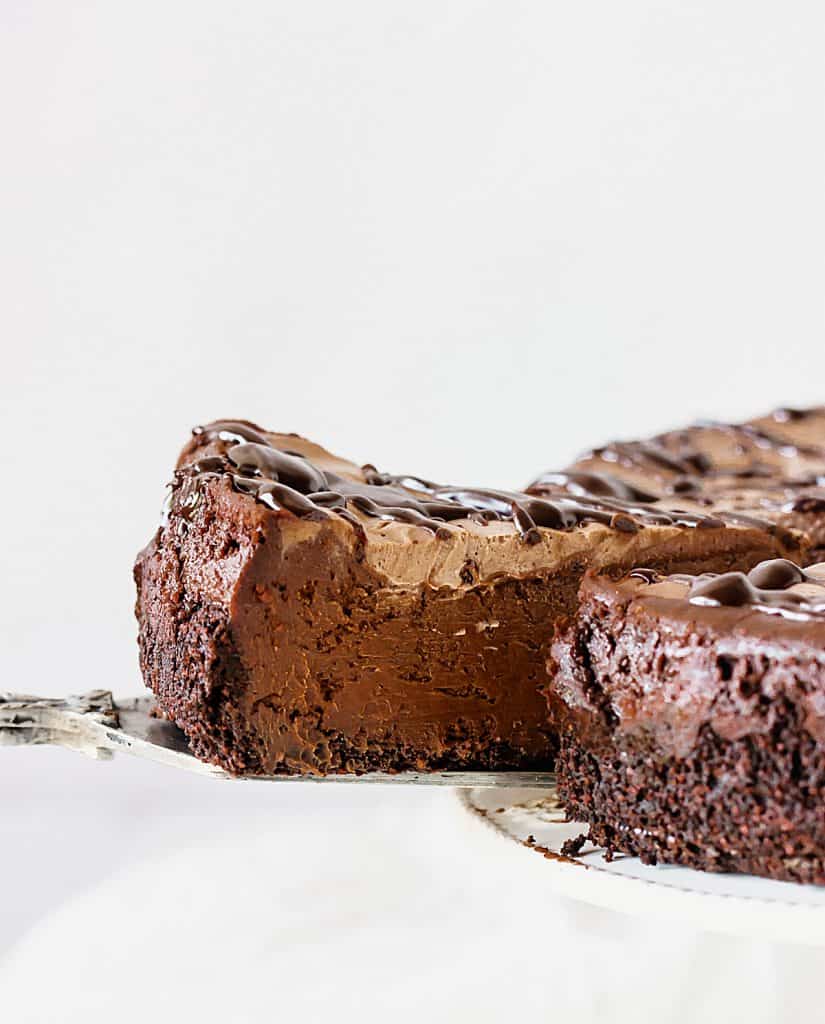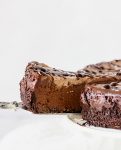 Baileys Chocolate Cheesecake
Author:

Paula Montenegro

Prep Time:

30

Cook Time:

60

Total Time:

1 hour 30 minutes

Yield:

10

servings

1

x

Category:

Cakes & Cheesecakes

Method:

Baking

Cuisine:

American
---
Description
Two layers of intense flavor, well balanced and super creamy! This Baileys Chocolate Cheesecake recipe is one to make for special occasions and to have frozen at all times. A sensational dessert for a dinner party!
*The estimated time doesn't including cooling and refrigeration time.
---
For the cookie base:
2 cup

s (

200g

) ground chocolate wafers

½ cup

(

110g

) unsalted butter, melted
For the cream cheese filling:
16oz

(

450g

) regular cream cheese, at room temperature

12oz

(

340g

) semisweet chocolate, melted

½ cup

(

100g

) sugar

2 tablespoons

(

30g

) brown sugar

3

eggs, at room temperature

1 teaspoon

vanilla extract or paste

2 tablespoons

(

30g

) butter, melted

½ cup

(

120g

) double cream, at room temperature

½ cup

Baileys (Irish cream liquor)
For the topping:
¾ cup

(

180g

) sour cream, at room temperature

2 tablespoons

Baileys (Irish cream liquor)
For the chocolate drizzle:
½ oz

(

15g

) semisweet chocolate, melted

2

-

3

tablespoons cream
---
Instructions
For the cookie base:
Preheat oven at 350°F /180°C.
Have ready a 9 or 10-inch (24cm) cake pan with removable bottom.
Grind cookies in the food processor, add the melted butter, and mix until the mixture looks like wet sand.
Or add already crushed cookies to the bowl with the melted butter and mix with spoon.
Put this mixture into the prepared pan and press firmly onto bottom and up sides. It will not cover up the whole side.
Bake for 10 minutes. Let cool on a wire rack while making filling.
Don't turn oven off.
For the filling:
Preheat oven to 350º.
In a large bowl beat cream cheese until very smooth. You can use a handheld mixer or wire whisk. If the cheese is at room temperature, mixing them by hand should not be a problem.
Gradually add both sugars and beat until well incorporated.
Add eggs mixing until incorporated and scraping down sides of bowl.
Add melted chocolate and butter and mix.
Add vanilla, baileys and cream, stirring to incorporate well.
Pour the batter into the prepared pan and smooth top.
Bake for 10 minutes at 350°F, turn the oven down to 280ºF and bake for another 40-45 minutes. (This can vary depending on your oven). At this point the cheesecake should jiggle quite a lot. Don't be tempted to bake it longer.
Turn the oven off and, without opening the door, let the cheesecake inside for 1 hour. It will keep on baking and firm up with the residual heat.
Take out of the oven and spread topping covering almost to the edges.
Cool to room temperature, wrap in plastic and refrigerate for 8 to 12 hours. I highly recommend 1-2 days of refrigeration for the creamiest consistency.
Remove from the cake pan, transfer to the serving plate and drizzle with chocolate.
Keep leftovers refrigerated.
For the topping:
In a bowl mix sour cream and baileys.
You can add a dash of vanilla extract if you want to. I normally don't.
For the chocolate drizzle:
Chop chocolate and put in a small bowl.
Heat cream in the microwave or stovetop.
Just when it's about to boil, remove and add to the chocolate.
Whisk until chocolate is completely melted and mixture is smooth. If you want it thinner in consistency add more cream or milk.
Drizzle over sour cream topping when the cheesecake is cold.
---
Nutrition
Serving Size:

1/10

Calories:

713

Sugar:

48.3 g

Sodium:

297.7 mg

Fat:

47.7 g

Carbohydrates:

61.4 g

Protein:

10.2 g

Cholesterol:

148.7 mg
Keywords: baileys cheesecake, chocolate baileys cheesecake
---