If you're looking for a new idea for a holiday dessert, this brown sugar cheesecake is it! Creamy, smooth, with a sour cream topping and the unmistakable caramel flavor that only brown sugar can create.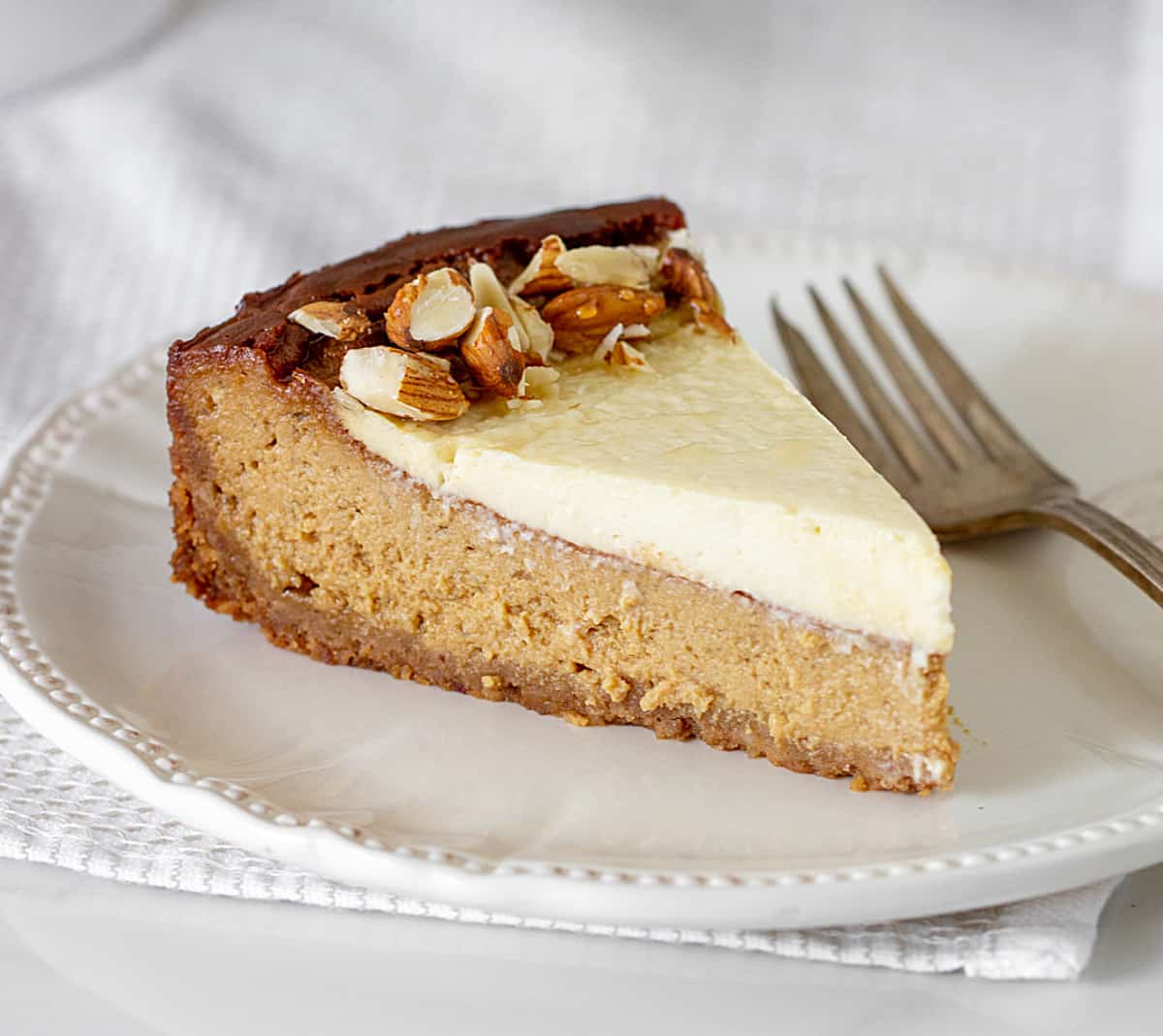 I have a lot of cookbooks, and I mean hundreds. A lot.
So I have recipes I want to try bookmarked everywhere. This brown sugar cheesecake had been on my bucket list for years. Well, it's finally here, and let me tell you it's an amazing recipe!
Being a huge fan of cheesecake - mega huge - I can assure you this is a fantastic recipe, not your usual one, but definitely worth making more than once, especially during the holidays.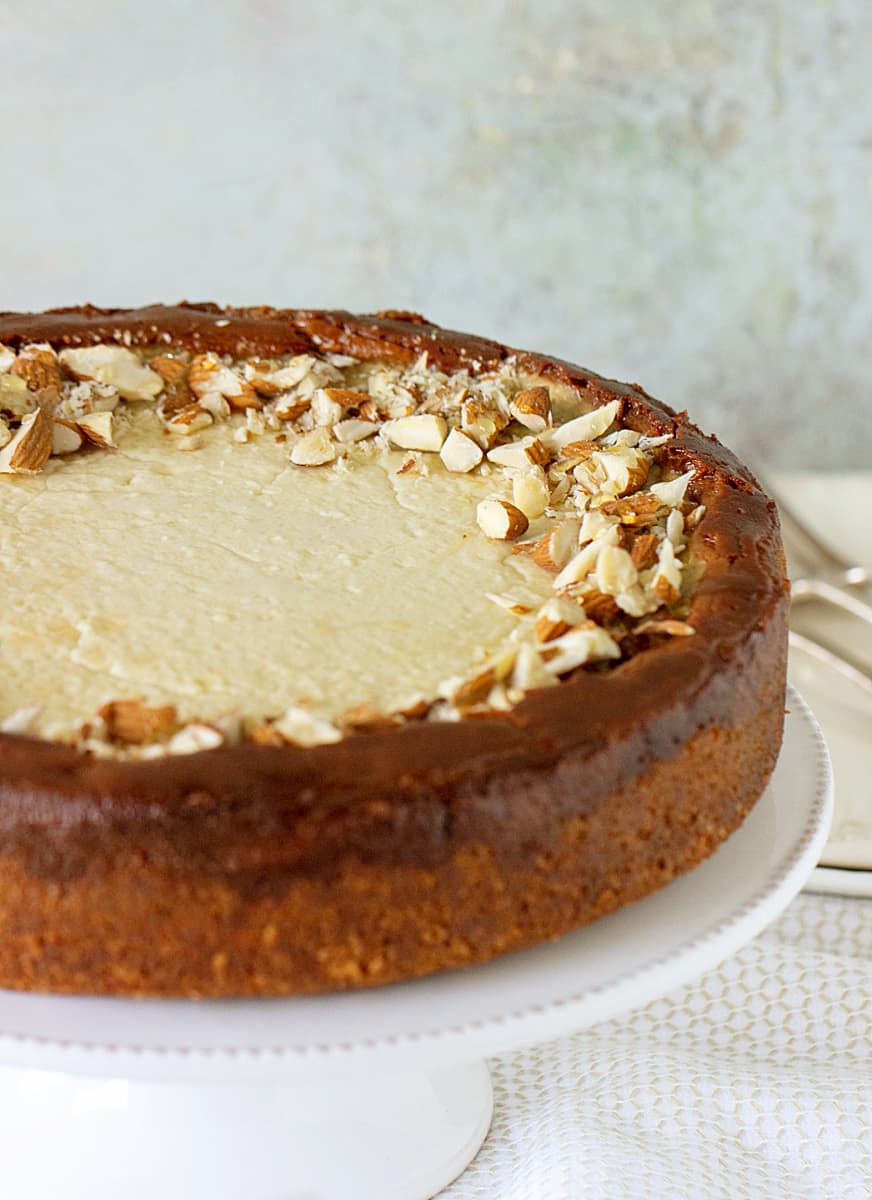 About cheesecake
For those not familiar with cheesecake, it is a sweet, creamy dessert that features cream cheese as its main ingredient. It usually has a graham cracker base, but a sweet dough works well too.
Its origins go way back to Ancient Greece apparently.
But modern-day cheesecake started in late 1800, and nowadays there are a million and one different recipes for baked (New York style) cheesecake, no-bake cheesecake, special diets, etc.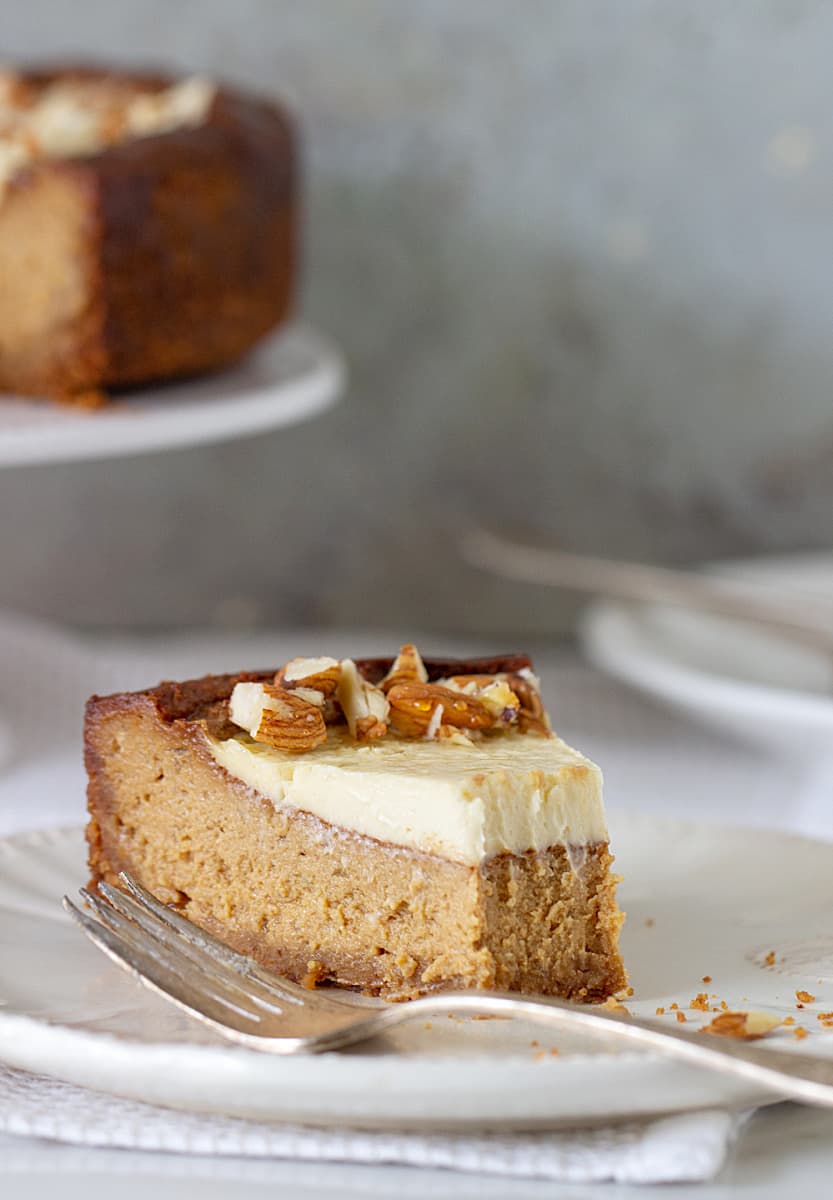 Cheesecake ingredients
I have a very purist approach to cheesecake, not because I don't like additions, but because I think the basic list of ingredients works amazingly well, no need to mess with them.
They are cream cheese, sugar, and eggs. There's no need for starches like flour, cornstarch, etc. If you follow the steps, the cheesecake will hold well and be super creamy.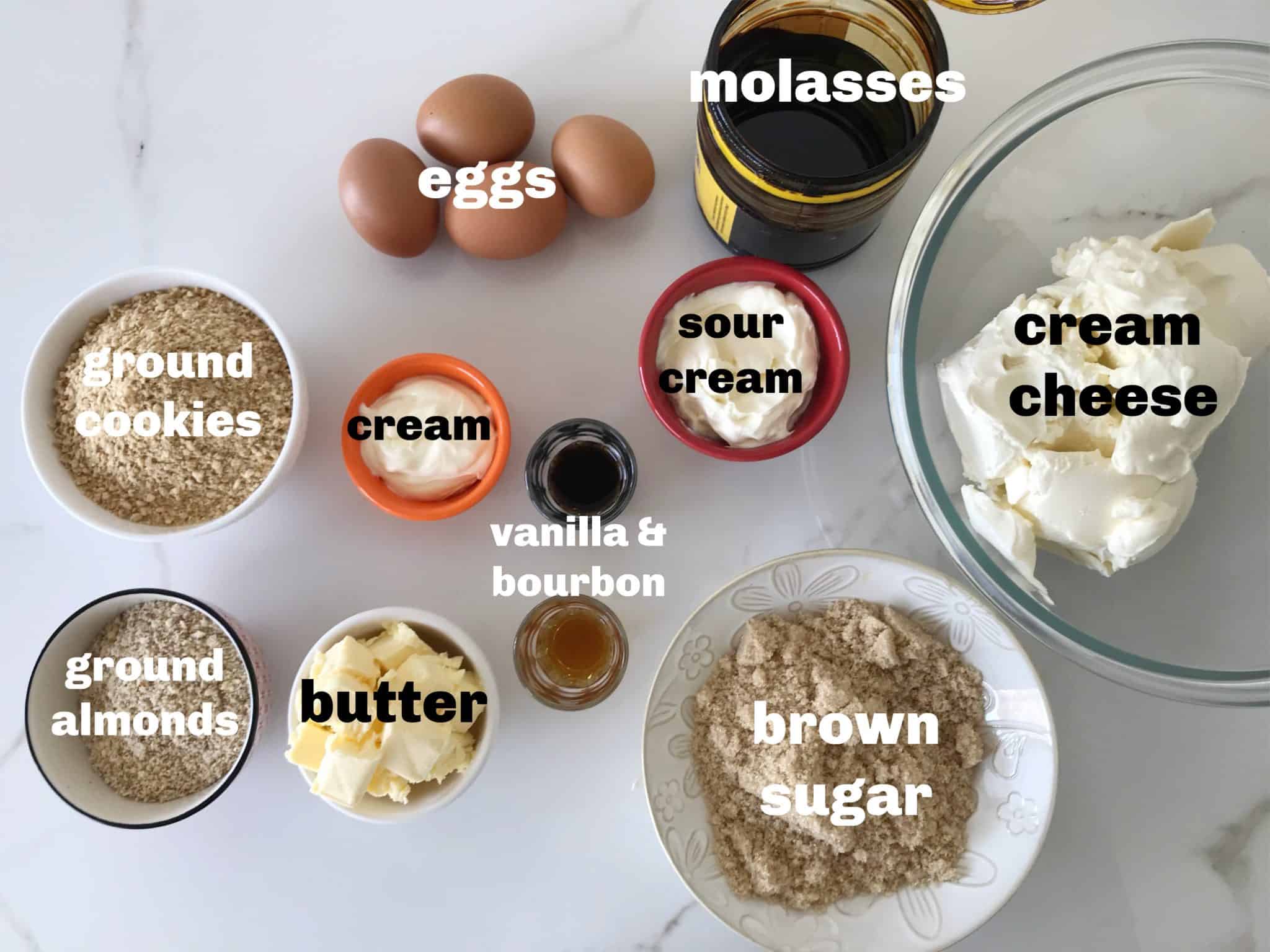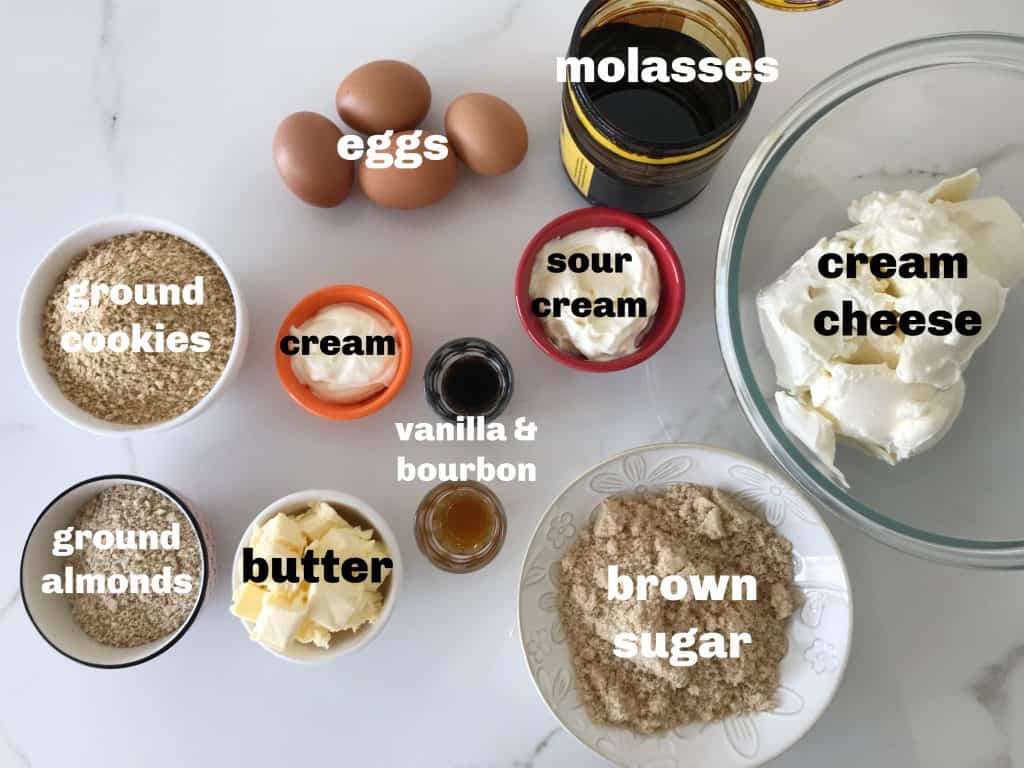 Brown sugar cheesecake ingredients
That said, this filling has a few more ingredients (image above) and it includes butter. Oh my, what is wrong with me, right? Well, it turns out it works fantastically.
This cheesecake filling is terrific, smooth, creamy, with a hint of sweet burnt flavor from the molasses. Fabulous. I wouldn't be giving you the recipe, leaving behind my purism mentioned above if it wasn't completely worth it. It is!
Brown sugar - it is the star of this cheesecake recipe so use your favorite one. I go back and forth between light and dark brown sugar, depending on what's available mostly. You can use muscovado too, but it usually sweetens less than regular brown sugar.
Molasses - it contributes to achieving a deep flavor, an almost burnt caramel undertone that is amazing. I wouldn't substitute it, but if you usually find it too overpowering, use half molasses and half runny honey.
Bourbon - it's part of the topping flavoring. Use a teaspoon of vanilla if you don't want to use alcohol.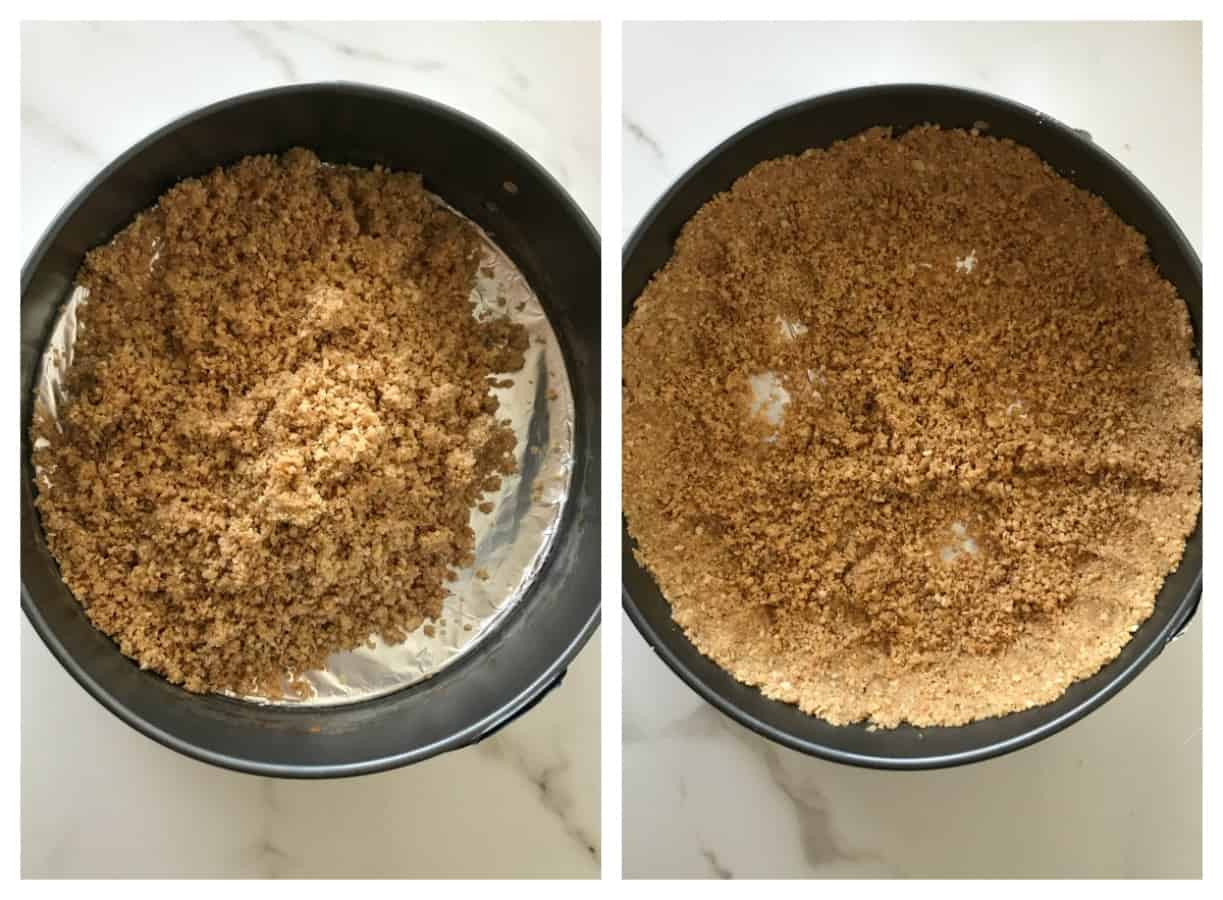 The crust
Most cheesecakes involve a cookie crust, which is the simplest of them all, consisting of ground cookies (store-bought usually) and melted butter.
This crust involves the popular graham cracker cookies and almonds (image above, left).
Nuts give this, and any other cookie crust, a wonderful crunchiness and toasted flavor. Almonds are the ones usually used because they go with everything, but you can use another nut. Pecans?
The cookie crust covers the bottom and goes up the sides of the pan, so there's more crust than usual. Which is a good thing, of course.
Tip: always start pressing the cookie/butter mixture on the sides (image above, right). When you start in the center and work outwards, many times we run out of cookie mix before completing the round. It will not cover the sides completely up, only half or maybe a bit more.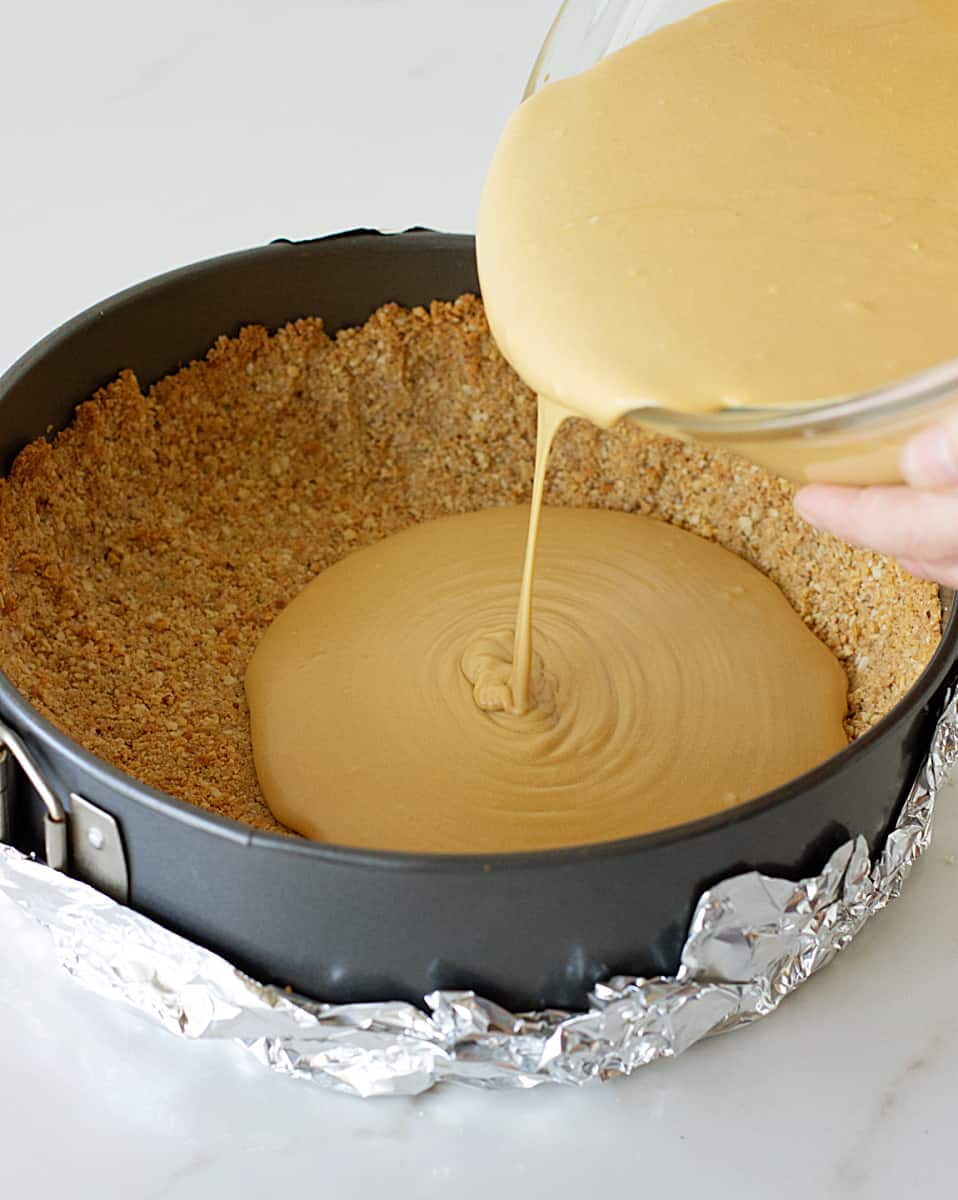 Achieving a smooth filling
We all know that a smooth cheesecake is essential.
This is achieved by following certain steps, very easy ones:
Have all ingredients at room t°. This is very important as they will cheese mixture will mix better and be lump-free.
Don't overbeat when adding the eggs. I even recommend using a hand beater (and not an electric one). We don't need to add air to the filling, so mixing is better than beating. You do need to have a smooth and creamy consistency (image above), so take the time to incorporate all ingredients well. This is easier when they're at room t°.
Oven temperature. Start with a medium/high temperature and then lower it so the cheesecake bakes slowly and the filling doesn't puff and crack. Leave the cheesecake in the oven for an hour after turning it off. This greatly improves texture.
Refrigeration. It is essential that the cheesecake is refrigerated for at least 8 hours. After it's completely cooled down, wrap it in plastic and into the fridge, it goes. I never serve it with less than a day in the fridge, but that's me.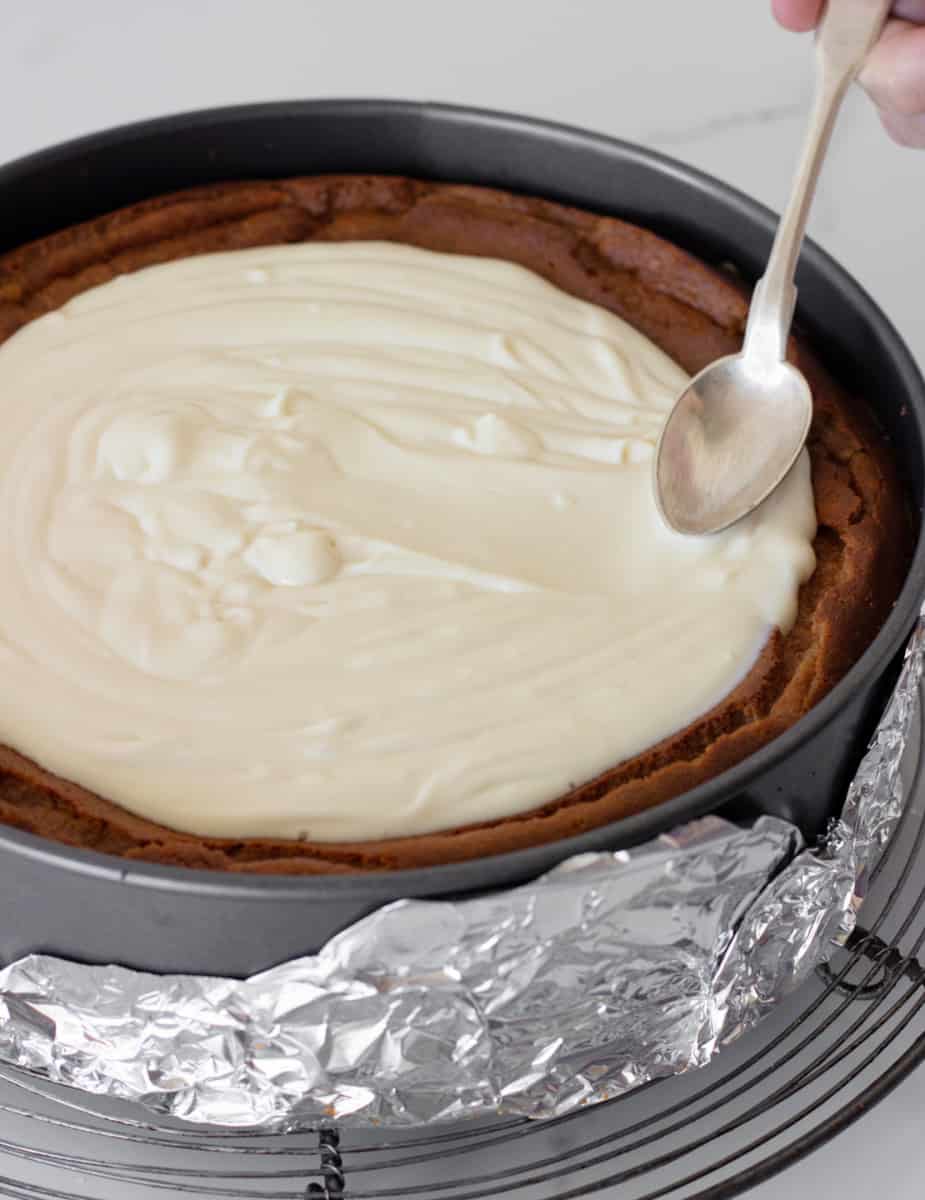 Sour cream topping
In the old days, many recipes for cheesecake called for a sour cream topping added during the last minutes of baking. Or that is what I remember.
Nowadays many include it in the cheesecake filling. I think this modern twist is a great one. It adds texture and a slight tang.
But, for this brown sugar cheesecake, the topping applied after the cheesecake is almost baked (image above), works really well. It contrasts the deep flavored brown sugar filling and it looks gorgeous! So, I love it.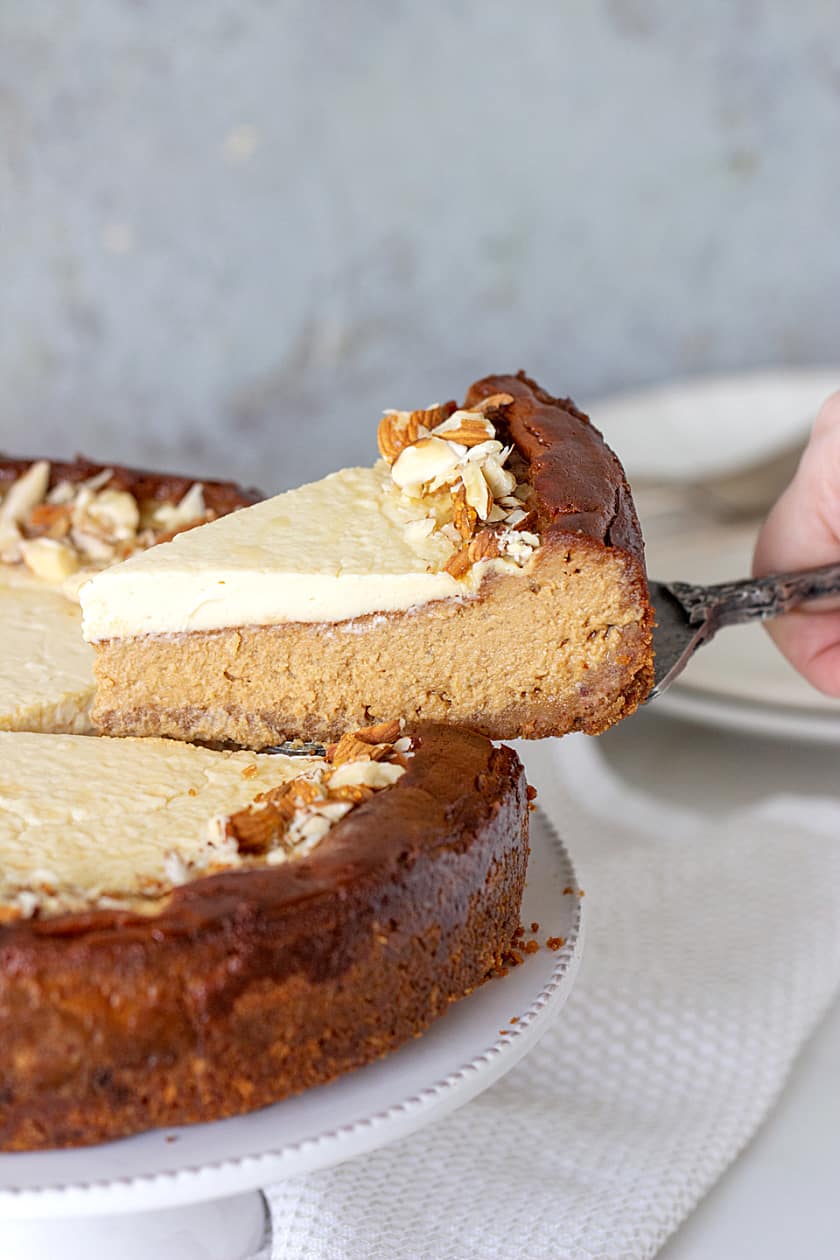 How to add the topping?
This topping comes together in a minute; simply mix all ingredients in a bowl. If you don't want to use bourbon, simply add some vanilla extract or paste.
This sour cream topping is applied when the cheesecake is almost done.
The filling will still be crazy wobbly, so you might feel apprehensive doing it. If that's the case, let the cheesecake bake fully, turn off the oven and leave the cheesecake inside for 15 minutes, until it deflates a bit.

Take out the cheesecake, turn the oven back on to 350°F, add the topping and return the cake to the oven for 5 more minutes. The topping will be jiggly and that is fine. It will solidify when it cools down.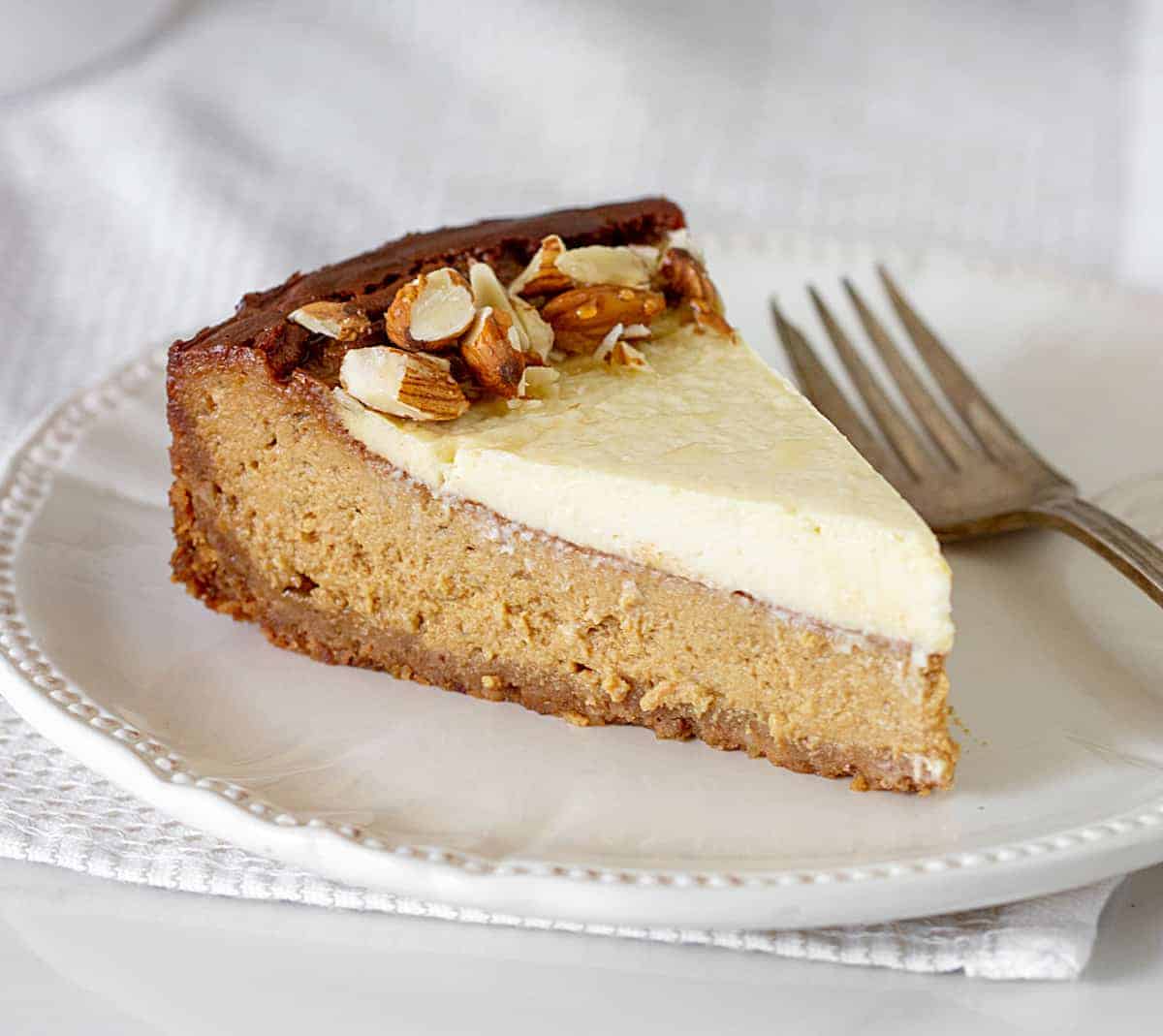 When is a cheesecake done?
This is a loaded question because doneness depends on the recipe and the way it's baked.
My answer is that the filling will always be very wobbly, especially in the center, when the time comes to turn off the oven.
My steps are simple and they work:
Turn off the oven while the cheesecake is still jiggly or wobbly, according to the instructions. The main concern is about not properly cooking the eggs, and that is not a problem, at least with the baking times instructed in the recipes in this blog.
Leave the cheesecake in the oven for an hour and don't open the door. The residual heat will cook it a bit more.
Take it out, and let cool completely on a wire rack.
Wrap in plastic and refrigerate for at least 8 hours. I recommend 24 to 48 hours for a creamier texture.
Can you freeze cheesecake?
Of course! Cheesecake freezes beautifully.
I have a theory that a short few days in the freezer - after it has been refrigerated for a day, this part is very important and crucial - actually helps improve the creamy consistency and texture.
It can be made ahead and frozen. Let defrost at room t° about 45 minutes before serving.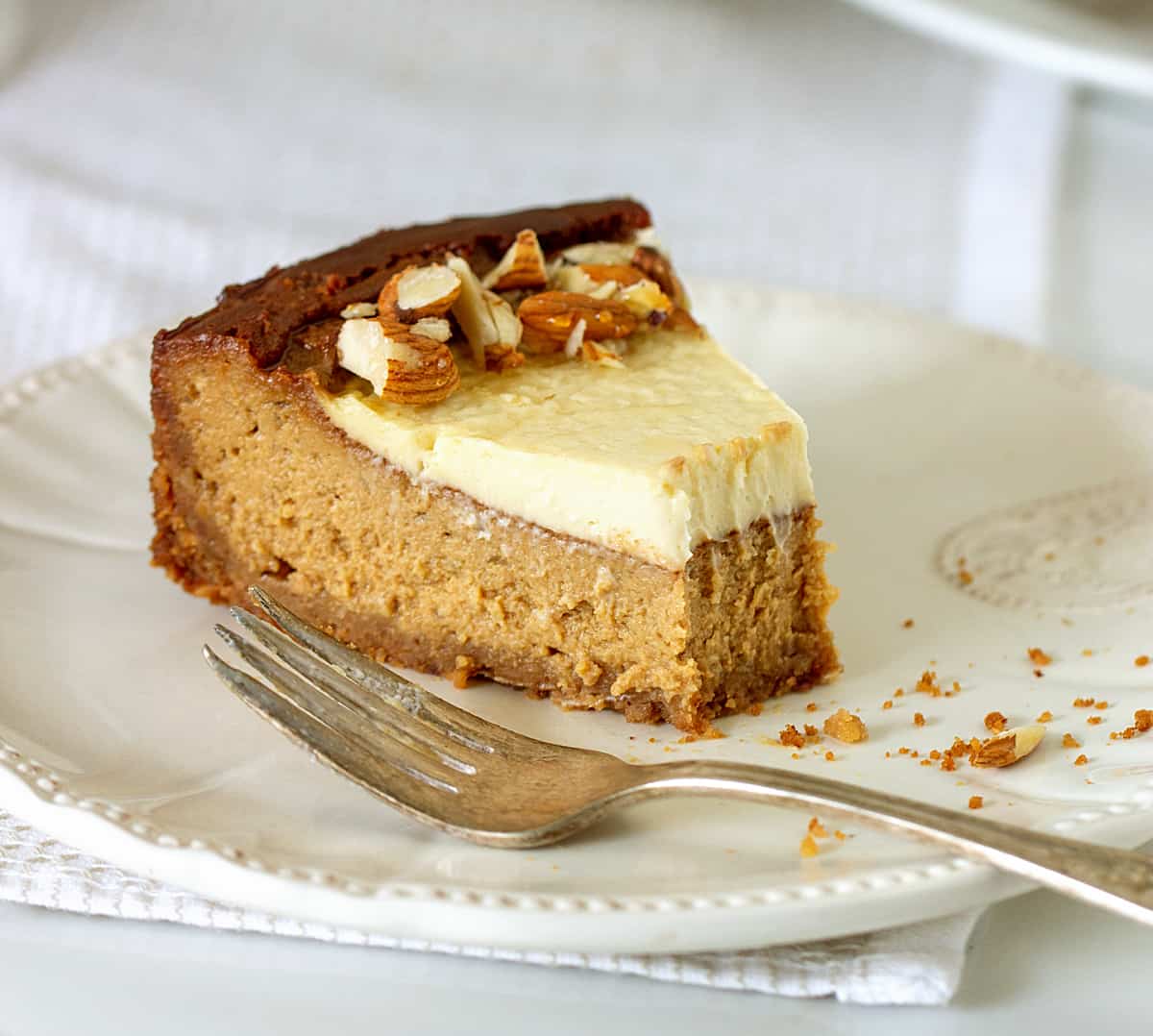 So rest assured that this brown sugar cheesecake is worth every calorie.
It's the perfect dessert for the string of holidays that have already started and go into the next year. A wonderful alternative to the traditional pies and cakes, or a different addition to those recipes that you wouldn't even dream of not making.
Other recipes you might like:
The Best Oreo Cheesecake
Easy Baked Cheesecake
Cheesecake Brownies
Complete Guide to No-Bake Cheesecake
Orange Ricotta Cheesecake
8-hour Cheesecake
Maple Pumpkin Cheesecake
Let me know if you make this recipe! I'd love to hear what you think about it.
Thank you for being here, I appreciate it! Let's connect via Facebook, Instagram, and Pinterest.
If you like the recipes in this blog, consider subscribing and getting all new posts by email. As a thank you, we'll also send you a FREE recipe e-book and our Guide to Freezer Baking!
Print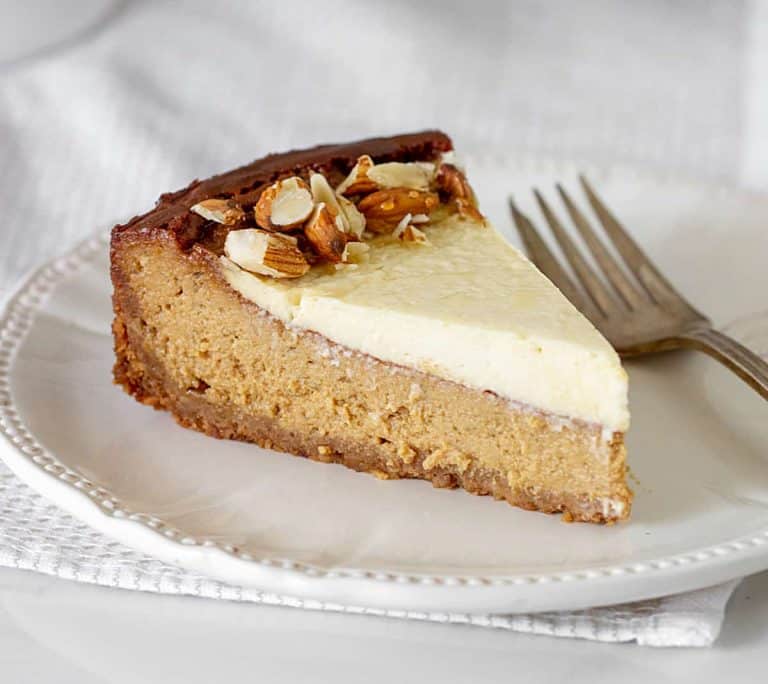 Brown Sugar Cheesecake
If you're looking for a new idea for a holiday dessert, this brown sugar cheesecake is it! Creamy, smooth, with a sour cream topping and the unmistakable caramel flavor that only brown sugar can create.
Total Time:

2 hours 30 minutes

Yield:

8

servings

1

x
For the crust:
1 ½ cups

vanilla wafer crumbs

½ cup

toasted ground almonds

6 tablespoons

(

90g

) unsalted butter, melted
For the filling:
3 ½ cups

(

760g

) cream cheese, room temperature

4 tablespoons

(

60g

) unsalted butter, room temperature

1 cup

light brown sugar (firmly packed)

2 tablespoons

molasses

1 teaspoon

vanilla extract

½ cup

sour cream

¼ cup

cream

4

large eggs
For the topping:
1 ½ cups

sour cream, at room temperature

2 tablespoons

light brown sugar

2 tablespoons

bourbon
Instructions
For the crust:
Mix all ingredients in a bowl until it looks like wet sand.
Line the bottom of a 9 inch (24cm) springform pan with aluminum foil and attach the sides.
Press cookie mixture onto bottom and up sides of the pan (about 1 inch). Refrigerate while preparing the filling.
For the filling:
Preheat oven to 350ºF /180ºC.
In a large bowl beat cream cheese, butter and sugar until completely smooth.
Add molasses, vanilla, sour cream and cream and beat just until incorporated.
Add eggs, one at a time, barely waiting for one to incorporate before adding the next one.
Pour mixture into prepared pan and bake for 40 minutes.
Lower oven temperature to 300ºF/150ºC and bake for 40 minutes more. Keep oven on.
Remove cake and carefully spread topping on. Cheesecake will be wobbly.
Return to the oven, bake for another 5 minutes and turn the oven off. Leave cheesecake for one hour inside the oven without opening the door.
Remove to a wire rack, let cool completely, wrap in plastic and refrigerate for at least 6 hours or overnight.
For the topping:
Mix all ingredients in a bowl.
To serve cheesecake:
Remove sides from springform pan and lift aluminum foil.
Place cake on serving plate and decorate with nuts.
Keep refrigerated.
Notes
Use a different nut in the crust. Pecans work very well too.
Change the bourbon for another liquor, or omit it if you prefer. Use vanilla extract with 2 tablespoons cream.
I like to keep it in the refrigerator (well-wrapped) for at least 24 hours before eating it.
Freeze it up to a month. Well wrapped in plastic and then aluminum.
Author:

Paula Montenegro

Prep Time:

30

Cook Time:

120

Category:

Cheesecakes

Method:

Baking

Cuisine:

American
Nutrition
Serving Size:

⅛

Calories:

798

Sugar:

37.1 g

Sodium:

387.4 mg

Fat:

63.4 g

Carbohydrates:

44.6 g

Protein:

15.2 g

Cholesterol:

251.5 mg
Keywords: brown sugar cheesecake
Adapted from The best American Recipes 2005-2006 by Fran McCullough and Molly Stevens