Necessity is the mother of invention, or in this case the force behind trying different recipes of the same cracker not because I want to have a good homemade version, but because they are non-existent here, so it's either homemade graham crackers or store-bought vanilla wafers.
Having made hundreds of cheesecakes over the years using a wafer crumb crust, I didn't really need the extra step. No one cared.
But now that I live and breathe food, something most food bloggers can relate to, I need to be able to use graham crackers, which are totally different from vanilla or honey cookies. I want the different flavor to work with in recipes.
And besides, unless you're in Buenos Aires, you'll never be able to duplicate something that calls for store-bought argentinian vanilla cookies, right?
So it came down to two recipes, because, really, there was no need to look any further.
There was such a slim chance that they wouldn't be wonderful, I decided to skip that margin.
I had already made both recipes two years ago, trying to use the dough as a pie dough for a cheesecake pie I make. That was before I started this blog, and I didn't pay much attention to the subtleties between them. Oh, but that's all changed now.
Let's start with my favorite baker, Nancy Silverton. Her recipe, interestingly, has no graham flour in it, which for me is perfect, since it's also something not easy to find here. The time I made this dough to use as a pie dough, it was good, but it didn't have the right texture, crumbly for starters, a crumb and melted butter crust has. So I figured it was not worth it, a better crust was achieved with ground vanilla wafers. And much easier.
The second contestant here, is Martha Stewart, who else. Her recipe has graham flour, and very different proportions and even some ingredients. I used superfine whole wheat flour, which I will never know until I someday can make these with graham
flour, how different the final cracker is. I suspect it doesn't affect it much.
Update feb.28: My blogging friend, Jenni from Pastry Chef Online, tells me graham flour is whole wheat flour, as explained by wikipedia.
Both doughs are very crumbly at first, and when starting to roll them rather sticky and too malleable to work with. Which means you have to work with them while they're as cold as possible and as fast as you can. Both go in the fridge after mixing for a few hours or more. I left them like a day before I baked them.
I made one (MS) in a whole flat giant cookie, with the separations marked, directly on the same parchment paper where I rolled it, and the other one (NS) cutting each cookie before . The latter has individual edges, and it's a little more laborious having to transfer each individual cookie to a parchment-lined baking tray.
And both are insanely good. Good, good, good flavor and texture. I wish I had a box of graham crackers beside me so I could tell you without that minimum percentage of doubt. But both recipes are probably better than the box.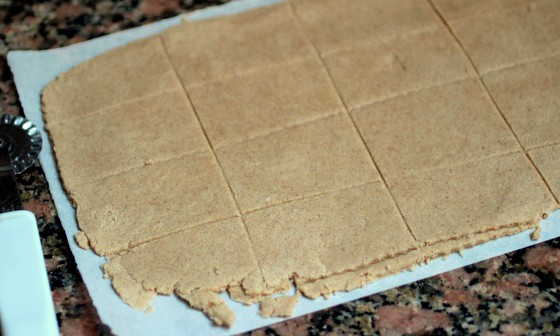 The first recipe, from Nancy S., reminded me of a molasses cookie without the spicy kick.
They have sort of a flat honeycomb appearance, and have a crunchy topping from a sprinkle of cinnamon sugar right before baking. They have to be kept in a tin to preserve it's crunchiness, otherwise they become more like a soft cookie with only an idea of crunch. The second recipe, from Martha S., is more like a honey cookie and the butter comes through more. It's more of a layer effect. You can keep them in a plastic bag and they just don't loose their crunch. It's been more than two weeks now, and they're still crisp.
These crackers, both versions, are one of the best smells your kitchen, and whole house really, can hope to be enveloped in. That cinnamon, holiday, cookie smell that makes you stand still and just breathe deeply.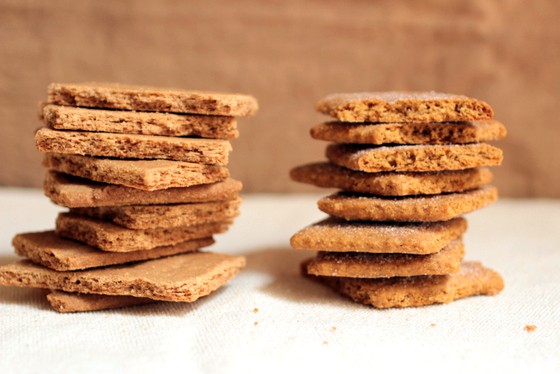 I'm guessing you might want a winner. It's very hard, both are amazing, probably the best recipes out there. Go with whatever baker is your favorite. I will probably alternate both from now on, and end up making slight changes, like adding the cinnamon in the dough in Nancy S. recipe, because it's easier than the whole sprinkling before baking.
Though I baked both recipes from their books, you can find MS recipe on her site, and NS recipe on The Wednesday Chef. No need to copy them again.