The creamiest Oreo Cheesecake topped with chopped cookies and chocolate ganache. You won't believe how amazing, creamy and easy to make it is!
.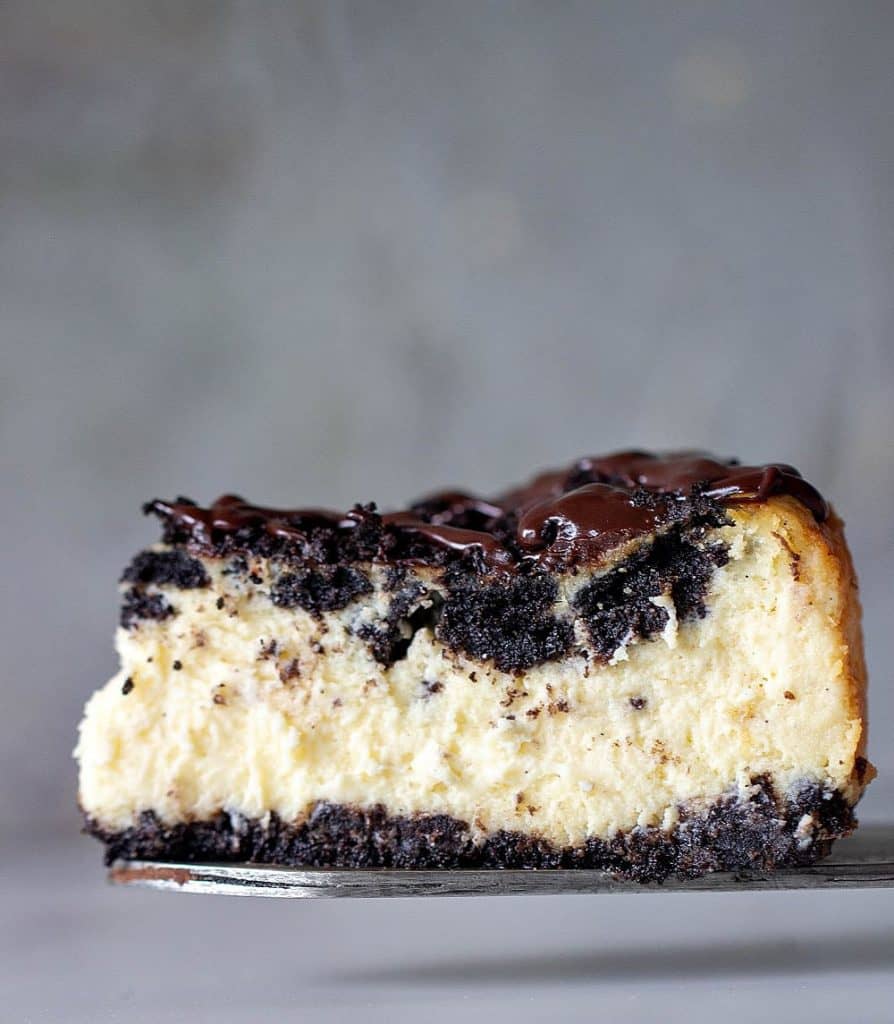 I'm re-posting this awesome recipe, changing images (yeah!) and text but not the recipe. Because it is SO worth it guys, it bears repeating. And like most recipes from years ago, it got lost along the way.
Oreo and cheesecake are two words that can make a dessert believer out of almost anyone.
Is it the cheese or the cake part that is so appealing? Probably both. You can't go wrong with cheese followed by cake. Especially oreo cheesecake which is a twist on
my best cheesecake
recipe.
.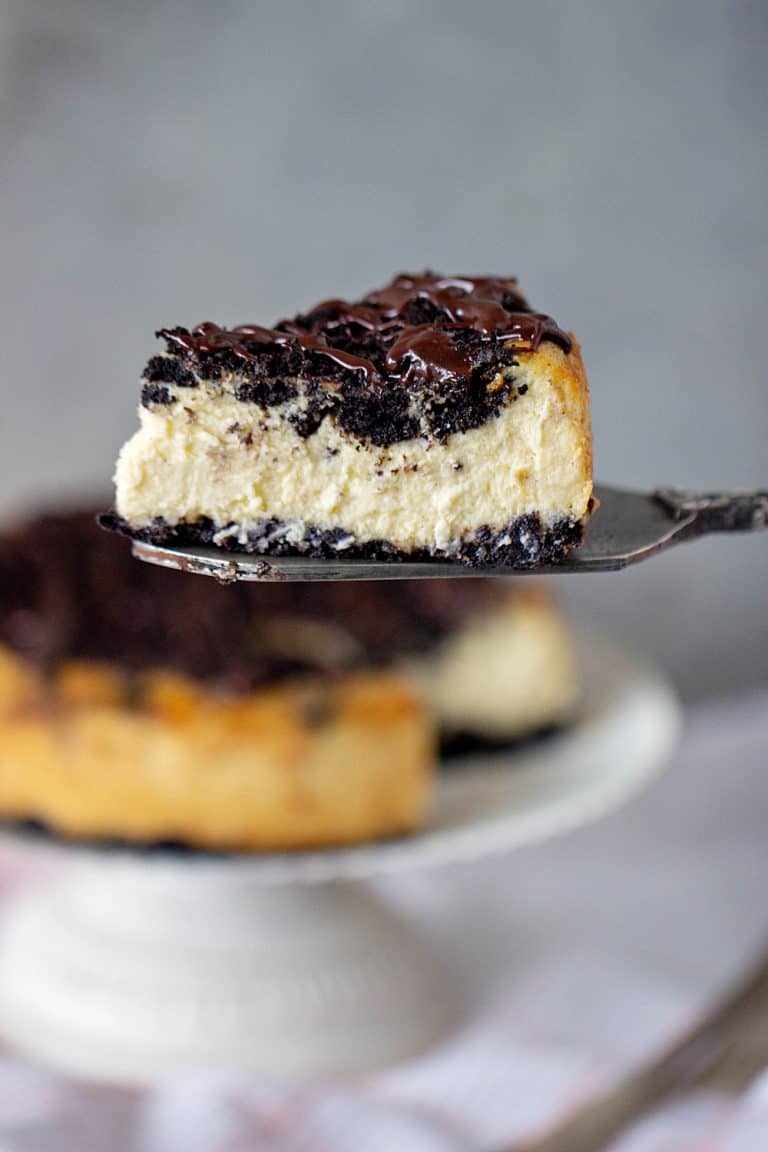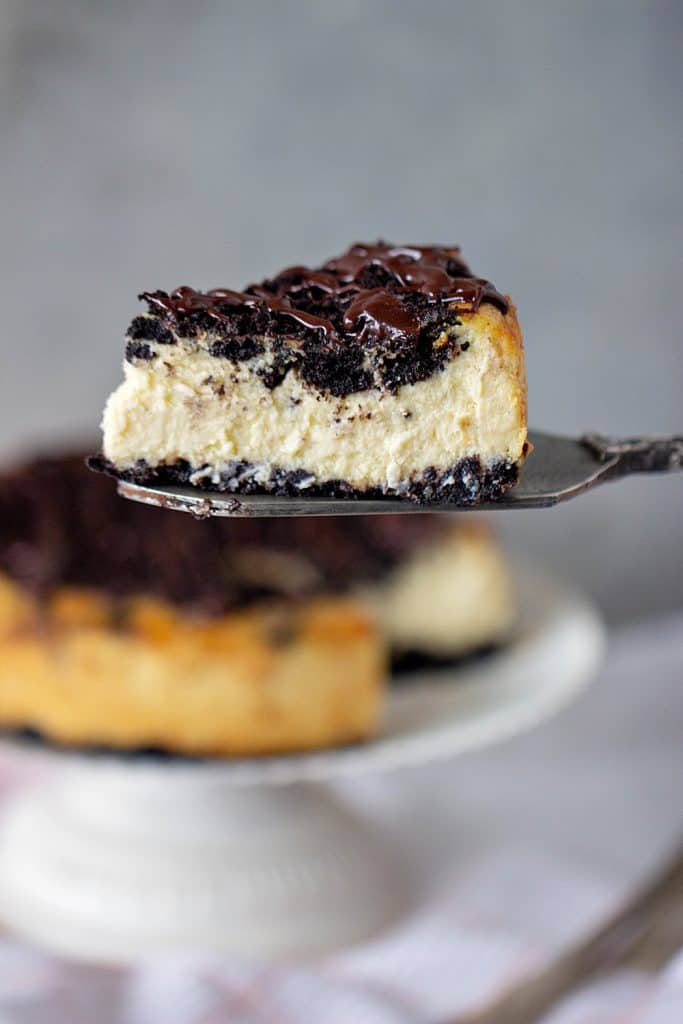 What makes this recipe work.
Bake ahead: as with most cheesecake recipes, it is recommended that it's baked a few days before eating. That means that you can serve a last-minute Oreo cheesecake for dessert with minimal fuss.
Freezing: it can be frozen for up to a month. Wrap it well in plastic and then in aluminum foil and you have cheesecake any time you want.
Dessert for a crowd: Oreos are a favorite of most people, so bake this recipe in a rectangular pan (the cake will not be as tall), and then you can cut it in smaller squares and feed many more guests.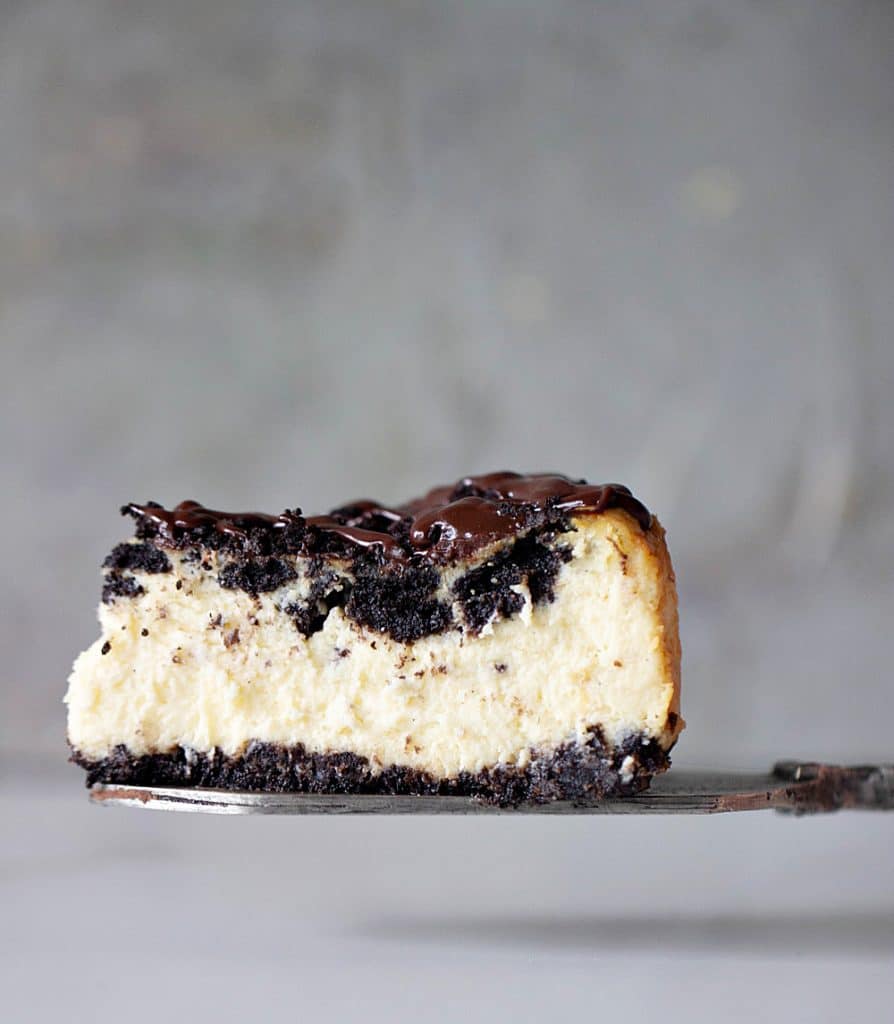 I'm rather a purist when it comes to cheesecake.
That means that I don't use thickeners, such as cornstarch or flour, use a cookie crust and a touch of sour cream.
What makes this Oreo cheesecake great.
It's all in the layers. As in a layer of cookie crust, a distinct cheesecake layer, a top layer of chopped Oreo cookies with chocolate ganache.
.
So, like to have a creamy cheesecake layer flanked by the base and a cookie layer on top, that's why I don't mix it all together – cheese mixture and chopped cookies – but I carefully sink the cookie pieces on top until they are barely covered with the cheese mixture.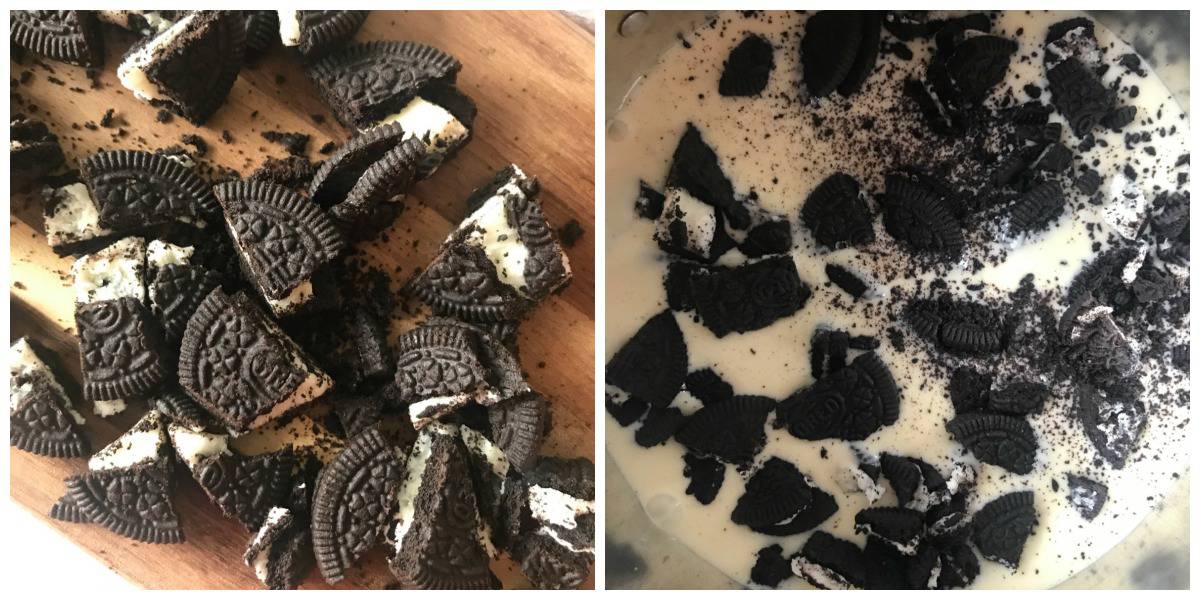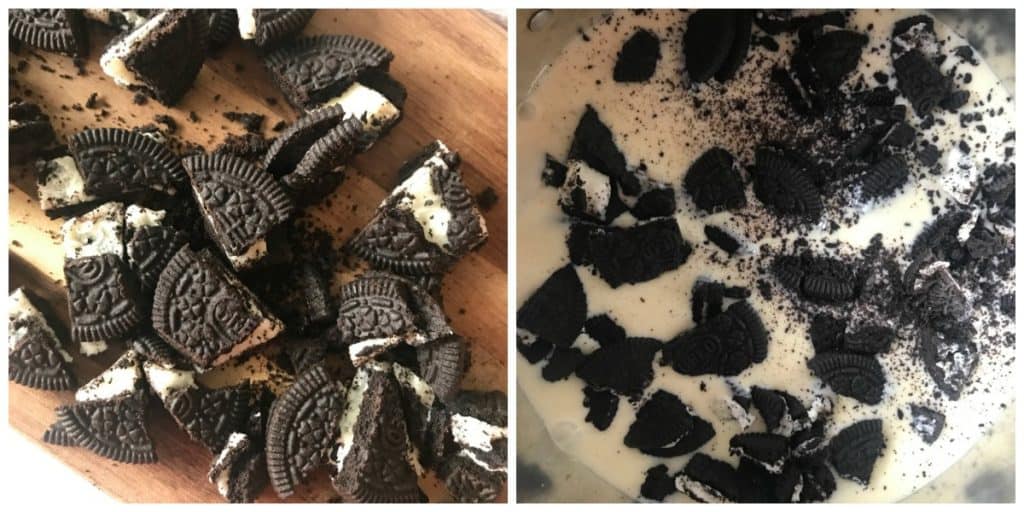 So, how do you make those layers?
Cookies: they need to be cut into pieces, not chopped in tiny bits (image above, left). This ensures you feel the cookies with each bite.
Layer: you add the cookies to the cheese mixture in the pan (image above, right).
Sinking: you carefully sink the cookie pieces with a spatula or spoon (image below, left). This takes less than a minute. You simply cover them in the cheese mixture.
Ready for the oven: the cookies will come back to the surface but they will be covered in the batter (image below, right). That is fine. But it makes a difference though it might not seem like that at this point.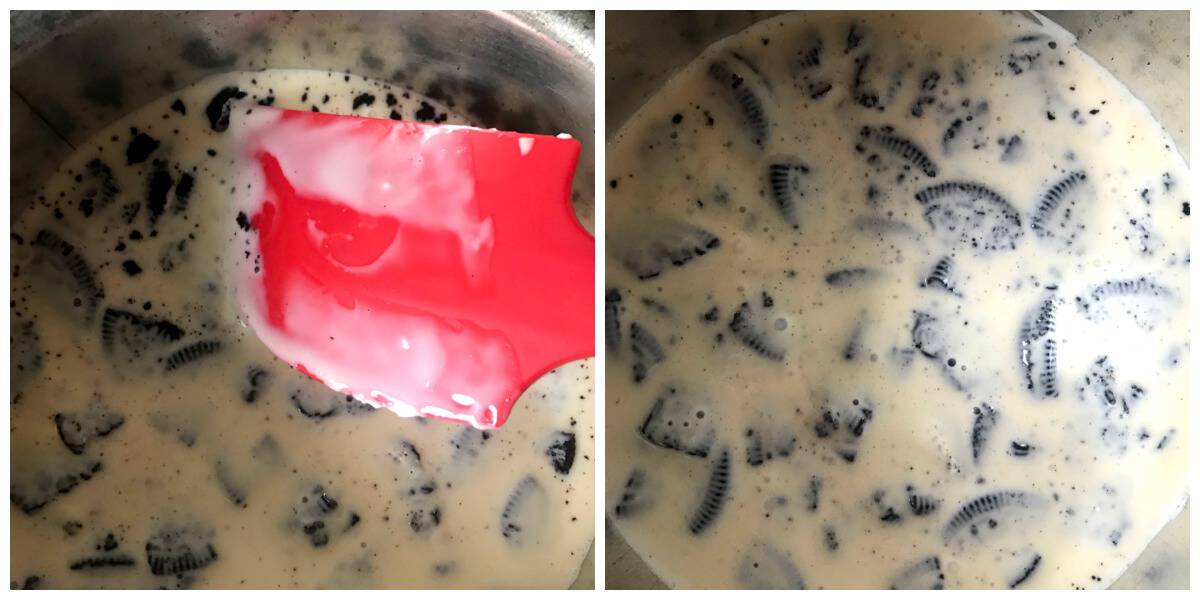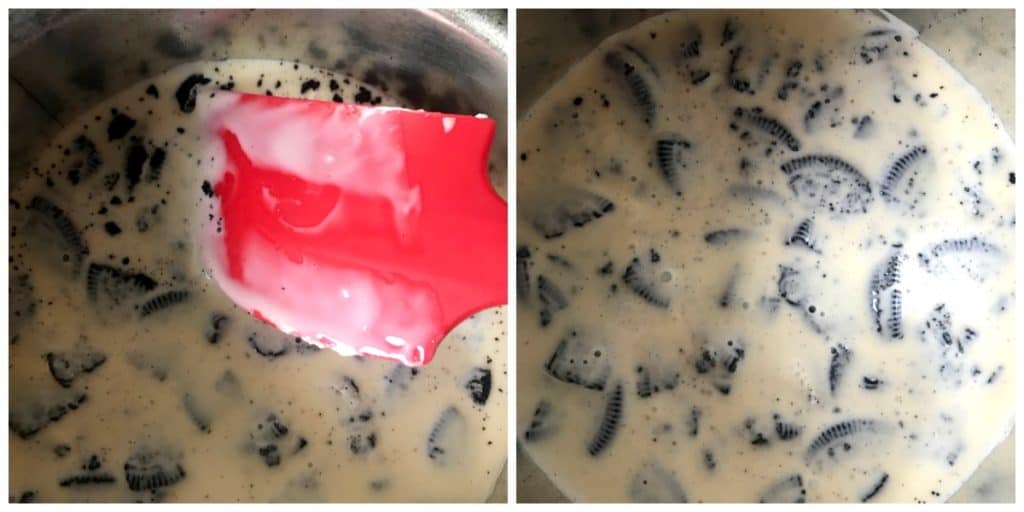 Tips & tricks for this recipe:
Cookies: use regular stuffed Oreos, the original ones. Unless you want a different filling flavor, that is fine. But don't buy the double stuffed ones.
Ingredients: all filling ingredients must be at room t°. It's the way you ensure they all mix well without overbeating the batter. This is so important and part of how you achieve a creamy consistency.
Creaminess: besides the ingredients, make sure you bake it in a medium/low oven, turn it off while the cheesecake still jiggles a lot, and you leave it at least 24 hours in the fridge. I suggest for 2 days. I find the texture is superior.

Freezing: cheesecakes can be frozen and, in my opinion, many times they are creamier and softer after a stay in the freezer. There's probably a chemical explanation.

Topping: I add some chocolate ganache on top to complement the overall flavor. But don't overdo it. I made that mistake the first times I was trying this recipe and it completely overpowered the flavor of both the cheese and the Oreos.

.

Other recipes you might like:

Print

Oreo Cheesecake

Author:

Paula Montenegro
Prep Time:

30 minutes

Cook Time:

90 minutes

Total Time:

120 minutes

Yield:

8

slices

1

x
Category:

Dessert

Method:

Baking

Cuisine:

American

---

Description

This is the creamiest Oreo Cheesecake ever, a twist on my traditional cheesecake recipe.

---

Scale

Ingredients

For the cookie base:

1 ½ cup

s (150g) crushed oreo cookies

3

Tbs (45g) butter, melted

For the cheesecake:

2

pounds (900g) cream cheese, at room tº

1/4 cup

(60g) sour cream, at room t°

1 ¼ cup

s (250g) sugar

4

large eggs (room tº)

1 teaspoon

vanilla extract

¼ cup

cream

9

–

10

Oreo cookies (cut into small pieces)

For the ganache:

¼ cup

cream

2 oz

(60g) semisweet chocolate

---

Instructions

For the base:

Line bottom of 9-inch springform pan with foil, tuck foil underneath pan bottom, assemble pan, then pull foil around sides of the pan. This makes it a snap to unmold.
Melt butter. Add ground cookies and mix with a spoon. Or mix directly in the processor if you used it to grind the cookies.
Put the mixture in prepared pan and press firmly onto the bottom. Refrigerate while making the filling.

For the cheesecake:

Preheat oven to 350º.
Beat cream cheese in a large bowl until smooth. Add sour cream and mix.
Gradually add sugar and beat on medium speed until sugar dissolves.
Add eggs, one at a time, mixing until just incorporated and scraping down sides of the bowl after each addition. At this point, I change to a hand beater because I don't want to incorporate extra air into the mixture, so I don't beat it, simply mix it well. 
Add vanilla and cream, stirring to incorporate.
Pour batter into the prepared pan.
With a sharp knife cut cookies into small pieces. You will have some pieces and some crumbs.
Scatter oreo pieces and crumbs on top of the cheese batter.
Take a spoon and lightly push crumbs into cheese mixture until barely covered. That way the end result is a distinctive cookie crust, cheese layer and cookie crumbs on top.
Bake for 15 minutes, turn the oven down to 150º and bake for another 50 to 60 minutes. (This can vary depending on your oven. At this point the cheesecake should jiggle in the center).
Turn the oven off and, without opening the door, let the cheesecake inside at least 1 hour. Cool to room tº.
Refrigerate for at least 12 hours (2-3 days makes it creamier) before unmolding.
To do that, open springform pan, lift foil to remove from the bottom and, holding the cake in one hand, push the foil down and lift the cake with your other hand.

For the ganache:

Chop chocolate and place in a small bowl.
Bring cream to boil, pour over chocolate and stir until very smooth.
With a spoon or fork pour ganache over cheesecake.

---

---

Notes

Tips & tricks for this recipe:

Cookies: use regular stuffed Oreos, the original ones. Unless you want a different filling flavor, that is fine. But don't buy the double stuffed ones.
Ingredients: all filling ingredients must be at room t°. It's the way you ensure they all mix well without overbeating the batter. This is so important and part of how you achieve a creamy consistency.
Creaminess: besides the ingredients, make sure you bake it in a medium/low oven, turn it off while the cheesecake still jiggles a lot, and you leave it at least 24 hours in the fridge. I suggest for 2 days. I find the texture is superior.
Freezing: cheesecakes can be frozen and, in my opinion, many times they are creamier and softer after a stay in the freezer. There's probably a chemical explanation.
Topping: I add some chocolate ganache on top to complement the overall flavor. But don't overdo it. I made that mistake the first times I was trying this recipe and it completely overpowered the flavor of both the cheese and the Oreos.

Bake ahead: as with most cheesecake recipes, it is recommended that it's baked a few days before eating. That means that you can serve a last-minute Oreo cheesecake for dessert with minimal fuss.
Freezing: it can be frozen for up to a month. Wrap it well in plastic and then in aluminum foil and you have cheesecake any time you want.
Dessert for a crowd: Oreos are a favorite of most people, so bake this recipe in a rectangular pan (the cake will not be as tall), and then you can cut it in smaller squares and feed many more guests.

Keywords: oreo cheesecake, cheesecake
---