How do you feel about Oreo cookies? And homemade oreo cookies? I know, a dream come true.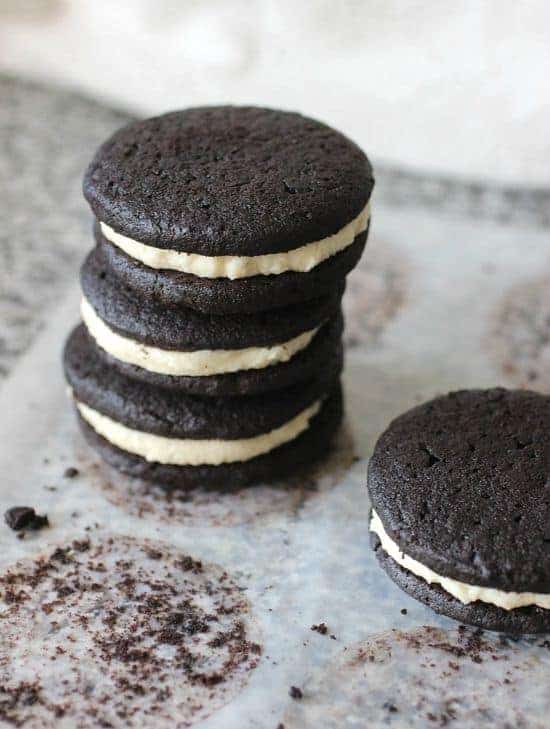 I gave these to a friend and asked 'Tell me what they are'
'Oreos, from here to China' she answered (which is a common way here of saying there's no doubt or something like that).
I had taken them to the office the day before and left them in the kitchen, no explanations. Two persons came and asked 'Are these Oreos??', in between mouthfuls of course.
So, friends, this is a superb recipe for homemade Oreos, courtesy of Flour Bakery Cookbook, the first one. The one that has that amazing banana bread, which I make with olive oil. Recipe coming soon.
This is where you can use that extremely dark cocoa powder you bought. The cookies will be very dark, very oreo. It will be the first sign that they are turning out well.
The second will be the filling. Here, there are a few debates about what it should be. Some use white chocolate as part of it, some don't. I don't. I choose the easy filling, the one with powdered sugar. And it works so well. Why change it, right?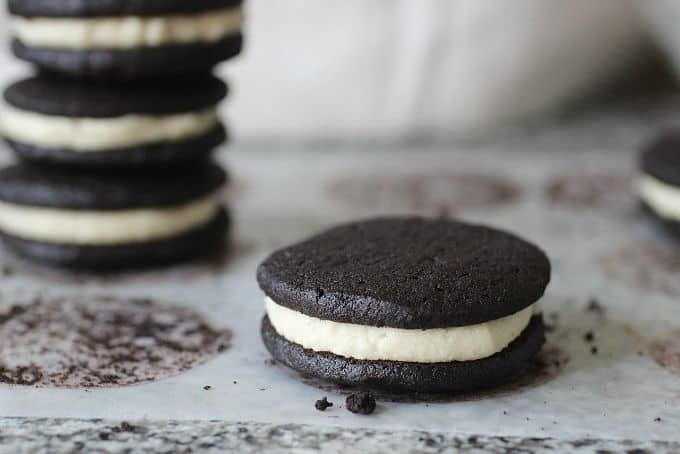 The amount of filling and size of the sandwich cookies are up to you. After all, you're the one making homemade oreo cookies from scratch, you deserve them as big as you want.
Print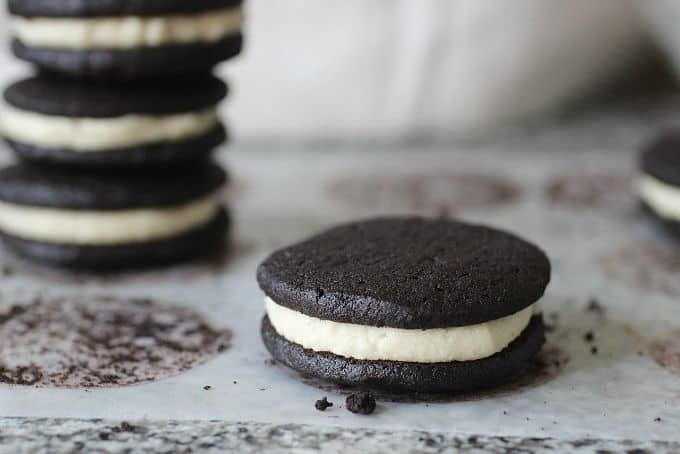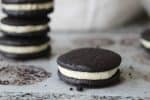 ---
Scale
Ingredients
For the cookies:
1 cup

225g butter, melted and lukewarm

3/4 cup

150g sugar

1 teaspoon

vanilla extract

7 oz

200g semisweet chocolate, melted and lukewarm

1

egg (room tº)

1 1/2 cups

210g all purpose flour

3/4 cup

90g cocoa powder

1 teaspoon

salt

1/2 teaspoon

baking soda
For the filling:
1/2 cup

115g butter, room tº

1 2/3 cups

230g powdered sugar

1 teaspoon

vanilla extract

1 tablespoon

milk
Pinch of salt
---
Instructions
For the cookies:
In a large bowl beat butter and sugar. Add vanilla and melted chocolate. Mix well.
Add egg and beat to mix.
Sift over this mixture (or do it in a different bowl and then add) the flour, cocoa, salt and baking soda. Mix everything very well, leaving no dry spots.
Have a piece of plastic wrap on the counter. Put half of the batter in a log lengthwise, close the plastic making a cylinder, piercing in a few places to release air bubbles, and close the edges. Repite with the rest of the dough.
Refrigerate until firm enough to cut, about 1 hour and upto 1 week (or frozen 1 month).
Preheat oven to 325ºF/170ºC.
Line baking sheets with parchment paper,
Cut the logs into rounds about 1/4 inch thick. Arrange on the sheets without touching and bake for 20 to 25 minutes, until they are somewhat firm to the touch.
Let cool completely on wire rack before filling. Let the filling harden or set before eating.
For the filling:
In a bowl mix all ingredients until creamy and smooth.
Keep refrigerated till use.
---
Recipe from Flour, by Joanne Chang
---