These are little ghosts. In case you thought they were druid's hats or shapeless pines.
Or nothing really, just a brown butter shortbread, filled with dulce de leche and coated with white chocolate.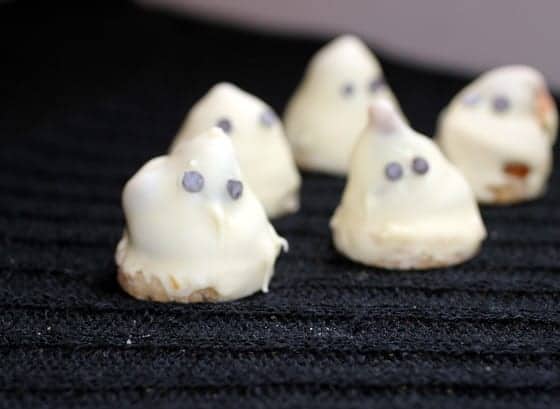 The little eyes, that look like nails on some of them, are tiny chocolate chips.
I might tell you now, this is as crafty as I get. Not impressive right? I know, I'm all about the recipes and flavors.
But the Sunday Supper group is celebrating Halloween, and a treat was called for.
Something to add to the theme hosted by Leslie from
La Cocina de Leslie
. So my compromise were these ghosts, that are so incredibly delicious you won't mind the shape or the widely spaced eyes in some of them.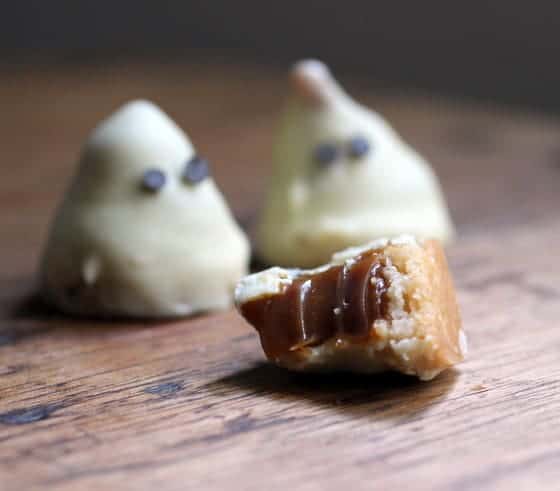 The bottom is a round of this shortbread I baked a while ago. Really, probably the best I ever tasted, and not surprising since it has brown butter. Everything is better with brown butter.
For the bases here, I simply baked them as usual and cut the insides with a small round cookie cutter while still warm. That way they were perfect circles. And you get to eat shortbread rings as a bonus.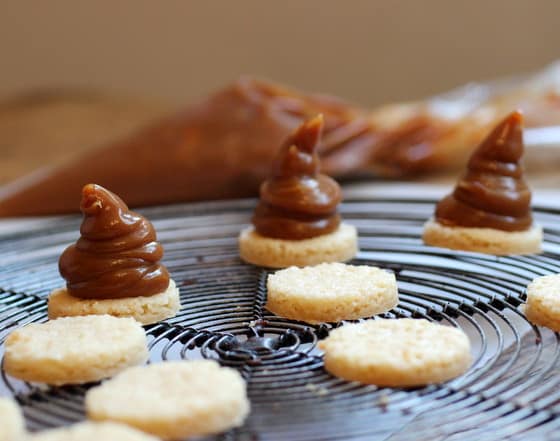 Then there was the question of the filling. I wanted to use dulce de leche, to resemble these traditional treats. But it's too soft. So I heated it with some cornstarch until it thickened, to resemble pastry dulce de leche, a variation that is thicker and made especially to be used in baking. It was perfect to make those cute little cones.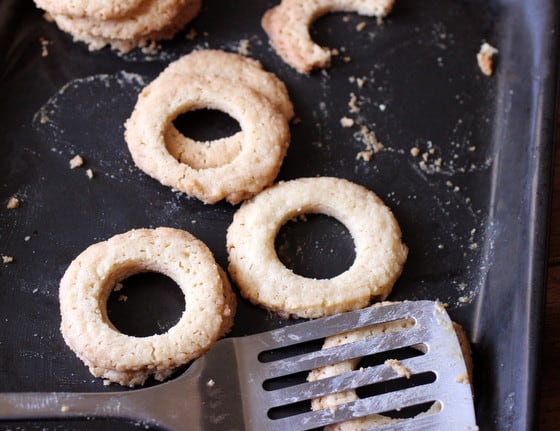 They had to go a bit to the freezer before the white chocolate coating, otherwise you end up with a marbled mix of both things since the dulce de leche melts a bit with the warm chocolate, not that it isn't a good thing really, just not what we wanted to do here.
In the end, they turned out cute and nice to photograph. Not scary, so I guess I'll be the good witch in the story then.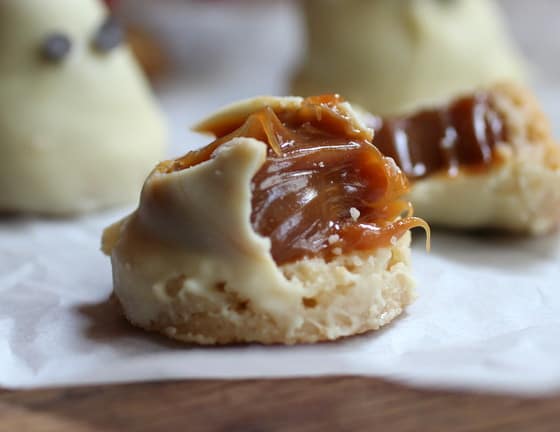 Print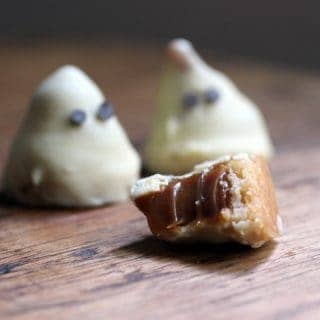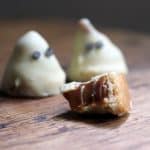 White chocolate and dulce de leche cones or 'ghosts'
Yield:

40

small cones

1

x
---
Scale
Ingredients
½

recipe Brown Butter Shortbread (recipe here)

2 cup

s dulce de leche

2

Tbs cornstarch

1

Tbs milk

6 oz

. white chocolate (melted and warm)
---
Instructions
To make shortbread bases, roll the dough and use a small round cookie cutter. Let cool completely.
For the filling, put the dulce de leche in a medium saucepan and heat over low heat.
In a small bowl mix cornstarch and milk. When the dulce de leche starts to become more liquid, add the cornstarch slowly while stirring with a wooden spoon. Bring the mixture to a boil, while you stir constantly. Boil for 3 or 4 minutes, being careful it doesn't burn in the bottom of the pan.
Let cool completely and refrigerate for 1 hour.
When the filling is cold, put it in a piping bag with a wide plain tip, and make cones on top of each shortbread round. Start in the middle with the bag perpendicular to the base, and squeeze constantly while you slowly lift the piping bag until you reach the desired height.
Freeze cones for half an hour.
Melt white chocolate in the microwave or over a pan of hot water. Keep warm.
Have ready mini chocolate chips or whatever you want to use for the eyes.
Take the cones from the freezer and roll them in the white chocolate so that each one is completely coated.
Press the chips before it dries and put on a wire rack.
---
---