All I can say about this chocolate walnut sheet cake, is that I almost ate it with a spoon straight from the pan. It's that good.
This blog is called Vintage Kitchen for the obvious reason: I love vintage cookbooks and recipes. Those written on cards drive me nuts, in a good way, especially when they have a side note.
Or cookbooks printed decades ago that have incredible recipes, some that are still as valid and good today as they were at that time. I like thinking what it would've been to come up with them, since gadgets and shortcuts were usually not available. Not to mention most of the ingredients we take for granted today. Sometimes not even electricity was common. Yet people managed to eat wonderful things. And relying on their own imagination. No blogs, no magazines, no nothing. 
Since I started blogging, a bit over 7 months ago, I joined a bunch of groups. Some I cook with, some I bake with, others are about a theme or an ingredient, and so on. I needed to organize myself and make a file to list the recipes and deadlines. You see, I'm not a list person. I don't do lists and when I do, I don't remember to follow them.
But that debate apart, I realized I had very little space to do my own thing every week.
And since I have absolutely no intention to stop being part of any of my darling groups and its members, I decided to use Mondays as my day to share with you. To share what? A bit of everything. Whatever funny things I find surfing the web that make me laugh so hard it makes me feel self conscious even though I'm alone in the room.  Or simply interesting, unrelated to anything stuff.
There is so much information available nowadays, it's impossible to really use it. And you have to find it first. So all those jokes, photographs, comments, blogs, ideas or whatever I find and want to share will probably find their way here.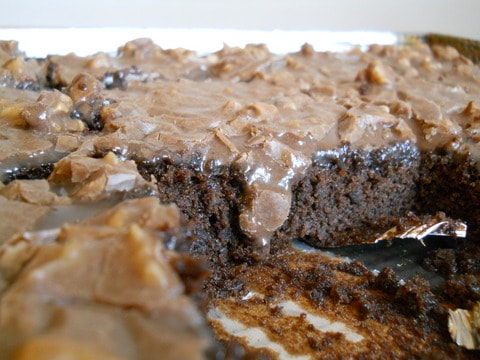 And of course I will add a vintage recipe. I don't quite have a time bracket for what constitutes such a recipe. Depends on your age I guess. But let's just say they will all be at least 25 years old. Is that vintage really? For me it's the time I started actively collecting recipes.
And I think Mondays are the perfect day to read about something funny or interesting. Or just see a picture of comfort food. People tend to feel gloomy or cranky on Mondays. I will try to add a bit of spice to the beginning of the week.
Just my little way of thanking everyone who takes the time to come to this blog. At the end of the day, it's the main reason I'm so happy with it.
A few things for this week: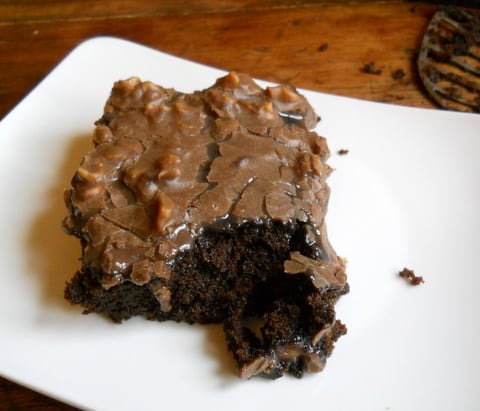 Print
Chocolate Walnut Sheet Cake
---
Description
This cake recipe is glued to a sheet in a binder I started when I was 12. It's a torn recipe from a  magazine when I lived in the US, so around 1982. The top layer remains gooey and rather soft,  so I prefer to serve the cake directly from the pan.
---
Scale
Ingredients
1 ¼ cups

butter

½ cup

+

2

Tbs cocoa

1 cup

water

2 cups

unsifted flour

1 ½ cups

firmly packed brown sugar

1 teaspoon

baking soda

1 teaspoon

cinnamon

½ teaspoon

salt

1

14 oz can condensed milk

2

eggs

1 teaspoon

vanilla extract

1 cup

confectioners' sugar

1 cup

chopped walnuts
---
Instructions
Preheat oven to 350º.
Grease a 13x18-inch pan and line bottom with foil if desired.
In a small saucepan melt 1 cup butter. Add cocoa and water and bring to a boil. Remove from heat.
In a large bowl mix flour, brown sugar, baking soda, cinnamon, and salt.
Make a well in the center and add cocoa mixture, 1/3 can of condensed milk, eggs and vanilla. Mix until the batter is smooth.
Pour into prepared pan and bake for about 15 to 20 minutes, until cake springs back.
In a small saucepan (I use the same one) melt remaining ¼ cup butter.
Remove from heat and add 2 Tbs cocoa, and rest of condensed milk. Mix well.
Add powdered sugar and walnuts.
Spread over warm chocolate cake. Let cool completely.
---
---