We still have a few more holidays and parties, so there's time for the easiest ever chocolate fudge made in the microwave! Whether you use white or dark chocolate, this is the simplest recipe ever. It can be adapted to your personal taste with the add-ons, and be ready 30 minutes!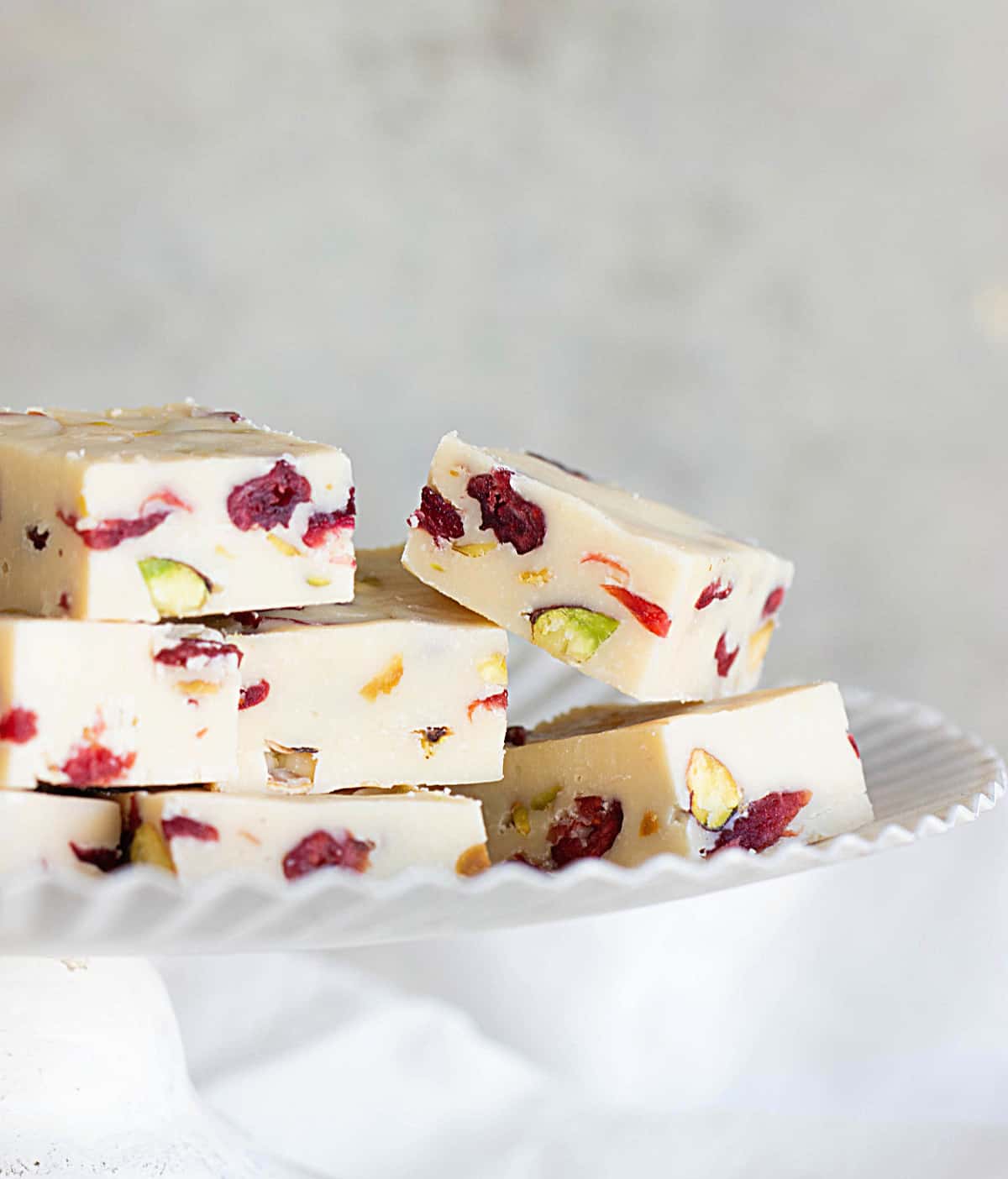 Even though it's Christmas time and this is a fantastic fudge recipe, let me tell you the whole year is appropriate for this white or dark fudge.
The thing about fudge, besides being delicious, is that it makes a fabulous gift. Take it to a friend's house, to your office, give to your neighbors, the possibilities are many.
Make it with white chocolate, cranberries, and pistachios (image above) or indulge in dark chocolate with walnuts, pistachios, and hazelnuts (image below).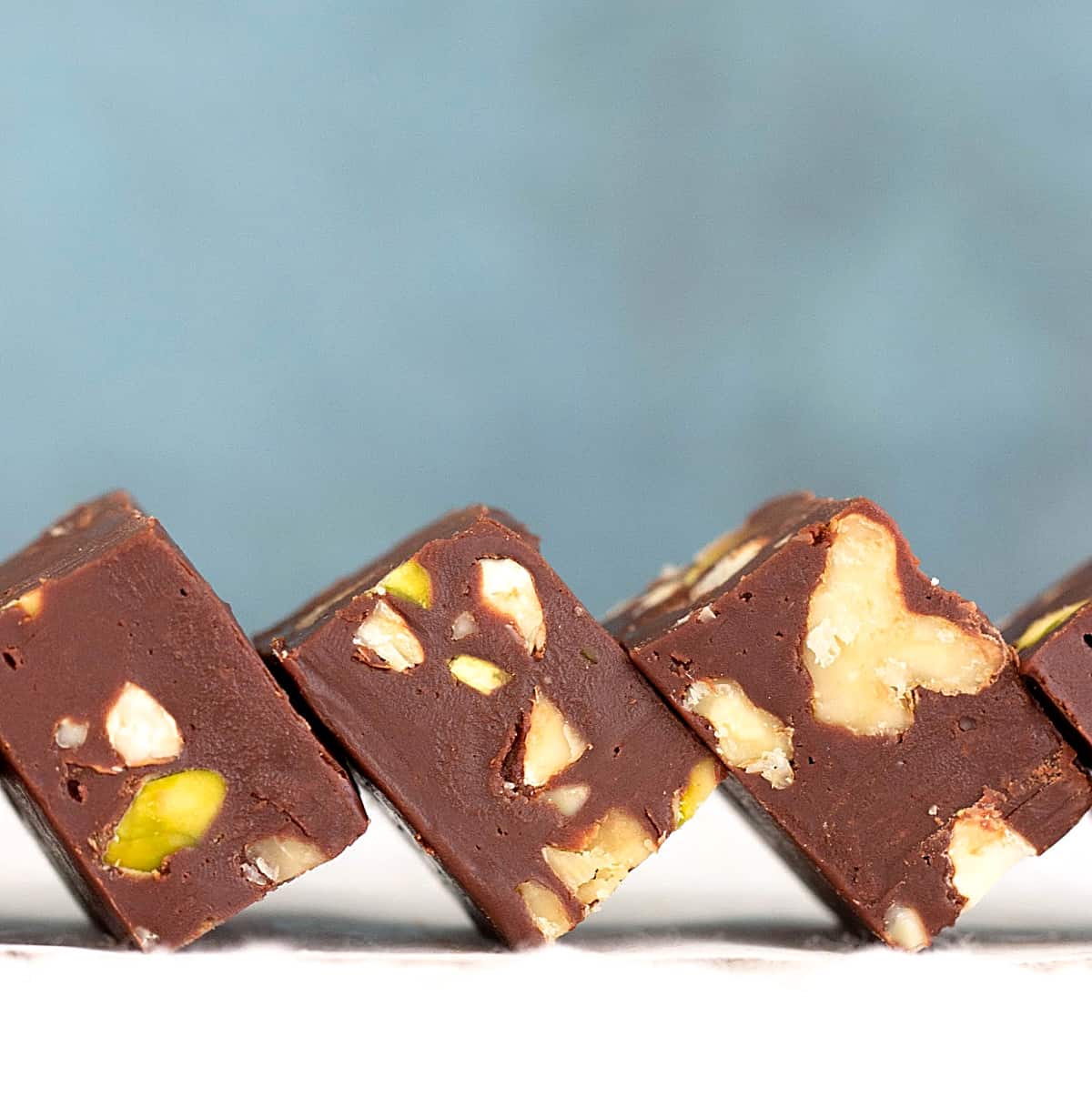 Both are superb and ridiculously easy to make!
And it literally takes 30 minutes to prepare and have ready.
No kidding. Easy and fast!
It's also a fantastic fudge on its own, similar to a soft caramel. Just 2-ingredients, chocolate, and condensed milk.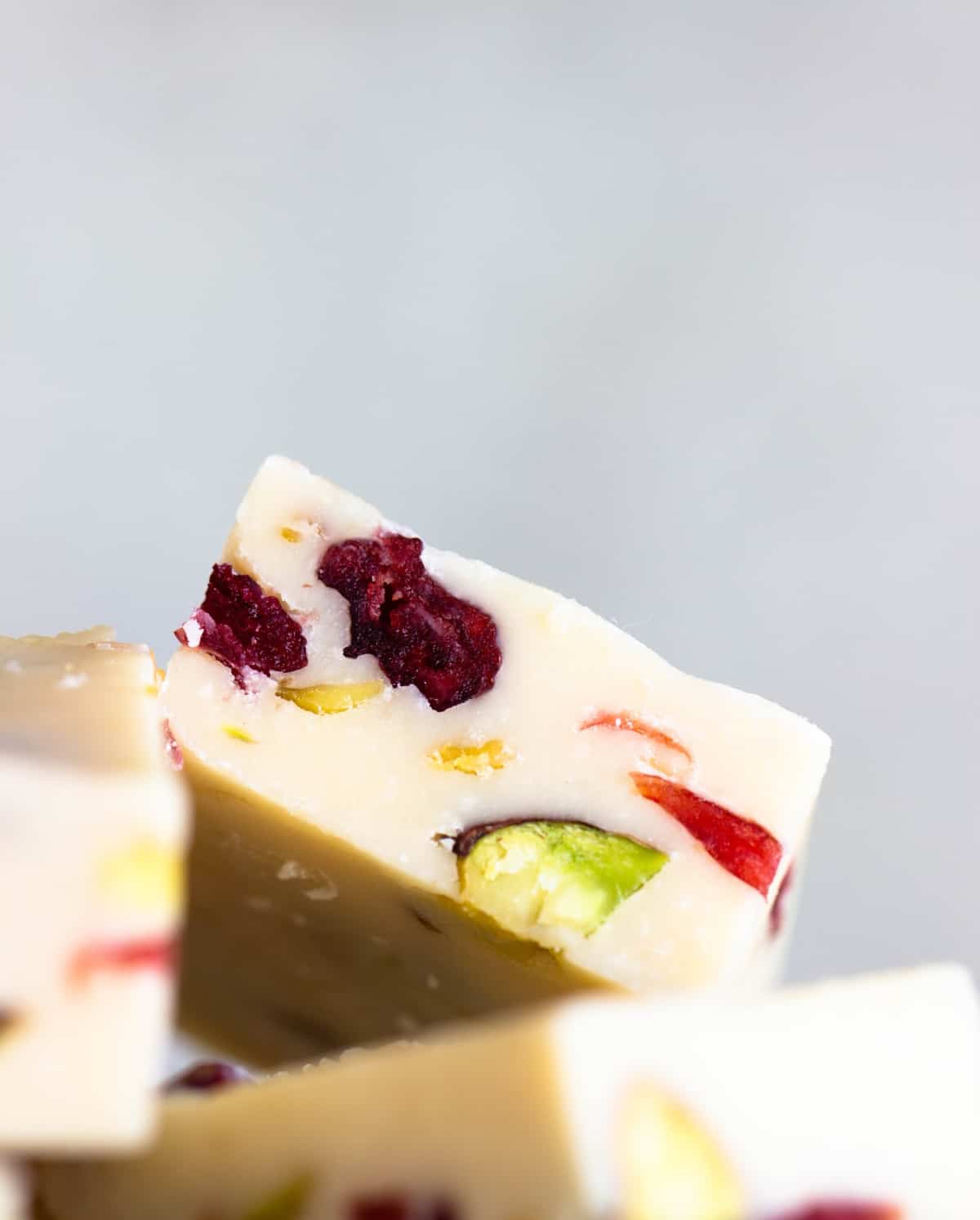 What is fudge?
It's a sugar candy, originally made in the stove with everyday ingredients such as butter, sugar, and milk or cream. You needed a candy thermometer and time to let it cool down.
Recipes evolved and nowadays there are a million versions of chocolate fudge, with marshmallows or evaporated milk, with condensed milk like this one, with peanut butter.
The possibilities are many and most of them are delicious.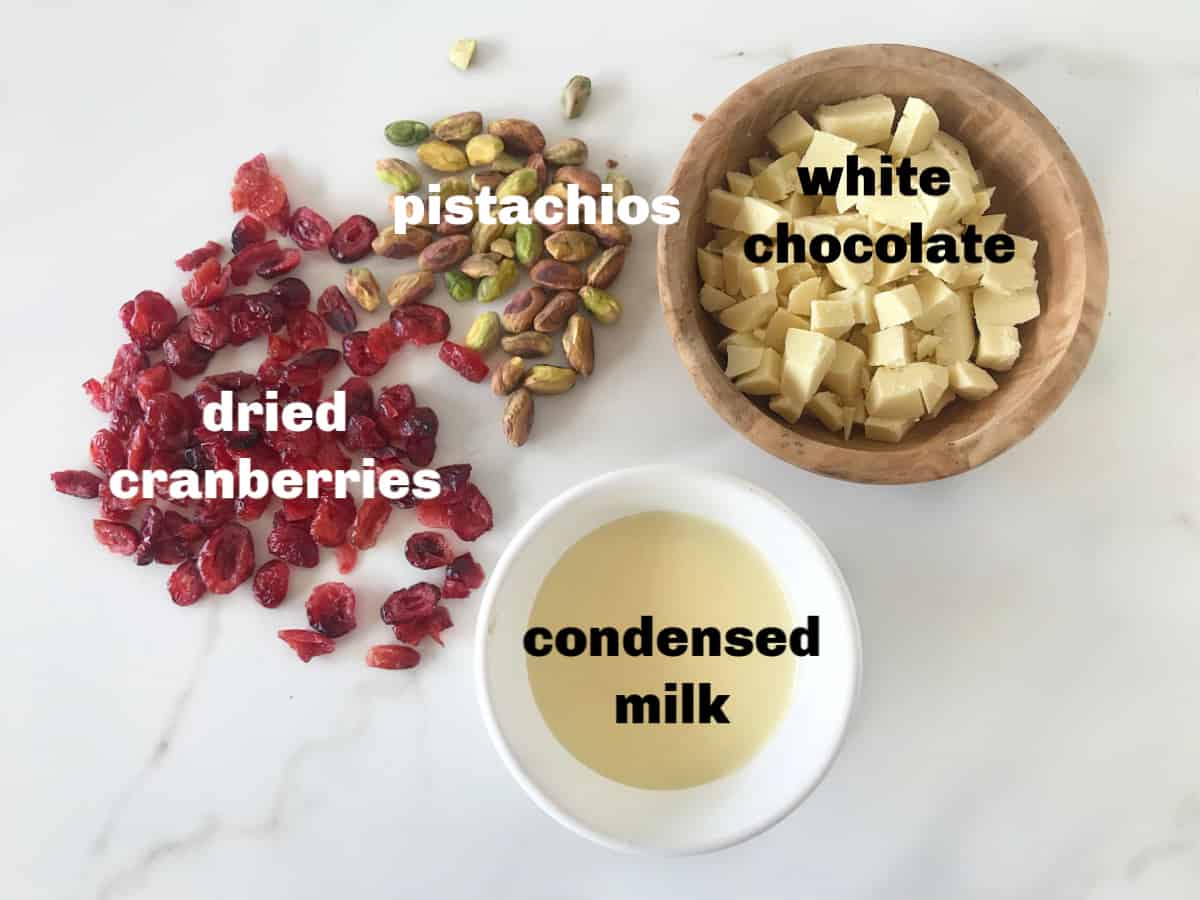 Ingredients
Since this is a highly customizable fudge recipe regarding the type of chocolate and the add-ons, I will show you the ingredients for the white chocolate version (image above).
It can easily be adapted to make the dark fudge with nuts.
Condensed milk: one-half of the main ingredients. This is the traditional, old-fashioned sugary thick milk we all love.
Chocolate: white, milk, or dark, they all work. Or use a mix, similar to the Peanut Clusters. The details of what chocolate to use are below.
Add-ons: I love white with cranberries and pistachios because of the contrast in color and flavors. The dried cranberries are acid, so they are great with the very sweet white chocolate. For the dark chocolate version, I love a mix of nuts that always include hazelnuts.

Simple steps
It's the easiest thing ever!
Melt chocolate with condensed milk in the microwave. It will be similar to thick honey (image above).
Add cranberries and pistachios.
Put in a lined pan - with parchment paper (image below) or plastic wrap.
Refrigerate for 15 minutes or until it hardens. I leave it in the fridge for days and it never hardens completely.
Cut into squares and serve.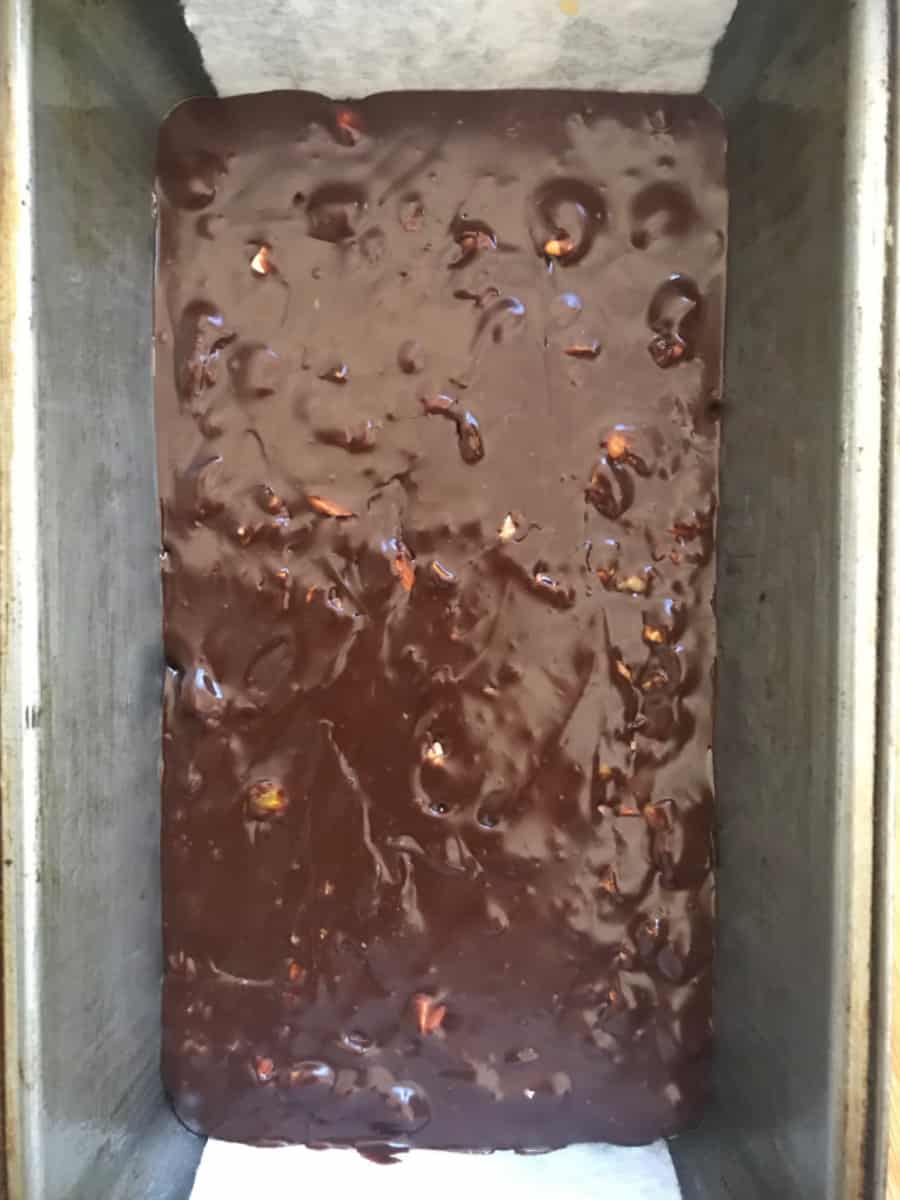 What is the best chocolate for fudge?
I like to use baking chocolate, and, depending on where you live, the one labeled tempered. It melts faster and has the best shiny finish. And this is homemade, simple chocolate candy making.
In this recipe, it's mixed with condensed milk so the final shiny quality will be missing a little. Still, I find tempered chocolate to be the best all-around for any homemade fudge or candy.
Here is a dark chocolate favorite brand that you can buy online. Milk chocolate and white chocolate.
There's no right or wrong chocolate to use in this recipe, it depends on personal taste. I tried white, milk, and dark (70%).
I am partial to the last one, a good dark 60-70% chocolate from a good brand because it will always be my favorite chocolate.
But, if you have a sweeter tooth, this white chocolate fudge is calling your name.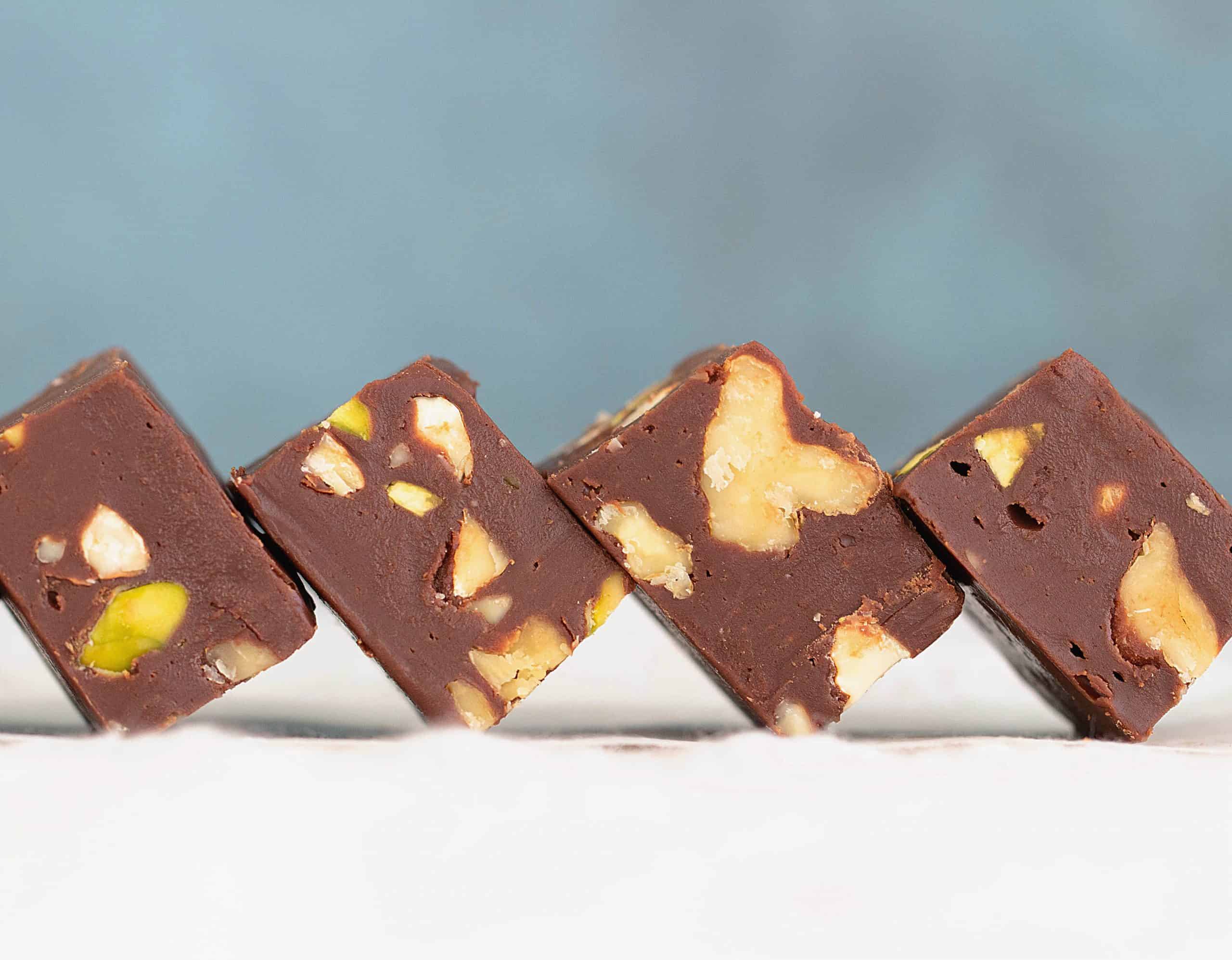 Add-ins
Here the possibilities are endless.
My favorites are white chocolate fudge with pistachios and dried cranberries, because the acid fruit cuts a bit through the sweet, and because it looks SO pretty!
And salted (usually Maldon sea salt) dark chocolate with a whole lot of lightly toasted nuts, mainly pistachios, walnuts, and almonds.
Let your imagination and palate run free.
Add some candied orange and peel, some toasted coconut, dried fruits, etc.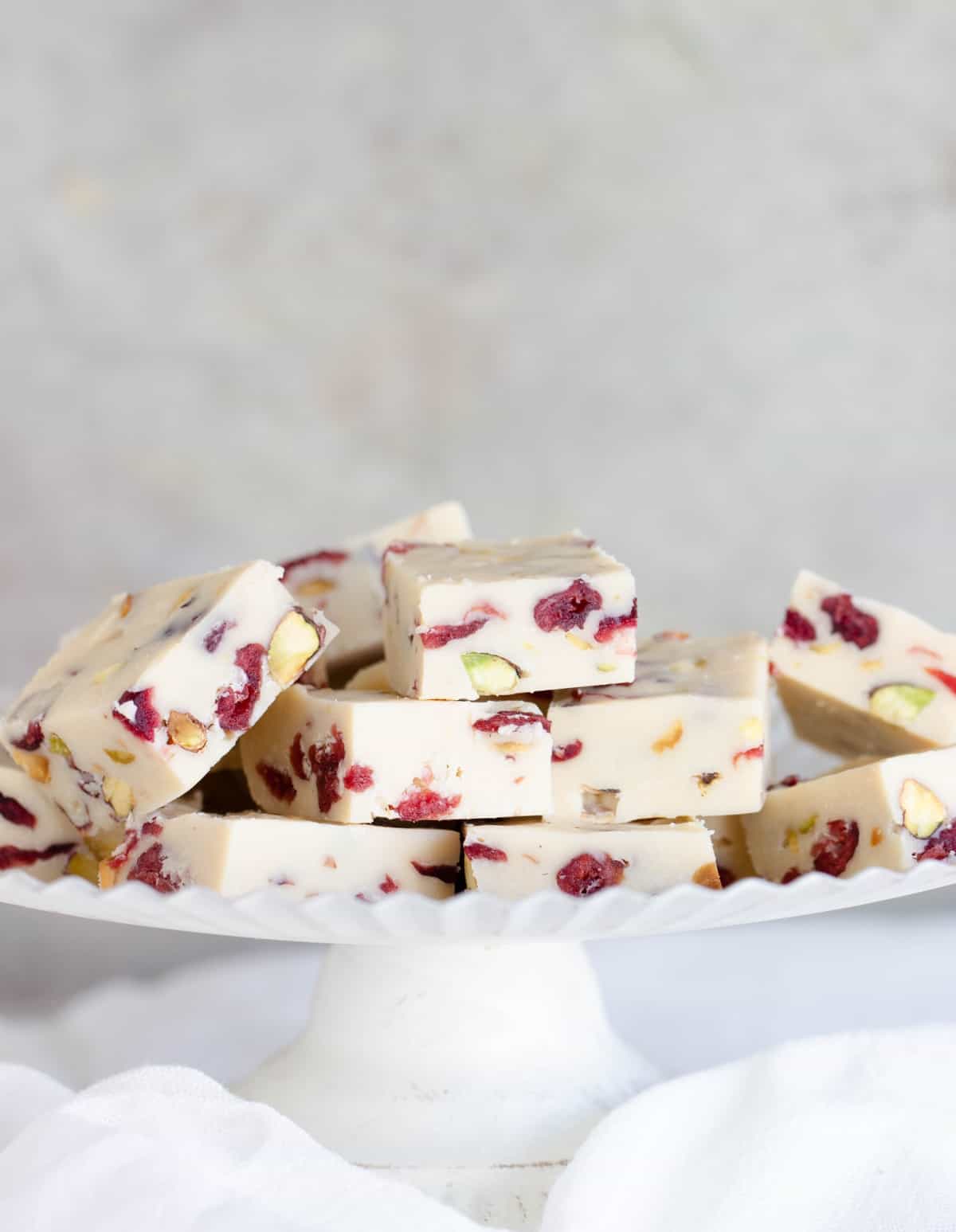 This is the easiest fudge ever.

Just mix condensed milk with melted chocolate, let it harden and you got yourself some seriously good chocolate fudge, dark or white depending on what type of chocolate you use.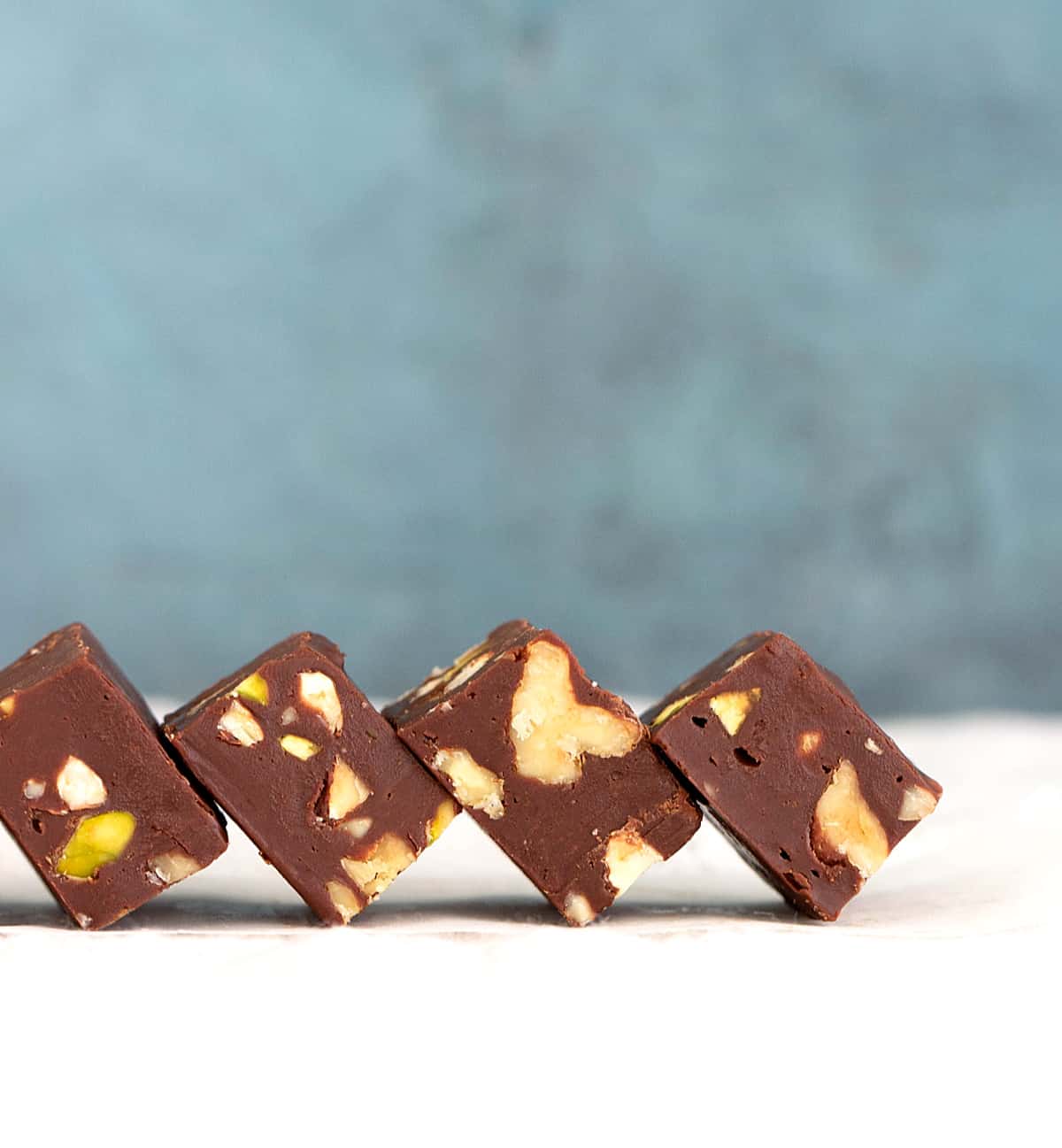 Other recipes you might like:
Dulce de Leche Coconut Fudge Truffles
Peanut Butter Chocolate Fudge
Double Chocolate Bark
Triple Chocolate Peanut Clusters
Killer Brownies
Homemade Vanilla Marshmallows
Mint Chocolate Brownies
Salted Chocolate Peanut Butter Fudge
Let me know if you make this recipe! I'd love to hear what you think about it.
Thank you for being here, I appreciate it! Let's connect via Facebook, Instagram, and Pinterest.
If you like the recipes in this blog, consider subscribing and getting all new posts by email. As a thank you, we'll also send you a FREE recipe e-book and our Guide to Freezer Baking!
Print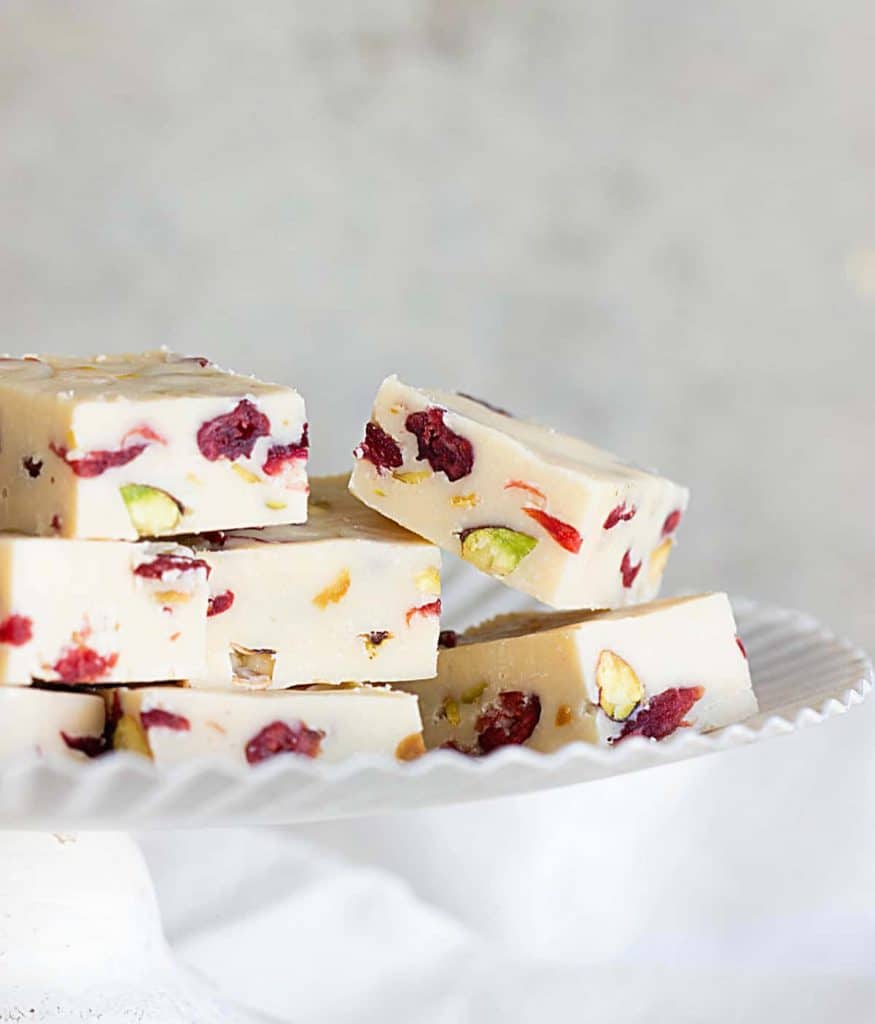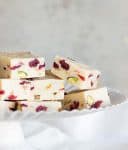 Microwave Chocolate Fudge
Author:

Paula Montenegro

Prep Time:

10 minutes

Cook Time:

5 minutes

Total Time:

15 minutes

Yield:

30

small squares

1

x

Category:

Candy

Method:

Melting + Mixing

Cuisine:

American
---
Description
This is the easiest ever microwave chocolate fudge! Full of cranberries and pistachios, it is creamy, luscious and perfect for gift giving.
---
1

14-oz can condensed milk

17 oz

white or dark chocolate, cut into pieces

1 ½ cups

add-ons - I use half dried cranberries and hald shelled pistachios, lightly toasted for the white fudge, and a mix of hazelnuts, walnuts and pistachios for the dark fudge
---
Instructions
Have ready an 8-inch square pan lined with parchment of plastic wrap.
Melt chocolate with condensed milk, in the microwave (5-10 second bursts mixing well in between).
Remove from the heat and add the cranberries and pistachios or the nut mix.
Pour into the prepared pan and smooth the top. I do this with my hands, the mixture is thick.
Refrigerate for 15 minutes, or until it's hard enough to cut.
Remove from the pan with the help of the paper.
If it's too hard, let it stand for a few minutes to soften.
Eat at room tº. It keeps for a few weeks well wrapped.
---
Notes
Add-ons: use any dried fruit and nut combination you like.
Plain: this fudge can be made plain.
Storing: it keeps in the refrigerator for weeks, well wrapped.
Keywords: condensed milk fudge, microwave fudge