Classic fudge might require a bit more effort than modern recipes, but you can't beat the texture and flavor of a stovetop fudge recipe. This one has peanut butter and marshmallows, so you know you're in for a ride.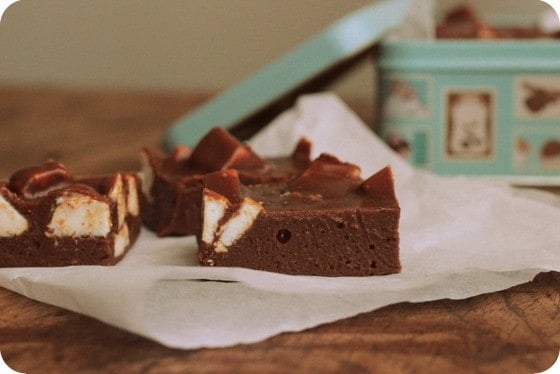 Vintage party recipes
This past week was quite busy in the vintage kitchen. A friend celebrated his birthday last Friday night and asked me if I could help him with the food. Nothing fancy or complicated. But there would be 50 or 60 people, so a little planning was in order.
It was a party, more than a dinner party, more of a 'come around 10 pm for some dancing, drinking, and finger food' thing. Which made it easier, foodwise. When there are no plates and forks involved, no matter how many people are invited, it's a matter of how many trays you need to make.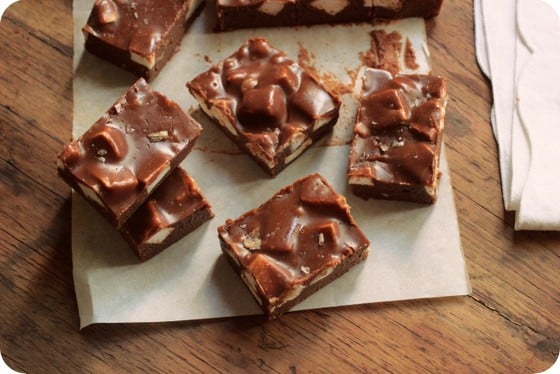 So the food wasn't a big deal, but I ended up going to bed at 5 am after the party, something I hadn't done in a while. And it took me a whole day to recover. It turns out I'm not getting any younger and can't party like in the old times. Who knew.
As for the food, we settled for pancetta-wrapped prunes, mini cheddar scallion muffins, eggplant hummus, and a million and one servings of quesadillas, because, if you read this blog often, you're tired of hearing me complaining about the excessive amount of flour tortillas living in my freezer. Now I don't have a single one left! I almost miss them.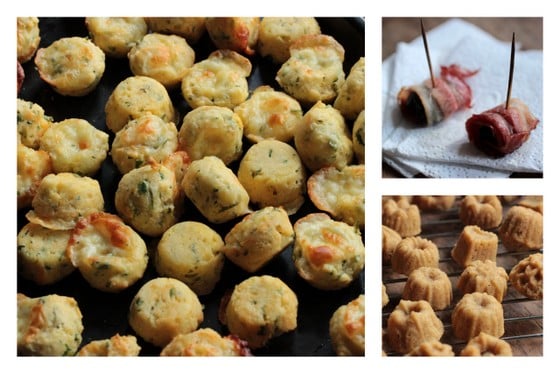 cheddar mini muffins - pancetta prunes - financiers
I made two types, one for vegetarians with corn, roasted squash, and various cheeses, and the stars of the night with caramelized onions, shredded chicken, roasted tomatoes with sriracha, fontina, and queso fresco.
Now I need to buy more tortillas and make them again, just to post it and share them with you because they were so good.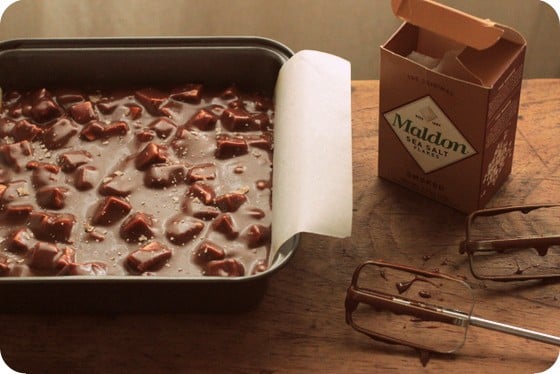 For dessert, we had mini almond financiers, in tiny varied bundt shapes, coconut dulce de leche bars, blondies with dark and white chocolate chips, and gluten-free hazelnut brownies that were the stars of the desserts.
That recipe is coming next week. Promise.
Now onto some vintage Mondays links that might, hopefully, interest you:
Need different ice cream topping suggestions? Knock yourself out with this list from The Kitchn.
Two posts that I read again this week from Sarah and Stephanie. A little blogging perspective.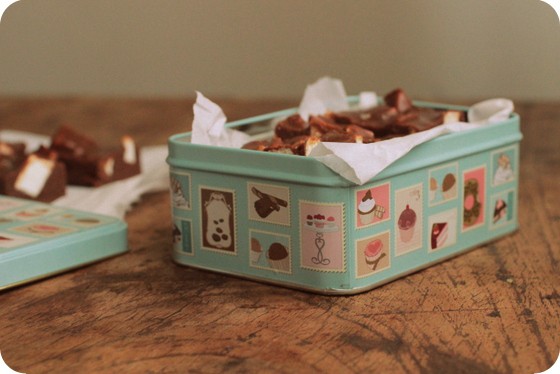 The vintage recipe I chose for today proved to be everything I love about old-fashioned recipes, trustworthy and superb both in flavor and texture. I had wanted to make fudge for a long time, but most include marshmallow fluff which I can't find here, and have a grainy extra sweet feeling that doesn't agree with my idea of candy.
But hello! I have homemade vanilla marshmallows now. Yeah, the recipe makes a lot, and I have a lot, still. Some in a tin, others in a plastic bag. And they're still just as good as a few weeks back. They're like cockroaches, they survive everything.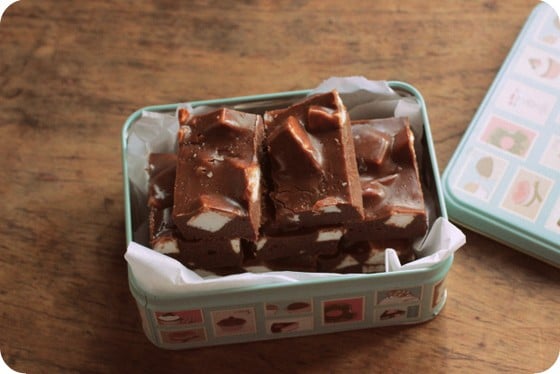 Marshmallows in fudge?
I think I went a little overboard with the number of marshmallows because the recipe said ten, and well, who knew what size marshmallows were sold in the 40's right? I simply guessed an amount and went with that. They are a nice and soft surprise or stumbles as we say here, which really explains it very well.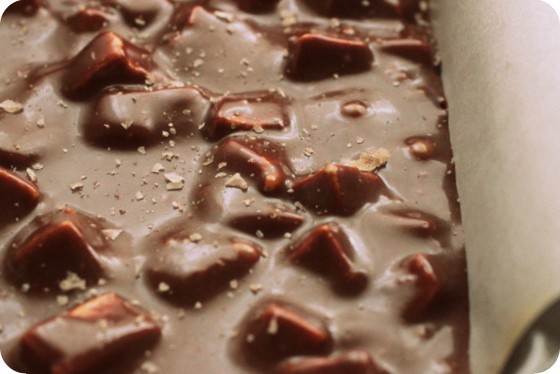 This fudge is so old-fashioned it's made on the stovetop, and requires a bit of attention while it's cooking. But wow, it's so worth it.
The creaminess is unsurpassed. And the addition of peanut butter is genius. I can't get over how good peanut butter and chocolate are together.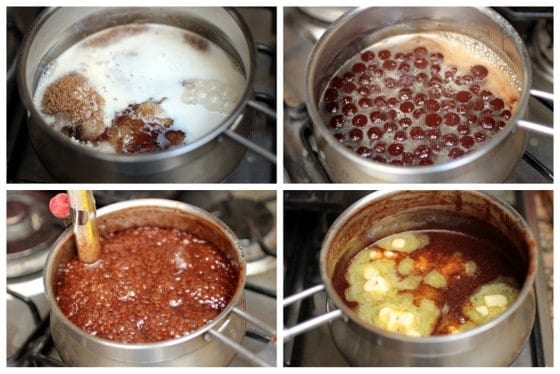 Or this whole chocolate marshmallow fudge for that matter. Oh, and it lasts. Just keep it in a tin.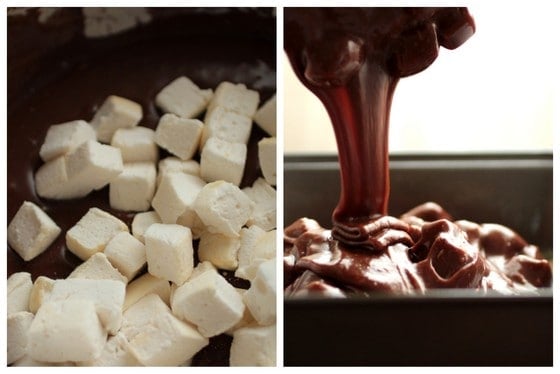 Other recipes you might like:
Double Chocolate Cookie Bark
Easy 2-ingredient White Chocolate Fudge
Salted Chocolate Marshmallow Fudge
Coconut Dulce de Leche Fudge Truffles
Homemade Vanilla Marshmallows
Fudgy Chocolate Mint Brownies
Let me know in the comments below if you make this recipe! I'd love to hear what you think about it. Thank you for being here, I appreciate it! Let's connect via Facebook, Instagram, and Pinterest.
If you like the recipes in this blog, consider subscribing and getting all new posts by email. As a thank you, we'll also send you a FREE recipe e-book and our Guide to Freezer Baking!
Print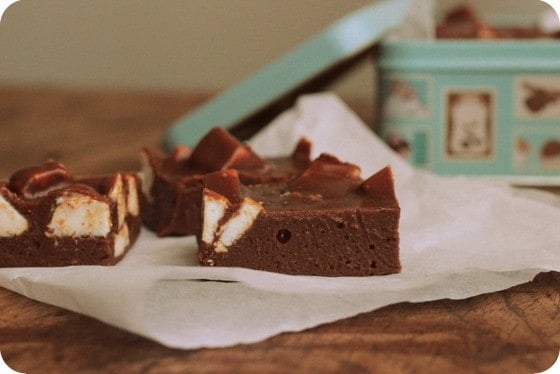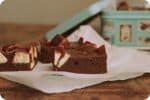 Salted Chocolate Peanut Butter Marshmallow Fudge
Author:

Paula Montenegro

Prep Time:

10 minutes

Cook Time:

10 minutes

Total Time:

20 minutes

Yield:

20

squares

1

x

Category:

Candy

Method:

Stovetop

Cuisine:

American
---
Description
Chocolate, peanut butter, and marshmallow make for decadent fudge.
---
1 cup

of sugar

1 cup

firmly packed brown sugar

¾ cup

milk

2

Tbs corn syrup

2 oz

60g bittersweet chocolate, chopped

3

Tbs unsalted butter

⅓ cup

creamy peanut butter

1 teaspoon

vanilla extract

1 cup

marshmallows (cut into bites)

1 teaspoon

sea salt flakes
---
Instructions
Line an 8-inch (20cm) square pan with parchmente paper or aluminum foil.
In a heavy medium saucepan combine sugars, milk and corn syrup. Add chopped chocolate and cook over medium heat, stirring constantly, until mixture boils. Attach candy thermometer and let boil slowly, stirring occasionally, until it reaches 236ºF or soft ball stage.
Remove from heat, add butter on top but don't stir.Let cool to lukewarm (110ºF), like warm tap water.
Add vanilla, peanut butter and mix well. Add marshmallows and pour into prepared pan.
Sprinkle sea salt on top and let cool completely. Put in the fridge until cold. Cut into squares and serve.
Keep refrigerated, well wrapped.
---
Notes
Use a saucepan that will allow the mixture to go up the sides. Mine was a bit too tight as you can see in the picture.
Keywords: chocolate fudge, peanut butter chocolate fudge, rocky road fudge
Adapted from The Pocket Cookbook, by Elizabeth Woody / Mc Call's Magazine
---