Once you make homemade marshmallows, there's no turning back.
These are fabulous, vanilla-flavored pillows that are really easy to make if you organize your ingredients and space beforehand.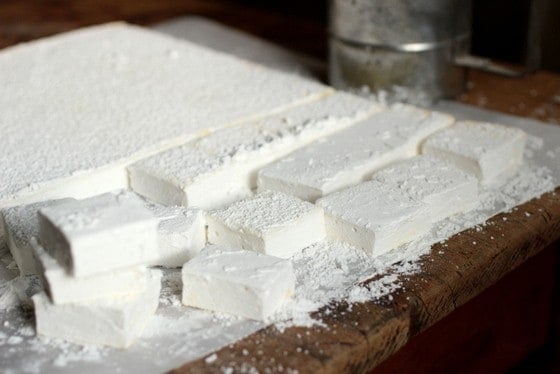 I finally made homemade vanilla marshmallows. Forever in my bucket list, I gathered my thermometer, bought some corn syrup and got to work.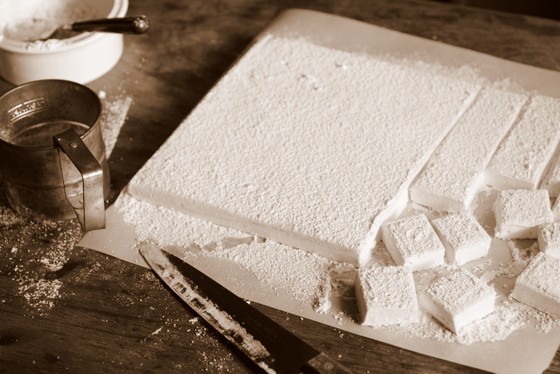 Making marshmallows is not hard, but it takes focus and some organization. But doesn't everything?.
After my fluffy, white, powdered sugared, pillowy squares were done, I felt I should've ventured into something really adventurous for me like a whole fish, which I hate, or boned and stuffed a whole chicken, but well, I wanted it to be fun too, and hey, there's no complaining when there are homemade marshmallows in the house.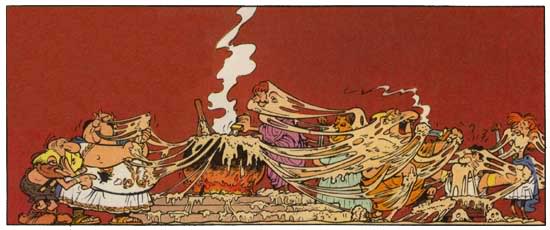 One of my favorite comic books ever is Asterix. I think I read every single one of them, and whenever I find one I read it again. There's a particular scene in Asterix in Switzerland, where they have a huge cheese fondue, and, this being the times of the roman empire and its decadent ways, they play a game that is lost by whoever loses the piece of bread inside the pot, with outrageous consequences for the poor soul, and it all ends with most of them coated by cheese. It's hilarious.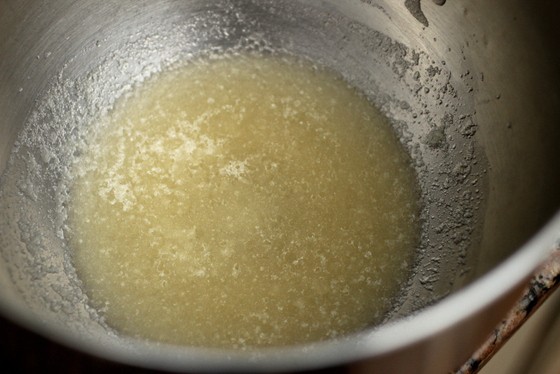 What about the marshmallows right? Well, there are so many stories about impossibly sticky situations in the kitchen when making marshmallows, the mixture coating half the counter, floor, mixer and so on, that every time I thought of making them, I always remembered this scene from the comic book, and was afraid me and my kitchen would go down a similar road.
Of course, extreme precautions were taken, so it was a walk in the park.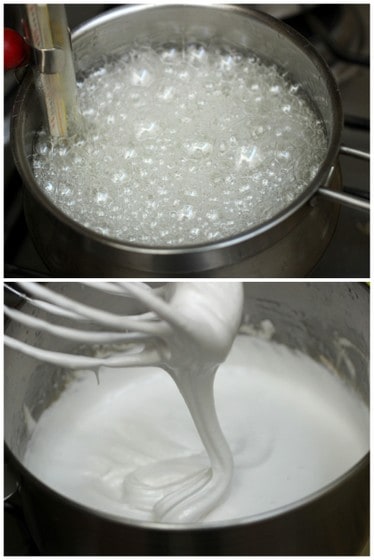 One of them involved the spraying of the pan, which is so emphatically suggested so they don't stick when unmolded, I was certain not to miss it.
I used a butter-flavored vegetable spray, which is awful I know but nothing does it better than the spray, and coated the heck out of every inch of that pan, and made sure, very sure, there was no possibility of it sticking and not unmolding as it should. It certainly did, together with a yellow stain which was very visible.
So go easy on the spray.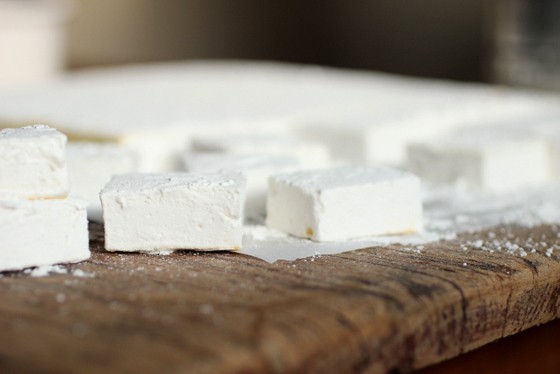 Besides that, these are superb vanilla marshmallows, though I'm not much of an authority on the subject, just like with the graham crackers, since I don't have the commercial ones to taste against. I'm pretty sure not being able to get a hold of those is a good thing.
So it's homemade vanilla marshmallows for me or nothing. I don't mind. After today, knowing there is no sticking involved if I'm careful, I can say the adventure will be the many different flavor possibilities.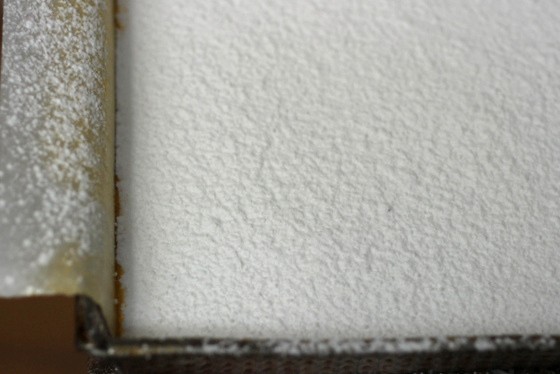 A few tips to make your marshmallow-making easier and as un-sticky as possible:
Have all ingredients ready and measured before you start.
If you use glucose instead of corn syrup, which is even stickier, lightly coat the measuring cup with spray or oil before measuring it. That way it will slide out more easily.
A candy thermometer is essential. And use high heat, otherwise, it will take forever to get to the needed temperature. It takes about 10 minutes anyway.
A stand mixer is highly recommended. It will make the beating much easier.
Line the pan with parchment paper, and spray the sides and spatula that you're using to spread the mixture. And remember to coat with powdered sugar the top and sides so they can easily be stored.
I must add, like my friend Renee left in the comments, don't attempt these on high humidity days.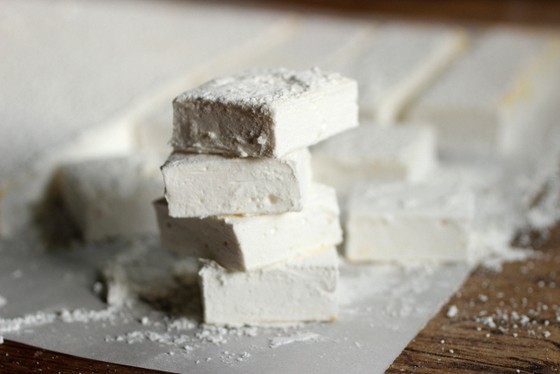 There are some recipes that use egg whites too. I didn't have any and this recipe doesn't use them, which is the one I wanted to try first. So much easier.
Print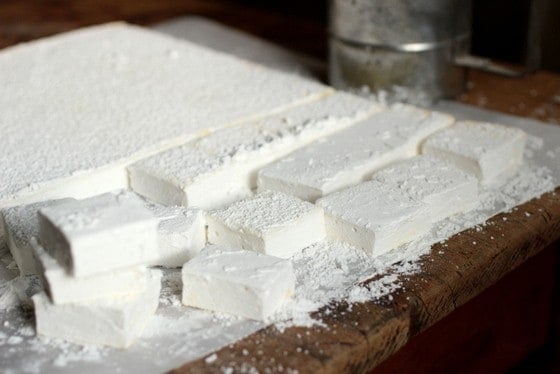 Homemade Vanilla Marshmallows
Yield:

36

small squares

1

x
2

Tbs (20g) powdered unflavored gelatine

½

cup

(120cc) cold water

2 ¼

cups

(450g) sugar

½

cup

(160g) corn syrup or glucose

¾

cup

water

1 ½ teaspoons

vanilla extract

1

cup

powdered sugar (for dusting)
Instructions
Put the first ½ cup cold water in the bowl of the standing mixer.
Sprinkle the gelatin on top and let it hydrate.
Line a baking pan with 2 inch sides with parchment paper and spray the entire surface with vegetable spray. Reserve.
In a medium saucepan, put sugar, glucose or corn syrup and remaining water.
Cook over medium heat until it dissolves, brushing the sides of the pan, just above the mixture, with a wet brush so that crystals don't form.
Increase the heat to high, put the candy thermometer on the pan, and boil until it reaches 248ºF /120ºC, that is between soft ball and hard ball stage.
With the wire whisk, attach the bowl and start whisking the gelatin in the bowl.
Slowly, but constantly, pour the sugar mixture into the gelatin while beating at high speed. Try not to pour it directly over the whisk but between the side of the bowl and the whisk, that way the most syrup will reach the gelatin and not be stuck in the beaters or sides of bowl.
Keep on beating for some minutes until the consistency is fluffy, like a thick meringue. Add vanilla and mix.
Immediately transfer the sugar mixture to the prepared pan, and smooth the top with an oiled or sprayed spatula.
Let dry at room temperature for 1 hour and sprinkle with powdered sugar. Let dry for a few hours until it's no longer sticky and can be unmolded.
When ready, lift the parchment paper, and use an oiled or sprayed kitchen knife to cut it. You can also use an oiled pair of scissors. Dust each square completely with powdered sugar.
Store in an airtight container for up to 2 weeks.
Keywords: vanilla marshmallows, homemade marshmallows
barely adapted from Tea with Bea, by Bea's of Bloomsbury