This is a guide to freezing baked goods and desserts. Use your freezer to save time and add sweet things to your weekly meal planning. Let's talk about how to organize your space plus the best recipes and tips.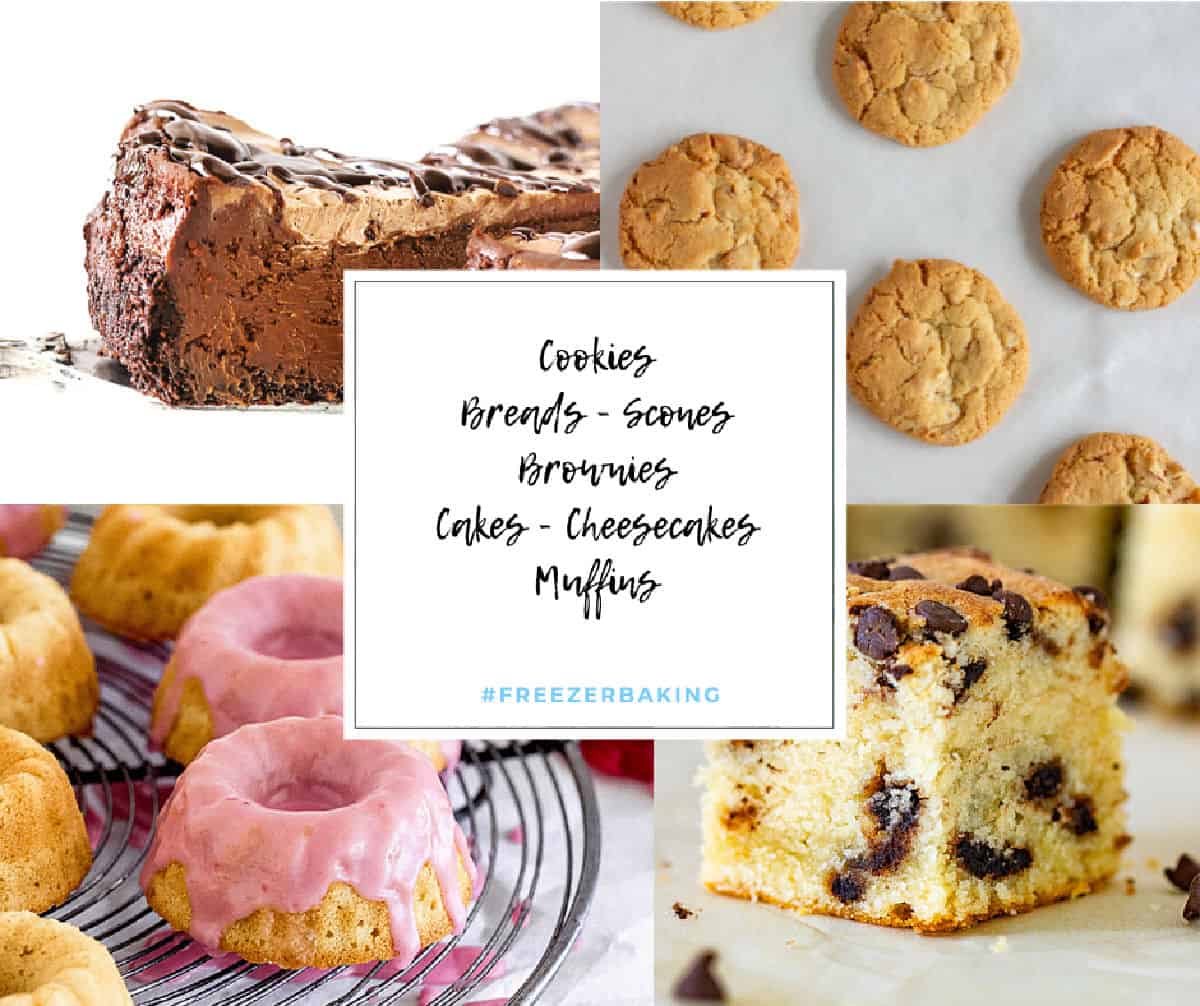 Freezer friendly baking
I think we can all agree that the freezer is our unconditional friend and savior when it comes to meal prep. But it's usually used for savory dishes, dinners and everyday meals.
This is a guide to add baking and dessert to that #bakingprep or #freezerbaking
There are several desserts that can be made and frozen, or at least one or more of its components can. That saves enormous time and allows us to add great sweet somethings to buffet tables, parties, family dinners, and holiday celebrations without having to bake at the last minute.
Let's get into the details.
Organizing
Freezer
The freezer must be taken care of, often. What does that mean?
Defrost it regularly, or the ice removed if it forms and kept clean.
Don't overstuff it and make sure the door closes easily. This might sound like an obvious thing to say but if you have to push hard for it to close well, eventually, without meaning to, it will be left open by mistake. And we certainly don't want that.
Check it often to ensure that everything is well wrapped and space is optimized. What doesn't work is thrown away. So many times we think there's no more space and it turns out that a large chunk of it is taken up by old stuff that we'll never eat anyway.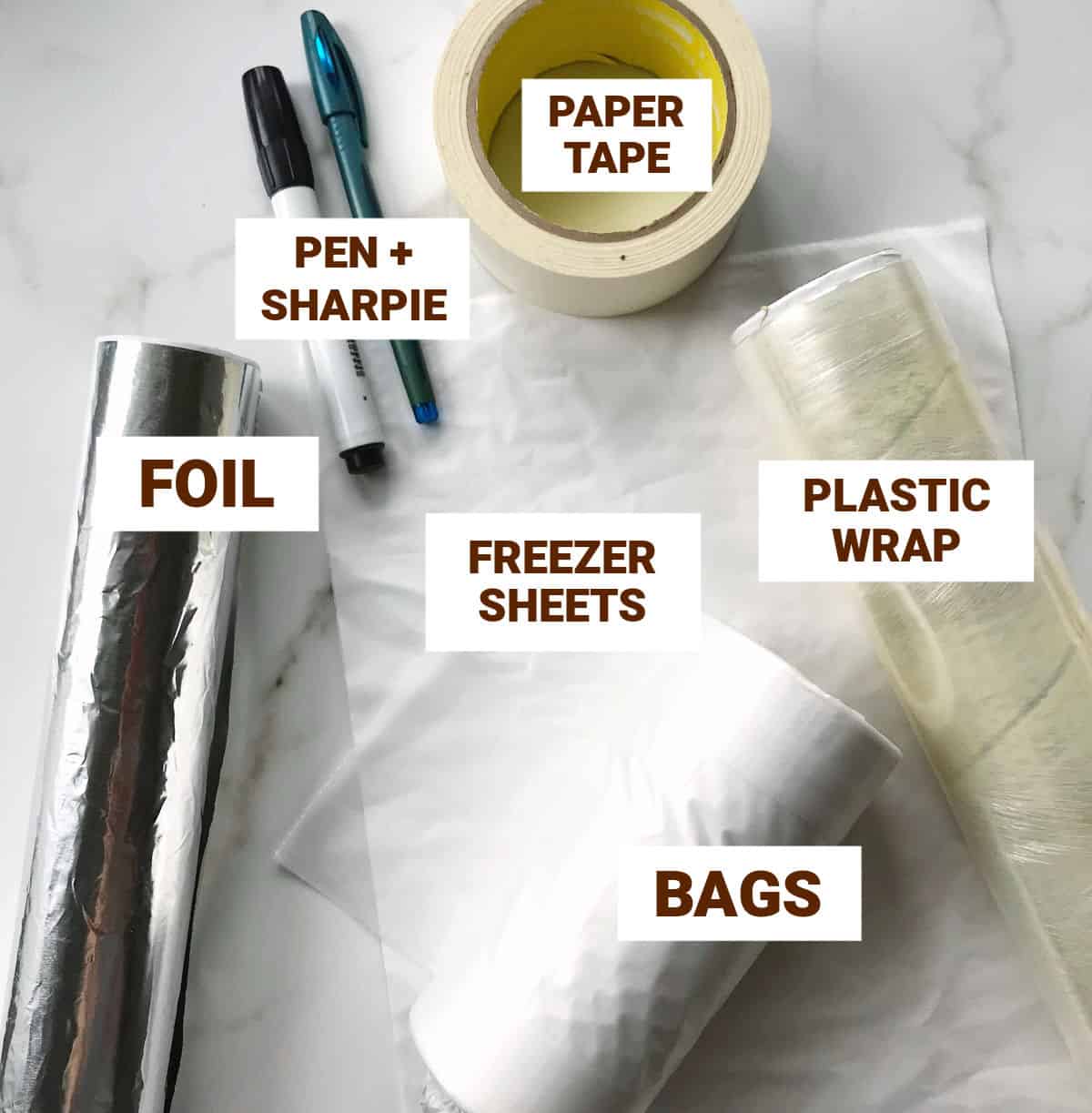 How long does food last?
Up to 1 month, tightly wrapped or well-sealed, food is usually kept in good condition. Most last double that time, but I'm trying to keep this conversation within freezing times that we all know work.
Wrapping
This is essential for preserving frozen food the best we can.
Reusable and eco-friendly wrapping: the first option would be using materials that aid in the conservation of the planet, or however you call it. It's not easy, as many plastic containers, for example, tend to crack when exposed to such low temperatures for long periods of time or are not airtight.
Wrap, bags, and containers: wrap what you are going to store tightly, first in plastic wrap and then in aluminum foil or a sealed/hermetic bag like Ziploc. You can also use freezer containers, Tupperware style. Beware of torn bags or wrappers when defrosting as they may leak. This happens a lot with plastic bags with sharp angles that when frozen can prick other bags when you move them around to make space or take something out.
Labeling: we should always label the bag or container we put in the freezer with the name of the product and the date. It's a must to know when the food was frozen and if it's safe to eat it. We think we'll remember but most times we don't. I've been using paper tape for ages because it's resistant to cold and easy to write on it.
What to freeze?
Here are my absolute favorites to have stored in the freezer.
Brownies - Blondies - Bars
For me, brownies are a must to have frozen at all times.
Having a base of a good basic brownie saves you when you need something sweet in a pinch. Especially when unexpected visits come because you add ice cream or whipped cream and some fruit or some sauce and you have a great dessert.
Also, with the same base, you can put together a Brownie Cake (similar to the Easy Banoffee Cake but with a brownie base) that has layers of dulce de leche and cream or meringue and you have a cake that can even be served for a birthday.
Blondies are the blonde version of brownies. Super easy to make, they are used the same way as brownies.
Dessert idea:

Warm either of them (cut into squares is my favorite way) slightly in the microwave (10-15 seconds) and serve with a little ice cream on top. Such a crowd-pleaser!

Vintage Kitchen Tip
---
---
Cakes - Cheesecakes
One of my favorites things to have frozen at all times.
Layer and Sheet cakes
Both are easily stored in the freezer until they are filled and/or frosted, always very well wrapped. This is the best way to prep your next masterpiece if you're making a tall layer cake. Wedding cakes, for example, are made several days or weeks in advance before putting them together.
For those months where there are many birthdays, you can batch bake the cakes and freeze the layers.
---
---
Pound and Bundt cakes
They are usually simple recipes that keep fantastically well in the freezer. I have frozen the White Chocolate Raspberry Bundt Cake many times for parties and I have to say that it might even be better after a stay in the freezer.
Let them cool completely at room t° and then wrap first in plastic and then in foil (image below, left).
Date and label them before freezing (image below, right).
---
---
To defrost cakes:

The best way is to take them down to the fridge and let them thaw gradually. It will take overnight at least, or more. By the way, it's also easier to fill and frost them if they are refrigerator cold because they are firmer.

Vintage Kitchen Tip
---
Birthday cakes
In addition to freezing cake layers, as mentioned above, there is a whole birthday cake that freezes wonderfully: those naked Christina Tosi-style cakes. Or so I call them.
The layers and filling are built directly inside a mold ring. You freeze the whole thing, well wrapped of course. When you take out the hoop you have a birthday cake with irregular layers. Simply let it defrost until able to cut and serve.
Make sure the filling is something that can be frozen easily, like a mousse. This way you can have a birthday cake ready in the freezer. Don't tell me it's not a cool thing.
For the recipe, go to this link for Momofuku Birthday cake on Liv's blog. It has super detailed instructions for making and freezing it.
Cheesecakes
A classic cheesecake is another recipe that is a VERY good idea to have frozen at all times. Probably my favorite make-ahead dessert.
Keeps extremely well - I might even say most cheesecakes actually come out better and creamier after a stay in the freezer.
A great dessert - it's easy to transform it into a great dessert, they just need a good sauce and you're set to go! Use a red fruit jam, chocolate sauce, dulce de leche or even fresh fruit. The cheesecake thaws while you eat and you can make it weeks in advance.
---
---
Cookies
Freezing cookies is the best way to have freshly baked ones whenever you feel like it.
Scooped raw portions: this means that you make the dough, scoop it in the baking sheet and pop it in the freezer (image below). Once they are rock solid you can transfer them to a bag, just like we do with homemade gnocchi. This saves a lot of space in the freezer.
To bake: simply pop the frozen morsels on a baking sheet and bake as directed in the recipe. They may take a minute or two more because of how cold they are.
Baked cookies: of course you can also freeze them after they are baked. Wrap them well and defrost at room t°.
---
---
Bread - Scones
Bread - homemade bread is a one-way ticket. There's nothing like the smell of freshly baked bread at home, it saves a lot of money and time, and it's so delicious!
Slice it first: this is my recommendation. Most frozen bread will be toasted before eating, so slices are the way to make your life easier. Simply pop the frozen bread in the toaster or oven.
Freshly baked rolls: I like to freeze them while very slightly warm. My experience is that they remain more tender when they thaw. Always pop them in the oven right before eating so you can enjoy them warm!
---
---
Scones - if there is one good thing about making scones and freezing them unbaked, it is that you can make a large batch and keep them frozen for when you crave them freshly made and warm.
Unbaked: cut them, place them in a baking sheet and freeze. When they are rock solid transfer them to a bag (image below), seal and label it. They are baked frozen directly from the freezer.
Already baked: make sure they are well wrapped. It is not the same as eating them freshly made, they lose a little that fluffy texture. But they are wonderful anyway, especially if you warm them before eating.
---
---
Muffins - Quick Breads
Both are breakfast and brunch favorites and having them frozen means you can eat them warm every morning. And, for those like me, who don't eat much breakfast, it's a great way to have a bite before starting the day.
Most muffin recipes can be made in a loaf pan and vice versa.
Muffins: freeze them baked when they get to room t° or very slightly warm. Freeze them individually making sure they are not crowded and smashed against one another. Defrost directly in a low oven (220°F or so) or at room t°. I recommend warming them slightly before eating, so delicious.
Quick breads: slice it first if you want to eat it toasted, one slice at a time. Simply pop the frozen bread in the toaster or oven. Freeze it whole if you want to serve it at a breakfast or brunch table. Defrost in the refrigerator if you have time (my recommendation) or at room t° if you don't have that much time.
---
---
Desserts
Some desserts are made for the freezer. And some can be adapted, like the cheesecake idea we mentioned above.
Icebox cakes: they come together quickly and are incredibly versatile. Most use cookies and cream so you can choose your favorite flavors for both the cookies and the creams.
Flourless chocolate cakes:this is the ultimate chocolate dessert that looks sophisticated and is insanely delicious even though it's gluten-free. A slice with a dollop of whipped cream and/or a fruit sauce will take you far when it comes to stunning desserts.
---
---
Crumbles - Cobblers - Dump cakes: they are the ultimate easy fruit desserts ever! You can freeze the streusel itself (crumble mixture or topping) and many fruits. So it's as easy as throwing everything together in a dish and baking it while you eat. In the case of cobblers made with pie dough, it's just as easy because doughs can be frozen for months. Fruits - for me, berries come first, then stone fruit.
---
---
Dessert bases: we mentioned cheesecakes and brownies above, but I want to emphasize how having these frozen can save you with a last-minute amazing dessert! Serve a slice or square of either with a sauce or scoop of ice cream and be prepared for happy comments and happy guests.
Ice Creams: of course, we can't leave them out. Especially the no-churn ice creams that can save the whole summer. So easy to make and such crowd-pleasers!
---
---
So that wraps it up!
This post will be updated regularly with more ideas and tips that I'm sure will come to me in the future. If you have questions please leave a comment below 👇🏻
Batch bake, freeze and make your life much easier!
I'm very grateful to you all ❤️
~ Paula