Easy summer dessert: a lemon no-bake cheesecake with swirls of passion fruit curd. Wonderfully fresh and festive, you can use purchased curd and save yourself a step. This dessert originally has no gelatin, so it's meant to be eaten cold and kept in the freezer. But, I added the variation with gelatin in case you want to use it.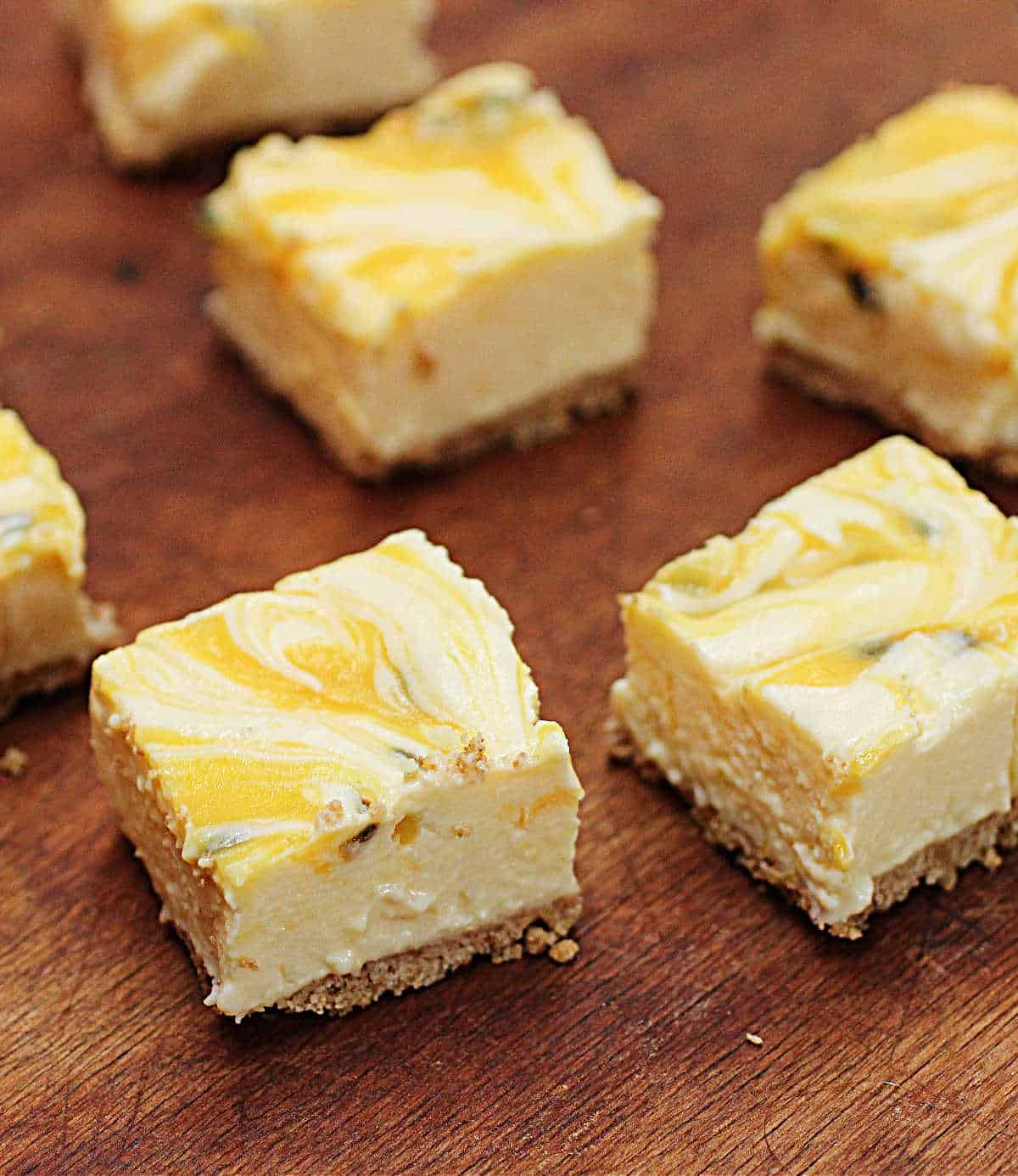 This was an experiment I made for a family gathering and it was such a success that I'm posting it as is. When you are in charge of dessert for a relatively large celebration the flavors should be kept among the usual suspects: lemon, chocolate, strawberry, dulce de leche (this is Buenos Aires after all), seasonal fruits, and not many more.
I always chose dessert recipes that can be multiplied so I don't have to worry if they eat more than usual. Fruit crumbles are always at the top, followed by something with dulce de leche and cream or a chocolate recipe.
But then, I decided to improvise and use a jar of homemade passion fruit curd I had and make a no-bake cheesecake for the first time.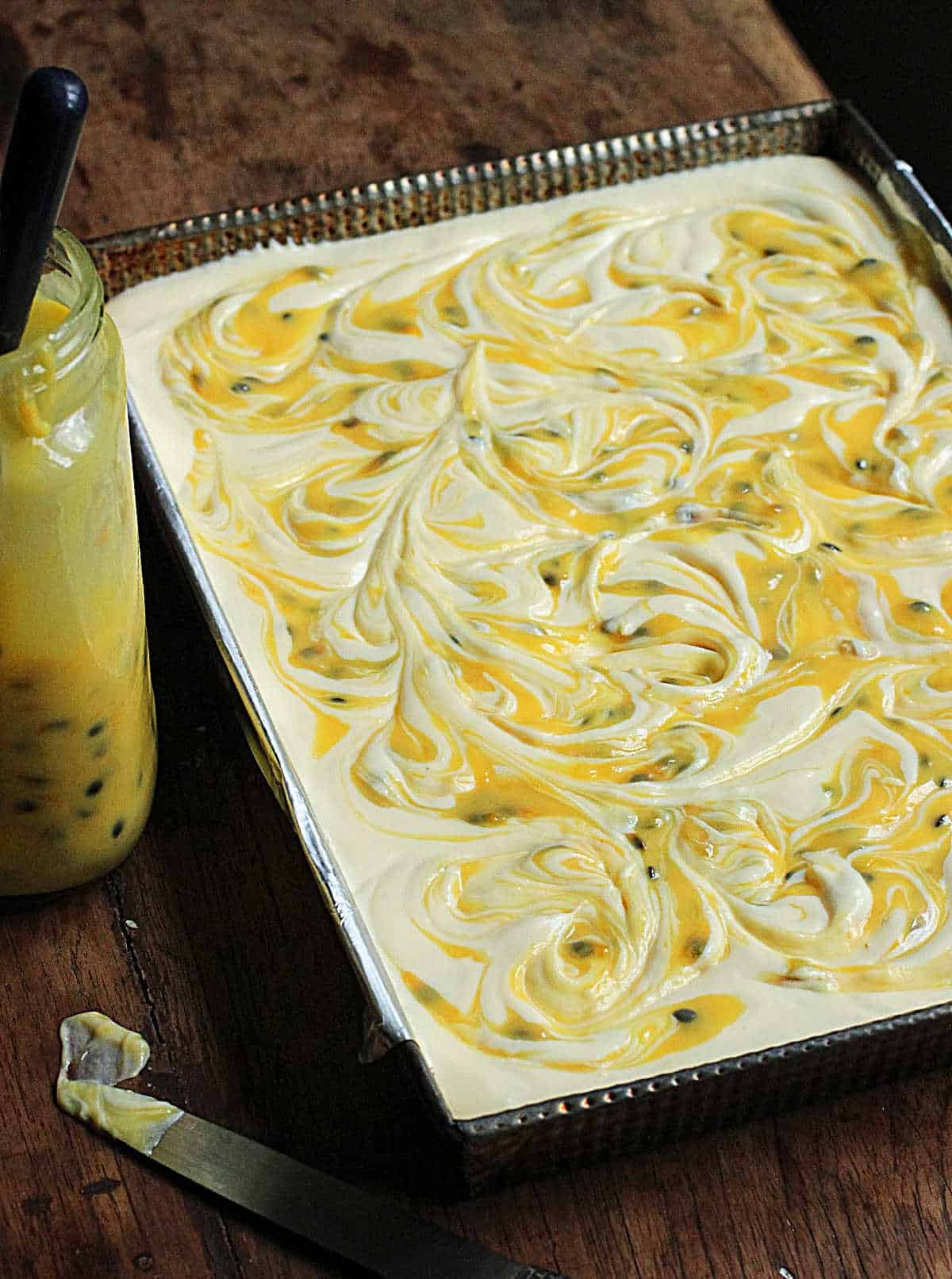 What is no-bake cheesecake?
Just in case you're only familiar with the traditional baked cheesecake, the no-bake variation is what the name implies: it's never baked so it's perfect for summer or when you don't want to turn on the oven.
I made a Complete Guide to No-Bake Cheesecake that you absolutely must read if you like this type of dessert.
Ingredients in a no-bake cheesecake include cream cheese and sugar or condensed milk (as I did with this recipe), whipped cream, maybe sour cream, and flavorings. What it doesn't include are eggs because we should not eat raw eggs and all that. This is why some use gelatin, to give it structure, something that naturally happens when you add eggs and bake a cheesecake.
I marbled the top of mine with the passion fruit curd (image above) and flavored it with lemon because these two flavors bring out the best in each other.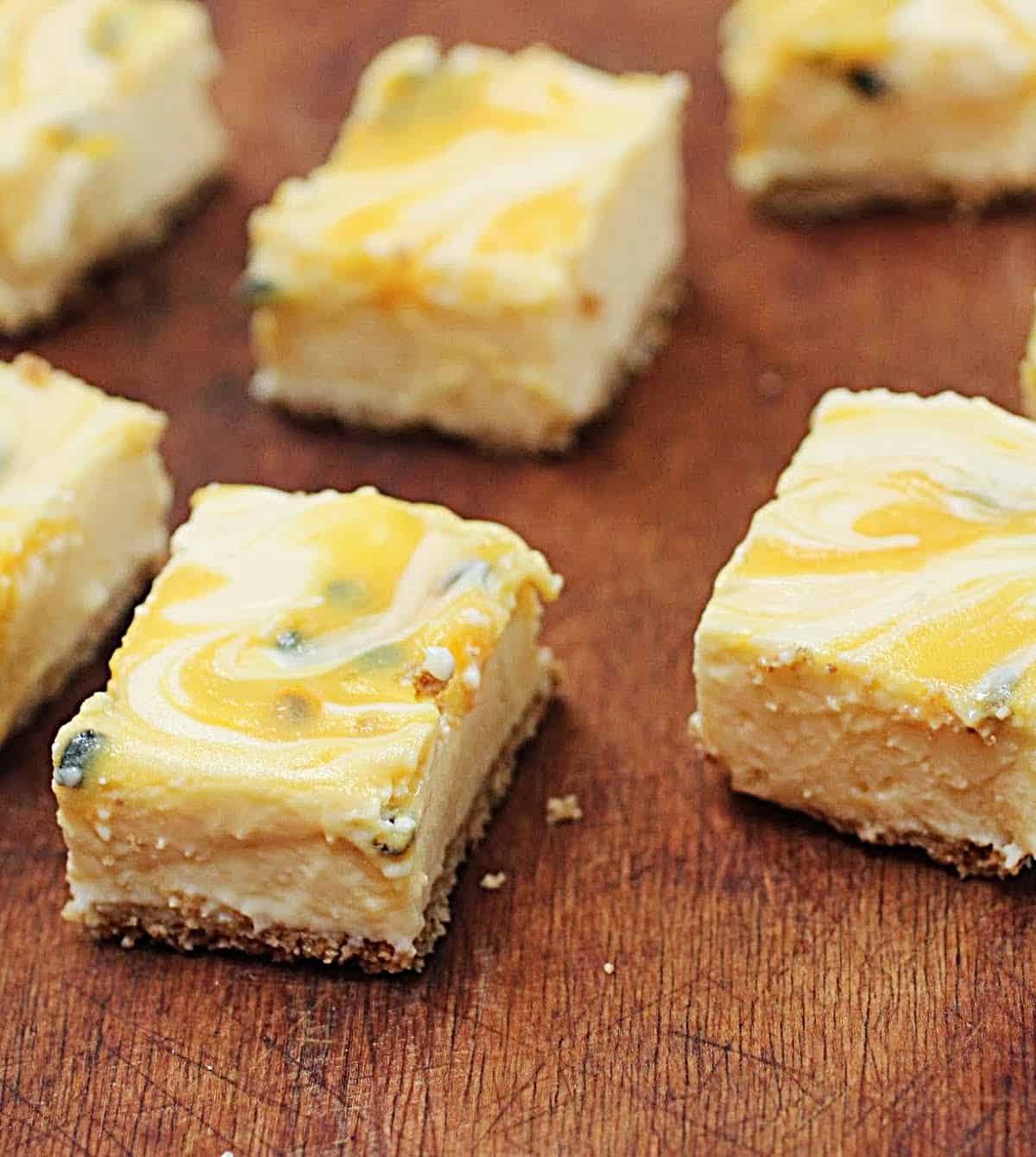 Homemade curd
The most common citrus curd is lemon, but I made mine with fresh passion fruit pulp and seeds. The process is similar to making pastry cream, sort of.
It is an extra step, but you can easily make this no-bake cheesecake with purchased curd or even a good raspberry jam. It pairs wonderfully with the lemon in the cheesecake.
The process is easy: you mix the pulp with the rest of the ingredients except butter, which you will melt in a saucepan, and then add the fruit mixture. After that, you simply stir and watch closely until it appears like it will start to boil. But you don't let it boil. At that point, the mixture will thicken somewhat and it will continue to do so after it cools down and it's refrigerated.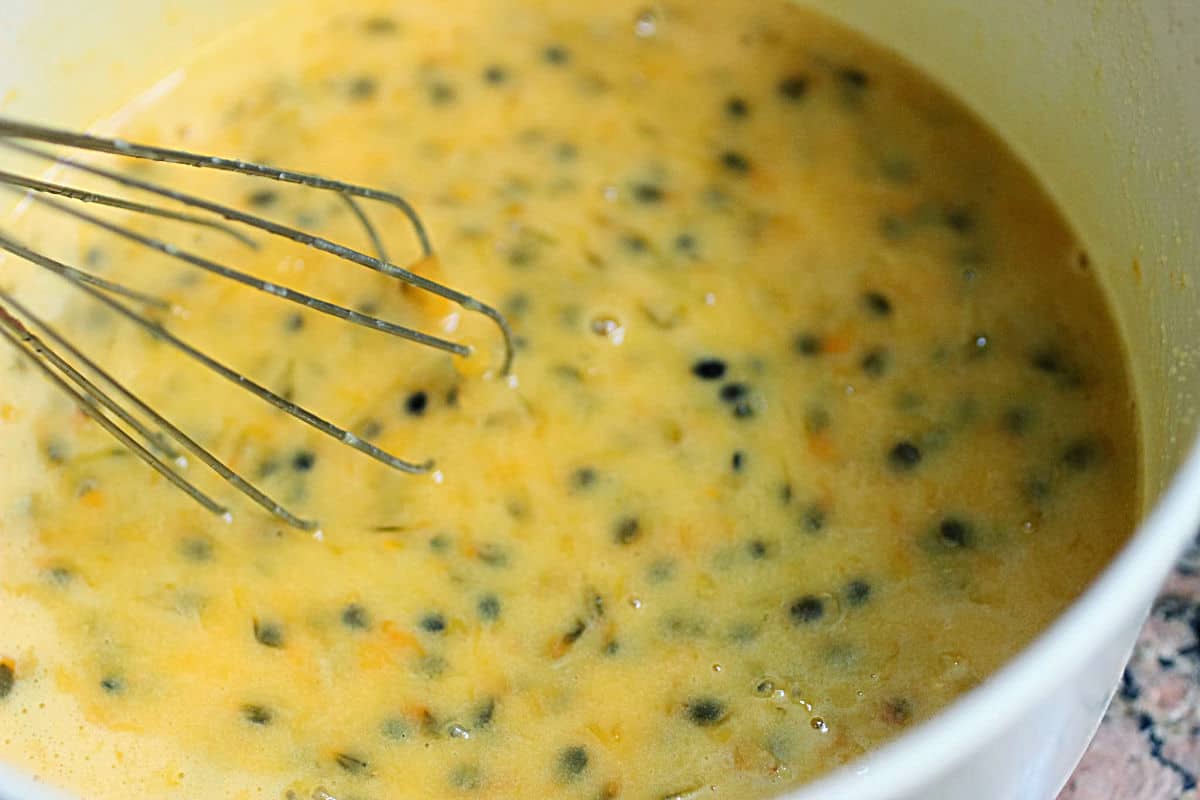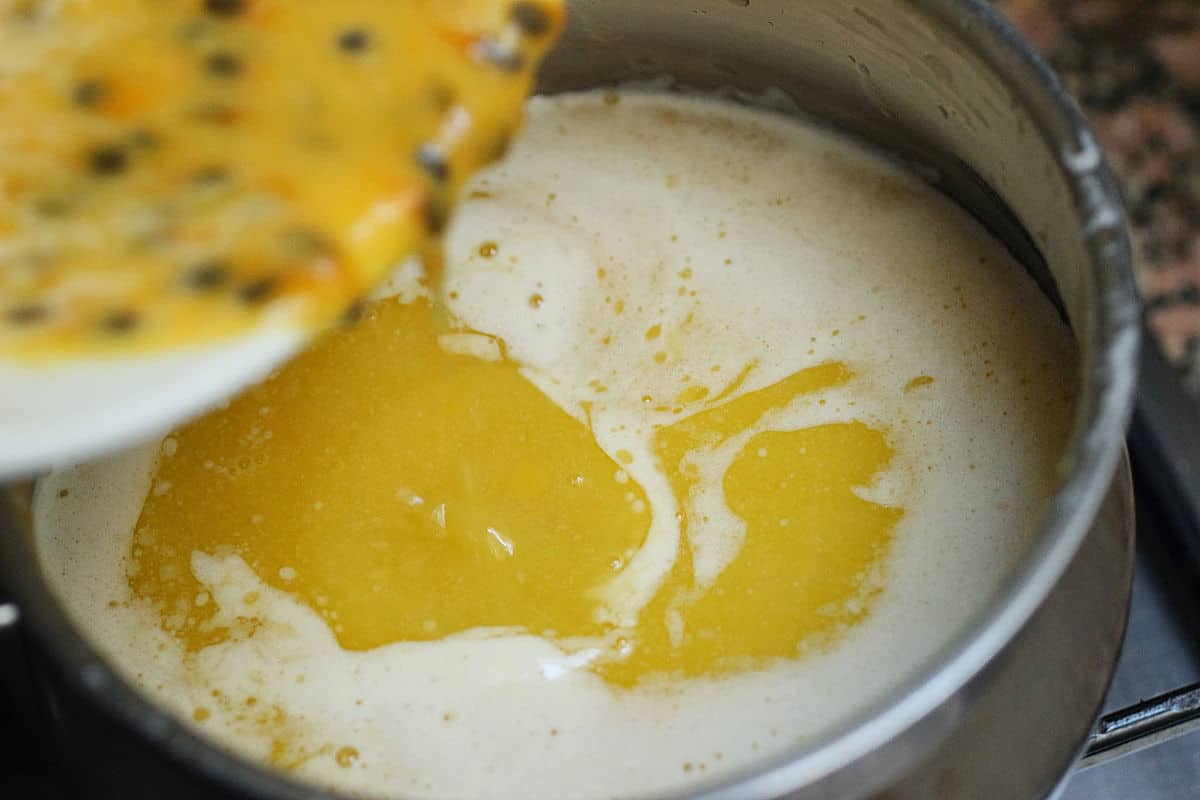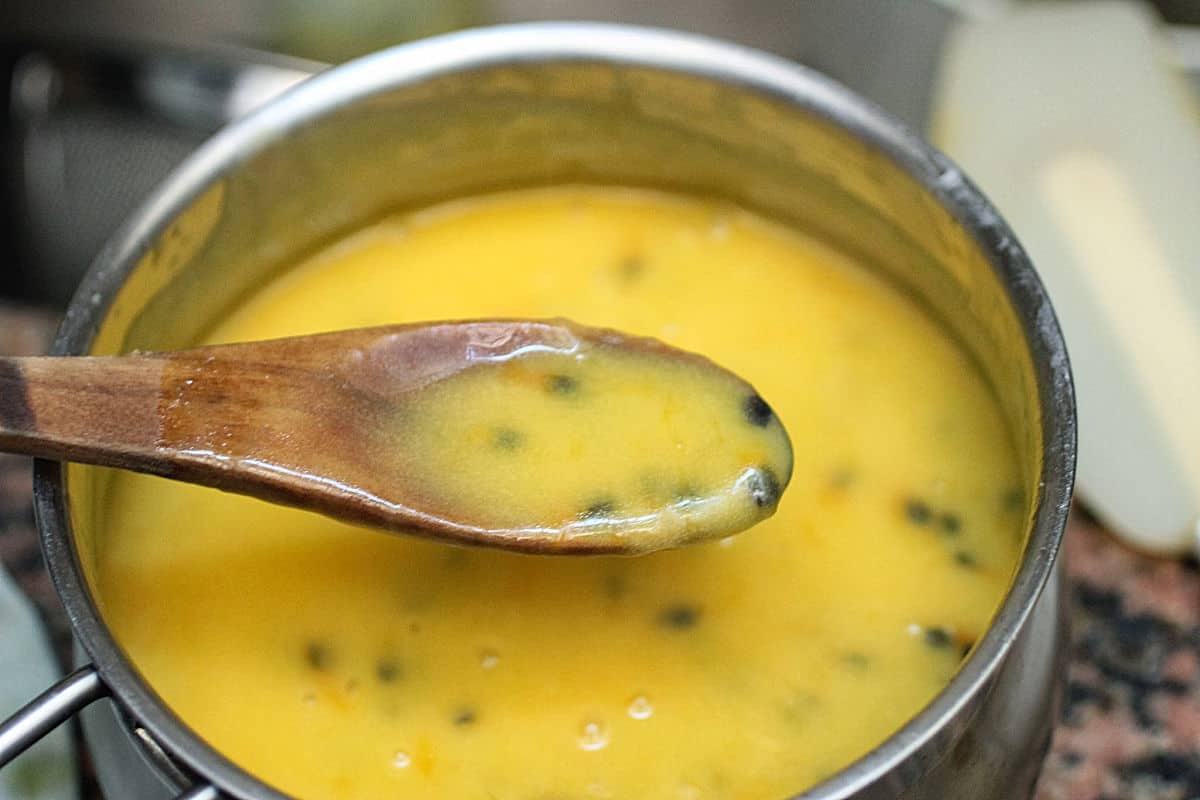 Remember to marble the top of the cheese filling but not overdo it. You want to bite into pools of curd separated from the cheese.
Storing curd
If you are in the habit of sterilizing jars it's always the best choice because the curd will keep longer. I hardly ever do it because I use it in a week or so, and it lasts well in the refrigerator, always with a tight-fitting lid.
Here is a link for sterilizing jars for canning, in case you're going that route.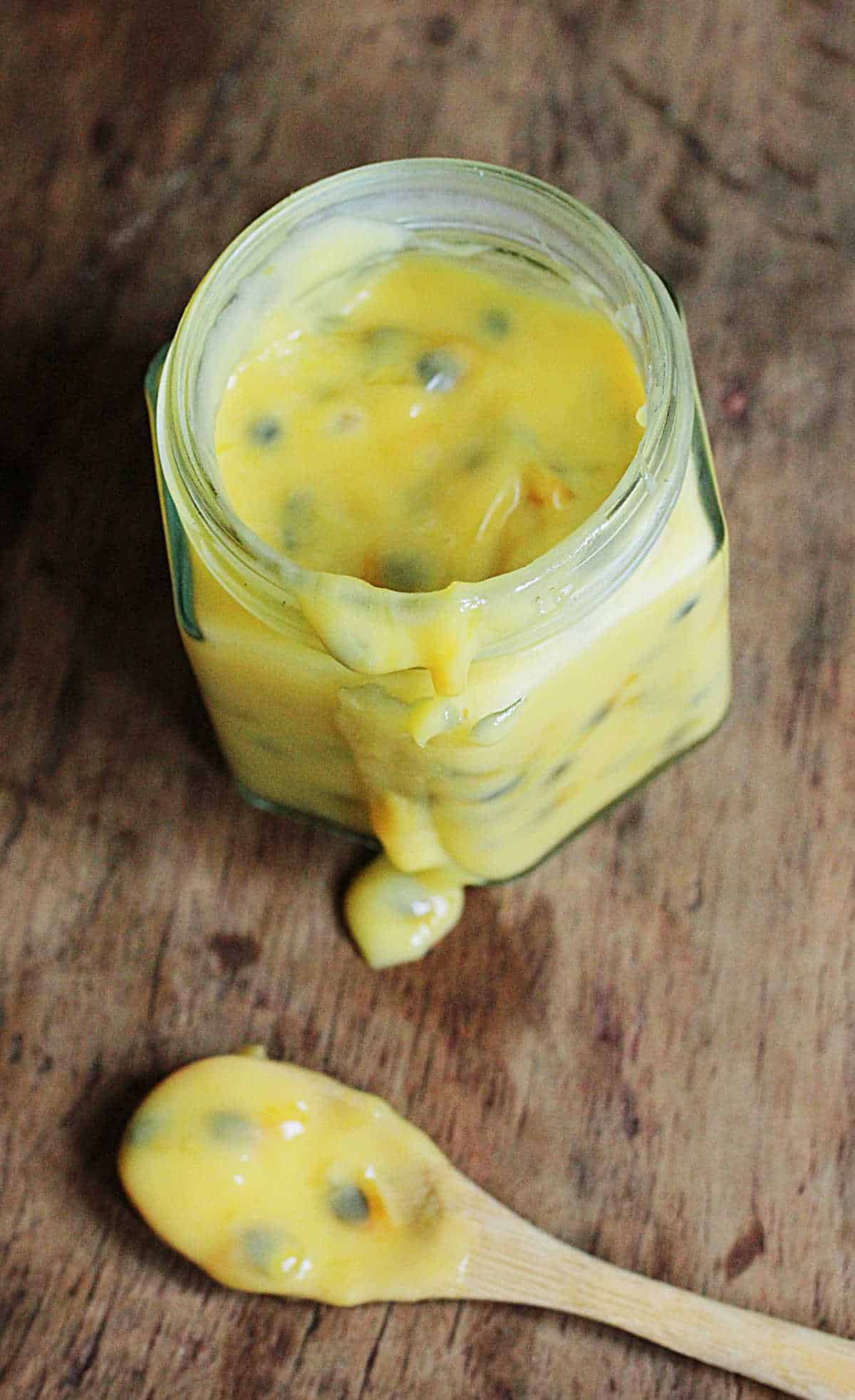 Top tips
Organization: always read the recipe first and make sure you have all the ingredients, at the right temperatures, and also the rest of the equipment and space to make it. This will make the process so much easier!
Baking time: keep in mind that all ovens and pans are different, even if they look the same or very similar. The baking time in my recipes is as accurate as it can be, but it might take you more or less time. You can use a thermometer that is placed inside the oven (like the OXO oven thermometer) to check that your oven is at the right temperature. I recommend you keep track of how your oven works and what tiny details you might need to adjust.
Cookie base: you can use a regular graham cracker crust base that doesn't use brown butter, it will save you time.
Curd: you can use purchased curd (lemon is easily available) or use a good raspberry jam for a different flavor combination.
Freezing: if not using gelatin (I don't) you have to freeze it and take it out when you're ready to serve. If you add gelatin you can keep it in the fridge. Instructions are in the recipe below.
Pan: you can use a regular 8-inch cake pan with a removable bottom and make half the recipe.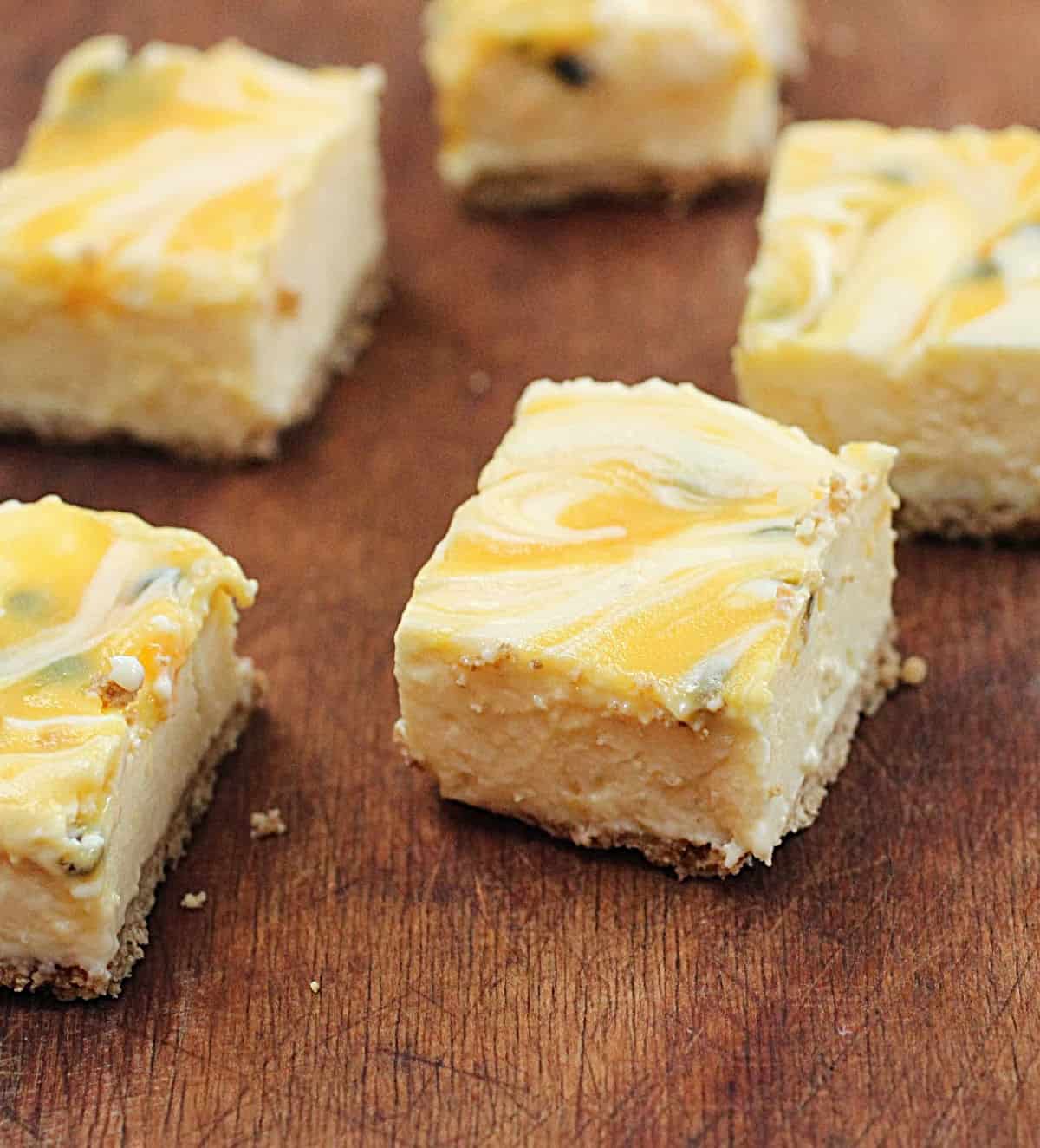 ---
Related recipes you might like:
---
Let me know in the comments below if you made this recipe and loved it and if you had issues so we can troubleshoot together. I love to hear what you think, always. Thanks for being here. It's much appreciated.
You might also consider subscribing to our FREE email series to Boost your Home Baking Skills! And our regular newsletter.
And let's connect via Facebook, Instagram, and Pinterest.
Print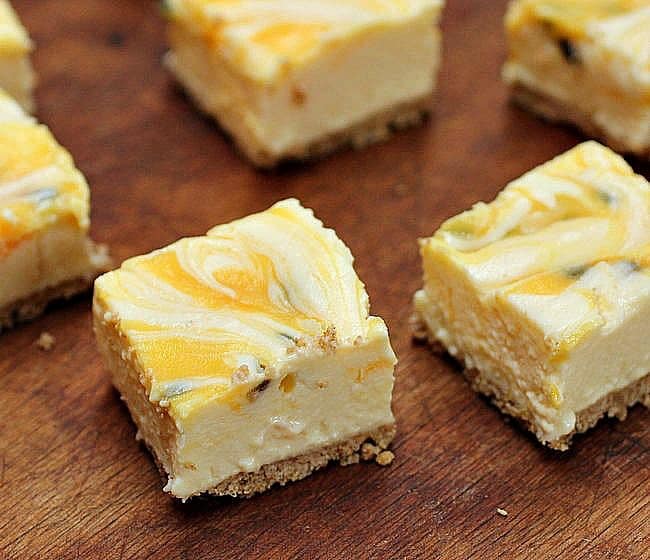 Passion Fruit Lemon No-bake Cheesecake
A wonderful and easy recipe for no-bake lemon cheesecake, marbled with passion fruit curd and with shortbread base. A crowd pleaser!
Total Time:

2 hours 45 minutes

Yield:

12 servings
For the passion fruit curd: see Notes below
5

egg yolks

1 ½

cups

passionfruit pulp with seeds and juice

½

cup

lemon juice

7

oz

(200g) unsalted butter

½

cup

sugar
For the no-bake lemon cheesecake:
2

cups

graham crackers or vanilla wafers crumbs

½

cup

(115g) butter, browned and cooled (find step-by-step instructions here)

1

pound

+ 5oz (600g) cream cheese, room temperature

2

cups

(500g) whipping or heavy cream, room temperature

1

can (14oz or

400g

) condensed milk
Zest of

2

lemons

½ teaspoon

vanilla extract

1

cup

passionfruit curd
Instructions
For the curd:
This makes a lot of curd, and you can use it for other things like cakes, pavlovas, or waffles, or make half the recipe which is more than enough. See Notes below.
In a bowl, whisk together egg yolks and sugar for 1 minute. Add passion fruit pulp, lemon juice, mix well and reserve.
In a heavy-bottomed medium saucepan, melt the butter without letting it boil. Add the yolk mixture, and cook over low/medium heat, stirring constantly, until the mixture begins to thicken about 5 minutes. Don't let it boil.
Transfer to sterilized jars or a container and keep refrigerated. Makes about 2 ½ cups.
For the lemon cheesecake:
Prepare a crumb base mixing crumbs with the brown butter until it resembles wet sand.
Line a 9x13-inch (23x33cm) pan with 2-inch sides with aluminum foil, letting it hang over the two long sides (the short sides won't have foil). Pat the crumb mixture evenly over the bottom. Refrigerate while making the filling.
Beat the cold cream in a medium bowl until medium peaks form when the beaters are lifted. The tip will fall slightly and the cream will have some consistency but not be completely firm.
Beat cream cheese until smooth in a large bowl.
Add the half whipped cream and beat until beginning to thicken about 1-2 minutes. The peaks when you lift the beaters should be quite firm but with a slight drop.
Stir in the condensed milk, lemon zest, and vanilla, and mix well.
Pour the cheesecake mixture over the prepared base.
Add dollops of passionfruit curd all over the batter, using about 1 ½ cups of the curd mixture. With a smooth-bladed knife, swirl it lightly.
Refrigerate for 2 hours, or until it's firm enough to cut. Or freeze it, well covered in plastic wrap first, and then aluminum foil.
Serve cold.
Take out of the freeze about 15 minutes before serving. Cut into squares and serve.
Notes
Gelatin: if you want to add gelatin to it, use 1 teaspoon unflavored powder dissolved in 5 teaspoons cold water. Melt it over a stove, the bowl barely touching the flame, or in a skillet with an inch of simmering water. Let it cool to lukewarm and add it to the cream cheese mixture before pouring it into the mold. If you're not used to working with this ingredient, but want to, here's a 'How to Use Gelatin' tutorial.
Passion fruit curd: this recipe makes about 2 ½ cups, which is more than you need for this cheesecake. You can use it for other cakes, cupcakes, and desserts.


You can also make half the recipe using

: 3 egg yolks, ¾ cup passion fruit pulp, ¼ cup lemon juice, 3.5 oz (100g) unsalted butter, ⅓ cup sugar. It will take less time to thicken, maybe 3-4 minutes.
Passion fruit pulp: I simply mash it with a fork as much as I can. It ends with some thicker parts, but I like that. And it's much simpler. If you want a very smooth pulp, strain it to extract as much juice as you can, separate the seeds, and process the pulp. Add it to the juice with the seeds. I don't see the point in doing this.
Cookie base: you can use a regular graham cracker base and it will save you time (not browning the butter and all that).
Curd: you can use purchased curd (lemon is easily available) or use a good raspberry jam.
Freezing: you have to freeze and then take it out when you're ready to serve. You can also add gelatin so you can keep it in the fridge. Instructions are in the recipe below.
Pan: you can use a regular 9-inch cake pan with a removable bottom and make half the recipe.
Author:

Paula Montenegro

Prep Time:

45 minutes

Freezing time:

2 hours

Category:

Dessert

Method:

Mixing + Freezing

Cuisine:

International
Keywords: passion fruit cheesecake
Curd recipe adapted from How to be a Domestic Goddess, by Nigella Lawson