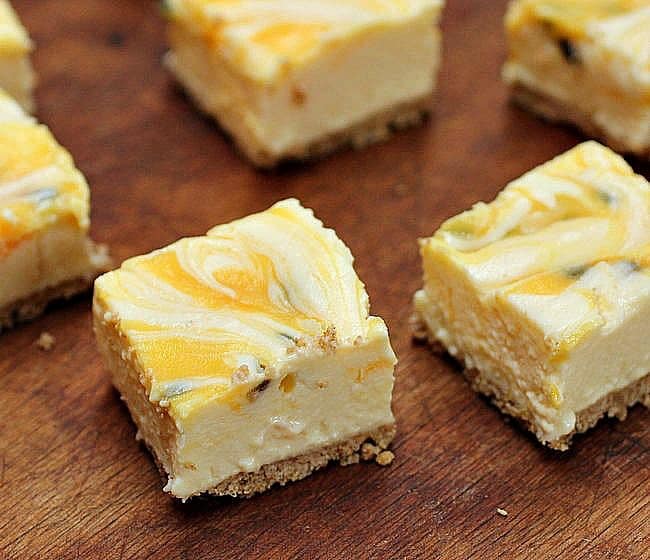 In the 
middle of a  thunder storm, loud and 
ugly, this past Saturday I found myself cooking for thirty five persons, all 
friends of my father's who was celebrating his birthday. With still more than a 
week till the beginning of spring, these past three days downright hot like 
today's 33ºC (90ºF), the only day it 
poured buckets
, starting at 2am and stopping past 7pm, was the one I had to transport myself quite a few miles north and set up 
table for many, hoping they would all show up. 
I always have a what-if-only-a-few came to my party moment? Or worse, nobody? Of course I had help, but food is stressful to serve to many, and what if they don't like it?
The feast was similar to the one two years ago, with a lotta meat and chorizos grilling, simple salads and more sophisticated ones, a nice amount of wine to keep their eyes off the pouring rain and finally trays of sweet squares of three kinds, the hazelnut brownies which I made with almonds and that have become the chocolate fix among my friends – and now among my father's friends -, the dulce de leche coconut bars because they never fail to have people licking their fingers and finally this passion fruit lemon cheesecake, a no-bake thing I put together two days before because I had made a curd with the leftover yolks from the floating island, and you always need some citrus when feeding a crowd.
Chocolate and citrus, you can never go wrong with those two flavors.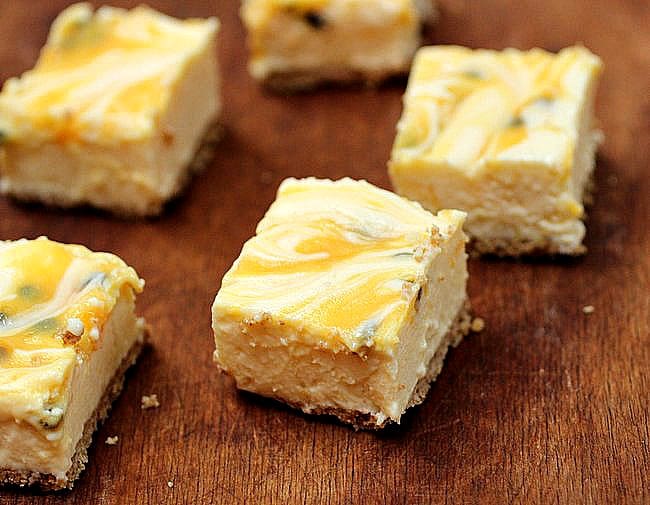 I didn't 
think it would be so well received, my dad's girlfriend calling the next day 
saying that everyone had raved so much about the cheesecake but she hadn't been 
able to taste it, being a hostess and all, not knowing that a few slices had 
been stashed by me in the freezer and then forgot about it, so they never got 
served. I could hear her happy dance through the phone when she opened the 
freezer.
Family squeals aside, I thought this cheesecake needed a few tweaks still, but since a lot of foodies had a very different opinion last Saturday and proclaimed it one of their favorite things I ever made for them – and trust me I have cooked and baked a lot of times for this crowd – I'm sharing it with you today. Just as I made it that day.
It needs freezer time, otherwise, it's too soft to eat without forks, which was exactly my intention that day, because I didn't want to add any gelatin to it. But if washing forks is your thing, or your dishwasher's thing, or don't want to encourage finger licking as a thing, go ahead and serve it on a plate. I would freeze it anyway, and take it out 10 to 15 minutes before serving it. You can also use a round cake mold and serve slices as you would any cake.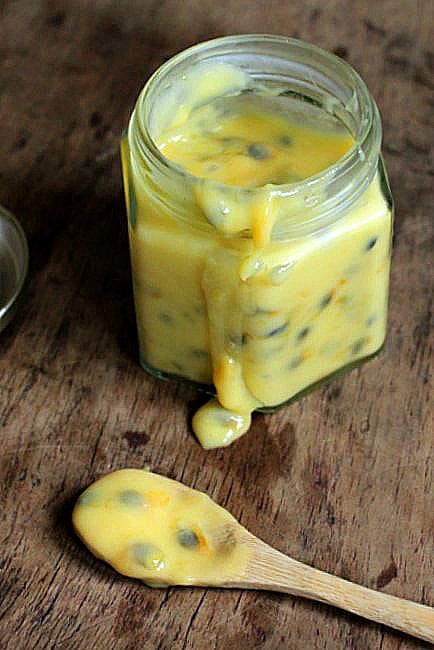 Print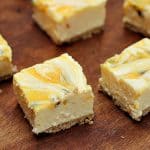 Passion fruit lemon no-bake cheesecake with brown butter crust
---
Description
If you want to add gelatin to it, use 1 teaspoon unflavored powder dissolved in 5 teaspoons cold water. Melt it over a stove, the bowl barely touching the flame, let it cool to lukewarm and add it to the cream cheese mixture before pouring it into the mold. If you're not used to working with gelatin but want to, here's a tutorial.
About the passion fruit pulp, I simply mash it with a fork as much as I can. It ends with some thicker parts, but I like that. And it's much simpler. If you want a very smooth pulp, strain it to extract as much juice as you can, separate the seeds, and process the pulp. Add it to the juice with the seeds. I don't see the point in doing this.
---
Scale
Ingredients
For the passion fruit curd:
5

egg yolks

1 ½ cup

s passionfruit pulp with seeds and juice

½ cup

lemon juice

7 oz

200g unsalted butter

½ cup

sugar 
For the no-bake lemon cheesecake:
2 cup

s graham crackers or vanilla wafers crumbs

½ cup

115g butter, browned and cooled (here's a tutorial)1 pound +

5oz

(600g) cream cheese, room tº

2 cup

s 500cc cream, room tº

1

can condensed milk
Zest of

2

lemons

½ teaspoon

vanilla extract

1 cup

passionfruit curd
---
Instructions
For the curd:
In a bowl, whisk together egg yolks and sugar for 1 minute. Add passion fruit pulp and reserve.
In a heavy bottomed medium saucepan, melt butter without letting it boil. Add the yolk mixture, and cook over low/medium heat, stirring constantly, until the mixture begins to thicken, about 5 minutes. Don't let it boil.
Transfer to sterilized jars or a container and keep refrigerated. Makes about 2 ½ cups.
For the no-bake lemon cheesecake:
Prepare a crumb base mixing crumbs with the brown butter until it resembles wet sand. Line a 9×13-inch (23x33cm) pan with 2 inch sides with aluminum foil, letting it hang over the two long sides (the short sides won't have foil). Pat the crumb mixture evenly over bottom. Refrigerate while making filling.
In a large bowl, beat cream cheese until smooth. Add cream and beat for 2 or 3 minutes, until beginning to thicken. Add condensed milk, lemon zest and mix well.
Pour over prepared base. Add dollops of passionfruit curd all over the batter, and with a knife, swirl it lightly.
Refrigerate for 2 hours and then freeze until ready to serve.
Take out of the freeze about 15 mintues before serving. Cut into squares and serve.
curd adapted from How to be a Domestic Goddess, by Nigella Lawson