Me and cherries, we've had a torrid love affair for decades, a very unbalanced one I might add.
On my part I keep my end of the bargain and consistently put them way up there in the fruit love list, rush to buy them whenever they make an appearance and never ever look at the price.
The problem is right there, in the sentence before. They make an appearance sporadically, for a short few months, if that.
Quite unbalanced relationship as I was saying.
Still, when I saw a
sweet cherry crumble for two
among the list of dessert recipes in Melissa's blog,
Brooklyn Locavore
- which implies the use of locally grown ingredients and a very conscientious way of eating, something I find very inspiring -  my feelings for those little red darlings rushed to the surface, untouched by the long absence. It's my first post with the
Secret Recipe Club
, and I think it well deserves a bowl of sweet cherries.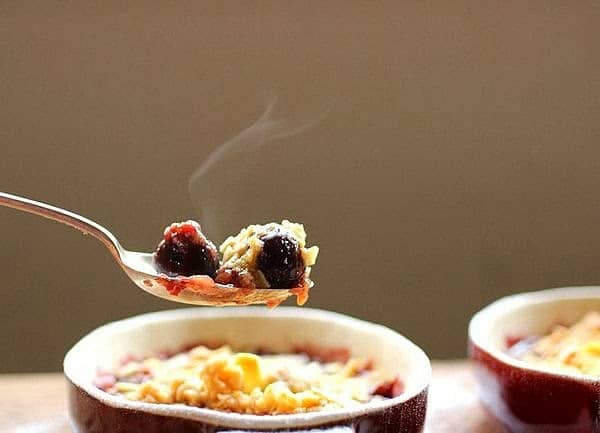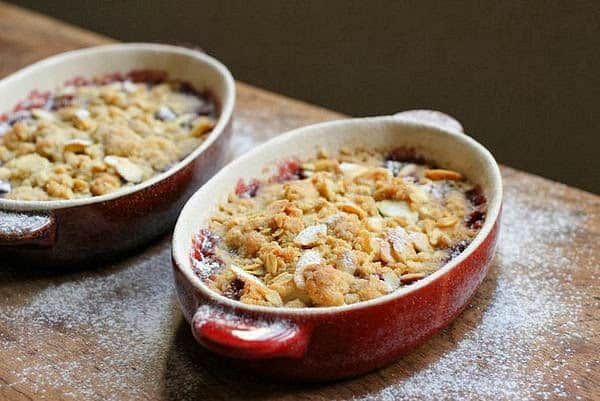 Last summer I froze some perfectly ripe ones, ready to make my winter less wintery, along with raspberries and blackberries. They have already appeared in the berry ricotta squares, the stellar blackberry cheesecake ice cream and the cherry caipiroska.
Now, aren't crumbles one of the best desserts ever? They take little time to prepare, almost any fruit can be used, no need for baking or knife skills, rustic is what we should aim for, and are meant to be eaten directly from the pan. Perfection really.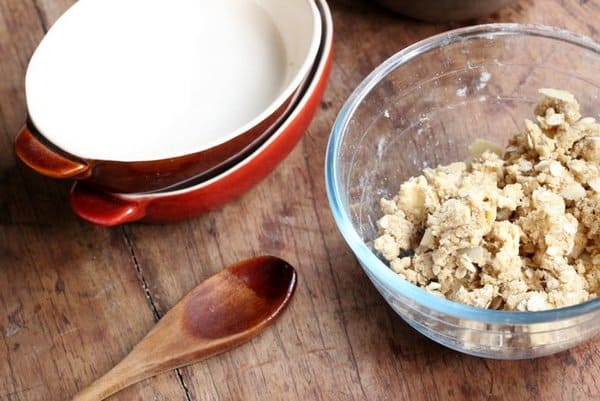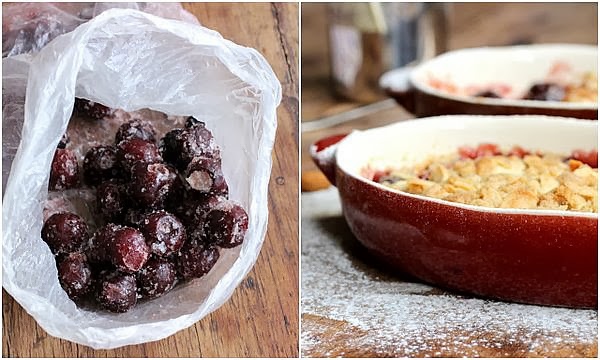 The winter days have been quite disobedient this season thowing spring temperatures every other week. You put on the gloves and extra blanket, you take off the gloves and extra blanket, you long for a hot chocolate the day after sipping strawberry caipirinhas outside, you find sweet fantastic strawberries in the market while making a lentil chorizo stew at home. You get the idea.
How about a bubbly cherry crumble with almonds and oats on top? A generous one too, these ramekins turned out to hold a more than decent portion for one, but who's counting if we're eating cherries.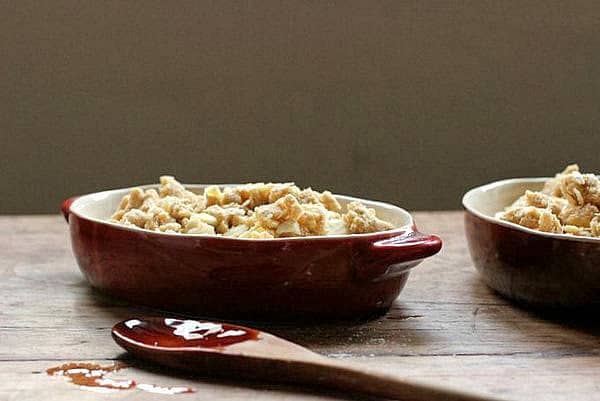 So my first tought was to make a gluten free crumble with cherries.
Like any type of diet or cooking technique it's not hard once you understand what works and what ingredients are available. It turns out that the amount of different gluten free flours available is mind blowing. I had made a similar one a month ago, with pears and chocolate, for a crowd. Besides the fact that eveyone thought there were apples in the filling and I was expecting some plates to be graciously abandoned while nobody was watching when they heard about pears, this was a huge hit. The topping especially. Who knew.
Then I realized I had used oats, which is not gluten free. Or is it? From what I heard throughthe years, it's not the oats themselves, but the cross contamination, the fact that some wheat will inevitably end up mixed with them. So that's that.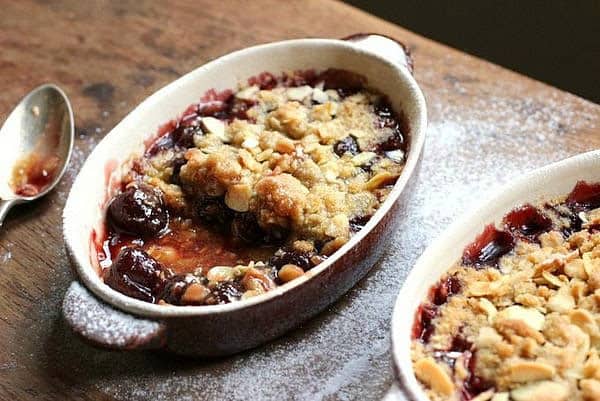 But if you still want to make it gluten free, simply use some almond flour instead of the oats, or coarsely ground almonds work too.
Either way this is a great dessert whether you eat it in the winter or spring. Or summer, or fall.
.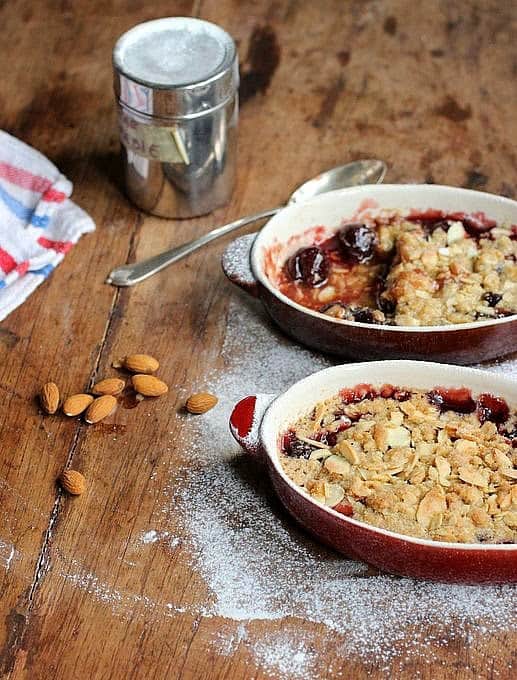 Print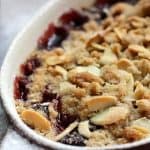 Cherry almond crumble
Yield:

2

servings

1

x
---
Scale
Ingredients
For the cherries:
2 cup

s  pitted cherries (fresh or frozen)

2

Tbs light brown sugar
Juice of

½

lemon
For the crumble:
¼ cup

  quinoa flour

¼ cup

steel cut oats

¼ cup

light brown sugar

¼ cup

  sliced almonds

¼ cup

60g butter
Powdered sugar (for serving)
---
Instructions
Preheat the oven to 350ºF /180ºC. Butter two oval, shallow ramekins.
For the cherries:
Put all ingredients in a saucepan and cook over low heat until syrupy and the cherries begin to soften, about 5 minutes.
Divide equally among prepared ramekins.
For the crumble:
In a bowl mix flour, oats and sugar. Add butter in small pieces and with your hands or a fork, mix until the butter is mixed with the dry ingredients. It will be lumpy.
Add the almonds, mix lightly and divide equally over the cherries.
You can do this crumble in a food processor with the steel blade, but the resulting mixture will be finer.
Bake for about 30 minutes, until the top is lightly golden and the filling is bubbly.
Dust with powdered sugar before eating.
---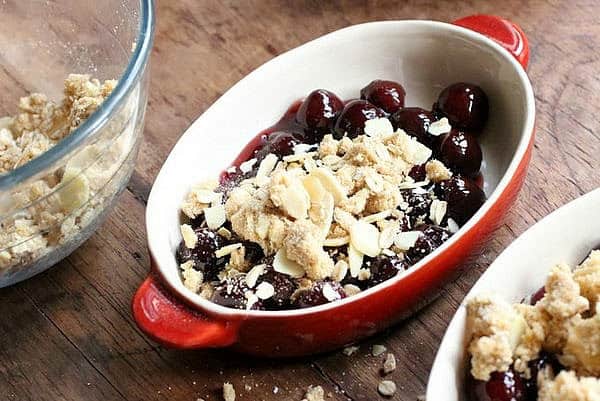 ---