Whenever you crave a delicious gingery carrot cake, use this recipe. It's very straightforward, versatile with ingredients, can be adapted to different cake pans and spice mixes, and has a ginger frosting that complements it perfectly. And it freezes wonderfully!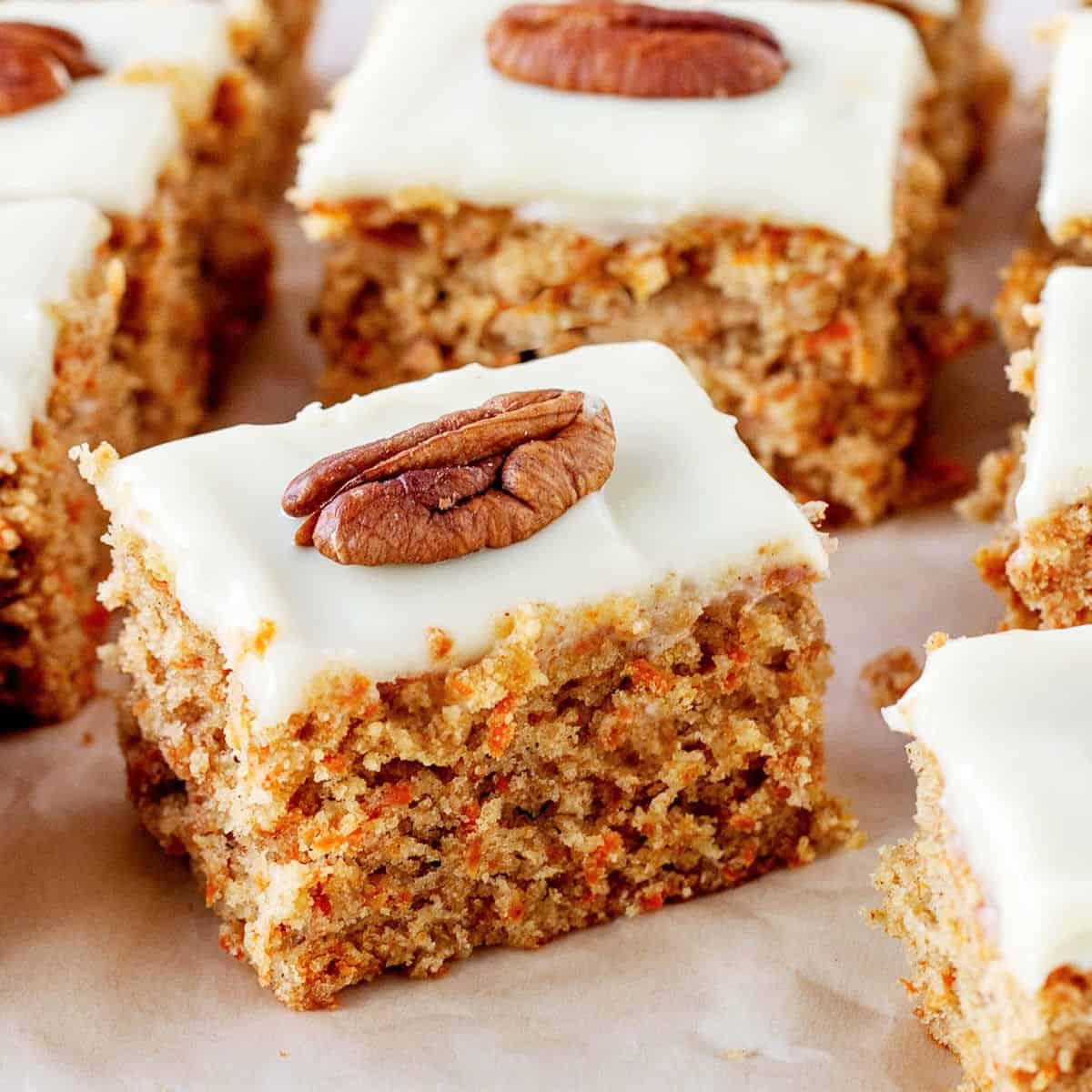 I have my favorite classic carrot cake, which I'm sure you do too. The thing is that I have several favorites, depending on the occasion and time availability.
For celebrations, it's always the birthday carrot layer cake, a beautiful stack of moist cake layers with our favorite cream cheese frosting. The batter has a unique ingredient that makes it different. Or the carrot cake with pineapple that is our go-to for snacking and family meals.
Today it's time for my favorite one. This ginger carrot cake is easy to make, uses simple ingredients, and has an extra dose of ginger in the batter and frosting, making it heaven for ginger lovers like me.
Trust me, simple, flavorful, and fabulous!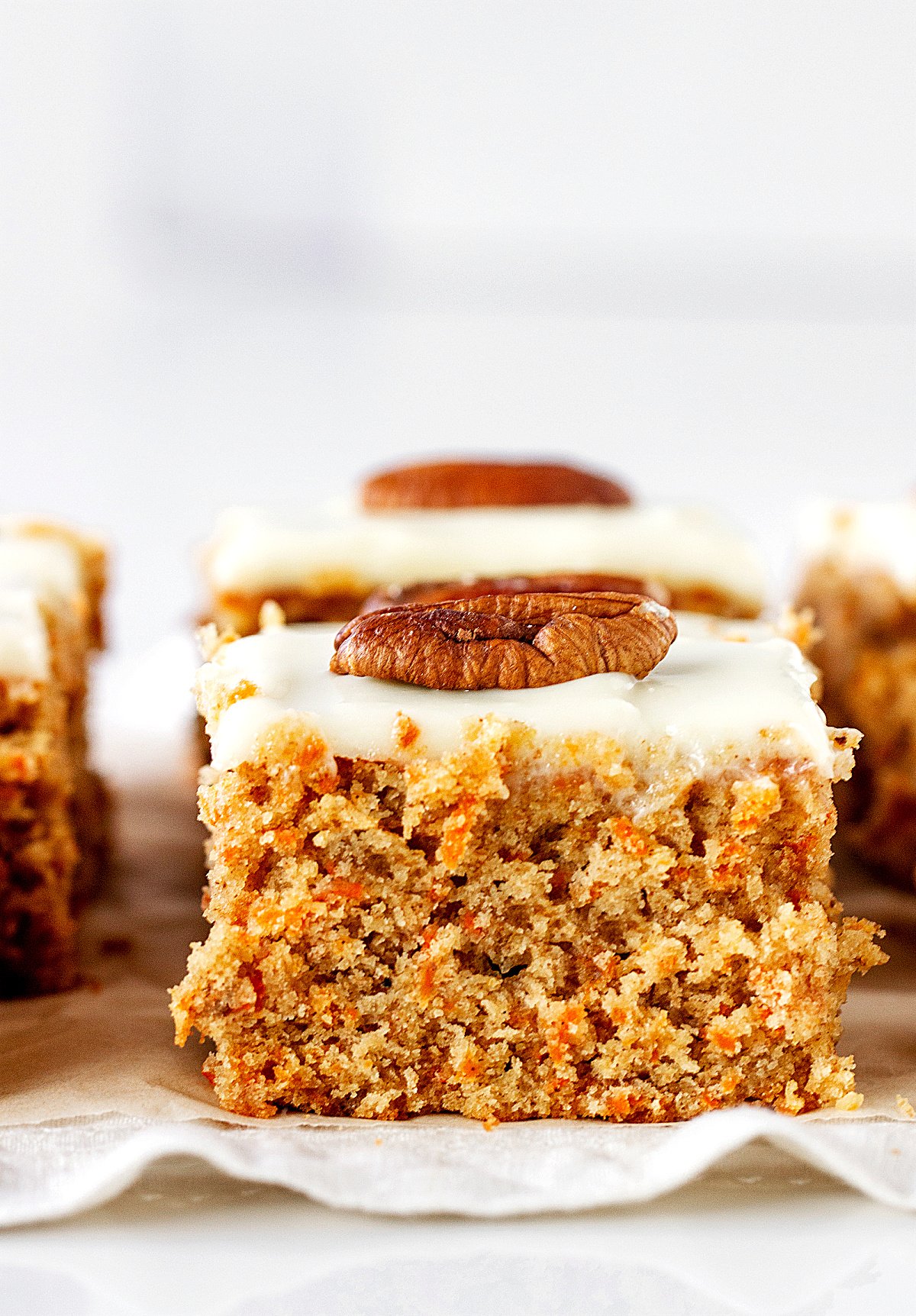 Ingredients
This is a versatile recipe with mostly simple ingredients:
For the cake:
Carrots: - you can peel them or not. I recommend grating them with a large-holed grater and at the last moment. That way, they retain the moisture better and don't become soggy.
Unsalted butter.
Flour: I use both all-purpose flour and superfine whole wheat flour. But you can use only white flour (AP or cake flour).
Baking powder: make sure it's not expired.
Milk: whole milk makes for a richer cake, but reduced-fat milk can be used.
Brown sugar: light or dark.
Spices: cinnamon and ginger are the only essential ones for a great flavor. I also like to add nutmeg and allspice. Some people add cloves. So adjust to your taste.
Vanilla: I use pure vanilla extract or pure vanilla paste when available, but a good vanilla essence (artificially flavored) also works.
Salt: I like using kosher salt or fine sea salt when baking. But regular table salt works just fine.
For the frosting:
Cream cheese: the regular type, full-fat cream. I always use Philadelphia original cream cheese, but other premium brands work fine.
Cream: use double, whipping, or heavy cream. Or use the same amount of sour cream.
Powdered sugar: also called confectioners or icing sugar, you can easily buy it online. Domino powdered sugar is a very popular one.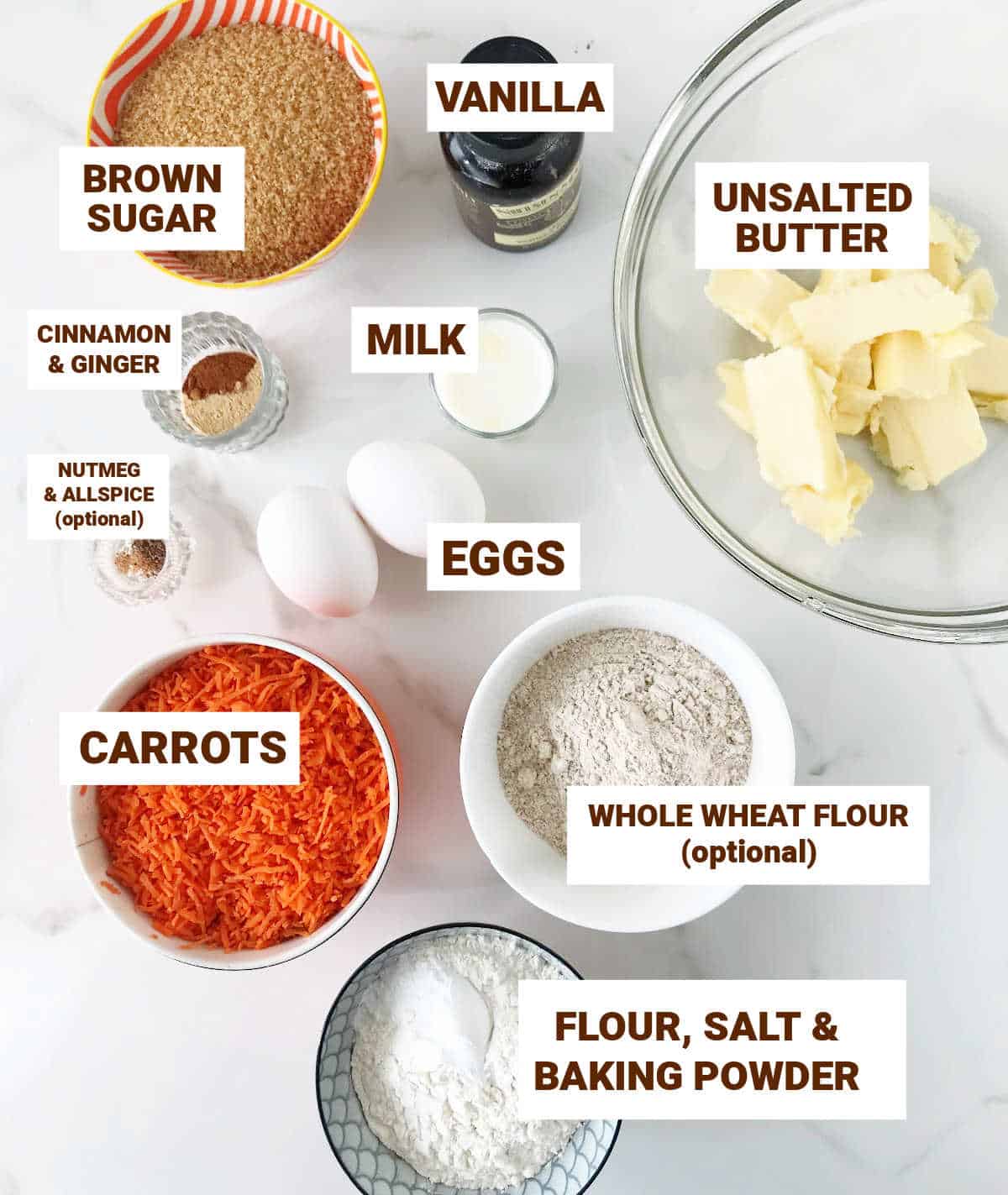 Tips to make carrot cake
Creaming: this cake uses the creaming method (butter and sugar are well beaten and the eggs are added one at a time), and it's easier to make with an electric mixer or stand mixer with the paddle attachment. Mix it by hand but be ready to use some arm muscle!
Sifted flour mixture: both flours, salt, and baking powder need to be sifted. You can choose to have them measured and then sift them over the cake batter as you add them, or sift them in a separate medium bowl beforehand. Whatever works best for you.
Beating after adding the flour: it's important to not overbeat at this point. Flour starts to develop gluten if beaten (or kneaded) making the cake tough. So use the electric mixer at low speed.
Carrots: I highly recommend grating (with a large hole grater) or shredding (in the food processor) them at the last minute. This will prevent the liquids from starting to be released and turn the shredded carrots into a soggy mess.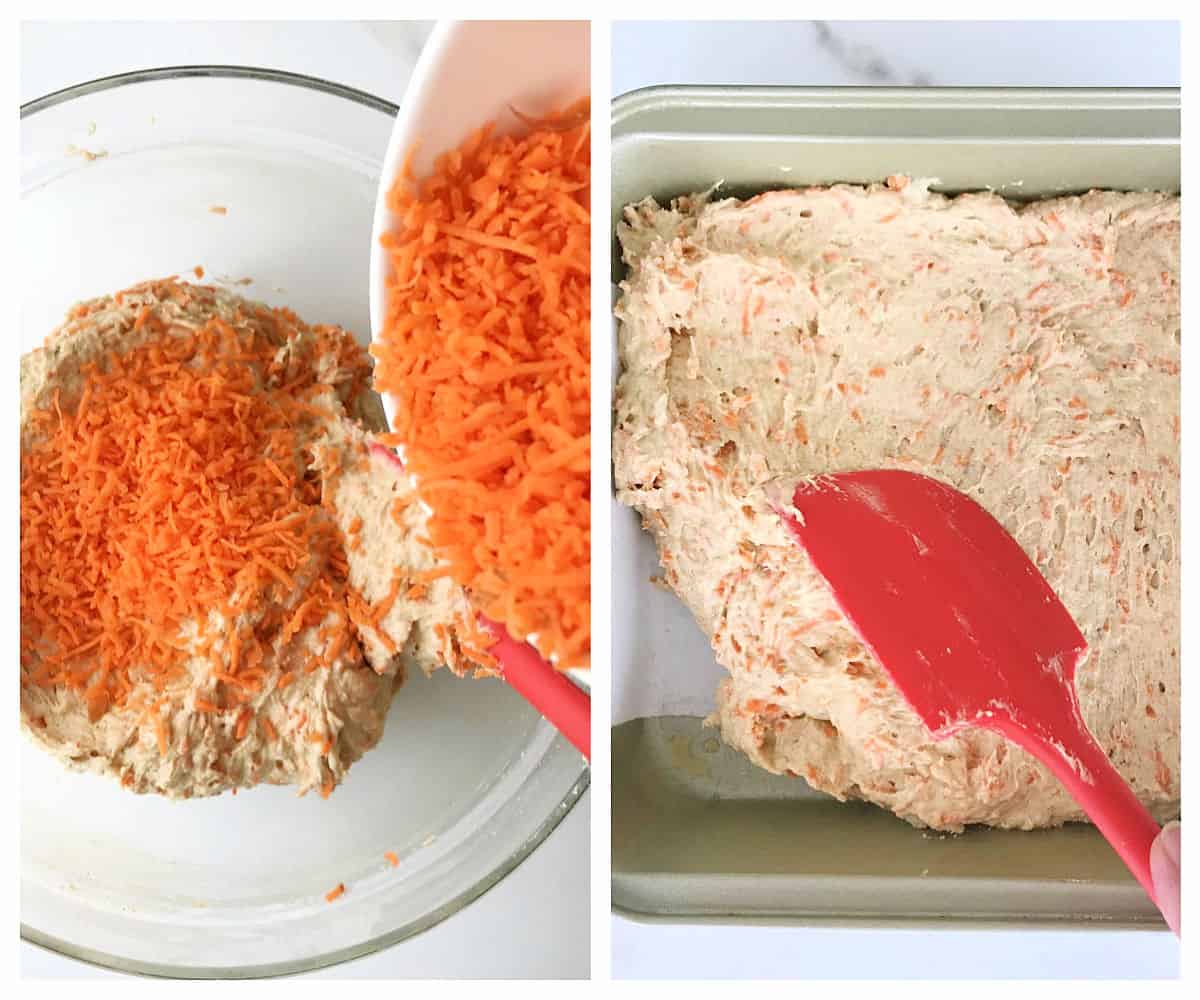 Spice mix
I have my favorite mix of carrot cake spices and I'm sure you have yours.
So, even though the recipe specifies a certain combination, feel free to increase or decrease them or even use one you already have, like pumpkin spice which goes really well with carrots too.
Fresh ginger: I like to add a small amount, no more than ½ teaspoon, of grated fresh ginger to the batter. It will give it an extra kick. But don't go out of your way to buy it. This recipe is still great without it as it has ground ginger both in the cake and the frosting.
Ginger frosting
The frosting in this carrot cake has cream cheese but is lighter because it has no butter. It's more of a cream cheese icing. The ginger can be optional if you already use fresh ginger in the cake batter, but I think it adds a fantastic zing! Some of us are fanatics lol.
Alternatively, use a traditional cream cheese frosting (find the recipe in the Hummingbird Layer Cake post) with cream cheese, butter, and powdered sugar. Add some chopped crystallized ginger (also called candied ginger) on top for an extra dose of this peppery spice.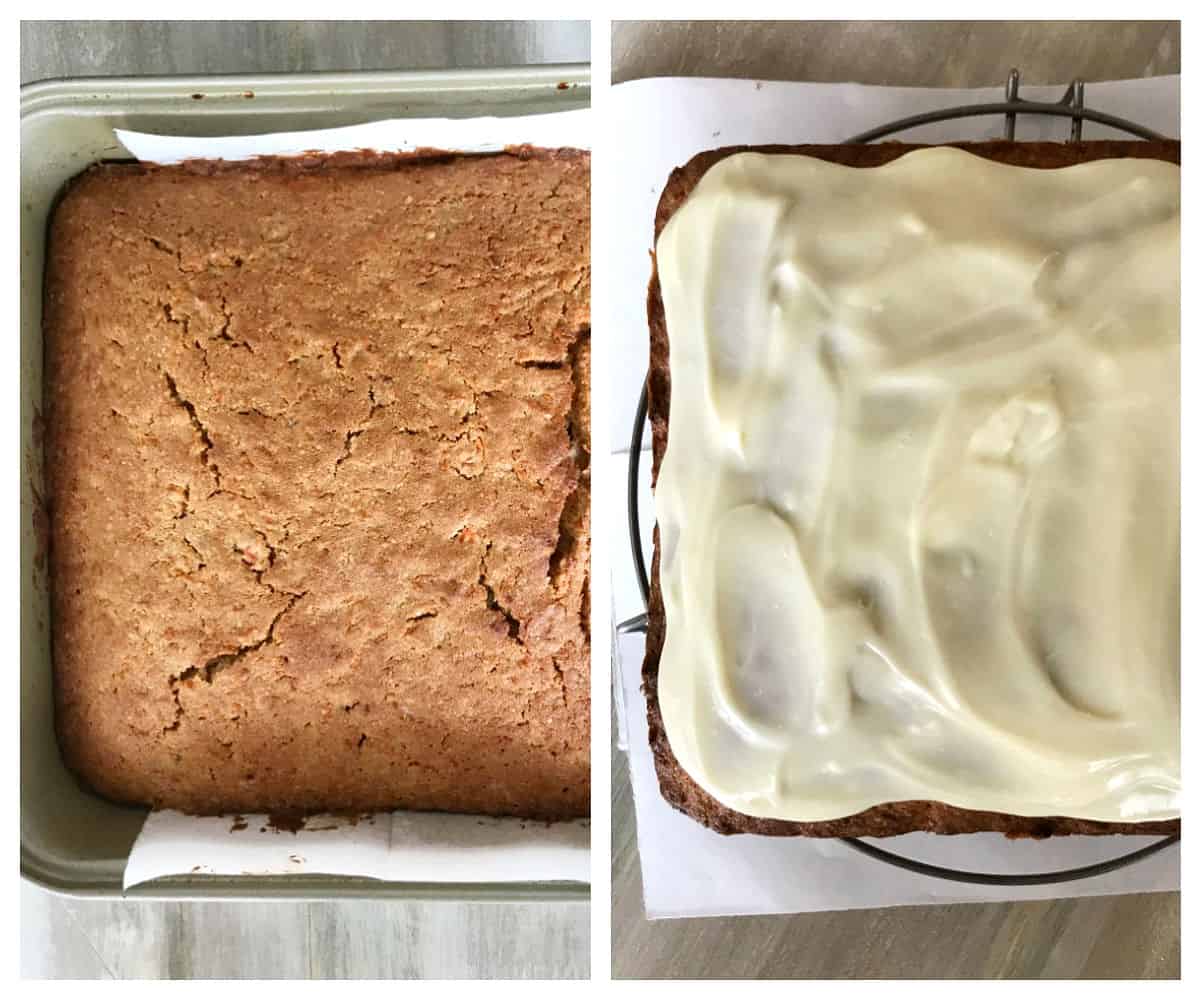 Storing
Room temperature: this cake keeps well at room temperature for a day or two after it's baked. Always make sure it's wrapped or under a cake dome to prevent dryness.
Freezing: carrot cake in general freezes wonderfully and this is no exception. After the cake is cooled, wrap it in plastic and then in foil or a Ziploc bag or something similar and freeze for a month or two.
Vintage Kitchen tip: cakes that have vegetables and fruit added to them are best kept refrigerated after a day or two at the most. Why? Those ingredients tend to ferment, especially if the room is warm or not cool enough. The cake will go bad quickly. So to prevent that, wrap or cover well (to prevent dryness) and keep in the fridge.
Pan sizes
Cake and loaf: This is a recipe that can be baked in an 8-inch square or round pan (in the photos here), a loaf pan about 4x11-inches.
Cupcakes: this recipe renders 10-12 regular cupcakes.
Double the recipe and make it as a 9-inch tube or bundt cake. Or 3 8-inch layers, baked in separate pans.
Variation: Zucchini Cake
Did you know you can also make zucchini cake with this recipe? Or bread, if baked in a loaf pan.
How-to: follow the recipe below but substitute an equal amount of coarsely grated zucchini for the carrots and only use ground cinnamon and vanilla extract. You can add 2 tablespoons of raisins or chopped walnuts/pecans.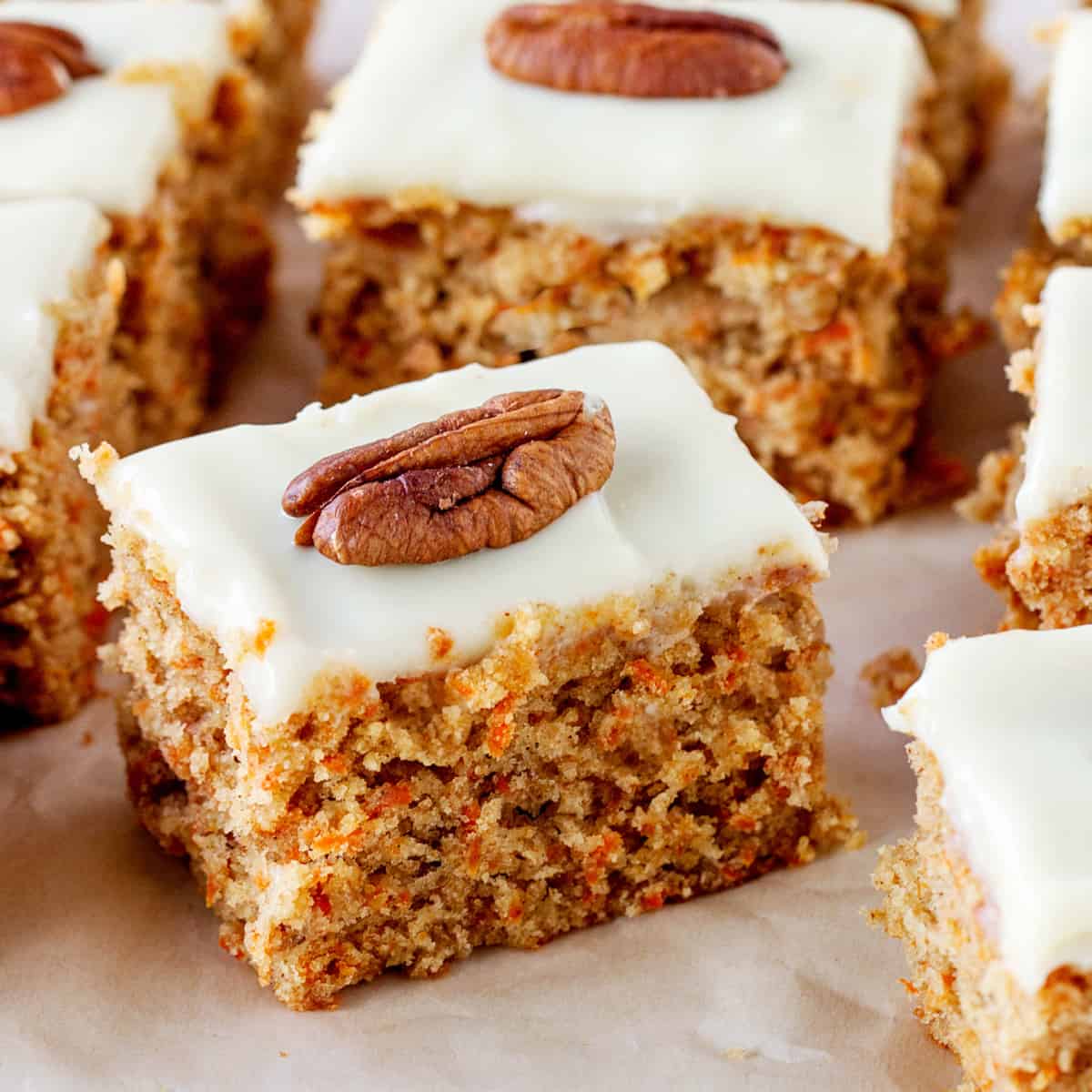 Frequently asked questions
Does carrot cake need to be refrigerated?
Yes, at least the day after they're made onwards. Cakes containing fruit or vegetables are best stored in the refrigerator, well covered, or wrapped (if not yet frosted) to prevent drying. I had some awful experiences of carrot cakes going bad quickly because the fruit (apple in my case) fermented at room temperature.
Do you have to peel carrots for carrot cake?
Not necessarily; it depends on the carrots. Some have super thin orange skins with no blemishes or dark patches. You can use them whole. Always wash them thoroughly if you're using them with the skin on. For the rest, it's best to peel them.
Can you use oil instead of butter in carrot cake?
Absolutely! You can use vegetable oil that adds extra moisture to a cake but won't have that buttery taste. The substitution is 1:1 in volume, which means the same amount in cups or tablespoons. You can also use half and half, as I do for the raspberry muffins.
Can you freeze carrot cake?
Of course, and I highly recommend it if making several days or weeks ahead. Always wrap it well and label it. I posted a Guide to Freezing Baked Goods & Desserts, which might be useful.
---
Related recipes you might like:
---
Let me know in the comments below if you made this recipe and loved it and if you had issues so we can troubleshoot together. I love to hear what you think, always. Thanks for being here. It's much appreciated.
You might also consider subscribing to our FREE email series to Boost your Home Baking Skills! And our regular newsletter.
And let's connect via Facebook, Instagram, and Pinterest.
As an Amazon Associate, I earn from qualifying purchases. Please read my disclosure policy.
Print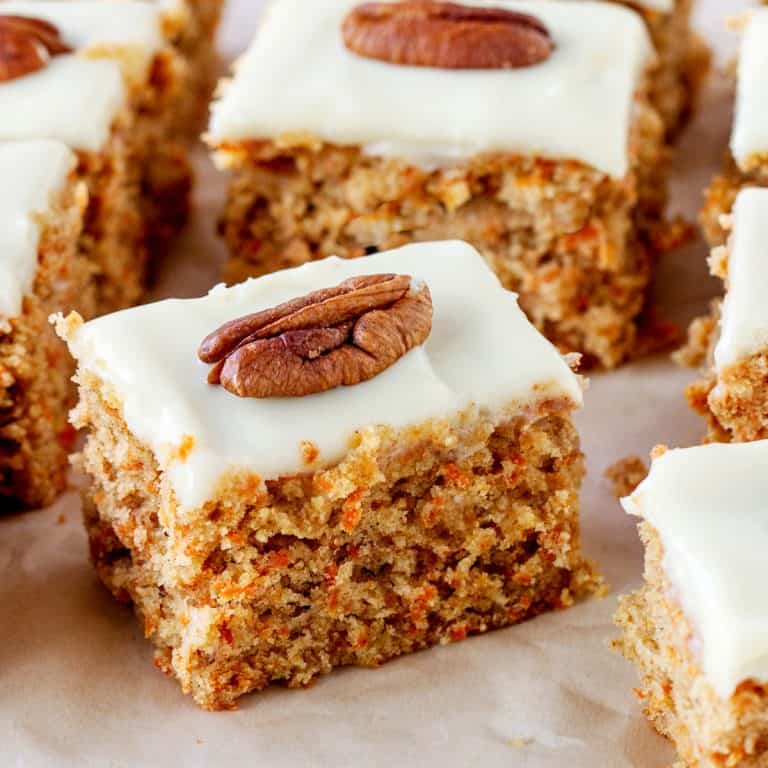 Simple Carrot Cake Recipe
Whenever you crave a delicious, gingery carrot cake you can use this recipe. It's very straightforward, versatile with ingredients, can be adapted to different cake pans and spice mixes, and has a ginger frosting that complements it perfectly. And, it freezes wonderfully!
Total Time:

1 hour 20 minutes

Yield:

12 medium squares
For substituting several of the ingredients see the Notes, below
For the cake:
½

cup

+

1

tablespoon

(130g) unsalted butter, at room temperature

1

cup

(200g) brown sugar

2

eggs, at room temperature

½ teaspoon

vanilla extract or paste

¾

cup

(100g) all-purpose or cake flour

¾

cup

(100g) superfine whole wheat flour

2 teaspoons

baking powder

½ teaspoon

ground cinnamon

½ teaspoon

ground ginger
Pinch of ground allspice
Pinch of ground nutmeg

½ teaspoon

freshly grated ginger

¼ teaspoon

salt

2

cups

(about 2 medium or 170g) grated or shredded carrots

¼

cup

(65g) milk
For the frosting:
⅔

cup

(160g) cream cheese, at room temperature

2 tablespoons

heavy or double cream

½

cup

(80g) powdered sugar

¼ teaspoon

grated fresh ginger (optional)
Instructions
For the cake:
Preheat the oven to 350°F/180°C.
Butter or spray an 8-inch pan. You can line it with a piece of parchment paper as I do. It's easier to remove after it's baked. Or you can dust with fine breadcrumbs or flour.
Beat butter with sugar in a large bowl at medium-high speed for 2-3 minutes, until creamy, smooth, and the sugar has partially dissolved.

Add eggs, one at a time, and beat well after each addition but no more than half a minute or so.
Sift over this mixture the dry ingredients (flours, salt, and baking powder) with the spices. You can sift them apart or have them measured and do it directly.
Beat at low or medium speed *just* until combined. Don't overmix at this point.
Add the grated carrots (it's best to grate them at the last minute so they keep their moisture but don't release liquid) and mix well. I do this with a rubber spatula.
Add milk and vanilla and mix until well incorporated.

Pour batter into the prepared pan, smooth top and bake for about 35-40 minutes, until springy if you lightly touch the center and a cake tester or toothpick inserted in the middle comes out clean.
Let cake cool on a wire rack until warm enough to handle and carefully remove from the pan onto the serving plate.
For the frosting:
Mix all ingredients until smooth in a medium or small bowl. It will look like very thick honey.

Pour over the warm cake.

Keep at room temperature for 1 day and refrigerate leftovers, wrapped in plastic or cling film.
Notes
Organization: read the recipe first and ensure you have ingredients at the correct temperature, equipment, and enough workspace. This will make the process so much easier.
Baking time: keep in mind that all ovens and pans are different, even if they look the same or very similar. The baking time in my recipes is as accurate as it can be, but it might take you more or less time. You can use a thermometer that is placed inside the oven (like the OXO oven thermometer) to check that your oven is at the right temperature. I recommend you keep track of how your oven works and what tiny details you might need to adjust.
Carrots: you can peel them or not, your choice. What works best for me is grating them in the food processor or processing them. They stay dry longer, even if refrigerated.
Substitutions:


Flour

- my favorite combination is all-purpose and whole wheat. But you can substitute the latter and only use white, regular flour (AP or cake flour).


Spices

- the only ones that are essential for a great flavor are cinnamon and ginger. I like to add nutmeg and allspice and some people love a dash of cloves. Adjust to your own palate. You can also add some orange zest, like ½ a teaspoon to the batter.
Cream - use double, whipping, or heavy cream. Or use the same amount of sour cream.


Sugar

- we use brown sugar which adds moisture and a wonderful caramel undertone, but this recipe works very well with white sugar if that's all you have.
Add-ins - add a few gratings of fresh ginger and/or 2 tablespoons chopped nuts (pecans or walnuts) or raisins to the batter.
Butter - you can use vegetable oil (sunflower, canola, coconut) instead of butter, the same amount in volume (that is cups or tablespoons). Even a light olive oil can work if you like to try something different.


Milk

- you can use orange juice for the milk, the same amount, or half milk and half juice.
Pan sizes: this cake can be adjusted to several types of pans.


Cake pans

. This is a recipe that can be baked in an 8-inch square pan or 8-inch round springform pan. If you want to make two tall layers, I suggest you double the recipe unless you want more of a shorter cake and simply split the baked round cake in half. Or use three 8-inch round cake pans for a 3 layer cake. If making more than one layer, make sure you divide the batter as evenly as possible among the prepared pans.


Loaf pan

. You'll need a loaf pan of about 4x11-inches.
Tube or bundt cake. Double the recipe and bake it in a 9-inch (10-12 cup capacity) tube or bundt pan.


Cupcakes

. This recipe renders 10-12 regular cupcakes.
Author:

Paula Montenegro

Prep Time:

20 minutes

Cooling time:

20 minutes

Cook Time:

40 minutes

Category:

Cakes

Method:

Baking

Cuisine:

American
Nutrition
Serving Size:

1/12

Calories:

285

Sugar:

22.6 g

Sodium:

119.6 mg

Fat:

14.7 g

Carbohydrates:

36 g

Fiber:

1.5 g

Protein:

4.1 g

Cholesterol:

68.4 mg
Keywords: ginger carrot cake