Beautiful layers flavored with banana, pineapple, cinnamon, and walnuts are combined with sweet cream cheese frosting. A fantastic classic cake that keeps well and can be frozen!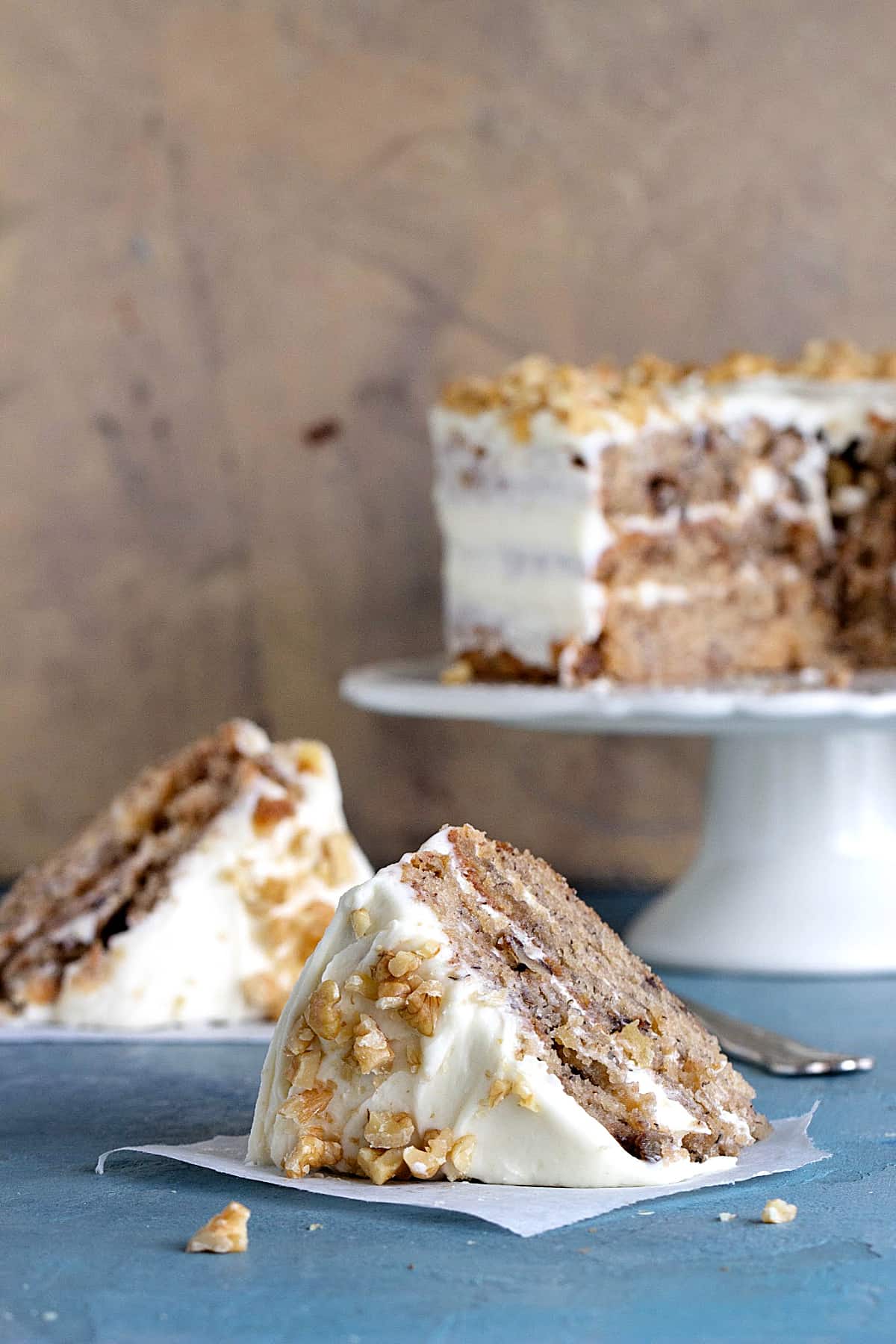 Why is it called Hummingbird Cake?
Popular in southern baking, this cake has its origins in Jamaica, where the national bird is, you guessed it right, the hummingbird!
For me, the pineapple screams vacation and summer and palm trees, so it's fitting that it comes from the Caribbean.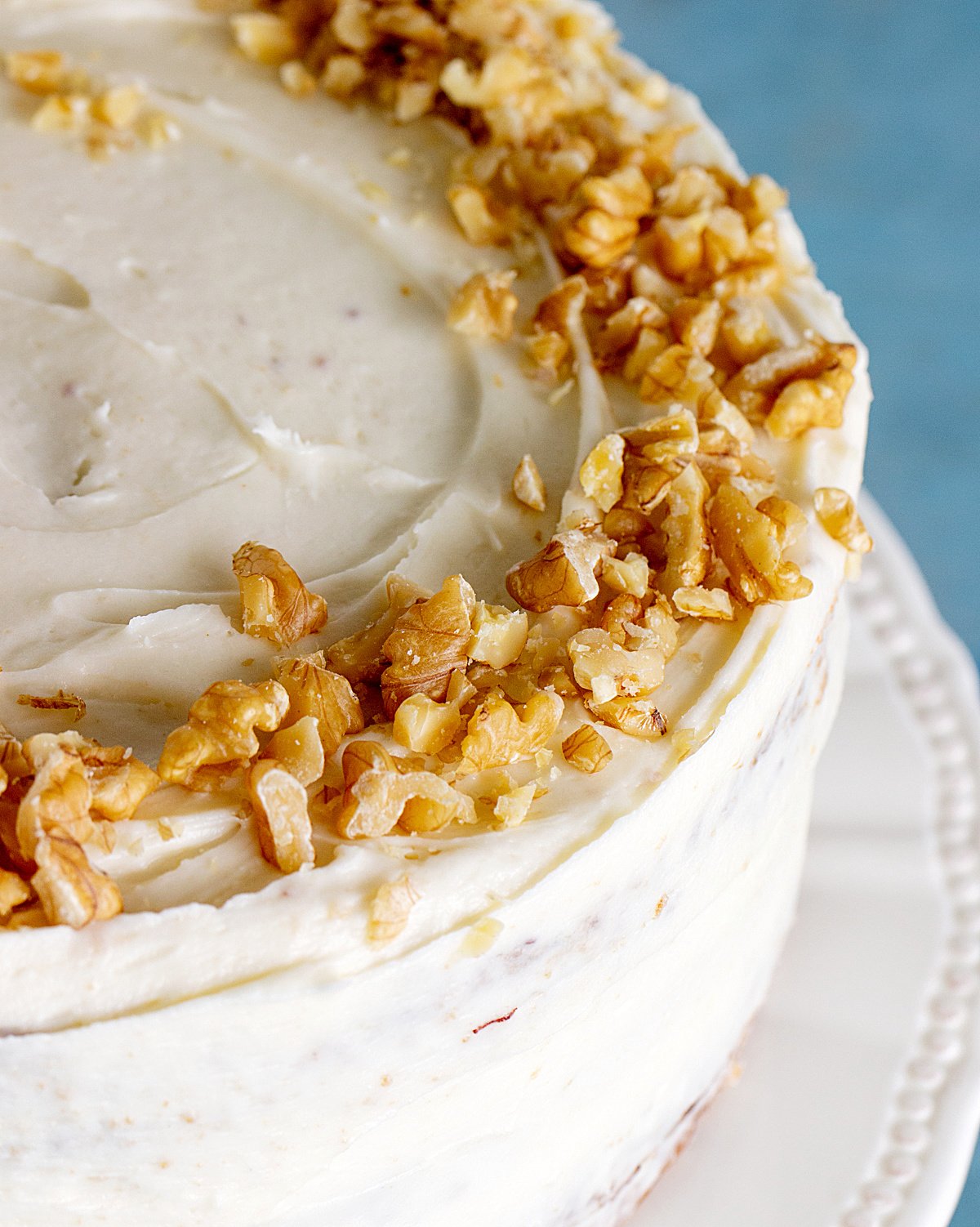 And I know I'm posting this when for most of you it's freezing outside, but I usually make it with canned pineapple, so it can be made year-round. And it's summer here, btw, southern hemisphere.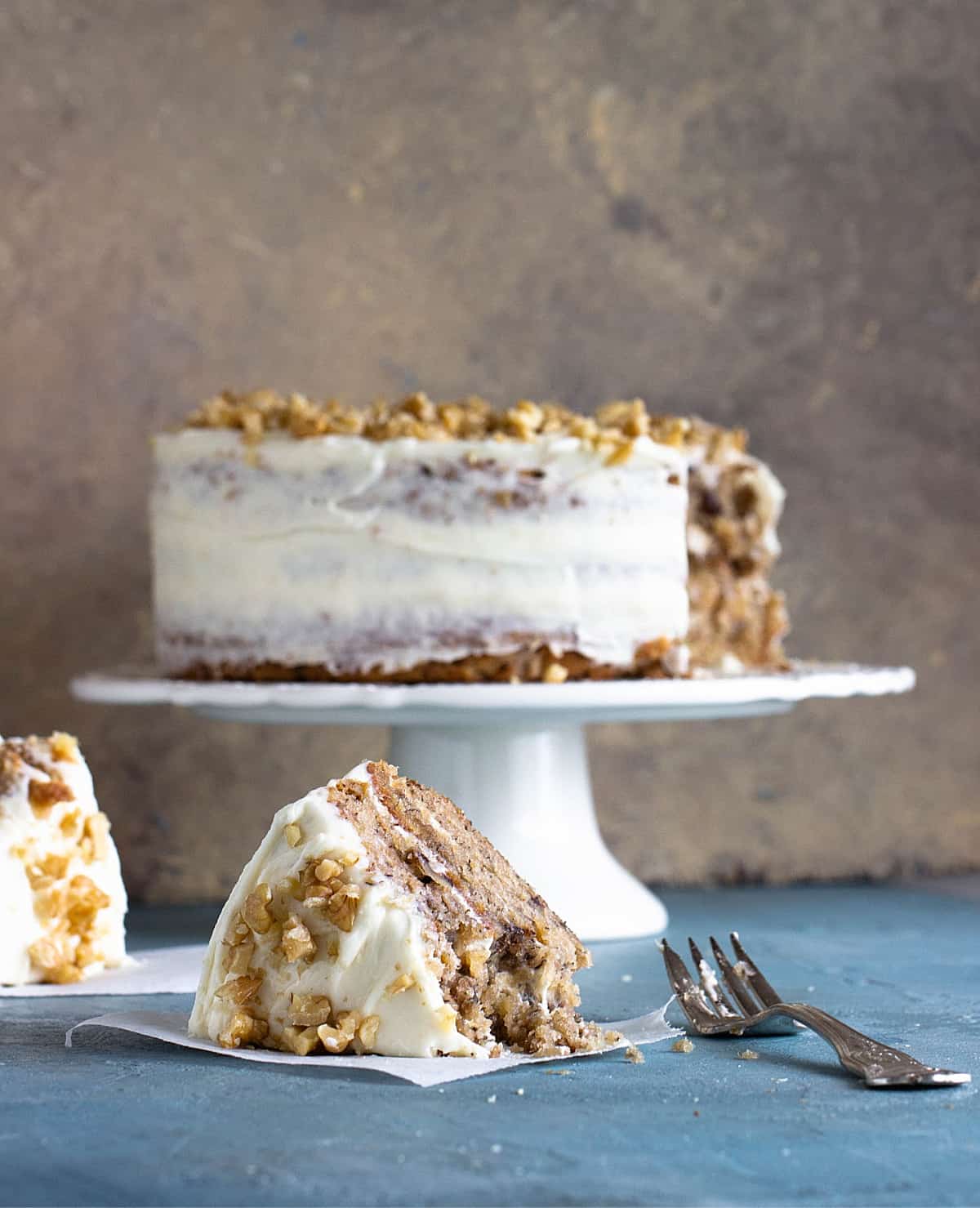 Ingredients
This cake is traditional, a classic, and as such, some ingredients must be included.
Bananas - use very ripe ones, like you would for banana bread.
Pineapple - you can use fresh or canned. The latter keeps it moister in my opinion. But either is fine.
Pecans or walnuts - traditionally made with pecans, I don't always find them, so I opt for walnuts which are very popular in this cake also.
Cinnamon - use ground and a good brand. I love Vietnamese cinnamon.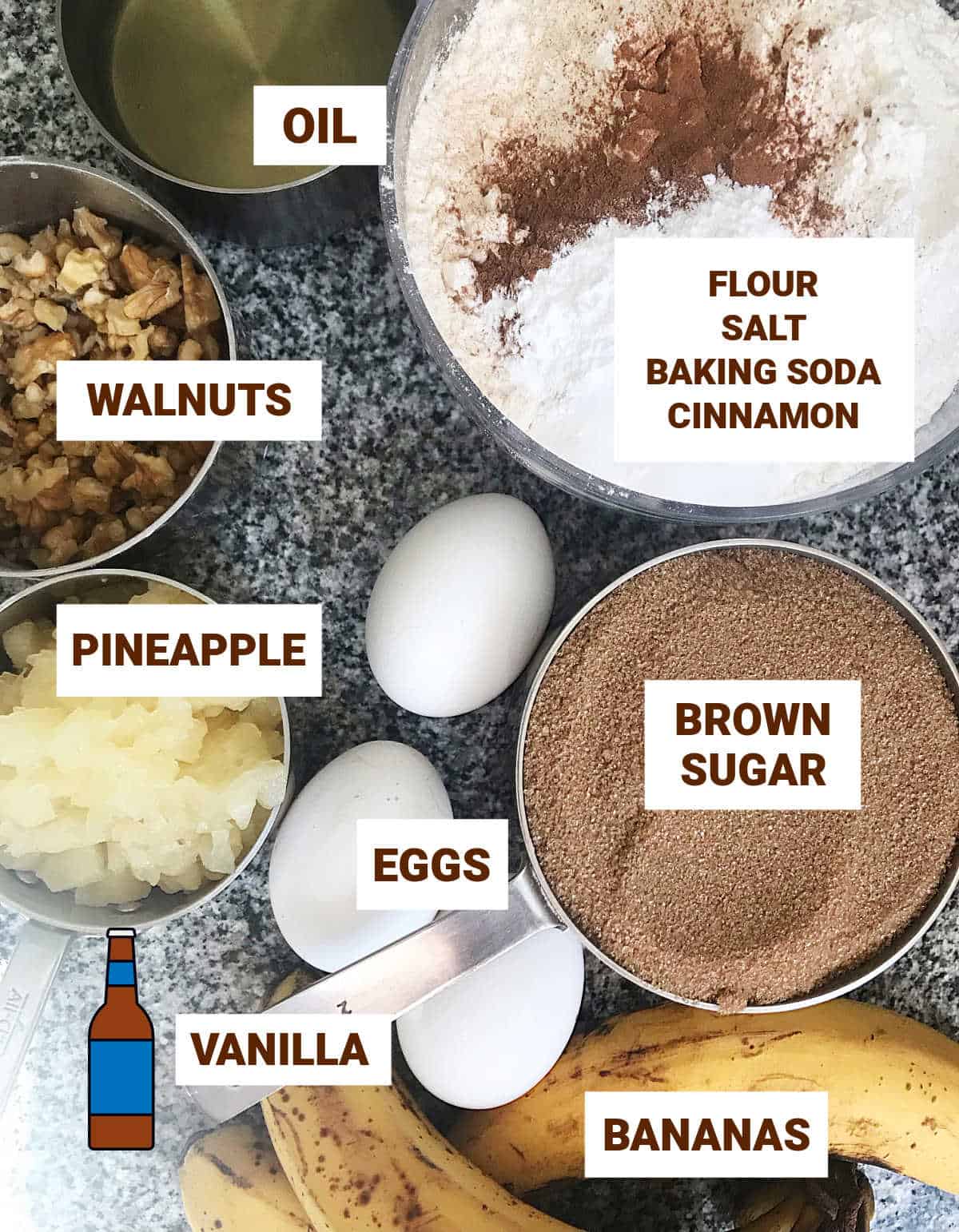 Baking layer cakes
The way to ensure the best results is to bake each layer separately. That way they bake faster and it's easier to have more even layers than you do when you cut a cake in half (or thirds which is not easy).
But having 2 or 3 similar baking pans may not be your case, or the oven might not hold that amount of pans.
You can bake it in just one pan, I recommend a 9 or 10-inch cake pan with a removable bottom for this recipe. You might have to make it a two-layer instead of three.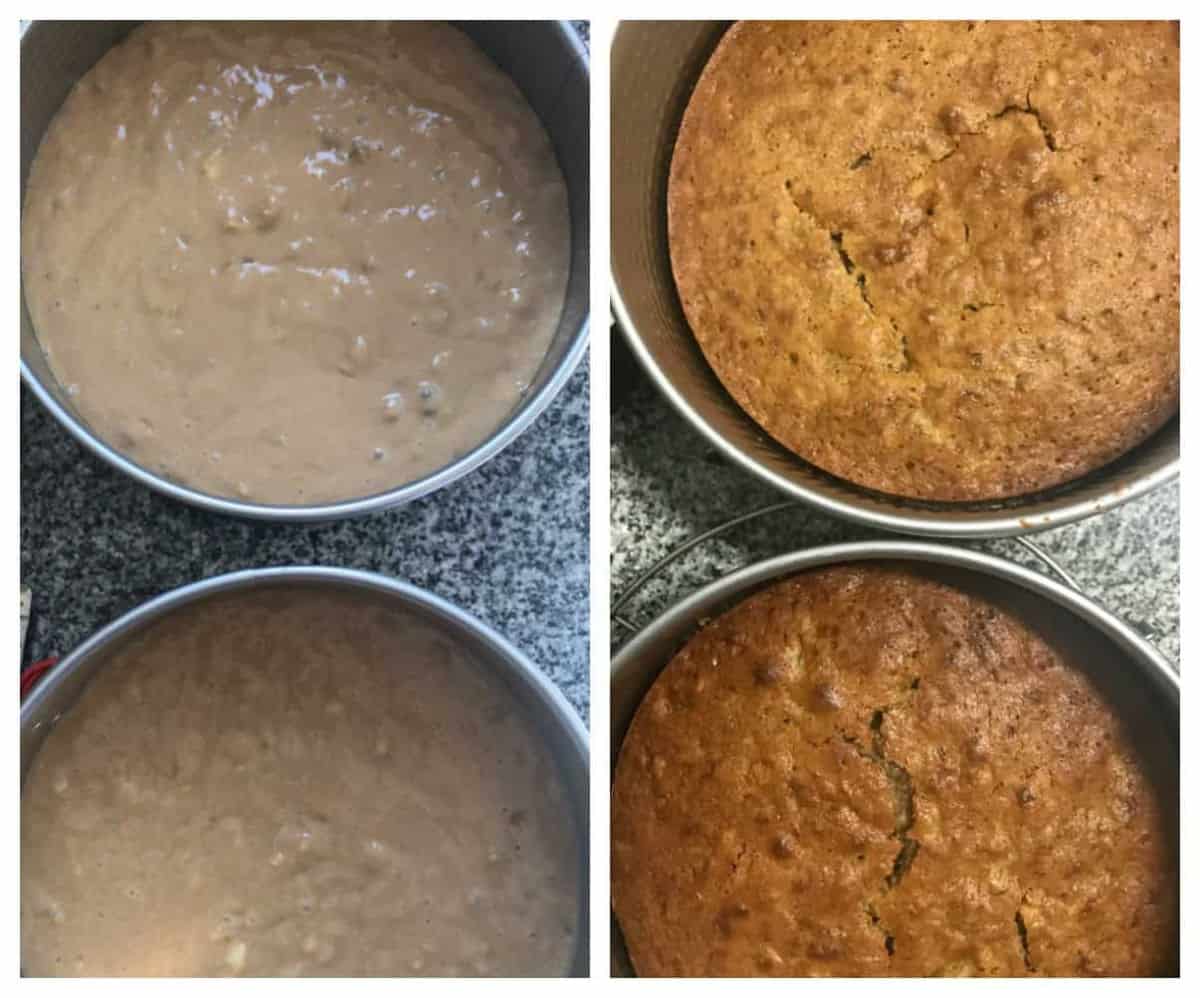 Pan sizes
Rectangular pan: like you would a sheet cake, cut it in half and layer both halves. It will be a square cake. And I suggest an 8x13 inch pan or similar. Or simply make it as a sheet cake, one layer of cake with another of frosting. It's great for barbecues or parties.
Loaf pan: this is another option and this recipe makes enough for 2 medium loaves, similar to the zucchini pineapple bread.
Tube pan: it has a hole in the center but it has a flat bottom and smooth sides. I don't recommend bundt cake pans because the cake tends to stick to the nooks and crannies the patterns make. I use a 10-inch tube pan as you can see in the pecan coffee cake.
I bake this recipe in three 8-inch pans or two 9-inch pans (image above). Either size, whether you make it in two or three layers, the result is excellent.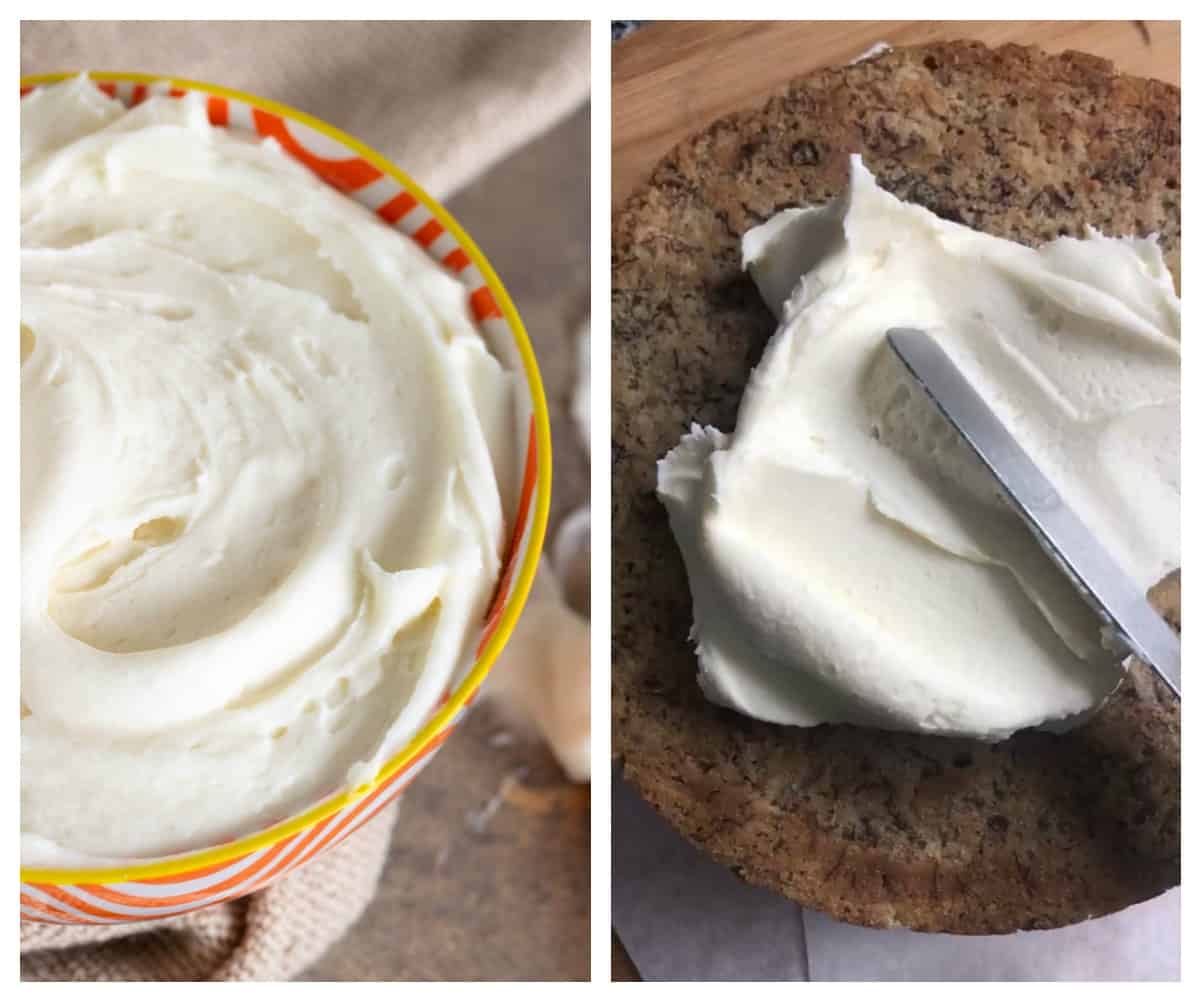 Cream cheese frosting
The traditional filling is this much-loved frosting.
It is extremely easy to make and keeps well for a few weeks in the refrigerator.
I like to keep an eye on the cake/filling ratio. As much as I love this frosting, I like the cake to shine on its own and the flavors to be present. So I use enough to add to the cake but don't overdo it.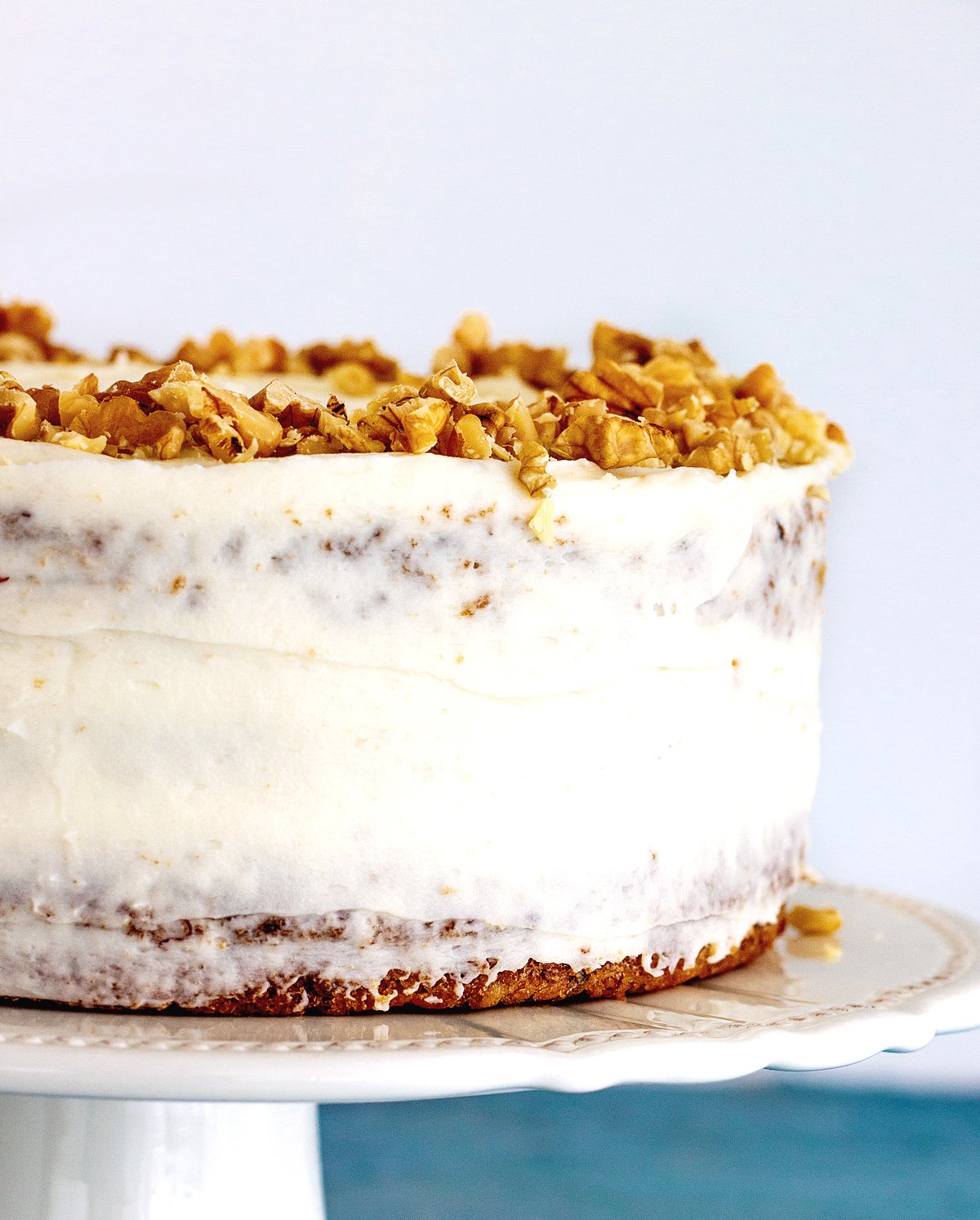 Put the cake layers in the refrigerator for a few hours before filling and frosting. It is easier to do when the cake is cold.

Vintage Kitchen Tips
That said, it is one of my favorites ever, especially when it is flavored, like the one in the coconut lemon sheet cake or the lemon blueberry cake.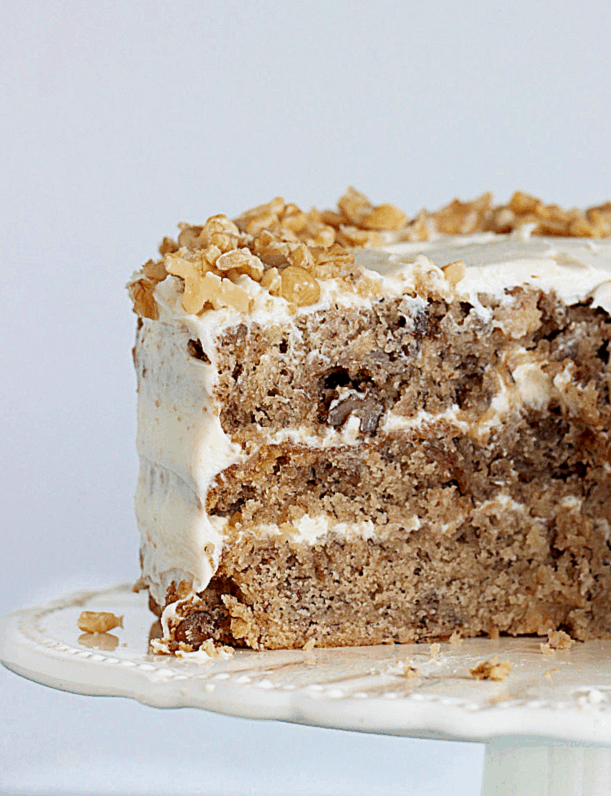 Storing this cake
Freezing: the layers can be frozen, well wrapped, for a month. Defrost at room temperature but don't let it get to room t° before filling and frosting. The frosting can be frozen also, but it's not the exact same texture afterward.
Refrigeration: I recommend storing it in the refrigerator after the first day. The pineapple can ferment if left out in a warm environment and completely ruin the cake. It happened to me.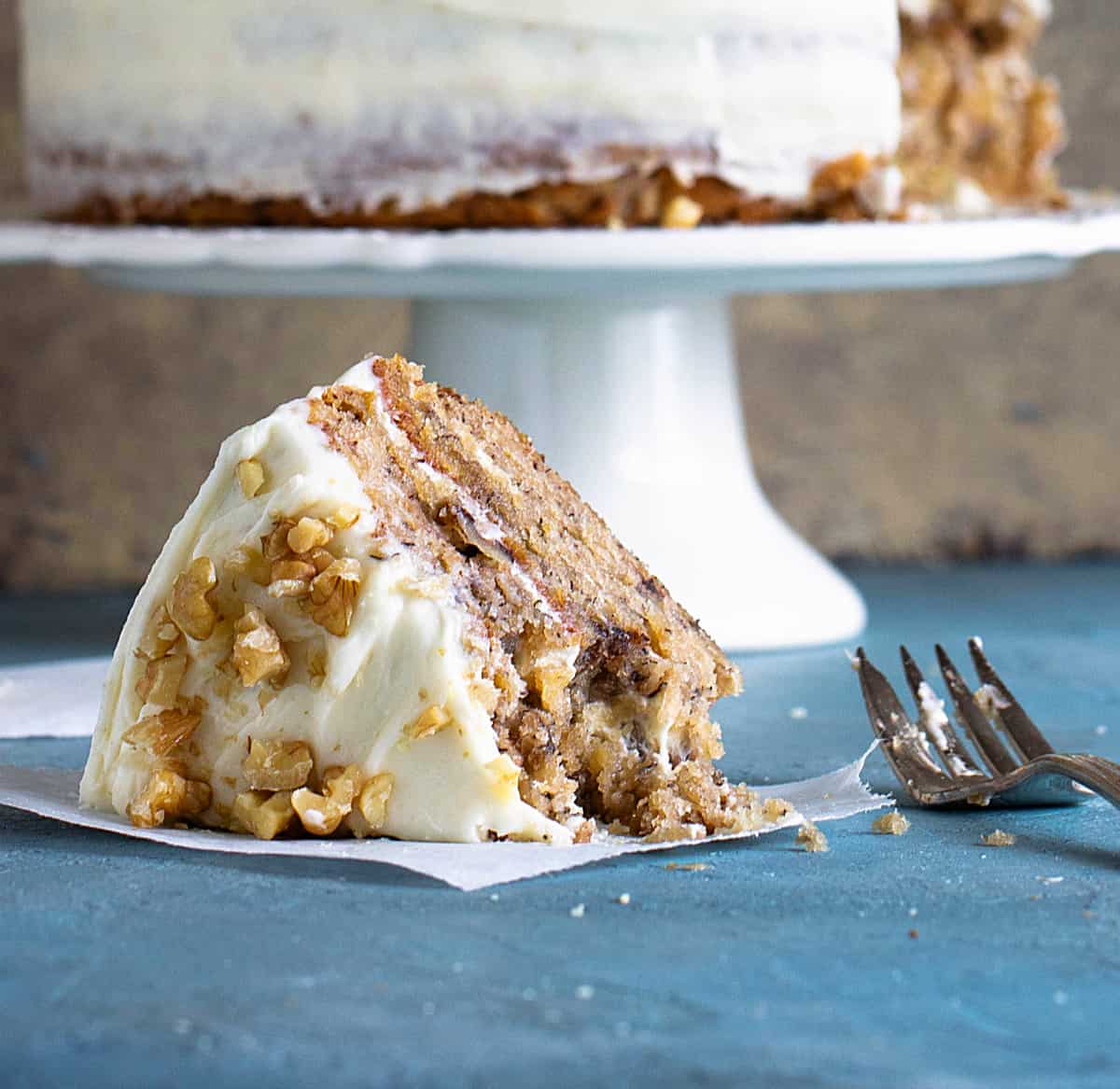 ---
Related recipes you might like:
---
Let me know in the comments below if you made this recipe and loved it and if you had issues so we can troubleshoot together. I love to hear what you think, always. Thanks for being here. It's much appreciated.
You might also consider subscribing to our FREE email series to Boost your Home Baking Skills! And our regular newsletter.
And let's connect via Facebook, Instagram, and Pinterest.
Print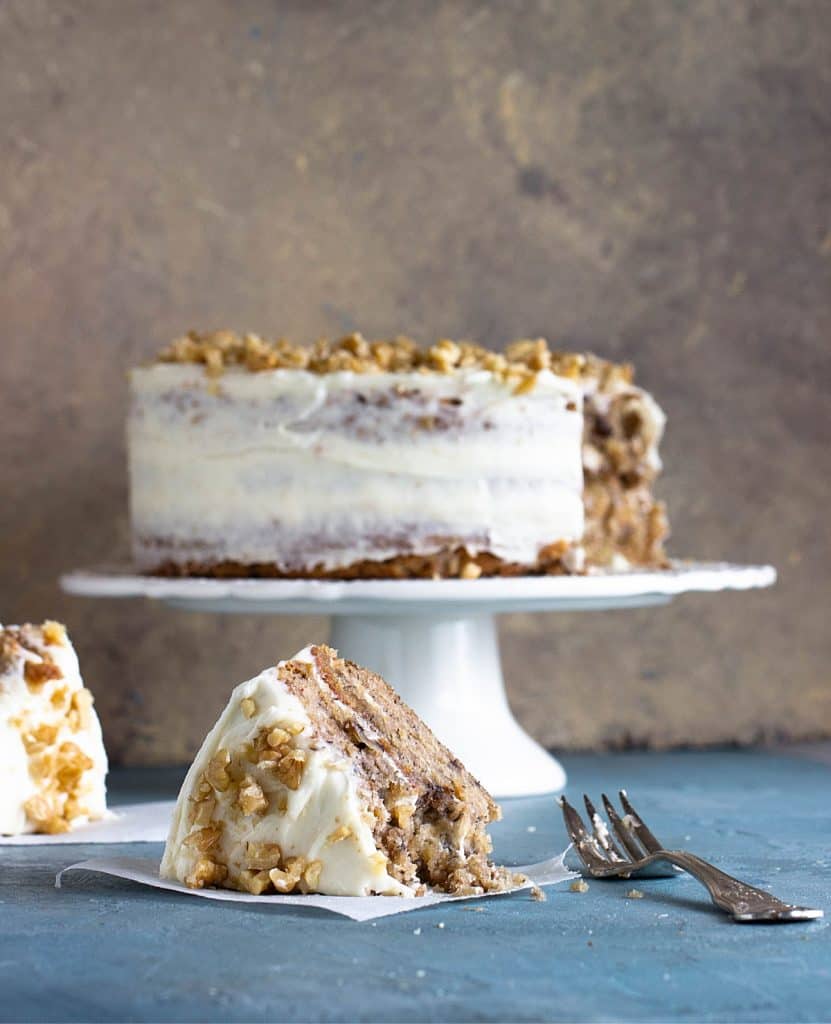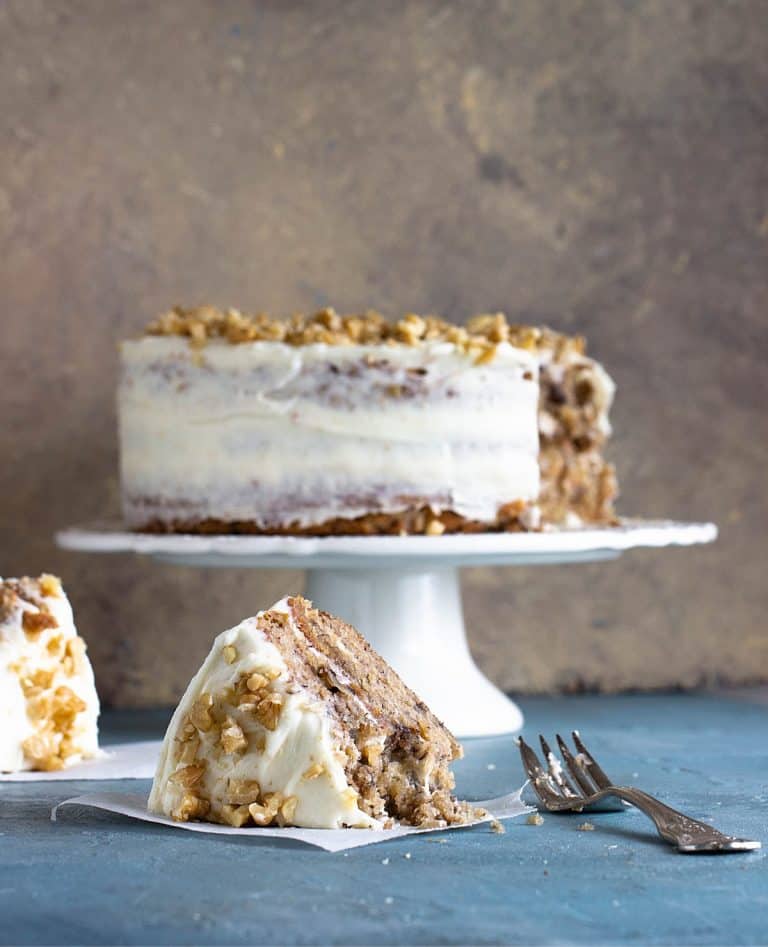 Hummingbird Layer Cake
Beautiful layers flavored with banana, pineapple, cinnamon, and walnuts are combined with sweet cream cheese frosting. A fantastic classic cake that keeps well and can be frozen!
Total Time:

2 hours 10 minutes

Yield:

10 servings
For the cake:
3

cups

(390g) all-purpose or cake flour

½ teaspoon

ground cinnamon

1 teaspoon

baking soda

½ teaspoon

salt

1

cup

(225g) sunflower oil

½

cup

(100g) granulated sugar

1

cup

(200g) brown sugar

3

eggs, at room temperature

1 teaspoon

vanilla extract

2

cups

(340g) mashed bananas

1

cup

(170g) very finely chopped pineapple, canned or fresh (see Notes below)

½

cup

(55g) walnuts or pecans, lightly toasted (see Notes below)
For the Cream cheese frosting:
8

oz

(225g) regular cream cheese, at room temperature

½

cup

(110g) unsalted butter, at room temperature

3

cups

powdered sugar (see Notes below)

½ teaspoon

of vanilla extract
Instructions
For the cake layers:
Preheat the oven to 350°F/180°C.
Prepare the cake pans (two 9-inch or three 8-inch with removable bottoms) by spraying or buttering them and lining the bottom with a circle of parchment paper.
In a large bowl (you can use the stand mixer), beat oil and sugars for 2 minutes.
Add eggs, one at a time, beating well after each.
Add bananas, pineapple, and vanilla and mix well but don't beat much.
Sift the dry ingredients (flour, cinnamon, baking soda, and salt) and add them in 2 parts. I have them measured and sift directly over the batter.
Incorporate very well but be careful not to overbeat at this point so the cake bakes tender. Beating the dry ingredients too much results in tougher cakes.
Add nuts and mix it all with a spatula.
Divide evenly among the prepared pans and bake for about 25-30 minutes for three layers, and about 5-10 minutes more for 2 layers. The cake surface will be dry but shiny, and a cake tester or toothpick inserted in the middle should come out clean.
Let cool completely on wire racks. I carefully remove them while still very warm and let them cool completely.
Fill and frost the cooled cake with the frosting below.
Refrigerate leftovers, covered.
For the cream cheese frosting:
Beat cream cheese in a bowl with the soft butter until very creamy and no lumps remain.
Gradually add sugar and vanilla until you have a thick, very creamy consistency, good enough to spread. You might need more sugar, up to a half-cup or so.
It keeps well in the refrigerator for a few weeks. Beat again before using to attain a creamy consistency.
Notes
Organization: read the recipe first and ensure you have ingredients at the correct temperature, equipment, and enough workspace. This will make the process so much easier.
Baking time: keep in mind that all ovens and pans are different, even if they look the same or very similar. The baking time in my recipes is as accurate as it can be, but it might take you more or less time. You can use a thermometer (like the

OXO oven thermometer

) to check that your oven is at the right temperature. I recommend you keep track of how your oven works and what tiny details you might need to adjust.
Pineapple: I use canned most of the time (if not always) because it's available year-round and the flavor it gives is amazing! Fresh pineapple has way less flavor and lacks that smoky quality. But you can absolutely use fresh, make sure it's very ripe and use the center, tender part.
Nuts: I suggest you lightly toast them. It's an extra step but worth it. Preheat oven to 300°F/150°C, put the walnuts or pecans in an oven pan, and bake for about 5-10 minutes, until fragrant but not too dark. Let cool completely before using.
Powdered sugar: the final amount depends on how thick you want the frosting and the water content of your butter mainly. So the amount given is estimated.
Frosting: make sure the cake is cold, as it will be much easier to fill and frost. You can fill it with as much frosting as you want, but keep in mind that it is very sweet so it doesn't overpower the flavors of the actual cake.
Pan sizes: with this recipe, you can make two 9 or 10-inch layers, three 8-inch layers, a 9x13-inch sheet cake, 2 medium loaf cakes, or one 9-inch plain tube pan cake (I don't recommend bundt pans as they usually have patterns and this batter might stick).
Freezing: the layers can be frozen, well wrapped, for a month. Defrost at room temperature but don't let it get to room temperature before filling and frosting. The frosting can also be frozen, but it might not have the exact same texture afterward.
Author:

Paula Montenegro

Prep Time:

20 minutes

Cooling time:

60 minutes

Cook Time:

50 minutes

Category:

Cakes

Method:

Baking

Cuisine:

American
Nutrition
Serving Size:

1/10

Calories:

855

Sugar:

73 g

Sodium:

343.9 mg

Fat:

44.6 g

Carbohydrates:

108.9 g

Fiber:

2.9 g

Protein:

8.7 g

Cholesterol:

103.1 mg
Keywords: hummingbird cake