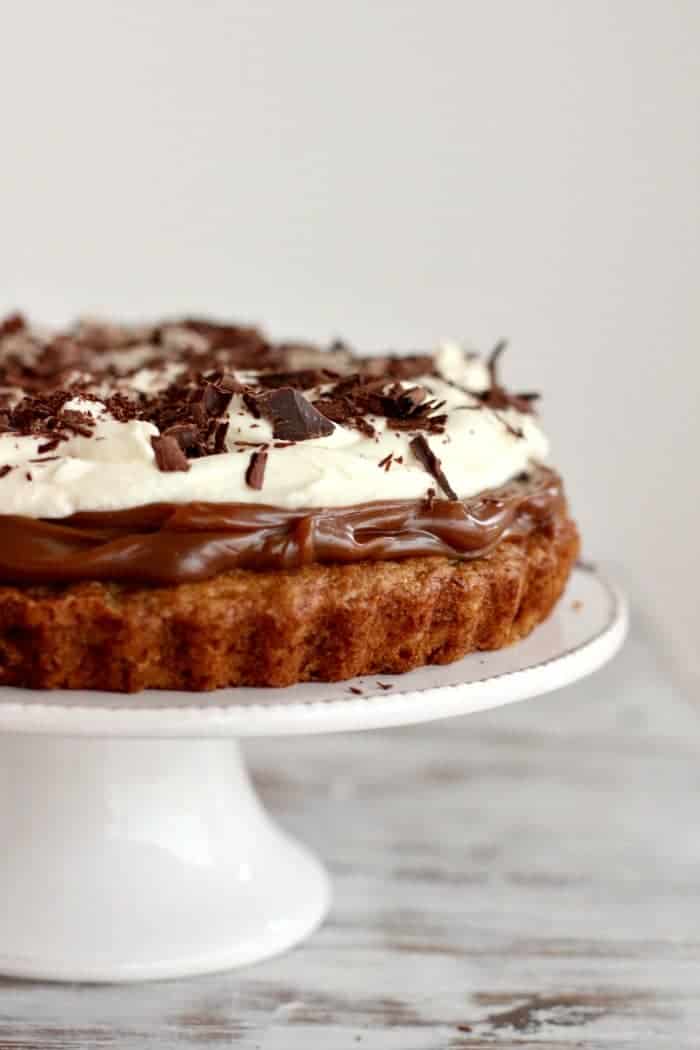 Banana Muffin Cake with Dulce de Leche and Whipped Cream.
That's a long name for a dessert. Each ingredient is a vital part, and I wanted the title to resemble that. Just in case you think you're in for an average banana cream tart. My answer, and personal opinion, is a resounding no. As a result of some leftover banana muffin batter, this is one of the most amazing, last-minute afterthoughts I've had in a long time.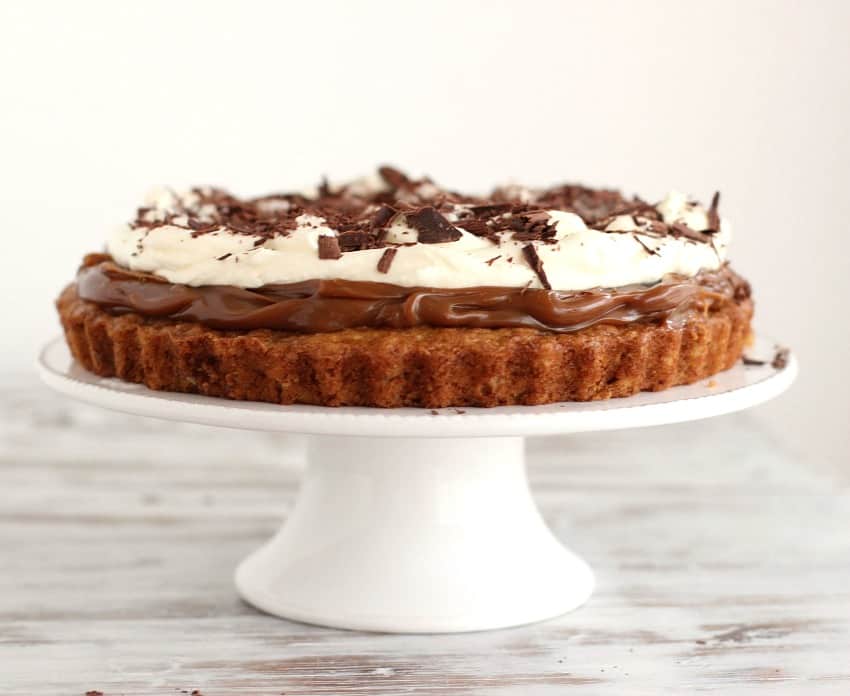 It started with the well-known banana bunch turning black and me searching for a recipe to use them.
Since I write another, very neglected some might add, Spanish blog I made some banana muffins that would make a nice post; translated books of American sweets do not abound here. Here's where I was left with some extra batter. This usually ends up in any little mold I find, helping me try new shapes and sizes while cutting my losses in case it doesn't work out.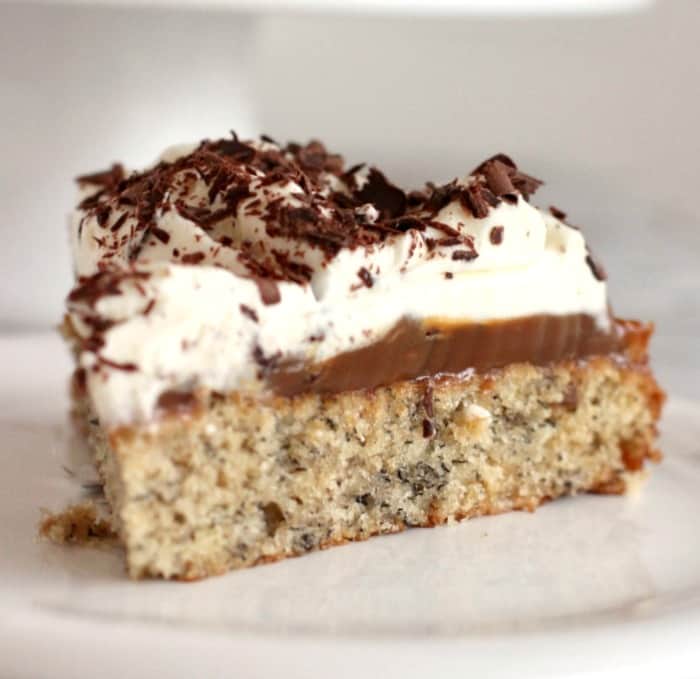 The resulting flat muffin was perfect for something I've been wanting to try for a while.
Bananas with dulce de leche are everyone's memory of a childhood dessert (here of course). Just the banana, fresh out of the skin, with a dollop of dulce de leche on the side. This is so good it evolved into banana+dulce de leche + milk smoothies. So good.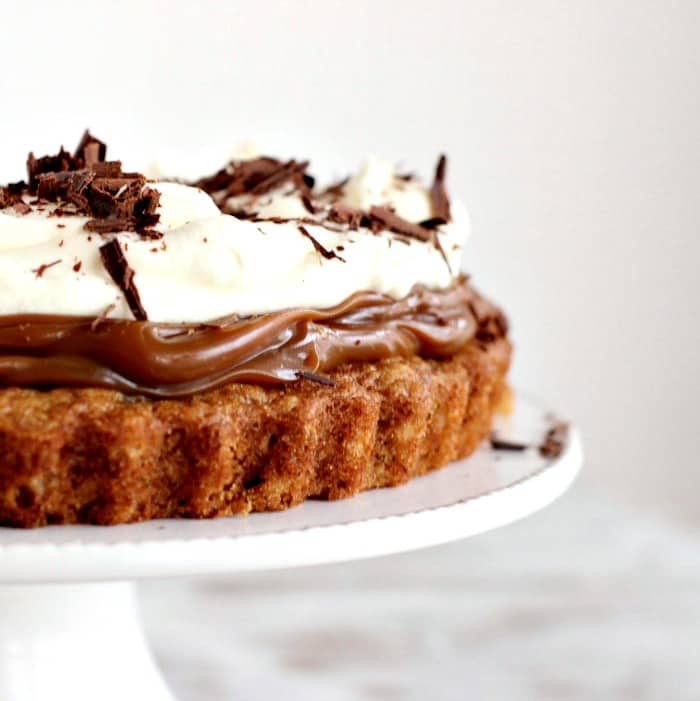 But back to our main story here, the fact that the base is a muffin makes a big difference. The texture is soft but moist and firmer than that of a regular cake. Then the piling of a layer of good dulce de leche, whipped cream, fresh bananas and a sprinkle of chopped bittersweet chocolate (and toasted walnuts…) it takes you wherever you want to go. Really.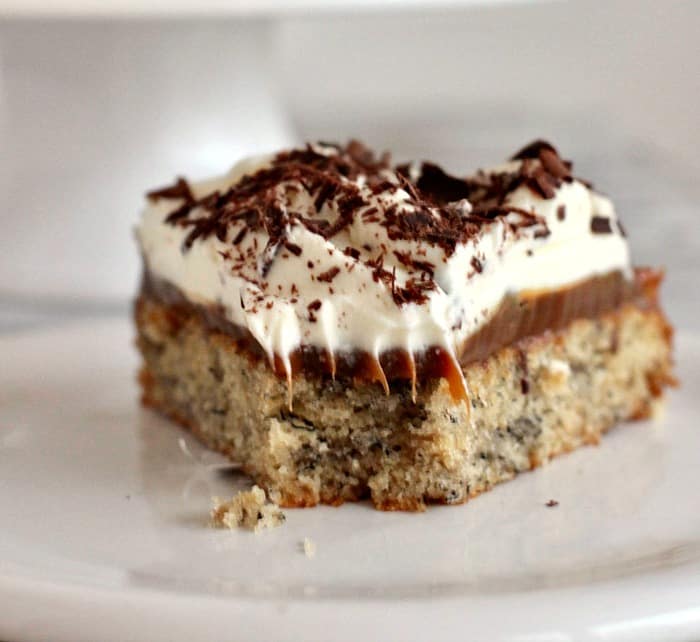 For me is the adult version of my childhood treat but for many, it will be a discovery from which there is no turning back. Unless you're not into this kind of sweet combinations, of course, but then I suspect you stopped reading after the title.
Next time you have a picnic, barbecue, birthday, or whatever, make this banana muffin cake and be ready for the applause.
Print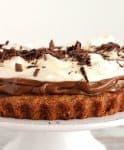 Banana Muffin Cake with Dulce de Leche and Whipped Cream
---
Description
The amount of dulce de leche and cream is really up to you. I use a lot of the milk jam, a lot!
You can make individual tarts too.
---
Scale
Ingredients
1/2

recipe banana muffins (see below)

1 1/2 cups

dulce de leche

1 cup

heavy cream

1 tablespoon

cream cheese

1

Tbs confectioners' sugar

¼ cup

chopped bittersweet chocolate

¼ cup

chopped toasted walnuts (optional)
For the muffin base:
2

medium ripe bananas

1/2 cup

oil (sunflower, canola or coconut)

1

egg

1/2 cup

sugar

1

cups flour

1

teaspoon baking poder

1/2 teaspoon

baking soda

1/2 teaspoon

salt

½ teaspoon

cinnamon

1

teaspoon vanilla extract
---
Instructions
For the muffin base:
Preheat the oven to 350ºF.
Butter or spray an 8-inch round pan.
Place oil, eggs and sugar in bowl and beat with electric mixer for about 2 minutes, until light and almost doubled in volume. Add vanilla.
Sift dry ingredients. Add to the wet mixture and mix with a spatula just until incorporated. Do not over mix.
Place in the prepared pan and bake for 20 to 25 minutes, until springy and a tester comes out clean. Cool on rack.
To assemble:
Place banana muffin round on a flat work surface.
With a spoon or piping bag, if you want a nicer edge, spread the dulce de leche to cover the tart bottom.
Whip cream with sugar and cream cheese to fairly firm peaks, and spoon it over dulce de leche.
Sprinkle freely with grated chocolate, and rounds of fresh banana slices and a few walnuts if you want. The fresh banana should be added right before serving, as it turns dark pretty fast.
Repeat with remaining tart bottoms, dulce de leche, cream, chocolate, and walnuts.
---
banana muffin recipe from
The Muffin Lady
, by Linda Fisher and Andrew Marton
---