Soft and creamy, these dulce de leche coconut fudge truffles are easy to make and such a crowd-pleaser! The combination is mind-blowing and might turn out to be addictive.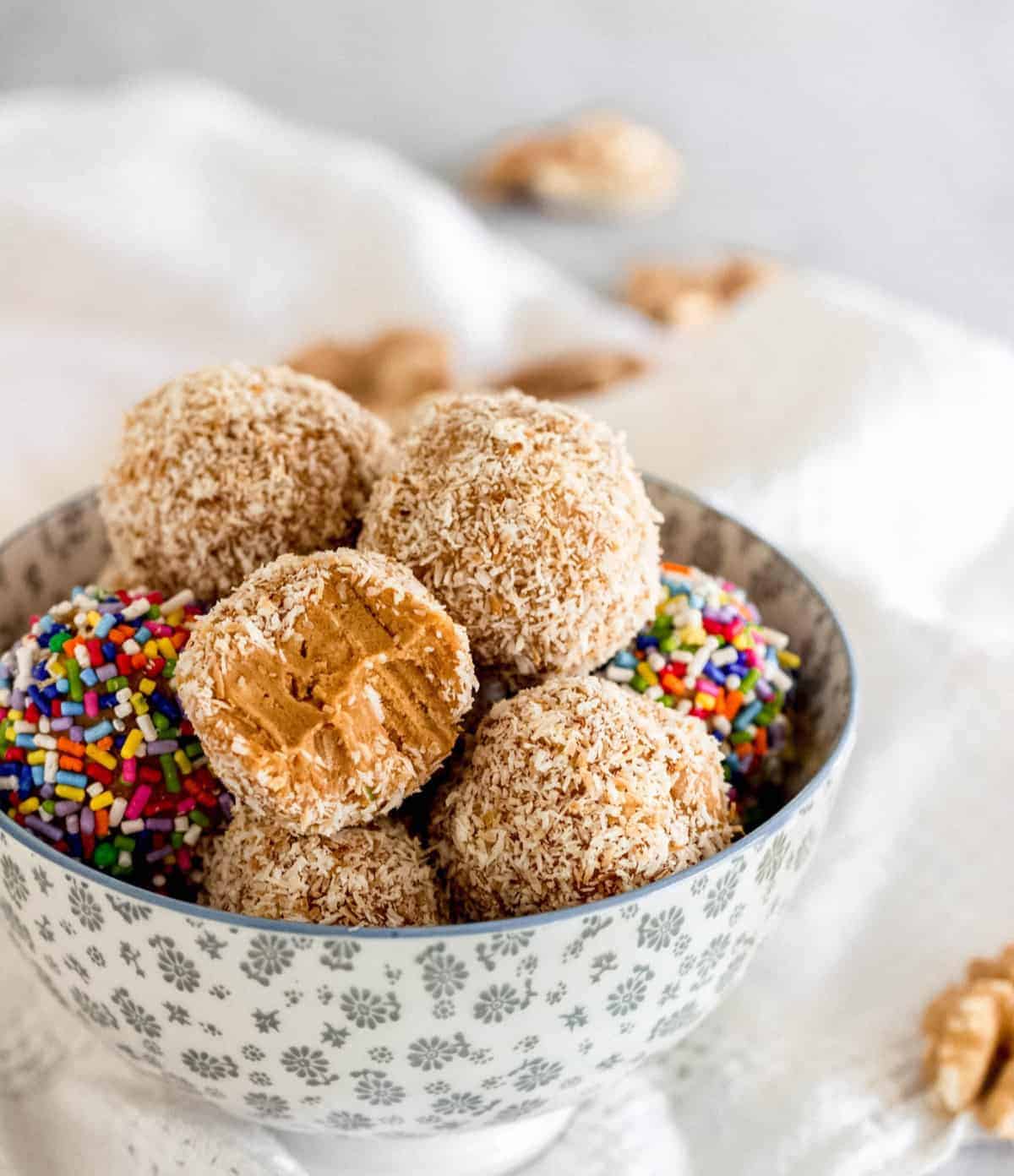 As an Amazon Associate, I earn from qualifying purchases. Please read my disclosure policy.
I wanted to make dulce de leche fudge and cut it into squares.
While trying different variations, I realized they tasted better with less powdered sugar (needed to make them firm enough to cut), because the flavor of the sweet jam was stronger. So fudge balls it is.
As with most truffles, this recipe is easy to make and, though it requires some time in the fridge, pretty quick too.
You'll love that they can be frozen too since that will enable you to have them as a last-minute dessert or snack while watching the latest series or whatever is your thing. I don't know if your hips will be as happy, but hey, YOLO.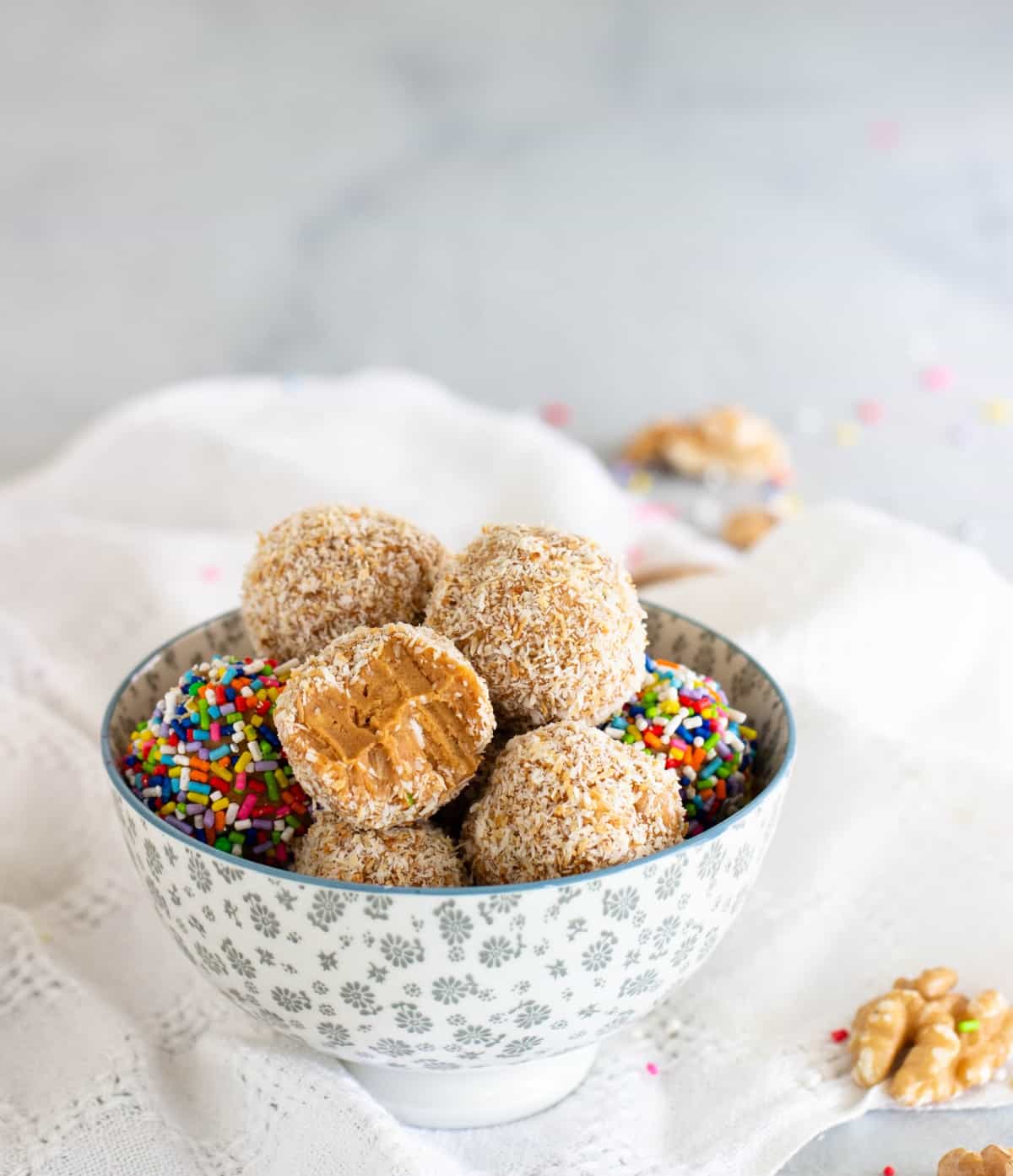 I have a lot of recipes with dulce de leche.
That's because I'm from Argentina, which is that milky jam's birth country - I know there might be some rivalry with neighboring countries about this, but I'm standing my ground as founder, haha - and it's probably our most used jam or paste.
What is dulce de leche?
Dulce de leche is a sweet jam made with milk, sugar and baking soda, the latter being accountable for its dark color. It takes a few hours to make and there are as many tips and tricks as there are grandmothers in this country. Each with its own recipe.
We have an abundance of brands and styles, pretty much like peanut butter in the US. So we use it a lot as you might imagine.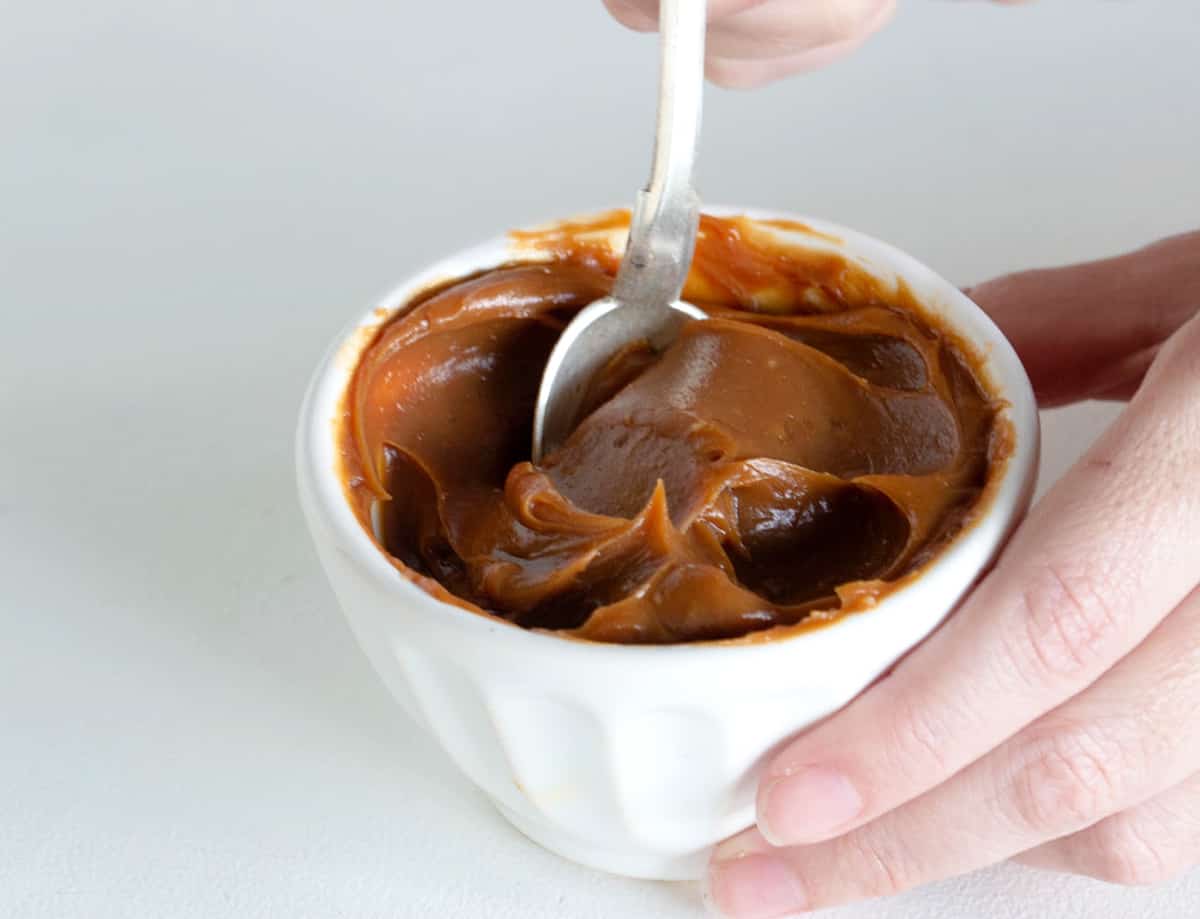 The flavor is very sweet, similar to caramel but not quite.
It does have a milk undertone, something that caramel lacks, and some might say it's not as sophisticated, and they might be right. I'm a raving fan so my opinion is biased.
There is regular dulce de leche and there is pastry dulce de leche.
The former is softer and the latter is thicker, courtesy of additives that make it hold better and are good for piping for example.
Or for filling alfajores. Otherwise, the filling would start spreading outside of the cookies.
Easy steps for making truffles
Mix all ingredients in a bowl, except the coconut or sprinkles used to roll them in.
Pour this mixture into a pan for quicker cooling, or leave it in the same bowl. Cover and refrigerate.
Takes spoonfuls and quickly form balls the size of nuts.
Roll them in shredded coconut (lightly toasted is better), sprinkles, or ground nuts.
Refrigerate until cold, or freeze them for 10 minutes before eating.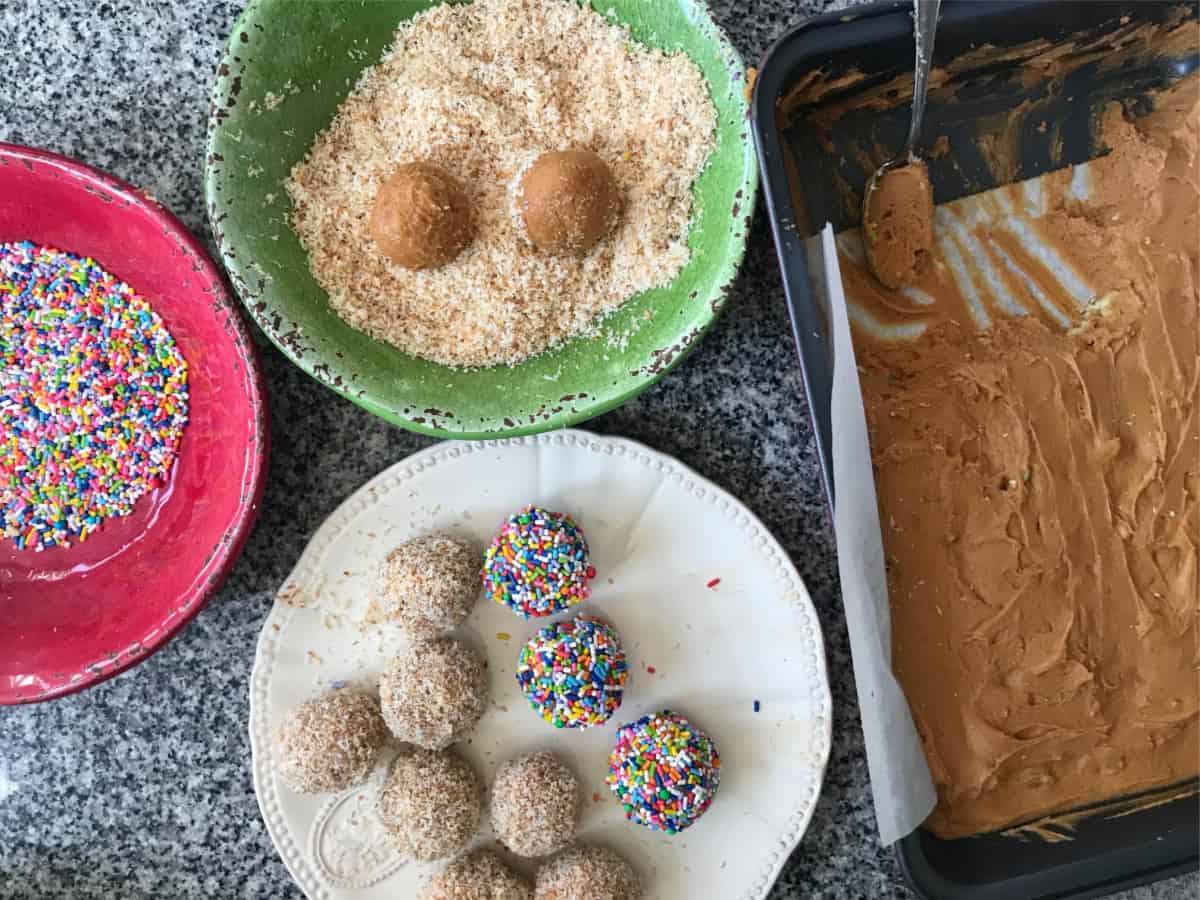 What type of dulce de leche should you use?
Use dulce de leche 'repostero' which is bakers or pastry in Spanish.
That means that the dulce de leche is thicker and holds better. That way you won't need to add as much powdered sugar.
You can add some cornstarch to regular milk jam and thicken it, as I did in this Halloween recipe years ago.
But before you click and go because you don't know where to get it, you can use regular dulce de leche and add more powdered sugar. Or coconut. Or even crushed vanilla wafers. Any additional ingredient to thicken the fudge. They will turn out amazing either way.
Coconut and dulce de leche are one of the best flavor combinations ever. Trust me on this one.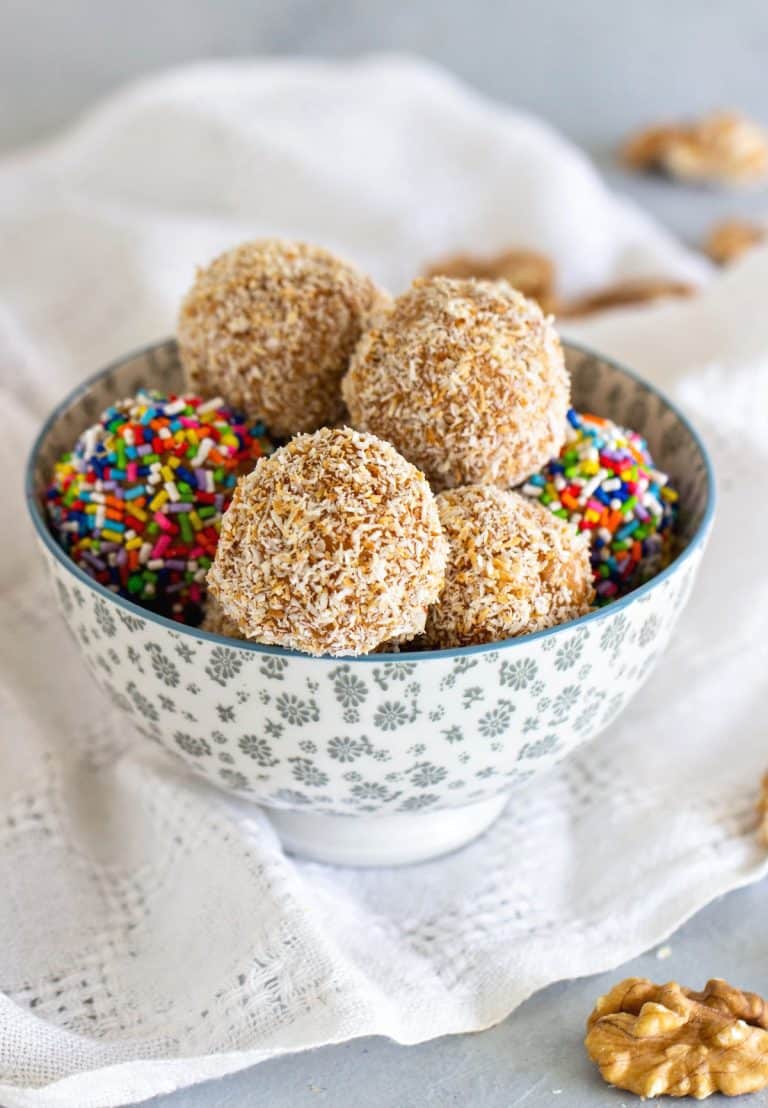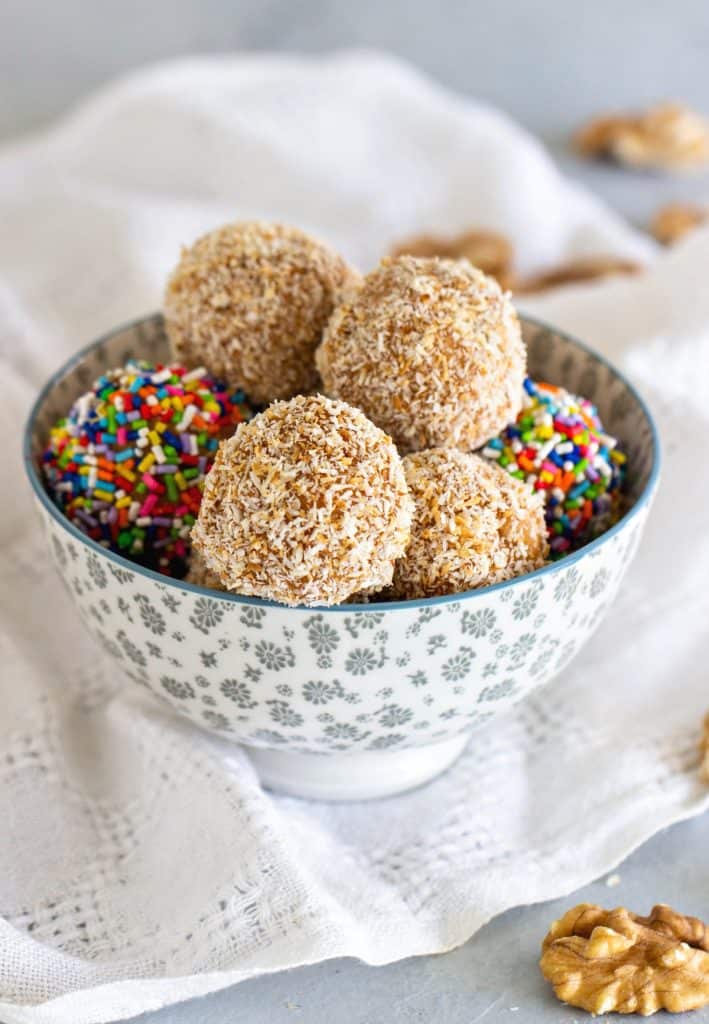 Rolling the truffles
You can use whatever you want to roll these fudge balls in - I used sprinkles too as is well documented.
Coconut: shredded unsweetened is the best combination. I recommend it being your first choice.
Ground nuts or cookies: they work very well too, of course. As do sprinkles.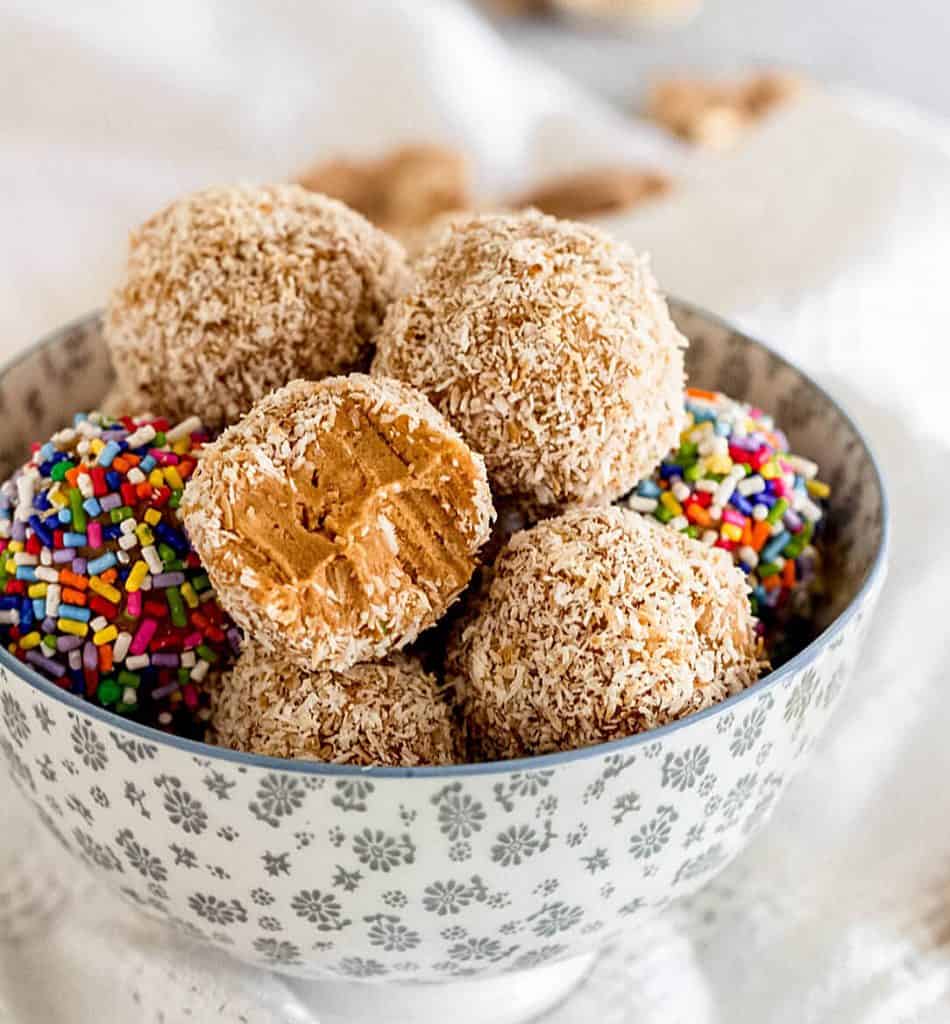 Other recipes you might like:
Double Chocolate Cookie Bark
Coconut White Chocolate Truffles
Dulce de Leche Brownies
Banana Muffin Cake with Dulce de Leche
Chocolate Dulce de Leche Birthday Cake
Flourless Chocolate Almond CakeEasy Chocolate Fudge (2-ingredients)
Triple Chocolate Peanut Clusters
Killer Brownies
Homemade Vanilla Marshmallows
Let me know in the comments below if you made this recipe and loved it and if you had issues so we can troubleshoot together. I love to hear what you think, always. Thanks for being here. It's much appreciated.
You might also consider subscribing to our FREE email series to Boost your Home Baking Skills! And our regular newsletter.
And let's connect via Facebook, Instagram, and Pinterest.
Print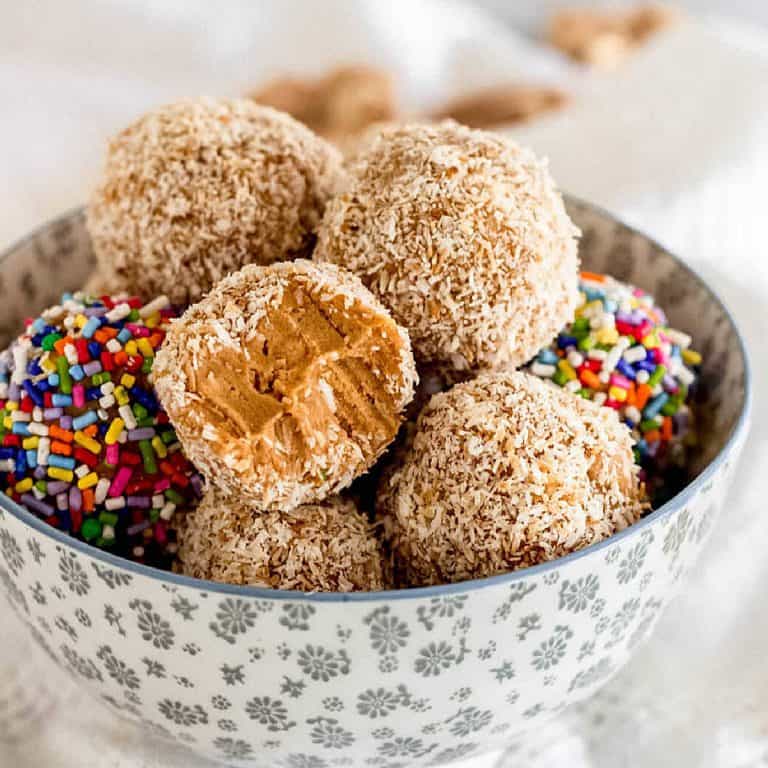 Dulce de Leche Coconut Truffles
Soft and creamy, these dulce de leche coconut fudge truffles are easy to make and such a crowd pleaser! The combination is mind-blowing and might turn out to be addictive.
Total Time:

20 minutes

Yield:

35 balls
1

pound

+

3

tablespoons

(500g) dulce de leche

4 Tablespoons

(

60g

) unsalted butter, at room tº

1 Tablespoon

coffee liquor

1 teaspoon

pure vanilla extract

1

and ¾ to 2 and ¼ cups powdered sugar

1

cup

(100g) finely chopped, toasted walnuts

3 tablespoons

shredded coconut
Extra shredded coconut or sprinkles
Instructions
Mix dulce de leche, butter, liquor, vanilla, powdered sugar, and walnuts until you have a paste. It will be soft.
Refrigerate covered until it firms up enough to make balls.
When ready, put shredded coconut and sprinkles (or whatever you're using for coating) in shallow dishes.
Take a large teaspoon mixture and make balls with your hands (it might get messy), the size of walnuts and roll in desired extras.
Keep refrigerated.
Notes:
Liquor: you can use cognac or Frangelico or any other you think goes well with caramel. Omit if making for kids.
Depending on the dulce de leche you use add 1-2 tablespoons extra coconut if fudge mixture is too soft. Same goes for the largest amount of powdered sugar in the recipe.
Besides sprinkles or coconut, you can roll the fudge balls in finely chopped nuts or ground cookies.
Notes
They can be frozen.
Make them with peanut butter instead of dulce de leche.
Roll them in ground nuts or dip them in chocolate.
Author:

Paula Montenegro

Prep Time:

20 minutes

Category:

Candy

Method:

Mixing

Cuisine:

International
Keywords: dulce de leche fudge truffles