This is the best summer frozen dessert ever and extremely easy to make and gorgeous! It's an egg-free, no-churn recipe, so there's no need to make a custard on the stove or use an ice cream maker. Whether you add berries or leave it plain, it's a great project to make with kids. Simply mix, fill the popsicle molds, freeze and eat!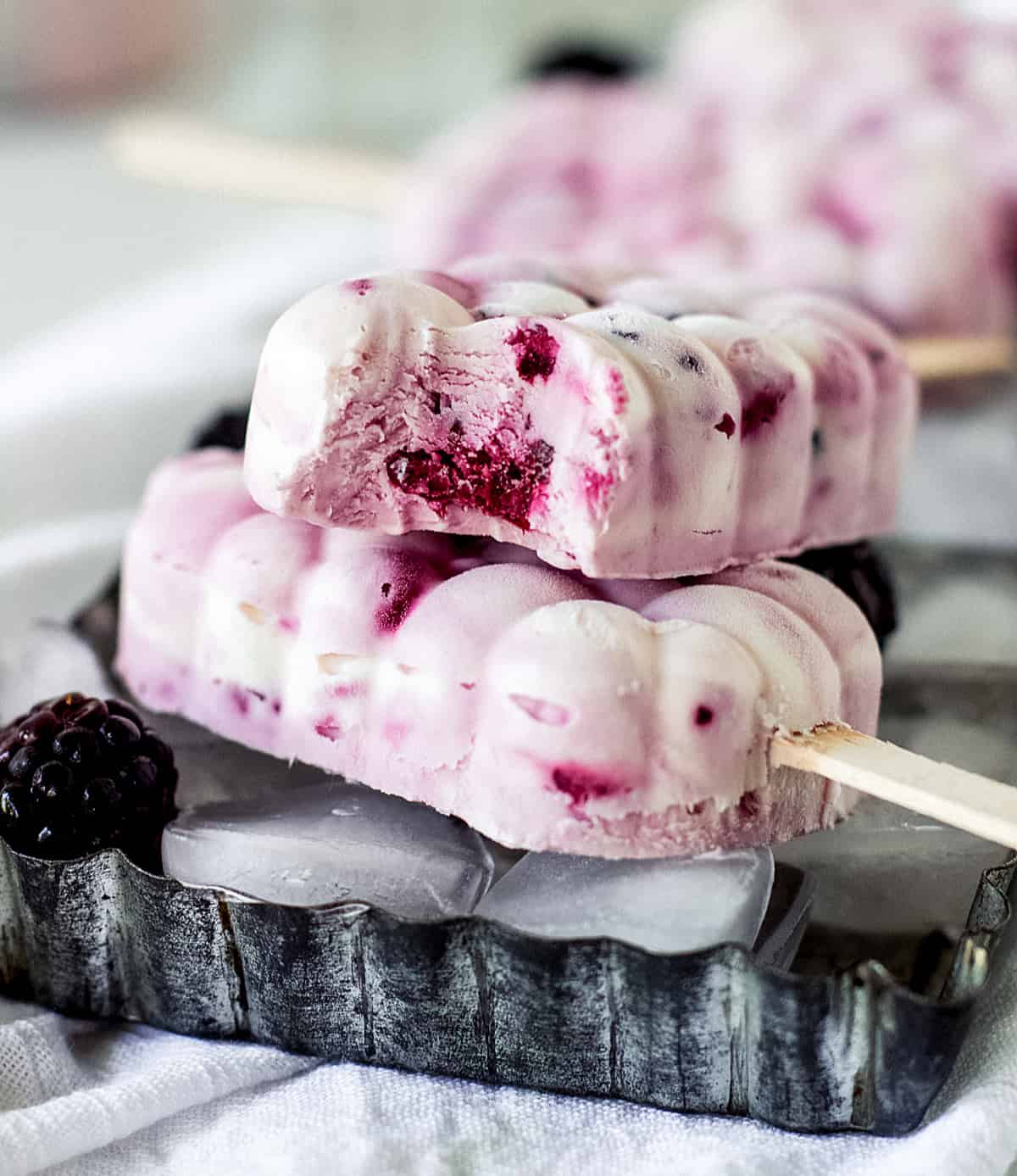 I believe this cheesecake ice cream today is among the best ones, perfect for a cheesecake fan (that's me, of course) and one of our favorite desserts because it's so ridiculously easy! If you like traditional cheesecake with a berry topping, this is straight up your alley.
I make quite a lot of homemade ice cream, but many of them don't make it here, only the best do, like the Chocolate Chip Ice Cream, which is not vanilla with cookie dough, but an ice cream that tastes like a chocolate chip. Simply fabulous!
As much as I love traditional ice cream recipes with egg yolks where you make a custard and all of that, sometimes you just want to mix and churn. Little time spent in the kitchen. Because it's summer, and you just want a good but very simple dessert.
Why this recipe works
It's ice cream people, it always works! Seriously.
Easy to make: you simply mix the ingredients until smooth, fill the molds and pop them in the freezer. It's a great idea to make with kids.
Flavors: consider this recipe as an ice cream base where you can change the flavor with different berries and citrus combinations. Think lemon with blueberries or blackberries, orange or lime with strawberries.
Make ahead: have a large batch of popsicles with different berries and eat it straight from the freezer.
The color is gorgeous and the flavor is just like cheesecake. This ice cream is as easy to make as reading the title.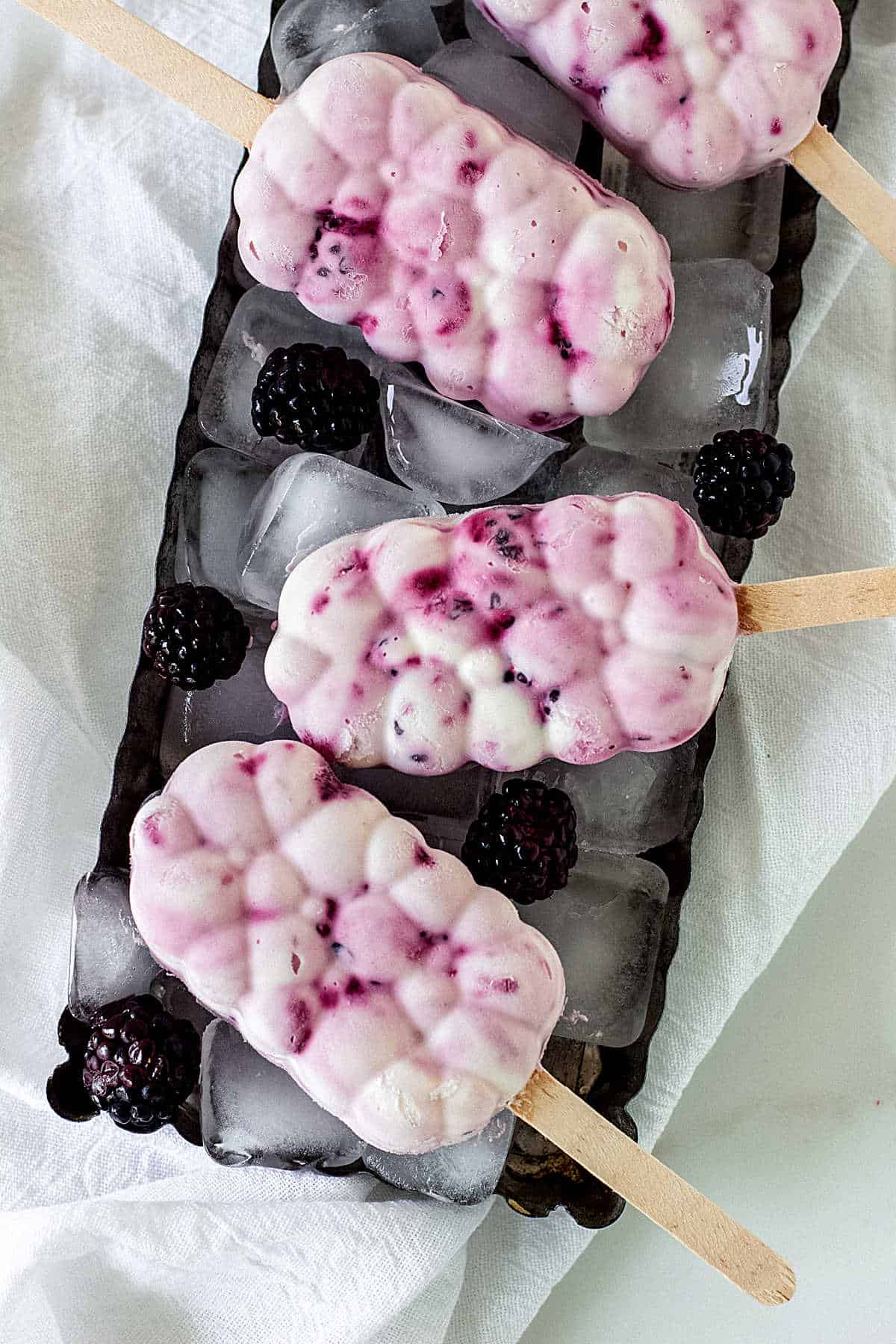 Why is cheesecake ice cream so good?
Because it's a mix between two favorites: ice cream and cheesecake! It's creamy but doesn't melt quickly. And this recipe today is straightforward to make and perfect for hot weather.
What does cheesecake ice cream taste like?
It's like a frozen cheesecake. It's sweet, tangy, and creamy at the same time.
What does no-churn ice cream mean?
It means it doesn't require an ice cream machine or ice cream maker used to churn the mixture so it doesn't crystallize in the freezer. This makes it very easy to prepare as it's a matter of mixing and then freezing the mixture in an airtight container.
Ingredient list
This ice cream has basic cheesecake ingredients. Of course, berries are involved and citrus, as they pair so well, but it's still all straightforward, and you can use any berry and any citrus combination.
Cream cheese: the regular type, full-fat cream cheese is needed for consistency and creaminess. I always use Philadelphia original cream cheese, but other premium brands work fine.
Sugar: I love brown sugar, but white granulated works fine too.
Heavy cream: it's always my first choice, but double cream or heavy whipping cream also work.
Vanilla: I use pure vanilla extract or pure vanilla paste when available, but a good vanilla essence (artificially flavored) also works and is infinitely cheaper.
Salt: both sea salt and kosher salt work.
Berries: any berry can be used for this recipe. Choose your favorite or use a mix. Fresh strawberries are a classic, but I really love blackberries.
Citrus: orange or lemon zest can be used as the go very well with berries.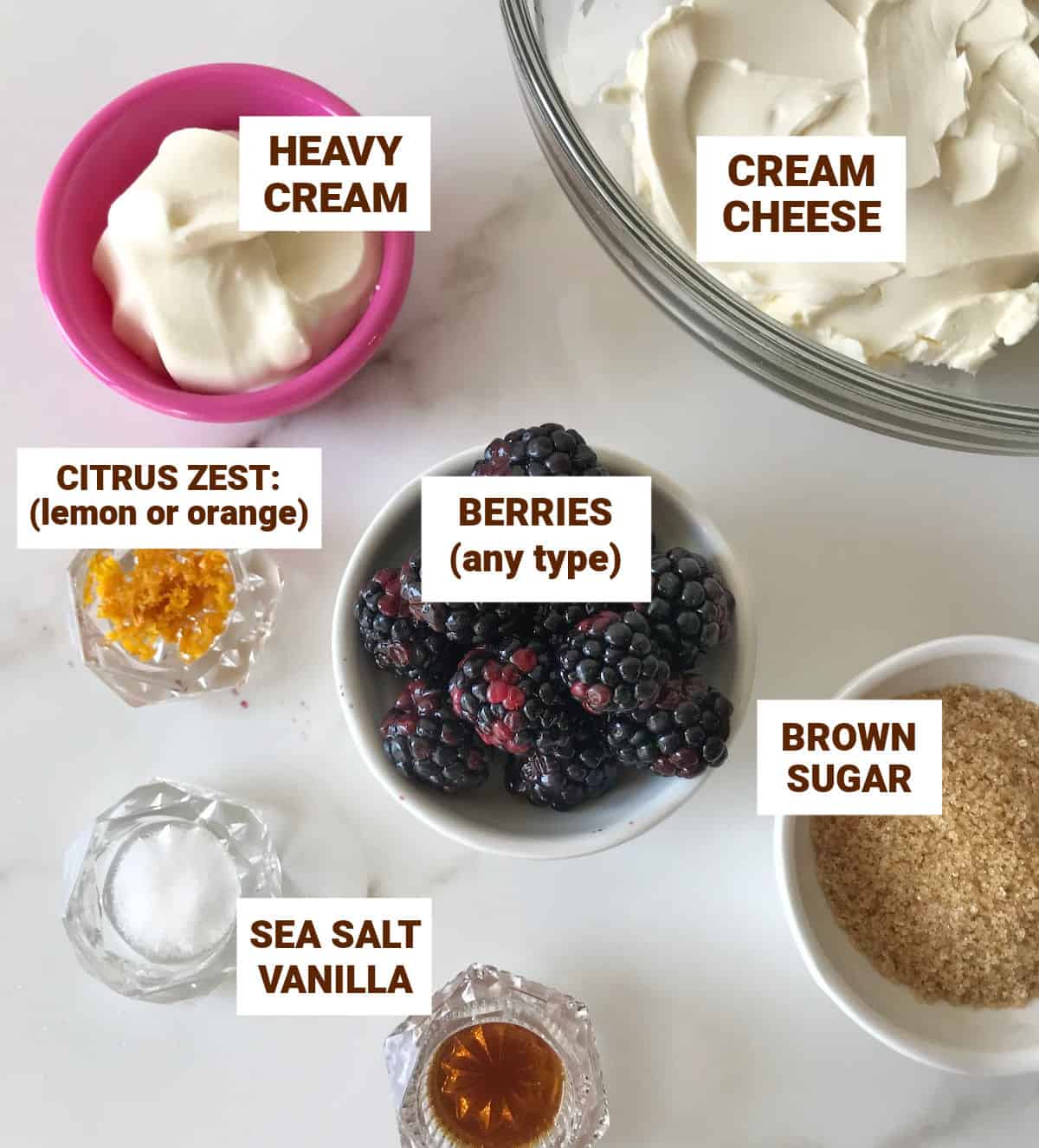 Preparing the berries
You simply put fresh or frozen berries in a pan with brown sugar, let it cook a bit, and then mix it in the cheesecake batter. That's it.
Add a teaspoon of lemon juice for a sharper flavor.
You can also make our fantastic Blueberry Sauce, a basic recipe that I use a lot for this ice cream.
Or choose another berry, like strawberries and lime, a combination I also love.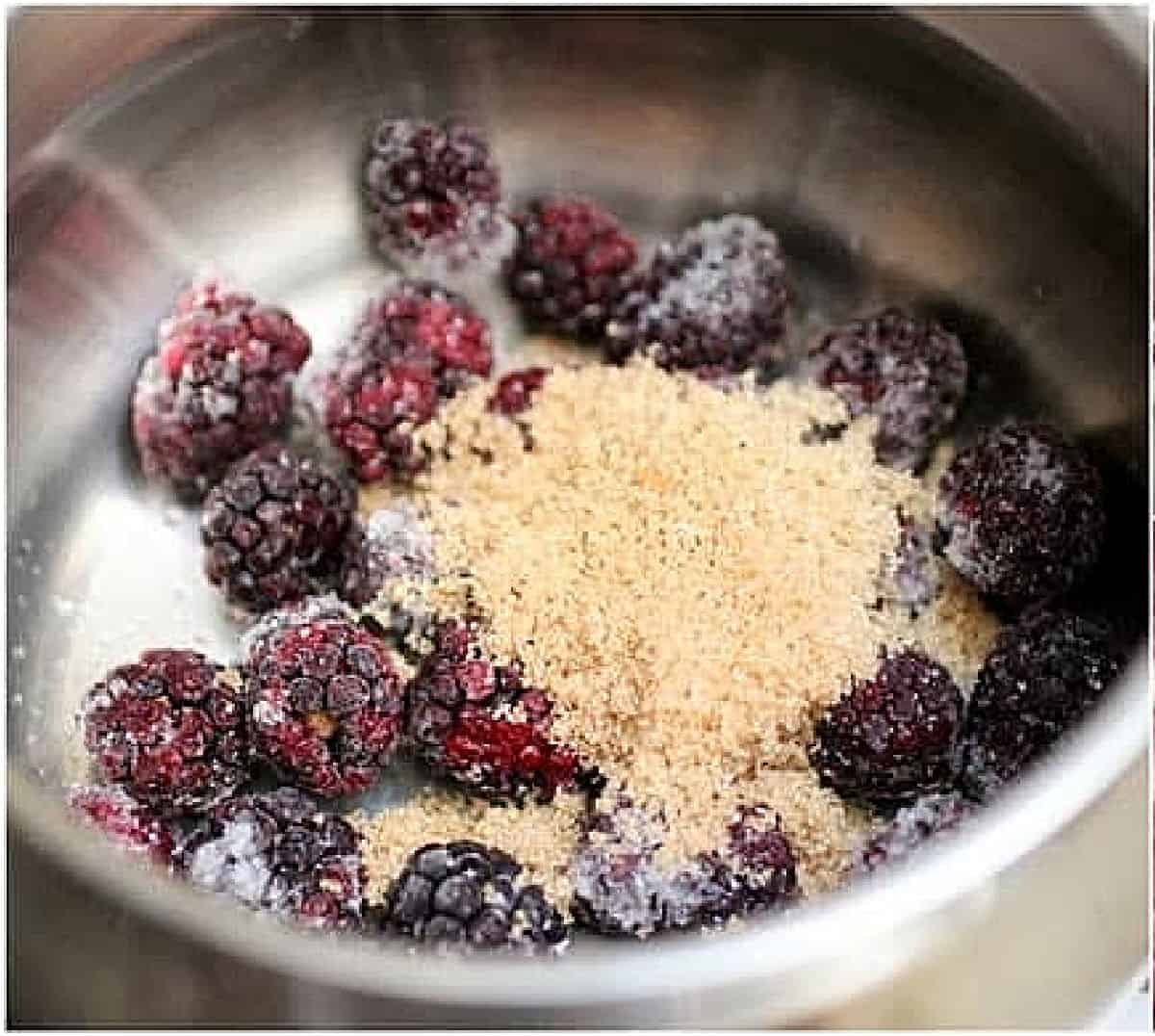 How to make cheesecake berry ice cream
This is such an easy recipe!
A berry compote needs to be made. You can use a purchased one, but nothing beats the flavor of homemade berry sauce. ANY berry works, fresh or frozen, so it's an easy step. Besides blackberries, I also love raspberries.
The cheese is well mixed with the rest of the ingredients but not beaten! This is important as we don't want to incorporate air, we only want to integrate everything well, so we don't use an electric mixer.
Berry swirl: the sauce is added to the cheese mixture and lightly swirled. Unless you want to have a one-tone ice cream mixture, be careful to leave some white cheesecake spots and whole berries. This will be wonderful when you bite and find puddles of berries and smooth cheesecake all in the same place. I use a spatula. A whisk can also be used but beware of overmixing.
Vintage Kitchen tip: make sure the cream cheese is at room temperature so it's easily mixed and well incorporated with the rest of the ingredients. Remember it's a mix-and-freeze dessert so the cheese mixture should have no lumps when you add the berries.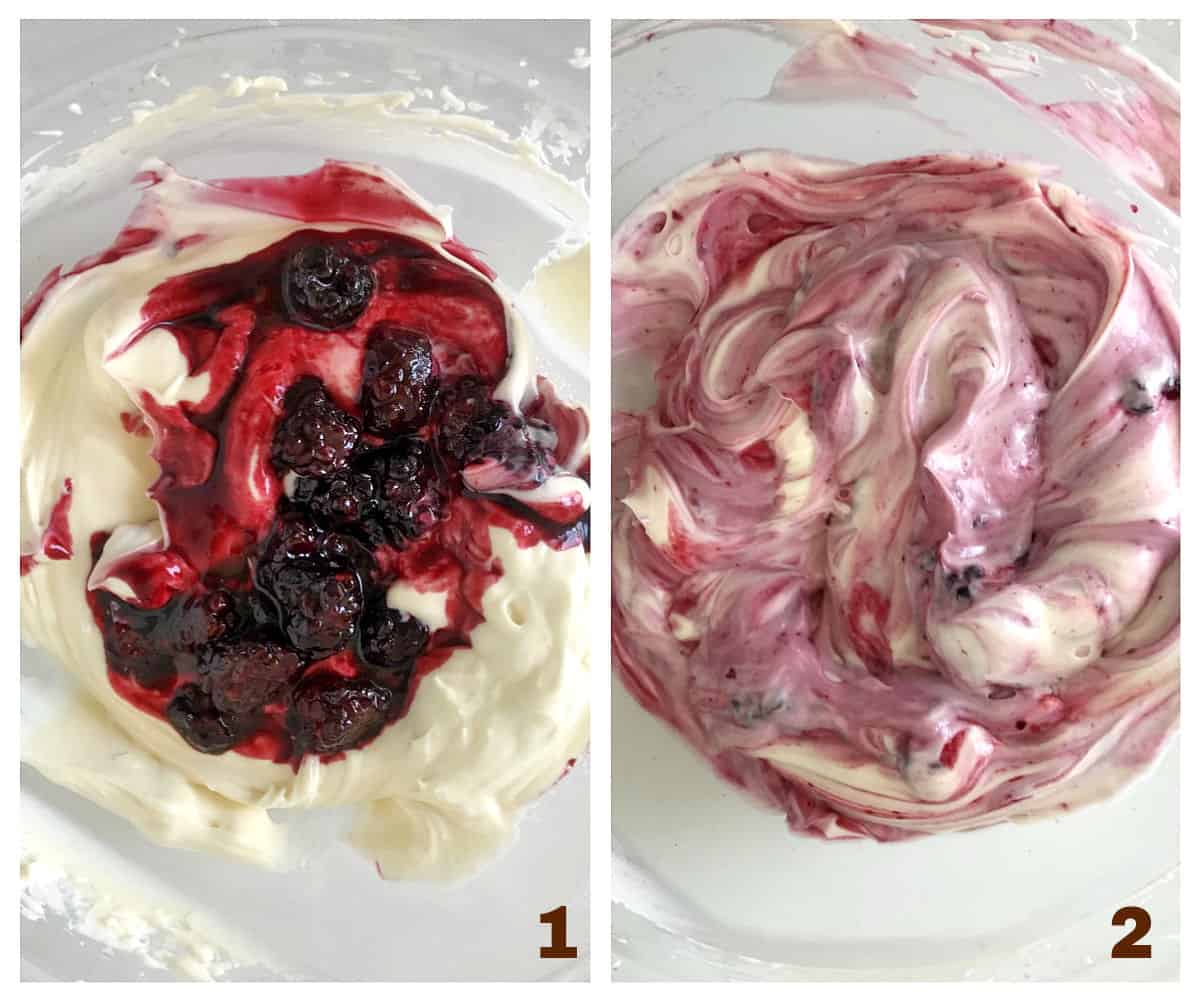 Popsicle molds
There are many different types of silicone and plastic popsicle molds. Many. Depending on where you live, there are many more. The ones I used are made where I live, Buenos Aires, so I bet most of you can't get them.
But the truth is most silicone ones will do. Depending on their capacity, you will get more or fewer popsicles, but that's it.
I always use silicone and they are amazing! The ice cream pops out like a charm. And though I never tried making these in plastic molds, they should work fine. Simply follow manufacturers' directions.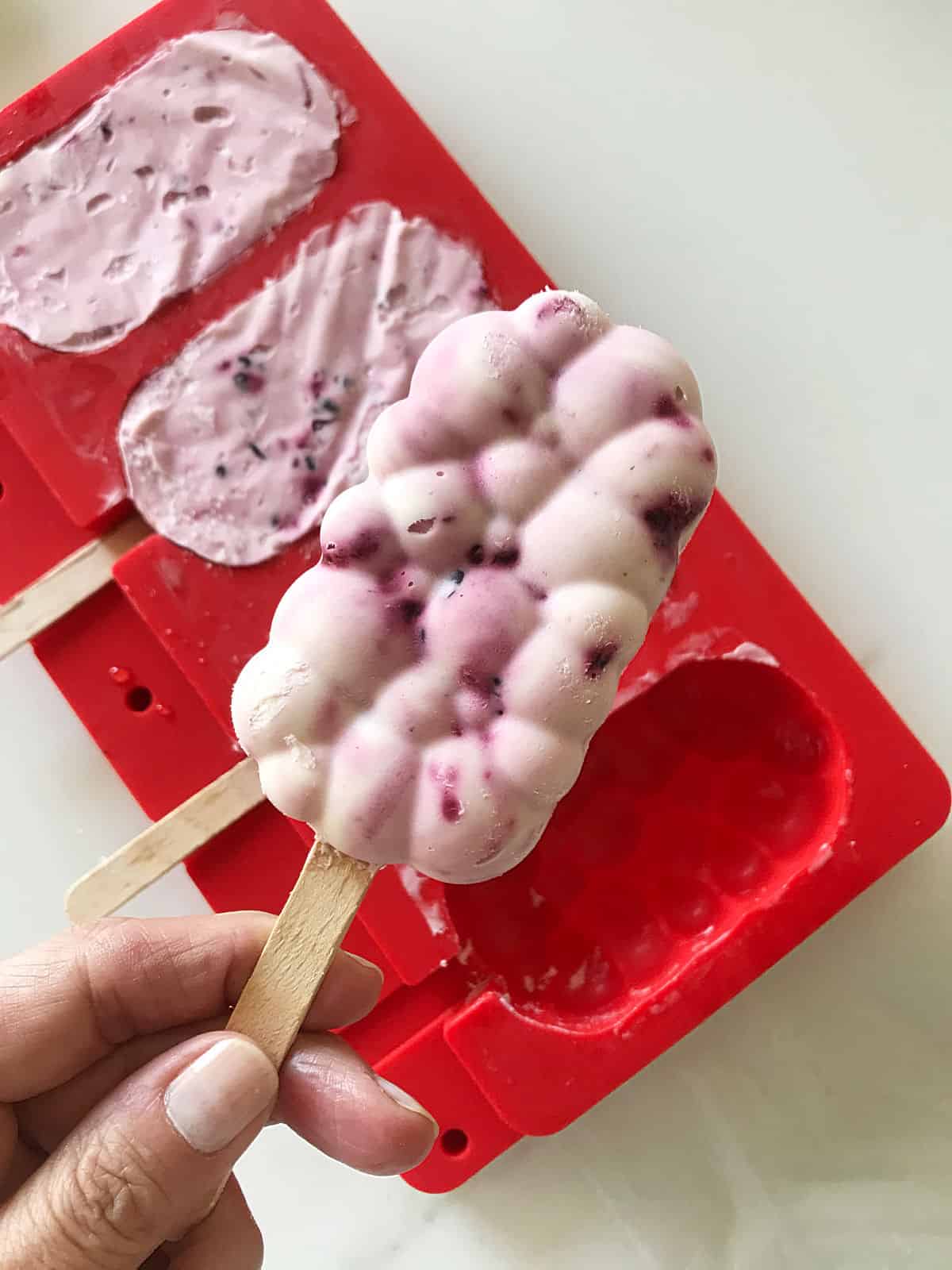 How to fill popsicle molds
The only challenge is to eyeball how many popsicles your recipe will yield, this one or any other. These are rather large, so I specified between 4-6 paletas in the recipe card.
Besides them being made of silicone or plastic, some come with the stick incorporated and some that don't. So make sure you have the wooden sticks before you start! Otherwise, you won't be able to remove them probably.
If you're using molds like those in these images, it's important to fill them ⅔ of their capacity, add the wooden sticks pressing ever so slightly (image 3), and fill them up completely. That way the stick is secured between 2 walls of ice cream.
Then smooth the surface with a knife (image 4) before freezing them.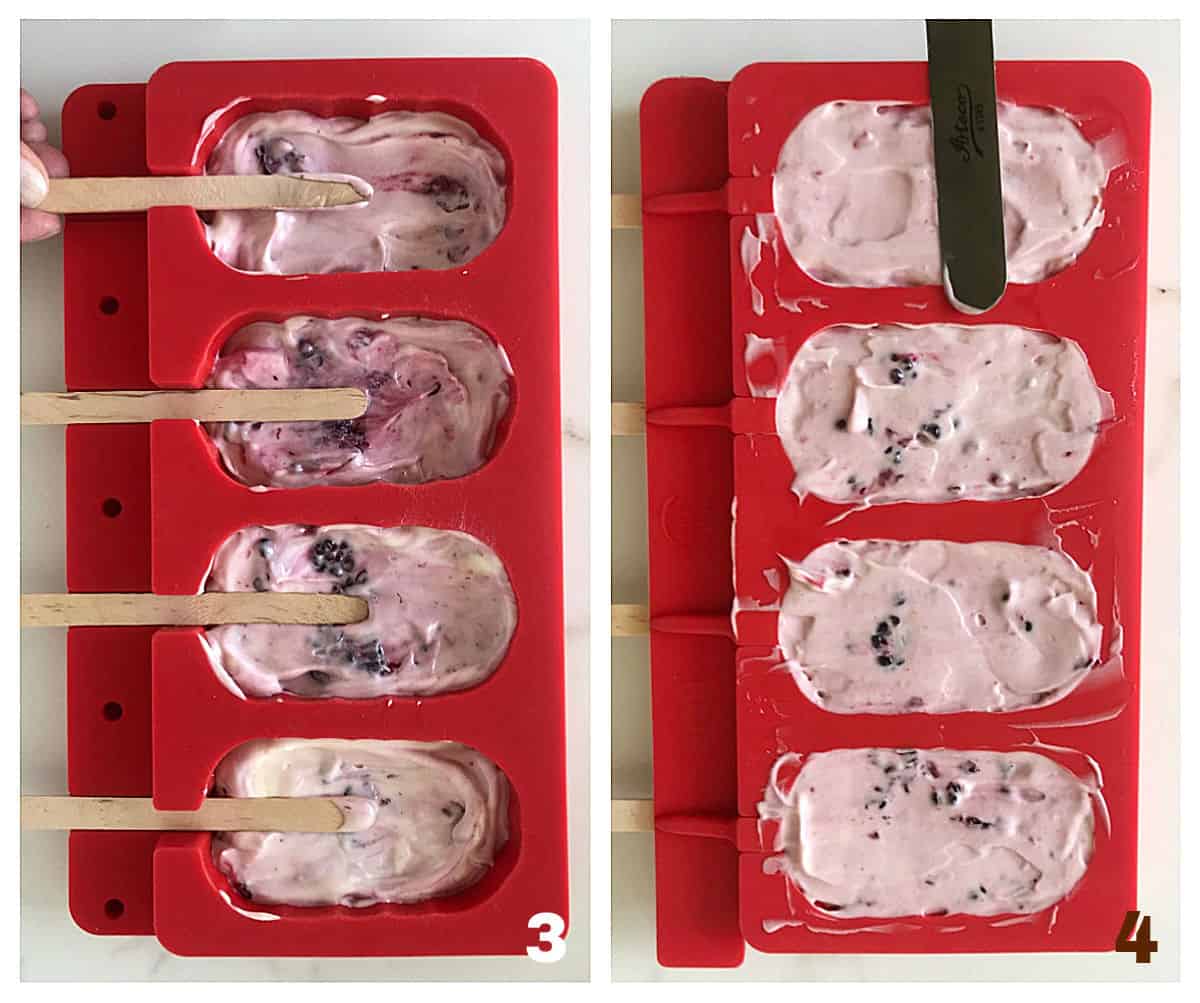 Variations
Citrus curd: it's an excellent substitution for the berry compote! Use your favorite, maintaining the amount. My favorite is the one I use for the Lemon No-bake cheesecake. The good homemade lemon curd will go wonderfully here.
This guide about No-Bake Cheesecake can come in handy for making this type of ice cream. Find flavor ideas or even recipes to make in popsicle form. Just make sure there are no eggs involved.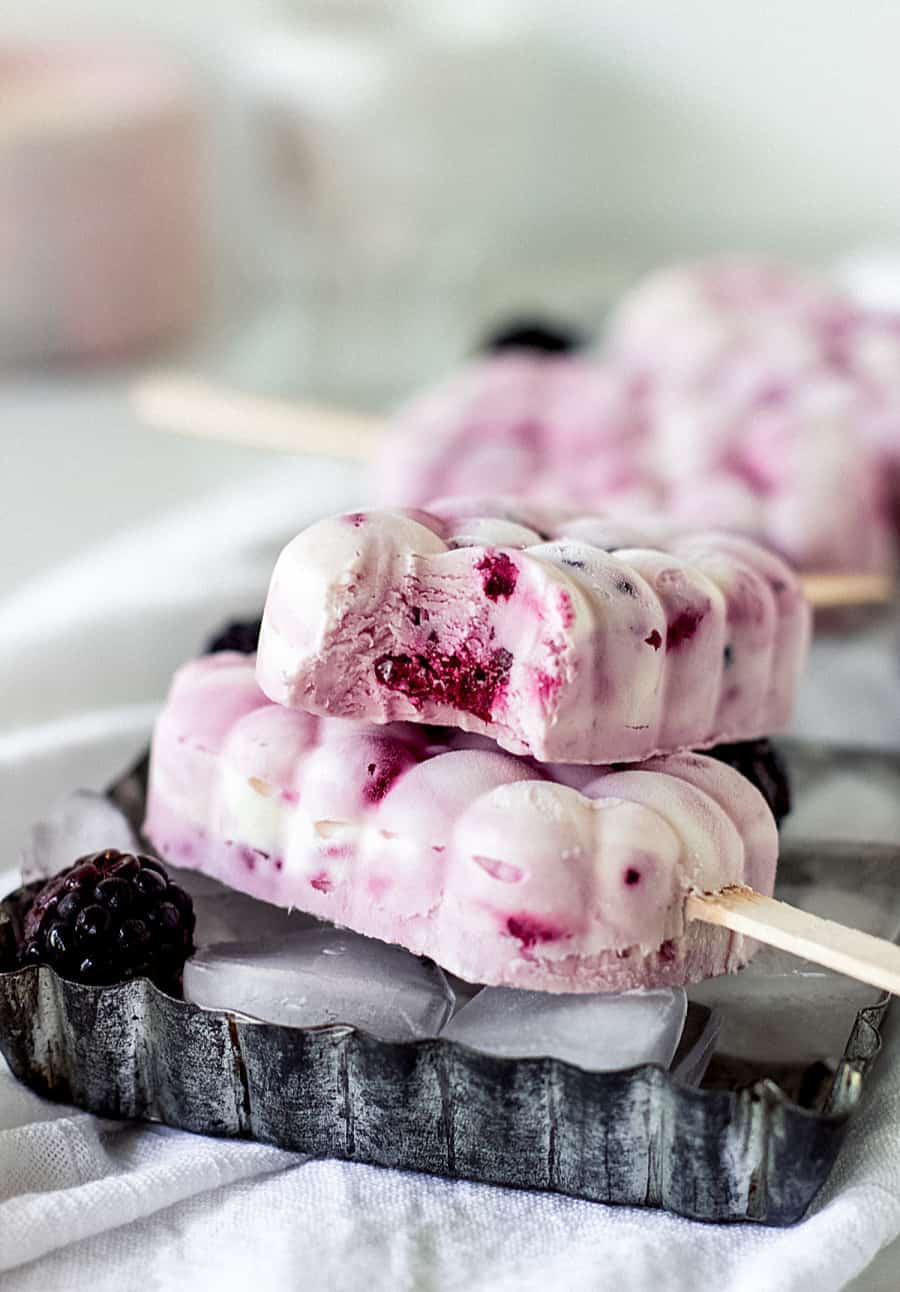 Kitchen notes
Organization: always read the recipe first and make sure you have all the ingredients, at the right temperatures, and also the rest of the equipment and space to make it. This will make the process so much easier!
Fruit: I love berries of any type, but you can also add other fresh fruit in small pieces.
Flavorings: you can also make it with no fruit, and vary the cheesecake flavor with lemon zest, or only an extract like vanilla, coffee, or almond. Or consider adding crushed graham crackers (a.k.a. graham cracker crumbs) to the cheesecake mixture.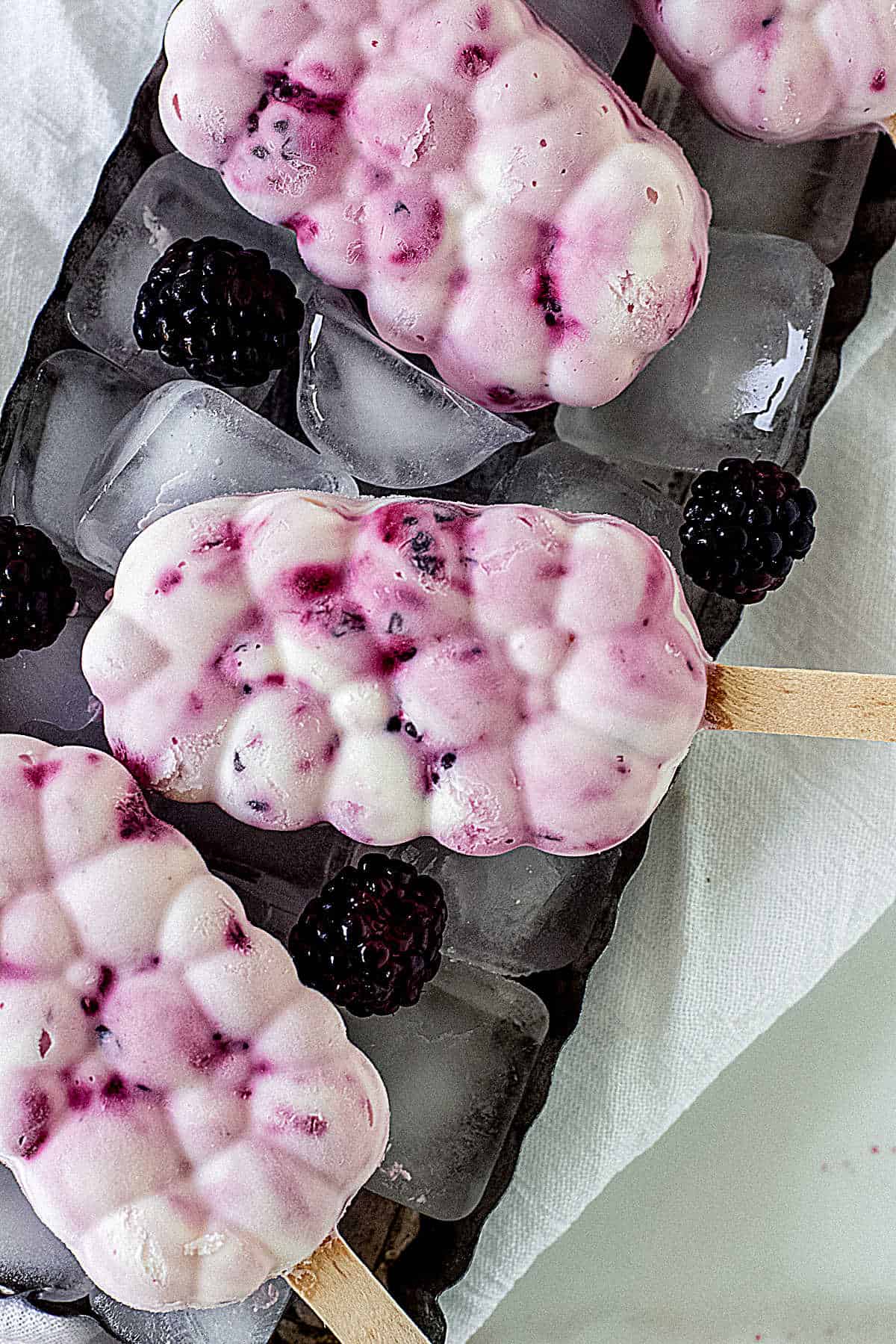 ---
Related recipes you might like:
---
Let me know in the comments below if you made this recipe and loved it and if you had issues so we can troubleshoot together. I love to hear what you think, always. Thanks for being here. It's much appreciated.
You might also consider subscribing to our FREE email series to Boost your Home Baking Skills! And our regular newsletter.
And let's connect via Facebook, Instagram, and Pinterest.
As an Amazon Associate, I earn from qualifying purchases. Please read my disclosure policy.
Print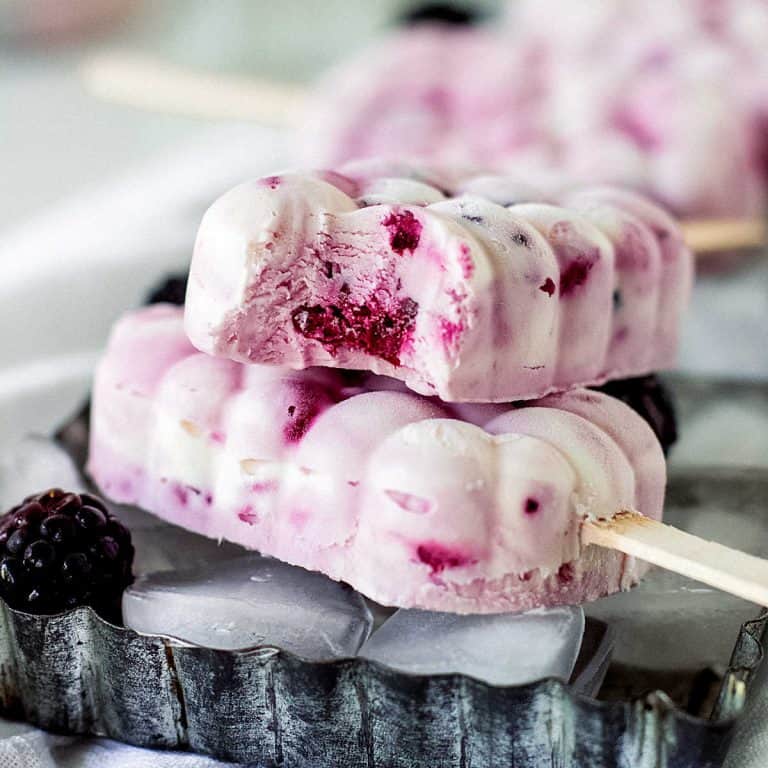 Berry Cheesecake Ice Cream
Extremely easy to make and gorgeous, this is the best summer frozen dessert ever! It's egg-free, no-churn and there's no need to make custard in the stove. You can use any berry you want and it's a great recipe to make with and for kids. Simply mix, fill the popsicle molds and freeze!
The specified time doesn't include freezing.
Total Time:

2 hours 20 minutes

Yield:

4-6 servings
For the berries:
1

cup

berries, fresh or frozen (I used blackberries)

2 tablespoons

light brown sugar

2

-

3

tablespoons water
Or prepare the Basic Blueberry Sauce without the cornstarch, using any berry you want
For the cheesecake ice cream base:
8

oz

cream cheese, at room temperature

⅔

cup

heavy cream, whipping cream, or heavy whipping cream

⅓

cup

light brown sugar (white can also be used)
A few gratings of orange zest

¼ teaspoon

vanilla
Pinch of sea salt
Instructions
For the berries:
Put all berries, sugar and water in a medium saucepan and cook over low or medium heat.
Stir frequently until it boils. Reduce (let simmer) for a minute or two and remove from heat.
Transfer to a shallow container or small bowl and mash berries with a fork or spoon and refrigerate.
If making this the same day you mix the ice cream base, then freeze it while making the base. It will be cold enough when you add it.
For the cheesecake ice cream base:
In a medium bowl beat cream cheese, cream and sugar just until smooth. Don't overbeat.
Add orange or lemon zest, vanilla, and salt.
Take out the berry mixture and combine them with the cheese mixture. It's important to do this lightly; we want pools of berries and a light marbling. I use a spatula or wooden spoon.
Divide the mixture evenly among the popsicle molds (it fills 4-6 depending on the size) making sure you add the sticks.
Freeze, covered by a plastic or a freezer separator sheets.
Eat straight from the freezer.
If wanting to scoop it into bowls and not make popsicles, use a freezer-safe container and take it out about 20 minutes before serving to allow it to soften a little.
Notes
Popsicle molds: besides them being made of silicone or plastic, there are some that come with the stick incorporated (like this xiaohuhu Fruit Silicone Ice Cream molds, or the Kootek Popsicle mold) and some that don't (like the Popsicle Molds Ouddy) so make sure they add the wooden sticks! Otherwise, you won't be able to remove them probably.
Fruit: I love berries of any type, but you can also add other fresh fruit in small pieces.
Flavorings: you can also make it with no fruit, and vary the cheesecake flavor with lemon zest, or only an extract like vanilla, coffee, or almond.
Author:

Paula Montenegro

Prep Time:

20 minutes

Freezing time:

120 minutes

Category:

Ice Cream

Method:

Mixing

Cuisine:

International
Nutrition
Serving Size:

⅙

Calories:

264

Sugar:

21.4 g

Sodium:

514.7 mg

Fat:

18 g

Carbohydrates:

24.2 g

Fiber:

0.7 g

Protein:

3.2 g

Cholesterol:

53.3 mg
Keywords: cheesecake ice cream