My mother visits me from time to time.  She doesn't live in Buenos Aires, so she stays at my place a lot when she's in town, and of course our personalities are put to the test, to say the least, though mine much more than hers. She has, like most mothers, a visceral endurance when it comes to her children's quirks/obsessions/intolerances/lack of patience/dubious humor/crappy awakenings.
So I'm learning to just let go of the little things, as much as my genetic coding allows. I will get to the sweet blackberry cheesecake ice cream recipe, don't worry. I made it especially for her.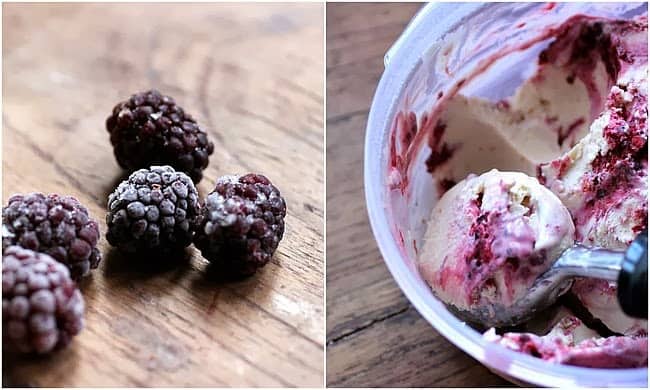 Take the last time she was here.
Not long after waking up, she started looking for a pair of socks, already in a crappy mood (hers) because she had a pimple (I admit it was getting quite big and as a woman she resented it ferociously) that just wanted to keep on growing. Yes a pimple, so superficial I know, but think of it as a symbolism if you want.
Anyway, the pair of red socks was nowhere to be found. I had heard her talking to herself while wandering around the house looking for them, and this was very out of place with my usual just me and my coffee mornings, which I love, so I got up and thought that two pairs of eyes would find the goddamn pair of red socks in no time. I mean, bright red, how can they get lost so easily.
I started looking at the obvious places, like inside the fridge, her purse, my bedroom… bright red socks she hadn't been able to find for the last twenty minutes where not on the pile of clothes in the chair or beside her bed, that was a given. But suddenly, all the odd places covered in the search, there really was nowhere else to look for them.
So I casually said, 'maybe you put them in your pocket or something'. When she looked down at her pant's pockets, a red thread peaked out, from inside her shoes. She was wearing them. That's my mom.
So the only thing to do was go into the kitchen and make her something rich and decadent.
We still have many years together ahead of us, and I don't see it getting any less ridiculous.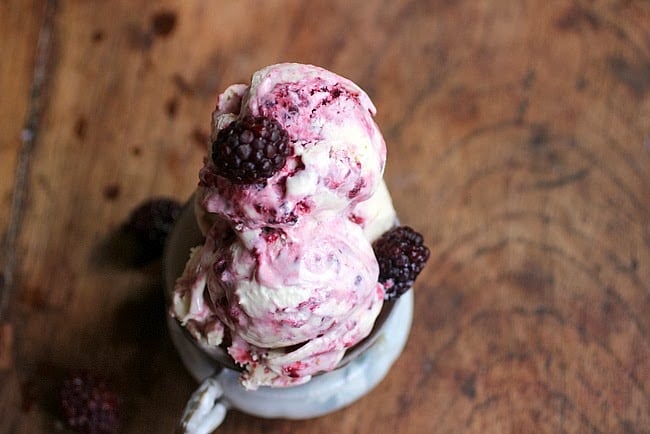 Do you like 
cheesecake? Blackberries?
This ice cream is as easy as reading the title, the only downside is waiting before churning, and then after. But if you shove the mixture into popsicle molds, oh! sweet summer blackberry cheesecake ice cream paletas in almost not time.
No bake cheesecake is a snap to prepare, and this is exactly that, with added berries that are first cooked with a tiny bit of light brown sugar. And quite perfect for summer, since it solidifies a lot. So it will hold up to the heat better than others, like the tangerine cointreau sorbet for instance.
Print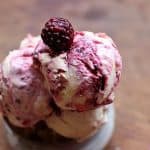 Sweet Blackberry Cheesecake Ice Cream
---
Description
This ice cream freezes rock hard, so keep that in mind when taking it out.
---
Scale
Ingredients
For the blackberries:
1 cup

blackberries (fresh or frozen)

2

Tbs light brown sugar

2

–

3

Tbs water
For the cheesecake ice cream base:
8 oz

220g cream cheese, softened

2/3 cup

cream

1/3 cup

light brown sugar
Zest of

½

orange

¼ teaspoon

vanilla
Pinch of sea salt
---
Instructions
For the blackberries:
In a saucepan heat all ingredients over low heat. Stir frequently until it boils. Reduce for a minute or two and remove from the heat.
Transfer to a shallow container, mash berries with a fork or spoon and refrigerate.
If making this the same day you churn the ice cream base, then freeze it  while making the base. It will be cold enough when you add it.
For the cheesecake ice cream base:
In a bowl beat cream cheese, cream and sugar just until smooth.
Add zest, vanilla and salt.
Combine, transfer to a container with a lid, or bowl with plastic wrap, and refrigerate until very cold, 6 to 8 hours or overnight.
Churn according to manufacturer's directions.
Transfer to a freezer-proof container, add blackberry mixture, swirl a few times, cover and freeze until solid.
---
adapted from this recipe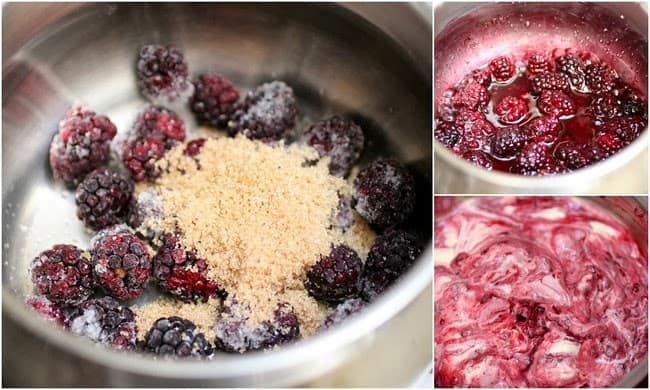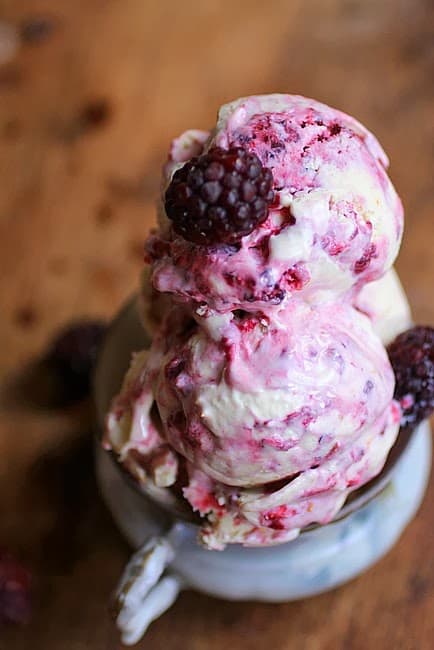 Today's 5 related recipes worth looking at:
No Bake Lemon Blueberry Cheesecakes from Bake Your Day
Blackberry Chevre Salad from Annie's Eats
Blackberry Coconut Lime Popsicles from Transient Expression
Peach Blackberry Lavender Ice cream from Grab a Plate
Blackberry Pear Herbed Pizza from The Whole Family's Food
---