Extremely easy to make and gorgeous, this is the best summer frozen dessert ever! It's an egg-free, no-churn recipe so there's no need to make custard in the stove. You can use any berry you want and it's great to make with and for kids. Simply mix, fill the popsicle molds, freeze and eat!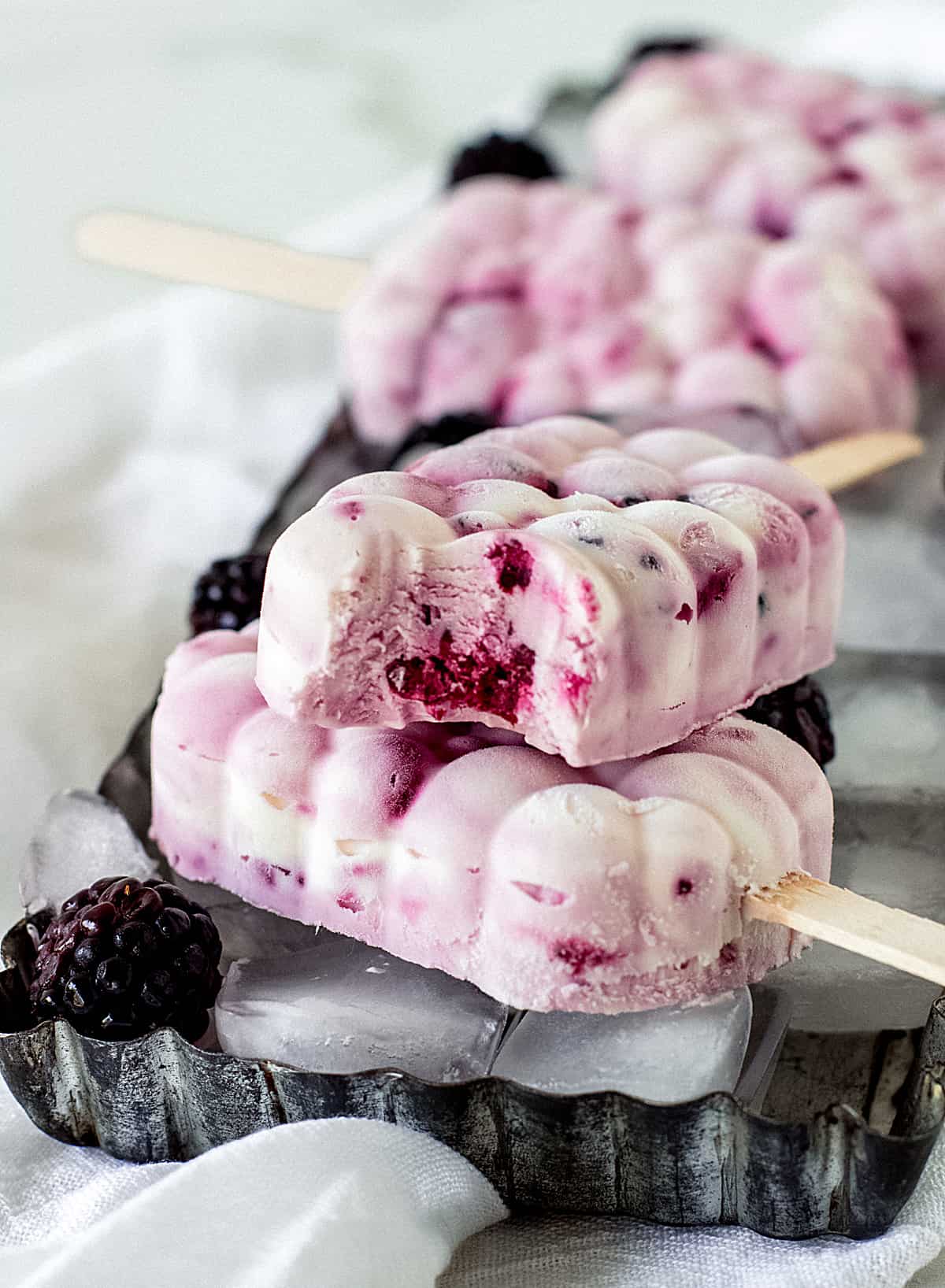 Originally posted in August 2013, the text and images have been updated to serve you better. The recipe remains the same.
I make quite a lot of ice cream and, though many of them don't make it here, the best do, like the Chocolate Chip Ice Cream which is not vanilla with cookie dough, but an ice cream that tastes like a chocolate chip. Simply fabulous!
It has to be good to be posted, and this cheesecake ice cream is. If you like traditional cheesecake with berry topping this is straight up your alley. But you already knew that from the title, didn't you?
As much as I love traditional ice cream recipes with egg custard and all of that, sometimes you just want to mix and churn. No time spent in the stove or any of that sort of thing. Because it's summer, and turning on the stove is a contradiction.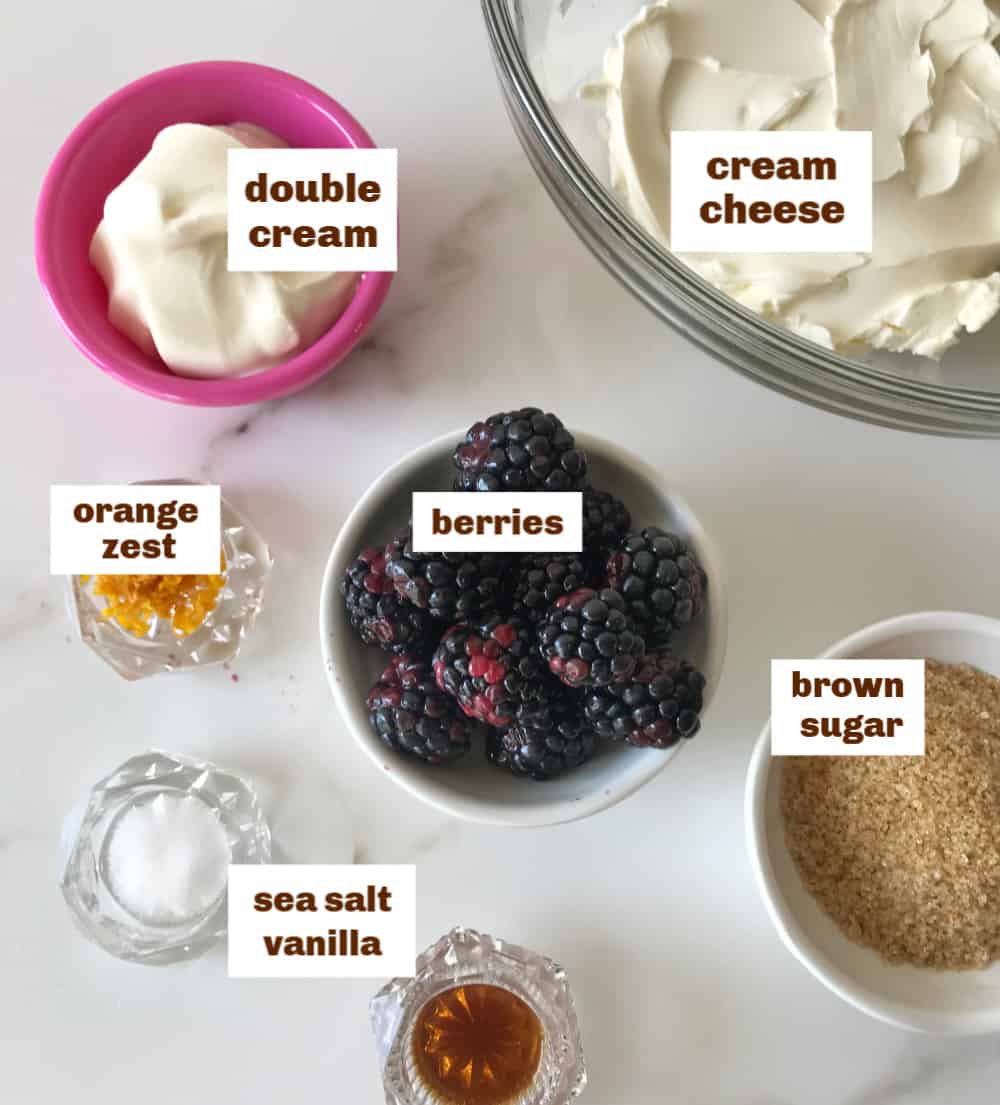 Ingredients
There are no surprises here. This ice cream has basic cheesecake ingredients. Of course, there are berries involved, and citrus because they pair so well, but it's still all very simple, as you can use any berry and any citrus combination.
Sugar: I love brown sugar, but white granulated works fine too.
Cream: I use a thick double cream. Heavy cream also works.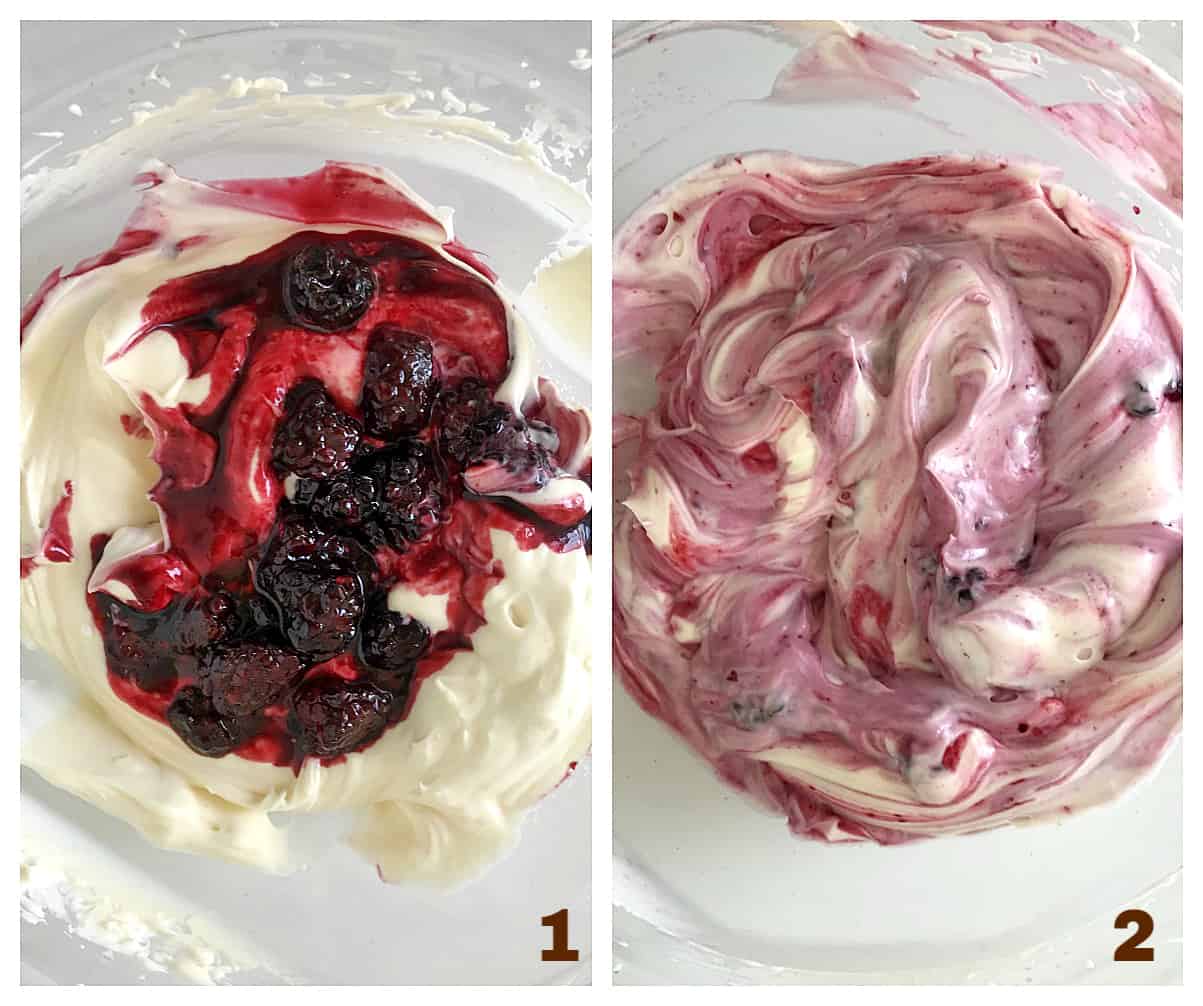 Simple steps
This is such an easy recipe!
A berry compote needs to be made. You can use a purchased one, but nothing beats the flavor of homemade berry sauce. ANY berry works, fresh or frozen, so it's an easy step.
The cheese is well mixed with the rest of the ingredients, but not beaten! This is important as we don't want to incorporate air, we only want to integrate everything well.
The sauce is added to the cheese and lightly mixed. Unless you want to have a one-tone ice cream popsicle, be careful to leave some white cheesecake spots and whole berries (images above). This will be wonderful when you bite and find puddles of berries and smooth cheesecake all in the same place.
Cheese should be at room t°: this is necessary to mix it well in the beginning and make sure there are no lumps. Remember it's a mix and freeze dessert.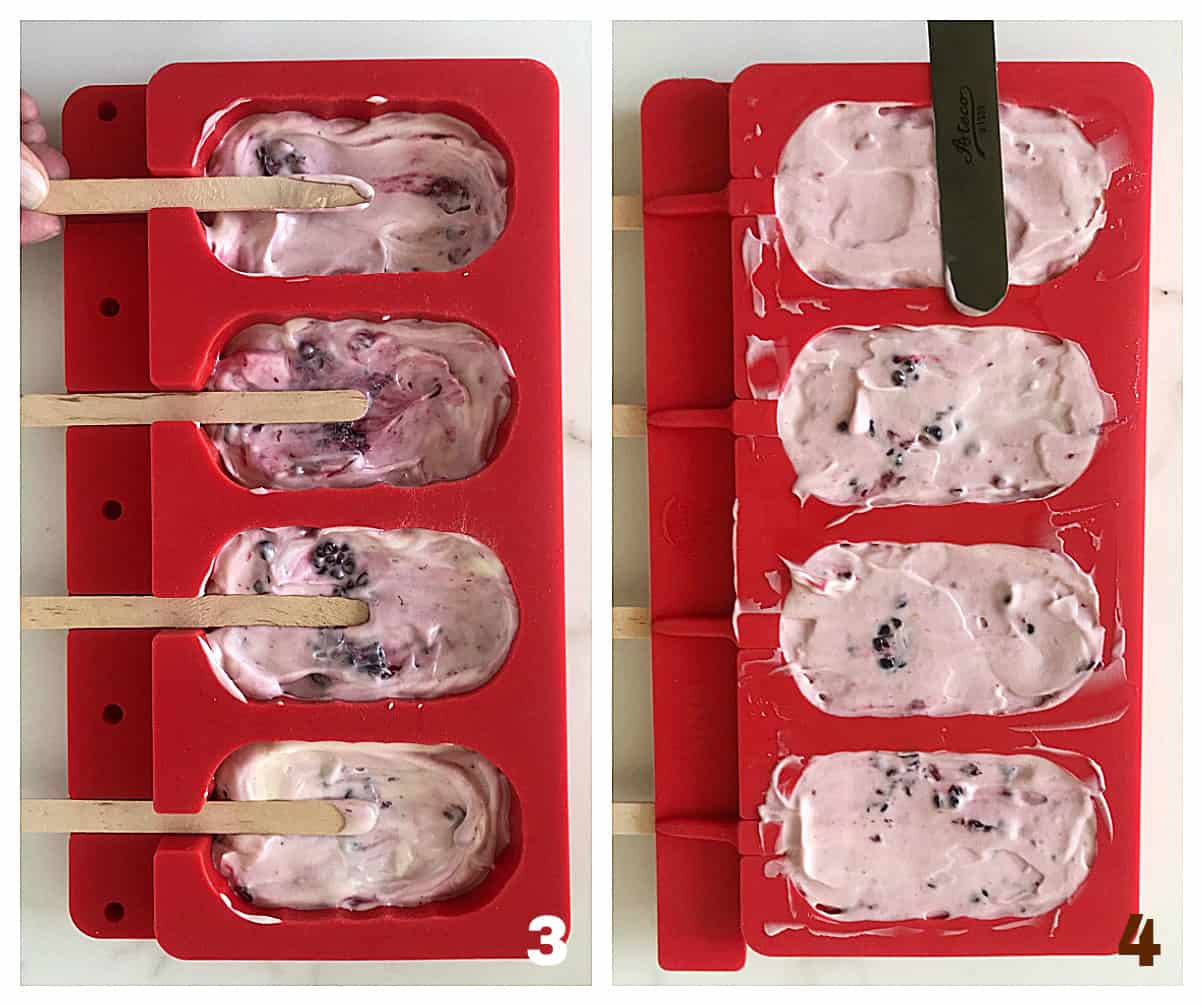 Popsicle molds
There are many different types of silicone and plastic popsicle molds. Many. Depending on where you live, there are many more, lol. The ones I used are made where I live, Buenos Aires, so I bet most of you can't get them.
But the truth is most ones will do. You will get more or fewer popsicles depending on the capacity, but that's it.
I always use silicone and they are amazing! The ice cream pops out like a charm. And though I never tried making these in plastic molds, they should work fine. Simply follow manufacturers' directions.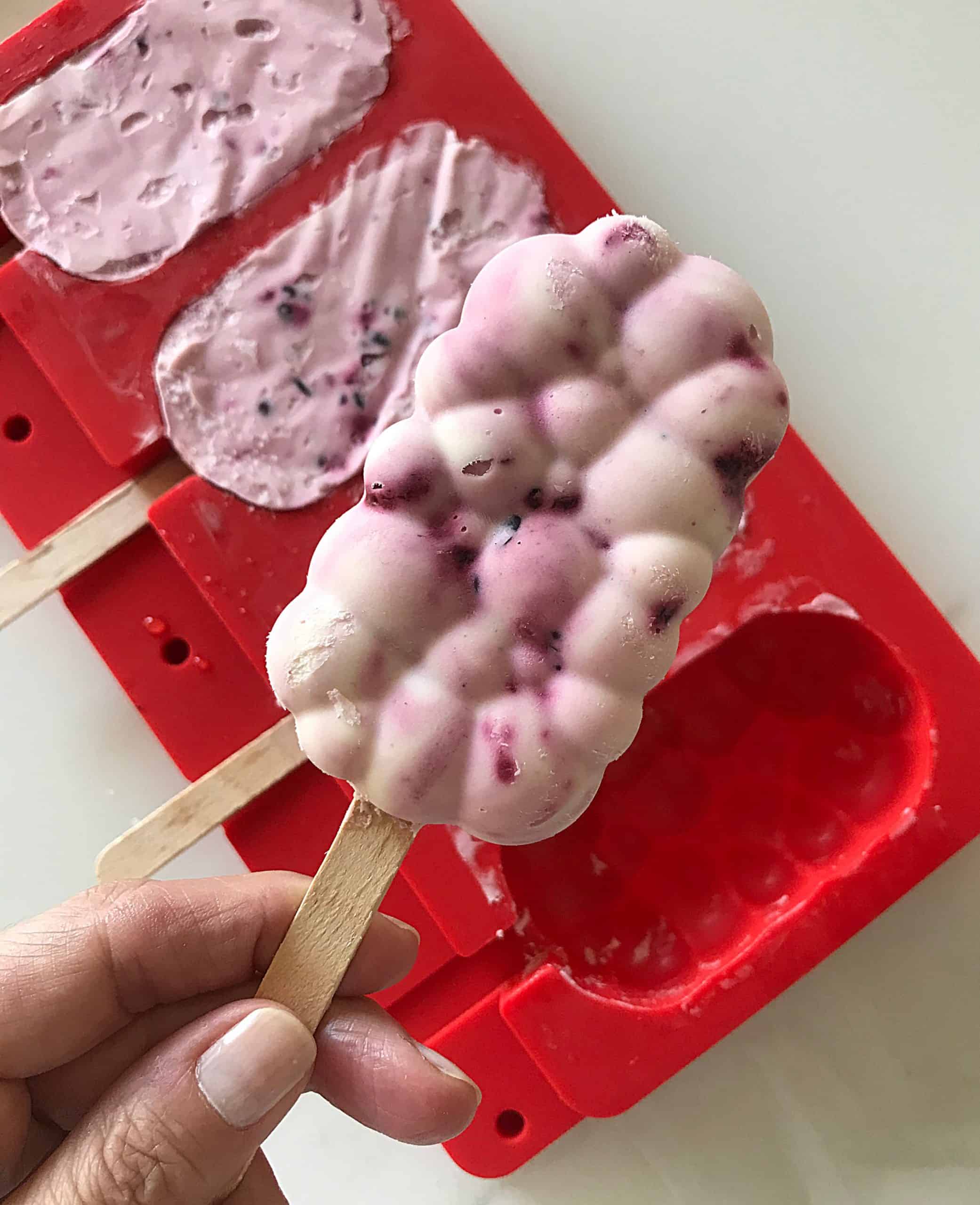 How to fill the molds
The only challenge is to eyeball how many popsicles the recipe you're making will yield, this one or any other. These are rather large ones, so I specified between 4-6 paletas in the recipe card.
Besides them being made of silicone or plastic, there are some that come with the stick incorporated and some that don't. So make sure you have the wooden sticks before you start! Otherwise, you won't be able to remove them probably.
If you're using molds like the one in these images, it's important to fill them ⅔ of its capacity, add the wooden sticks pressing ever so slightly (image 3), and fill them up completely. That way the stick is secured between 2 walls of ice cream. Then smooth the surface with a knife (image 4) before freezing them.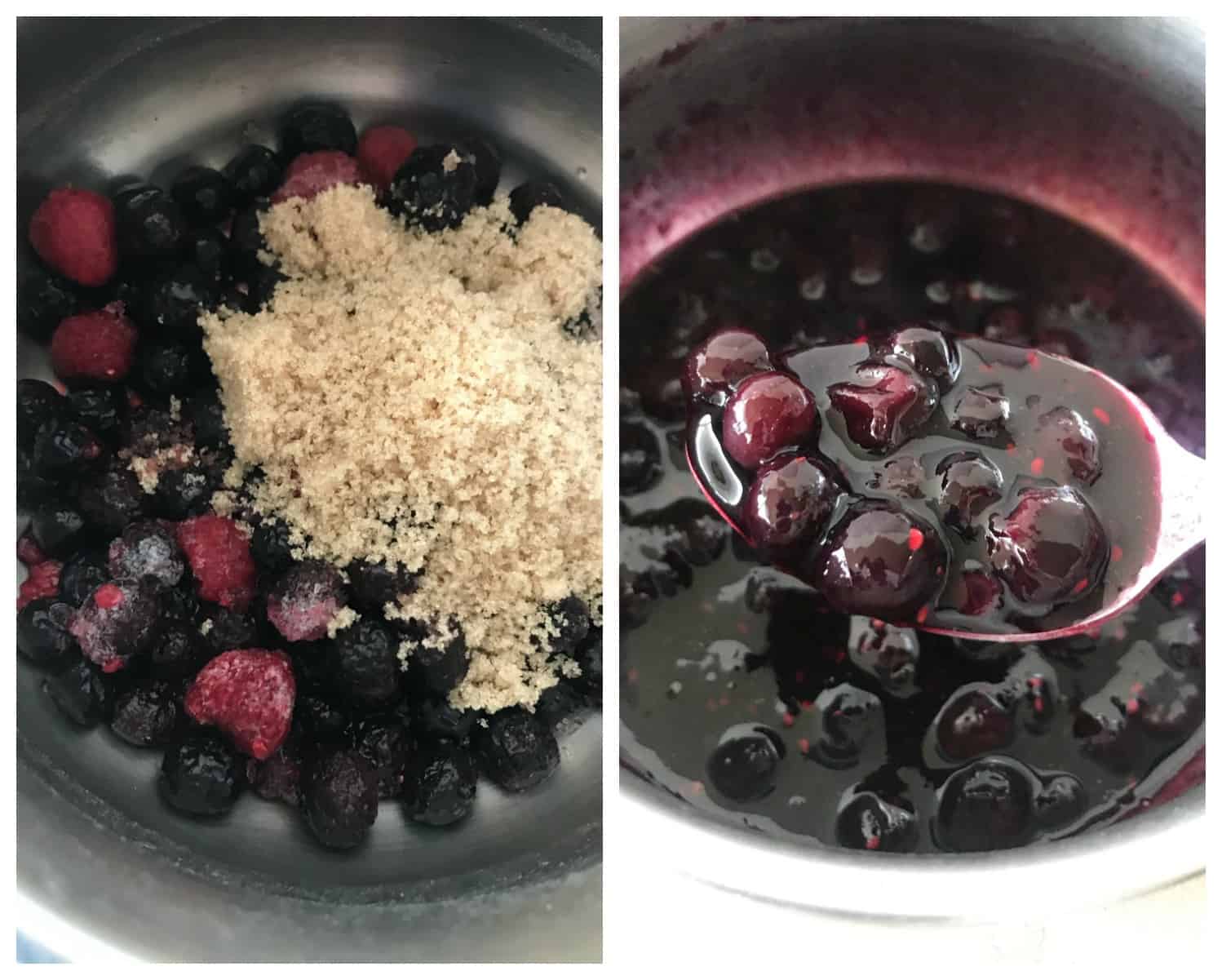 Preparing the berries
As the image collage shows below, you simply put fresh or frozen berries in a saucepan with some brown sugar, let it cook a bit, and then mix it in the cheesecake batter. That's it.
You can also make our fantastic Blueberry Sauce, a basic recipe that I use a lot for this ice cream. Or choose another berry, like strawberries and lime, a combination I also love.
Variation ideas
Citrus curd: it's a great substitution for the berry compote! Use your favorite, maintaining the amount. My favorite is the one I use for the Lemon No-bake cheesecake. Good homemade lemon curd will go wonderfully here.
There is a whole post, a guide about No-Bake Cheesecake, that can come in very handy for making this type of ice cream. Find flavor ideas or even recipes to make in popsicle form. Just make sure there are no eggs involved.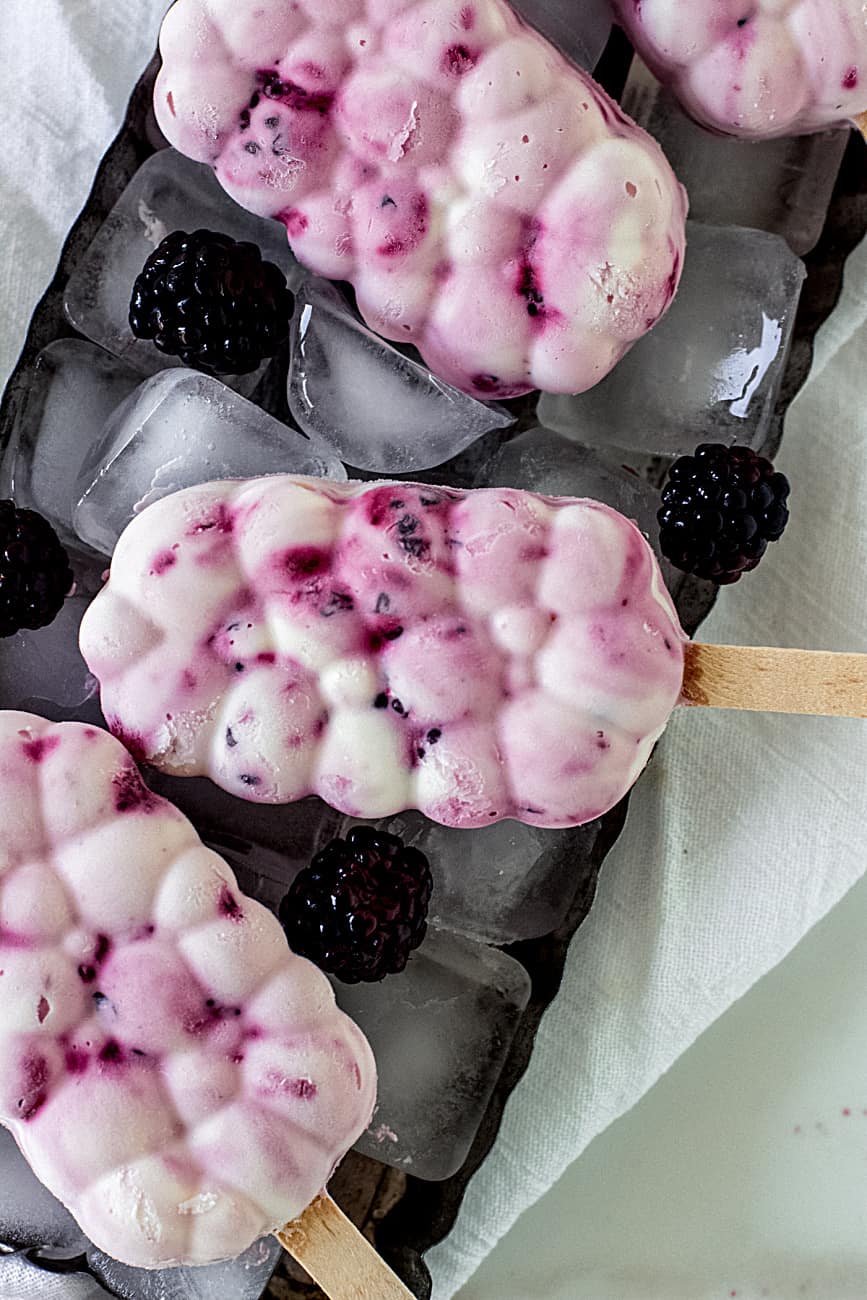 Anyway, let's move on to this recipe.
Why this recipe works
It's ice cream you guys, it always works! Seriously.
You mix the ingredients until smooth, fill the molds and pop them in the freezer. So it's great to make with kids.
Change the flavor with different berries and citrus combinations.
Eat it straight from the freezer.
The color is gorgeous and the flavor is just like cheesecake.
This ice cream is as easy as reading the title.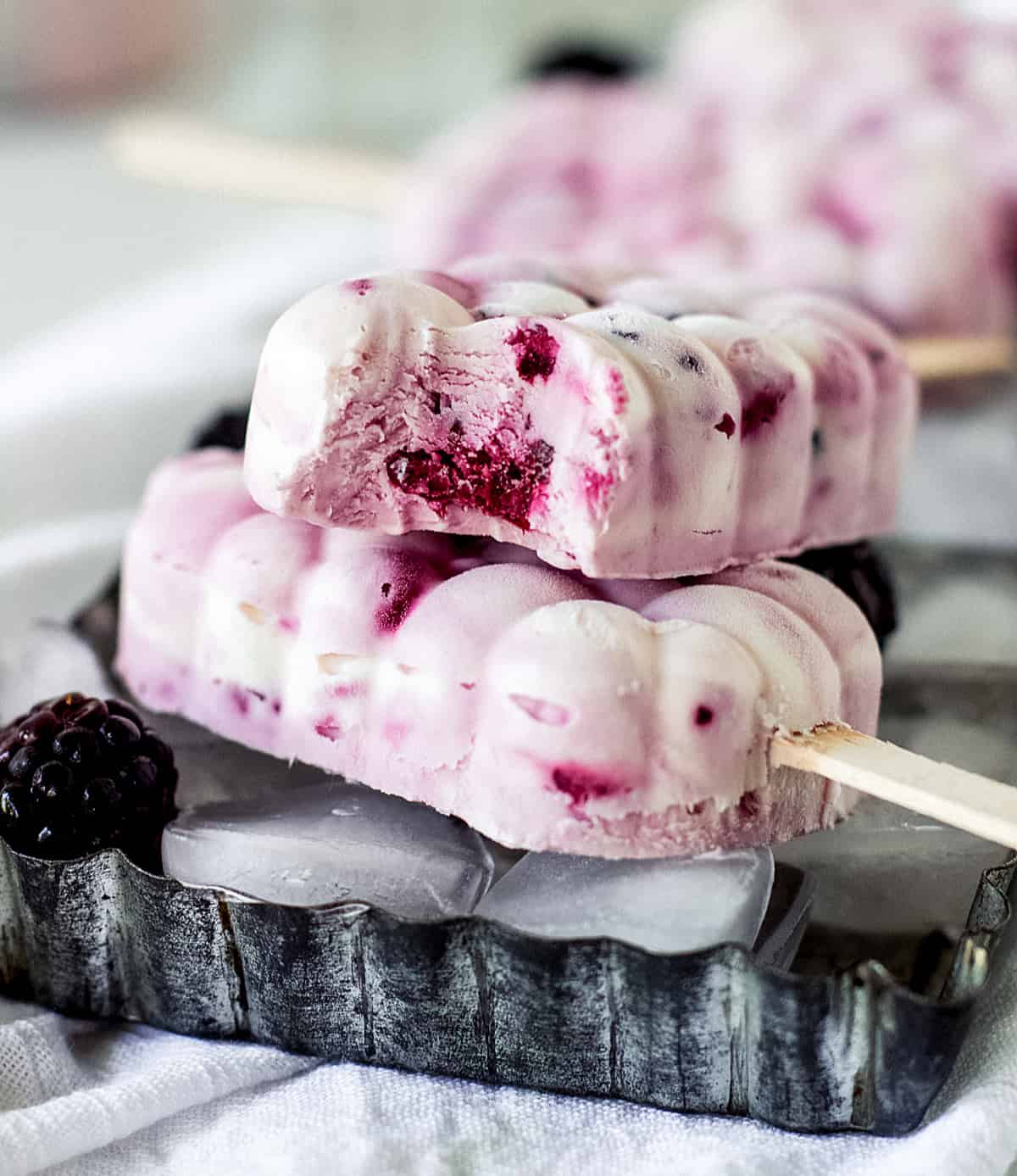 Other recipes you might like:
Easy No-Churn Chocolate Baileys Ice Cream
The best Chocolate Ice Cream Ever
Chocolate Velvet Ice Cream with Cherry Sauce
Almond Espresso Ice Cream
No-churn Strawberry Ice Cream
Let me know if you make this recipe! I'd love to hear what you think about it.
Thank you for being here, I appreciate it! Let's connect via Facebook, Instagram, and Pinterest.
Print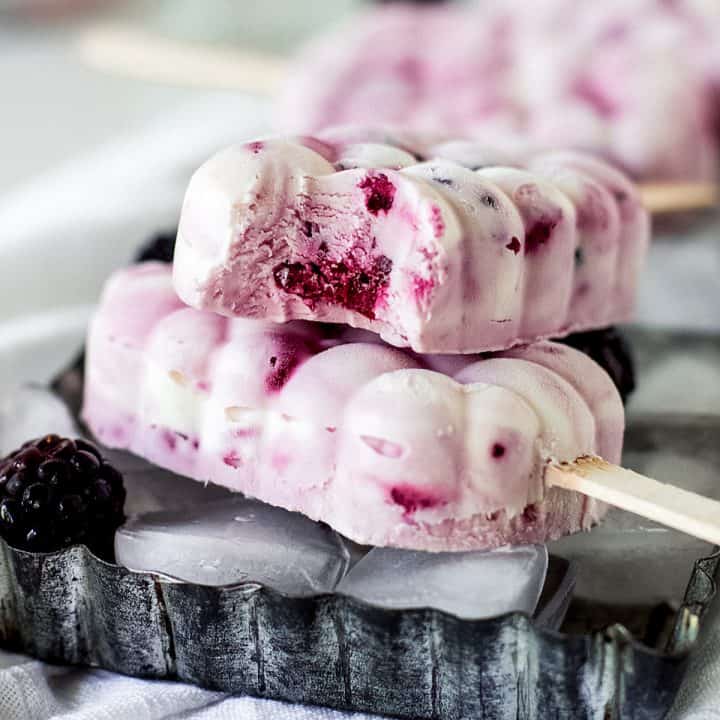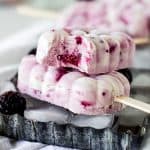 Sweet Berry Cheesecake Ice Cream
Author:

Paula Montenegro

Prep Time:

20

Total Time:

20 minutes

Yield:

4

-

6

servings

1

x

Category:

Ice Cream

Method:

Mixing + Freezer

Cuisine:

International
---
Description
Extremely easy to make and gorgeous, this is the best summer frozen dessert ever! It's egg-free, no-churn and there's no need to make custard in the stove. You can use any berry you want and it's a great recipe to make with and for kids. Simply mix, fill the popsicle molds and freeze!
The specified time doesn't include freezing.
---
For the berries:
1 cup

berries, fresh or frozen (I used blackberries)

2 tablespoons

light brown sugar

2

-

3

tablespoons water
Or prepare the Basic Blueberry Sauce without the cornstarch, using any berry you want
For the cheesecake ice cream base:
8 oz

(

225g

) cream cheese, at room t°

⅔ cup

cream

⅓ cup

light brown sugar
Zest of

½

orange

¼ teaspoon

vanilla
Pinch of sea salt
---
Instructions
For the berries:
Put all berries, sugar and water in a saucepan and cook over low heat.
Stir frequently until it boils. Reduce for a minute or two and remove from heat.
Transfer to a shallow container, mash berries with a fork or spoon and refrigerate.
If making this the same day you mix the ice cream base, then freeze it while making the base. It will be cold enough when you add it.
For the cheesecake ice cream base:
In a bowl beat cream cheese, cream and sugar just until smooth. Don't overbeat.
Add zest, vanilla, and salt.
Take out the berries and combine them with the cheese mixture. It's important to do this lightly; we want pools of berries and a light marbling.
Divide the mixture evenly among the popsicle molds (it fills 4-6 depending on the size) making sure you add the sticks.
Freeze, covered by a plastic or a freezer separator sheets.
Eat straight from the freezer.
---
Keywords: cheesecake ice cream, cheesecake popsicles
---