'Decide what you want,
decide what you are willing to exchange for it,
establish your priorities
and go to work.'
H.L.Hunt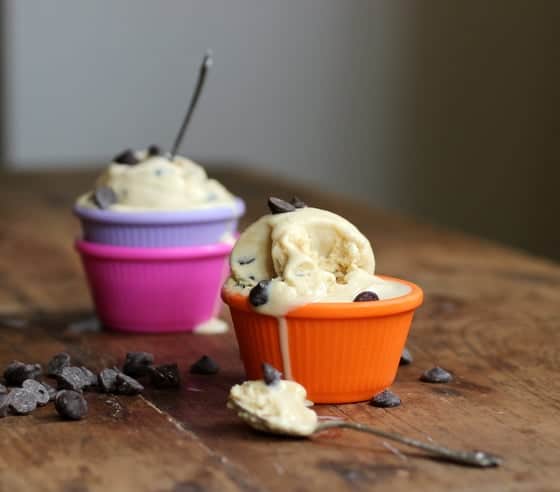 Words I stumbled across at a moment of confusion and upheaval in my life some weeks ago, but not too many. The exchange part was the hardest to decide, but I'm almost down to the end of my listing the priorities while starting to work on it. Let's see how it goes.
In the meantime, I have some sensational ice cream for you. Chocolate chip cookie ice cream.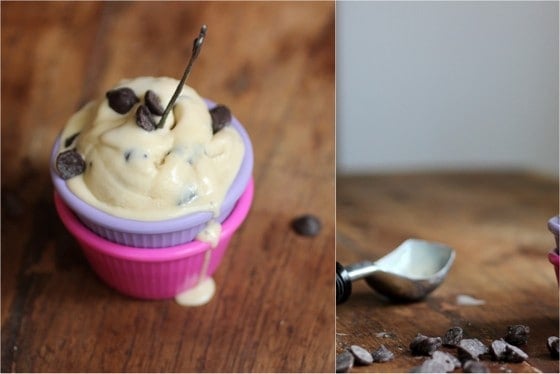 My food blog is no doubt a priority because food is my passion, will always be, and this is the perfect way to express myself. So I'm working on it too, establishing priorities within the priorities.
A few days ago I got a message on facebook from the oldest daughter of two of my best friends (they are married to each other), asking me if I had anything to do with the blog Vintage Kitchen.
Huh? Is this a trick question? I was suspicious, similar to the time my door bell rang in january and there was a man with a package I had never ordered.
So I answered yes, of course, I am the blog.
In a country where food blogs are not a hot item, where the word blog alone leads to a ten minute explanation before you get to the cooking, photographing and posting part, I didn't know what answer to expect.
'How cool!!!!!' It's so great! I always look at it because I love the recipes, and it's like, I was following you and I didn't know it was
you!!!!!!!!! (with all those exclamation marks).
To say it made my day is the understatement of my food blogging life.
The thing is that this sweet girl, Camila, turns 17 today.
The girl I saw for the first time mere hours after she was born, whose list for Santa when she was 5 included a green juice jug and not an endless list of the hottest new toys, who greets me with a a tight bear hug and giggles every time I visit her house, well, she has grown into a tall, quirky, dark haired, smart woman.
And I love her to death.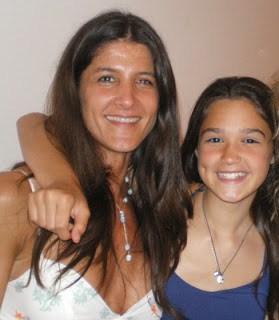 This is us, on new year's eve, 3 or 4 years ago
So this is my ice cream 'birthday cake' for her. A chocolate chip cookie ice cream, that has nothing to do with cookie dough, but
with the flavors of the cookie.
It took me a few tries to get to something good enough to post, and I think it will get better with future tries.
I'm still not quite sure this is the recipe for it, but it is the recipe for today. Because it's a darn good one.
And because I have a birthday to celebrate. And what better than ice cream with chocolate chips in bright colored bowls for one of my favorite persons.
Print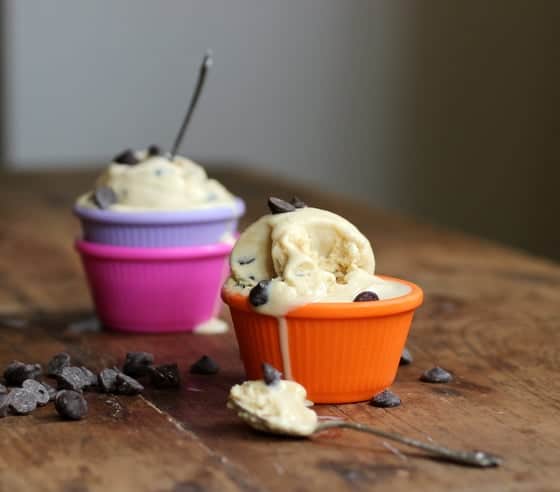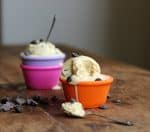 Chocolate Chip Cookie Ice Cream
---
2 cups

milk

1 cup

light brown sugar

½ cup

sugar

6

Tbs butter

½ teaspoon

salt

1 cup

cream

4

large egg yolks

2 teaspoon

vanilla paste or extract

¾ cup

semisweet chocolate chips
---
Instructions
Mix yolks in a large bowl. Reserve.
In a saucepan heat milk and both sugars, stirring over medium until it breaks into a boil. Immediately remove from heat, and pour, in a thin stream while you continually whisk, over the yolks.
Return the mixture to the same saucepan and stir over medium low heat until it thickens, but do not let it boil. It will coat theback of a spoon and leave a path if you draw a finger across it.
Add softened butter, salt and vanilla paste and mix until it melts completely. Add cream, mix well, cover and refrigerate for at least 8 hours or overnight.
Process in ice cream machine according to manufacturer's directions. Add chocolate chips and keep in the freezer.
---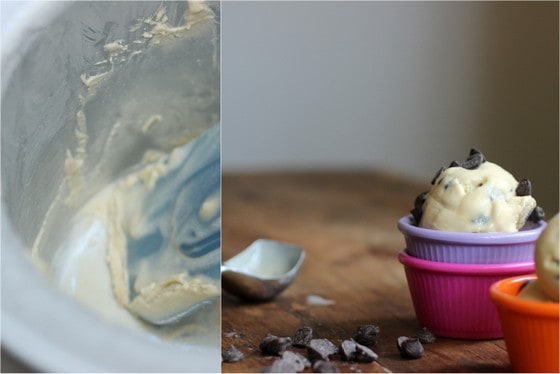 ---