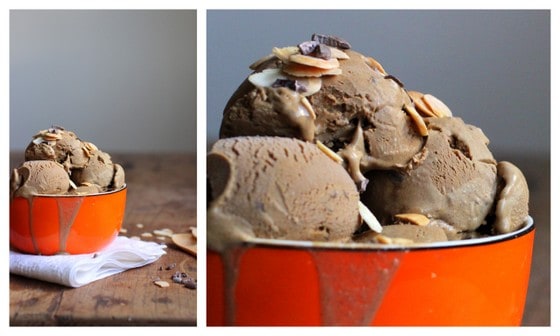 When you consider coffee a food group and call it breakfast (please keep gasps to a minimum), the second you discover iced coffee you realize extreme summer temperatures might actually be worth it. Well, not really, but you get the idea.
I eat ice cream year round. And make it at home during the winter too. A lot. Not normal, I know.
Before we go any further, the toasted almonds were a last minute 'styling' thing, which then became mandatory. I mixed them in the ice cream together with the nibs. So this espresso nib ice cream is even better with sliced toasted almonds added. The crunchiness of sliced almonds and the toasted flavor together with the coffee are to.die.for, seriously.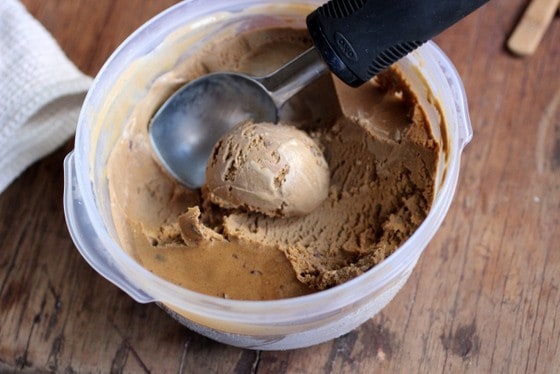 We're having a music inspired sunday supper today, hosted by Susan. Wait till you ge to the recipe list at the end of this post. Such a great theme today. And I hope Isabel, our leader, likes espresso nib ice cream, because today it's her birthday!
This frozen dessert was inspired by Ella Fitzgerald's song Black Coffee, which is quite dark and gloomy, perfect for a bowl of coffee ice cream in winter. Though in my case it makes me happy, very happy. I could drink it in the morning. And she and I share the same last name. So it was the perfect recipe for today.
I have what many consider peculiar taste when it comes to ice cream. I like water based, or sorbets, almost more than creamy ones. Unless you give me flavors like coffee, sabayon (probably my favorite now that I think of it) or very dark chocolate.
And my favorite fruits are red pomelo, tangerine and passion fruit. So I'm considered odd among my friends, and usually are less than excited when ice cream is ordered at a friend's house as dessert. Homemade and odd flavors, that's my choice.
So, what are yours? Do you take the time to make it at home?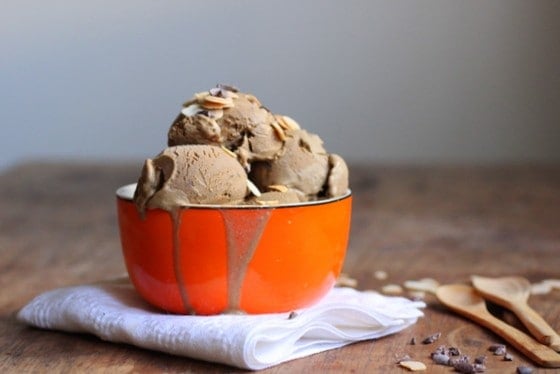 Are you so happy with your ice cream machine that you're willing to exchange your toaster or microwave for it. I am!
Not my food processor, because you can make ice cream with it. What? You didn't know that?  If you don't have an ice cream maker, simply make the custard or mixture and freeze it for 2 or 3 hours, or more, until it starts to solidify. Process it until it becomes smooth again. Back to the freezer for a couple of hours. Repeat two or three more times.
Yes, of course I know it's a bit time consuming, but you wanted a no-churn way of making ice cream.
Processing the almost frozen mixture a few times, breaks up the ice crystals that will prevent it from being smooth and creamy. The machine freezes it slowly while breaking up the crystals, that's why it churns for about 20 or 30 minutes. I didn't have an ice cream maker when I made the olive oil ice cream, and for years before that, until I was able to get my hands on an ice cream maker.
To end this espresso nib ice cream post, let me tell you this recipe is custom made for me, dark, intense, not too much sugar, just the way I like my coffee in the morning. If you like coffee on the light side, like a Vietnamese iced coffee, latte or cappuccino, simply use the smallest amount of ground coffee specified.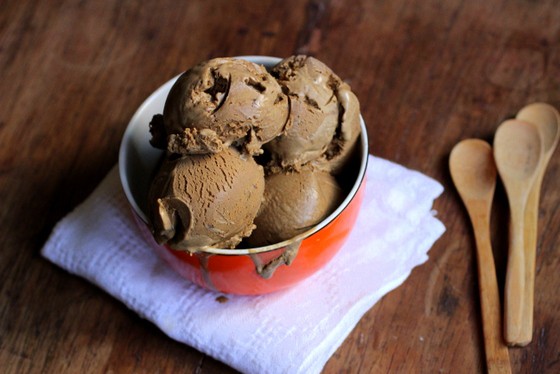 Print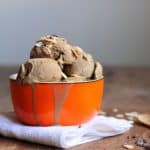 Almond Espresso Ice Cream
---
Description
The original recipe calls for coffee beans that are coarsely ground and infused with the cream. Decaffeinated work best because they are lower in acid. However, today I used ground coffee (NOT instant, and with no sugar added) because I was lazy to go buy beans. It worked just fine, but keep in mind that you need a fine mesh strainer or colander. If using beans, the amount is 1/2 cup.
This can be easily doubled.
---
Scale
Ingredients
1/3

to

2/3

cup ground coffee (no sugar added, depending on how strong you want it)

1 ½ cup

s heavy cream

½ cup

whole milk

4

egg yolks

¼ cup

light brown sugar

2

to

3

Tbs powdered sugar

1

Tbs coffee liqueur (optional)

2

or 3 Tbs cocoa nibs (plus extra for serving)
Sliced toasted almonds (for serving)
---
Instructions
In a medium saucepan, heat milk and cream until small bubbles begin to appear on the outer rim.
Remove from heat, add ground coffee (or crushed beans), stir to mix, cover (if you don't have a lid use a plate), and let infuse for 30 minutes. Strain through a fine mesh colander, discard coffee granules and reserve.
In a bowl, beat egg yolks and light brown sugar until somewhat light, about 2 minutes. Heat cream mixture again, adding the powdered sugar. When it is very hot, but not boiling, add it gradually to the egg yolks, beating continuously. Do this slowly so the eggs don't cook in the milk.
Return the whole mixture to the same pan where the milk was, and cook, stirring permanently, over low heat, until it begins to thicken. A finger drawn across the mixture will leave a clear path on the back of a spoon. Do not boil or expect it to thicken like custard.
Strain this mixture onto a clean bowl through a fine mesh strainer. Add coffee liqueur if using, let cool for about half an hour, cover and chill. This will take at least 8 hours. I leave it overnight.
Freeze in an ice cream maker according to manufacturer's directions.
Transfer to a freezer proof container, add cocoa nibs and freeze.
Serve with toasted sliced almonds, cocoa nibs and chocolate sauce if you want.
adapted from Desserts, by Nancy Silverton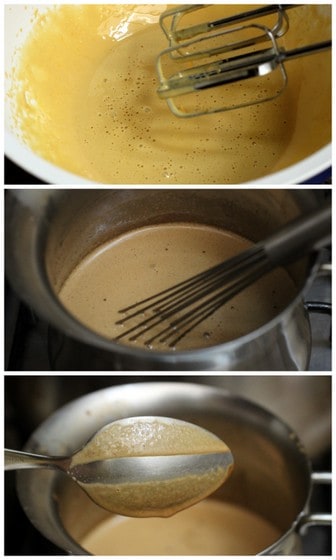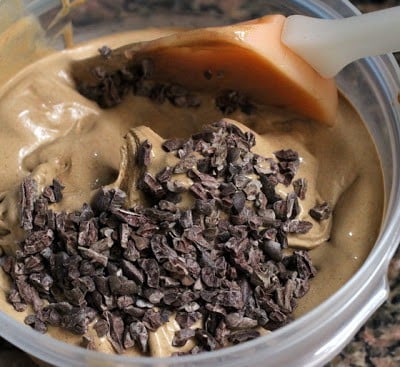 What did I tell you? Aren't these recipes mind blowing?
Prelude (Beverages):
Calimocho (Red Red Wine Cocktail) from La Cocina de Leslie inspired by Red Red Wine by UB40
Dark & Stormy Cocktail Recipe from An Appealing Plan inspired by Thunder Road by Bruce Springsteen
Horchata from Treats & Trinkets inspired by Horchata by Vampire Weekend
Orange Crush from Magnolia Days inspired by Orange Crush by REM
Pineapple Lemonade Slushy with Coconut Water from Sue's Nutrition Buzz inspired by Lemon Tree by Peter, Paul & Mary
Strawberry Tequila from Shockingly Delicious inspired by Strawberry Fields Forever by The Beatles
Overture (Appetizers):
Mustard Dill Beer Bread from Curious Cuisiniere inspired by In Heaven There Is No Beer a German Polka
Intermezzo (Entrees & Sides):
Chicken and Bacon Cheddar Waffles from I Run For Wine inspired by Glady's Knight
Classic Fried Chicken from The Food Army Wife inspired by Chicken Fried by Zac Brown Band
Margarita Chicken from In The Kitchen With KP inspired by Margaritaville by Jimmy Buffet
Meatball Duet from Cindy's Recipes and Writings inspired by On Top of Spaghetti by Tom Glazer
Pan-Seared Halibut with Corn Hash and Asparagus Puree from Crazy Foodie Stunts inspired by Saturday Night Fish Fry by Louis Jordan
Slow Cooker Sweet and Spicy BBQ Pulled Pork from Neighborfood inspired by Something Like That by Tim McGraw
Spaghetti and Pork Meatballs from Family Foodie inspired by On Top of Spaghetti by Kidsongs
Teriyaki Burger from Juanita's Cocina inspired by Cheeseburger in Paradise by Jimmy Buffet
Finale (Desserts):
Banana Cream Pie Bars from Peanut Butter and Peppers inspired by Tra La La Song by The Banana Splits
Banana Pancake Ice Cream with Maple Brittle from Foxes Love Lemons inspired by Banana Pancakes by Jack Johnson
Cherry Pie from My Cute Bride inspired by Cherry Pie by Warrant
Cherry Marshmallows from Pies and Plots
Chocolate Cappuccino Cream Puffs from Runner's Tales inspired by Choux Pastry Heart by Corinne Bailey Rae
Chocolate Chip, Walnut and Caramel Banana Bread Ice Cream Sandwich from Ruffles & Truffles inspired by Hollaback Girl by Gwen Stefani
Chocolate Covered Caramels from Big Bear's Wife inspired by At Last by Etta James
Coconut Rum Blondies from Gotta Get Baked inspired by I've Got A Lovely Bunch of Coconuts by Danny Kaye
Easy Blueberry Recipe: Fruit Tart from Growing Up Gabel inspired by Blueberry Hill by Fats Domino
Espresso Nib Ice Cream from Vintage Kitchen Notes inspired by Black Coffee by Ella Fitzgerald
Fancy Watermelon Lime Popsicles from Daily Dish Recipes inspired by Watermelon Crawl by Tracy Byrd
Fresh Peach Pie from Killer Bunnies, Inc. inspired by Sweet Sweet Pie by PWEI
Jammin' Oatmeal Cookies from What Smells So Good? inspired by Jammin' by Bob Marley
Many Flavors Whipped Cream from Noshing with the Nolands inspired by Whipped Cream and Other Delights by Herb Albert and the Tijuana Brass
Peach Basil Pie from The Girl In The Little Red Kitchen inspired by Peaches by POTUSA
Pina Colada Poke Cake from Cookin' Mimi inspired by Two Pina Coladas by Garth Brooks
Peach Donuts with Brown Sugar from Hezzi-D's Books and Cooks inspired by Peaches by POTUSA
Peach Strudel with Honey Bourbon Frozen Yogurt from A Kitchen Hoor's Adventures inspired by My Favorite Things from The Sound of Music & Wild Honey by U2
Rainbow Pops from The Urban Mrs inspired by Ice Ice Baby by Vanilla Ice
Salted Ripple Chip No-Churn Ice Cream from Cupcakes & Kale Chips inspired by Ice Cream by Sarah McLachlan
Salted Peanut Swirl Peanut Butter Ice Cream from girlichef inspired by Salt Peanuts by The Quintet
Shall We Dance? Fairy Cakes from The Ninja Baker inspired by Shall We Dance from the Japanese Film
Sugar Crusted Zucchini Bread from That Skinny Chick Can Bake inspired by Sugar, Sugar by the Archies
Tangerine Sorbet from Webicurean inspired by Tangerine Speedo by Caviar
Yeasted Banana Bread from Jane's Adventures in Dinner inspired by I Like Bread and Butter by The New Beats