This is everything you ever wanted in a chocolate ice cream. And I mean everything. Really.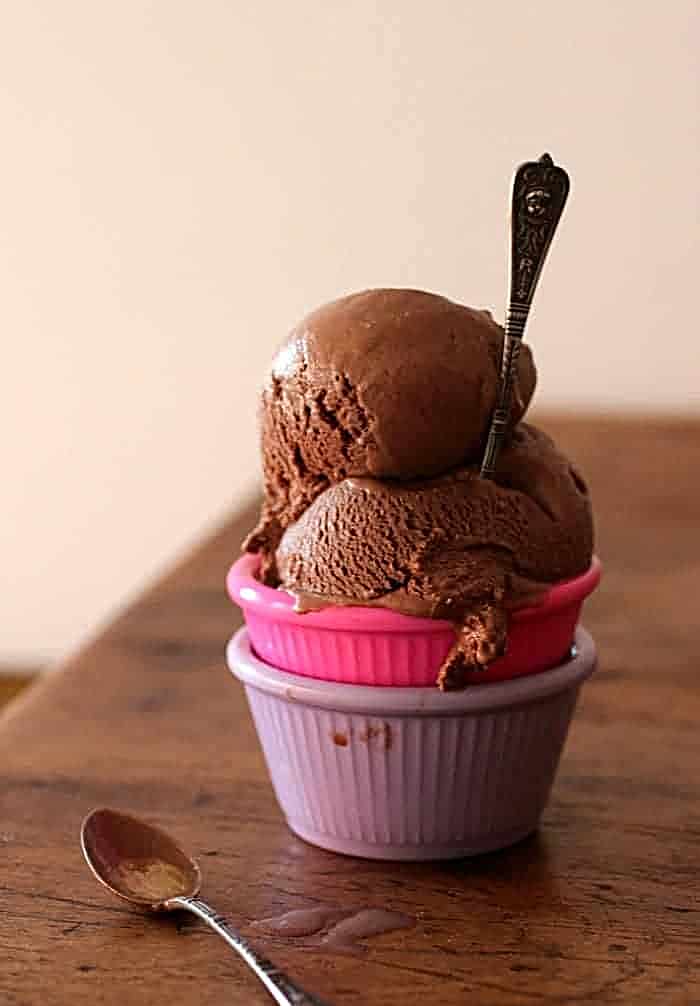 I'm still amazed by how good this chocolate ice cream is. As in blown away several times good.
After reading repeatedly about it - most notably on David's blog, the maximum praise considering he makes some outstanding ice creams himself - I finally made it. And then made it again. And again. No kidding. Three times in 2 weeks, or something like that.
I stopped because I was eating it all by myself. Breakfast, after lunch, when I got back from work, before bed. See a pattern here? How about the pattern in my hips?. I don't even mind; that's how incredible this ice cream is.
And I did have a favorite recipe already, a really great one aptly called chocolate velvet ice cream. I'm putting that one to rest for a while, though you should definitely check it out since it's more like chocolate mousse before dark chocolate became all the rage. And there are never too many chocolate ice cream recipes, just like brownies, or leather jackets.
There are two variations in the book, Jeni's Splendid Ice Creams, one with coffee and the other with red wine. The latter is for people like me, who like to add wine and liquor to everything, give or take. But the original recipe, with coffee, is simply perfect. We all know by now that coffee and chocolate are a match like no other, but when coffee is used to enhance the chocolate flavor it is unbeatable. That's the thing with this ice cream. The chocolate flavor is so deeply chocolate, you won't believe it.
The process is different from traditional ice creams. But it works. I made the limoncello ice cream from this book too, a few years ago. Another winner.
As always, the better the chocolate, the better the ice cream. I used Valrhona and Green & Black, 70% and up.
So before you pack your ice cream maker and start on the apples and pumpkins (who can blame you), I urge you to try this recipe. It's genius.
Print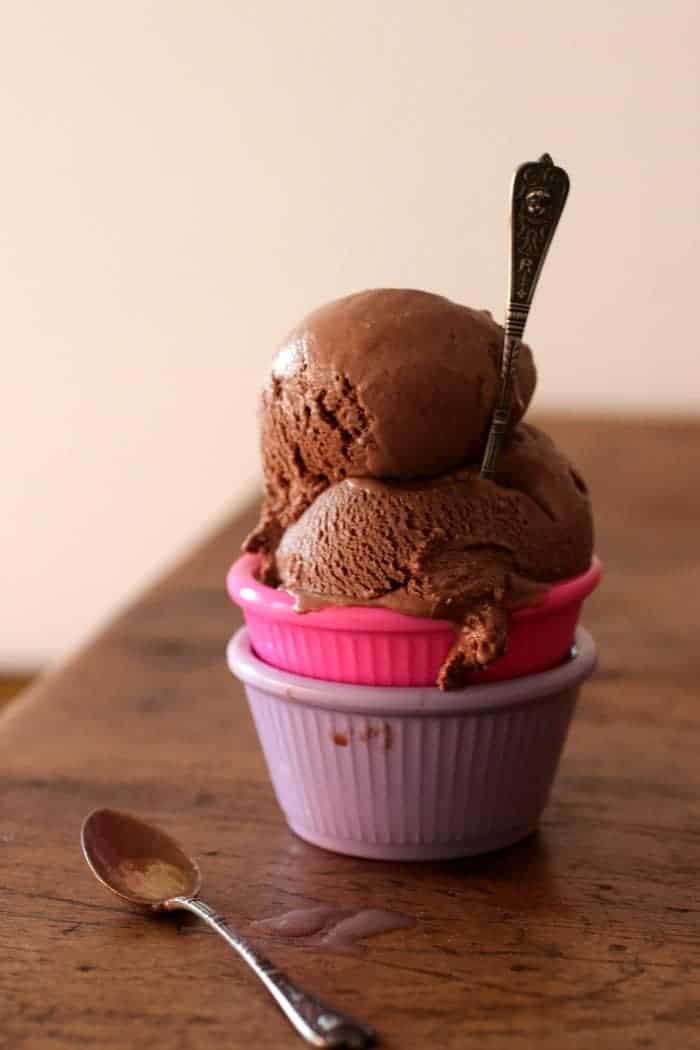 The Best Chocolate Ice Cream Ever
This is the best chocolate ice cream I have ever tasted! Smooth and with such a deep flavor beyond what I expected.
Total Time:

4 hours 35 minutes

Yield:

4 cups
For the chocolate syrup:
½

cup

(50g) unsweetened cocoa powder

½

cup

coffee (I use Nespresso)

½

cup

(100g) sugar (I use dark brown or white)

1.5

oz

(45g) semi-sweet chocolate, chopped (I use 70%)
For the ice cream base:
2

cups

(500ml) whole milk

1

Tbs +

1 teaspoon

cornstarch

3

Tbs (45g) cream cheese
Pinch of sea salt

1

cup

(250ml) cream

½

cup

(100g) white sugar

2 tablespoons

corn syrup
Instructions
For the chocolate syrup:
In a small saucepan mix cocoa powder, sugar, and coffee.
Cook over medium heat and let boil for 30 seconds.
Remove from heat, add the chocolate, let stand a minute, and mix with a hand whisk until smooth. Reserve.
For the ice cream base:
In a small bowl mix 2 Tbs of the total amount of milk with the cornstarch. Reserve.
In a large bowl beat cream cheese with salt and add the chocolate mixture.
Have ready a wide, rather shallow, freezer-friendly, plastic container with lid (not a deep one so the ice cream cools more quickly).
In a saucepan mix the rest of the milk, cream, and corn syrup (the sides should be double the amount of liquid since it crawls up when boiling).
Boil for 4 minutes over medium heat.
Remove from heat, add the cornstarch mixture, and return to the heat. Let boil an additional minute, stirring, until it thickens a bit.
Add this to the chocolate mixture and mix until smooth.
Transfer to the plastic container and let cool in the freezer, but be sure to check every 15 minutes in the beginning, until it's very cold and thick but not starting to crystalize. Don't let it start to freeze. We need to have the coldest possible mixture. By stirring it every about quarter-hour in the beginning we make sure ice crystals don't get a chance to form and ruin the creamy texture.
When very cold, process according to manufacturer's directions.
Notes
I don't use the ice bath that is in the instructions in the book. I use the freezer (it's detailed in the instructions, above). I find the results are amazing and the process easier.
Swap the coffee for red wine for a stunning variation.
Author:

Paula Montenegro

Prep Time:

20 minutes

Freezing time:

4 hours

Cook Time:

15 minutes

Category:

Ice Cream

Method:

Stovetop + Freezing

Cuisine:

International
Keywords: Chocolate Ice Cream