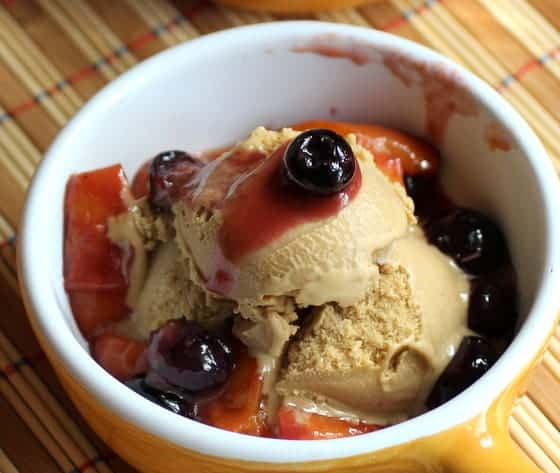 This dessert was the highlight of one of those great days, which I might even call perfect.
I woke up to a glorious morning, one with a clear blue sky, warm, sunny, a light breeze and most important, a dry day. Mid-morning I met my standing Sunday breakfast date, a friend who walks his dog and then meets me for some coffee and whole wheat croissants.
And being a Sunday there were no work-related issues to attend to, no phones ringing or things to check off a list, not that I'm a list maker but still.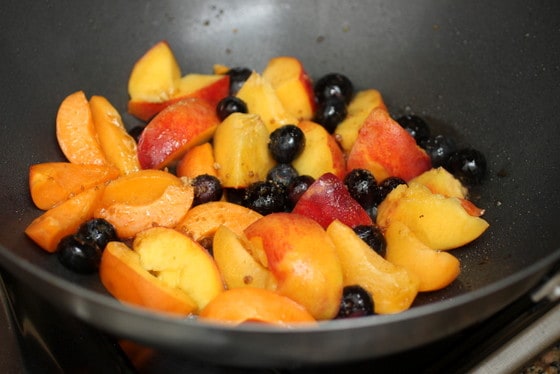 My kitchen was as tidy as it can be, given the fact that I'm a hoarder of all things food related, from ingredients to gadgets to appliances; and I'm not including cookbooks, magazines, recipes and blogs here because that is a post for another life. Well, it turns out they were pretty organized too.
I had already gone to the supermarket and it was overflowing with fresh cherries, pineapples, plums, peaches, apricots, which then were overflowing my fridge. I was even having a
very
good hair day.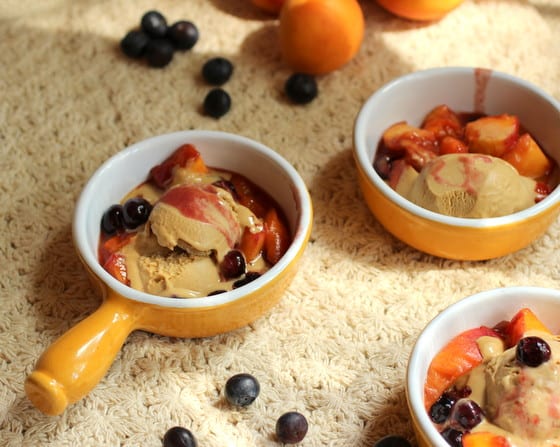 Then I met another friend for a post lunch coffee and as I was heading home, walking since the weather was perfect, two close friends arranged to come over for dinner at my place.
A gorgeous warm night, chatting with friends, a glass of wine and some good food was enough to end the day on a high note. And then I remembered I had the brown sugar ice cream in the freezer. Could the day be any better? I was even going to make them a killer dessert.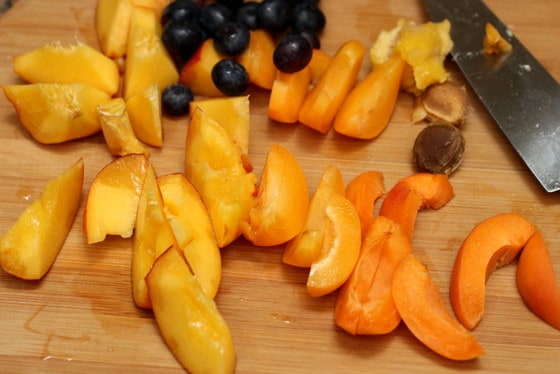 As bright as these past days and weeks were, my dessert repertoire has included a lot of brown lately. Could it be that brown is the holiday color? Or is it just that in the kitchen brown amounts to unbelievably deep flavor, the kind that makes you think you are on to something?
I started with a brown butter carrot muffin some months ago, not knowing that it, the brown, was going to creep silently behind me and I would be avidly tackling as many recipes with brown in the title as I could,
bourbon brown butter pecan pie
,
brown sugar cheesecake
, brown sugar loaf with ginger syrup, brown butter shortbread and now brown sugar ice cream.
And you know what, they are turning out to be crowd favorites. Guess I'm not the only one who's onto something. That happens when you're late to the brown butter and sugar party. Glad I could make it.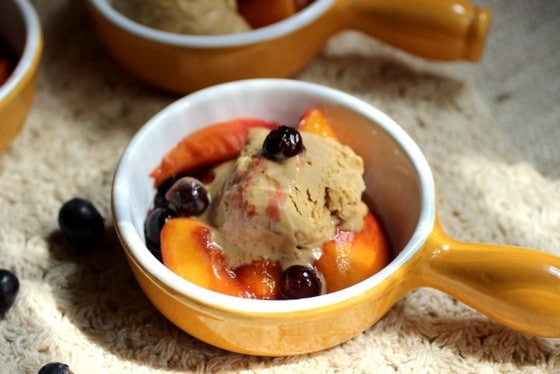 I found this recipe in Bon Appetit, and my idea was to serve it with a peach cobbler. Today there was no time for that and I had so many fresh fruits I wanted to use them all. And I'm on a wok kick, so I used it to make dessert. Fruit in the wok. Caramelized in brown butter. With ice cream.
The ice cream has a very interesting caramel flavor with a molasses undertone, because what is brown sugar if not white sugar with molasses, right? So there is a slightly bitter aftertaste in the middle of that sweetness. I guess it's the perfect base to add some spices and make gingerbread ice cream.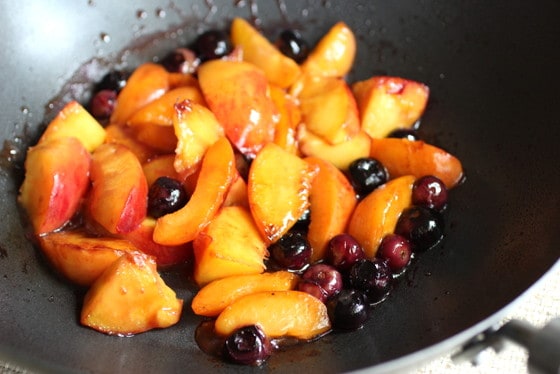 So it seems there is work for the next weeks with the peach cobbler and gingerbread ice cream. And a chocolate bundt cake with a sour cream pecan swirl that got a lot of inquiries
in this post
. Better start hopping.
So the caramelized fruits with brown sugar ice cream were the perfect end to a great meal and some well spent hours with dear friends. A perfect day in so many ways.
Would we feel so grateful for these days if we didn't have crappy ones to compare them to? Don't know. But, if the universe sends me a couple of these every.single.week I wouldn't mind at all.
Print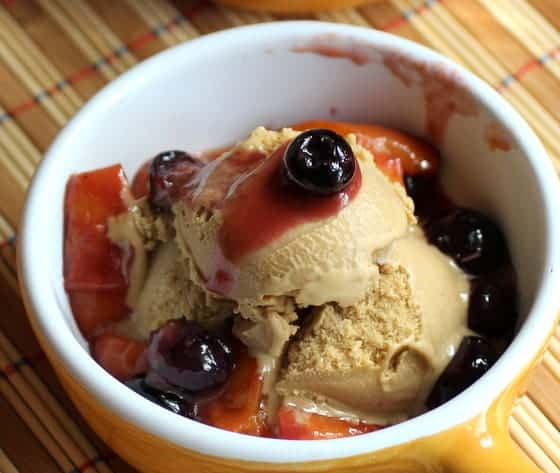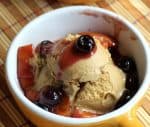 Caramelized Fruit with Brown Sugar Ice Cream
---
Description
I decreased the sugar by ¼ cup and used just a tiny bit of vanilla. Since I was caramelizing the fruit I didn't wan't the ice cream to be too sweet. And a very small amount of vanilla intensifies the flavor of the caramel without adding another flavor.
---
For the brown sugar ice cream:
2 cups

whole milk

2 cups

whipping cream

¾

to

1

cup packed light brown sugar

6

large egg yolks

¼ teaspoon

vanilla
For the caramelized fruit:
1

large peach

3

apricots

1 cup

blueberries

3

Tbs butter

2

to

3

Tbs brown sugar
---
Instructions
For the brown sugar ice cream:
Combine milk and cream in a medium saucepan and bring to a simmer. Remove from heat.
Meanwhile put brown sugar in a clean saucepan, larger than the one with the milk, and melt over medium heat. It will be grainy at first and will start to come together and deepen in color.
Be careful not to burn it. When it's a deep brown, which will be a few minutes since it's already brown, remove from heat and add the milk mixture. It will bubble up furiously. Be careful. Use a wooden spoon with a long handle.
Return to low heat and stir until the caramel is completely melted.
In a large bowl whisk egg yolks to mix.
Very slowly add hot caramel mixture, just a bit at a time at first, so you don't curdle the eggs.
Whisk constantly while adding the rest of the milk mixture and return to the same pan where you made the caramel.
Cook it over low heat for about 5 minutes, until it starts to thicken. Be careful not to let it boil.
Transfer to a clean bowl and let it cool to room tº. Cover and refrigerate until very cold.
Process in ice cream maker according to manufacturer's directions.
For the caramelized fruit:
Cut unpeeled peach into chunks. Do the same with the apricots and rinse the blueberries.
Heat the wok and add the butter. It will brown immediately.
Add the fruit, sugar and cook, mixing a few times, until it starts to brown and has a bright sheen.
For the assembly:
Divide fruit between four bowls. Top each with one scoop of ice cream
---
ice cream barely adapted from Bon Appetit, august 1996