This old-fashioned ice cream has cherries mixed in and a fresh cherry sauce on top, an irresistible combination. It's smooth and velvety, with a fantastic chocolate flavor.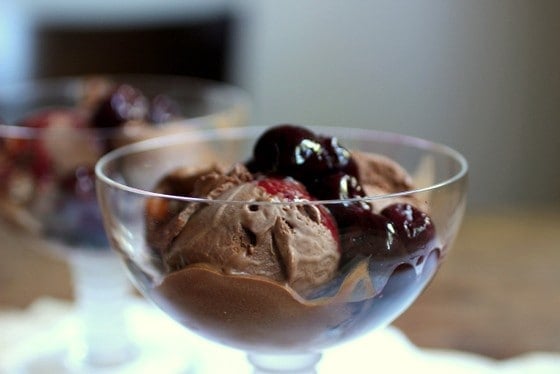 I've been wanting to make and share this chocolate ice cream with you all because it's one of my favorites!
Making ice cream at home
It is a different experience than buying the commercial kind.
Fresh ingredients and pairings we love, I think, account for it being superior.
I have an old ice cream maker that needs the bowl to be frozen, and it does a good enough job. And gets us the ice cream we want.
The ice cream is super creamy. So I don't complain.
This is a very old-fashioned ice cream made with yolks and cream.
Once it's very cold and ready to be put in the ice cream maker, the chocolate cream is simply luscious, so creamy and unctuous you'd want to eat it like that.
Ice cream machines
These machines churn the ice cream base for a period of time to prevent crystallization when it's frozen and kept in the freezer.
I have a very old one, and it works very well. It's from Cuisinart, and I use it regularly.
It's the type that you have to freeze the bowl, so I just have it in the freezer at all times, year-round, so it's ready whenever I want to make ice cream.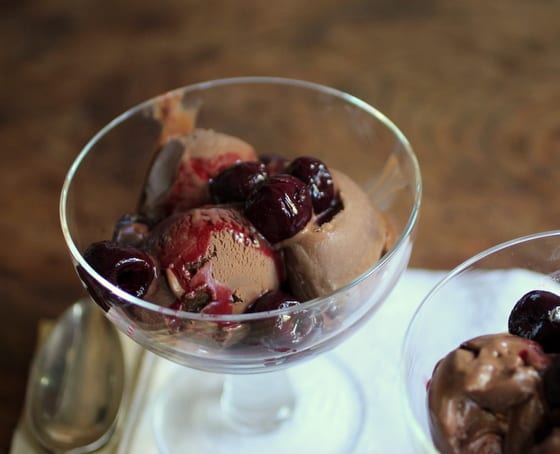 Making the cherry sauce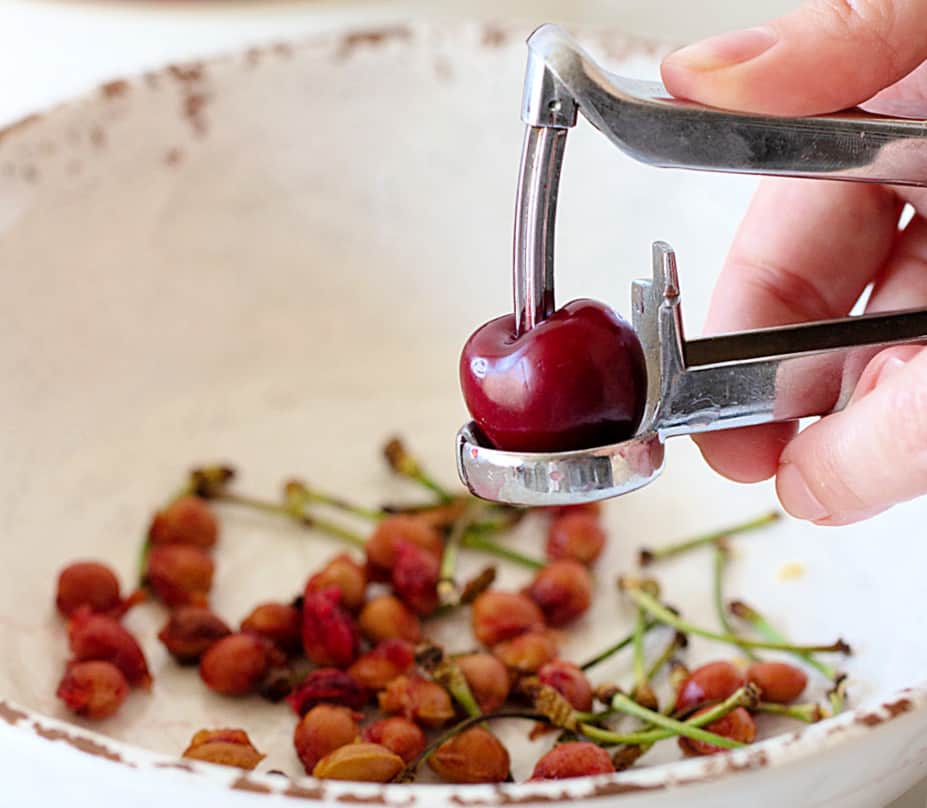 Start by pitting fresh cherries. Or maybe you're lucky to be able to buy frozen pitted cherries.
A cherry pitter is essential in my opinion. You can buy cherry pitters online, of course.
Make sure you wear an apron or something to cover your clothes because some pits will probably fly were they're not supposed too until you get the drift of the pitter. Similar to taking the seeds out of a pomegranate. Cover your clothes.
Tips for the sauce
Any cherry qualifies for the sauce as long as they're edible, not rotten.
If you have fruit that is not very ripe or sweet, they are great for making the sauce.
I love using brown sugar.
But you can use whatever you like, white, powdered, coconut, muscovado. Simply know that each sweetens differently.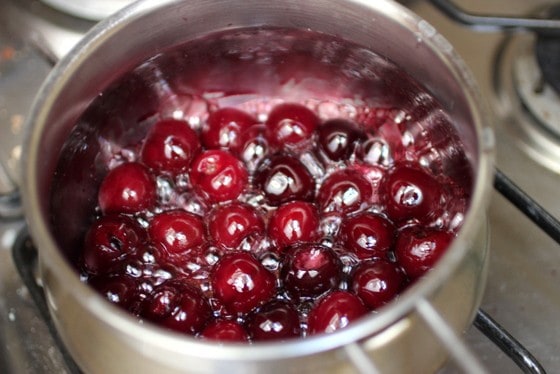 So this is, at the moment, my favorite chocolate ice cream, with a fresh cherry sauce that is one of my most anticipated fruits.
I can never tire of eating fresh cherries. Ever.
I found out while attempting many chocolate cakes and brownie recipes, that one of the best ways to achieve a deep, semisweet chocolate flavor is to mix melted dark chocolate and unsweetened cocoa powder.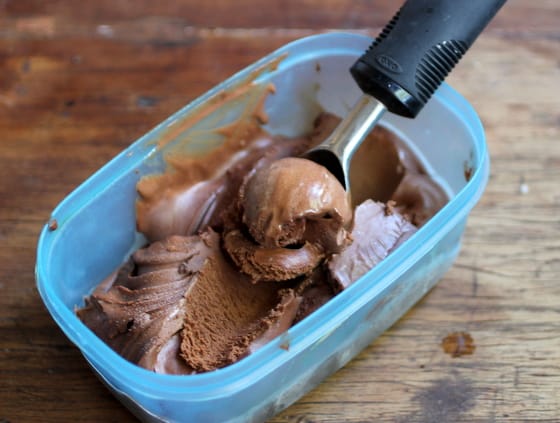 ---
Related recipes you might like:
---
Let me know in the comments below if you made this recipe and loved it and if you had issues so we can troubleshoot together. I love to hear what you think, always. Thanks for being here. It's much appreciated.
You might also consider subscribing to our FREE email series to Boost your Home Baking Skills! And our regular newsletter.
And let's connect via Facebook, Instagram, and Pinterest.
Print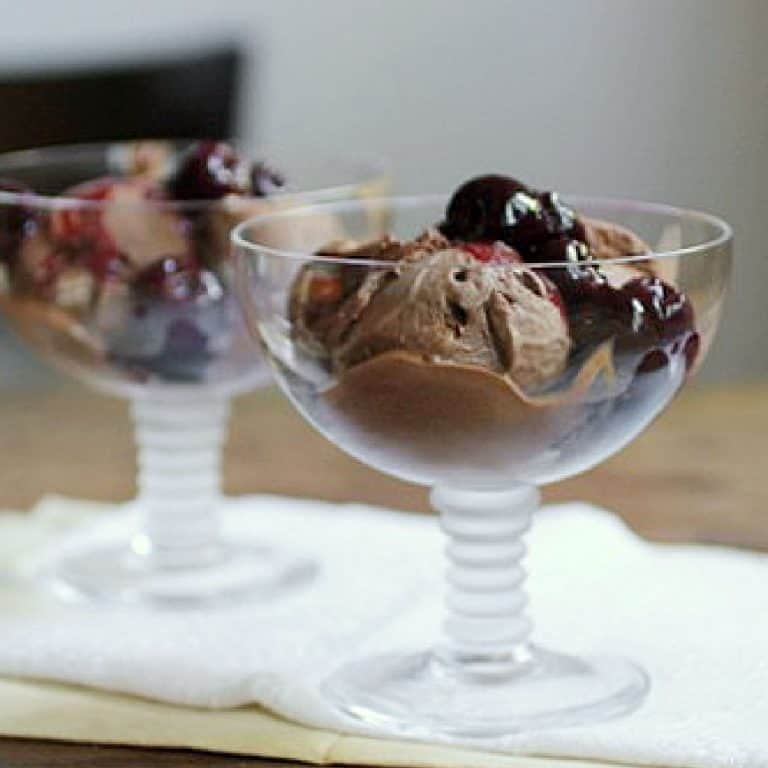 Chocolate Ice Cream with Cherries
This old-fashioned ice cream has cherries mixed in and a fresh cherry sauce on top, an irresistible combination. It's smooth and velvety, with a fantastic chocolate flavor.
Total Time:

6 hours 50 minutes

Yield:

6 servings
For the cherry sauce:
1

pound

(450g) fresh cherries, pitted

2 tablespoons

light brown sugar

1

or 2 tablespoons cassis liqueur (optional)

1

or

2 tablespoons

water
Instructions
Make ice cream according to the recipe.
Mix in some chopped cherries from the cherry sauce into the chocolate cream.
Freeze until solid.
For the cherry sauce:
Put cherries in a saucepan, add the sugar, and cook, stirring for 2 minutes.
Add the cassis and 1 or 2 tablespoons of water. If you're not using the liqueur, increase the water by 2 tablespoons.
Cook for about 5 minutes over medium-low heat, until the cherries soften a bit and the sauce is syrupy.
Keep refrigerated and use cold over the ice cream.
Author:

Paula Montenegro

Prep Time:

20 minutes

Freezing time:

6 hours

Cook Time:

30 minutes

Category:

Desserts

Method:

Cooking + freezing

Cuisine:

International
Keywords: chocolate ice cream with cherries