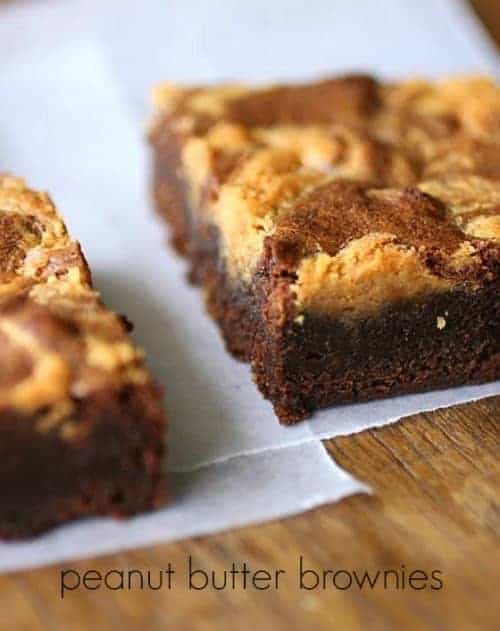 The combination of peanut butter and chocolate is old as *fill in the blank*, yet it never amazes me how amazing it is, as redundant as it sounds. Even here, where dulce de leche rules, especially with chocolate, these fudgy peanut butter
brownies were the belle of the ball way after the pan had only some crumbs left.
In between bites and full mouths, I could hear comments like 'what is this??' or 'I had never tasted anything like this' … someone even added a dollop of dulce de leche on top and suddenly I had a shadow following me around the office asking for an encore (not the recipe mind you, just another batch 'whenever you feel like baking them again'), – dulce de leche nation as I was saying – btw, add some dulce de leche as a filling to your next simple chocolate cake and you will understand why we're such die-hard fans of that combination.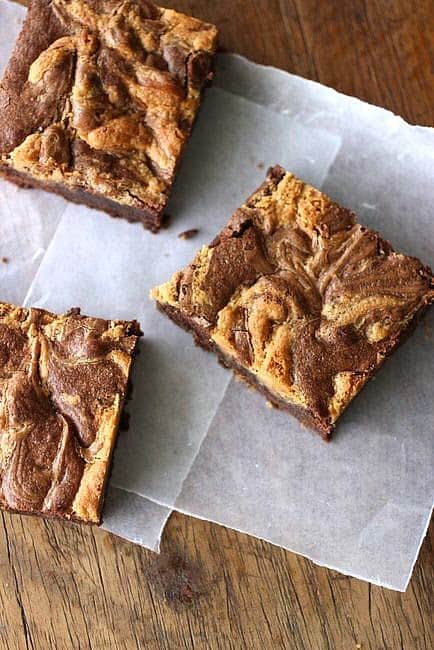 Anyway, back to these peanut butter brownies. I made them twice, and both times changed or added something, not because I doubted
Dorothy's recipe
, but because I was short of this or that ingredient. It came out fantastic both times. So there's that bonus to add to an already perfect recipe.
The recipe below is my first attempt, where the changes made the swirly mix a bit runnier than the original and makes it easier to swirl. I think I'm sticking to this recipe iteration.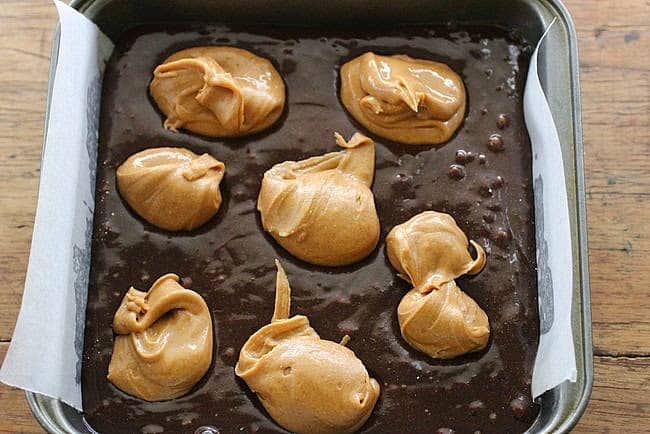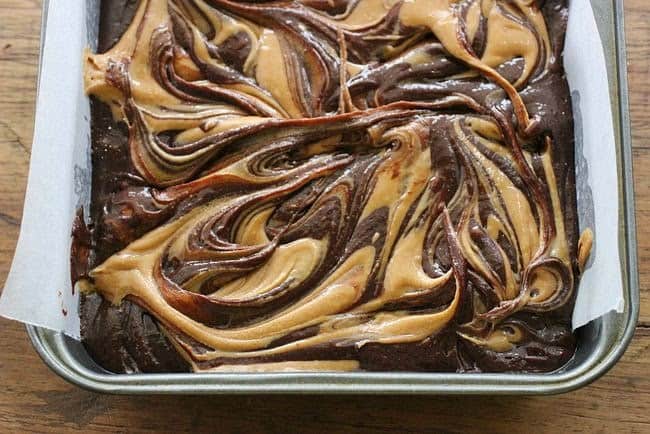 I usually write this blog trying to be in tune with my northern hemisphere friends, different season and all, but lately, I've fallen off the food blogging wagon, posting so sporadically you might think I have given birth to twins and have no time. Well, nothing like that, just life taking its route and leaving little time for hobbies. You know how it is. When you think you've got your daily life
somewhat organized, boommm, something comes up and changes it.
Has Thanksgiving happened yet? Really, that's how disconnected I am from it all, lol! And the fact that the stores here are full of peaches and cherries is not helping me get in tune with the cold season. We're having such a glorious spring here!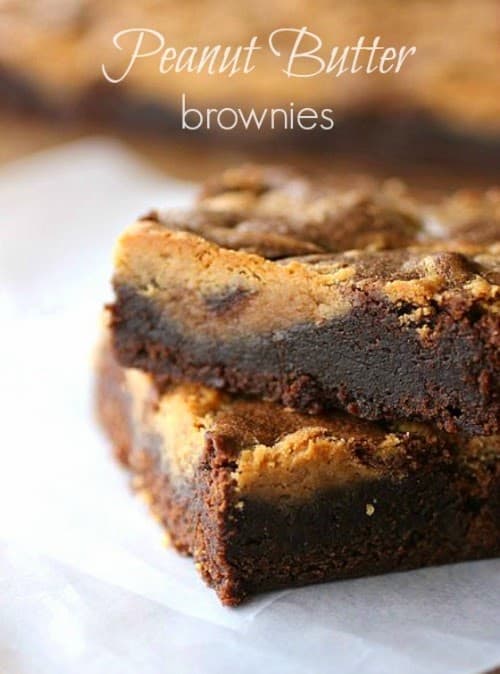 So now I simply miss my fellow food bloggers and my wonderful blogging groups,
Sunday Supper
,
French Fridays with Dorie
and Twelve Loaves, it's where I made most of my virtual friends. Very little free time for now – I can't even commit to a manicure appointment – but who knows in the future.
For now, I just miss you guys like crazy! Maybe a few of these fudgy peanut butter brownies will help…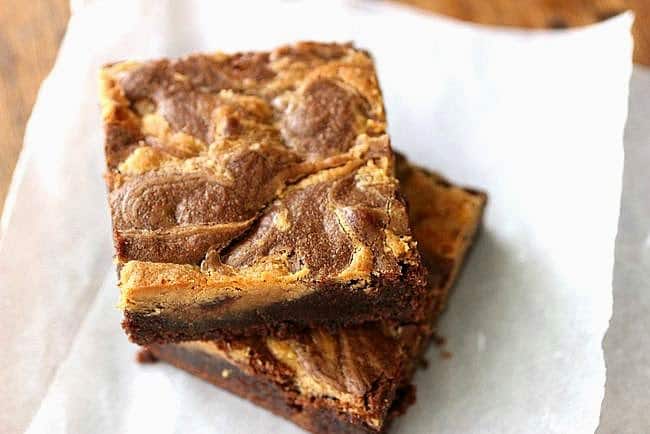 Print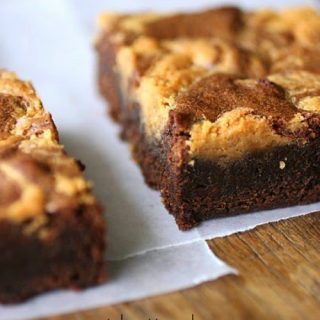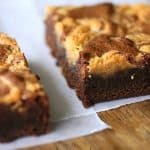 Fudgy Peanut Butter Brownies
---
Description
You can use all semi-sweet chocolate and they will turn great too.
---
Scale
Ingredients
For the brownie base:
2 oz

. 60g unsweetened chocolate, coarsely chopped

2 oz

. 60g semi-sweet chocolate, coarsely chopped

3/4 cup

170g unsalted butter

1 3/4 cup

s  350g sugar

3

eggs ( room tº)

1

Tbs.  vanilla extract

2

Tbs.  unsweetened cocoa powder

1 cup

140g all-purpose flour
For the peanut butter swirl:
1/2 cup

  peanut butter

2

Tbs.  30g butter, melted

1/3 cup

  powdered sugar

½ teaspoon

  vanilla

2

or

3

Tbs cream
---
Instructions
For the brownie base:
Preheat oven to 350ºF / 180ºC. Line a 9×9-inch square pan with and spray the sides that aren't lined.
Melt the two chocolates and butter together in a large glass bowl. I do it in the microwave oven, stirring every 30 seconds, until chocolate is smooth. You can do it over a pot of boiling water, careful the bottom doesn't touch the water.
Stir in the sugar. Then add the eggs, vanilla, and cocoa. Stir well until you have a smoother batter.
Add flour and mix carefully. Spread batter in prepared pan.
For the peanut butter swirl:
In a medium bowl, stir together peanut butter, melted butter, powdered sugar, vanilla and cream. Drop spoonfuls on top of the brownie base, then swirl with a knife, making sure you leave whole chunks of peanut butter mix intact. Otherwise it all blends together and it's not the same.
Bake for about 30 minutes, until a tester 2 inches from the outside of the pan comes out clean. Let cool on a wire rack completely before cutting.
---
barely adapted from Crazy for Crust
---