This is a soft but rustic bread dough, filled with good-for-you oats and whole wheat flour. It can be made into dinner rolls, burger buns, and sandwich bread. With substitutions for when you don't have enough of one of the flours. And it freezes wonderfully so you can bake a large batch and have warm rolls and toast every day! If you like making bread from scratch, this recipe will become a favorite.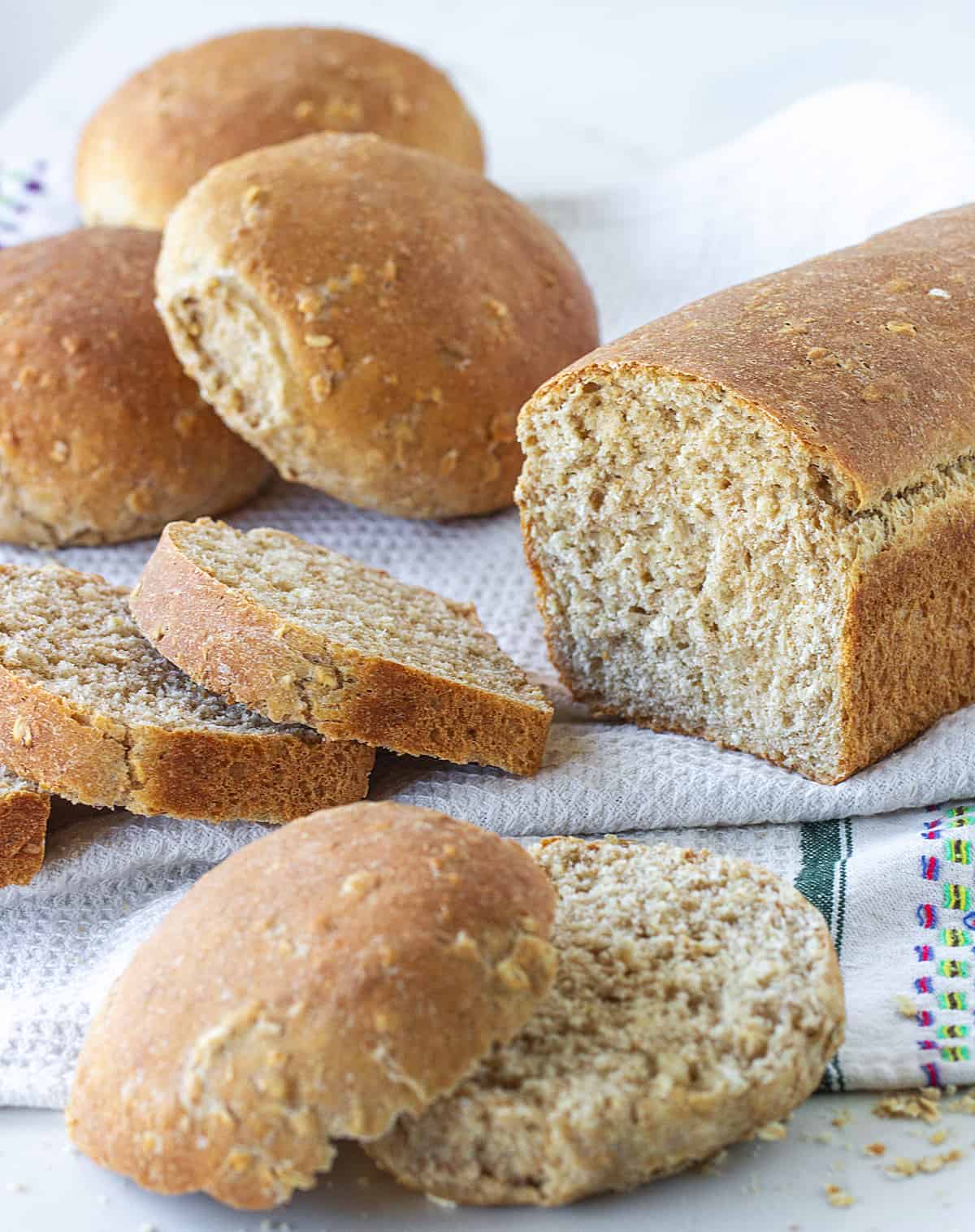 I used to make only dinner rolls with this recipe. Maybe a loaf, but mostly cute little breads for soups or sliders.
Well, these past few months found many of us baking a lot, making homemade bread (the best therapy!), and freezing everything.
I did post a great and simple guide to Freezer Baking & Desserts, in case you're interested.
But back to this bread recipe, it turns out that it's very adaptable to different flour mixes and add-ons.
So I'm republishing it with new photos, new bread shapes, and a way to make it with different amounts of flour. Just in case you don't have enough of one but have another.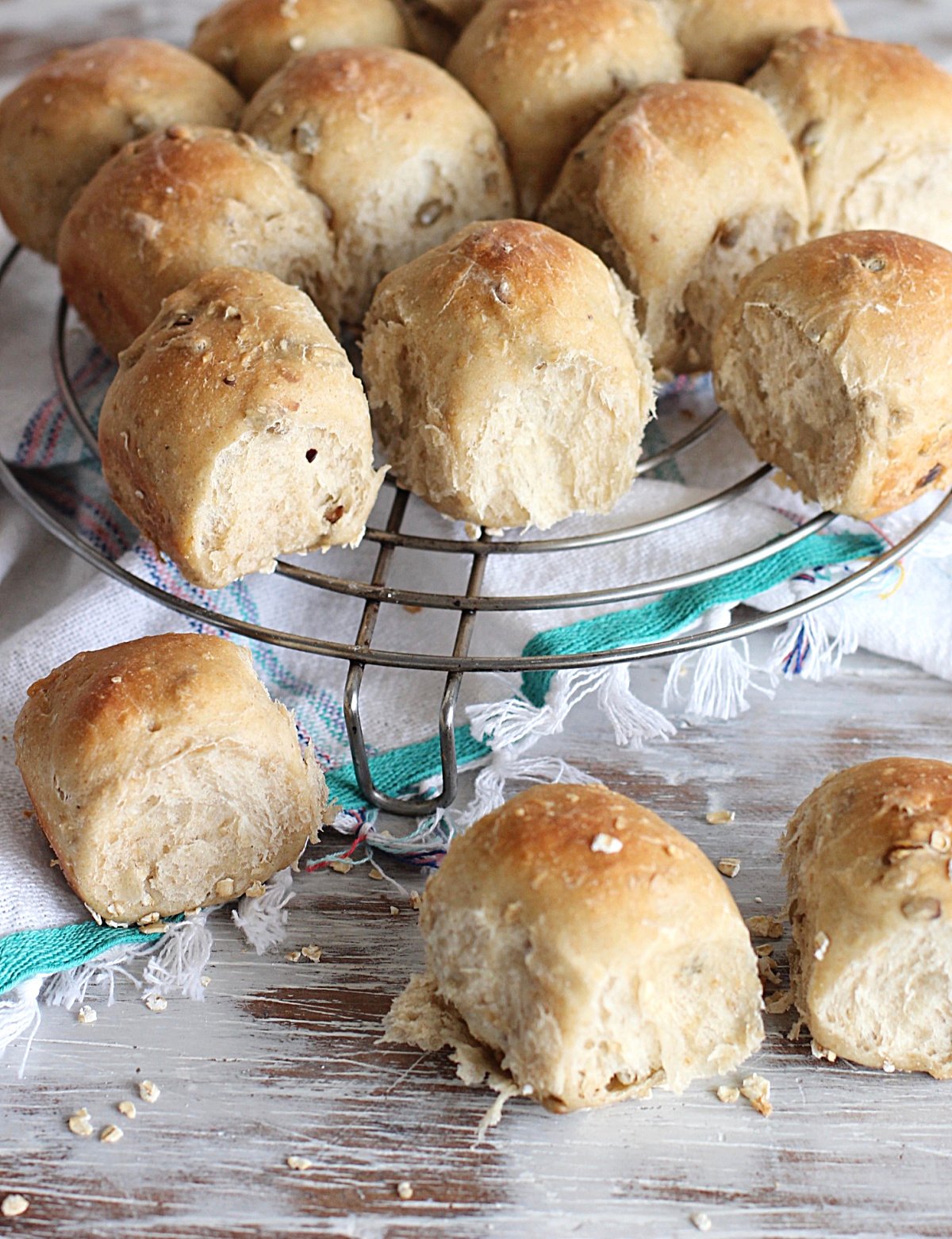 It has a faint hint of sweetness from the honey and a little coarseness from the whole wheat and oat flour.
Not only it's a straight dough and fairly simple to make, but it gives you a lot of control over crust and crumb.
Make it more or less rustic by using different amounts of the different flours.
Make one recipe and form different shapes so you have a bit of everything, from toast to healthier burger buns.
Ingredient list
Bread or all-purpose flour: I use bread flour (it has a higher gluten content) but all-purpose work well too.
Whole wheat flour: I recommend superfine which is pretty similar to white flour in how finely ground it is. It will make the bread softer while still keeping all the qualities.
Oats: I use old-fashioned rolled oats (traditional oats) because they have more texture, but you can use instant or quick-cooking oats.
Types of yeast: besides active-dry yeast, you can use instant yeast (¾ of the amount given for active dry) and add it to the flour, then add the water. Or fresh yeast (3 teaspoons) that you crumble and mix with the water first.
Oil: I like olive oil but you can use any type you want. They all work fine.
Salt: I like to use kosher salt when baking. But regular table salt works just fine.
Milk: I always use whole milk because of its richness, but reduced in fat, lactose-free, and almond milk also work.
Egg: fresh, large.
Runny honey.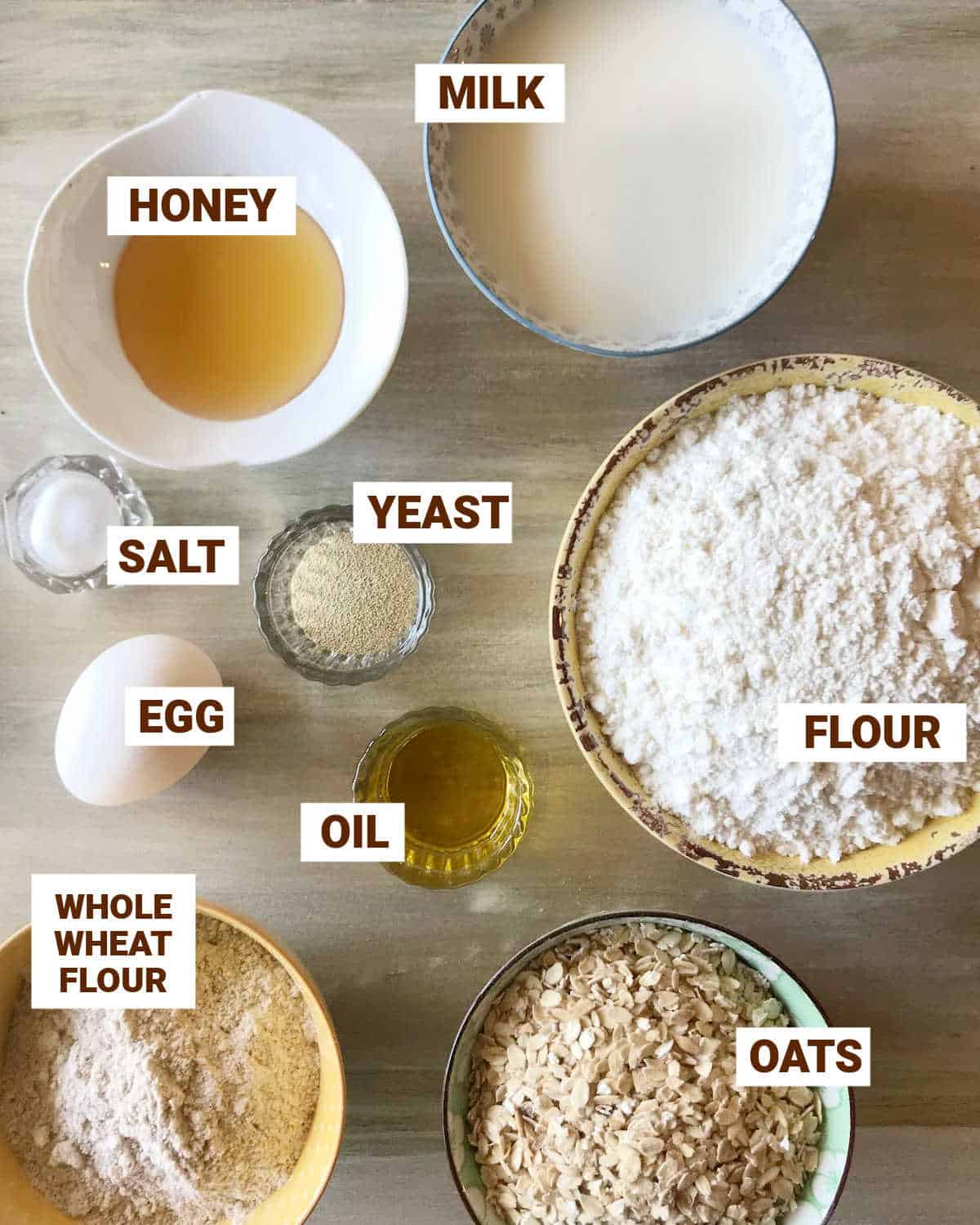 Kneading
This is a crucial part of most bread baking because it creates the structure that allows it to rise well.
It's important to know when to stop adding flour.
Though recipes come with an amount, yeast bread is very temperamental and can suffer changes, for example with how humid the place is. That's why most yeast bread recipes come with a variable amount of flour.
Eventually, the bread comes together without sticking like crazy to the edges and bottom of the bowl.
Vintage Kitchen tip: after adding flour always allow some time, about 30 seconds, for it to be absorbed before deciding if you need to add more.
Shaping
You can make dinner rolls, sandwich loaves or burger buns with this recipe.
Dinner rolls:
I like using more white flour when making these so that they are softer. Especially for sliders or small sandwiches.
I make them about 1 ounce each. The whole recipe yields 30-32 rolls and I use two 9x13-inch pans.
Place them barely touching in the pan and let them proof (rise) until they look like they're snuggling (image above).
Here is a quick tutorial: How to shape dinner rolls that might come handy.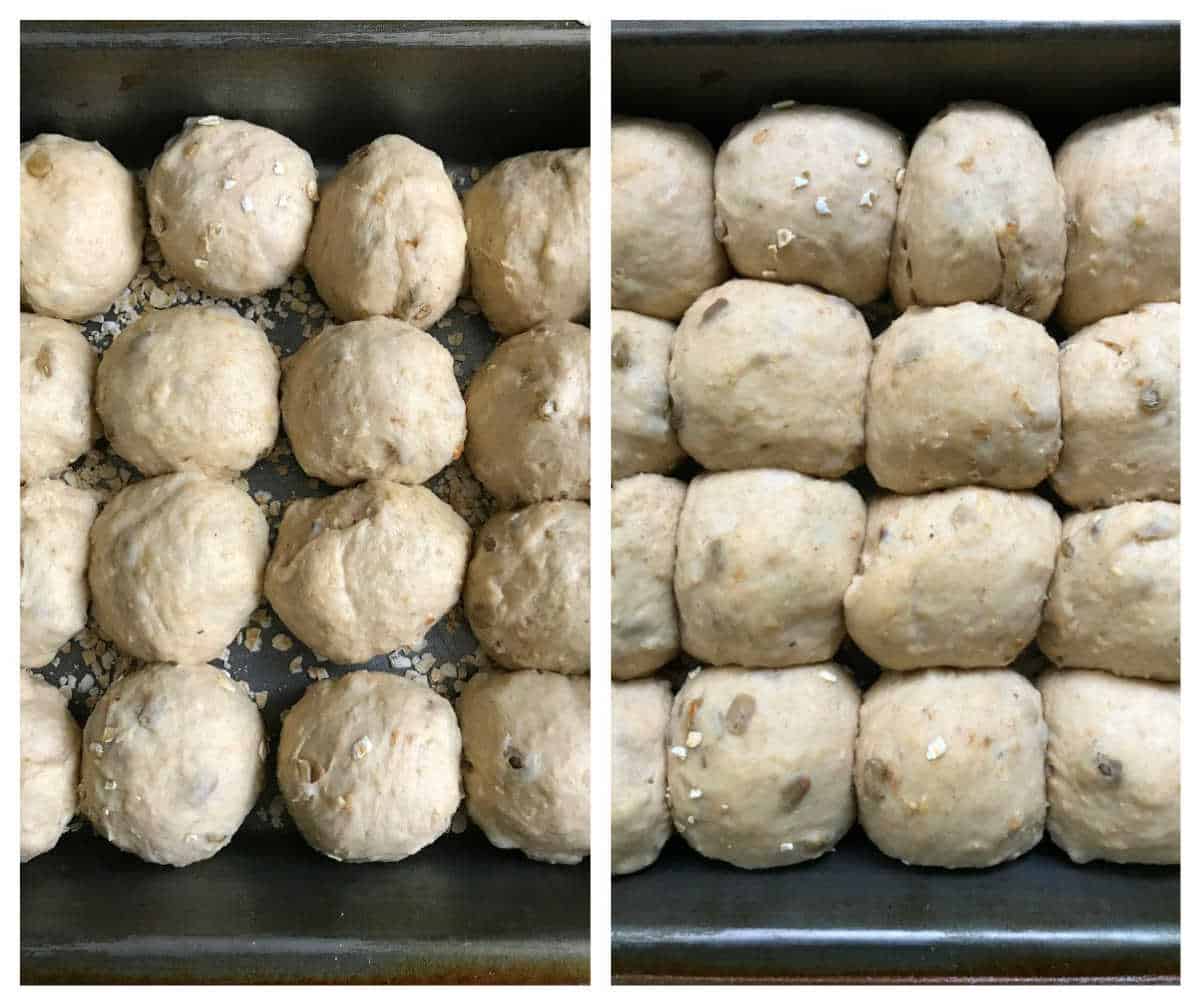 Hamburger buns:
Similar to the small rolls above, they need a little more space so that they bake thinner and don't rise as much (image below). That is what we want in a burger bun so that it baked with less crumb.
This recipe yields about 12 buns. I use two 9x13-inch pans (image below).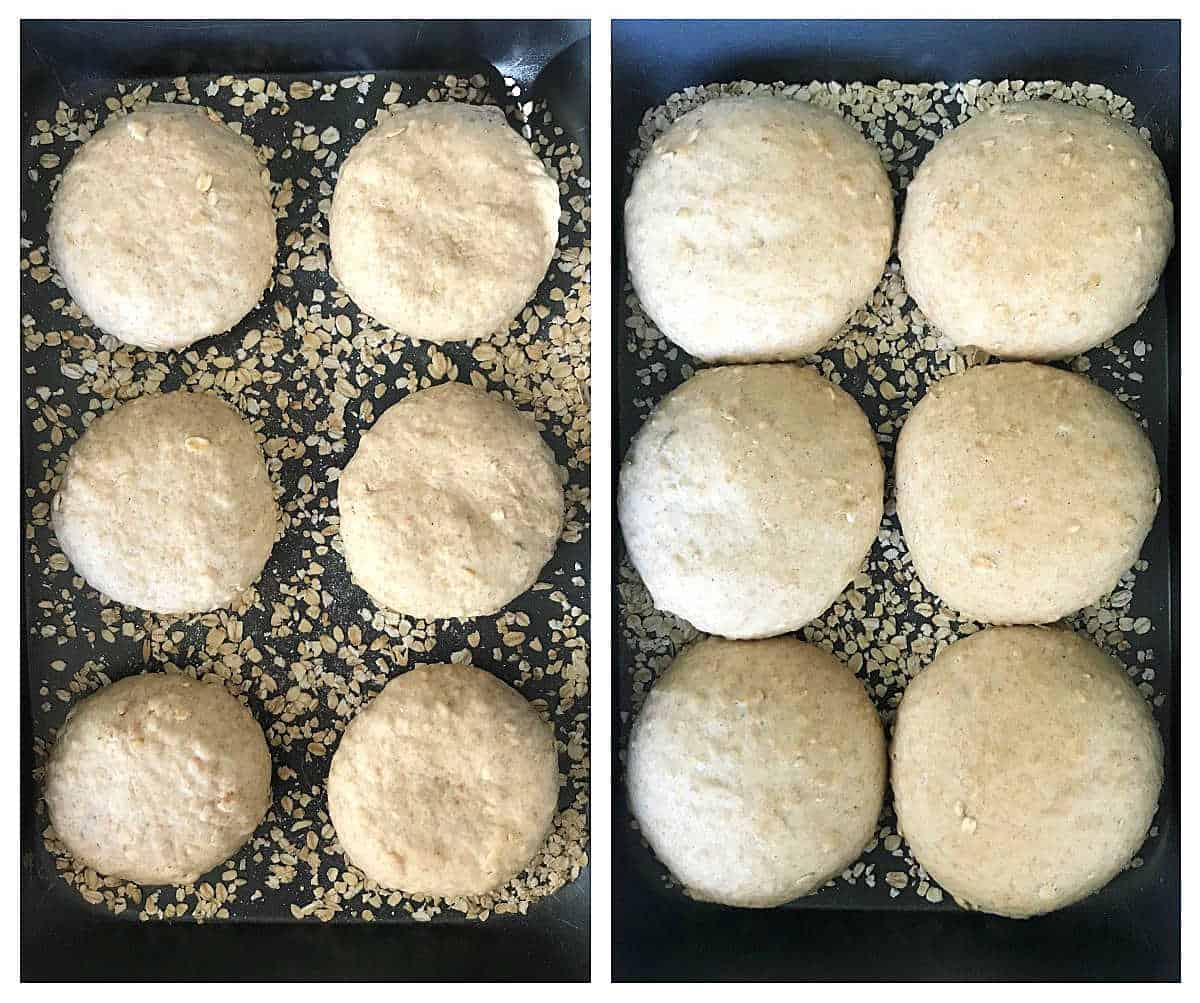 Loaf bread:
This recipe yields two 4x9-inch loaf pans.
How to form the sandwich loaf: make a rectangle with the dough after it rises the first time. Roll it away from (as you would cinnamon rolls) and seal each turn with your palm (images 1 and 2) or with your fingers.
Put into the pan and lightly flatten the dough with your palm so that it reaches the angles and the whole thing is covered (image 3). It might shrink back a little, that is fine. We do this so that the loaf bakes as evenly as we want. Let rise before baking (image 4).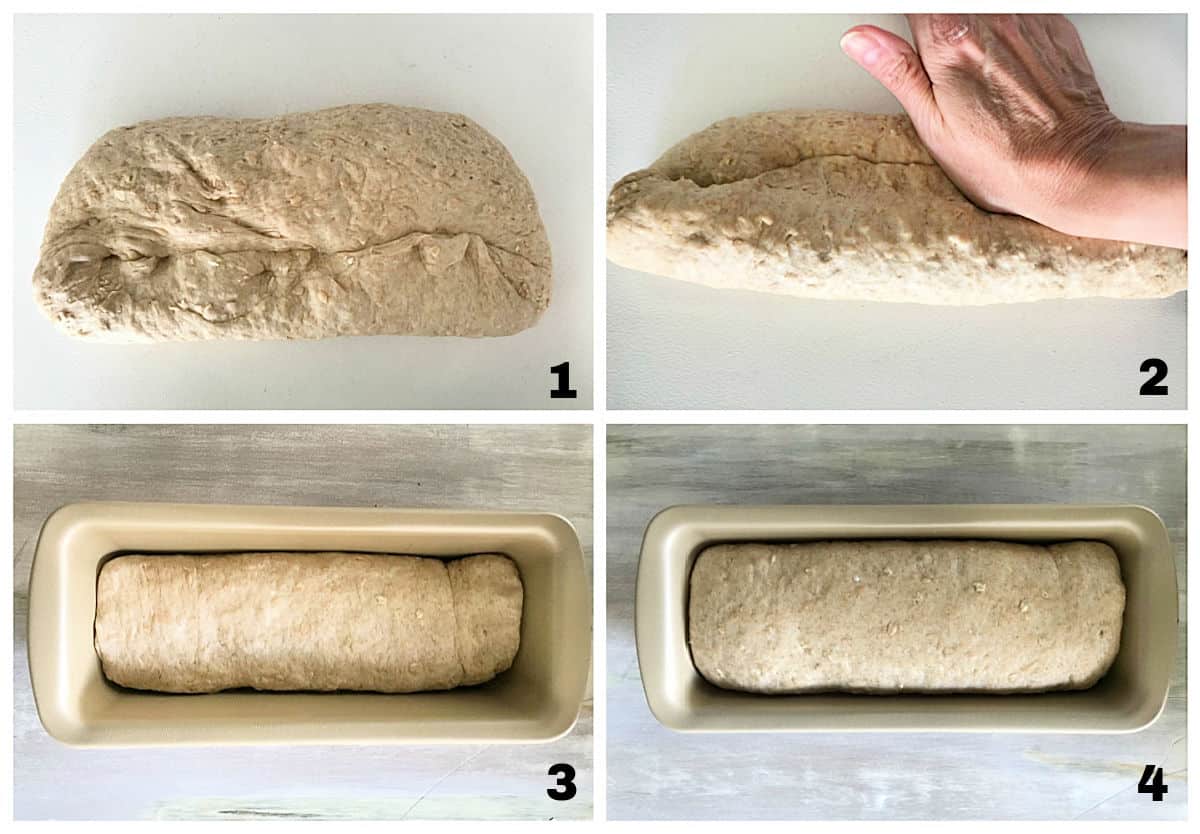 Variations
Flours: make them softer by using more white flour and coarser by using more whole wheat flour.
Additions: add 2-3 tablespoons of seeds (sunflower work great and I use them for the dinner rolls) or chopped walnuts which pair great with oatmeal and whole wheat.
Finishing: you can glaze before baking with an egg wash (lightly beaten egg with 1 tablespoon water or milk) and top with seeds. It will have a shinier finish. Or just a brush of water and the seeds.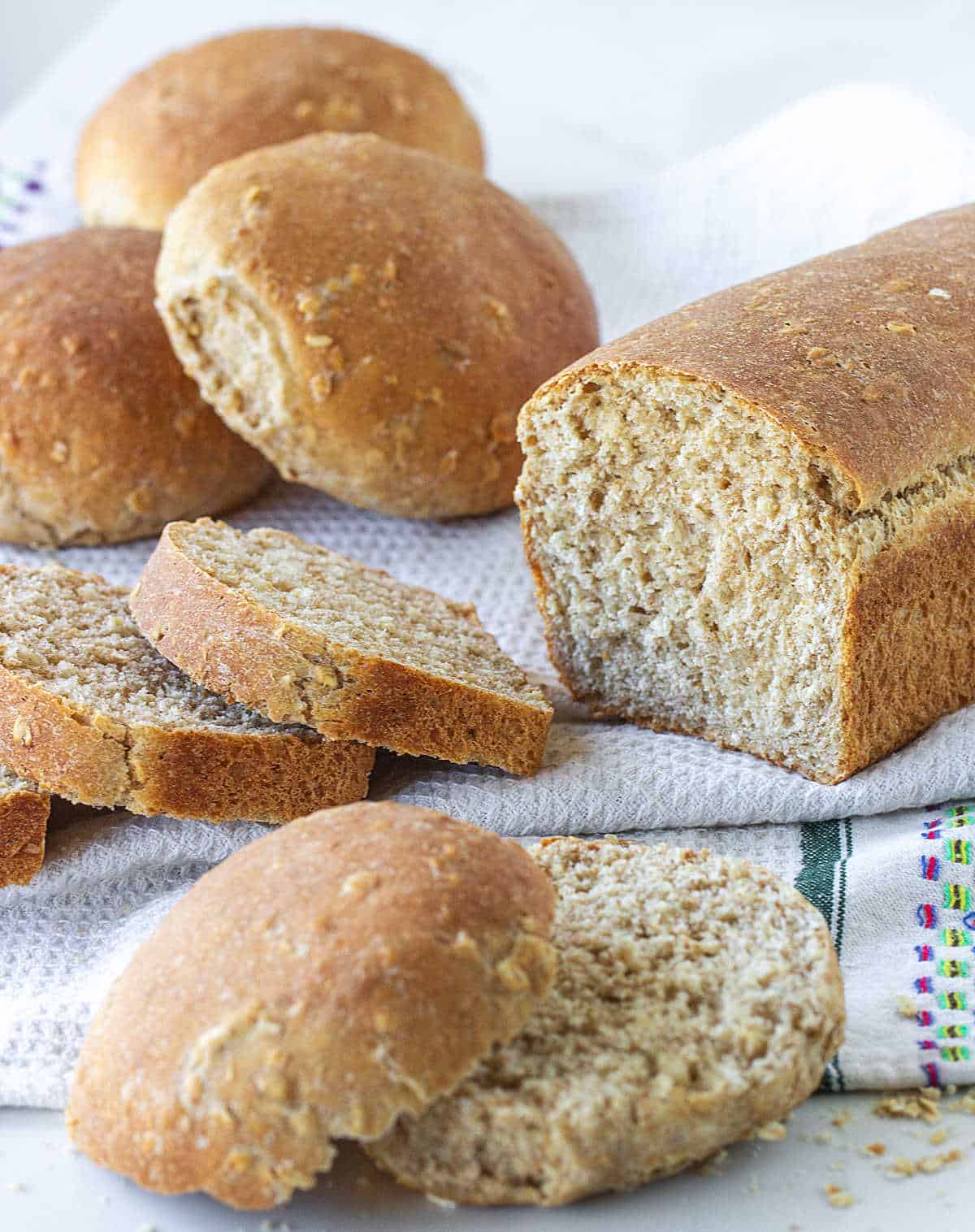 Storing
It keeps well for a day and after that can be refrigerated, well wrapped. It's best to warm slightly before eating.
Any bread you will not consume in a few days or up to a week, I suggest you freeze. Make a large batch and freeze after it's baked.
Rolls and buns: let cool and freeze. Sometimes I do this while they are still slightly warm because it seems they keep moisture better.
Loaf: I recommend you slice it first. It's easier to defrost or pop into the toaster directly. You can freeze it whole of course, but it will take a while to defrost.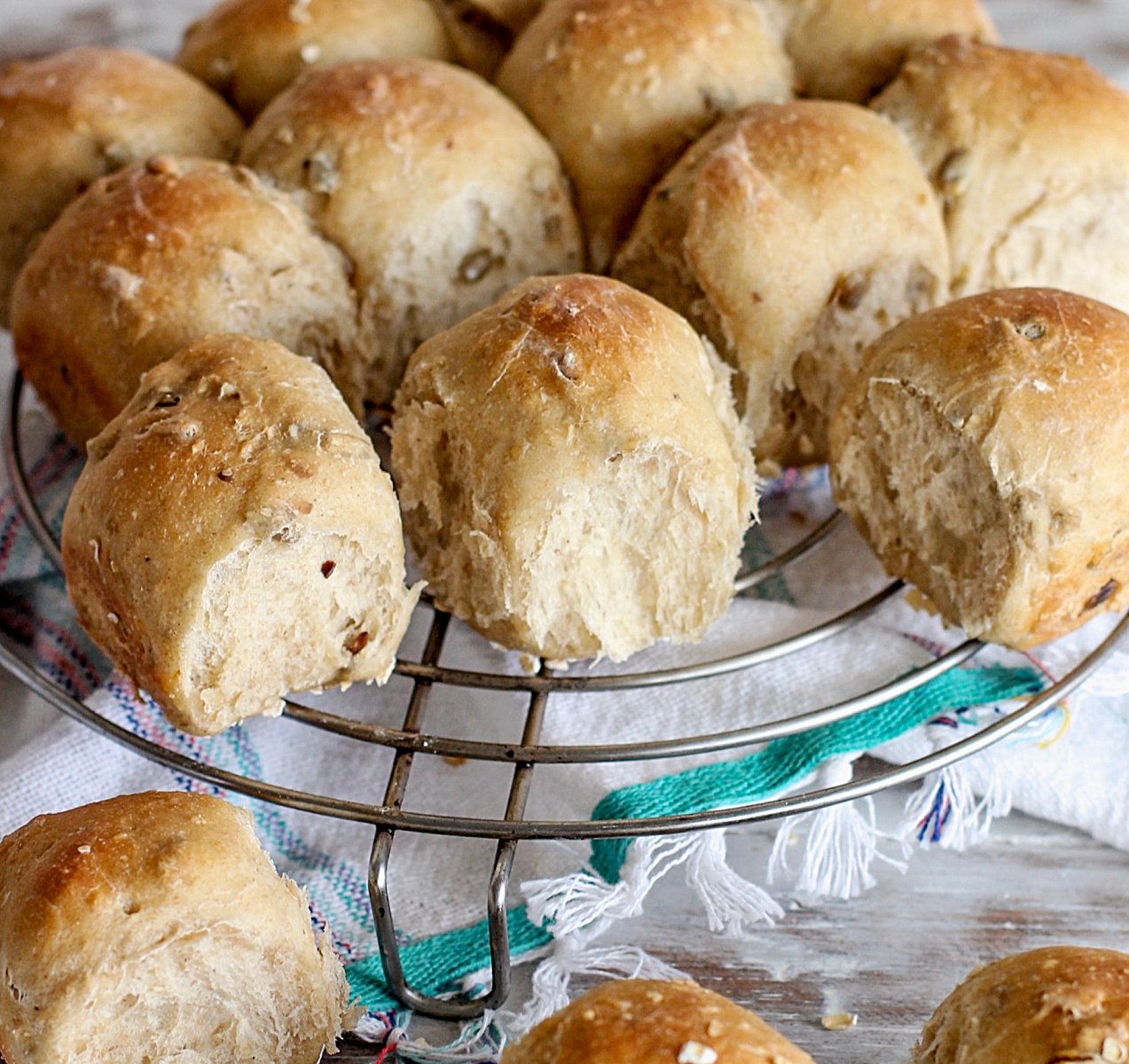 Any way you look at it, this bread is an absolute winner year-round. I think you should give it a try asap.
---
Related recipes you might like:
---
Let me know in the comments below if you made this recipe and loved it and if you had issues so we can troubleshoot together. I love to hear what you think, always. Thanks for being here. It's much appreciated.
You might also consider subscribing to our FREE email series to Boost your Home Baking Skills! And our regular newsletter.
And let's connect via Facebook, Instagram, and Pinterest.
As an Amazon Associate, I earn from qualifying purchases. Please read my disclosure policy.
Print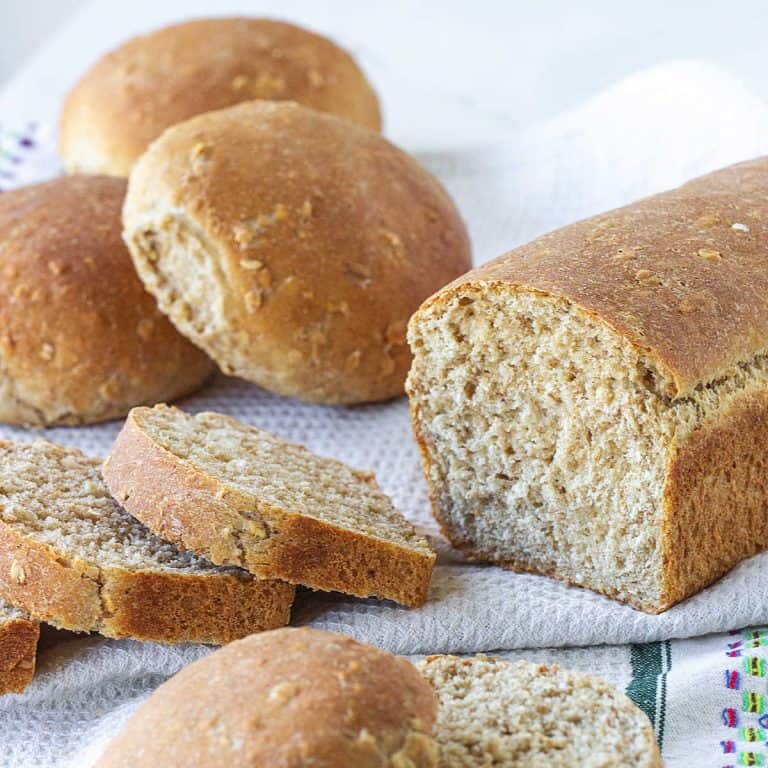 Whole Wheat Oatmeal Bread
They are soft but rustic, filled with good-for-you oats, and freeze wonderfully! If you like making bread from scratch, this bread will become a favorite, fast.
Total Time:

3 hours 30 minutes

Yield:

30 dinner rolls; 12 burger buns; 2 loaves
See Notes, below, for using different amounts of flour to get softer or coarser bread.
1 tablespoon

active dry yeast (if using fresh yeast, use

3

times the amount)

1

cup

warm milk (not hot)

1 ½

cups

warm water

¼

cup

of runny honey

2 tablespoons

oil (sunflower, olive, canola)

1

cup

superfine or fine whole wheat flour

1

cup

traditional oats

1 tablespoon

salt

1

egg, at room temperature

4 ½

to

5

cups

bread flour or all-purpose flour
Instructions
In a large bowl (I use my Kitchen Aid) mix whole wheat flour, oats, and dry yeast.
Add milk, water, honey, egg, and oil and mix well with a wooden spoon or spatula.
Using the dough hook, start kneading at medium speed, adding salt and bread flour, a half cup at a time. You can also knead by hand, adding all you can in the bowl and then finishing on the counter.
Using a stand mixer should take 6-7 minutes; around 10 if kneading by hand.
The dough is barely sticky and should eventually leave the sides of the mixer bowl or the counter if kneading by hand.
Always add ½ cup at a time and wait about 30 seconds until the flour is absorbed before adding more. You don't want a very firm dough, it should be slightly sticky.
Oil a large bowl and put the dough, turning it around to oil the top.
FIRST RISE - cover with film and let double in volume, for 1 ½ to 2 hours in a warm place. I sometimes wrap it in a sweater or blanket if the room is more cold than warm.
Lightly punch the dough with your fist and transfer it to a clean counter.
Carefully flatten it a bit. Divide in two.

For dinner rolls

: divide the dough into about 30 pieces. Make each into small balls pinching the dough at the bottom. Cover each ball with the palm of your hand and make circular movements to smooth and round the pieces. Repeat with all balls.

For burger buns

: divide the dough into 12 pieces. Repeat the process for the dinner rolls above, but flatten the balls after forming them so they bake with less inside crumb.

For a sandwich loaf

: make a rectangle, long side parallel to the edge) and roll away from you (as you would cinnamon rolls), pinching the dough together with each roll until you have a loaf.
For all of the shapes: dust the pans with some oatmeal or polenta in the bottom and place the rolls or buns, or loaves. See the Notes below for finishing specifications.
SECOND RISE - cover pans with clean kitchen towels and let rise until puffed, about 1 hour.
Meanwhile, preheat the oven to 350ºF / 180ºC.
If you want, brush the top of the rolls carefully with water and sprinkle some oats on top. Or with an egg wash, see Notes below.
Bake for 30 to 40 minutes for loaves, about 20 minutes for rolls, and about 25 minutes for buns, or until golden on top and the bottoms sound hollow when lightly tapped.
Remove from pans and let cool completely on a wire rack. Best eaten in the first 8 hours or so.
Notes
Softer bread:
Make this recipe with the ingredients mentioned above. I use this ratio of whole wheat and white flours for dinner rolls and sometimes for buns.
Coarser, more rustic bread:
Use up to 2 ½ cups of whole wheat flour. This amount will be decreased from the white bread flour and it includes the first amount stated in the recipe. So it will be, for example, 2 cups whole wheat, 4 cups bread or all-purpose (maybe a bit more) and 1 cup oatmeal. The burger buns and loaf in the photos are made with these proportions.
Other tips
Additions: add 2-3 tablespoons of seeds (sunflower work great and I use them for the dinner rolls) or chopped walnuts which pair great with oatmeal and whole wheat.
Finishing: you can glaze before baking with an egg wash (lightly beaten egg with 1 tablespoon water or milk) and top with seeds. It will have a shinier finish. Or just a brush of water and the seeds.
Overnight rise: loosely wrap the pan/s with unbaked bread in plastic after they are formed but before the second rise. You need to give them space to grow. Let them come to room tº (it might take a couple hours) and let puff up before baking them as instructed.
Freezing baked bread: after they are baked, freeze rolls and buns, well wrapped, while still warm. Thaw them directly in the oven and eat warm. For loaves, I recommend slicing it first.
Author:

Paula Montenegro

Prep Time:

20 minutes

Rising times:

150 minutes

Cook Time:

40 minutes

Category:

Bread

Method:

Baking

Cuisine:

International
Adapted from Bread, by Beth Hensperger