If you like making bread from scratch, these sunflower oatmeal dinner rolls will become a favorite, and fast.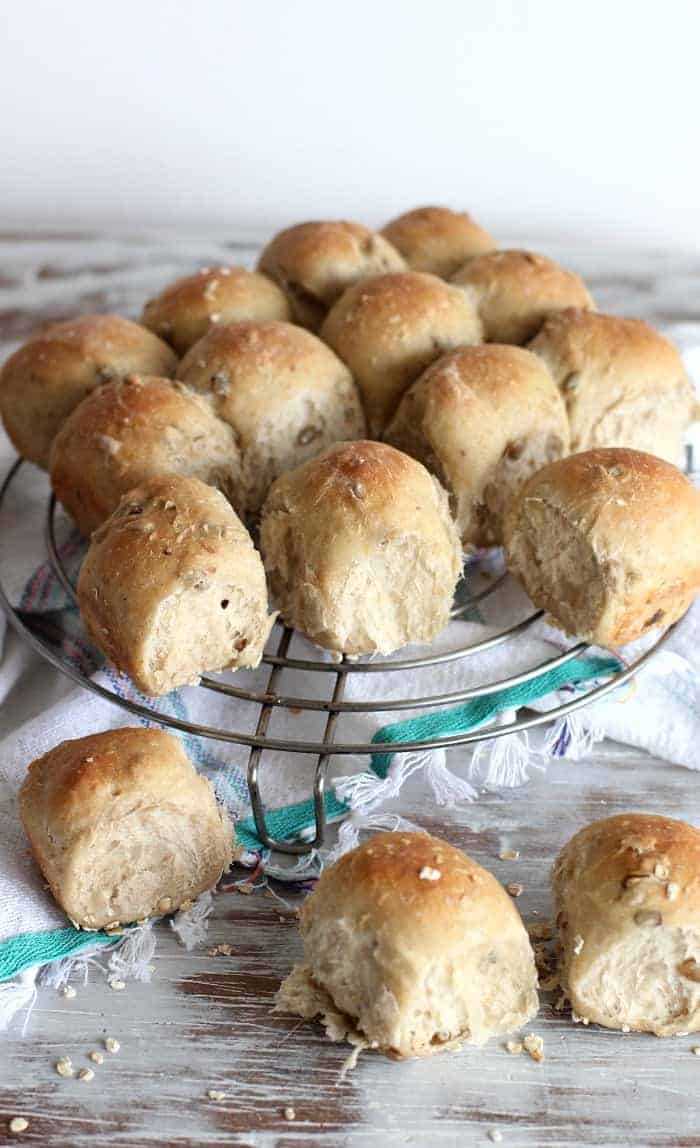 Dinner rolls, I love them all. And these oatmeal ones in particular, with a faint hint of sweetness from the honey and a little coarseness from the whole wheat and oat flour.
Not only are they fairly simple to make, but they give you complete control over crust and crumb. No more tearing off the ends before anyone else or going only for the pillowy crumb. In my house that is a fierce debate and cause for fights.
Also, they can be frozen, unbaked. So you can make a big batch and bake fresh, amazing bread whenever you need to. Detailed instructions below.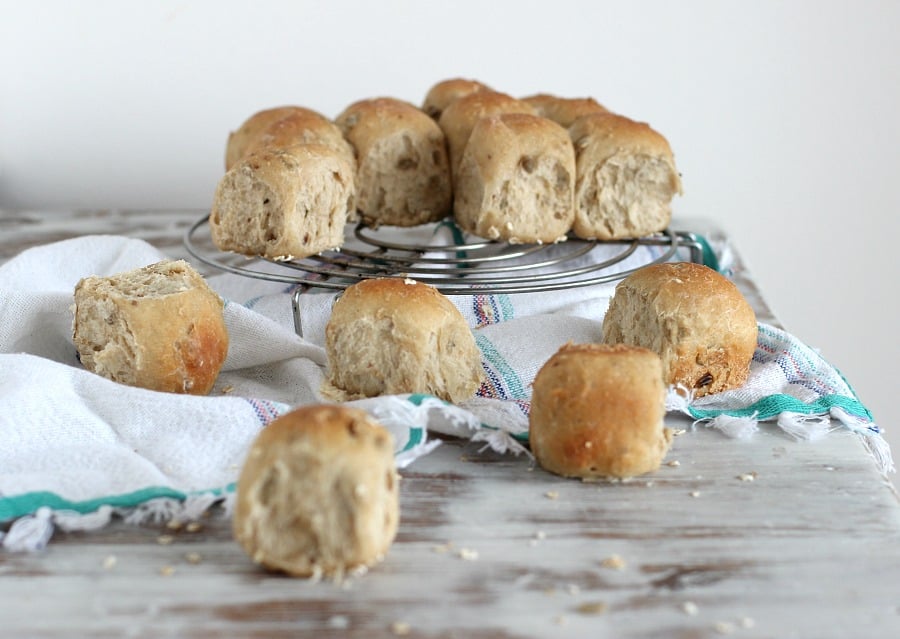 Over the years I have to confess I use my stand mixer for making yeast doughs. Laziness at full speed.
My first bread ever was mastered by hand, something that still gives me immense pleasure and acts as therapy, though it doesn't happen that often.
That bread is my favorite challah, a wonderful recipe by bread expert Beth Hensperger. The recipe hails from that first book too. If you are starting with bread and are not into the sourdough starter craze, this is a book that will open a whole new world of easy and delicious bread baking.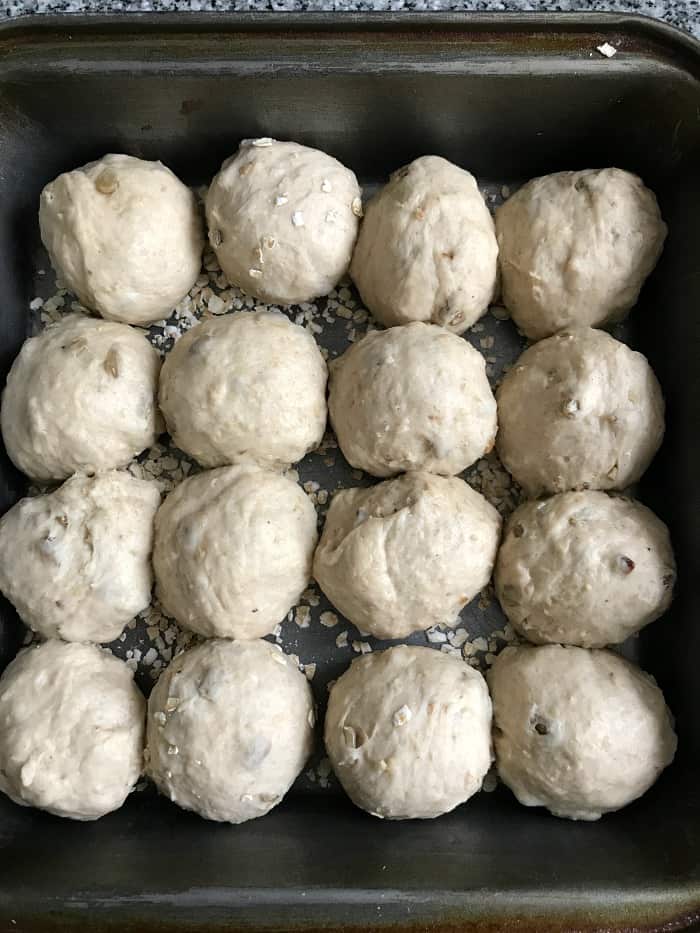 Of course, you can make two loaves out of this recipes. I sometimes make a loaf and dinner rolls. Two for one.
I freeze them baked too. Already sliced if it's a loaf.
Either way, these oatmeal dinner rolls are fantastic warmed up in the oven right before eating, with the crunchy crust and creamy interior.
They make wonderful sandwiches with leftover turkey, mayo and cheese. Or cranberry sauce and gravy. We all know those leftovers next week need some ideas.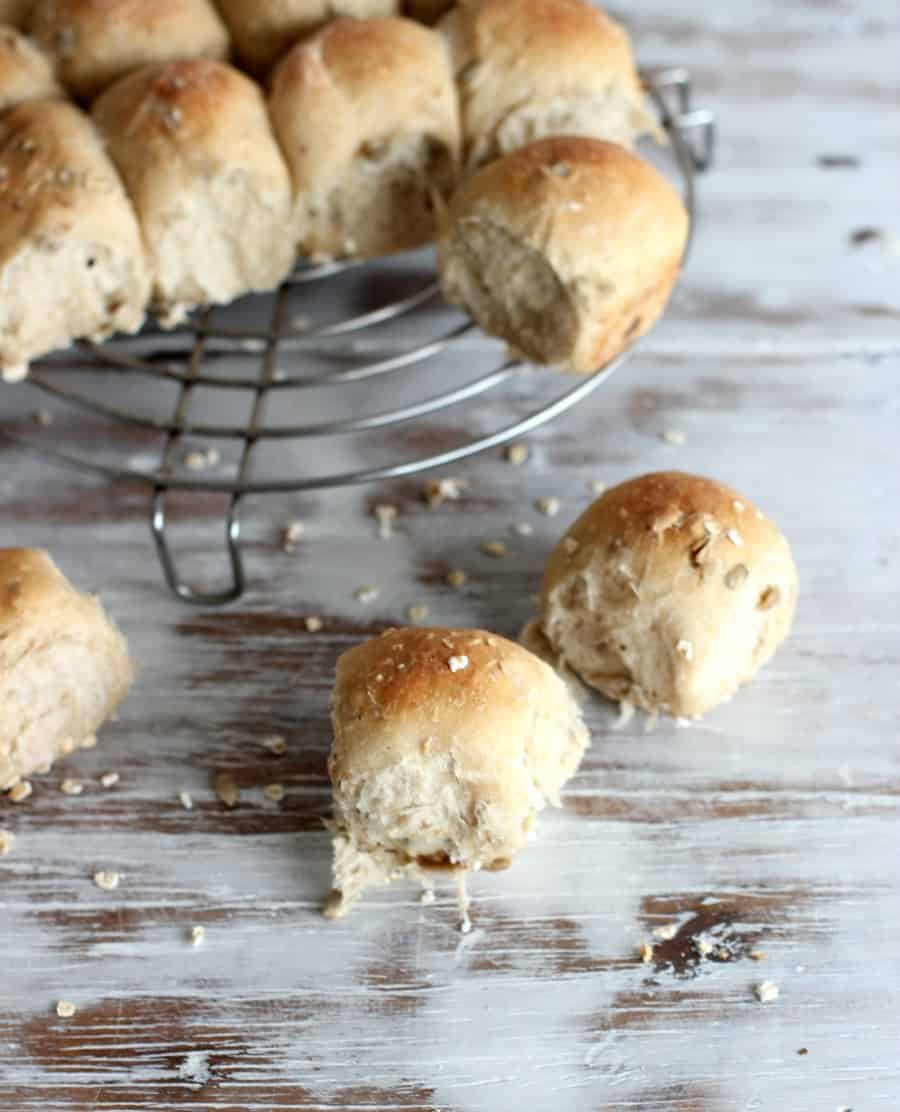 Vary the type of seeds if you don't have sunflower. Sesame seeds work really well. Or chopped walnuts, a perfect combination with oatmeal.
Any way you look at it, this bread is an absolute winner year round. I think you should give it a try asap.
Print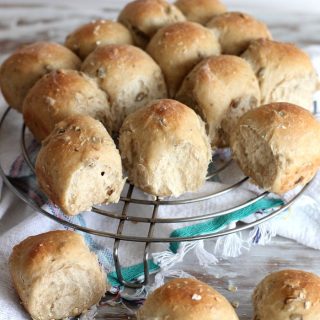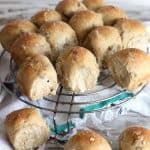 Amazing sunflower oatmeal dinner rolls
Prep Time:

20 minutes

Cook Time:

40 minutes

Total Time:

220 minutes

Yield:

32

dinner rolls

1

x
---
Scale
Ingredients
1

Tbs 8g active dry yeast

1 cup

250ml warm milk (not hot)

1 1/2 cup

s 375ml warm water

1/4 cup

90g runny honey

2

Tbs 30g melted butter or olive oil

1 cup

130g superfine or fine whole wheat flour

1 cup

95g traditional oatmeal

3/4 cup

100 sunflower seeds, raw or toasted

1

Tbs salt

1

egg (room tº)

4 1/2

to

5

cups 500-600g bread flour
---
Instructions
In a large bowl (I use my Kitchen Aid) mix whole wheat flour, oatmeal, seed and dry yeast.
Add milk, water, honey, and butter and mix well with a wooden spoon or spatula.
Using the dough hook start kneading at medium speed, adding salt and bread flour, a half cup at a time. You can also need them by hand, adding all you can in the bowl and then finishing on the counter.
If using a stand mixer it should take 6-7 minutes; around 10 if kneading by hand.
The dough is barely sticky and it should leave the sides of the mixer bowl or the counter if kneading by hand.
Oil a large bowl and put the dough, turning it around to oil the top. Cover with film and let double in volume, 1 1/2 to 2 hours.
Transfer the dough to the counter and carefully flatten it a bit. Divide in two and make small balls pinching the dough at the bottom.
Cover each ball with the palm of your hand and make circular movements to smooth and round the pieces. Repeat with all balls.
Dust some oatmeal in the bottom of two 8-inch square pans and place the balls in rows.
Cover with a clean towel and let rise until puffed, about 1 hour.
Meantime preheat oven to 350ºF / 180ºC.
Brush the top of the rolls carefully with water and sprinkle some oats on top.
Bake for 30 to 40 minutes, until golden on top and the bottom sound hollow when tapped.
Unmold and let cool completely on wire rack.
To freeze, wrap the pan with unbaked rolls after they are halfway through the second rise, first in film and then in foil. Thaw them at room tº and let puff up before baking them as instructed. 
After they are baked, freeze them well wrapped while still warm. Thaw them directly in the oven and eat warm.
---
barely adapted from Bread, by Beth Hensperger
---