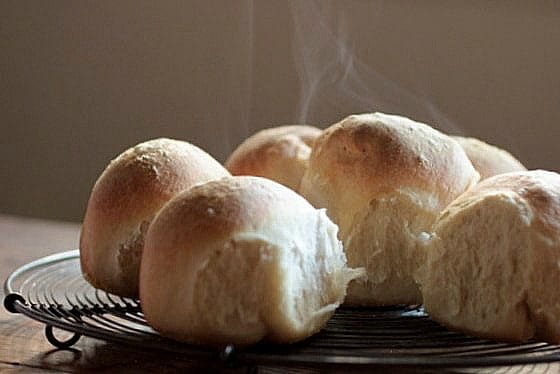 My life took a turn in the last few days, a good one, work-related, but it completely threw my posting schedule and blog reading off the normal path. I had gotten into a blogging rhythm that will need some serious review on my part as I try to juggle everything, which I don't mind, but you know how it is, we need to eat and clothe ourselves, pay the mortgage, see our friends, so an income is very much appreciated. An increase in said income is even more welcome, and that's where I find myself at.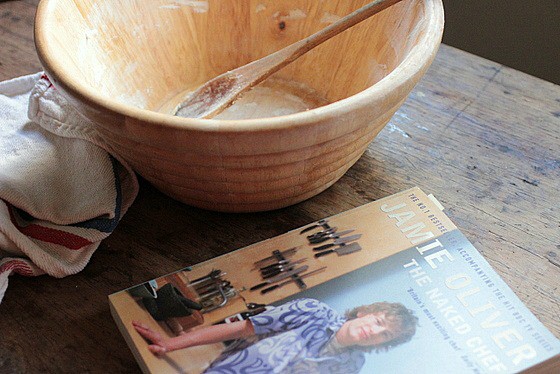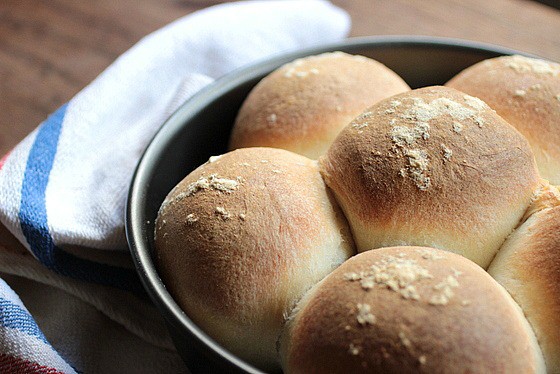 So, before another week goes by
just like that
, and to save you from having to read a lame pasta post titled something like what-to-eat-when-you-said-yes-to-two-new-jobs-without-getting-organized-first, and because I haven't cooked in a week, I scouted through my pictures and realized I hadn't shared these rolls with you, made with beer, all gloriously crusty on the outside and with a marvelous white, creamy crumb inside, a recipe by the talented
Jamie Oliver
, which I shared back in may for
food revolution day
in
my spanish blog
– the embodiment of blog neglection btw.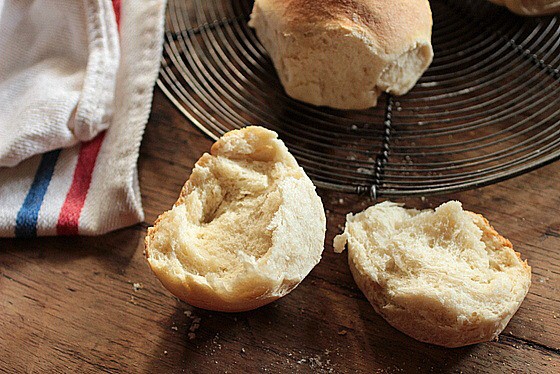 This is the basic hard crusted roll recipe to have. Period.
It can be adapted to any shape, be it rolls, loaf, baguettes, grissini or even pizza; use water or beer, use all bread flour or half semolina like I did;  add chopped herbs (basil and oregano are good), onions or grated cheese to the dough and have savory little breads to soak up that sauce from your plate. Told you it's very adaptable to personal taste.
I love these to make meat sandwiches. Love them. The crumb is the right texture for those meat juices, and it works with cold meats well too. Which is probably the most nutritious meal I will have in the next few weeks. Time to get very organized, which is not my thing at all given the choice. But it turns out, I have no choice!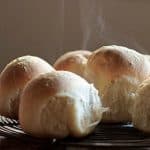 Beer Bread Rolls
If you don't find semolina, use all bread flour.
Ingredients
1

oz

fresh or 3/4oz active dry yeast

2

Tbs

honey or sugar

2 2/3

cups 

tepid beer

1

pound

+ 1oz

500g bread flour

1

pound

+ 1oz

500g semolina flour,

see note above

2

Tbs

30g salt

Extra flour and semolina for dusting
Instructions
Dissolve yeast in a bowl with 1 cup beer and the honey. Leave a few minutes until foaming.

In a the bowl of a stand mixer (or a large bowl if making by hand), mix flour, semolina and salt.

Make a hole in the middle and add the yeast mixture and the rest of the beer. With a wooden spoon or mix until you have a shaggy mass.

If using a mixer, attach the dough hook and knead for a few minutes until the dough starts to come together. Adjust liquid (add water by teaspoons if the dough is too dry and won't come together) or flour (add by tablespoons if the dough is too wet) if needed. Knead for 5 minutes until smooth.

If making by hand dump the mix onto a lightly floured surface and knead by hand for 1 minute, adding teaspoons of water (if too dry) or tablespoons of flour (if too wet). Knead for 5 to 7 minutes, pushing and folding the dough over and over

until smooth.

Shape into a ball, cover with a clean towel or plastic wrap (it will rise faster), and let double in size, about 30 to 40 minutes depending on how warm the kitchen is.

Gently punch the dough down to release all air inside, and knead for 1 minute.

Cut into 12 equal pieces, shape each into a tight ball and place in two greased round tins.

Dust the tops with some flour.

Cover with a clean towel and let rise until doubled again. While they're rising, preheat the oven to 425ºF / 225ºC.

Bake bread for about 20 minutes, until golden and dry. If you tap the bottom it should sound hollow. Unmold onto a wire rack and let cool.
Today's 5 related recipes worth looking at:
PUMPKIN SPICE BEER BREAD from A Cozy Kitchen
BACON BEER AND CHEDDAR BISCUITS from A Beautiful Bite