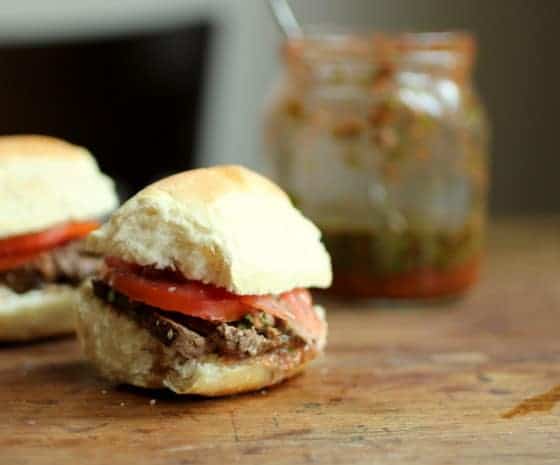 Imagine you have plate with a juicy rump steak and a tomato salad. You finish eating it and you have the most incredible pool of salty beef juice, vinegar and oil. You reach into the basket with the warm, crusty french bread in front of you,  sop it up and eat it.
Of course that last part is the highlight of the whole meal, almost as if you ate everything else just to get to that last part. Add some garlic and parsley to that and you have an idea of what these steak and chimichurri sliders are all about.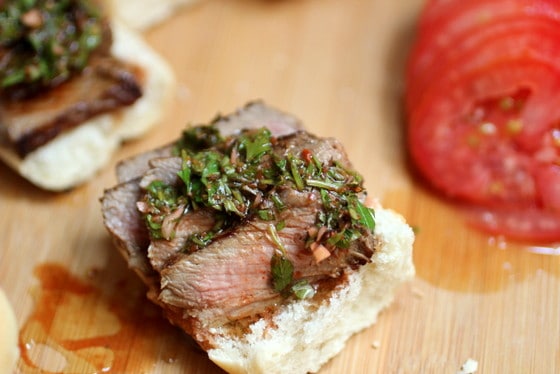 It's Super Bowl weekend at the
Sunday Supper
table, hosted by the most
famous Cocina
. So of course we´re bringing all sorts of
things to eat, both savory and sweet.
It doesn't get much better than this type of food, does it? Many sliders, recipes with cheese, dips, chocolate, brownies, cookies, it seems today we get a free pass for all of those things you try to avoid eating all the time.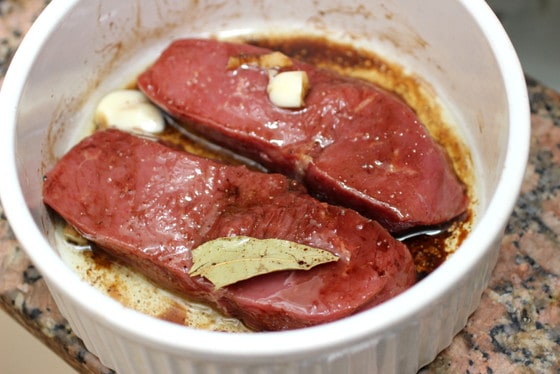 I made some sliders, or small sandwiches, because I don't know if they qualify as sliders really, a doubt fueled by the fact that I do know a small burger in a bun is one but not quite sure if any small sandwich with meat falls into the category, with my favorite meat cut, rump, and this country's pretty well known garlicky condiment, chimichurri.
The meat is marinated in a very simple combination of ingredients that enhance the chimichurri sauce. I left mine in the fridge for almost two days, since I knew the meat was very fresh. If you can, leave it marinating all day, or at least 3 to 4 hours.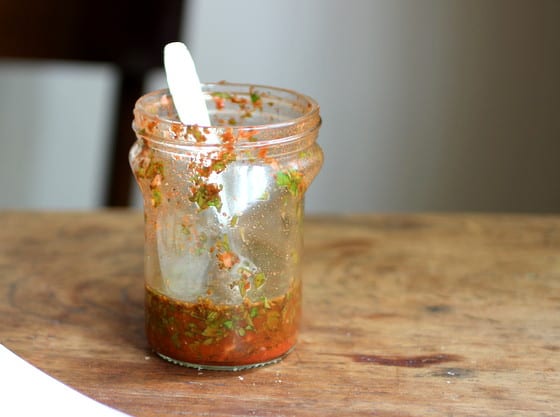 The chimichurri sauce is very traditional. Now, I know I'm writing this from the land of 'chimi' and here there are as many authentic versions as there are persons, each has it's own perfect, better-than-any-other recipe, bla, bla, but let me tell you none of them has cilantro, unless you want to add cilantro and call it cilantro chimichurri, but that's another story.
The ingredients that make a traditional chimichurri are parsley, garlic, oregano, vinegar and ají molido (red pepper flakes) and sometimes a bay leaf. A couple of days marinating in the fridge makes flavors meld together.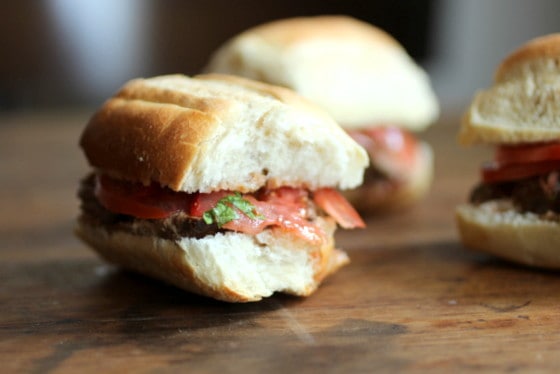 The sauce is not oily or modern, it's 
pungent with garlic and vinegar flavors and even a bit coarse on the mouth, and not the most appealing.  
It's literally watered down, otherwise it would be just vinegar. I added some
olive oil and used smoked paprika with a pinch of ground cayenne because I didn't have any
ají molido
(red pepper flakes). Man, I
can be banned from this country for posting such a chimichurri. 
No, seriously, I think it's an acquired taste, and one of the most popular uses for it is in chorizo sandwiches, which is nothing more than a french bread roll, barbecued pork chorizo and chimichurri. One of the best appetizers in the world.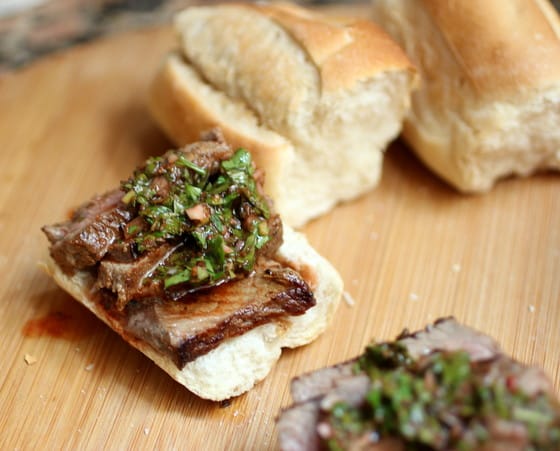 But today I used steak because I don't have a barbecue right now, and cooking chorizos indoors just does not work for me. They belong outside on the barbecue.
These sliders are full of flavor, very simple and, in my opinion, depend on two things, crusty french bread rolls (preferably warm) and juicy meat so that the crumb is moistened by it. If you like meat, sopping the juices with a good bread is the best part, don't you think so?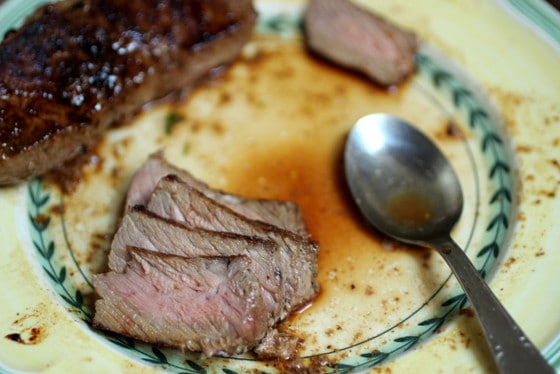 Print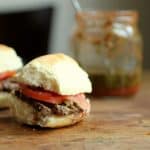 Marinated Steak and Chimichurri Sliders
---
Description
For best flavor marinate chimichurri sauce 1 or 2 days before using
---
Scale
Ingredients
12 oz

. 350g rump steak

1

fat garlic clove (peeled and crushed)

1

bay leaf

4

Tbs olive oil

2

Tbs balsamic vinegar
Freshly ground black pepper

10

small crusty rolls

2

to matoes
Chimichurri sauce

2

Tbs sherry or red wine vinegar

3

Tbs water

2

garlic cloves (finely minced)

1

Tbs dried oregano

1

Tbs smoked hot paprika or

½ teaspoon

red pepper flakes

4

Tbs chopped fresh parsley

1

Tbs olive oil

½ teaspoon

salt
Freshly ground black pepper
---
Instructions
In a rather shallow bowl, mix garlic, bay leaf, olive oil, balsamic and pepper to taste. Add steak, turning to coat and cover it with plastic wrap. Refrigerate until ready to use, at least 4 hours, turning it occasionally.
When ready to assemble the sliders, heat 1 Tbs olive oil in a large skillet.
Add meat and cook over medium heat for 2 to 4 minutes on each side, depending on the thickness of the meat. Transfer to a plate and let rest for 5 minutes so juices re-distribute.
Cut the rolls in half and the tomatoes in slices.
Cut the steak across the grain and, dividing evenly, put a few slices over half of the breads, making sure no juices are left behind. It's important for the bread to be embedded in meat juice.
Top each bread with a tablespoon of chimichurri, add a little olive oil and top with tomato slices. Salt the tomatoes and close the sliders with the remainder bread.
Chimichurri sauce:
Mix all ingredients together in a glass jar with a tight fitting lid. Shake well.
Check seasoning.
Keep refrigerated.
---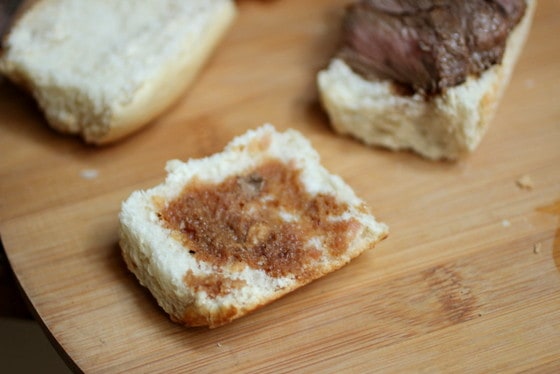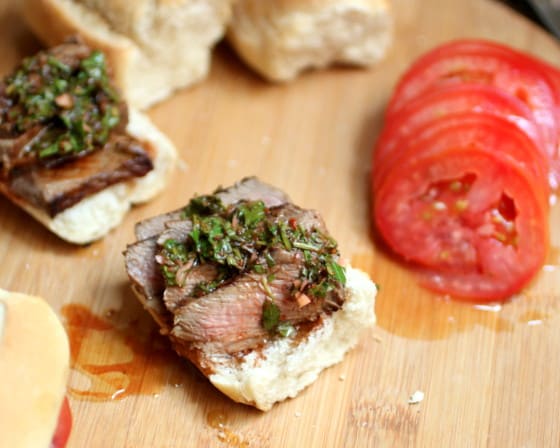 Come join us, we have the most incredible food ready for you:
#SundaySupper Super Bowl Appetizers & Snacks:
#SundaySupper Super Bowl Main Dishes:
#SundaySupper Super Bowl Desserts:
Shortbread Brownies from Baker Street
Smores Blossom Cookies from Chocolate Moosey
Sweet Little Pastries from Happy Baking Days
Sweet Potato Cake Pops from Ninja Baking
Toddler Truffles from In the Kitchen with Audrey
#SundaySupper Super Bowl Tablescape: 10 Tips For A Winning Superbowl Buffet Table from An Appealing Plan