.
.
This lentil and chorizo stew is my favorite way to beat the cold.
.
I might be the only person eating a hearty winter stew when it's 32ºC / 90ºF outside.
This happens when you participate in Sunday Supper and the theme is stick-to-your-bones food. Thanks for modern comforts like the air conditioning. Today our host is Susan from The Girl in the Little Red Kitchen and the list of recipes is absolutely soul warming.
Was it worth it? Totally.
The final version of this fantastic lentil stew came together the last few years, tweaking this and that until I found the right combination of spice, vegetables, type of chorizo, bacon, amount of tomato and lentils. It was originally given to me by a new friend, after eating it at her house. Greedy me would've taken the leftovers home, but since it was my first time at her house, I politely asked for the recipe.
This is a very traditional dish here, and as such, there are endless variations, everyone has their favorite and every house has the perfect recipe. Today you'll have to settle for mine.
.
It all started years ago.
First, because I simply love lentils, and second because I have an on again, off again iron deficiency which compels me to eat meat and things like lentils, spinach, blood sausage. It's the way to keep the levels normal and avoid that slump bordering depression that happens when your blood doesn't have enough iron. If you ever experienced this you're nodding and if you haven't you're lucky and go on with your life.
Make this stew simply because it's amazing and soul filling. It has chorizo and bacon, did I mention that?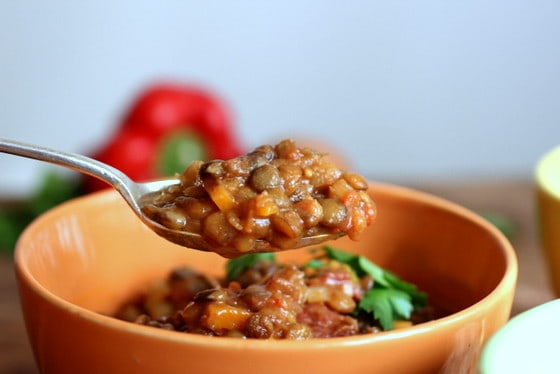 .
What ingredients are found in a great lentil stew?
Sausage – it has to have what we here call red sausage, which is Spanish sausage in many countries. It has peppers and pork, a dark reddish color (hence the name) and a very particular flavor. Of course, any kind of sausage you like a lot will work I guess, but I don't know since I don't even bother making this recipe if I don't find red sausage.
Bacon – thick slices of bacon are diced or cut into strips and added to the lentil stew. The fats render while the pot simmers away and the flavor it lends is unique. It makes the stew rich and smoky.
Vegetables – we all agree carrots should be part of this recipe. I personally am a huge fan of adding sweet potato, a small one, but necessary to balance the fat and spiciness. Some don't agree. It's an either/or situation among my friends.
That said, the rest is very simple, things like onion, canned tomatoes, smoked paprika, and a few more things.
.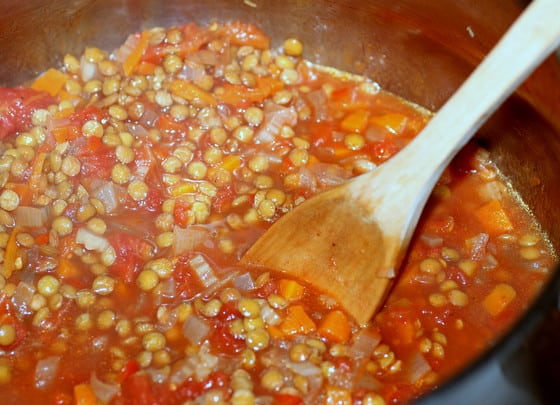 Let's talk about different types of lentils
Dry lentils – they need to be soaked in cool water for several hours before boiling them. Otherwise, they take forever and never quite soften as they should. I like to do this with regular brown lentils.
Canned brown lentils – there are different types and none are really good for a lentil stew since they need to cook together with the rest of the ingredients for a while and they tend to turn mushy and many may disintegrate.
Quick cooking brown lentils – they are my first option, a compromise between the two types mentioned above. They cook well with the rest of the ingredients, and the flavor is deepened by the broth and fats, but they keep their bite when the lentil stew is done.
Names may vary in each country, but you should not use yellow or orange lentils (the ones labeled Turkish) as they cook too quickly. So go for the sturdy, old-fashioned lentil.
.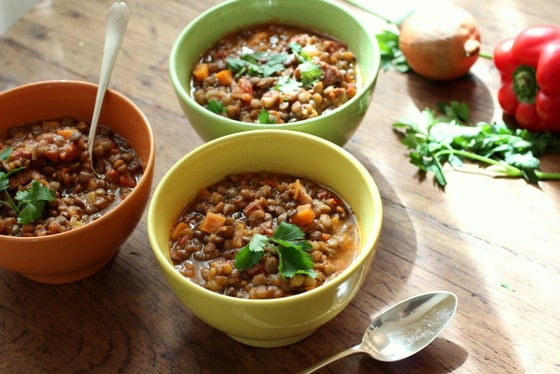 My best advice for enjoying lentil stew:
Eat it the next day
Stews, in general, are usually better the next day, or even the day after the next. I like to take it even further by cooking it until it's just done until the lentils are almost al dente. I then leave the whole thing to cool in the pot until the next day, and I cook it again for half an hour or more, depending on how I want the lentils. That overnight rest deepens the flavor as only time can. They become friends and exchange subtleties until the flavor is perfect. This is especially important with the chorizo and the bacon. They will lose some of their fat slowly and it will become part of the juices. Simply wonderful.
And lentil stew can be frozen. So keep a few containers with the right servings and enjoy it any time you want!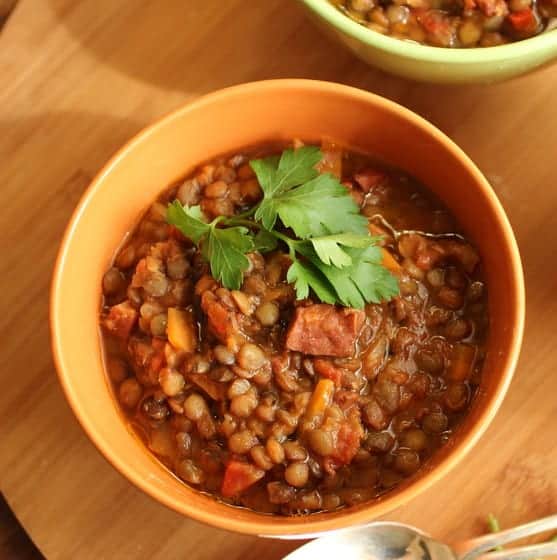 So that you get one last picture, I sat down to eat and was managing fine until halfway through, then it was a matter of turning on the a/c a bit higher and my hair up in a messy ponytail if I wanted to finish my bowl. See how much I love my
Sunday Supper group? Can't say I'm not a team player now.
.
.
Print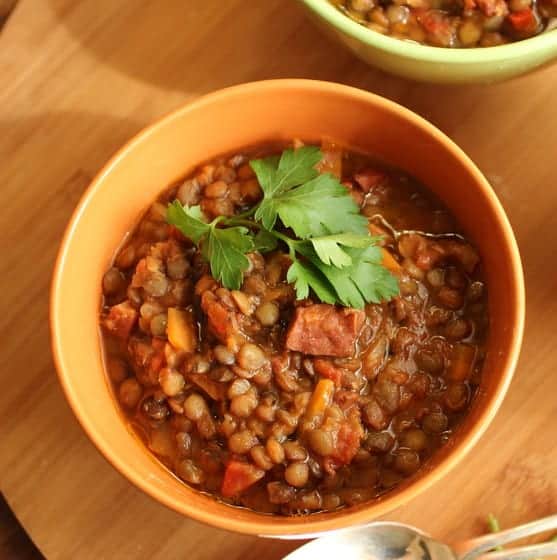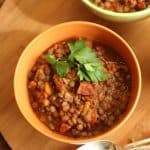 LENTIL AND CHORIZO STEW
Author:

Paula Montenegro
Prep Time:

30

Cook Time:

40

Total Time:

1 hour 10 minutes

Yield:

6

servings

1

x
Category:

Main dish

Method:

Stewing

Cuisine:

Regional
---
Description
This is my best version of one of my favorite foods ever!.  It's best to eat it the next day.
---
Scale
Ingredients
3

Tbs canola oil

1

medium onion (finely chopped)

½

small red pepper (seeded and finely chopped)

½ cup

chopped celery stalks

1

medium carrot (peeled and finely chopped)
About

4 cup

s veal broth

2 cup

s lentils

1 ½ cup

s canned tomatoes (chopped with juice)

4 oz

. bacon (coarsely chopped)

4 oz

. red or spanish chorizo (coarsely chopped)

1

Tbs smoked paprika
Salt and freshly ground black pepper
Chopped parsley (for garnish)
---
Instructions
In a large pot with lid, heat oil and sweat onion, pepper and celery. Don't brown. Add salt and pepper, carrots and 2 cups broth, and cook, partially covered for 10 minutes over low heat.
Add 1 more cup broth, lentils, and tomatoes and cook, covered, for 30 minutes.
While this is cooking, in a small skillet cook chorizo and bacon for 2 or 3 minutes, until they are a bit brown and have released some fat.
Add them to the pot together with the paprika and another cup of broth. Keep on cooking everything for the thirty minutes specified before.
Check to see if the lentils are cooked. Add more broth if necessary, check seasonings and cook more time if the lentils need it.
Laddle into bowls, sprinkle with chopped parsley and serve.
Or better yet, let it stand until the next day, reheat it and eat it.
---
Just look at the list below that is coming to the #SundaySupper table this week!
---