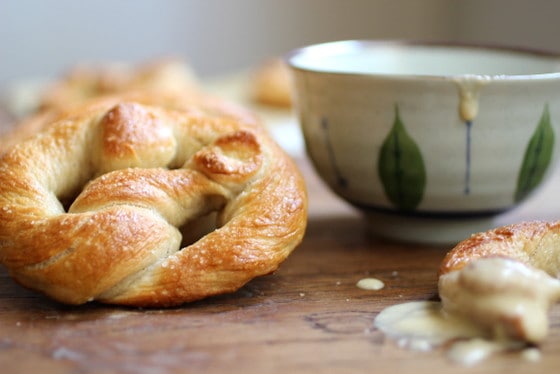 Would you
consider coming to a birthday where these soft pretzels with spicy beer cheese
sauce are served? Even though said pretzels are not as soft, but just amazing-tasting, as the title
implies they should be? And if that's the case and you want to have options, and I
tell you there are more than sixty other alternatives to choose from, would you
come?
The Sunday Supper table made up of amazing bloggers that got me ankle deep into this magic world of food blogging, is celebrating it's birthday number 1 with a party! And really, you would be crazy not to come.
After all, this is like the party that sums the usual party we have every Sunday, with a list of recipes taken from past events, each being made as is or with whatever modifications, by another fellow sunday supperer. Sort of a greatest hits album.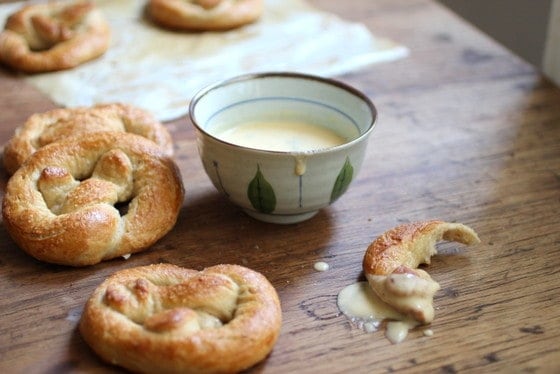 I made up 
my mind pretty quickly about choosing this recipe from
Heather of Girlichef
. She is a
 friend and an oh-so-talented baker. And baking is my thing. 
Even if right now you're thinking these pretzels don't scream that baking is my thing, because they are not plump enough or soft enough, though how can you know how soft they are if you can't touch them, but I can also tell they are not as soft as they should, baking is my thing.
The recipe is very straightforward and comes together quickly. I think I should've added more flour while kneading it. Rookie mistake.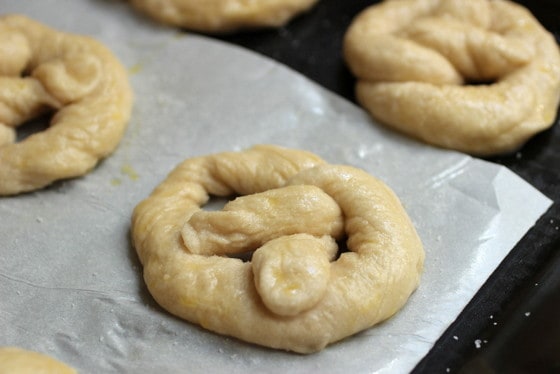 I decided to do it in two batches, sort of a first batch to practice on. I'm glad I did, and you should be glad too since those first pretzels were too big, hardly pretzel-shaped, not golden enough and very unphotogenic. Oh, but they tasted good. Just like a salted pretzel should.
The second try came out as good as I can hope for given the fact that it's my first time and don't usually eat pretzels, except when I travel to NYC and think having one with mustard from a street cart to be an unavoidable thing to do in that city. Pretzels are not known here, they might be sold somewhere but I haven't bumped into them yet.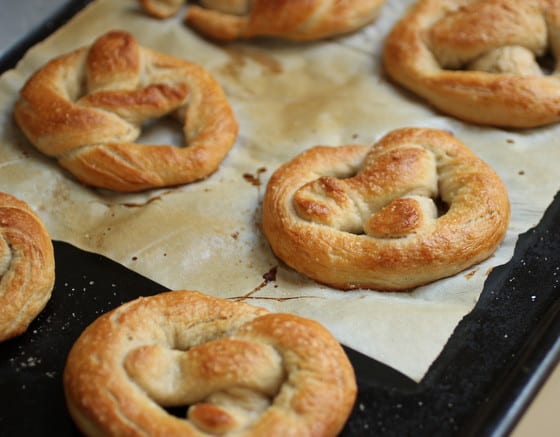 As with any yeast dough that needs to be shaped, from a simple brioche a tete to a
braided danish
, practice is all you need. Don't expect your first pretzel to be perfect.
A food blog comes in quite handy on that matter, because when I'm baking a new recipe I will try again and again until I have something that is worthy of a picture, though it might not be exactly what I want it will  definitely be post worthy.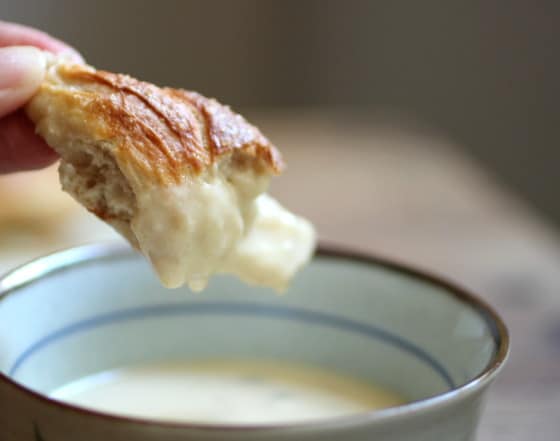 I made the 
pretzels following the original recipe, and changed the sauce just a bit to 
suit the fact that I was by myself and didn't want to make another trip to the supermarket nor have a lot of extra sauce lying around.
These are so addictive with that perfect dipping sauce that's almost like a spicy fondue, having so much of it would've meant having soft pretzels with spicy beer cheese sauce for every meal two days in a row, and I still want to fit in my bikini the rest of the summer. And I'm trying to eat healthier. Ha.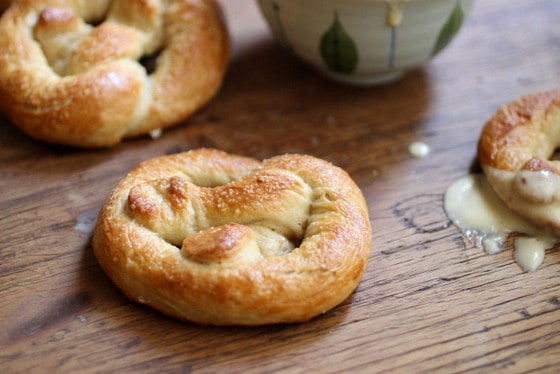 Print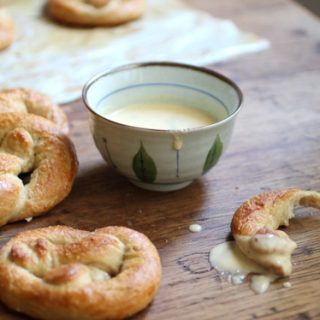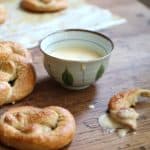 Soft Pretzels with Spicy Beer Cheese Sauce
Yield:

8

pretzels

1

x
---
Scale
Ingredients
For the sauce:
½ cup

beer (I used Stella Artois)

2

Tbs sour cream

2 teaspoon

s minced pickled jalapeños

1 cup

grated Gruyere cheese (loosely packed)

1

garlic clove (peeled and cut in half)
Salt and black pepper
---
Instructions
Heat beer in small saucepan.
When it starts to bubble, add rest of ingredients and whisk until well combined.
Let boil for 1 minute and serve with warm pretzels.
---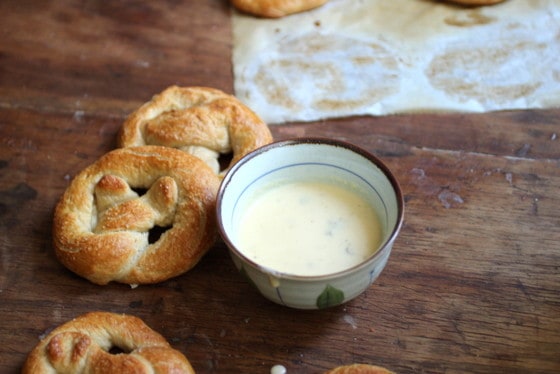 ---