Homemade soft pretzels dipped in a spicy cheese sauce laced with beer must be the dream appetizer for watching sports. The bread is deliciously chewy and the sauce is OMG amazing! So delicious I wanted to eat it with a spoon.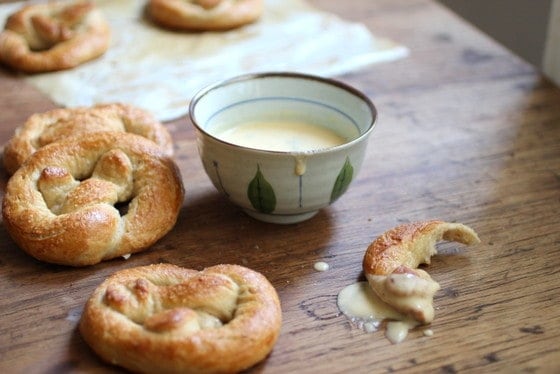 I made this recipe for a group back in the days when we food bloggers did those things: decided on a topic and we all posted different recipes the same day with a hashtag.
Many of those recipes are still in this blog because they are so darn amazing. One of my favorites by far is this fondue-like cheese sauce. It takes minutes to make and can be used not only for dipping soft pretzels but also for appetizer hot dogs or even the whole pig in a blanket.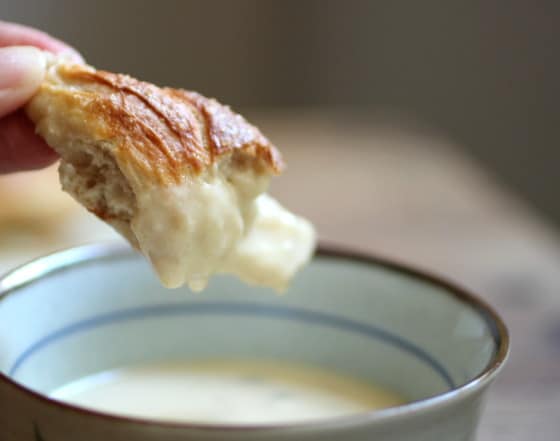 The pretzel recipe comes from Heather of Girlichef and they are fantastic. The original recipe can be found in her blog.
I made them years ago, but I know they can be a handful and they need a whole super detailed post. So buy them at your favorite bakery and you're set to go.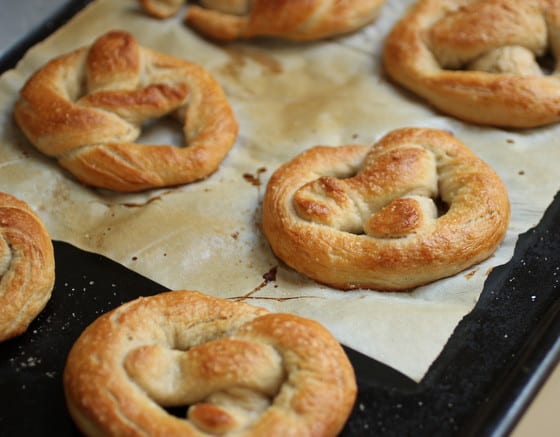 This dipping sauce comes together in no time.
It's just a matter of opening a beer, grating some cheese, heating it all up, and not much more. If you buy already grated cheese it's even easier.
I'm telling you, you're minutes away from one of the best and easiest cheese sauces ever.
Other recipes you might like:
Leftover Ham and Cheese Quiche
The Best Cheese Scones
Parmesan Chive Scones
Mushroom Quiche
Let me know in the comments below if you made this recipe and loved it and if you had issues so we can troubleshoot together. I love to hear what you think, always. Thanks for being here. It's much appreciated.
You might also consider subscribing to our FREE email series to Boost your Home Baking Skills! And our regular newsletter.
And let's connect via Facebook, Instagram, and Pinterest.
Print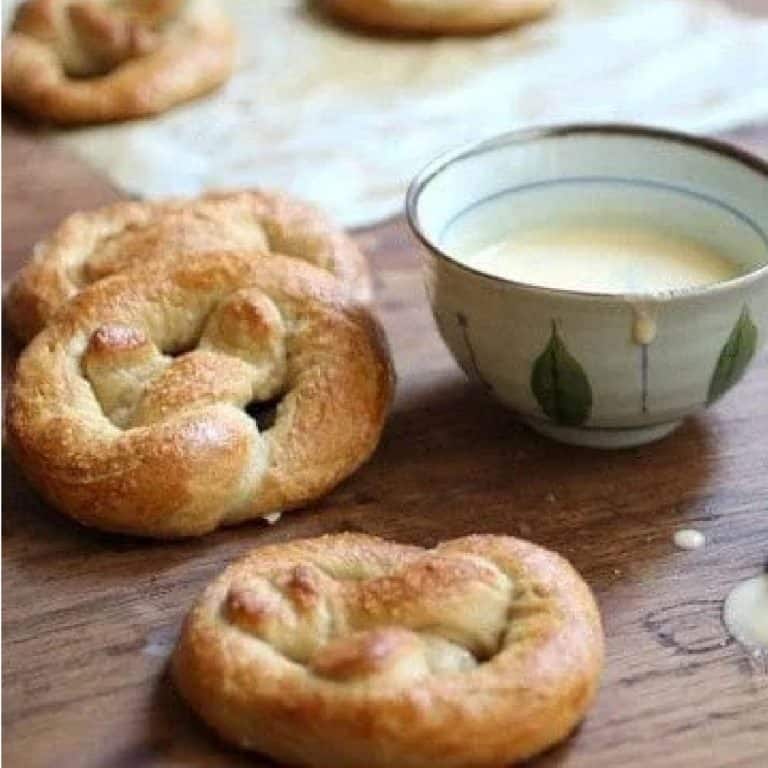 Soft Pretzels with Cheese Sauce
The best cheese sauce ever for pretzels!
Total Time:

2 hours 10 minutes

Yield:

8 servings
For the pretzels:
1 ½

cup

lukewarm water (110 -115° F)

1 tablespoon

sugar

2 teaspoons

salt

2 teaspoons

active dry yeast

4

to

4 ½

cups

all-purpose flour

2 tablespoons

unsalted butter, melted

⅔

cup

baking soda (for boiling)
Egg wash:
1

egg yolk

1 tablespoon

water
Coarse sea salt or kosher salt
For the sauce:
½

cup

beer (I used Stella Artois)

2 tablespoons

sour cream

2 teaspoons

minced pickled jalapeños

1

cup

grated Gruyere cheese (loosely packed)

1

garlic clove (peeled and cut in half)
Salt and black pepper
Instructions
For the pretzels:
Stir the water and sugar in the bowl of a stand mixer and sprinkle the yeast on top. Let sit until the mixture begins to turn creamy, about 5 minutes.
Add 4 cups of flour, salt, and melted butter and mix on low using the dough hook attachment. If the dough seems extremely sticky, add a little bit of the extra flour until it's slightly tacky but no longer sticky.
Increase speed to medium and knead until the dough is smooth and cleans the sides of the bowl. This should take about 5 minutes. It will come together eventually.
Transfer the dough to the counter and form into a loose ball. Place it in an oiled large bowl and cover it with plastic wrap or a clean kitchen towel. Let sit in a warm place until doubled in size, about 1 hour. The time will differ depending on the temperature of the room. If it shows very little activity after half an hour, cover the bowl with a blanket or take it to a less cold room in your house.
Line a baking tray with parchment paper, lightly brush it with vegetable oil, or use cooking spray. Set aside.
When the dough has doubled, turn it out onto a lightly floured work surface.
Divide into 8 equal portions using a bench scraper. Eyeball the size or use a scale if you want exact weights.
Roll each portion into a rope that is 18" to 24" long. Lift up the ends to form a sort of U-shape, and then twist the two sides around each other and bring them down to form a pretzel shape.
Place on the baking tray and repeat with all of the dough portions. Let sit uncovered while you prepare the water and preheat the oven.
Preheat the oven to 450°F/220°C.
Bring 10 cups of water to a boil in a large, wide pot with high sides (like a stew or soup pot). Once it boils, add the baking soda gradually to prevent overflow.
When it returns to a boil, lower the pretzels one at a time into the water for 30 seconds each, flipping over halfway. When picking up the formed pretzel dough, you can use two fingers to pick it up, one through each pretzel "loop". This allows the dough to sort of stretch in the right direction. Then just lower it carefully into the boiling baking soda bath. Use a wide, flat-slotted spoon or spatula to lift them from the water. Shake the spatula a little to let as much water as you can fall back into the pot, and place the pretzels back onto the prepared tray.
Egg wash:
Once all pretzels are on the tray, beat the egg yolk with the water and brush the top of each one.
Sprinkle with coarse or kosher salt (parmesan, poppy or sesame seeds).
Slide into the preheated oven and bake until the pretzels turn a deep golden brown, about 15 minutes. You can do a test bake with one and adjust the oven if needed. The inside needs to be fully baked as the outside turns a wonderful golden brown.
Transfer to a cooling rack and allow to cool until warm enough to eat.
Store leftovers in an airtight container for 2 days or freeze for a month. Always reheat them before eating.
For the sauce:
Heat beer in a small saucepan.
When it starts to bubble, add the rest of the ingredients and whisk until well combined.
Let boil for 1 minute and serve with warm pretzels.
Notes
You can use the sauce with bread or store-bought pretzels.
Author:

Paula Montenegro

Prep Time:

20 minutes

Rising times:

90 minutes

Cook Time:

20 minutes

Category:

Bread

Method:

Cooking

Cuisine:

American