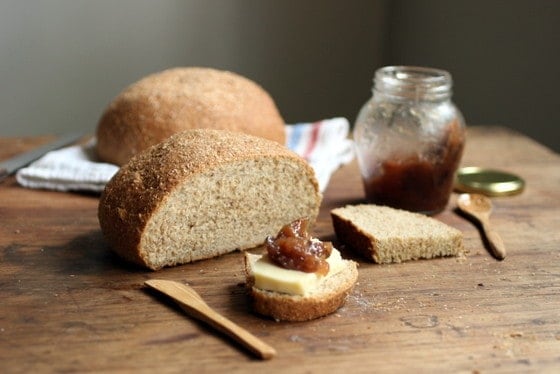 Though the idea of a good breakfast to start the day doesn't elude me, I don't make it a point to have one. No matter how much or not much I ate the night before, there's an incompatibility going on between my body and my mind for the first hours after I wake up. I already wrote about this, when I posted the muesli with blueberries, but let's discuss it again, shall we? After all, it is the most important meal of the day.
I fully understand the concept of fueling your body to be able to perform better during the day, a very noble idea, though not necessarily in sync with my needs. I need my coffee when I wake up. And then another coffee. That takes from one to two hours during which I can't think about actual food.
Oh, I'm sure I'm not alone here, right?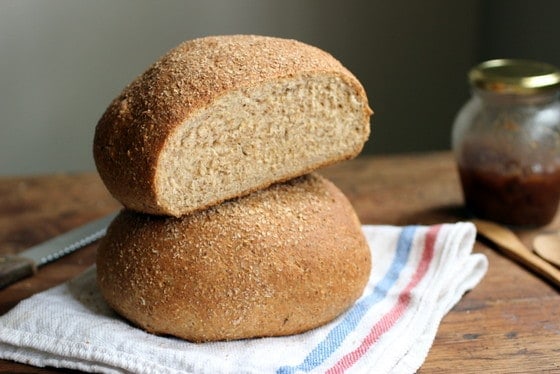 I have a hard time tasting if I happen to be baking early due to whatever deadline I have, and I'm talking about sweet things, don't think of putting a piece onion or avocado or salad dressing in front of me so early. You might not like my reaction.
A few hours later, it's a whole different movie. Suddenly the idea of eggs or toast and a yogurt, even a piece of cake sounds dreamy. That moment does set me up for a better day, with no hunger pangs of any kind.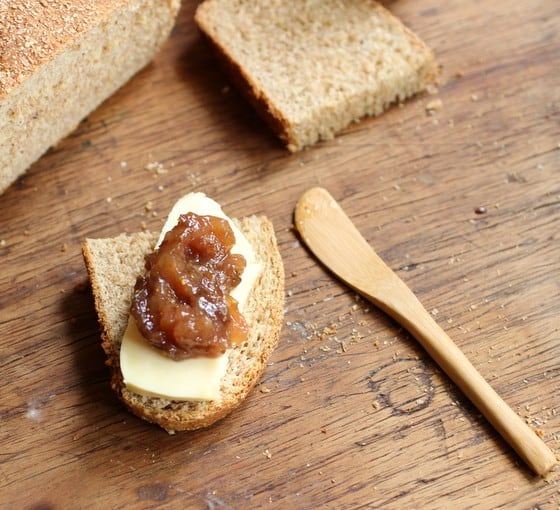 I largely attribute the latter to
eating without balance, all carbs or all protein, or worse, all sweet. My body
then starts going through a rainbow of needs, first salty, or is it vinegar-y?, then
how about
something with chocolate
, which, if left open to debate half an hour later it
might, just like that, turn into a need for some garlicky hummus followed by 
dulce de leche
half an hour later. 
Do you see a pattern? Totally unbalanced. And never satisfied. And please tell me I'm not alone.
So a balanced first meal, not to call it breakfast since it happens around 11am, does make the whole fuel-for-the-body idea a good one. You do need fuel, just try to get the premium kind, it will make you feel better.
This bread is my latest addition to my late breakfasts, which are also happening in an orderly fashion because I started going to my pilates classes again at noon, something that had been left behind the last three years – since I had decided to open
a Café, which I closed
three months ago for those who don't know -, and stopped having a life.
Now, things are slowly returning to normal. A happy feeling.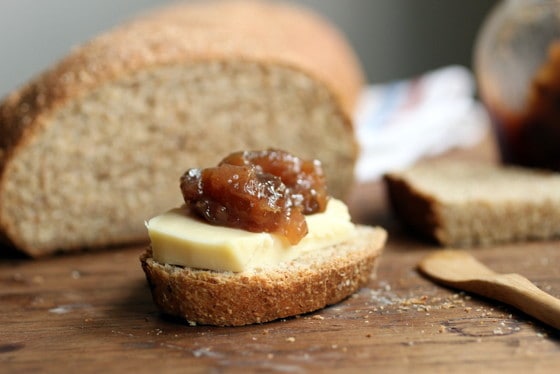 This is my February contribution to Twelve Loaves, the bread group founded by Lora, of Cake Duchess.
Baking bread at home is such a wonderful experience, it can completely change your perspective about it. So we post each month with a different theme. We're having an open theme, bake whatever-we-want kind of month. This is my latest favorite whole wheat bread and I hope it encourages you to bake more bread.
I love this bread toasted with homemade fig jam. I always made a regular jam with not much more than figs and sugar, but lately I've been using Kathy's, of Bakeaway With Me, recipe. This batch I flavored with cinnamon and tequila.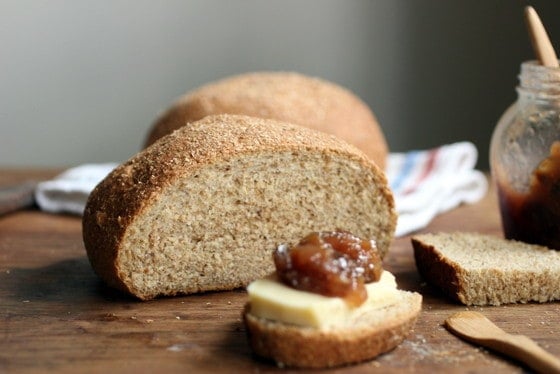 Print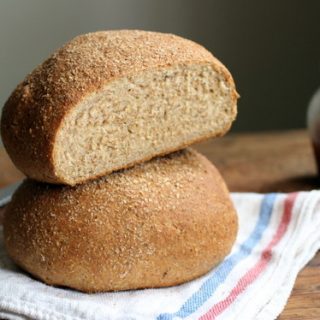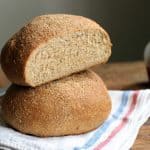 Whole Wheat Mountain Bread
Yield:

2

loaves

1

x
---
Description
For the cinnamon tequila fig jam: follow the recipe for the grand marnier spiked jam, adding 1 stick cinnamon to the fig, sugar and orange juice while it cooks. After removing from heat, add 2 Tbs tequila or more to taste. Can according to directions.
---
Scale
Ingredients
For the sponge:
½ cup

cold water

¼ cup

yellow cornmeal

¾ cup

s boiling water

1 ¾ teaspoon

s dry yeast

¼ cup

honey

¼ cup

warm water (105º to 115º)

4

Tbs dry milk powder

¼ cup

wheat bran

1 cup

whole wheat flour
For the dough:
3

Tbs olive oil

½

Tbs salt

1

Tbs sesame seeds (ground)

1

Tbs flax seeds (ground)

1 cup

whole wheat flour

2

to

2 ¼

cups bread or all purpose flour
Additional wheat bran and cornmeal (for rolling and sprinkling)
---
Instructions
For the sponge:
In the bowl of the stand mixer (or a large bowl if making the bread by hand), put cold water and cornmeal. Whisk and let stand 5 minutes.
Add boiling water while whisking and let stand another 10 minutes.
Meanwhile, in a small bowl, sprinkle dough over warm water with one teaspoon honey and stir to dissolve. Let stand a few minutes until foamy.
To the cornmeal mixture, add the rest of the honey and sponge ingredients.
Add the yeast mixture, mix well with a wooden spoon or spatula, cover with plastic wrap and let it double and be bubbly, about 1 hour depending on the temperature of your kitchen.
For the dough:
Gently stir the dough down with a wooden spoon or spatula.
Attach the bowl to the stand mixer, and add the oil, salt, ground seeds and whole wheat flour.
Attach the dough hook and mix on low speed, adding white flour, ½ cup at a time. When you have added 1 ½ cups of bread or all purpose flour, knead for a minute or two at medium-low speed.
Continue adding bread flour by tablespoons until you have a soft dough that is still a bit sticky but just clears the sides of the bowl. It should not be batter-like but not stiff either. You might need ¼ to ½ cup more bread flour than stated in the recipe. The total kneading time should be about 5 to 7 minutes.
Transfer dough to a greased bowl, turn to coat all sides, cover and let rise until doubled in a warm place, about 2 to 3 hours.
Turn the dough onto a lightly floured surface. You will see that it is much less sticky.
Divide the dough in two equal portions.
Shape each one into as tight a ball as possible, and roll them in wheat bran to coat completely.
Transfer to a cornmeal-sprinkled baking tray, cover with a clean kitchen towel and let rise until almost doubled, about 45 minutes to 1 hour. They won't double in size.
Preheat oven to 400ºF/200ºC about 20 minutes before you're going to bake the bread.
When ready, bake the loaves in the center of the oven for 10 minutes.
Decrease the tº to 350ºF /180ºC and continue baking for 25 to 35 minutes, until golden and bottoms sound hollowed when tapped with your fingers. Switch the position of the baking tray halfway through to ensure even baking.
Transfer to wire racks to cool.
The bread can be frozen (I slice it first), wrapped in foil or plastic, for at least a month.
---
a bit adapted from Bread for all Seasons, by Beth Hensperger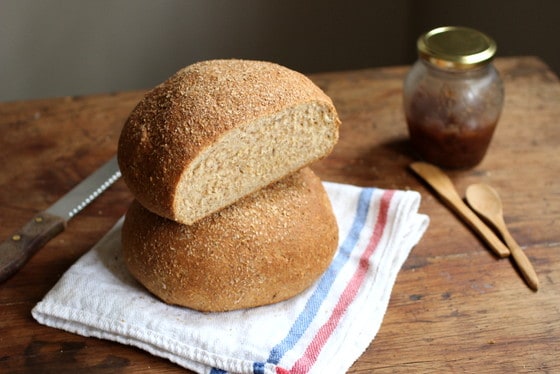 ---