This banana quick bread is the answer to your cravings. Whether you make it the traditional or the healthier way (both variations are included in the recipe!) it has a sweet, beautiful crumb and flavor, and is full of wonderful dark chocolate chips. Or chunks. Either way, it's a crowd-pleaser because who can resist a good banana bread, right?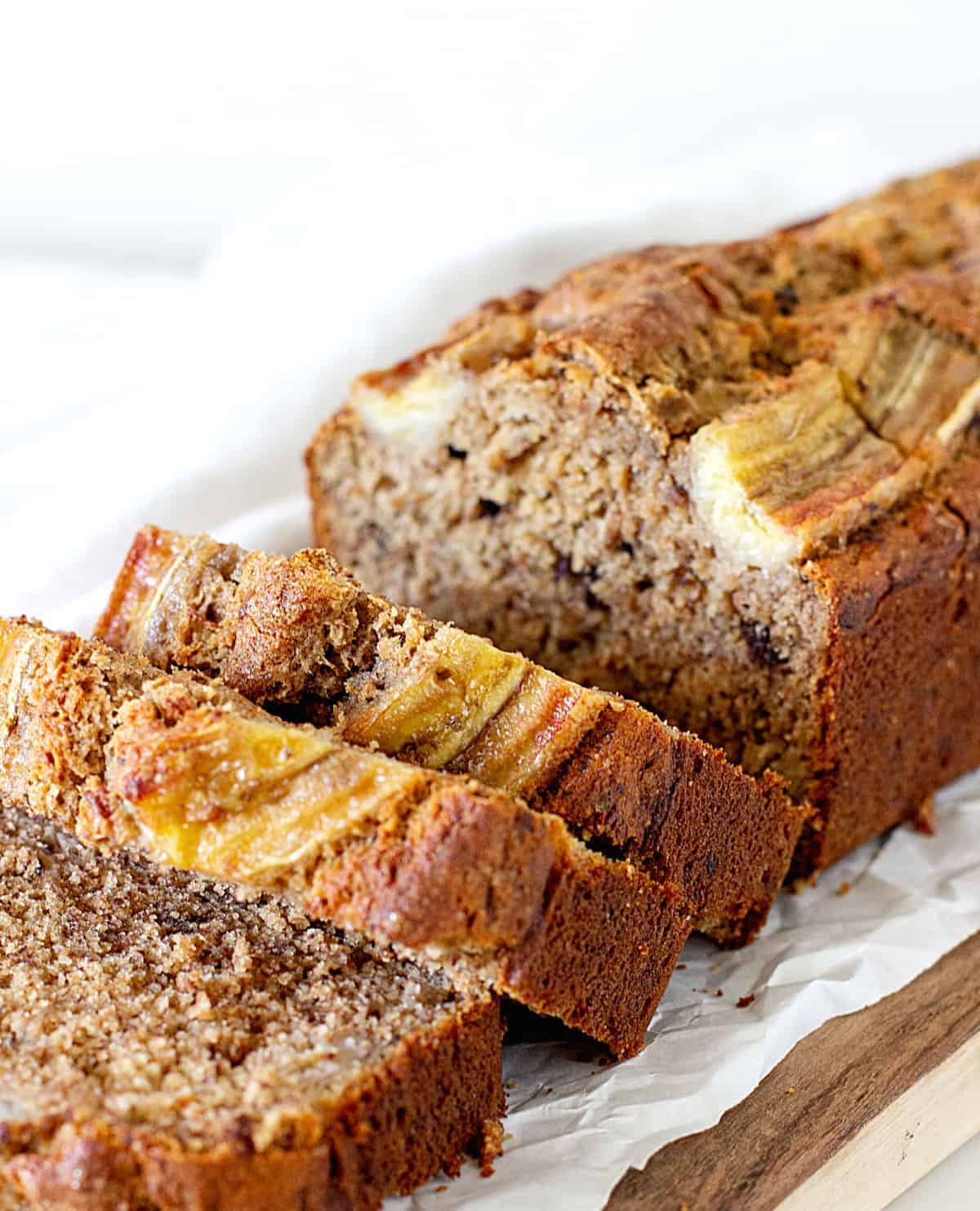 Originally posted in November 2017, the text and images have been updated to serve you better. The recipe remains the same but I added a variation.
As far as quick breads go, I think banana tops most lists. I have a go-to banana bread recipe as I'm sure you do too. Mine has roasted fruit and is plain, no add-ons, just a whole lot of banana flavor.
Taking that recipe as a beacon, I developed a slightly different one, using oil and some whole wheat flour, plus adding dark chocolate chips to it because, well, it's chocolate and bananas people, it's an incredible combination! Especially when you add brown sugar to the mix. All that said, this might be the best chocolate chip banana bread recipe I ever made. True story.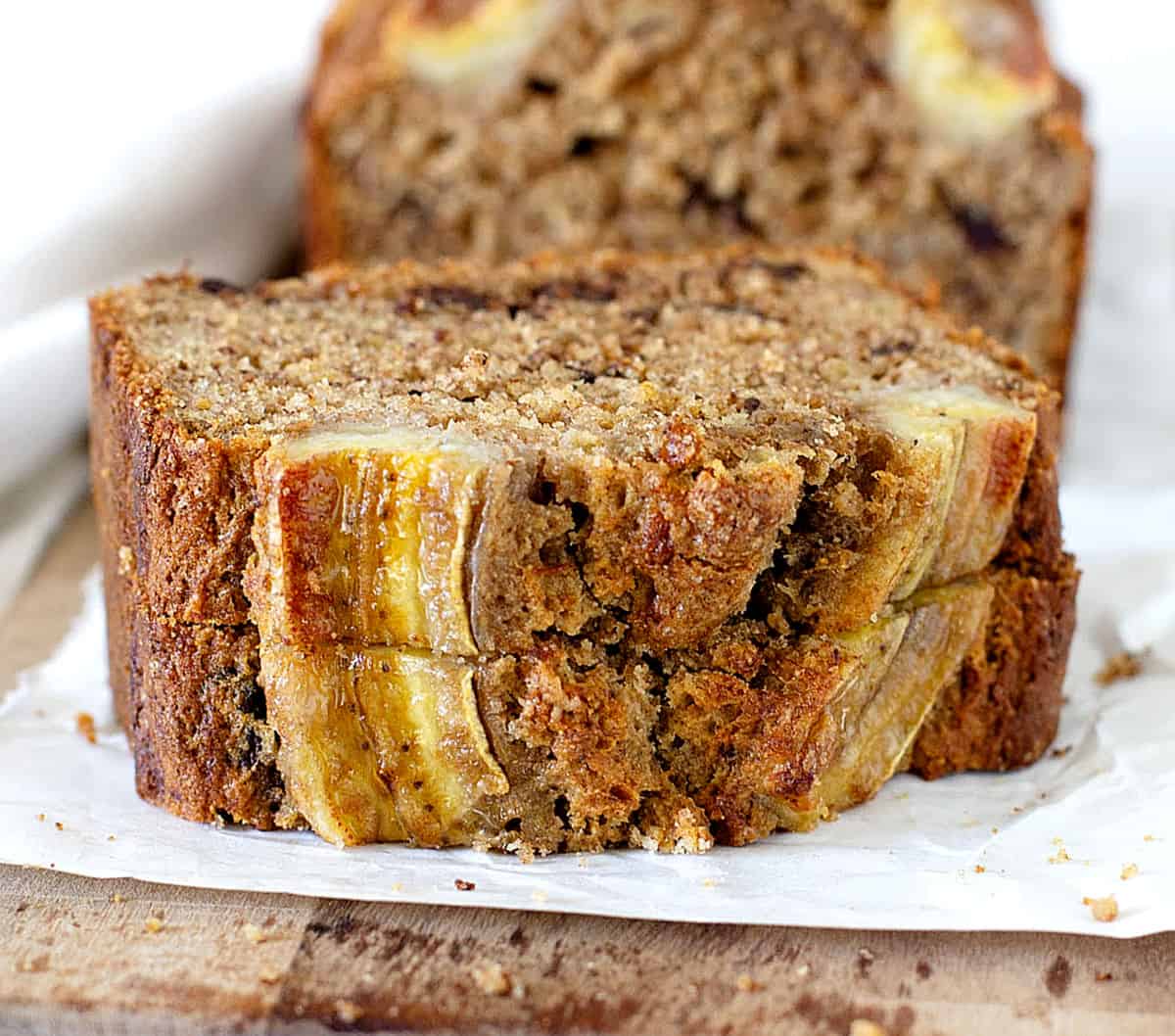 Ingredients
Whenever I adapt a regular recipe, some ingredients might not be your everyday staples. But they're all easily available.
Oil: instead of butter. I use coconut oil which makes it lighter and moist.
Sugar: coconut or fine muscovado are my choices for a healthy bread. You can use brown sugar, of course.
Semi-sweet chocolate chips: are my first choice. But chunks also work really well. My favorites are from 60% to 72% or so being, but really, use your favorite semisweet baking chips. With chunks there will be a deeper chocolate flavor with every bite as they are larger.
Flour: all-purpose and superfine whole wheat work really well, adding some earthiness but allowing for a tender, tight crumb. You can use all whole wheat as long as it's superfine.
Bananas: I like to mash them but not so much that they start to turn liquid. Chunkier is better in my world.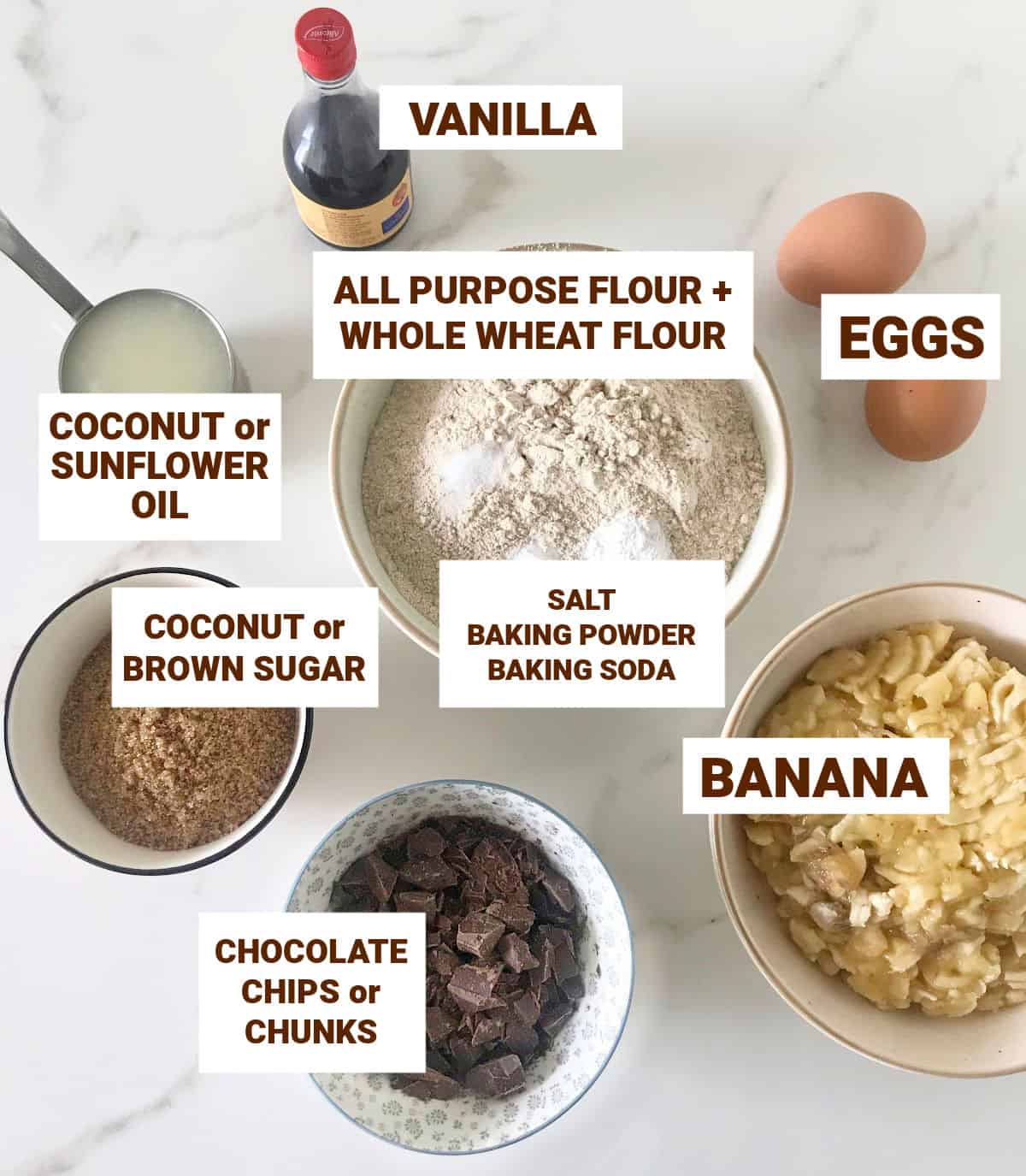 Easy steps
Using an electric hand beater is faster, but this bread can be made with a whisk and some arm power.
Mix brown sugar and oil until foamy (image 1).
Add half the bananas (image 2) and mix lightly.
Alternate the rest of the bananas with the dry ingredients (image 3) in two parts; that way it will mix better and easier.
Add chocolate by hand. I use a spatula (image 4). I know there are dark chocolate chunks in the image, but I started using semi-sweet chocolate chips one day and never looked back. Both work very well.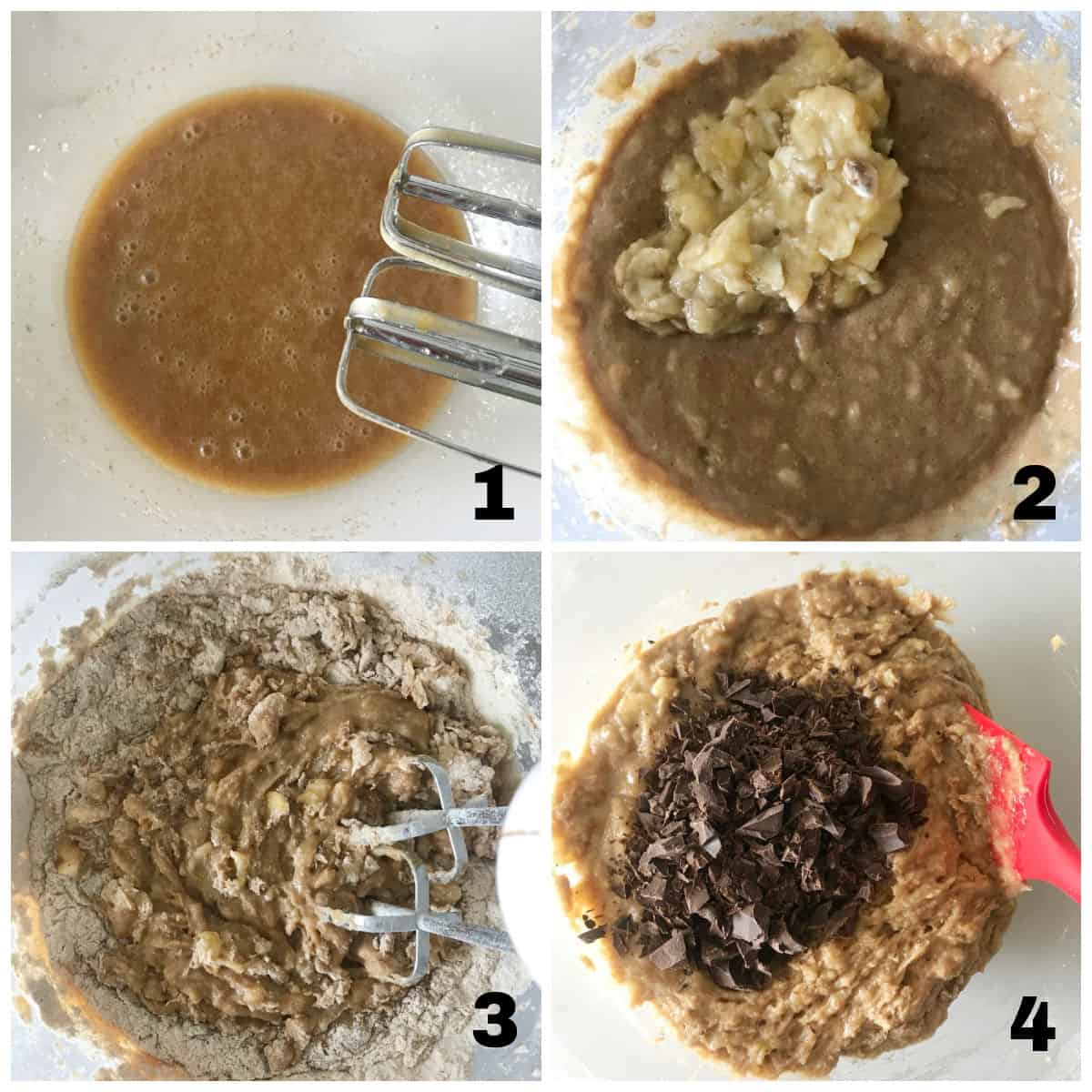 Loaf pan
I like to use non-stick metal loaf pans that have been sprayed (with baking spray) and lined with a strip of parchment paper that covers the bottom and two short sides (image below). That way it's easier to remove and it doesn't stick.
Decoration
This bread surface can be dull, so I add a whole banana cut lengthwise and then in half (image below). And I sprinkle with some extra coconut sugar to get a crunchy layer when baked.
You can also sprinkle with some chocolate chips or just the sugar.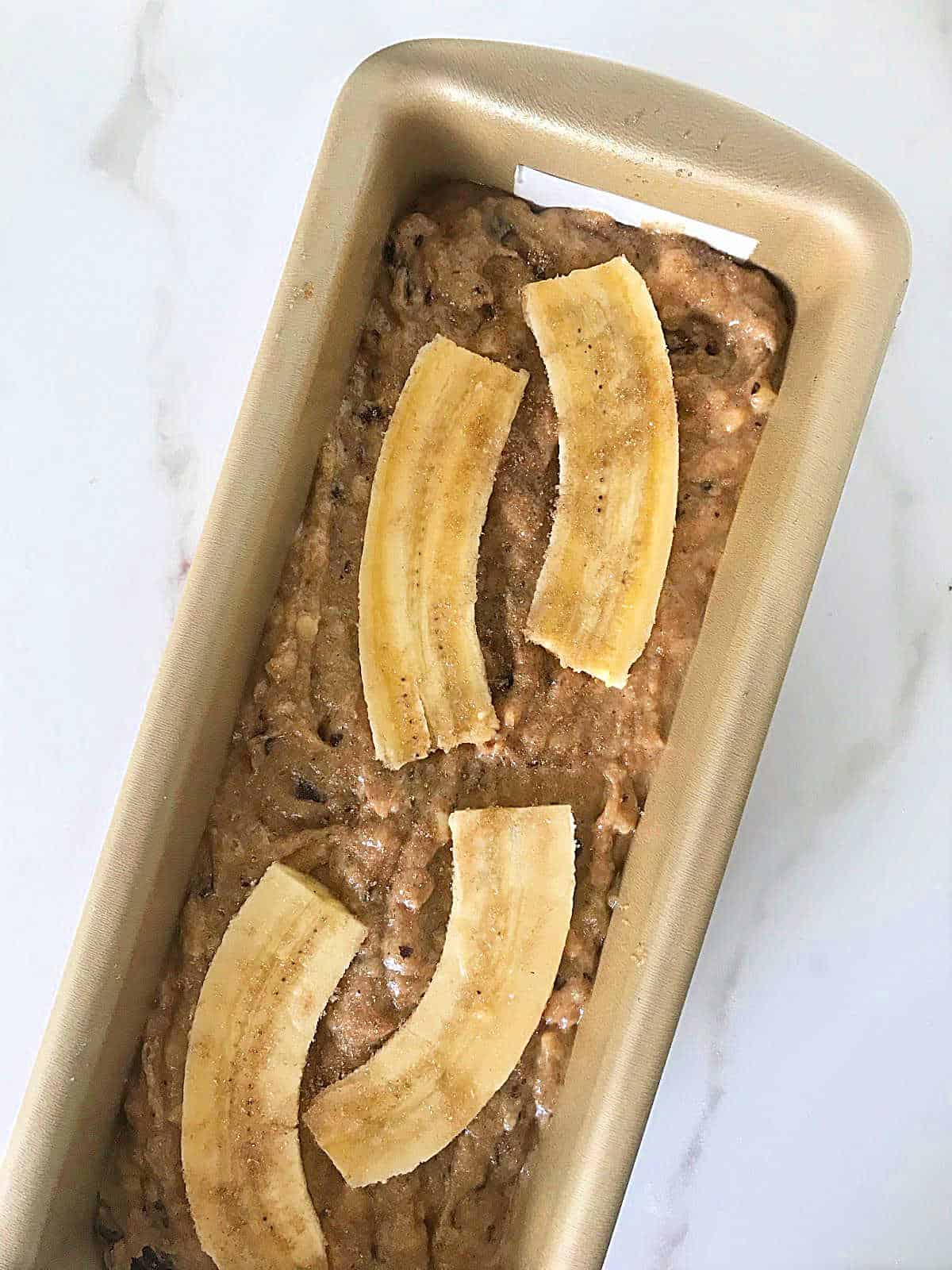 Eating
Room temperature: I highly recommend eating it at room temperature. Why? Because the banana flavor will be more pronounced and all around better. Cold numbs flavors in general, and that goes for the chocolate chips also.
Dessert idea: toast thick slices of bread, put on the plate, add a scoop of vanilla ice cream or whipped cream, and top with chocolate ganache/fudge sauce/dulce de leche/caramel and then some toasted walnuts.
Storing
First days - I love to eat this bread during the first two days (if it lasts that long!) and it keeps great well wrapped in plastic wrap.
Refrigeration - after one day (tops) I put it in the refrigerator if I know I will keep on eating it. Always well wrapped in plastic wrap as the fridge dries things out. Let come to room temperature before eating,
Freezing - if there's something left I slice and freeze it. I like to wrap it in plastic and then in aluminum. It lasts a month.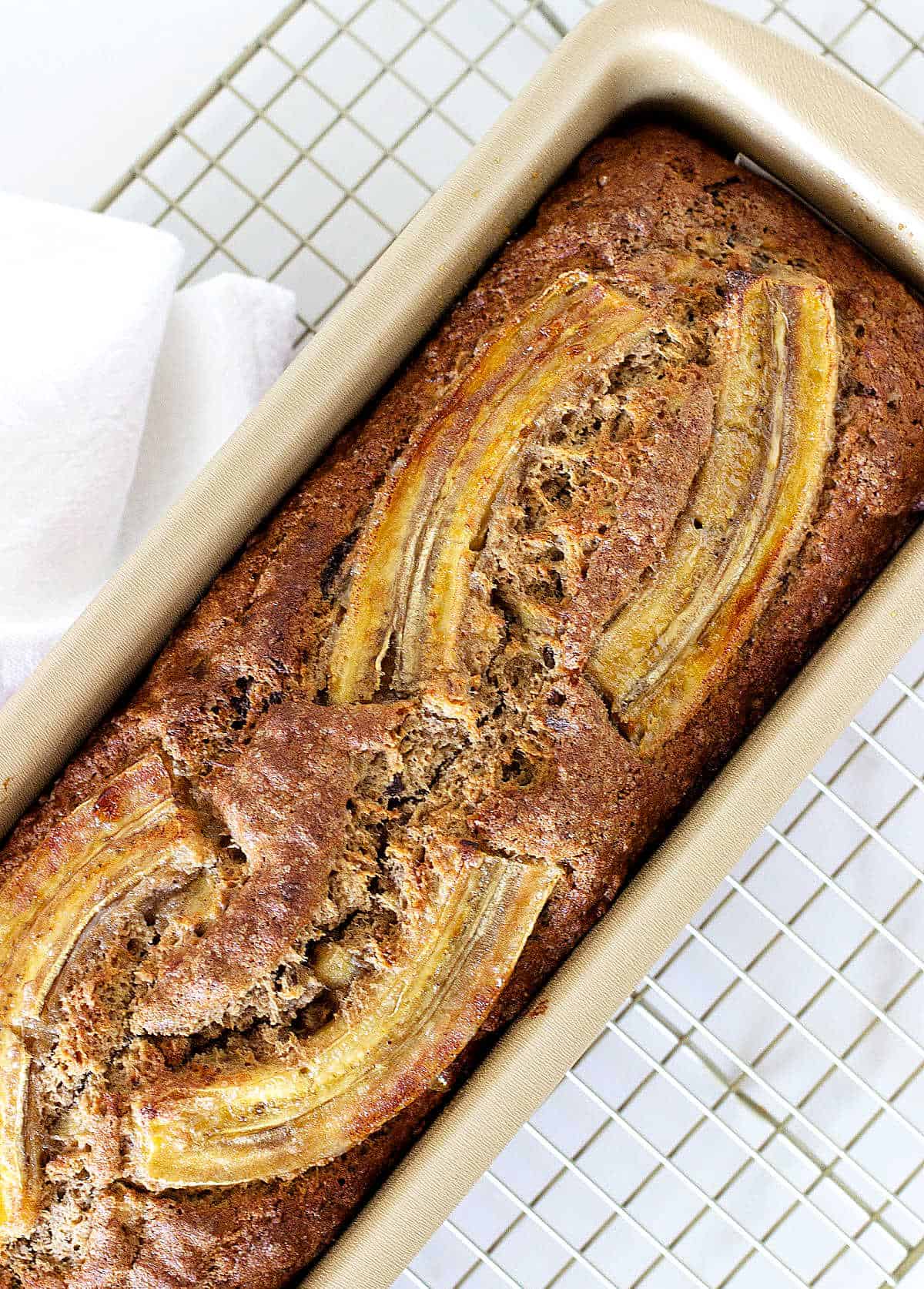 Best bananas for this bread
Overripe bananas: also known as brown bananas, we all know that this recipe is best made with soft, mushy fruit, the type that can smell barely fermented and has spotted skin. The supermarkets sometimes have a special place for them and might even be labeled as great to make homemade banana bread, or
More flavor: you probably wouldn't eat them raw, but they do make the best bread. Why? Because the flesh is sweeter and after baking the banana flavor is more intense. That doesn't happen with very firm bananas.
Mashed bananas: I like to mash them by hand and leave them chunky so that they are present in a more noticeable way. Though they will meld with the rest of the ingredients when baked, chunky pieces will add a more rustic texture.
Green bananas: if they are not ripe enough you can always roast them in the oven! Did you know that? 20 minutes at 180° until the skin turns completely dark, let them cool and use as instructed in the recipe.

Vintage Kitchen Tip
Variation
I like to make a healthier version of this easy banana bread recipe by using coconut oil and all whole wheat flour, the superfine type. You can also add a couple of tablespoons of cocoa nibs and wheat bran to the batter. Or nuts. it's all explained in the Notes, in the recipe card at the end of this post.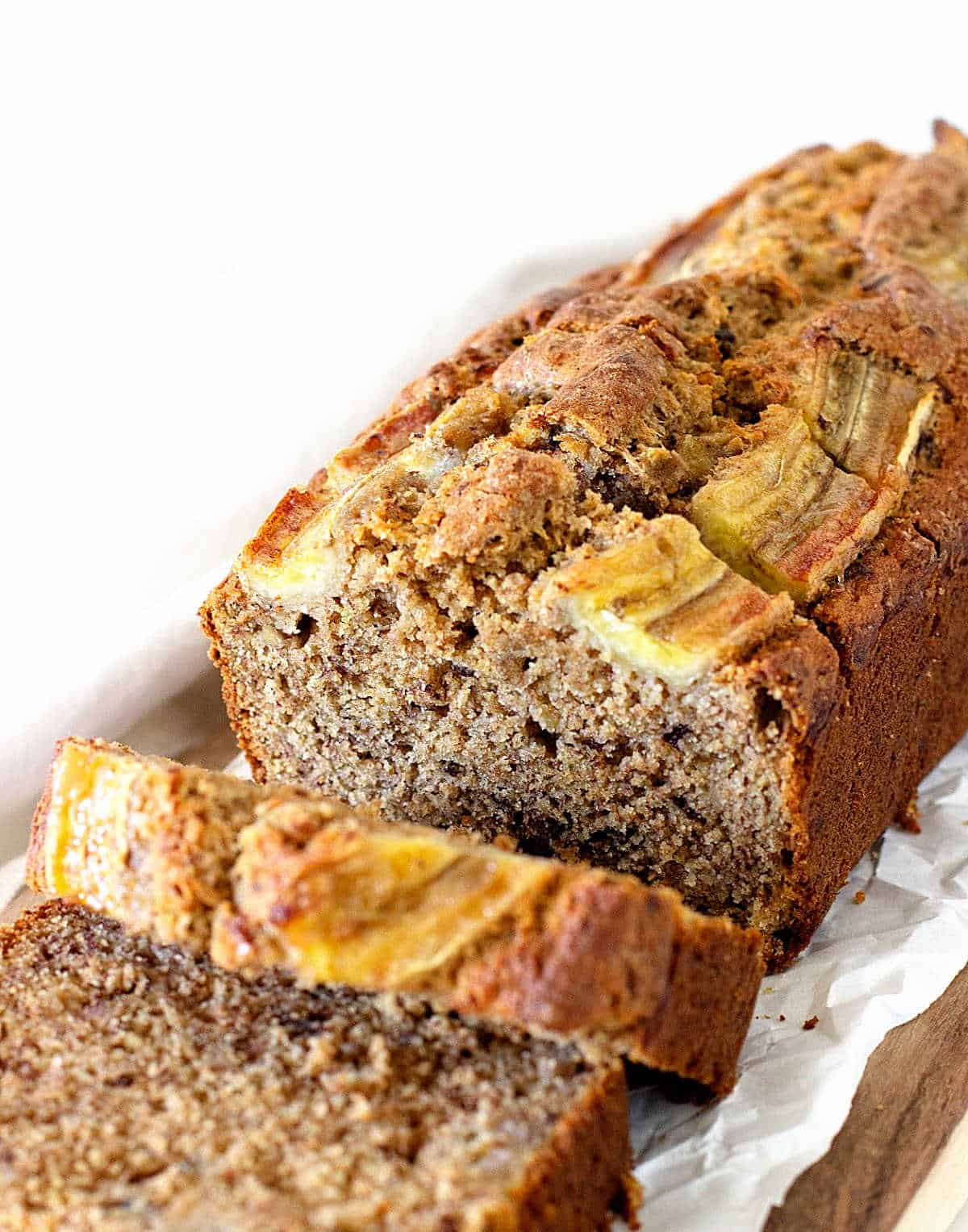 Frequently asked questions
What is the difference between banana bread and banana cake?
The quick bread tends to be more dense and less sweet than cake. Banana cake usually has more butter and leavening agents, as well as less banana to make it lighter. But keep in mind that there are many recipes of both and at some point they might overlap a bit.
How do you keep banana bread moist?
Keep it wrapped in plastic or in a container. Also, a recipe using oil, like this one, can aid in keeping it moist longer.
Should you refrigerate banana bread?
I highly recommend you do after a day or two, especially if it's a hot environment. Fruit tends to ferment pretty quickly and the bread will go bad in a few days. So, refrigerate it after a few days tops, always wrapped in plastic to keep moisture longer.
---
Related recipes you might like:
---
Let me know in the comments below if you made this recipe and loved it and if you had issues so we can troubleshoot together. I love to hear what you think, always. Thanks for being here. It's much appreciated.
You might also consider subscribing to our FREE email series to Boost your Home Baking Skills! And our regular newsletter.
And let's connect via Facebook, Instagram, and Pinterest.
Print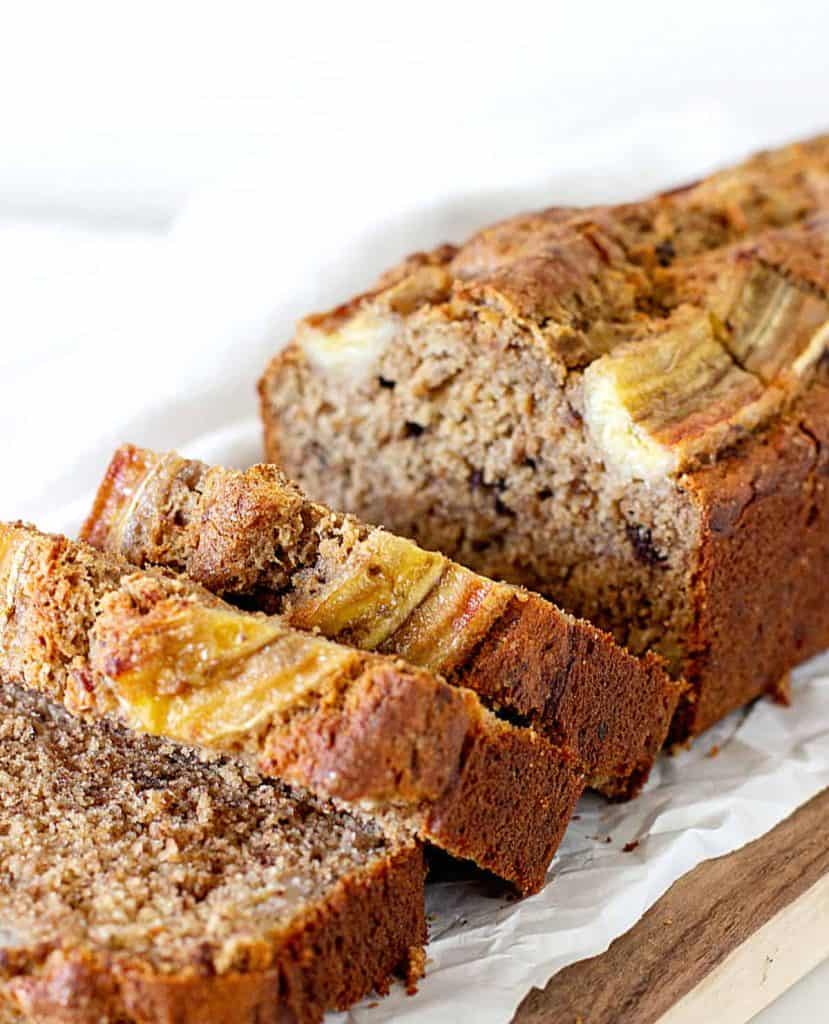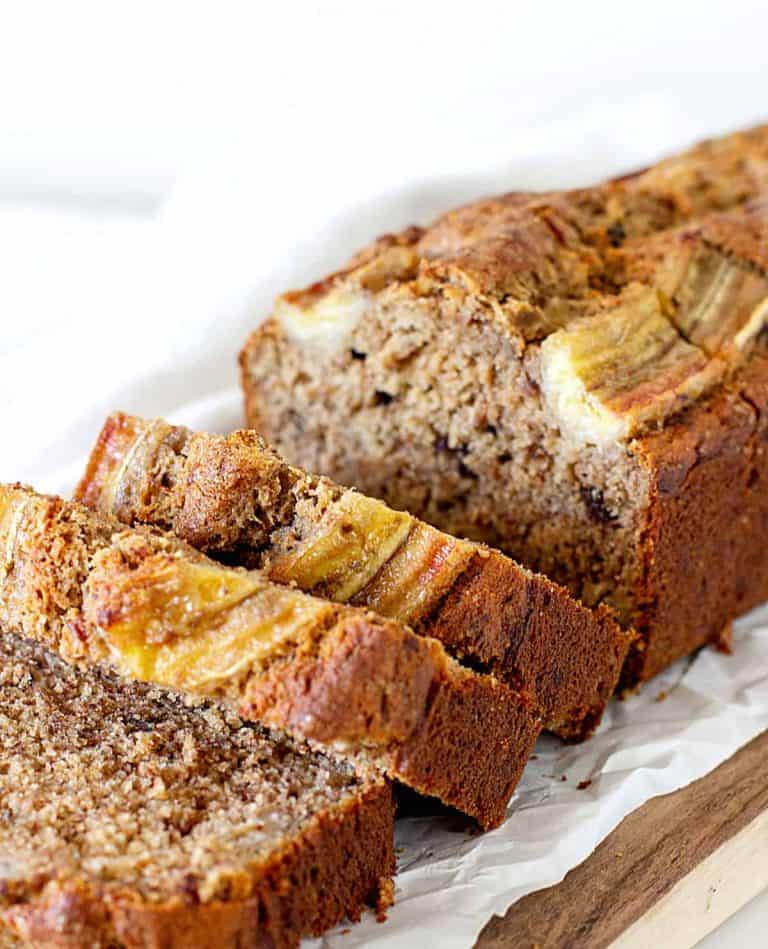 Chocolate Chip Banana Bread
This banana bread recipe is the answer to your cravings. Whether you make it the traditional or the healthier way (both variations are included in the recipe!) it has a sweet, beautiful crumb and flavor, and is full of wonderful dark chocolate chips. Or chunks. Either way, it's a crowd-pleaser because who can resist a good banana bread, right?.
Total Time:

70 minutes

Yield:

10 servings
1

cup

all-purpose flour

1

cup

superfine whole wheat flour

1 teaspoon

baking powder

1 teaspoon

baking soda

¼ teaspoon

salt

½

cup

sunflower oil (use coconut oil if you want a healthier version)

½

cup

brown sugar (use coconut or fine muscovado sugar for a healthier version)

½ teaspoon

vanilla extract

2

eggs, at room temperature

2

cups

(3-4 medium) mashed very ripe banana

½

cup

dark chocolate chips or chunks

1

whole banana, for decoration (optional)

1 tablespoon

coconut sugar or brown sugar, for sprinkling (optional)
Instructions
Preheat oven at 350ºF / 180ºC.
Line a 10x4-inch loaf pan with parchment paper (bottom and two narrow sides) and spray or butter remaining sides.
In a large bowl beat oil with sugar for 1 minute.
Add eggs, one at a time, beating well after each addition.
Add bananas and vanilla in 2 parts, alternating with sifted dry ingredients (flours, baking soda, baking powder and salt) in 3 parts. I sift everything directly over the batter, but you can do it separately.
Add chocolate chips or chunks and mix well with a spatula.
Pour into the prepared pan, smooth top and decorate with a whole banana, cut lengthwise in 4 pieces, on top.
Sprinkle with the extra tablespoon of sugar.
Bake for 45-50 minutes, until cracked on top and a tester comes out clean. Time might vary depending on the oven and the type of pan.
Let cool on a wire rack and remove carefully, inverting the pan and peeling away the paper.
It keeps, well wrapped, at room temperature for a day or two.
Notes
Bananas: the best ones for this recipe are the ones that are overripe, soft, mushy, that smell barely fermented and with a spotted skin.
Variations: add some chopped walnuts or pecans to the batter, about ¼ cup, or a few tablespoons cocoa nibs or wheat germ or bran.
Freezing: well wrapped it can be frozen for up to a month.
Author:

Paula Montenegro

Prep Time:

20 minutes

Cooling time:

20 minutes

Cook Time:

50 minutes

Category:

Quick breads

Method:

Baking

Cuisine:

American
Nutrition
Serving Size:

1/10

Calories:

253

Sugar:

5.9 g

Sodium:

199.6 mg

Fat:

14.6 g

Carbohydrates:

27.2 g

Protein:

5.1 g

Cholesterol:

37.5 mg
Keywords: chocolate chip banana bread