The best buttermilk pancakes ever is a big statement, I know. But these are the fluffiest, most delicious ones!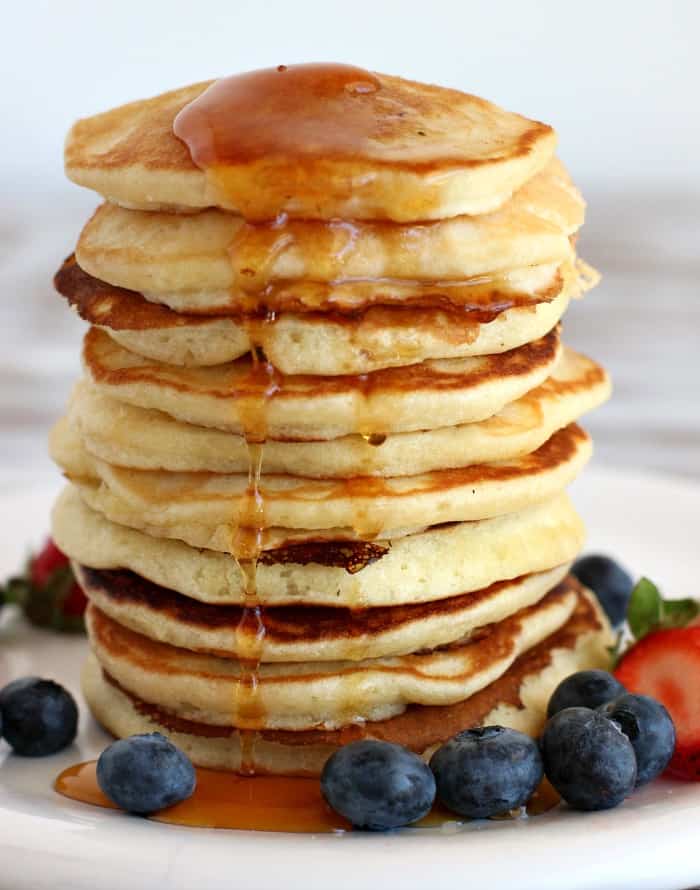 But these are truly the best recipe I ever made. They deliver and are worthy of that grand title. Royal pancakes.
I started my pancake journey early in life, as most of you probably. Though made from packaged pre-mixes most of the time - something that happens when there is a non-baking mother in the household - I remember looking forward to them on weekends. They remain one of my favorite indulgences, with lots of maple syrup. Drenched my father says, and he's right. I like them how I like them.
The thing is that, for pancakes to be 'drenchable', they need to be fluffy and soft. Otherwise, they don't absorb the syrup correctly. And dry pancakes are no fun.
These are the reasons I bought The Clinton St. cookbook after having them over brunch a million years ago, twenty or more. I don't know if they're still as good. But at the time they were all the rage. And with reason.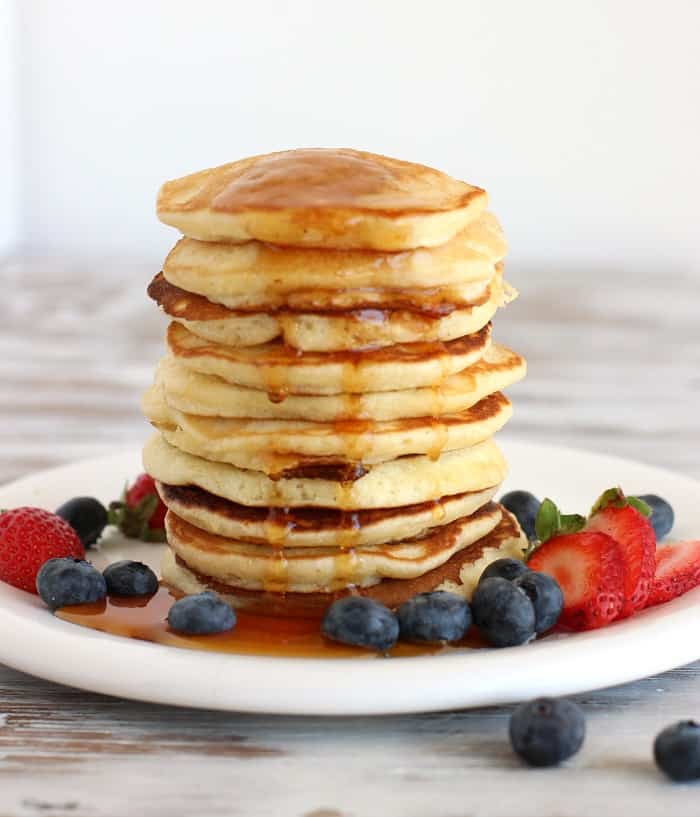 Buttermilk pancakes are classic but take a look at this pancake round-up and you'll be planning your next brunch in no time.
But first, let's talk basics.
What is buttermilk?
Buttermilk is a sour dairy ingredient, or fermented drink if you like, though I don't think anyone drinks it really, haha.
Before it was the collateral product that resulted after churning butter from cream. You beat cream until it separates (the opposite of when you're whipping cream and need to stop just before it curdles) solids from liquids. The liquid left behind is the buttermilk. Nowadays it's cultured, that is, made is from a buttermilk culture, similar to the way you make homemade yogurt by taking a bit of the batch you just made which has the bacteria needed to multiply and make your next batch.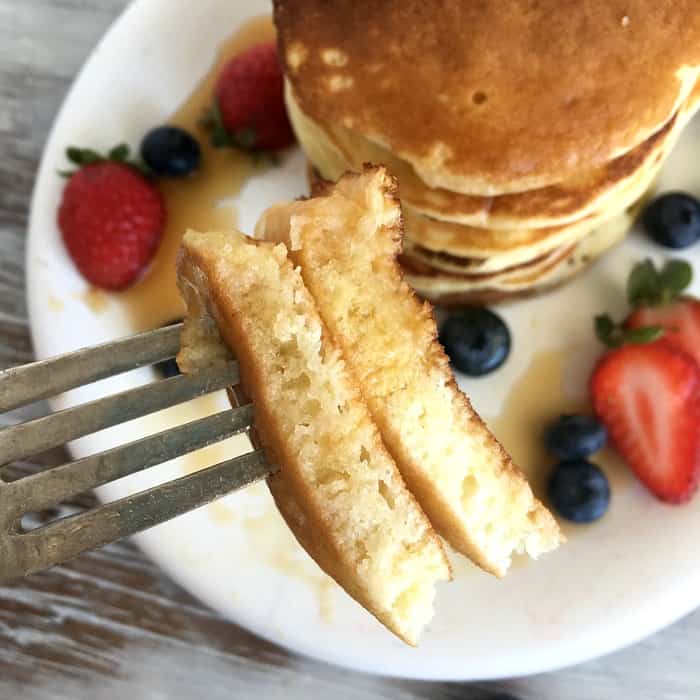 Want to make homemade buttermilk?
Simply mix lemon juice or white vinegar with milk (1 tablespoon per cup of milk) and let it be for a few minutes. It will curdle and become sour, no wonder since you added acid. Just whisk it and you have homemade buttermilk good for any baking recipe calling for it.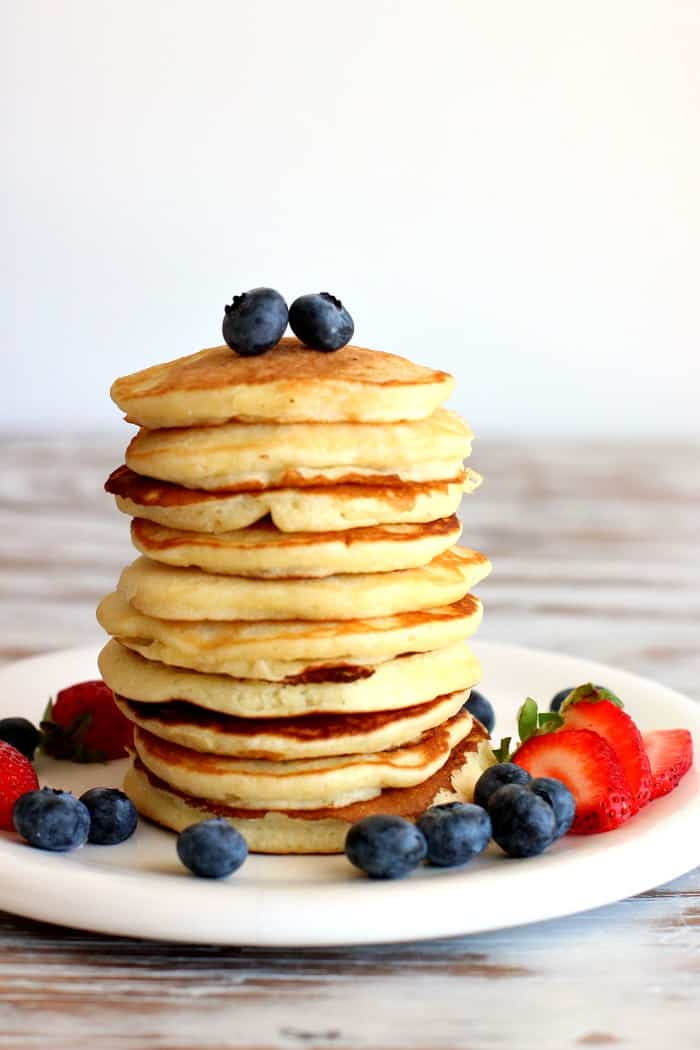 This recipe is easy enough but does have an extra step necessary to make them the best, and it's beaten egg whites to make them tall and light, with just the right bite but still airy. The secret is not to overmix the batter once the whites are added. As with genoise or chocolate mousse. You want to keep as much air as possible.
The other thing is to cook them immediately. The batter will start losing some of its airiness after a while, and your pancakes will lose some of their personality.
In my opinion, pancakes should be made right there and eaten right now. Sort of like risotto. No time for distractions. That way they are at their most amazing. And drench them in maple syrup with fresh berries. Amazing breakfast for this holiday season.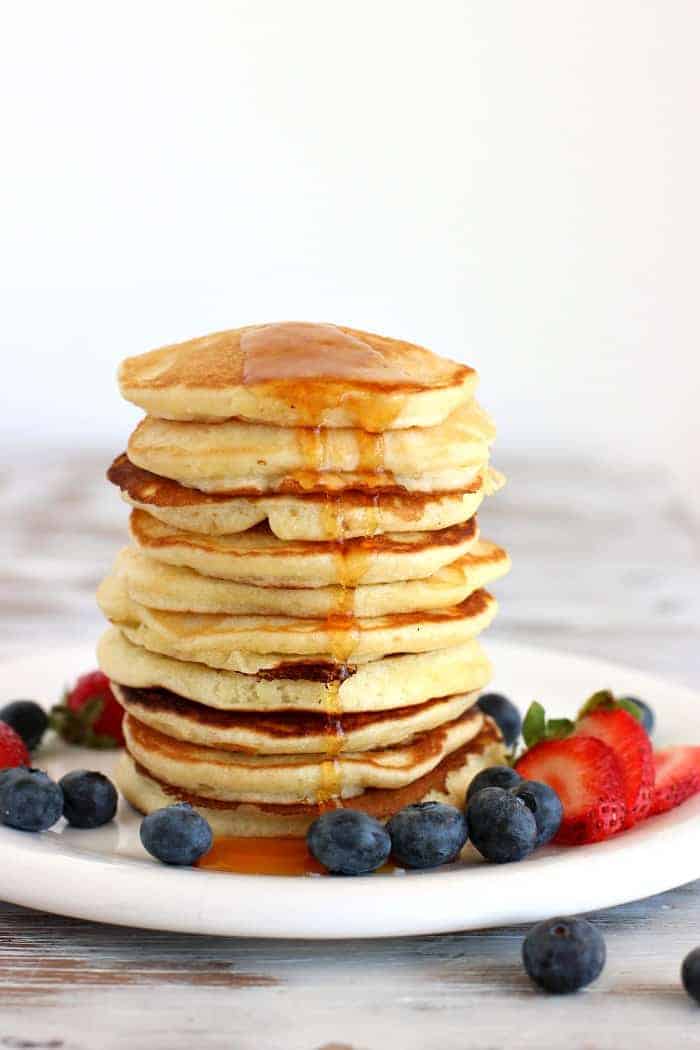 Other recipes you might like:
Strawberry buttermilk scones
Healthier Banana Muffins
Easy buttermilk scones
Quick Walnut Bread
Let me know if you make this recipe! I'd love to hear what you think about it.
Thank you for being here, I appreciate it! Let's connect via Facebook, Instagram, and Pinterest.
Print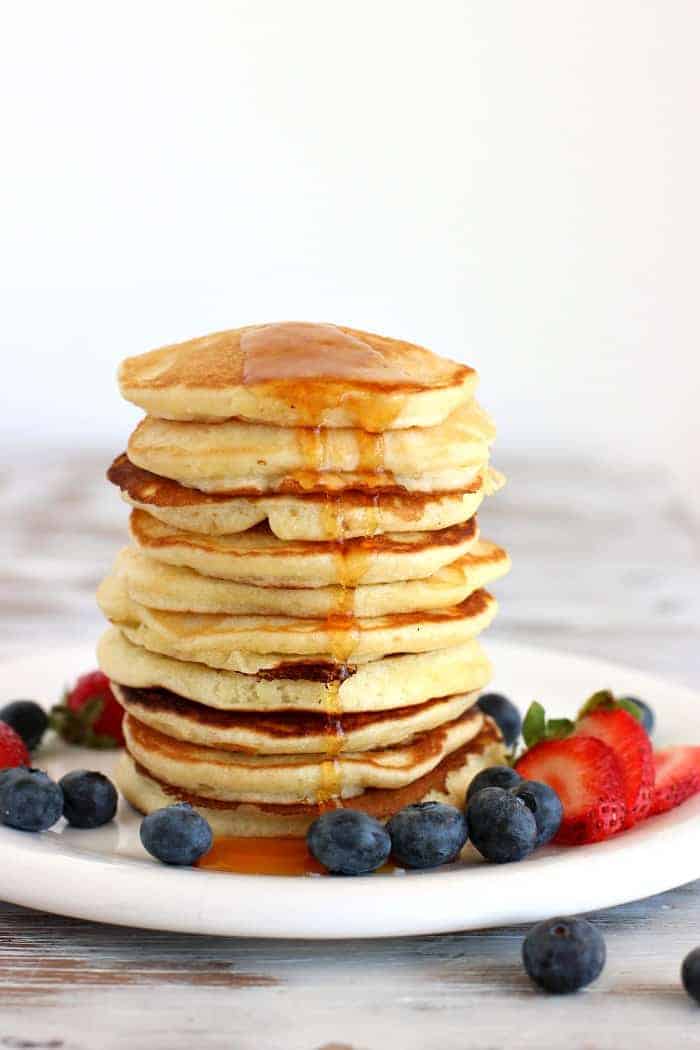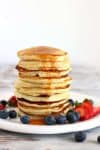 The best buttermilk pancakes ever
Yield:

10

medium pancakes

1

x
---
Scale
Ingredients
2 cups

270g all-purpose flour

1/2

Tbs baking powder

1/3 cup

75g sugar

1/2 teaspoon

salt

3

eggs (separated and at room tº)

6

Tbs 85g butter, melted

1 1/2 cups

375ml whole milk, room tº
Fresh fruit (maple syrup or honey and cream if you like, for serving)
---
Instructions
Have ready the pancake skillet.
Put flour, salt, baking powder and sugar in a large bowl.
Mix milk, butter and egg yolks in another medium bowl.
With dry, clean beaters, beat egg whites until you have medium peaks (not completely firm, the tip falls a bit).
Add the milk mixture to the dry ingredients and mix together. Some lumps may remain.
Add beaten egg white in 2 additions, mixing with a spatula until combined but some small lumps of egg whites remain.
Heat the pancake skillet over medium heat and add a smidgen of butter.
Add 1/4 cup batter to make each pancake. If you make several at a time increase the heat a bit.
When the pancake starts to have bubbles and begins to dry turn them over and cook for a minute or so.
Be careful not to burn them.
Serve immediately with fresh fruit, maple syrup, and whipped cream if you want.
---
---