If you like risotto you're going to love this rich, creamy and flavorful beet version! And the tangy crumbled goat cheese on top, that's just the final touch. It's ready to serve in 30 minutes, considering you have your beets roasted.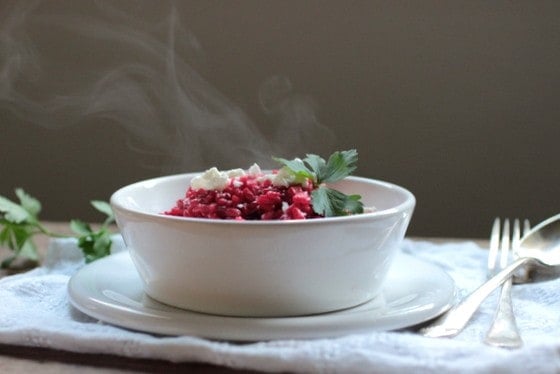 The text in this post has been updated to serve you better. Images and recipe remain the same.
Rice is such a versatile ingredient.
Personally, I like it in pretty much every possible way. Through the years I've expanded my repertoire but my favorites are still the same. Way up there is risotto of course. Not only eating it, but cooking risotto is almost therapeutical for me.
You take your time to prepare the mise en place and then slowly go from sizzling to creamy. I admire Italians for taking the simplest ingredients and turning them into jewels. Dishes that have depth and flavor and color, not to mention richness.
Anything can go into a risotto from my point of view. I cannot think of a single vegetable or condiment that doesn't compliment rice. Even rice pudding can be made risotto style with fruits and milk (or cream?!)
This is more of an Indian summer or pink risotto as it's called in some books. I will make use of my last beets that I roasted with olive oil, salt, and pepper. And the last cup of red wine will find its way into the pan also. The intense colors make for a striking dish.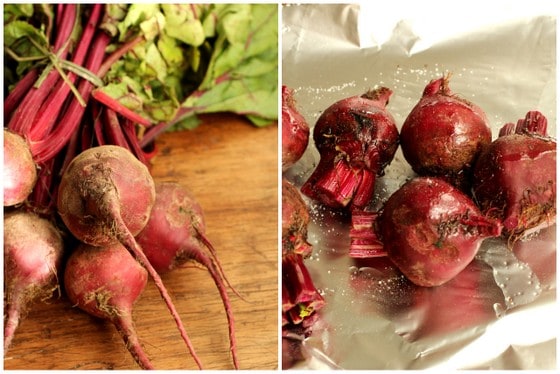 How to roast beets
Preheat oven to 350°F /180°C.
Wash well, dry and cut stems and leaves (don't throw them away, just google recipes with beet leaves).
Put raw, unpeeled beets in a large piece of aluminum paper (image above), season with salt and pepper and gather the foil to make a packet. Prick a few times with a fork without tearing it.
Roast for 45 to 60 minutes. It depends a lot on the size of the beets. These were medium. The flesh should be very soft and a fork easily pierces the beets.
Let cool until you can handle them and peel off the skin.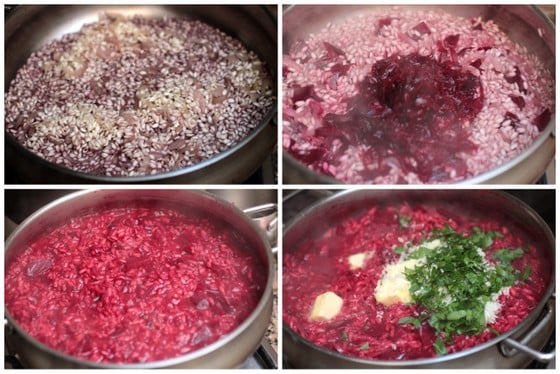 Steps for making this risotto:
Have ready the simmering stock.
Saute shallots until translucent.
Add a splash of red wine, scrape any browned bits from the bottom and let evaporate (image above, top left).
Add rice and stir to coat well with the butter and oil.
Add chopped or grated beets and start adding stock by ½ cupfuls (image above, top right), and stir until it is almost evaporated before adding the next (image above, bottom left).
End by adding butter, cheese, and herbs (image above, bottom right) and stirring quickly altogether.
Serve immediately.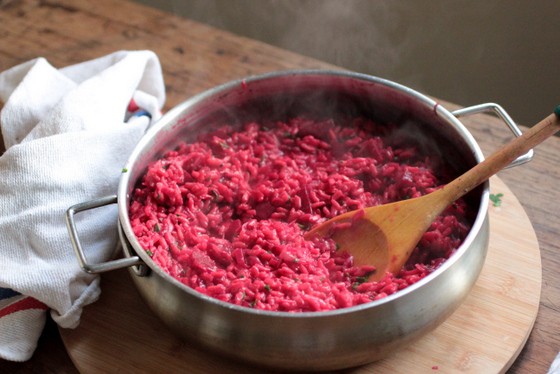 What rice should you use in a risotto?
We need short-grain, glutinous rice for making this superb dish. This means that the rice has a high starch content and absorbs more liquid than your regular supermarket one.
The most common variations are Arborio, Carnaroli, and Vialonne Nano. All three do a fantastic job. You might find your favorite in time, but if this is your first time making risotto the first two are very easily found in most supermarkets and gourmets stores.
Or you can buy risotto rice (Arborio and Carnaroli) online.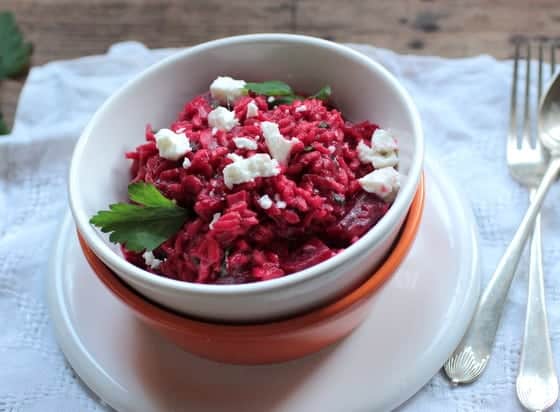 Learn to enjoy making risotto, and eating it!
---
Related recipes you might like:
---
Let me know in the comments below if you made this recipe and loved it and if you had issues so we can troubleshoot together. I love to hear what you think, always. Thanks for being here. It's much appreciated.
You might also consider subscribing to our FREE email series to Boost your Home Baking Skills! And our regular newsletter.
And let's connect via Facebook, Instagram, and Pinterest.
Print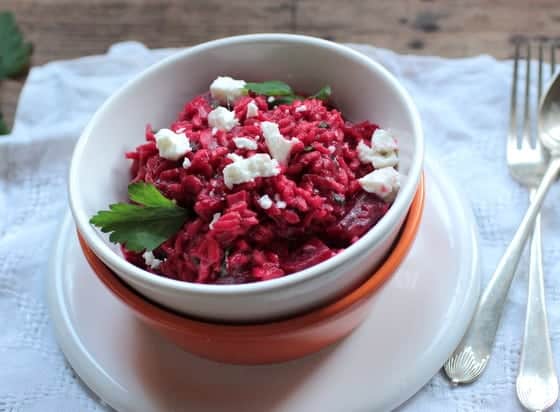 Roasted Beet Risotto with goat cheese
Total Time:

1 hour 25 minutes

Yield:

2 servings
For the beets:
¾

pound

about beets

1 tablespoon

olive oil
Salt and black pepper
For the risotto:
5

cups

broth, approximately

½

cup

red wine

2 tablespoons

unsalted butter

2 tablespoons

olive oil

⅓

cup

minced shallots

1 ½

cups

Arborio or Carnaroli rice

1

cup

roasted beets (peeled)

3 tablespoons

butter (diced)

⅓

cup

grated asiago cheese

2 tablespoons

chopped fresh parsley
Freshly grated black pepper

2

oz

semi-soft goat cheese
Instructions
For the beets:
Preheat oven to 350ºF / 180ºC.
On a large piece of aluminum foil, put washed, unpeeled beets. Drizzlewith olive oil, salt and pepper.
Lift the foil to encase the beets and make a pouch. Prickle a few times with a fork, and bake for 45 to 55 minutes, until a knife can be easily inserted. Let cool and peel.
For the risotto:
Dice half of the roasted beets, and grate the other half. Reserve.
Bring broth to steady, slow simmer in a saucepan.
Heat butter and oil in a heavy pan over moderate heat. Add shallots, lightly salt, and sauté for 1 or 2 minutes, until beginning to soften, being careful not to brown it.
Add the rice and, using a wooden spoon, stir for 1 minute, making sure the grains are very well coated. Add red wine and stir until completely absorbed.
Add ½ cup of broth and all of the beets. Stir well and wait until the liquid is almost absorbed. Then continue adding the simmering broth, ½ cup at a time.
Stir as needed to prevent sticking.
The risotto will take about 18 to 20 minutes, the rice will be tender but still firm.
Remove the pan from the heat and immediately add the reserved 3 Tbs butter, asiago cheese, and parsley.
Stir vigorously to combine with the rice.
Add black pepper and check for salt, and add more if needed.
Divide equally between the plates, add some crumbled goat cheese on top, a drizzle of olive oil and serve immediately.
Notes
Beets: the beets can be roasted ahead and kept for a few days in the refrigerator.
Soffrito: I like to use shallots for this recipe. Regular onion also works.
Stock: I like to have it simmering slowly. Use whatever type of broth or homemade stock you want.
Salt: the amount of salt in any risotto depends on what type of broth you are using. I find that the broth is enough and don't add any extra salt, just pepper.
Cheese: Parmesan or asiado are the right cheeses to use in the final stirring of risotto. I like to serve this beet risotto with crumbled goat cheese.
Rice: use good risotto rice, such as Arborio or Carnaroli. They are starchier and that is essential for a creamy risotto. You can buy risotto rice (Arborio and Carnaroli) online.
Author:

Paula Montenegro

Prep Time:

15

Roasting beets:

50

Cook Time:

20

Category:

Grains

Method:

Cooking

Cuisine:

Italian
Very adapted from Risotto by J. Barrett and N. Wasserman